Yellow the bright hue evokes the feel of sunshine, happiness and hope. The colour is pleasant yet stimulates energy from within, this makes yellow one of the favourite colour of many women especially when it comes to saree.
Saree the traditional attire has its own history as it has been, draped by Indian women for ages.
During age-old civilizations, time turmeric was used as a dye to get the yellow colour for the sarees. Our ancestors were restricted using cotton and silk tulle for sarees but now a wide variety of stuff is available even hybrid fabric sarees are also loved to wear.
If you are a great fan of this beautiful garment you might have assembled beautiful sarees in all possible colours in your wardrobe. Conceding if you harbour an eternal love for the delicate sarees in shades of glowing yellow scroll down to view the latest designs and motifs.

1. Bhagalpuri Silk Yellow Saree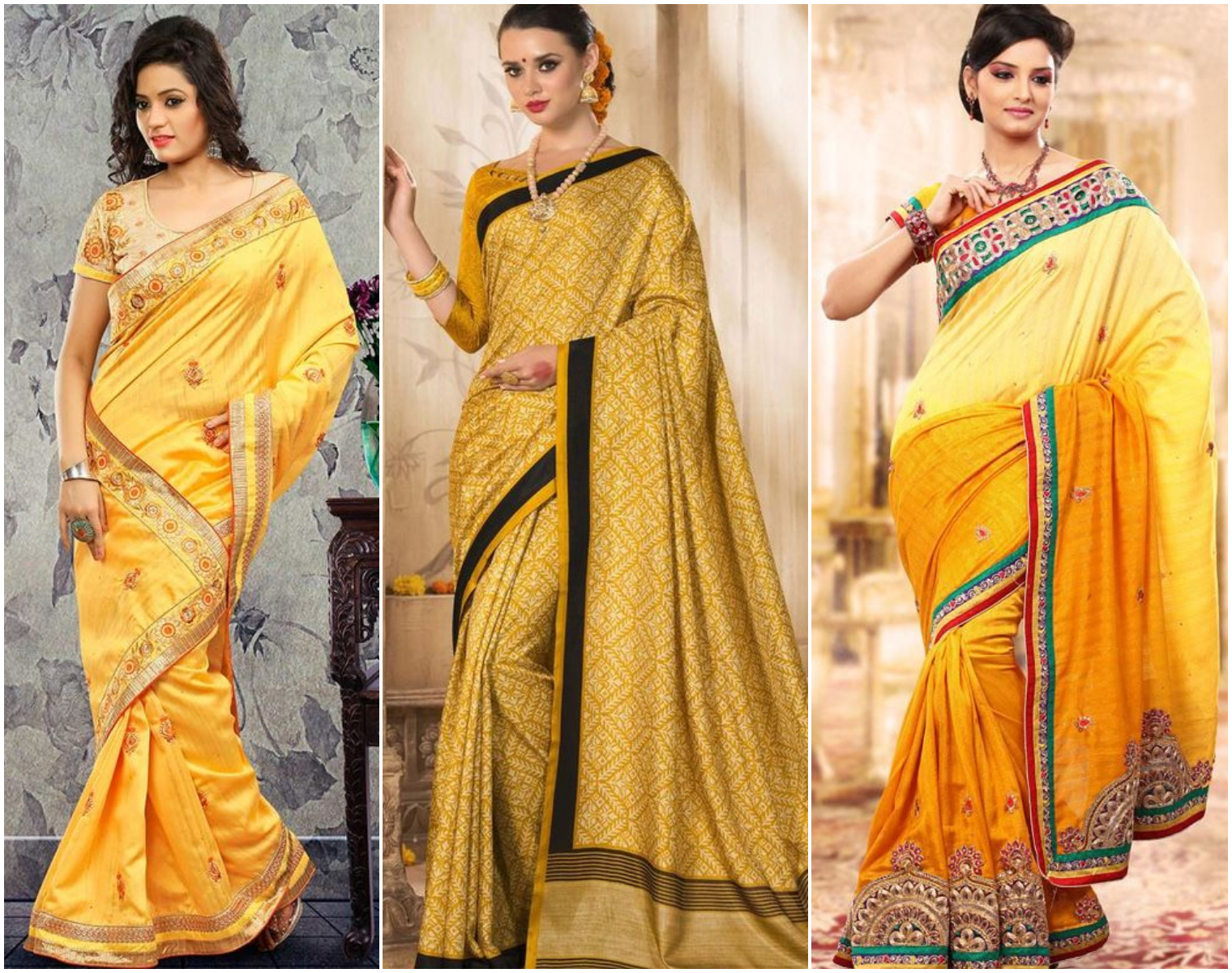 Bhagalpuri Silk famous as "the queen of fabrics" is native from the silk city Bhagalpur, Bihar. It is basically a dying technique of silk sarees and other clothes from the same place. Bhagalpuri Silk sarees are also available in different varieties like art silk saree or checked saree. Bhagalpuri silk is always under the spotlight in saree stuff loved by women of all age group. The beautiful sarees made by skilled craftsman looks astonishing to wear on poojas, adding to it yellow Bhagalpuri is the best suitable for the occasion.
2. Kanjeevaram Yellow Saree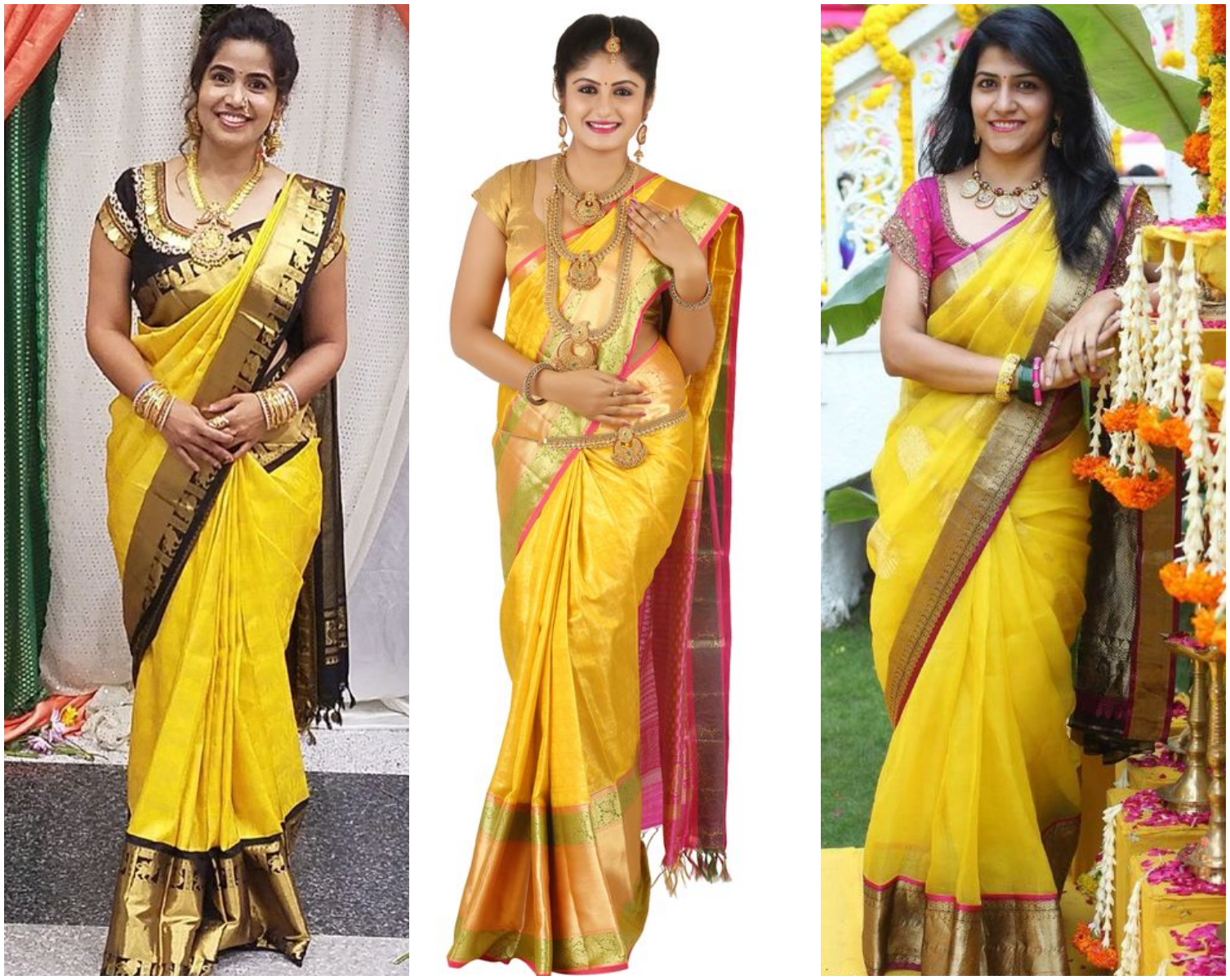 Kanjeevarams are the most famous sarees from South India. The name of sarees goes with its origination from the town of Kanchipuram in Tamil Nadu. These traditional drapes are designed in some of the most eye-pleasing modes and colour combinations. A plain saree fabric with broad shiny border is the speciality of these sarees. South Indian women feel incomplete without traditional yellow grab on festivals and holy ceremonies.
3. Banarasi Yellow Saree

Banarasi sarees are known for their rich texture and fine fabric. Banrasi sarees hand woven by skilled craftsmen of Banaras flaunt their silver or gold brocade or zari embroidery with pride. These sarees are motif with zari or thread work on pure silk in unique floral, butti or traditional jaal pattern. Vibrant colour combinations at the helm of saree with beautiful motifs in the entire length of saree make it unique attire.
Pair your charming sequined yellow Banarasi saree with gold jewellery to look like true royal.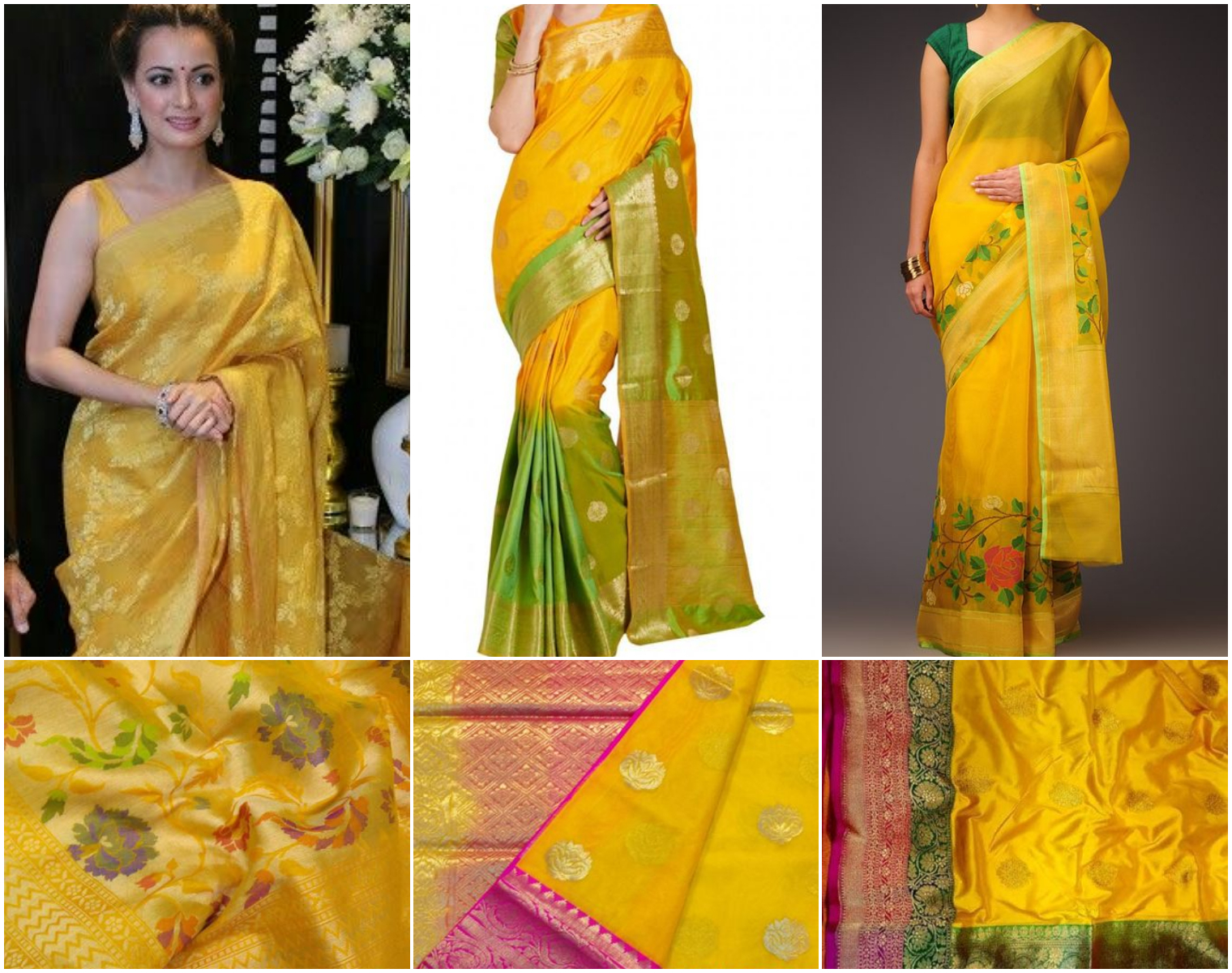 4. Rajasthani Yellow Bandhani
Bandhani and Leheriya are native to the historic state Rajasthan. Sarees of Kota Doriya cotton, chiffon and georgette fabric are generally dyed in a Bandhni or Leheriya pattern. Mirror work or gotta Patti work on these sarees enhance the grace of these typical sarees. Yellow colour saree with pink Leheriya or Bandhni with broad gotta Patti work at helms looks fabulous.

5. Yellow Chiffon Saree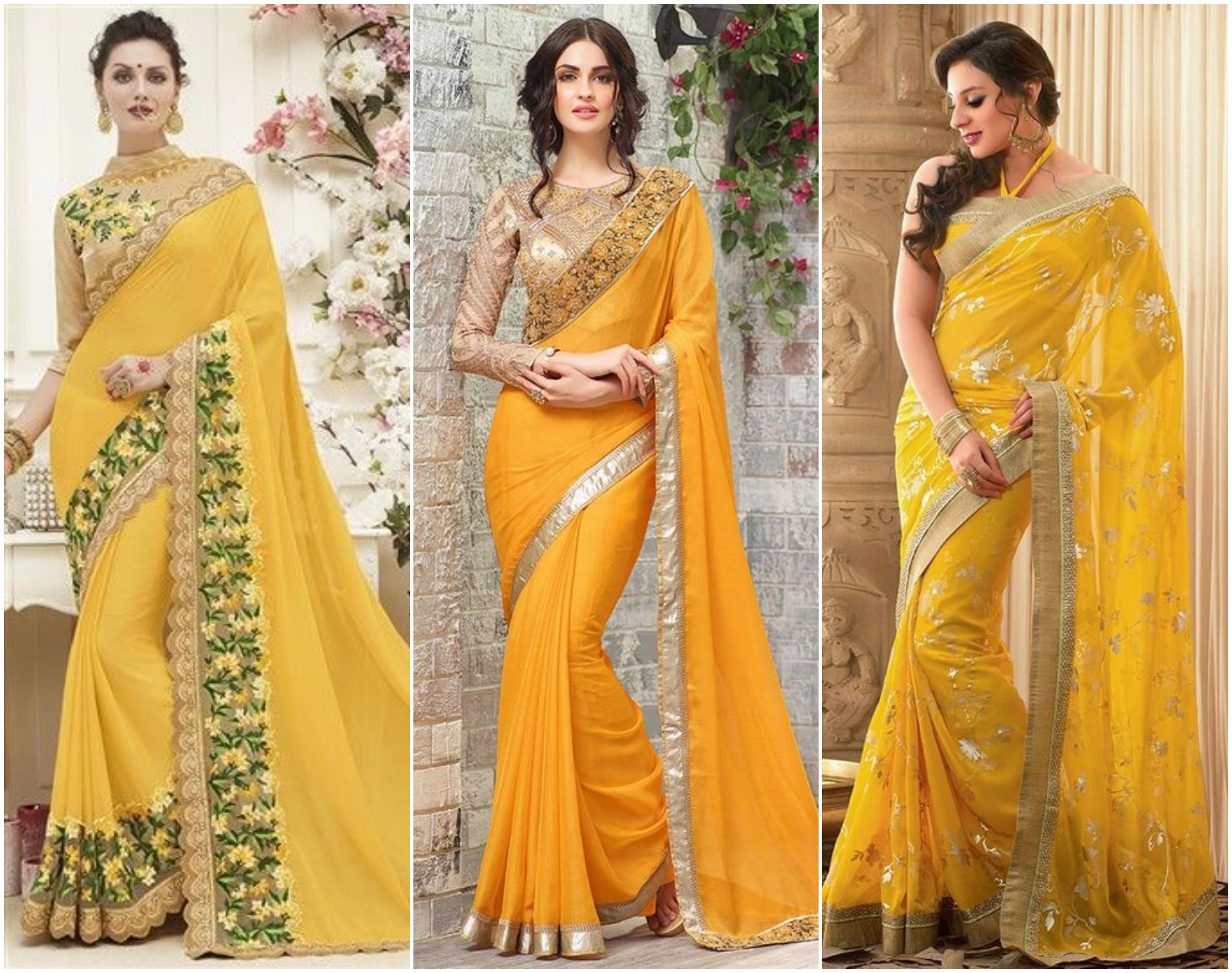 Looking for an appealing yellow saree opt for chiffon yellow sarees. The soft fabric with beautiful silver floral design, or coral pattern or having fine embroidery work on borders along the entire length of saree make this apparel unique for weddings and parties. Plain Chiffon saree with gold or silver lace on borders with contrasting blouse is the favourite drape of women for daily wear.
6. Yellow Net Saree

Net materials designed perfectly in embroidery or sequin work or cut dana work makes this 9-yard attire best pick for parties. Team your yellow saree with a stylish boat neck or halter neck blouse to give it a made look. If your saree is heavily sequined than go for your accessories to minimal. Net designer sarees can be worn at occasions such as weddings and other festive parties.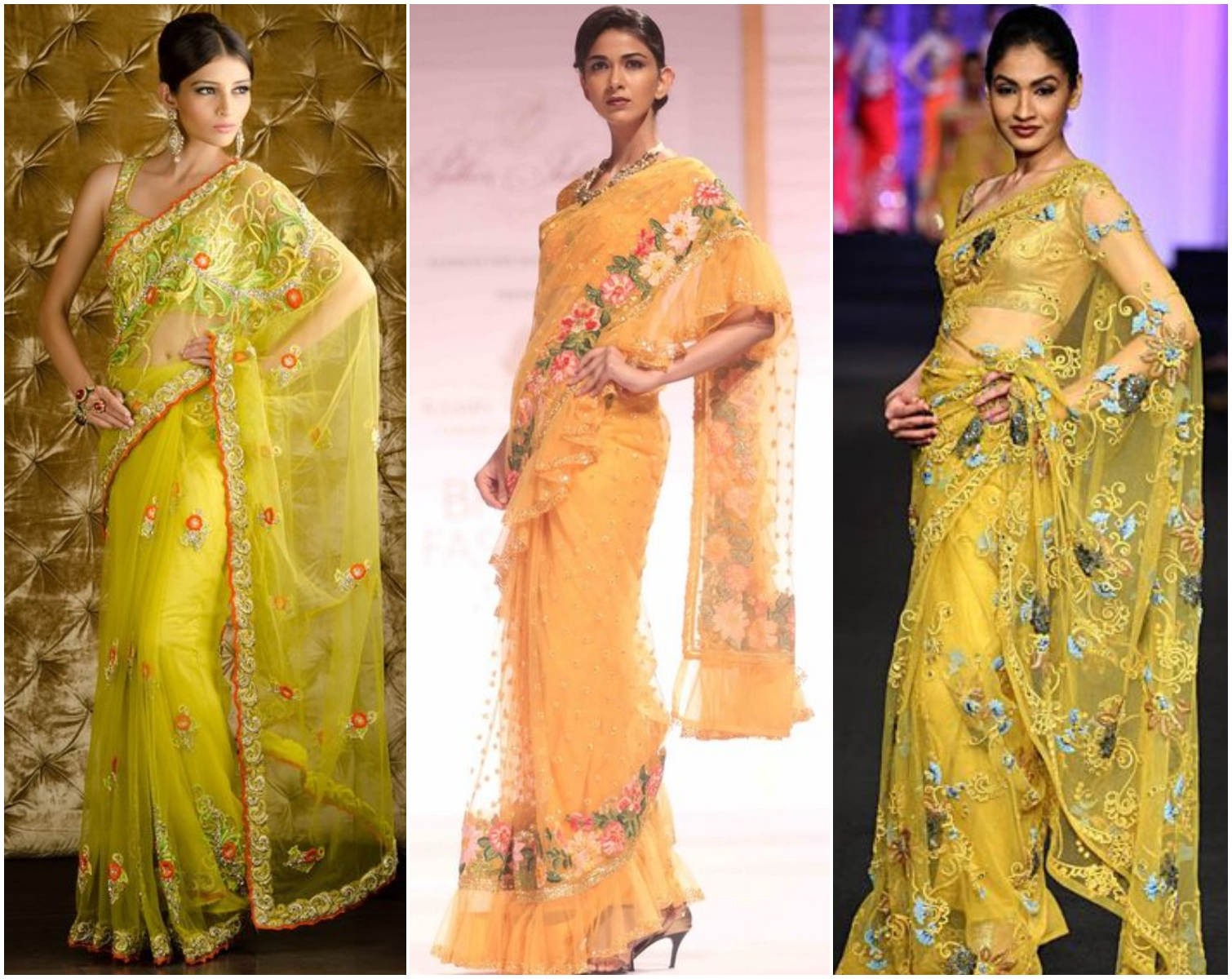 For yellow sarees, the net is the most suitable base material. The way these sarees are designed to make all women crazy to opt for yellow net sarees for the party eves. The unique looking blouse and accessories carried with these astonishing grabs make the appearance more lovely. Motifs of pearl, zari, stones and embroidery add to the charm of net saree.

7. Yellow Silk Hand Painted Saree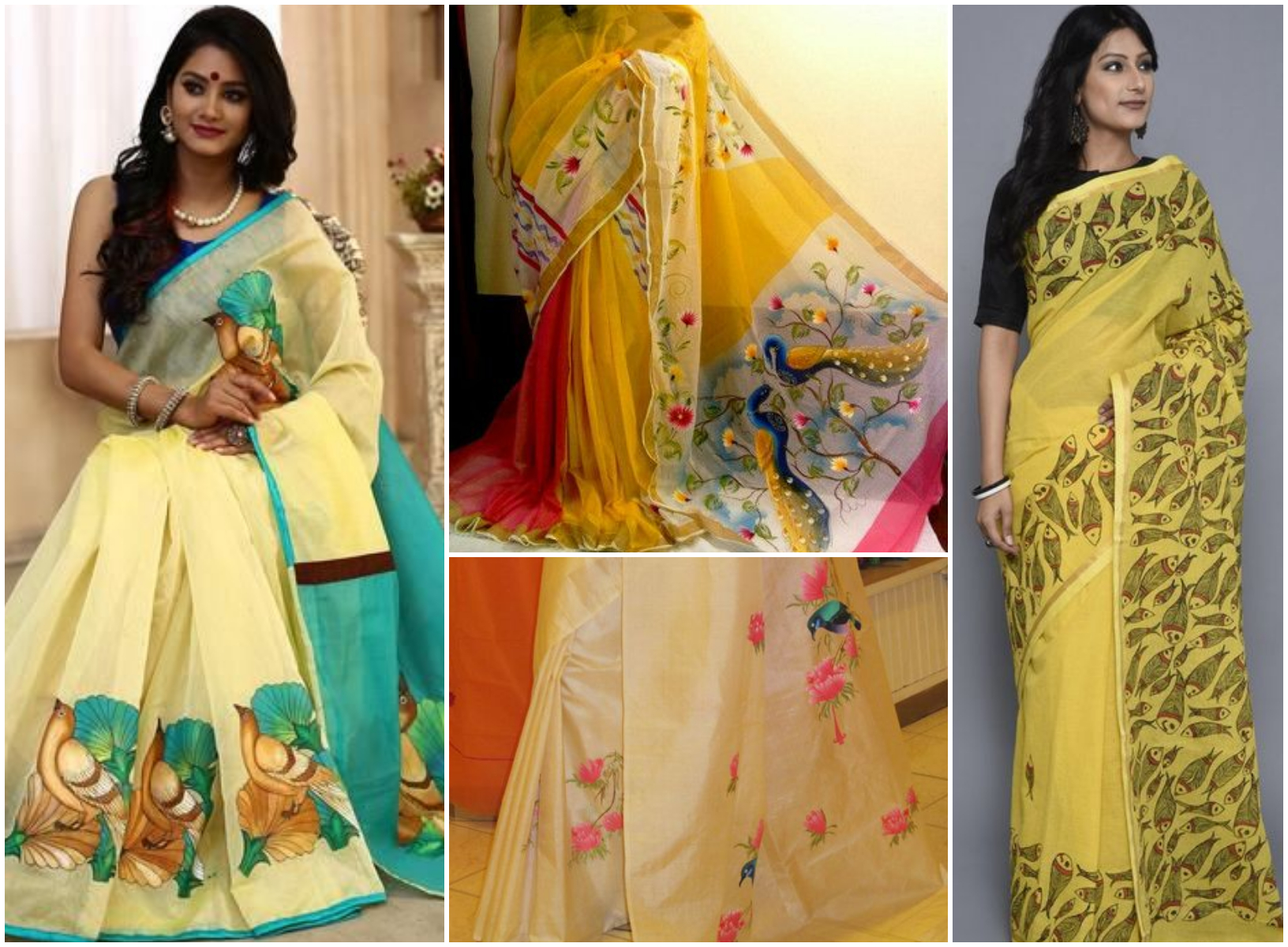 Art, luxury and functionality all combine in one product: hand-painted silk sarees to offer consummate value. Vibrant colour and images on hand painted silk sarees make them beautiful statement pieces. These sarees crafted on soft silk material by skilled artisans outlast their peers in more traditional media. Each saree is unique in its style and reveals its own story with amusing colours.
8. Cotton Yellow Saree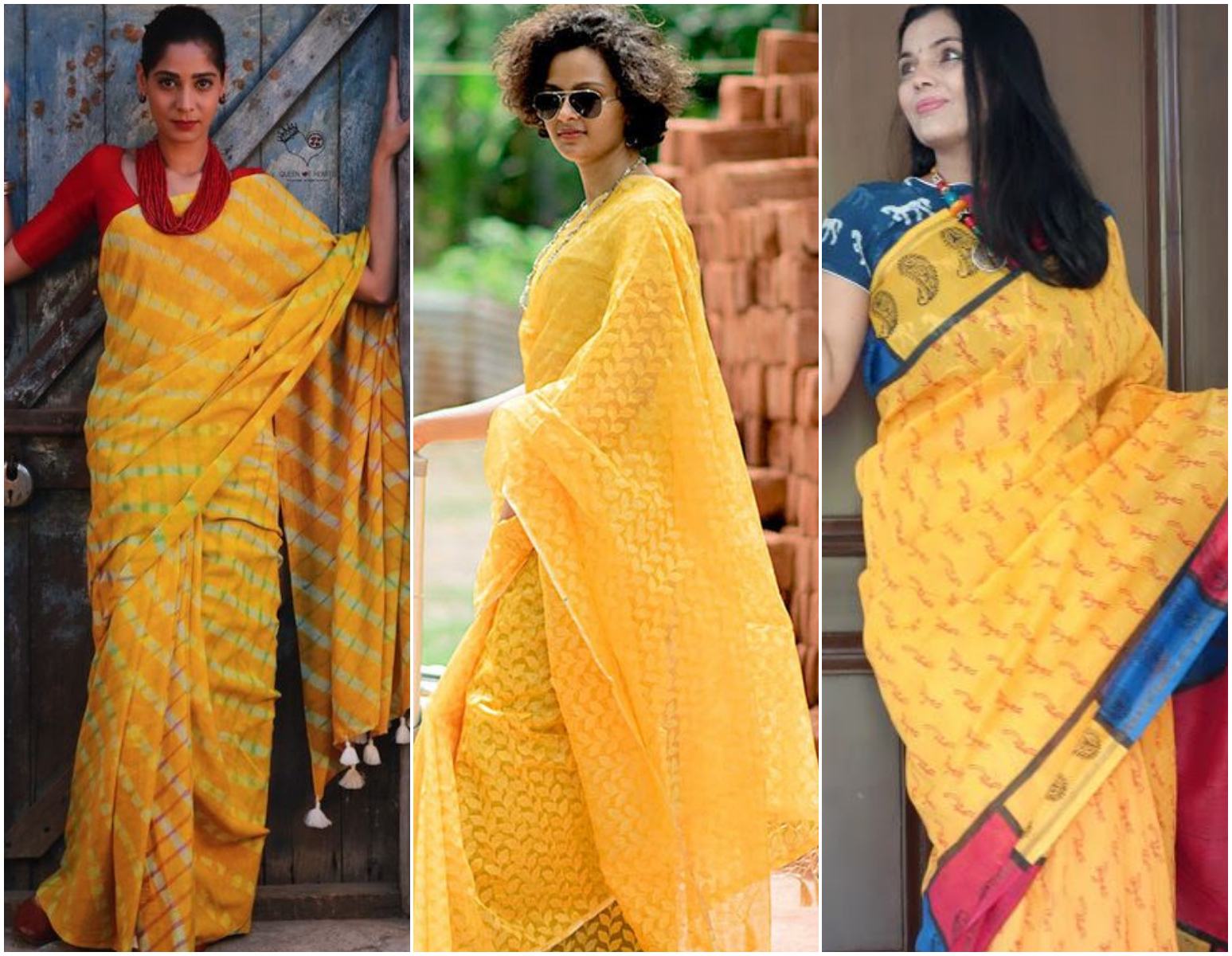 Cotton sarees are preferred for casual wearings in day to day life built with a classy look. The yellow colour saree decorated with vibrant colour prints look amusing. Cotton sober sarees with self-print in floral motif or butti design with broad border and designed pallu are graceful drapes for working women. The border patterns of saree make it quite attractive.

9. Yellow Faux Georgette Saree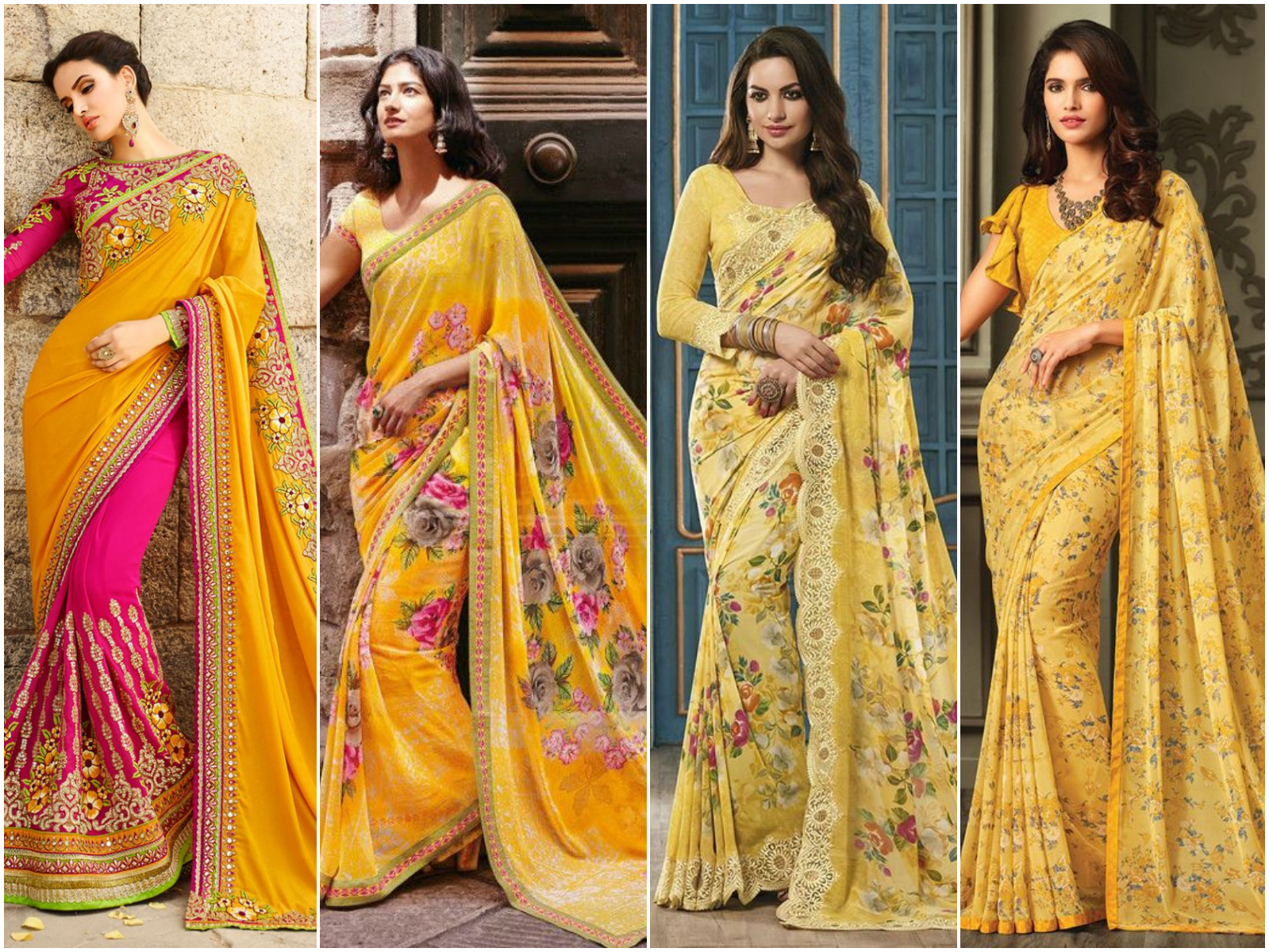 Georgette sarees are another magnificent sarees loved by women of all age groups for attending parties or weddings. The saree might be simply printed or crafted with a border or embroidered heavily at pallu, border, and pleats but the shine of fabric adds more grace to the attire. Printed georgette sarees with contrasting blouse is totally appropriate for almost any women to carry on any family event.
10. Tussar silk Yellow Saree

Tussar silk sarees are another variety of silk fabric crafted from Bhagalpur. The delicate sarees are an unexampled epitome of rich textured attribute and natural impression. These sarees touch every layer of silk with a blend of the finest range of threads and best weaving technique. Tussar silk saree in vibrant yellow color decorated in zari or thread work teamed with matching blouse looks magnificent for parties and rituals.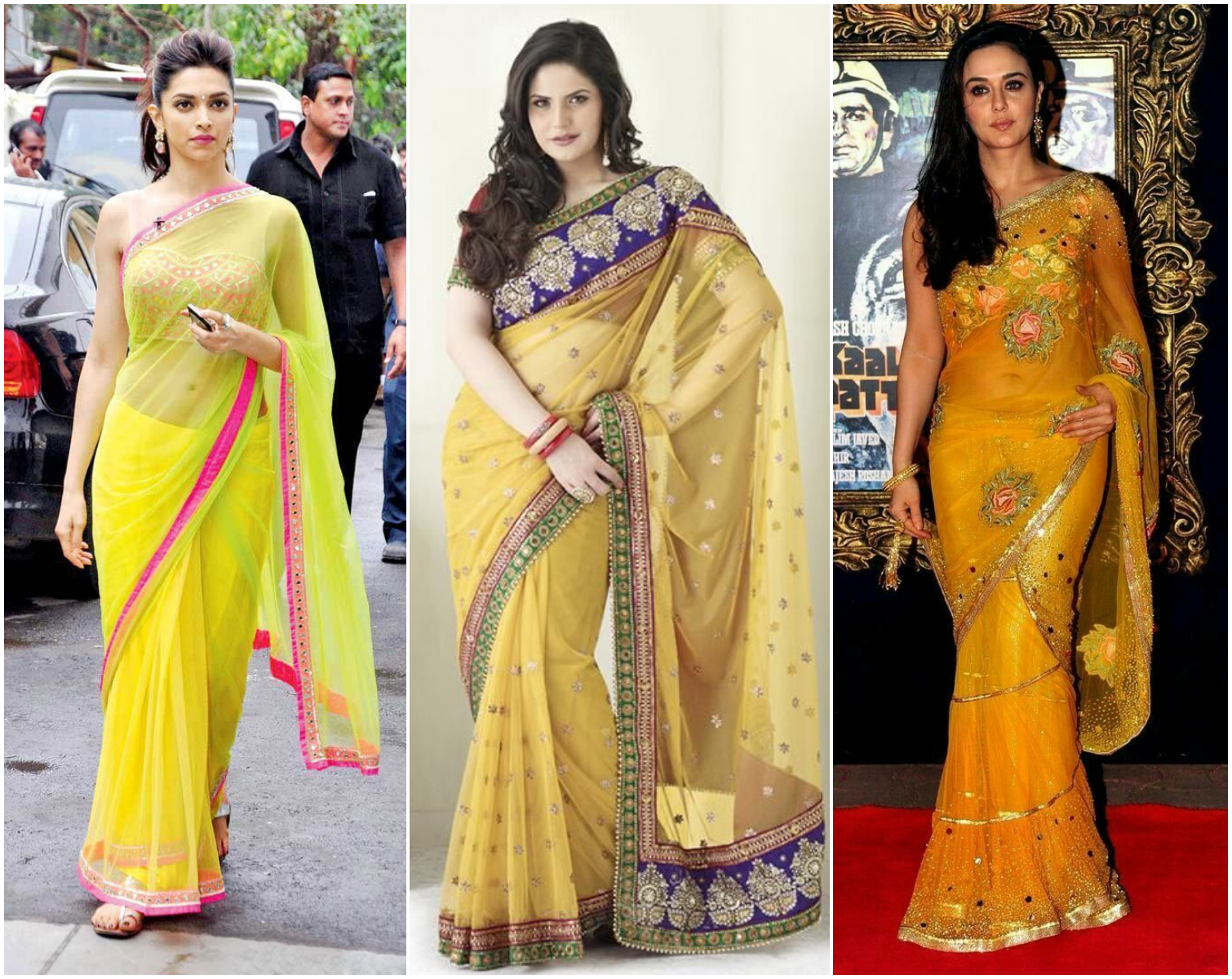 Yellow sarees are traditionally associated with the celebration of Basant Panchami and Saraswati Pooja. These elegant yellow drapings empower the symbol of wisdom, knowledge, and education. Apart from these two special occasions, you can drape this extraordinary garment cultural events, festivals, wedding ceremonies, and family gatherings. Pick the saree according to the occasion from light work to heavy sequins that go perfectly to your taste and style.
The sumptuous yellow sarees with brilliant color combinations, artistry and creativity are congregated here. Choose the one for you and order soon!