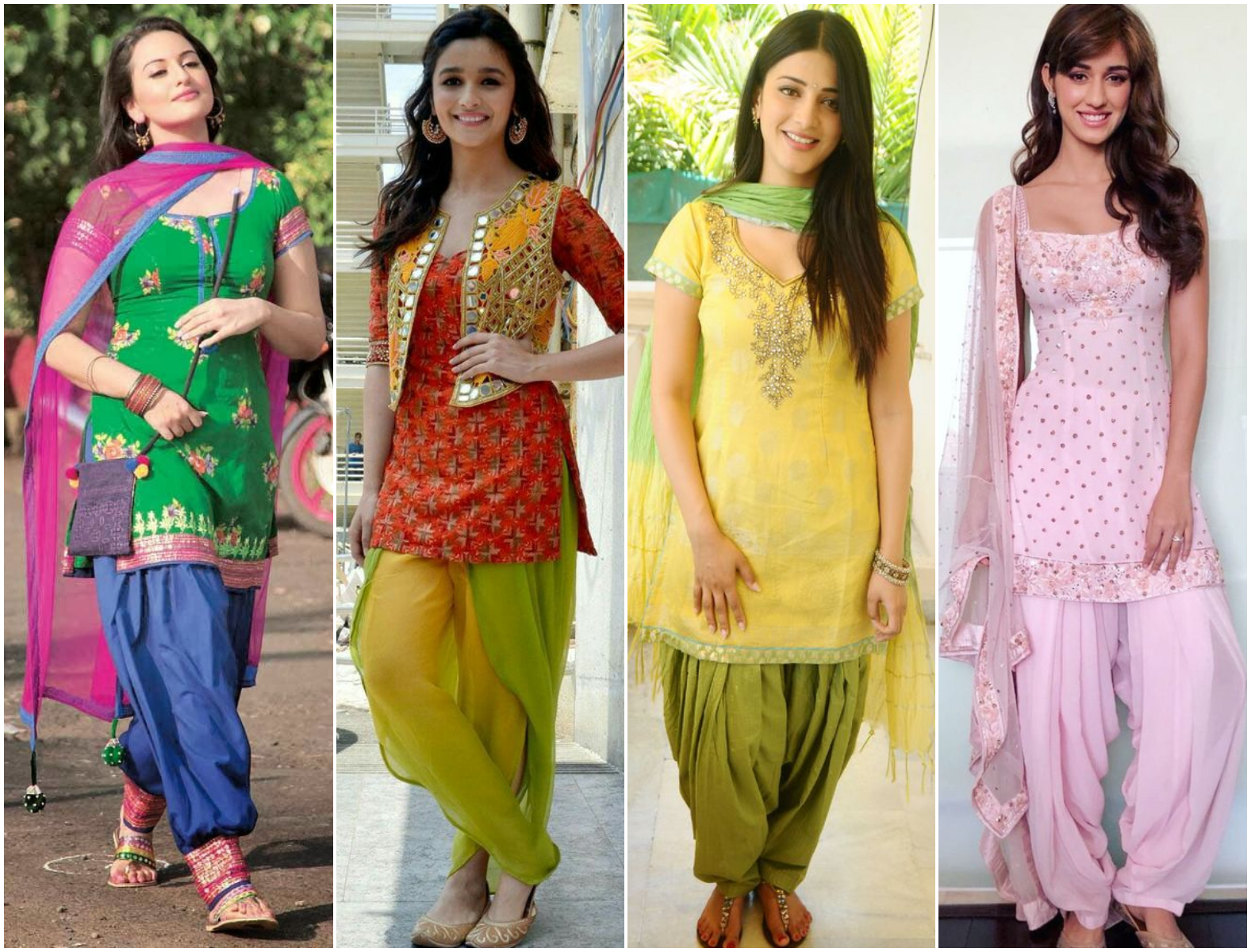 "Punjabi Patiala Salwar Suit" the ethnic dress originated from terrains of Punjab are in seething these days for wedding occasions. Every woman is passionate to try different vogue of clothing for various occasions. Designer salwar suits are nowadays not just confined to Punjabi girls choice but the pretty woman from every nook and corner of India want to drape this attire in trendy hues.
This traditional attire is favorite of every woman either working or homemaker for its absolutely free and comfortable carriage with deviating from traditional values. Salwar kameez is not only native to some states of India but also dearest to the women of Afganistan and Pakistan but in different styles. Punjabi tadaka to salwar suits with appealing embroidery and beads work makes its place special in the wardrobe of every woman. This ethnic style statement needs to be augmented by matching juti and long earrings to get into a fashionable chic look.
To pick a right style of salwar suit for you on a particular occasion is a daunting task. To sought out your confusion we have cataloged some latest designs of salwar suits from the story of our fancy boutique.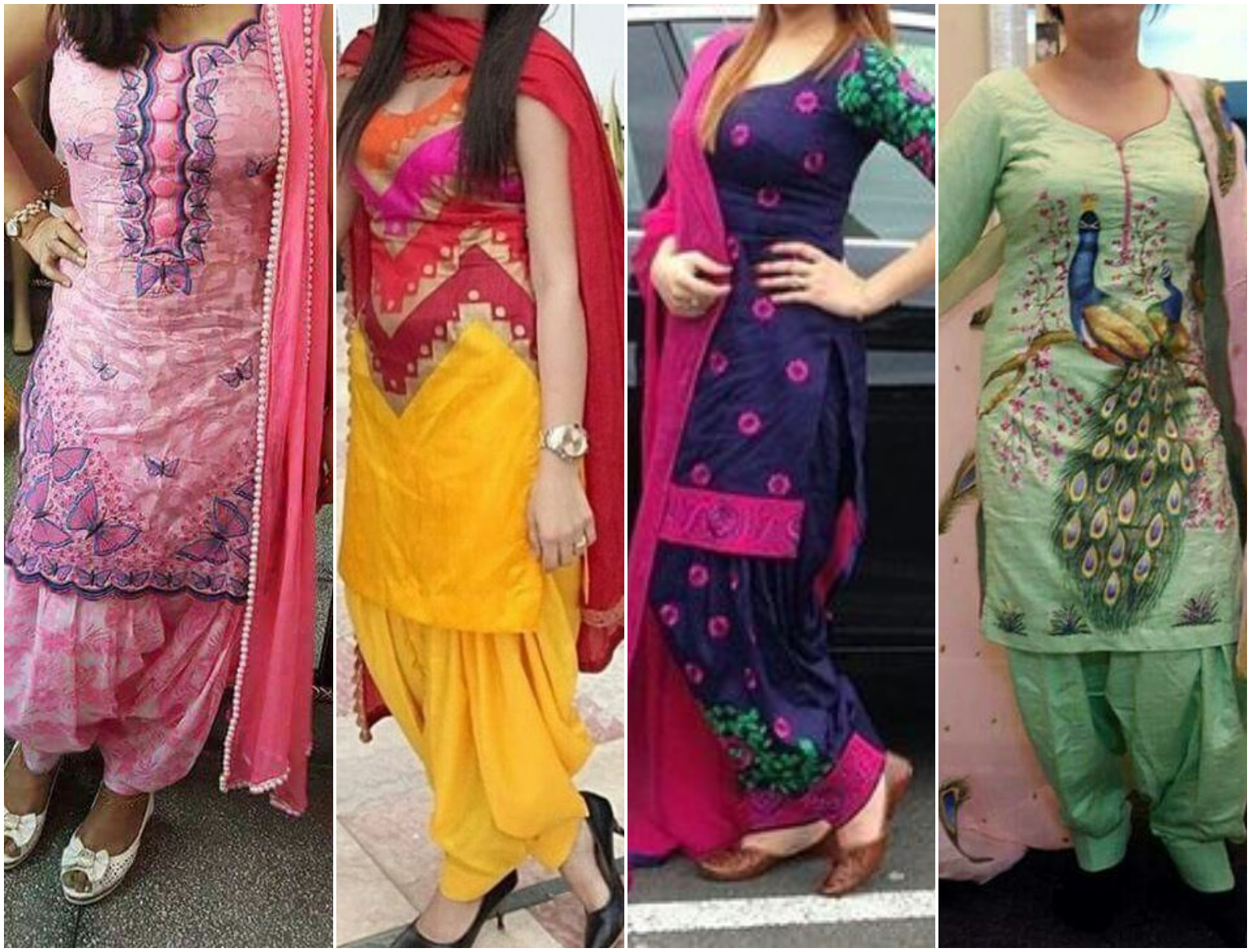 1. Simple Patiala Salwar Suit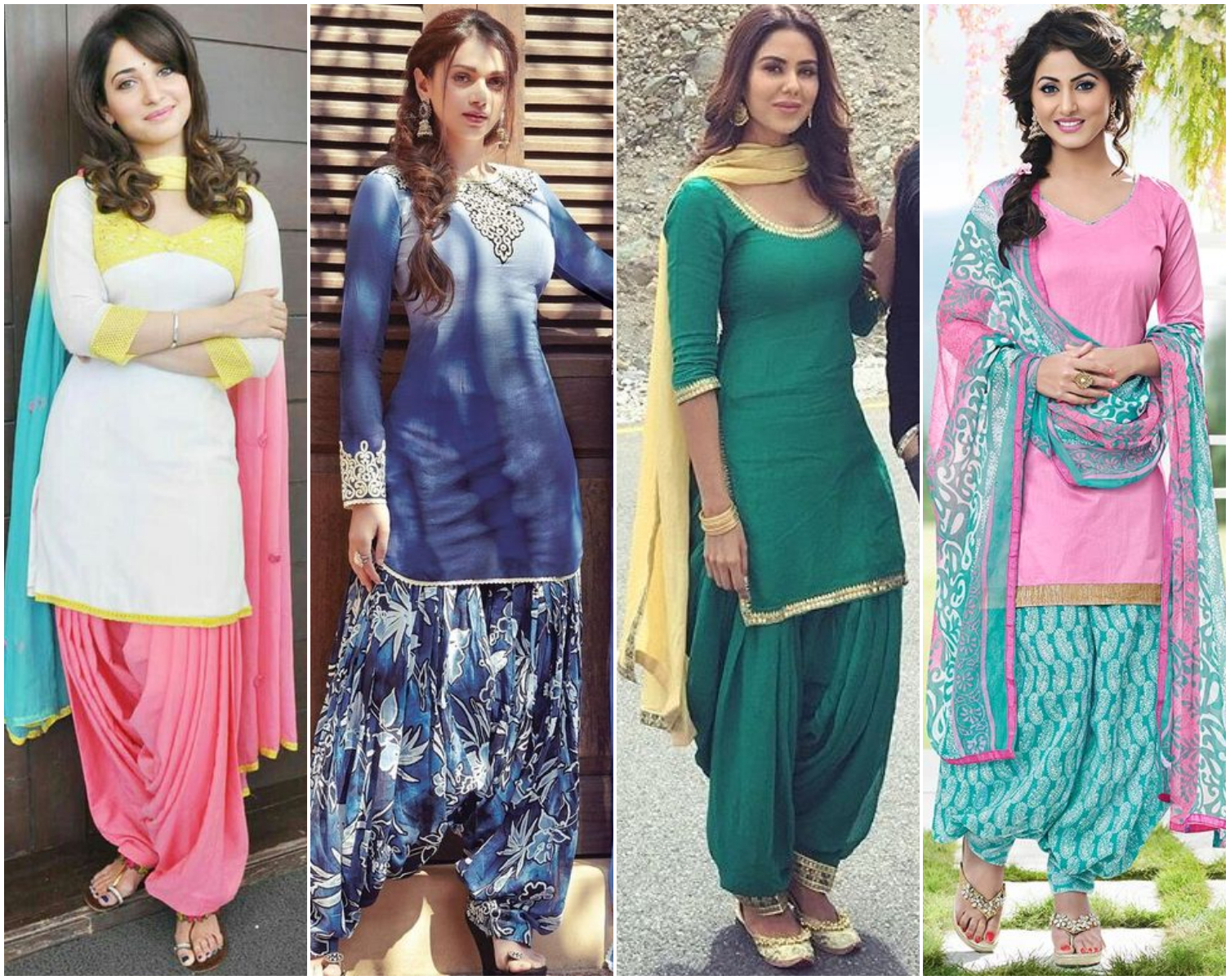 Patiala salwar's are little spicy stuff to add on simple kurti and matching dupatta. Simple Patiala salwar suits are an evergreen favorite of Punjabi women to wear in daily routine. The making of Patiala salwar's demand lengthy fabric and the pleats of salwar start from waist & goes straight joining the end cuffs. Patiala salwar suit paired with Punjabi juti and Chandbali earrings give an innocent Punjabi girl look.
2. Apple Cut Salwar Kameez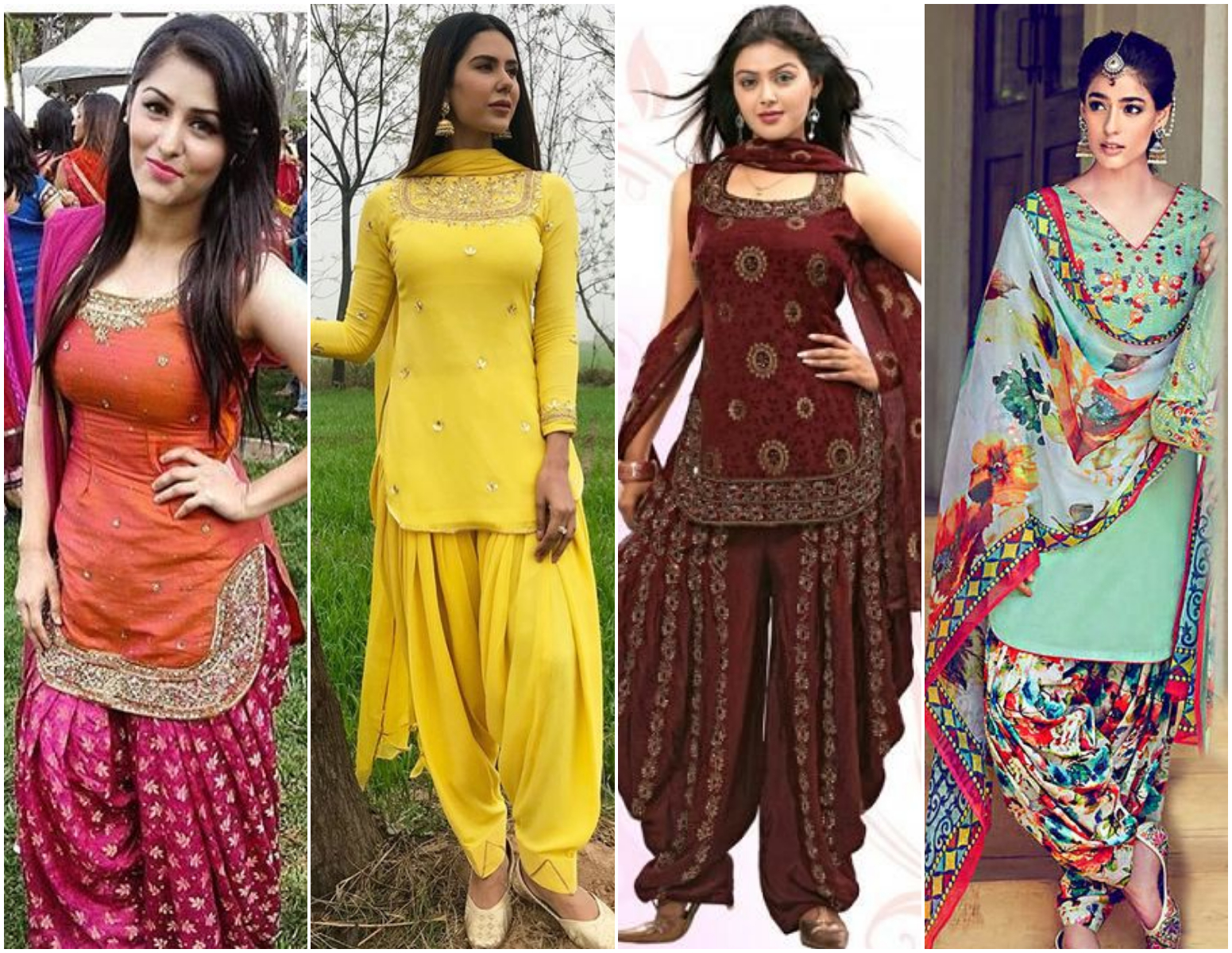 For a much fancy look add-on apple-cut kameez with Patiyala salwar. This style was popular earlier but now it is again in trend. The pattern of salwar is clearly visible as the Apple-cut Kurtis are much shorter in length. So bag the style with much of your fashion moods and compliment the beauty of your look with Jhumkis.

3. Wedding Salwar Suit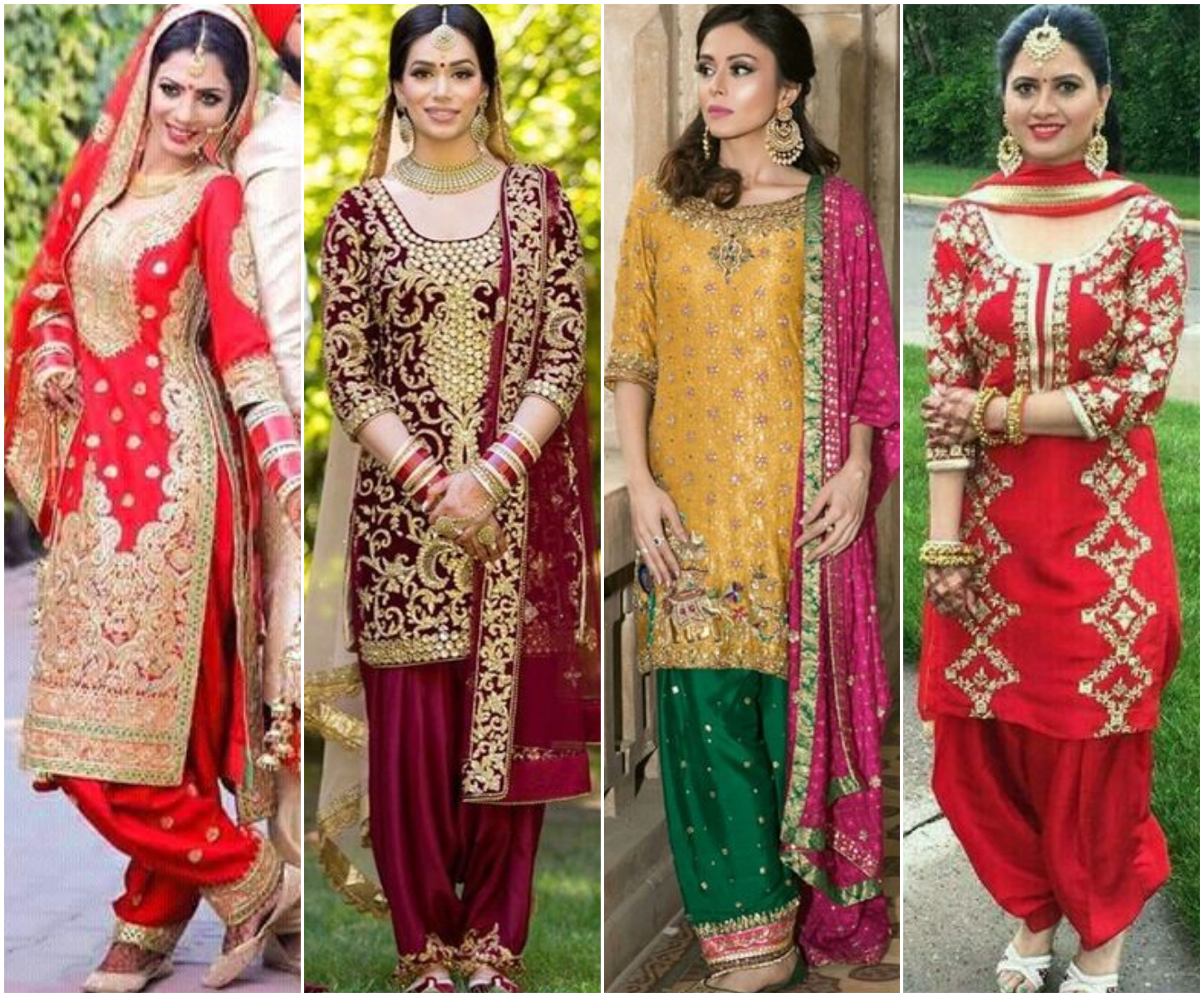 Wedding salwar suits are the traditional attires having a special place in the closet of newly wedded. Salwar kameez fabricated from shiny satin or chiffon soft material finely adorned with heavy embroideries, zari, sequin, and bead work all over kameez make it perfect bridal attire. Plain salwar and intricate work designed dupatta with detailed hand embroidery complementing the sequined jaal kameez gives astonishing look to the bride. The bright colored salwar kameez preferably in red, maroon or pink enhanced with elegant jewelry and juti shows best of your swirls for the wedding day and other associated ceremonies.

4. Embroidered Salwar Suit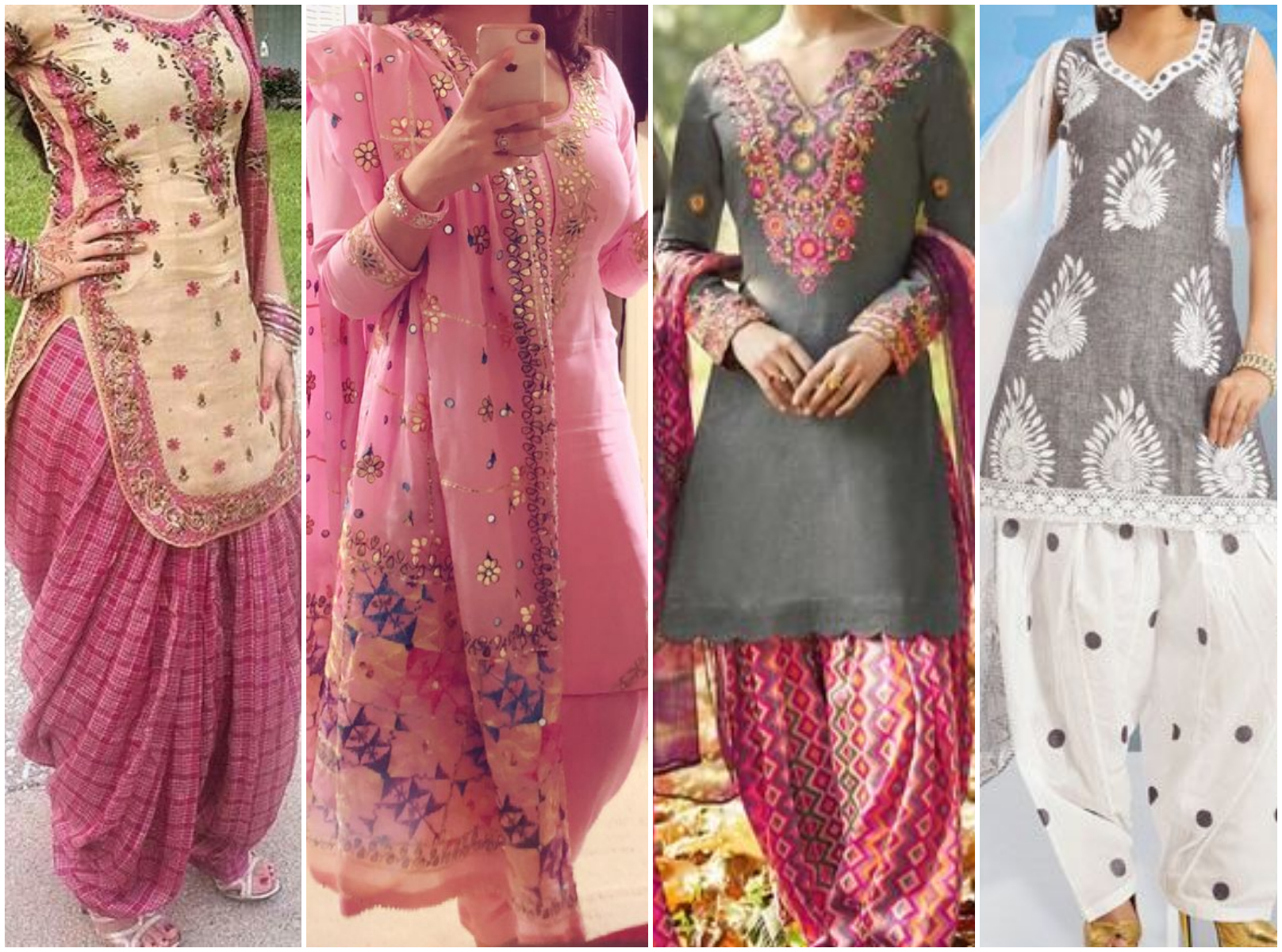 Punjabi suits without embroidery are felt to be incomplete. Embroidery can be vehemently seen all over the bodice or at neck and helms of kameez of the suit, these thread works are the best clicks of Punjabi salwar suits. Being a fashionable Punjabi girl always stay updated and charged with new and unique embroidery patterns. Not only kameez showcase the embroidery fashion salwar also reflect outstanding thread designs gathering at the bottom. Team a contrasting dyed or embroidered dupatta to complete the elegance of suit. Want to show off some extra oomph add Jutis, oxidized Balis and Potli bags to enrich your look.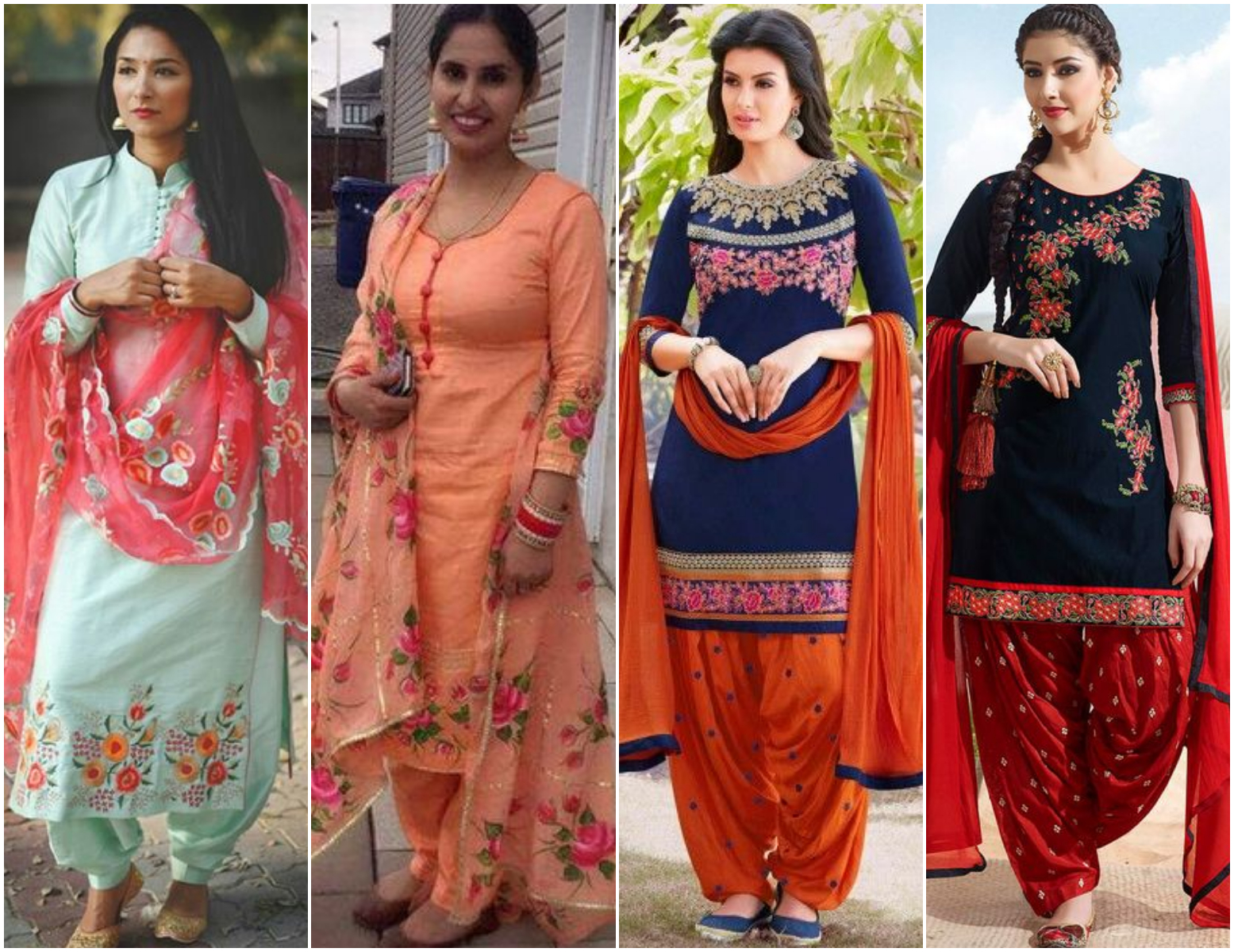 5. Dhoti Salwar Kameez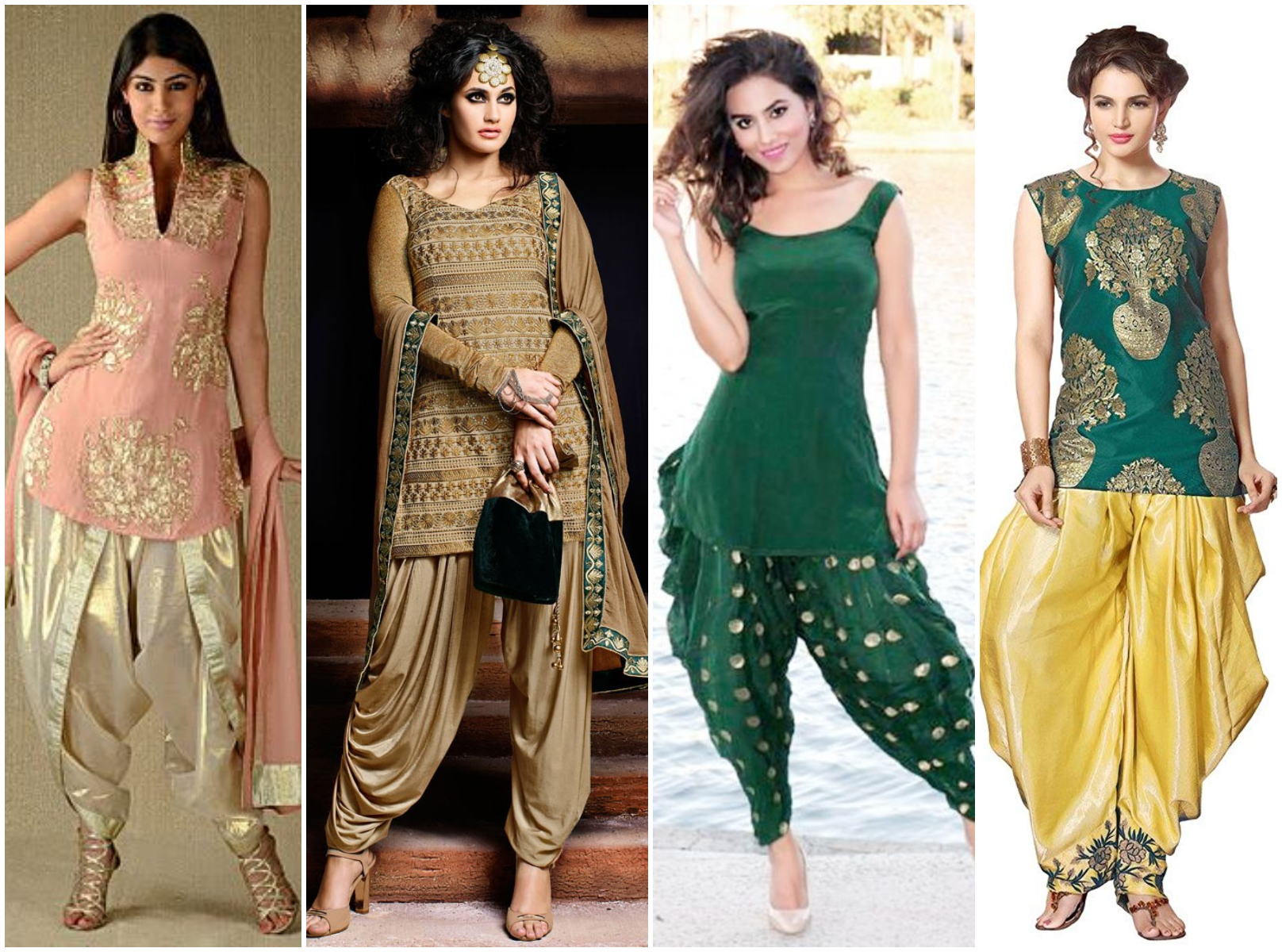 Dhoti salwar drove its name from Indian traditional attire 'Dhoti' worn by males. The designing of salwar showcase numerous U-shaped pleats, these pleats originate from the front of dhoti and goes in the upward direction. The layer of pleats is on the inner side of parallel to any dhoti look. These ankle length always are best for fashion in summers and springs parties. Team this unique style of salwar with short kurti and high heels for the breathtaking look.
6. Mirror Work Salwar Suit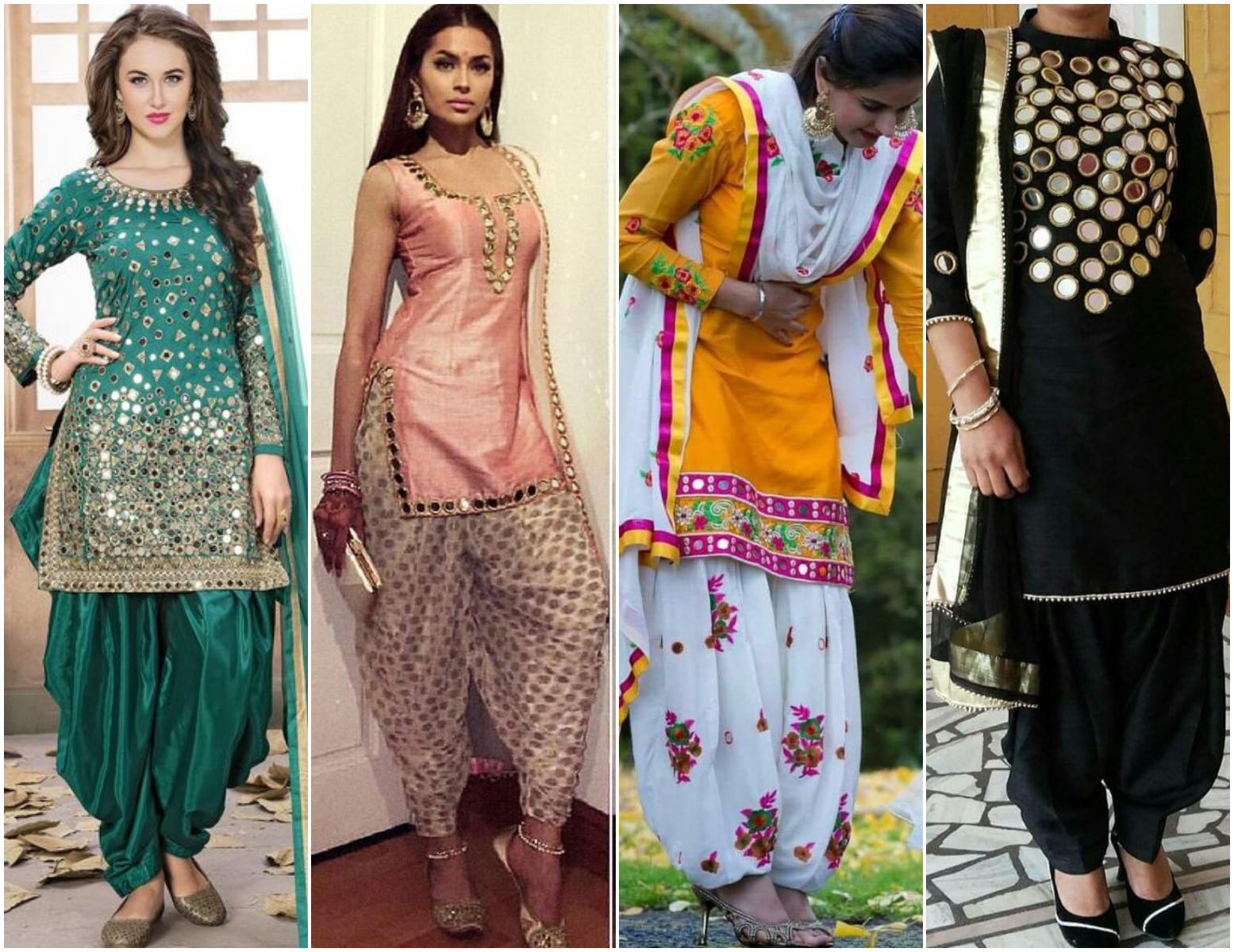 Modern dressing sense to every woman has changed their entire look same as the mirror ornamentation on salwar suit drapes has vehemently revolutionized the suit fashion. A long or short kurti with Patiala salwar motif with thread work embodied with mirrors boosts the beauty of attire. Complement your look in salwar suit with juti and Chandbali earings or trendy clutch.
7. Lucknowi/ Chikan Salwar Suit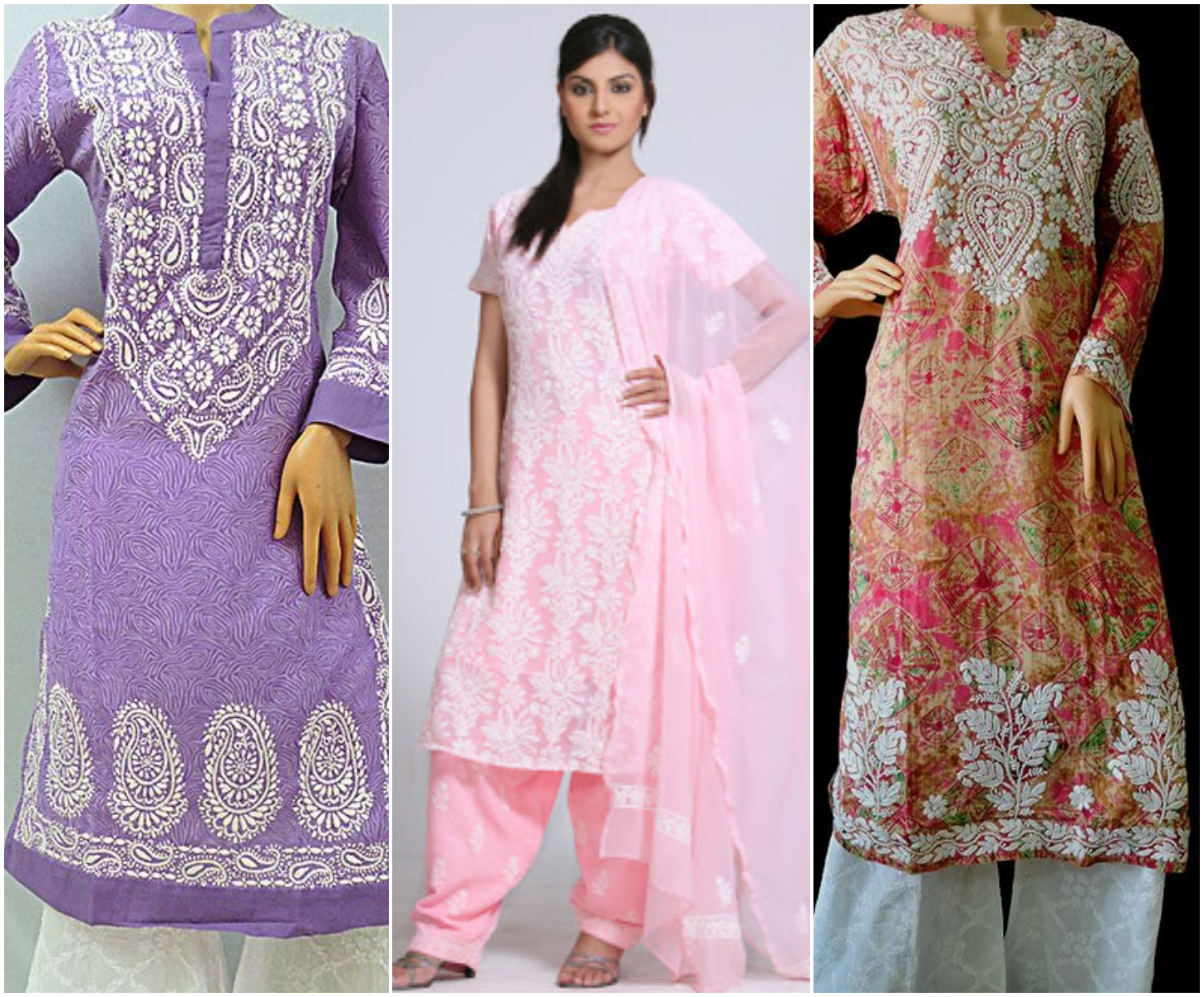 Lucknowi or chikankari work is the traditional embroidery style from Lucknow. Chikankari work on cotton, chiffon and georgette fabric is one the best textile decoration styles from Lucknow. This soft and fine craft is the favorite of all women from common to celebrities for a decent delicate look. The artful embroidery done by skilled craftsman of Lucknow on light hues of fabric really make this three-piece apparel lovable outfit for summers.
8. Salwar Suit With Jacket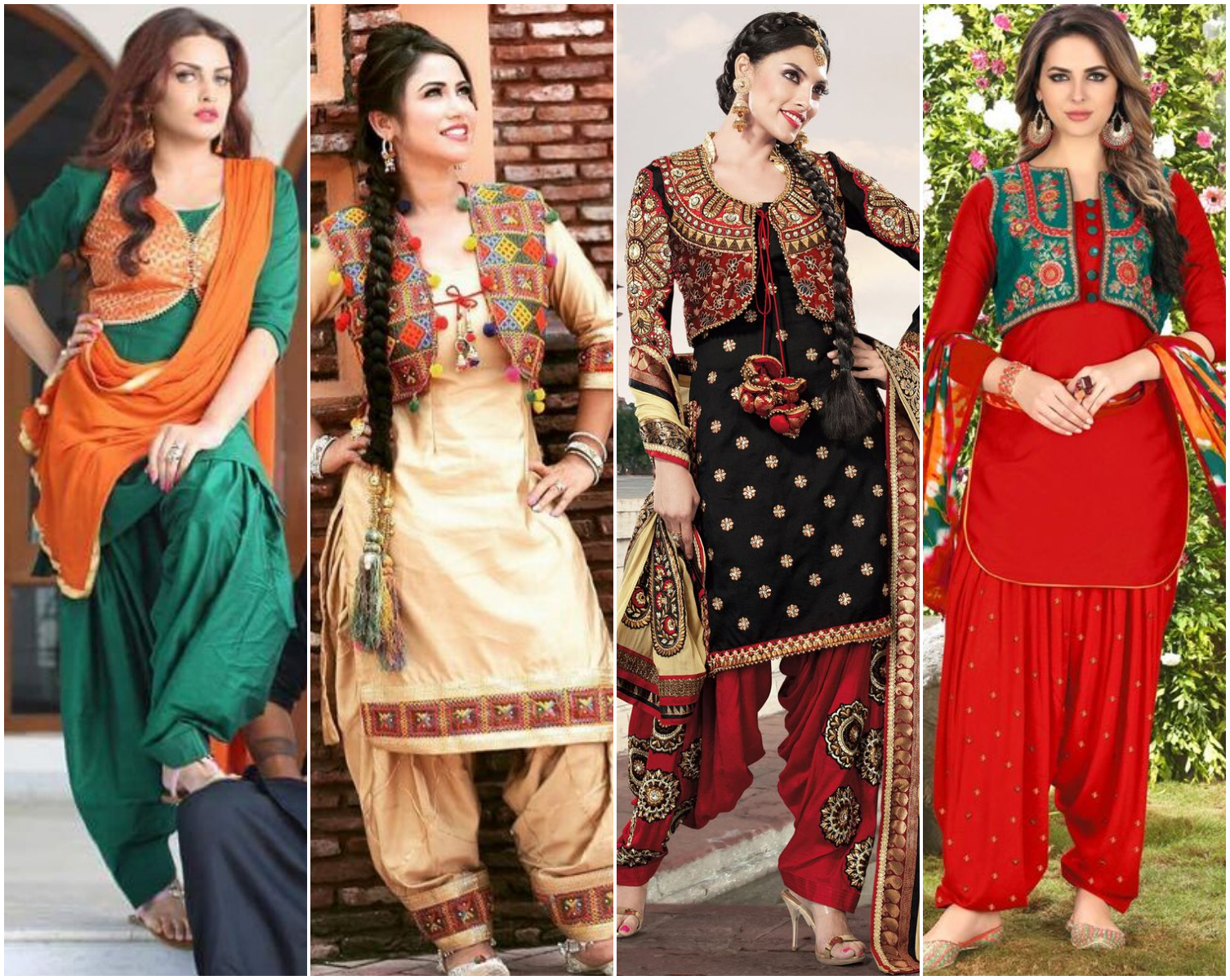 Salwar suit adjunct with the jacket is the favorite outfit for Haryanvi and Punjabi girls. The traditional salwar suit is teamed with a short jacket in Dori patterns enhanced with embroidery or mirror work. The beautiful jackets can also be seen with pretty pipe patterns or button plackets, rather some are designed in kutch embroidery or phulkari embroidery that are the best match on plain salwar suit. Pseduo jackets are also available pre-attached to the kameez of the suit making the design comfortable. Or want to catch up some different style wear short denim jacket on plain salwar suit.
9. Frock Style Salwar Suit

If you are real fashionistas and wish to adorn your cutesy looks than go for frock style Punjabi suit to save your mood. In this voyage, salwar is complemented with frock style short kurti. The frock style kameez comes with great frills and pleats which start from the abdominal line. Frock style Punjabi suit gives a Gujrati frock dress essence but the combination of salwar makes it totally distinguishable.
10. Designer Patiala Salwar Suit
The designer salwar kameez blended with western style and motifs create an elegant gorgeous outfit for ideal occasions. The traditional charm adorned with intricate modes of stone, beads, and sequins with fine innovative designs on neck and sleeves transforms the complete look of the dress. These designer pieces come in a wide range of fabric, prints, work patterns and design styles. For traditional occasions and flaunting parties, this stylish three-piece attire can opt for a traditional and glamorous look. Team the outfit with magnificent juti and long earrings.
Here we have presented all you need to know about the best designs and styles of the salwar suits. These gorgeous sets of traditional salwar suits would flawlessly go with your appearance and oomphs your beauty. Order soon the piece you are liking the most to boost up your charisma!