Kanchipuram silk sarees famed by another name Kanjeevaram silk sarees are the popular drapes of South India. The silk sarees of Kanchipuram the place from northeast Tamil Nadu are the tempting desires for South Indian women. The generation of Kanchipuram silk sarees has its own tale from the Hindu Mythology. Because of its Mythy tales, South Indian women feel incomplete without a lustrous Kanchipuram saree with bright contrasting borders.
You might find variation in Kanjeevarm Silk fabric according to the silk yarn used to fabricate the long drape. These are most cherished and recommended sarees for conventional gatherings. The pure silk Kanjeevaram sarees are hand woven by traditional weavers of Tamil Nadu.
Floral motifs, bird or animal motif, or motifs from the mythology are very common features to be seen on Kanchipuram Sarees.
The original Kanchipuram silk sarees are woven using pure mulberry silk with broad borders and enhanced zari work on pallu, these are really expensive pieces to carry on. But you can find saree fabricated from a blend of silk yarn with golden thread work along the helm borders and pallu, this collection can be the cheaper as compared to the pure ones.
Kanchipuram silk sarees are the traditional attires having a special place in the wardrobe of Indian women. Nowadays you can find these sarees in the latest design patterns and motifs to cop with running vogue and to be the part of modern parties.
Here we have come up with the latest trending designs of Kanchipuram Silk Sarees, you can go through the catalog and can order one for yourself!

1. Plain Kanchipuram Silk Saree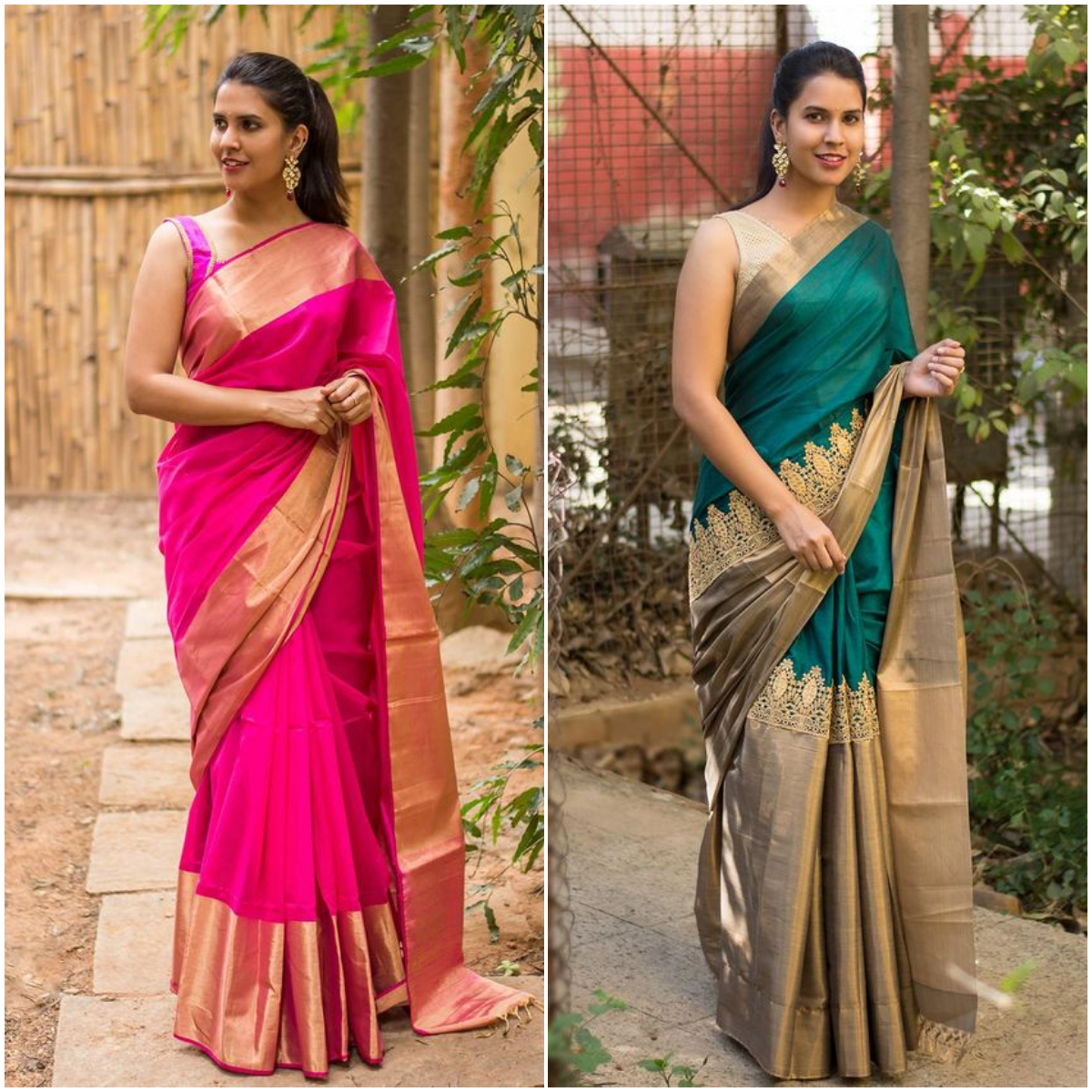 Pure Kanchipuram silk sarees look more stunning when they are worn with simple texture and look. The saree has a contrast woven border with pain body or a zari border with base one color. The border in zari Highlights the helm of saree giving the look of fine finish to the wearer. Kanjiveram plain silk sarees can be the grace of family gatherings or small occasions.
2. Temple Border Kanchipuram Silk Saree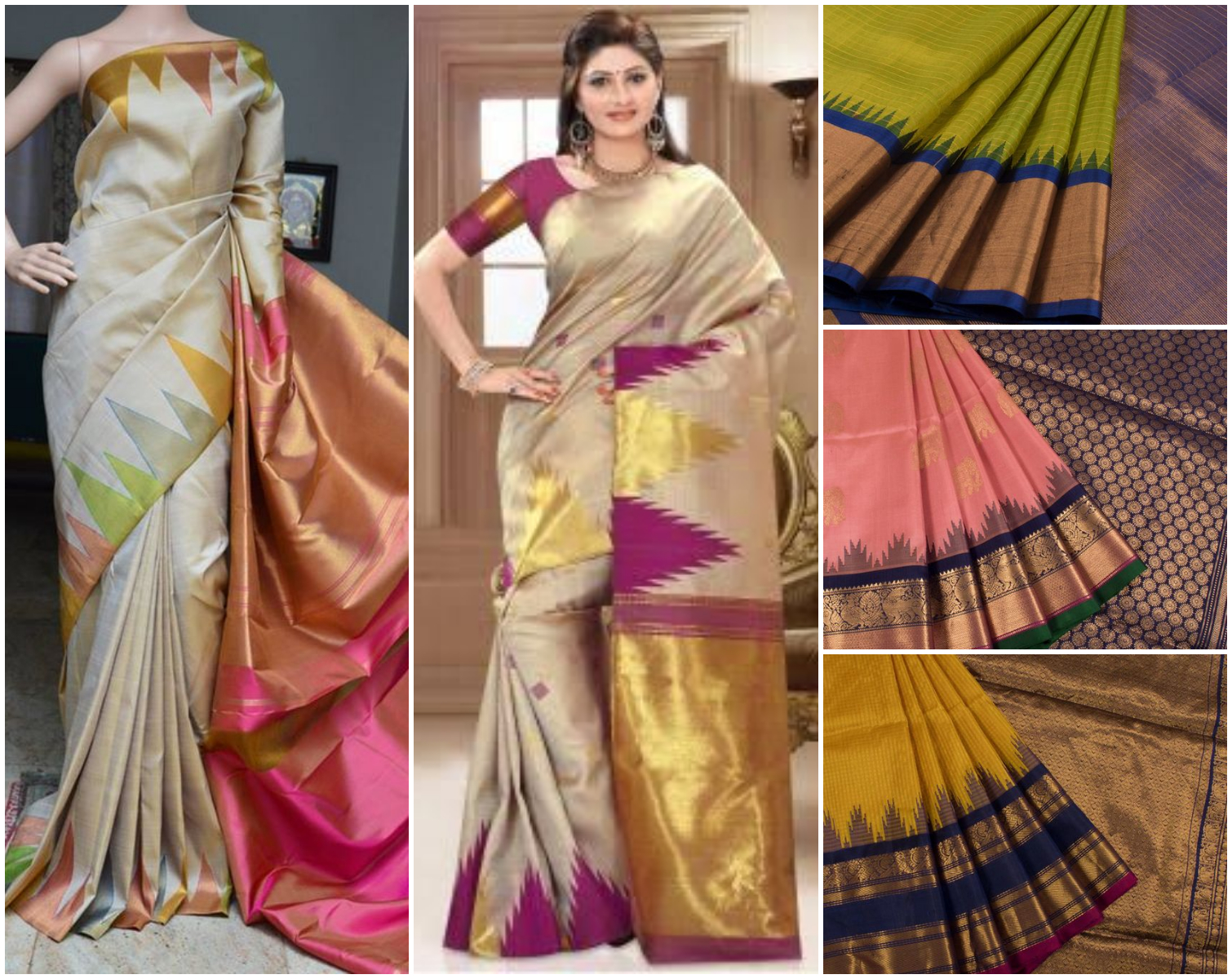 Temple borders are the zig-zag or triangular patterns at the border edge of the saree or between pallu. The unique style at edges makes the saree look balletic for traditional wearings. The impressive pattern with innovative color combinations on the Kanjiveram silk saree brings the attire to a different level. Designer Kanchipuram sarees with temple motif border in pure zari, hand weaved by professional artisans make the 9-yard attire elegant for drapping.
3. Modern Kanchipuram Silk Saree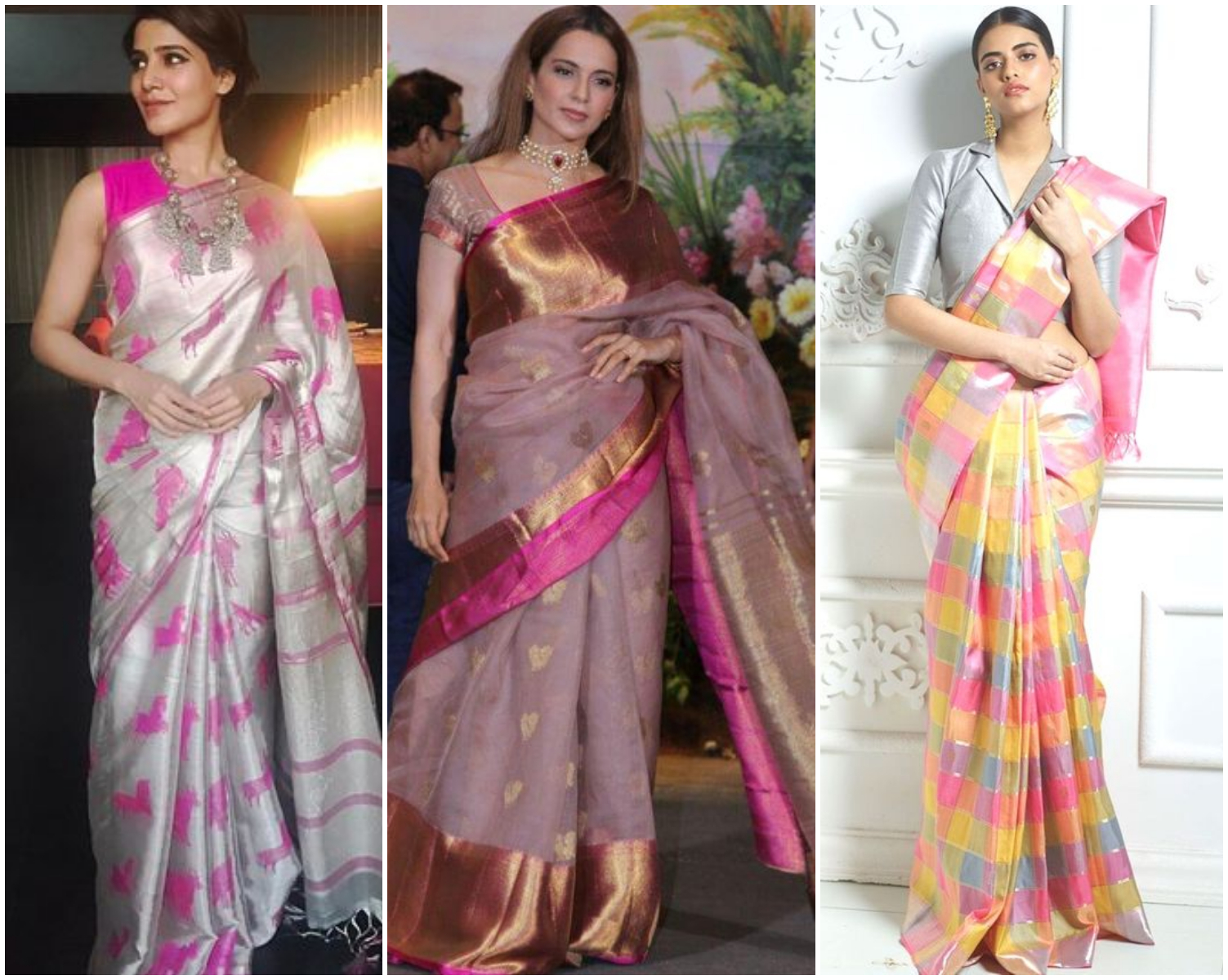 The latest design and ornamentation is blended well with pure silk fabric to get a perfect Kanchipuram modern saree. Apart from traditional one's pure Kanjeeveram silk saree is handwoven with ethnic weave and classic zari modern vogue in mind. You will love to wear this awesome ethnic designer material on your divine body for parties and ritual gatherings.

4. Traditional Kanchipuram Silk Saree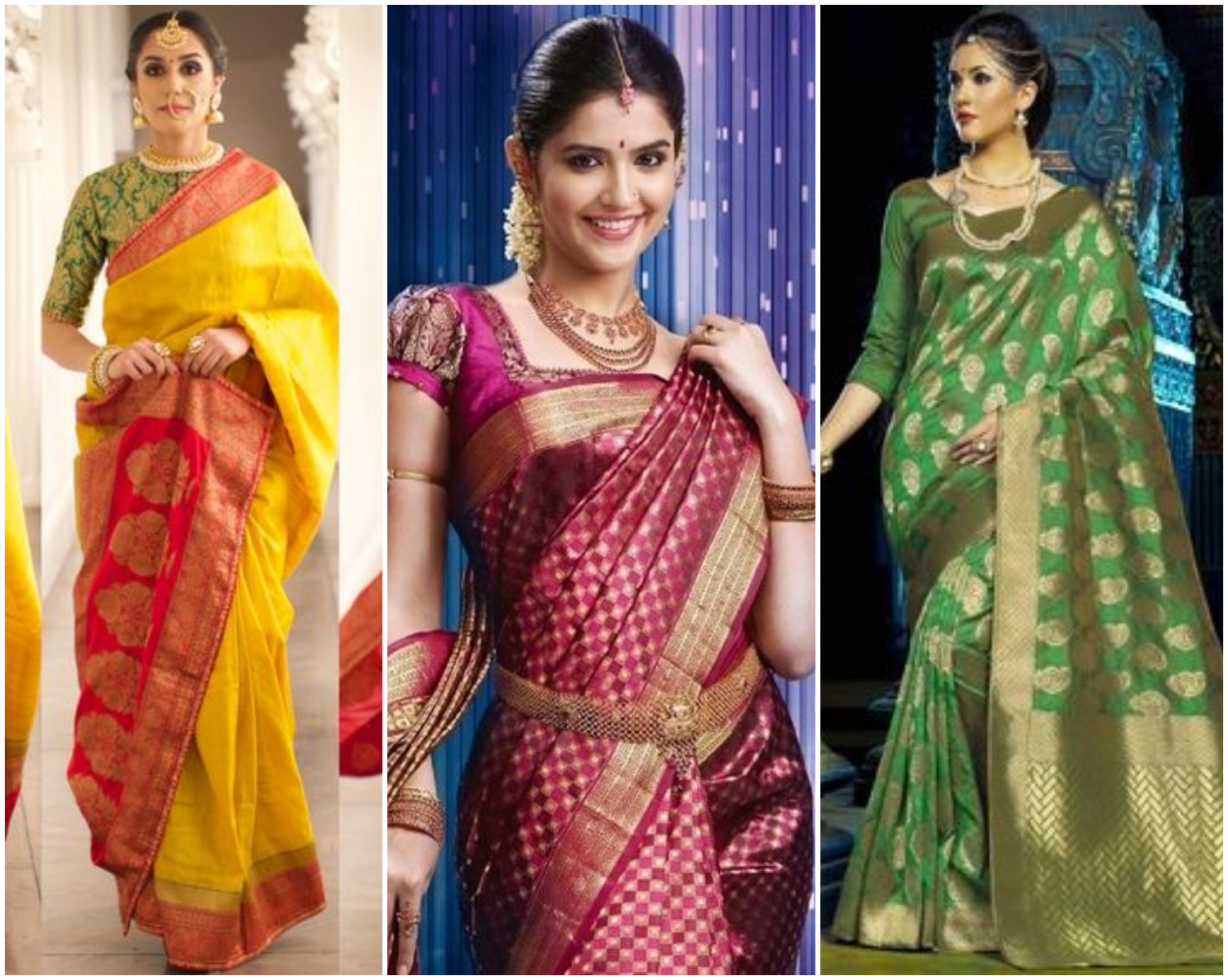 The quality of traditional Kanchipuram Silk Saree is determined by the type of silk yarn used plus the intricacy of the motifs and the amount of gold zari thread work. You might find traditional Kanchipuram silk sarees uniquely designed but varying in color combinations and the pattern of borders. The bright colored ethnic weave drapes are cherished by an Indian woman for conventional ceremonies especially in South India.
5. Floral Motif Kanchipuram Silk Saree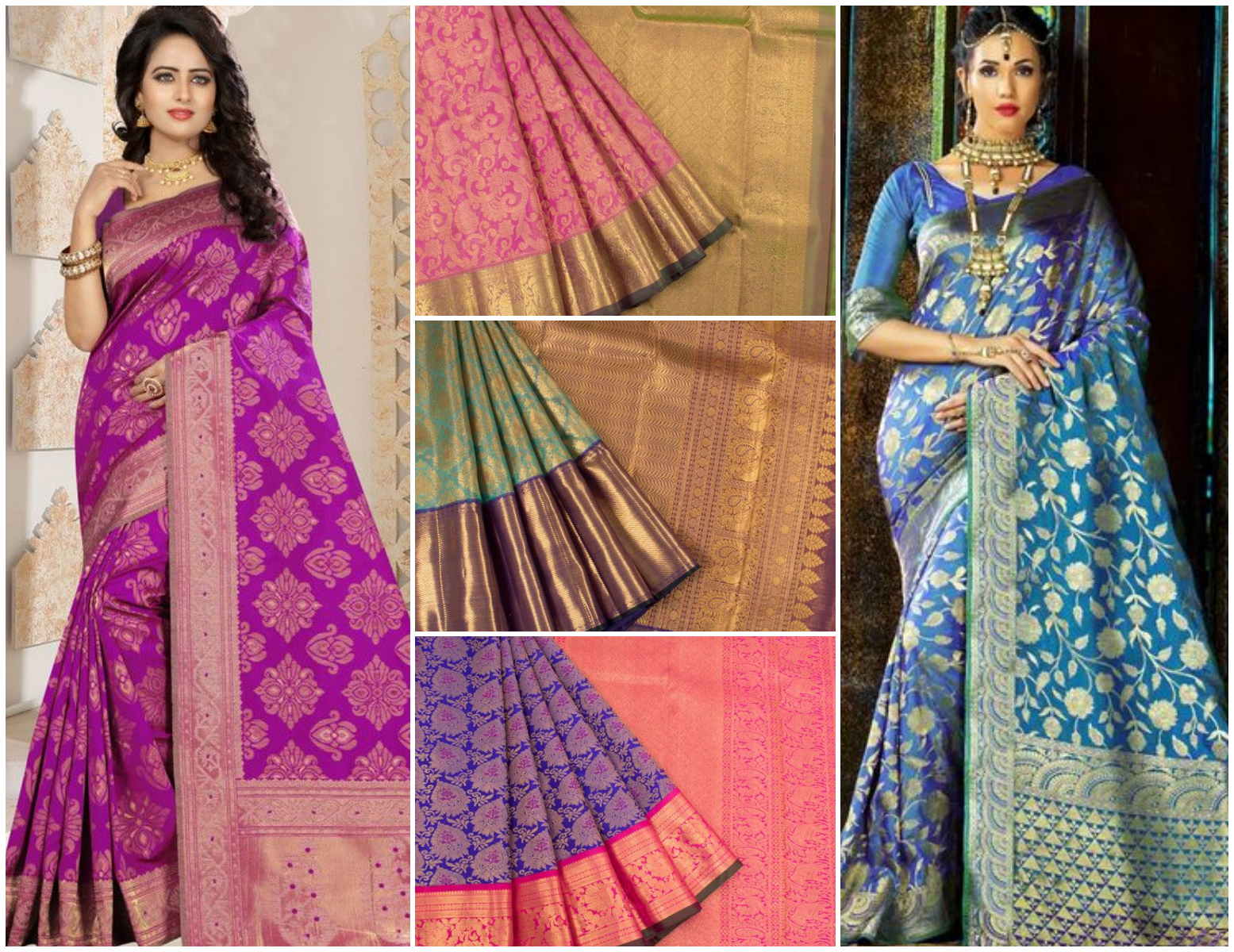 Brocaded Kanjeevaram Silk saree enhanced with zari, woven floral motifs along with contrasting pallu and embellished borders add to the look. The floral jaal in the entire drape completely amplifies the look of the pure silk piece. Add-on pallu ablaze with large swirling tendrils, floral motifs and asymmetric diamond motifs on the running border of saree or the plain border presumes the divine look to a woman.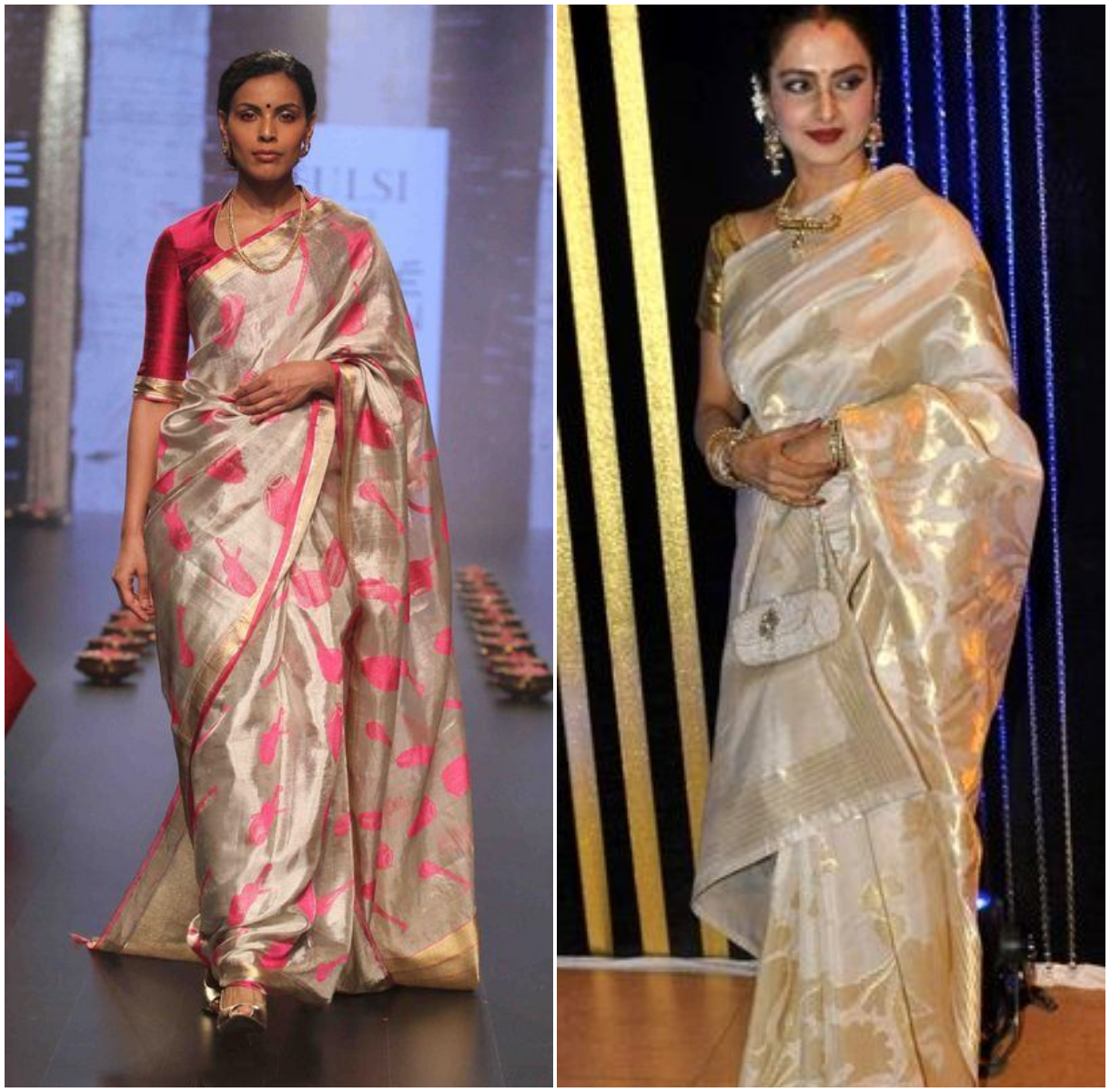 6. Bridal Kanchipuram Silk Saree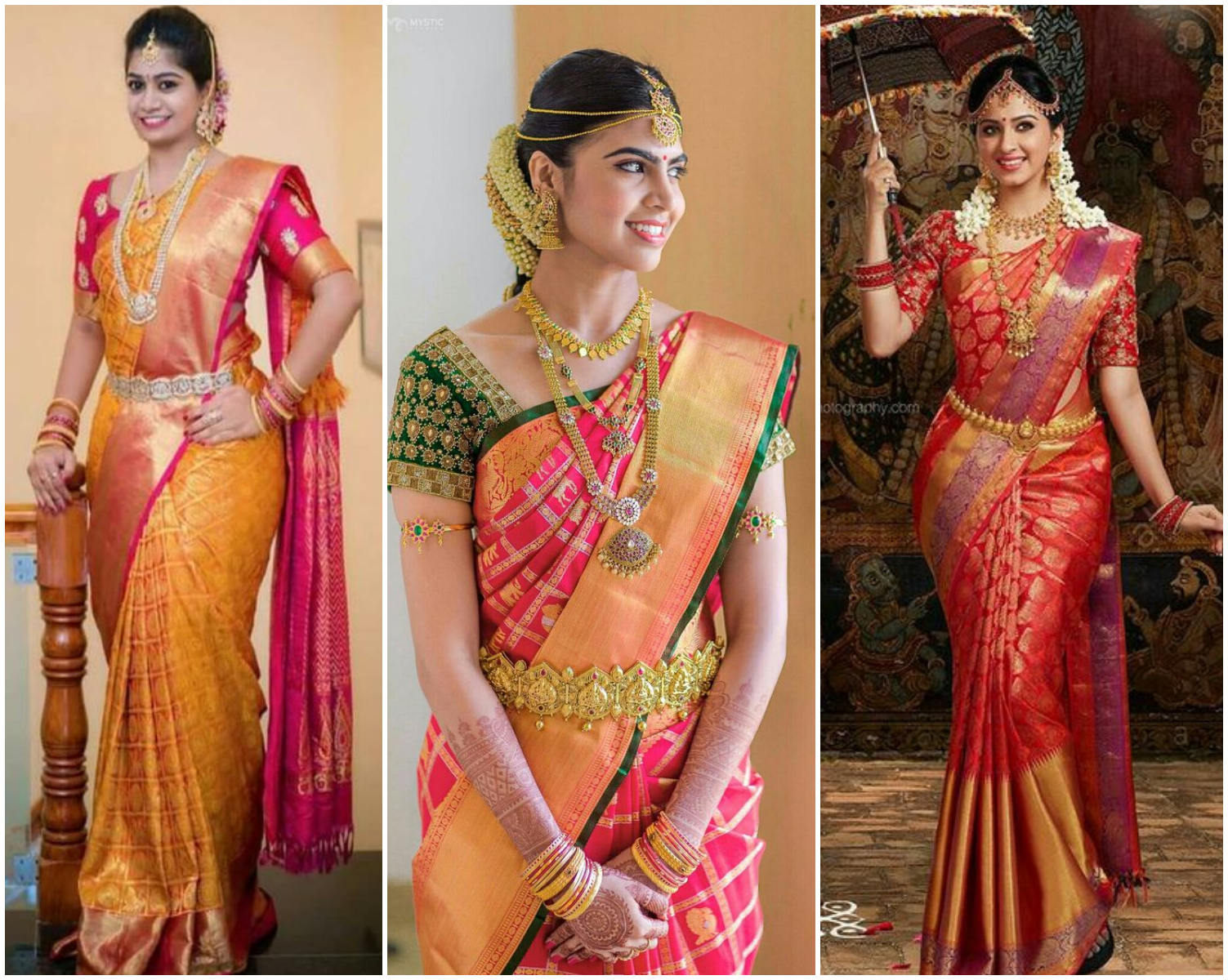 When it comes to bridal wear collection Bridal Kanjeevaram silk sarees are the must and have their special place in the ensembles of bridal apparels. Silk is always considered ceremonial wear in India, a traditional Hindu bride of South India loves to get married in either dark red, reddish maroon, orangish red or chili red with heavy zari work. The traditional bright colored 9-yard drape is their dream attire for the D-day. The ethnic saree teamed with beautiful accessories and hairstyle gives a complete divine look to the pretty young bride.
7. Pattu Silk Saree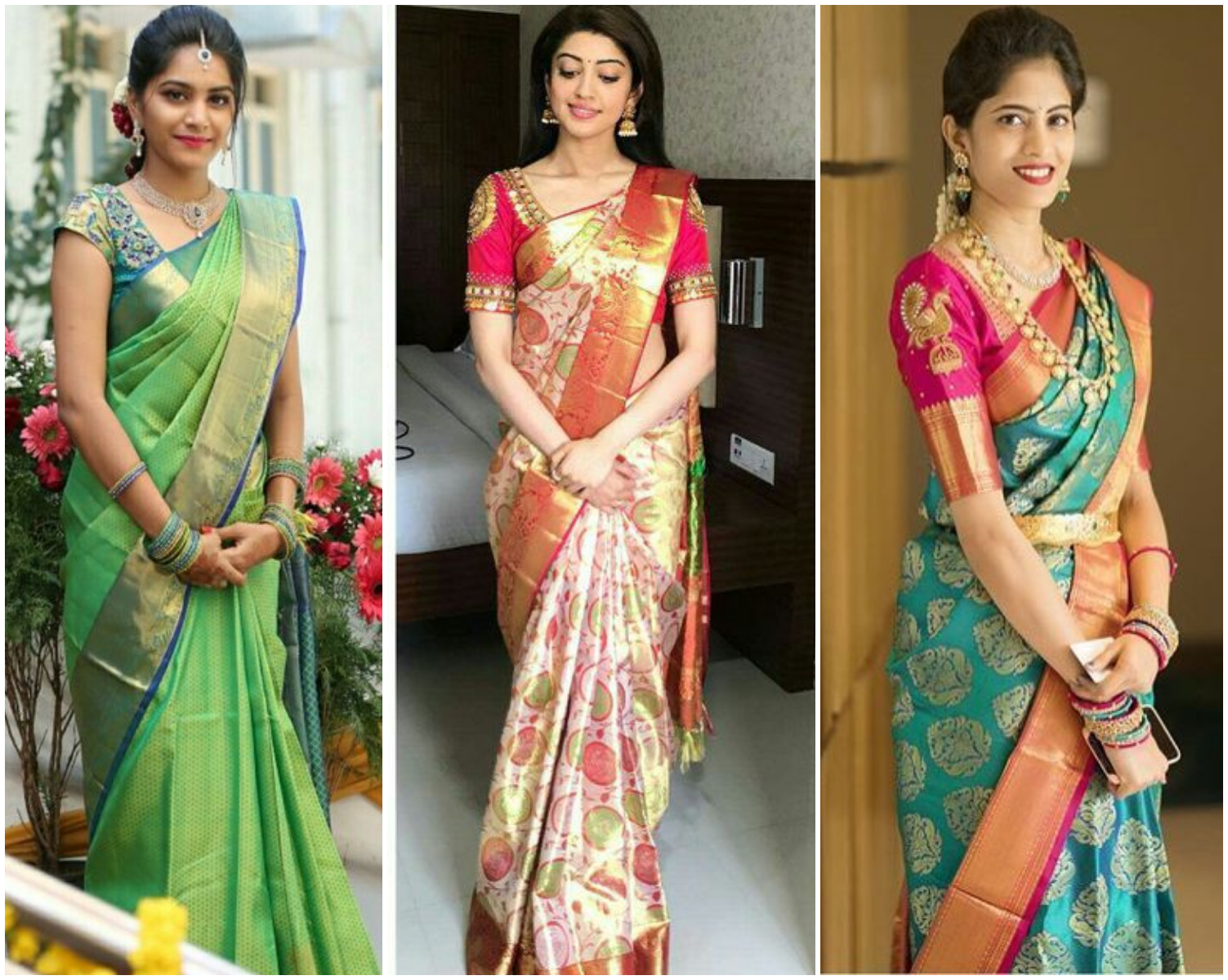 Plain or self-designed Kanjeevarm silk saree having a broad border which is wrapped in homespun woolen fabric resembling tweed is famous as pattu silk saree. Combining timeless style and fashion-forward design with magnificent colors and intricate pure zari work pattu sarees look decent. Wear the opulent saree paired with exclusive saree with stylish accessories for the weddings and parties.
8. Double Border Kanchipuram Silk Saree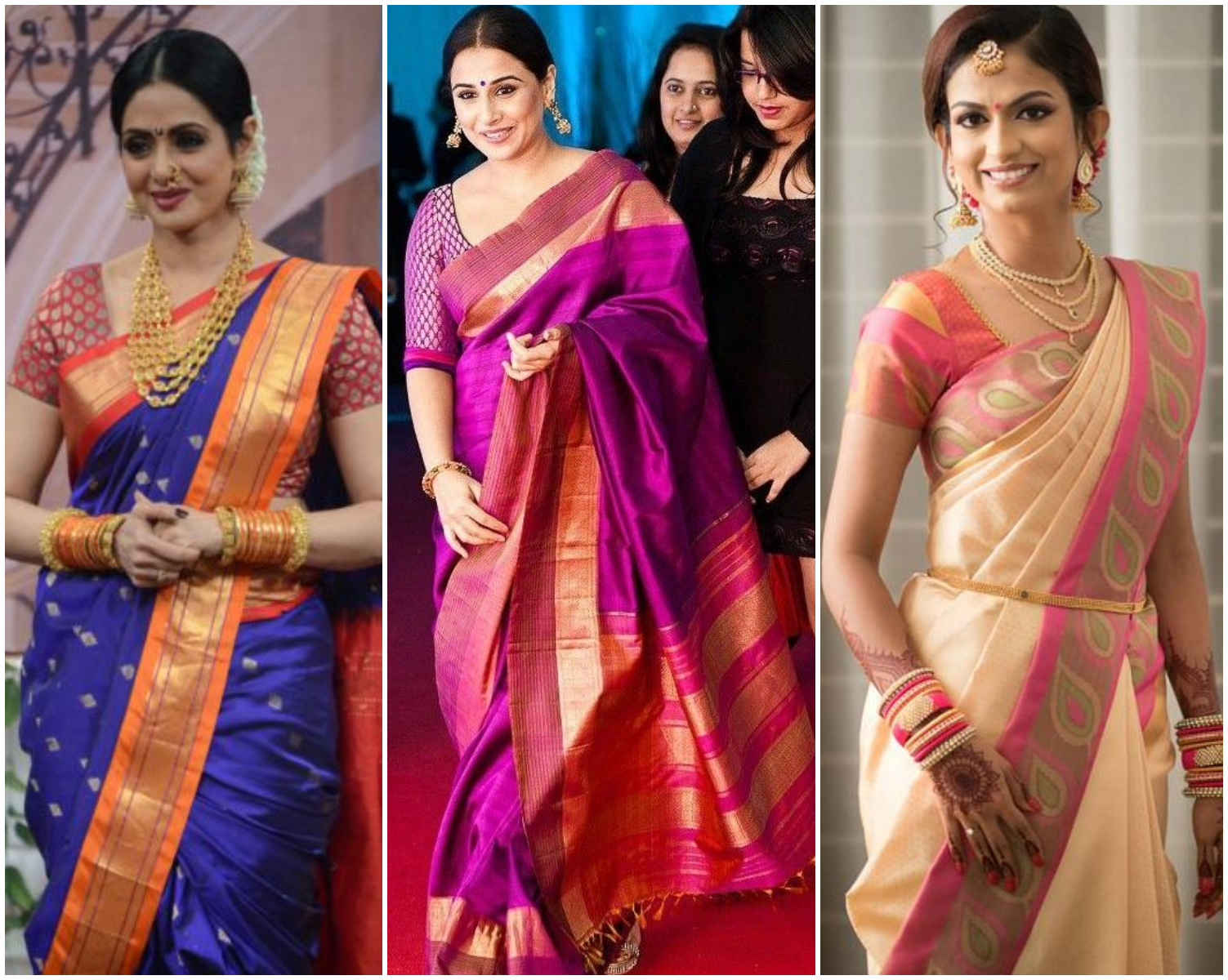 Double pattern or multilayered border running along the edges of Kanjeevaram silk saree ignites the look of simple silk. The saree is either plain or embodied with motifs in the entire length of saree with broad double borders. Gorgeous zari weaving work on the pure silk saree adds a regal look to the array. Pair the saree with the contrasting blouse and enticing jewelry.
9. Dual Tone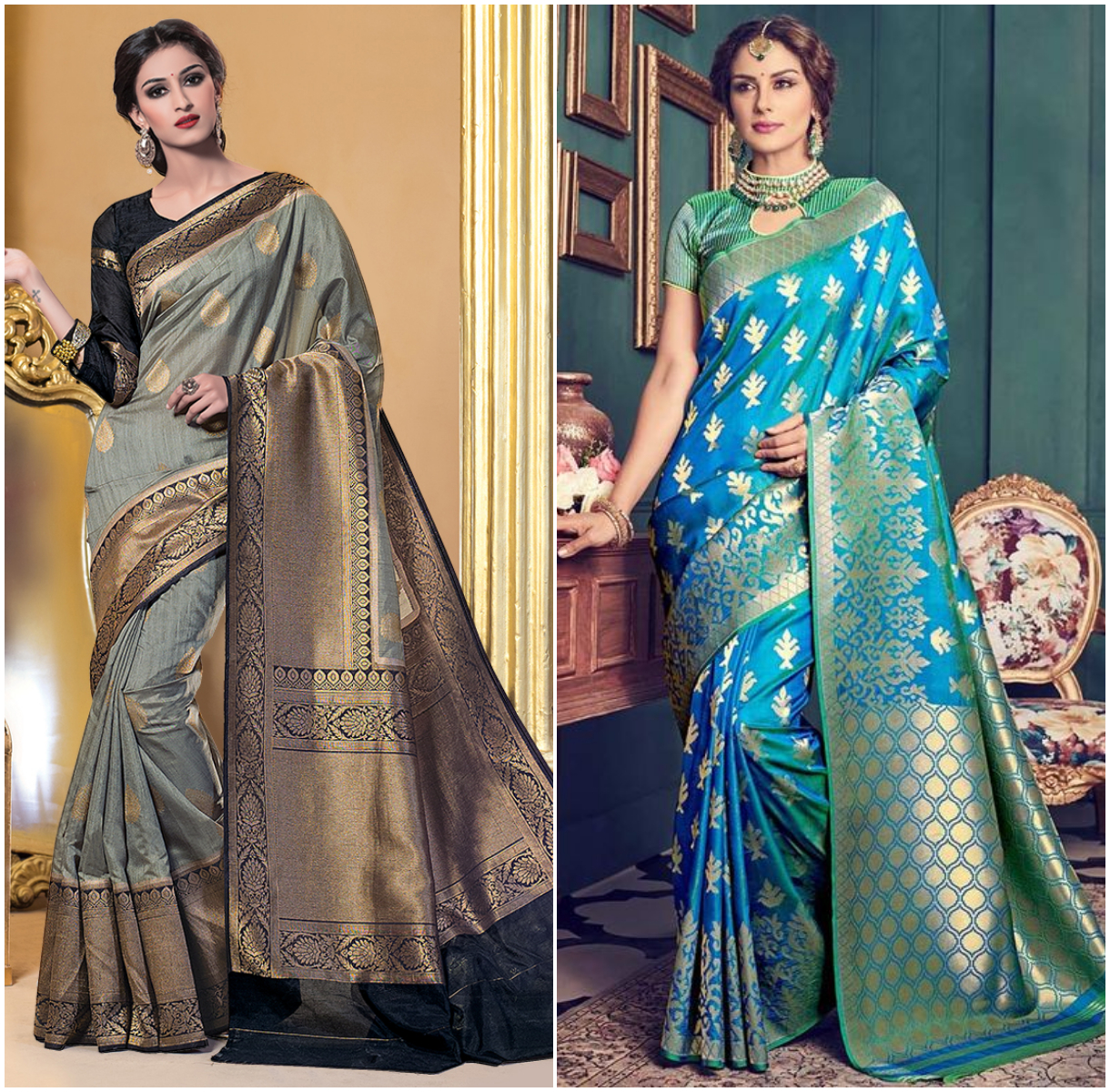 As the name suggests the Kanchipuram silk sarees formulated in two tones means the entire length of saree in one tone and the helm border and pallu having the other tone of color. The super cool fusion of silk fabric can be chosen for fabulous wearings on parties or conventional gatherings or ritual ceremonies to get into the desired enthralling rich look.
10. Regular Wear Kanchipuram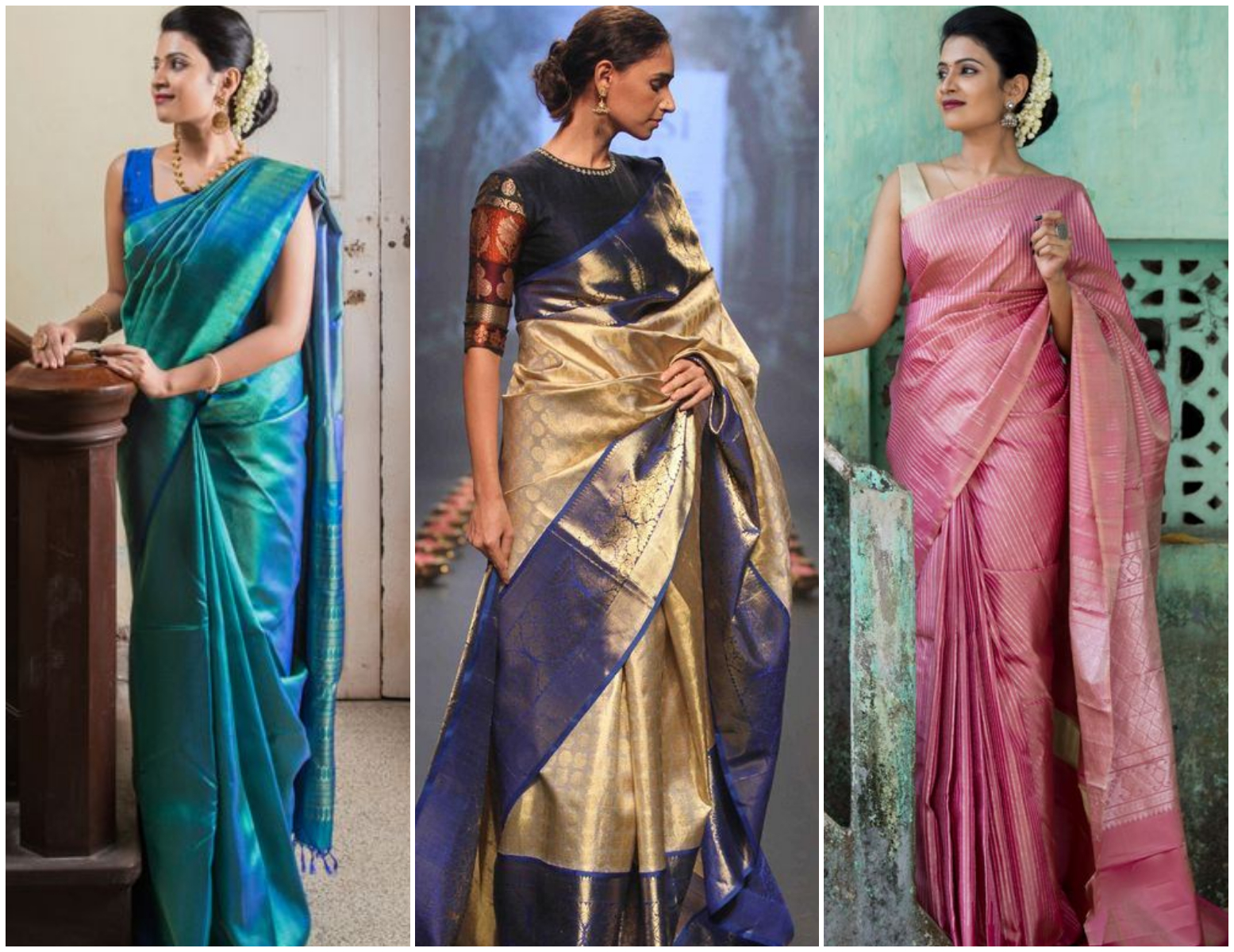 Simple Kanchipuram sarees or self-designed motifs crafted on soft silk fabric light in weight to carry can be preferred for daily wearings. Some of the picks might entirely plain and just save some pattern motifs on pallu or others may be designed with decent zari or gold thread borders. Wearing Kanchipuram silk sarees give a rich elegant look.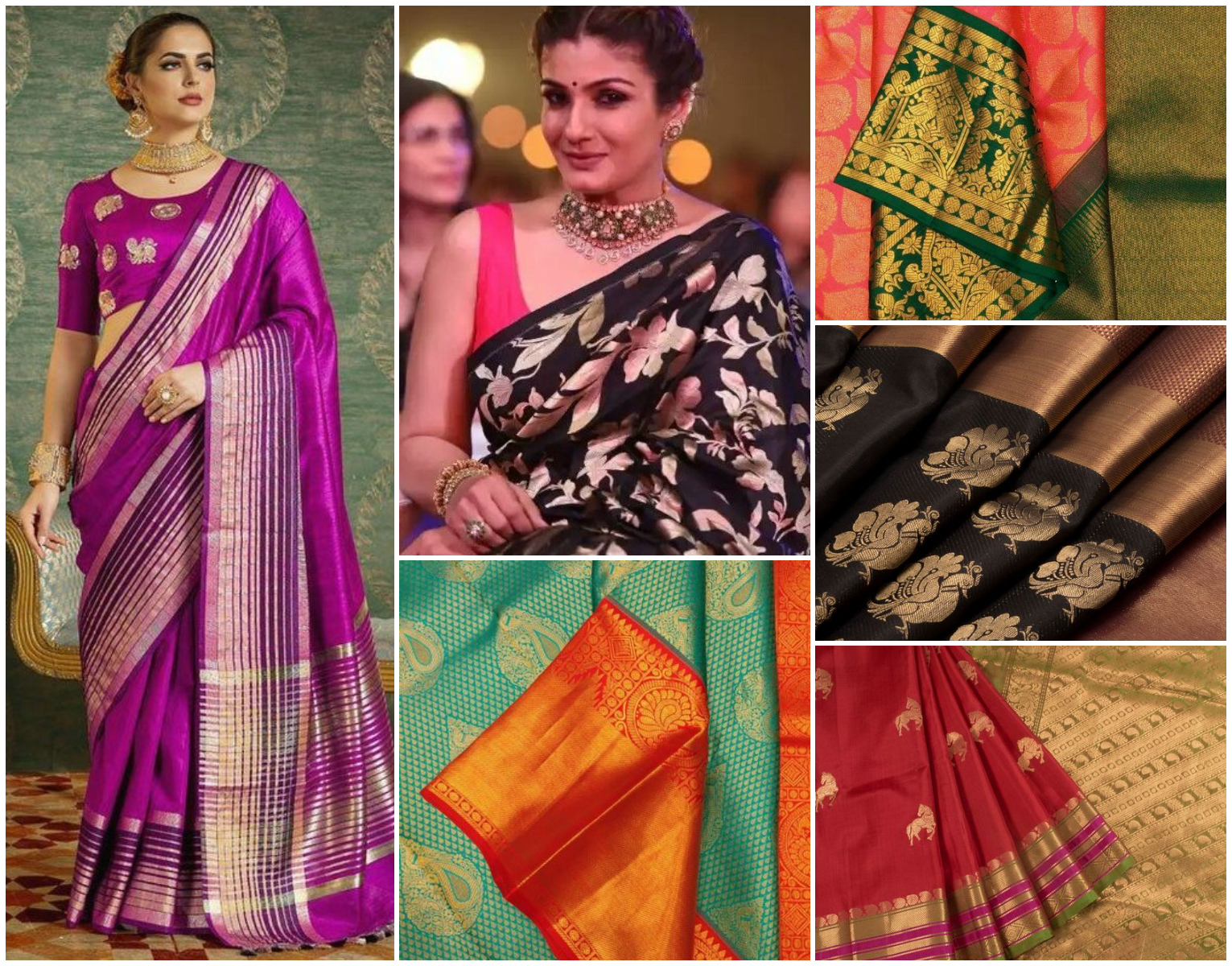 Pure Kanchipuram or Kanjeevaram silk sarees with a mixture of many latest patterns are available in wide range. These typical ethenic Kanchipuram silk sarees are best suitable for those women who love to drape bright colors on their frame.
Leave your comment in the section below how our collection impacted you? And if you want to get some these beautiful motifs to enhance your beauty order soon!