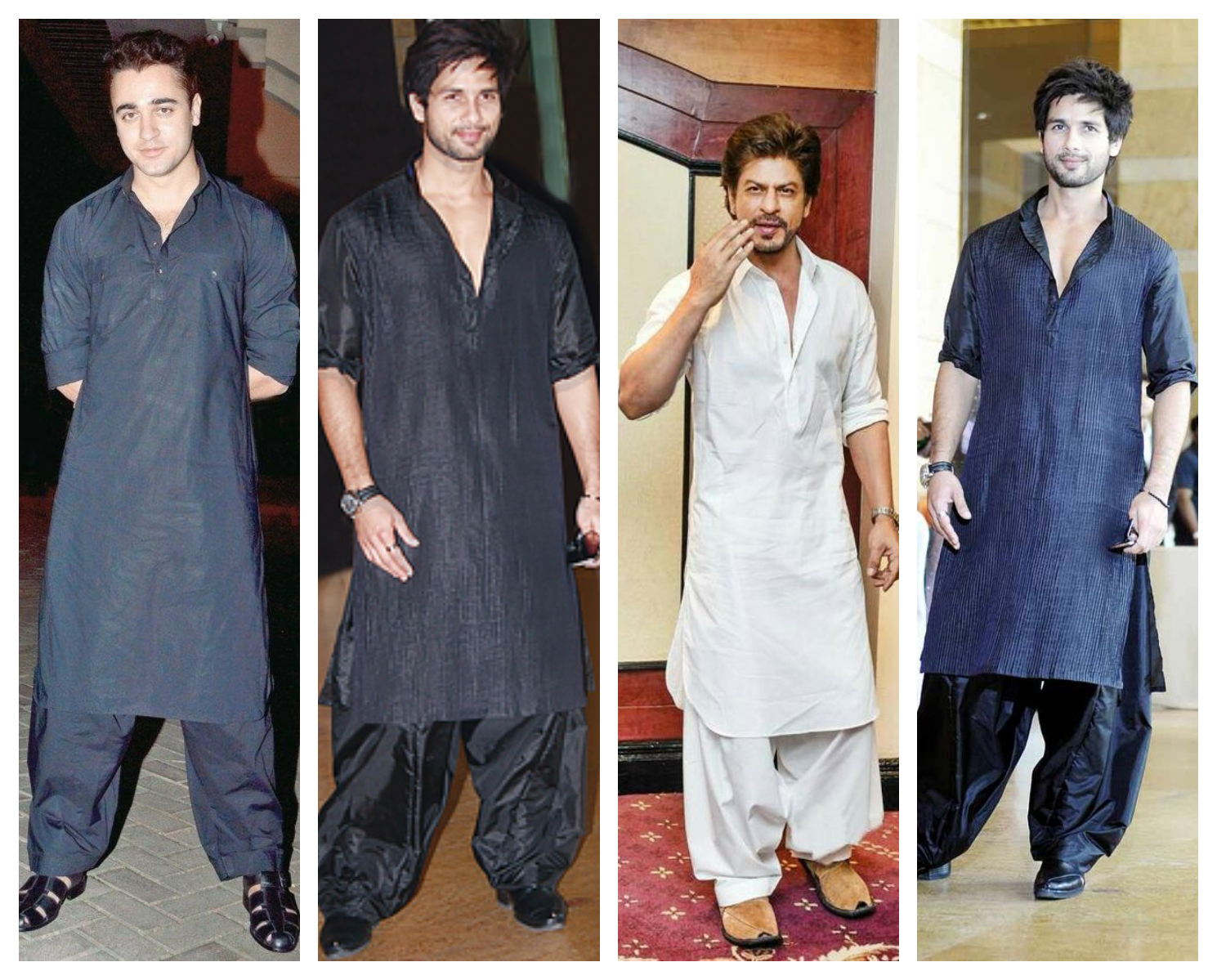 Pathani kurtas are among the popular Indian traditional attire, an exquisite wear for a perfect 'Nawabi' look. The sophisticated pattern is basic wearings of Afganistan where still it is a daily outfit mode.
Attending any ceremony? Want some different look?
Selecting a perfect pick for yourself is not only a muddling task for gentle being also for men for such occasions. Pathani kurta with salwar designed in dynasty fabric and ultimate stitch would be a quirky clue. These kurtas can be designed in numerous colors and variety of size, cut & creativity. For traditional occasions choose the Pathani in shimmery fabric or an embellishment of thread work with some beads or stones.
For your special day, Yup talking about your wedding eve! possibly give some effort to select the real pick to bask in the limelight, beside your bride. Portray a peculiar dress code in attractive Pathani sherwani hued in conventional weave paired up with salwar and juti.
Look further our collection of some alluring picks of unique and styled Pathani Suits for men.
1. Pathani Kurta With Salwar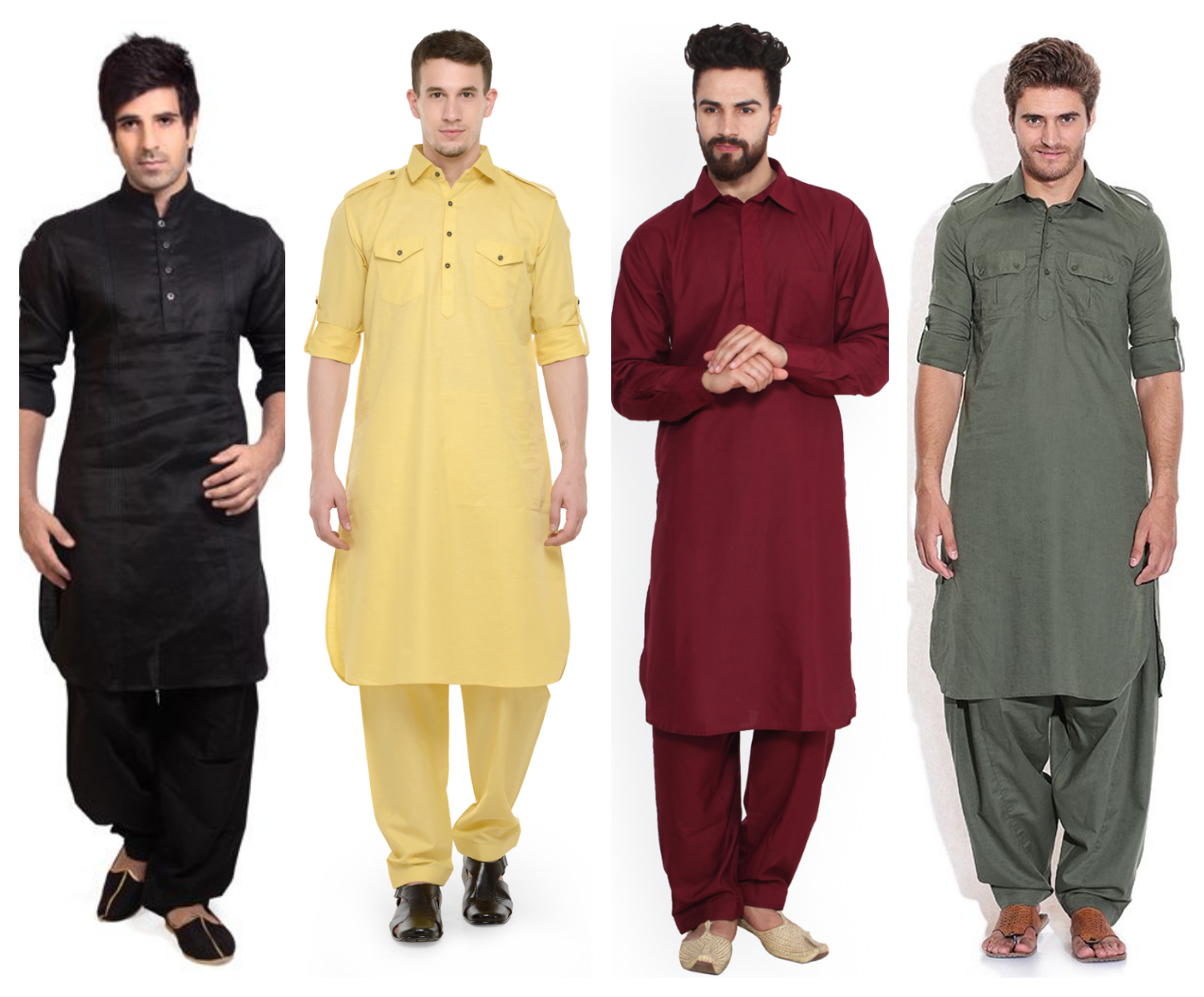 Let your ethnic desire take a sophisticated root and try wearing simple single-hued Pathani Kurta with Salwar. This sober outfit can be used for formal wearings woven in soft linen or cotton fabric with collar neck. The look of kurta is enhanced with buttons and pocket. Pathani suits are suitable to wear on Diwali, Eid, wedding sangeet, reception and at other traditional ceremonies.
2. Grooms Wear Pathani Suit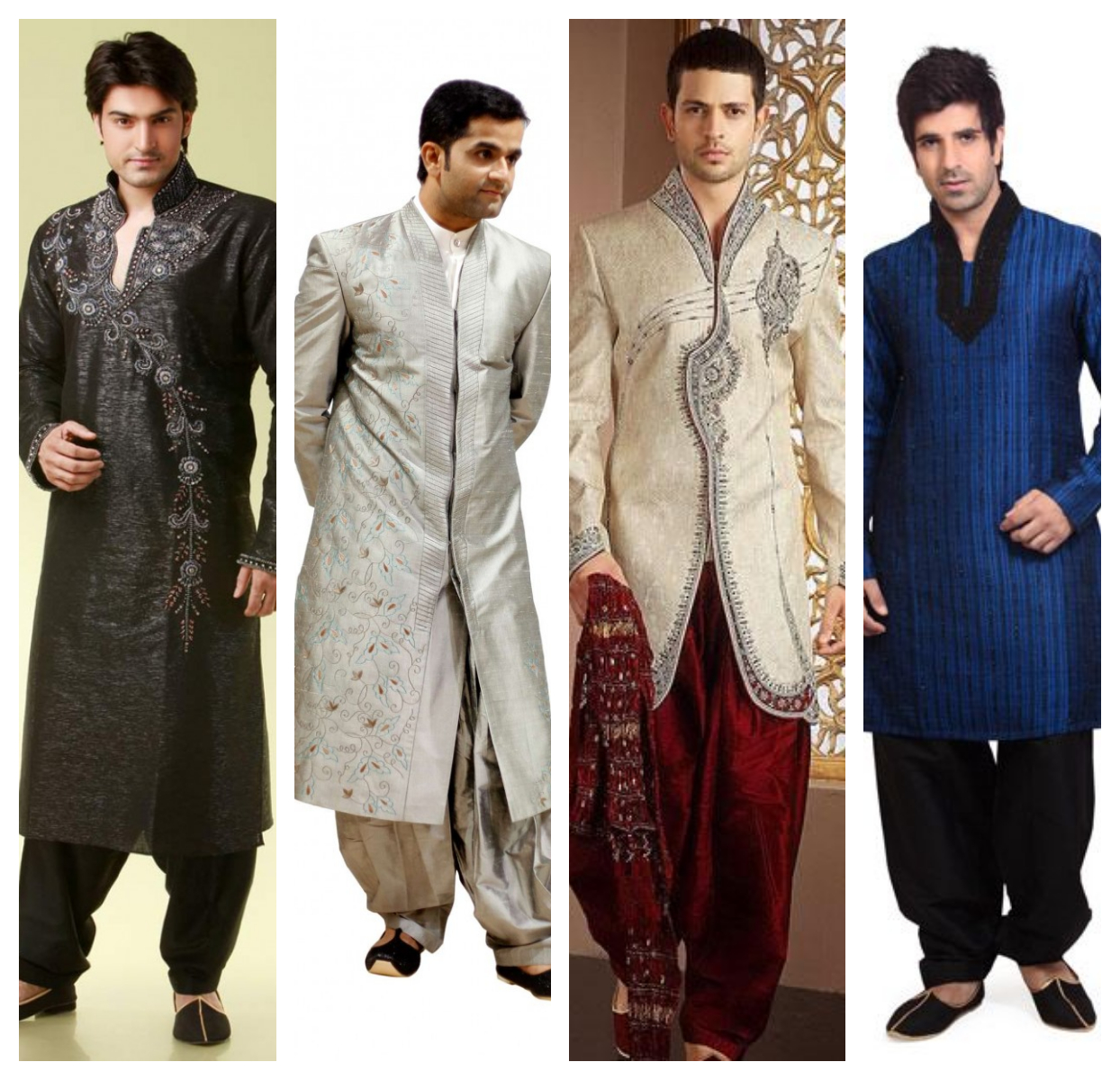 The Afghani attire is loved in India especially by Muslim men to pick the outfit for traditional ceremonies but loved by others too with the little blend. The unique pattern can be decided as your dress code for the special wedding day when it is blended on silk fabric with embroidery and stone embellishments. The dress when given a different style and cut makes the becomes more attractive. To complete the look add juti and stall of the same color of the bottom with the costume.
3. Pathani Sherwani Style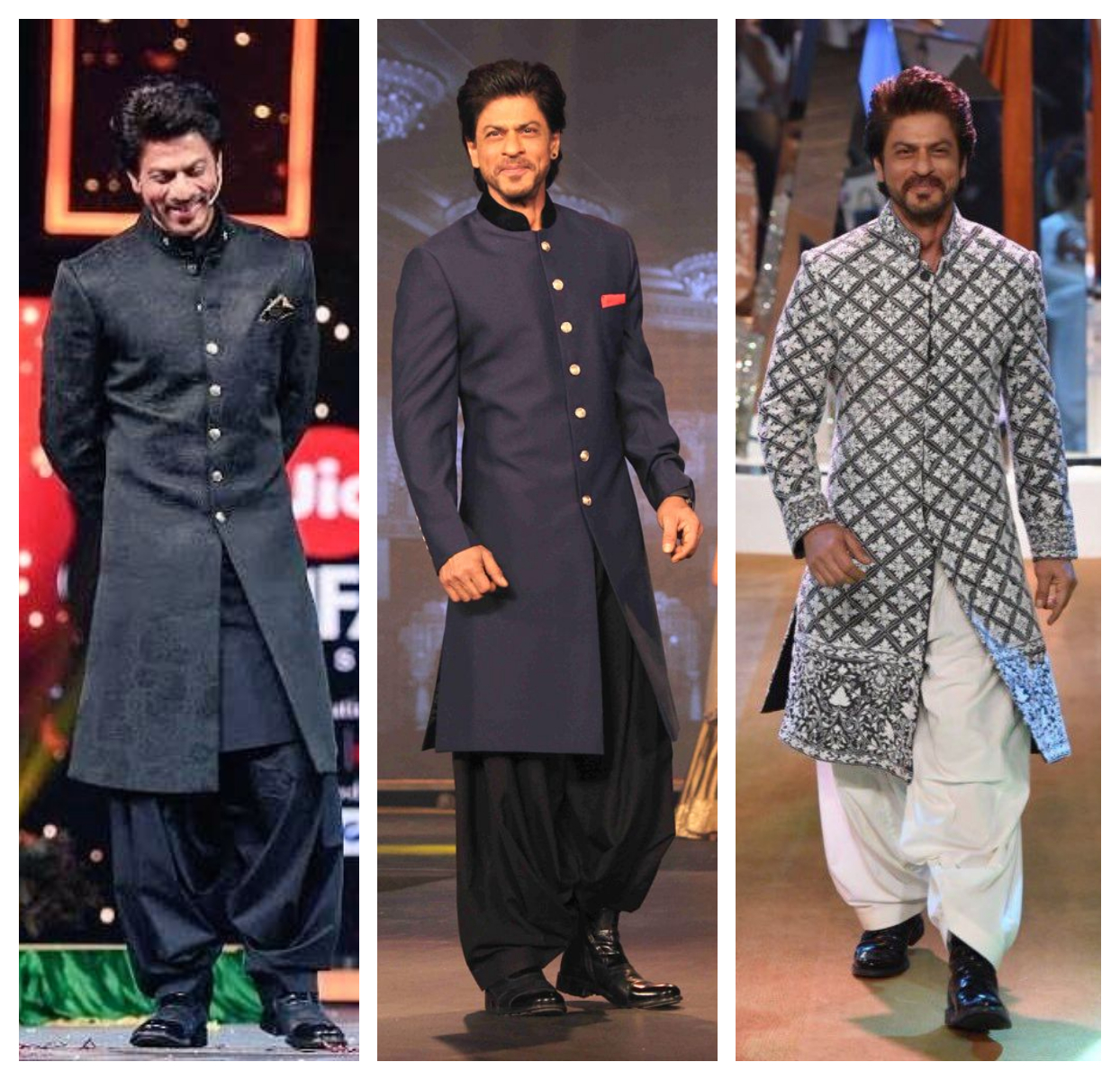 Designers create new styles and handwork to make this traditional wear suitable for different occasions and Pathani sherwani is the one form of this simple kurta. Pathani Sherwani is "King Khan's"favorite attire to wear on traditional or special occasions. Pathani suits used by various Bollywood stars in movies has added popularity to this outfit. The simple Pathani kurta is blended to sherwani paired with the same Pathani salwar gives an amazing look. You can combo it with mojri or Chelsea boot.
4. Mix Match Pathani Suit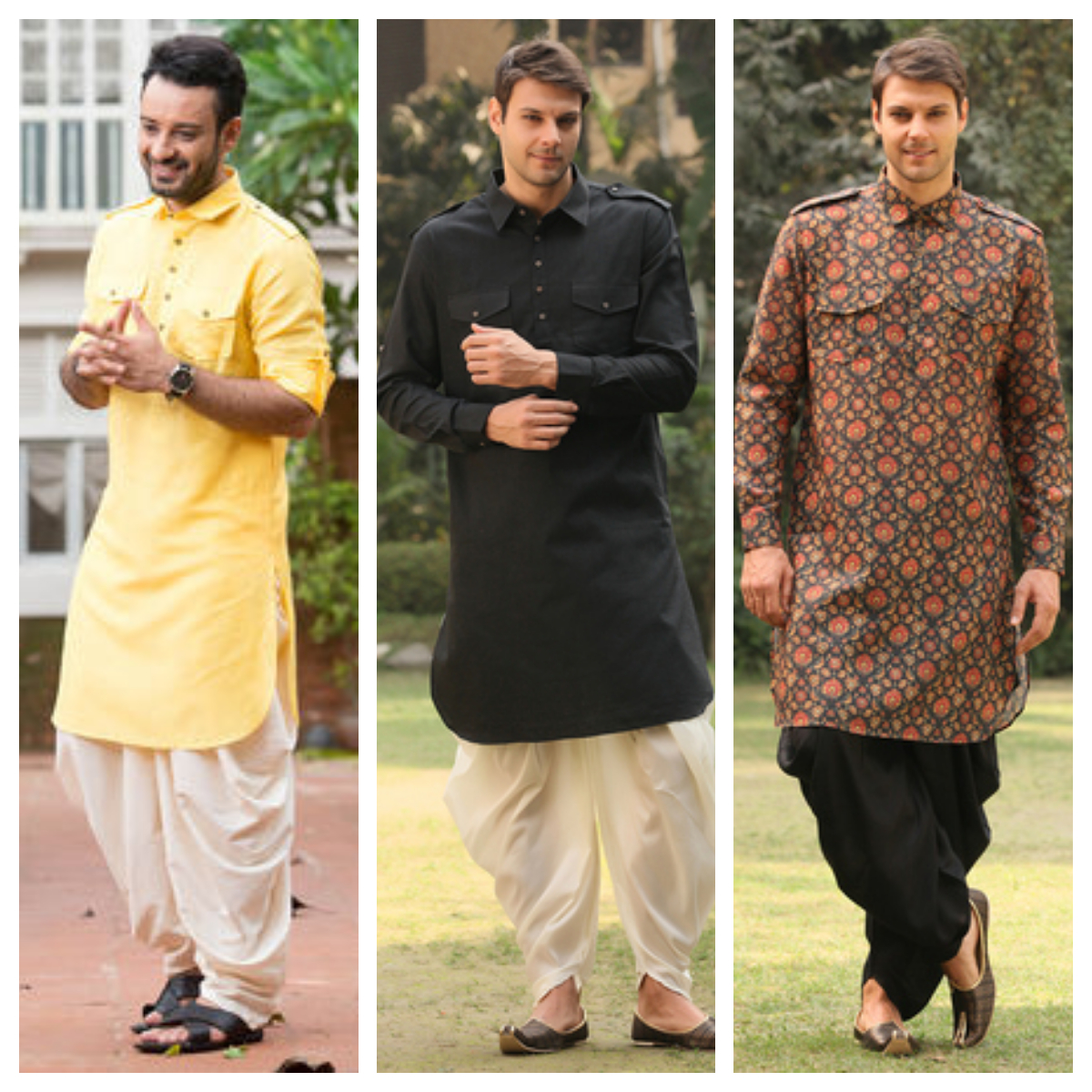 Pathani suits for men are available in versatile colors and shades. Printed or plain kurta designed with collar, chest pocket, and placket teamed with a different color Pathani salwar is another normal wearing pattern. Commonly the attractive kurtas are paired with white or black salwar.
5. Two Toned Pathani Kurta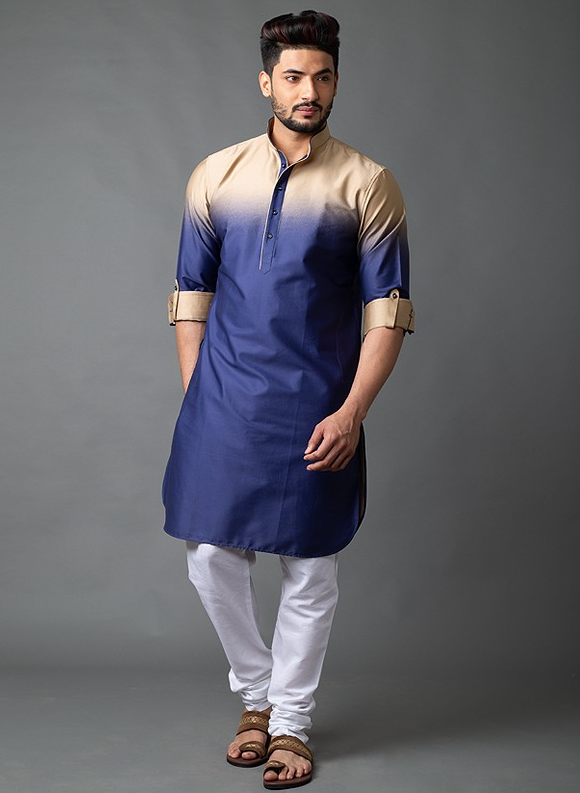 The two-tone ombre of this blue and khaki kurta gives the outfit a perfect level of style. Roll up the sleeves and get going to dress smartly in this stunning Pathani kurta. Pair the s traditional kurta with either salwar or pajama for the sober look.
6. Contrast Collar Cotton Pathani Suit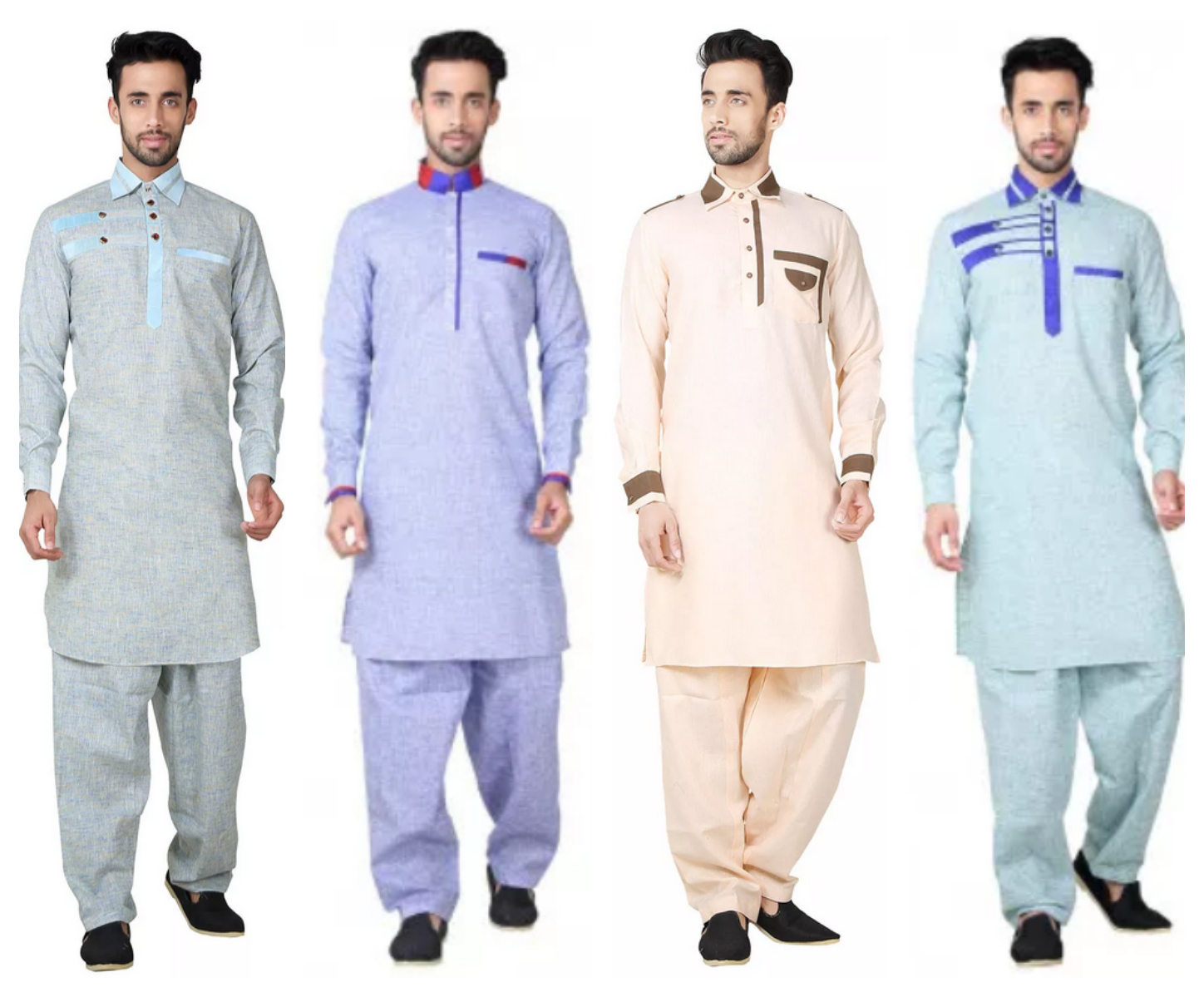 Pathani suits for festivals are in great demand their range may vary based on based on quality, design, and cut. The neutral colored kurta designed with Chinese collar or the normal collar, patch pocket on both side and short button placket with curved hem comes with the matching bottom. The collar of kurtas is sometimes designed in contrasting dark shades to give a different style to the suit.
7. Neck Embroidered Pathani Kurta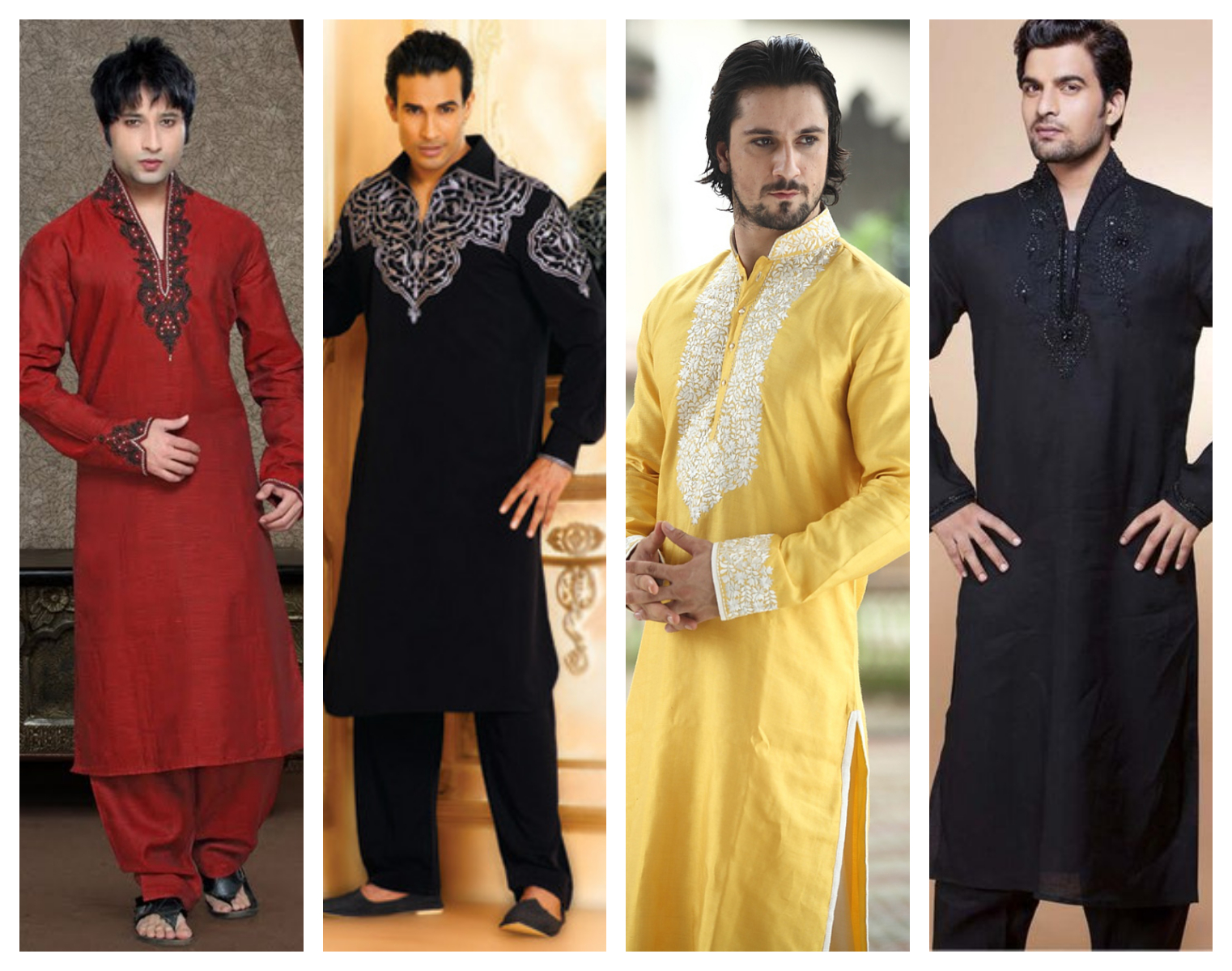 The festive Pathani suit in silk fabric with Chinese collar carved in embroidery gives you a dishy look. This mosaic is a typical form of Pathani kurtas for conventional occasions. You can prefer bold colors in silk, fusion, satin or cotton to fabricate rich and elegant look.
8. Pathani Suit With Jacket

Get a perfect party looks in this conventional Pathani suit teamed with swatched jacket crafted with the fancy buttons and plackets. Rich quality and perfect texture is another important factor which determines the look of the suit, add a pair of pointed mojaris to your outfit for a stunning look.
9. Patchwork Pathani Suit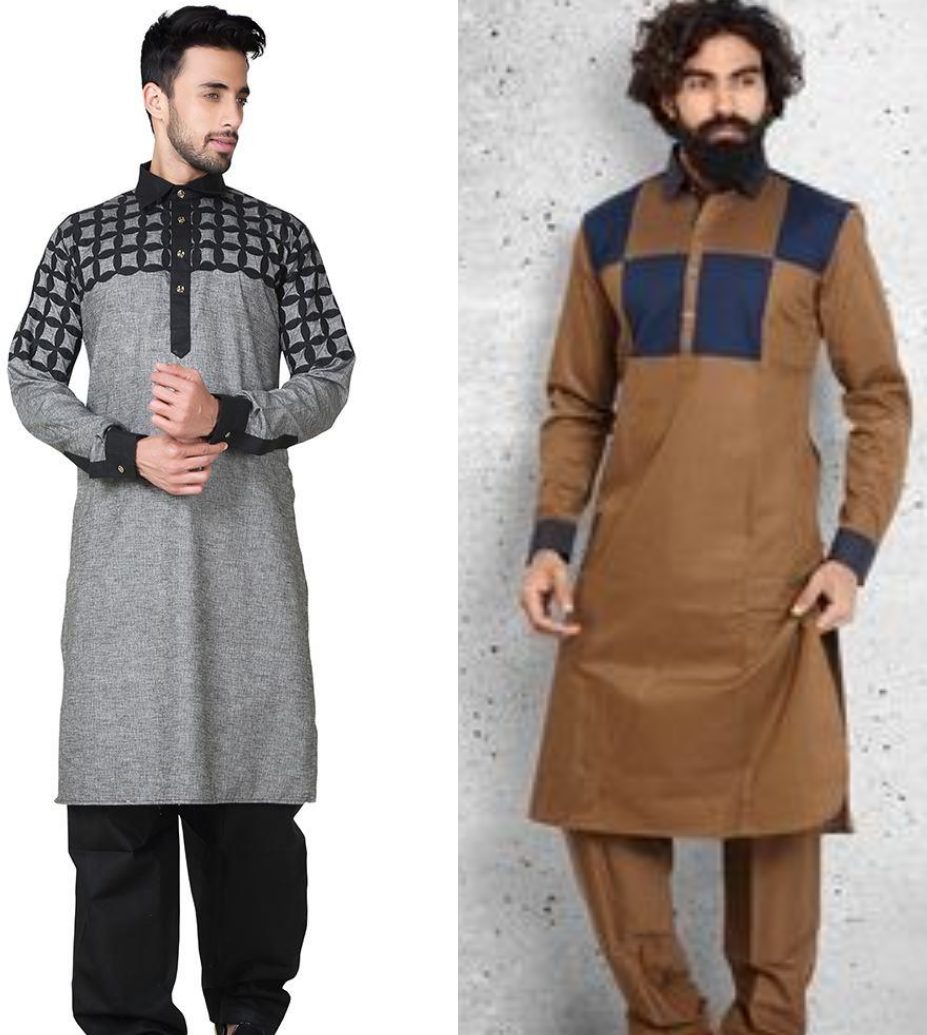 A simple piece of cloth when purchased and designed to perfectly suit looks astonishing. Staple the Pathani kurta with patchwork to add a new style to the wear. The patch can be designed at the helms of cuff and collar, even on shoulders and near the neckline. This can be picked as an outfit for simple occasions and festivals, being distinctive in look Pathani suit is comfortable too.
10. Fancy Pathani Kurta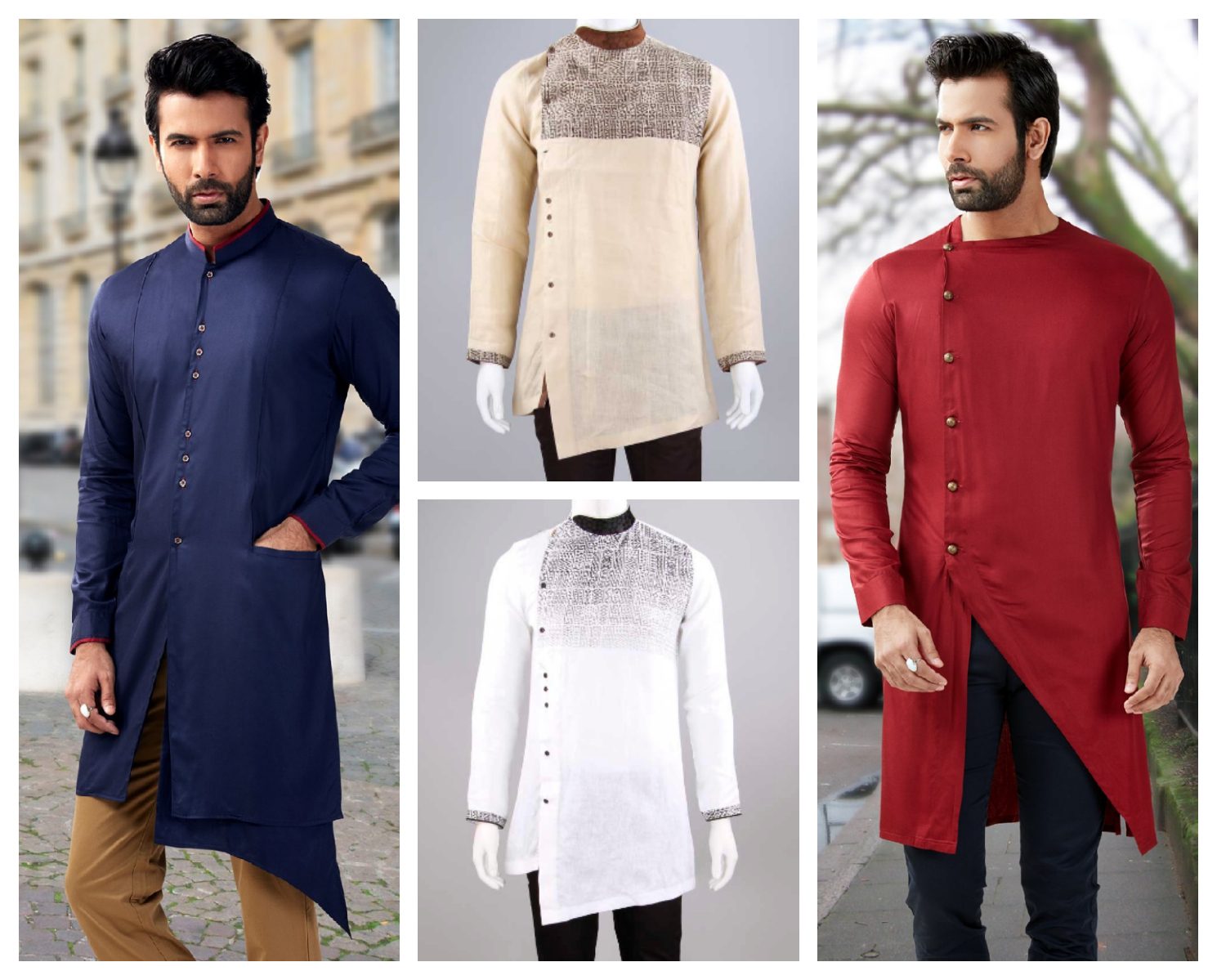 Make a royal personality with a differently styled Pathani suit. This kind of fancy Pathani kurta can be teamed with jeans or cotton silk trouser, basically, black ombre would go with this kind but you can opt as per your taste. The styling of kurtas is highlighted with fancy buttons.
Accessorize your look with stole
Wear a scarf in your pocket when picking a jacket to wear on Pathani kurta it will give a decent look.
If you prefer Pathani suit in sherwani style or in a modern cut team it with Chelsea boots and for other patterns can simply choose mojri.
You can dress well in Pathani suits created by designers to look smart and attractive. The patterns and styles shared by us are unique. If you like any style or wanna try any Pathani suit design from our catalog ping down we will cherish your comments and orders!