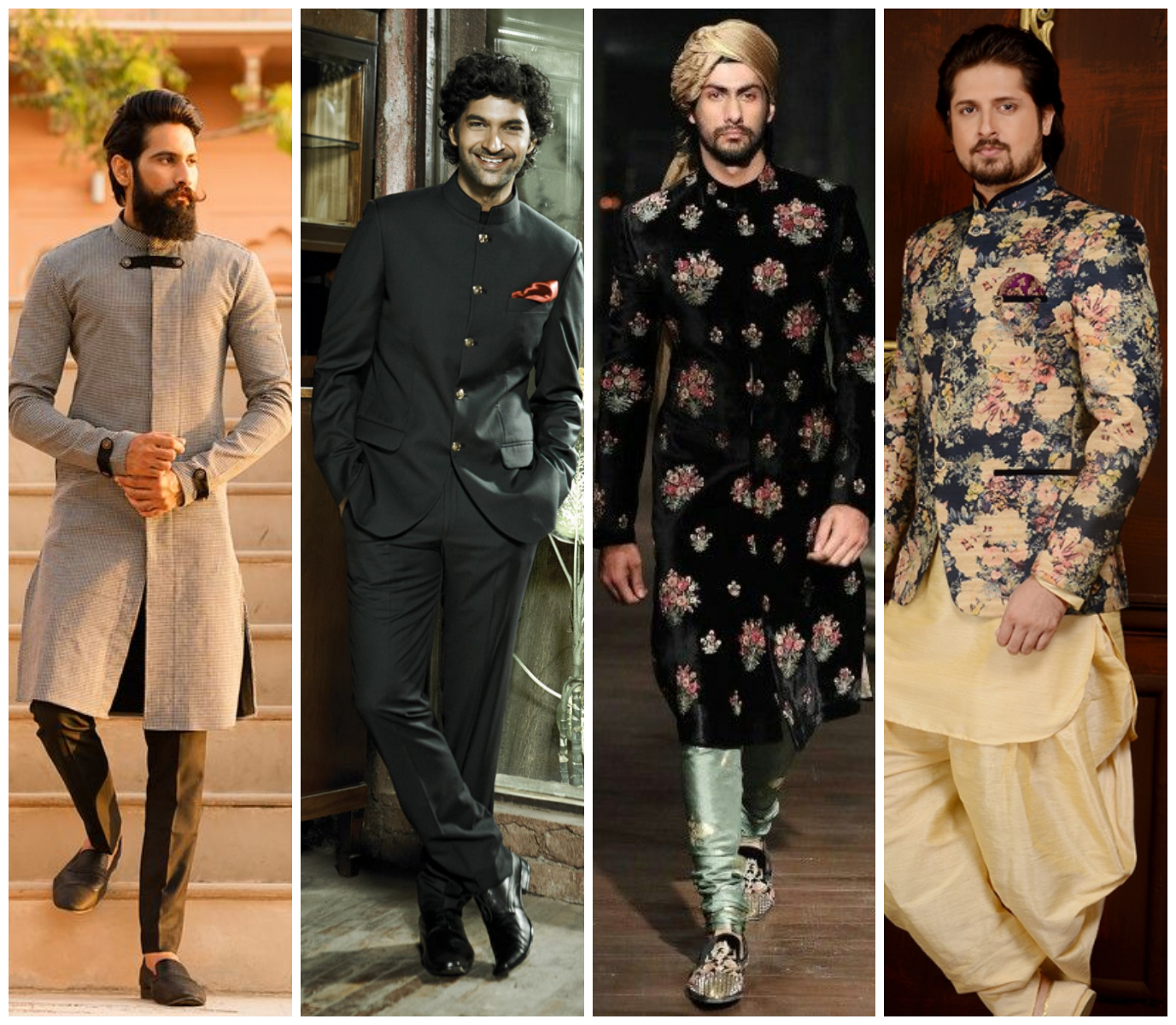 Jodhpuri Suit often referred to as a prince coat. The Royal Suite is a combination of a jacket with Nehru ( Bandhgala ) Mandarin Collar and trousers. This fade was first designed for Maharaja of Jodhpur later it became a trend.
The Jodhpuri is so quintessential Indian attire for wedding ceremonies, festivities, and other formal gatherings. In today's fashion scenario combination of western design aesthetics with Indian craftsmanship portrays Indian dandyism. Technically a Jodhpuri suit consists of a jacket, trousers and sometimes a vest, for a suave appeal, Jodhpuri Suits are designed in an array of styles, collar and sleeve details with western cuts.
Add on Indian hand embroidery elevates Jodhpuri suit style to the top of trend meter.
We have the latest collection of Jhodpuri Suit ensembled in our catalog. So go ahead and have a look of latest Jodhpuri designs in wide variants of fabrics, textures, embroidery, and colors.
1. Customised Jodhpuri kurta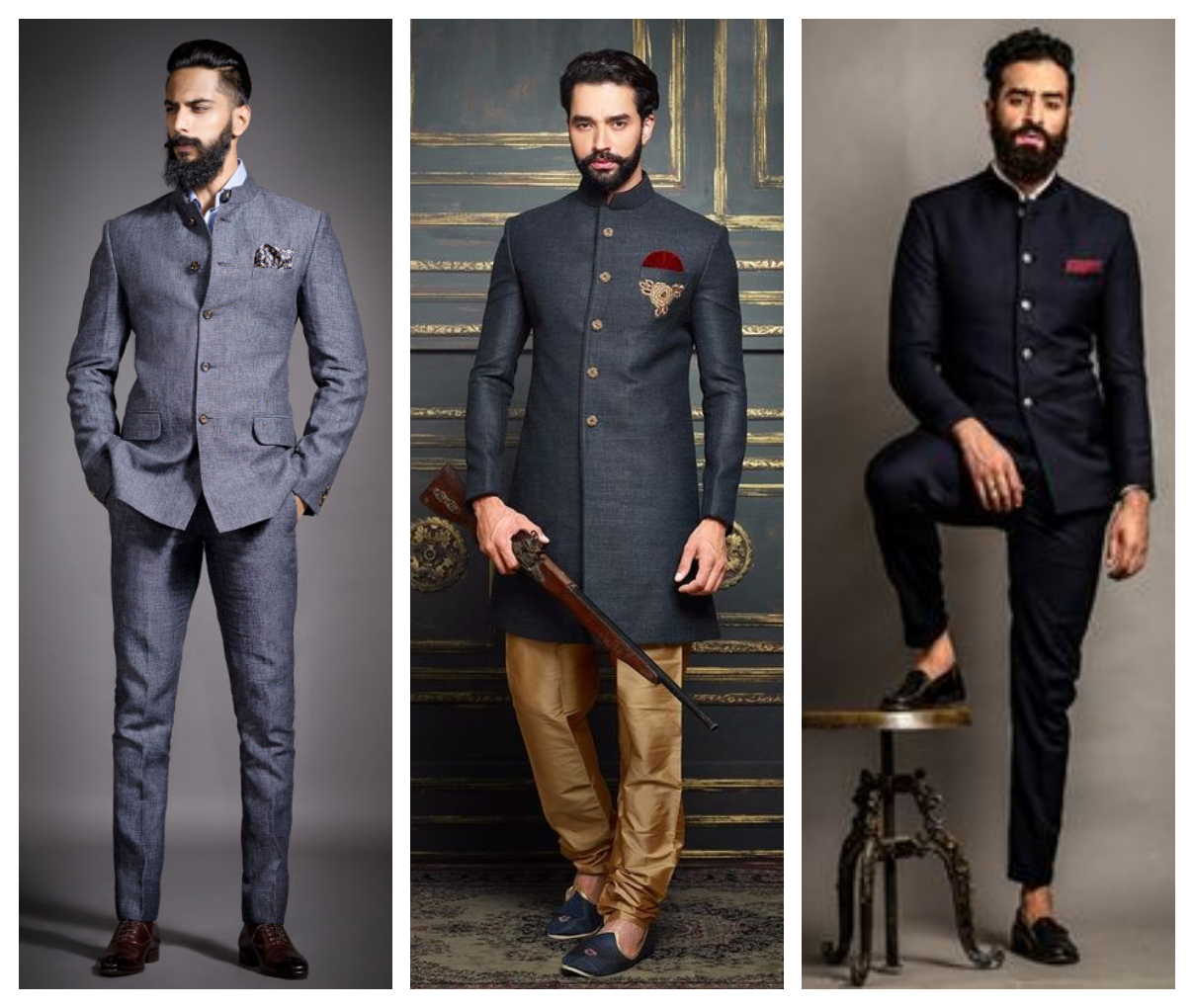 A sober Bandhgala jacket is ideal for formal evenings. Apart from lightweight fabrics, Bandhgalas are made in linen, Irish linen, cotton chino or silk and when made in fine Italian suitings the fad has unmatched quality.
2. Different style Jodhpuri Kurta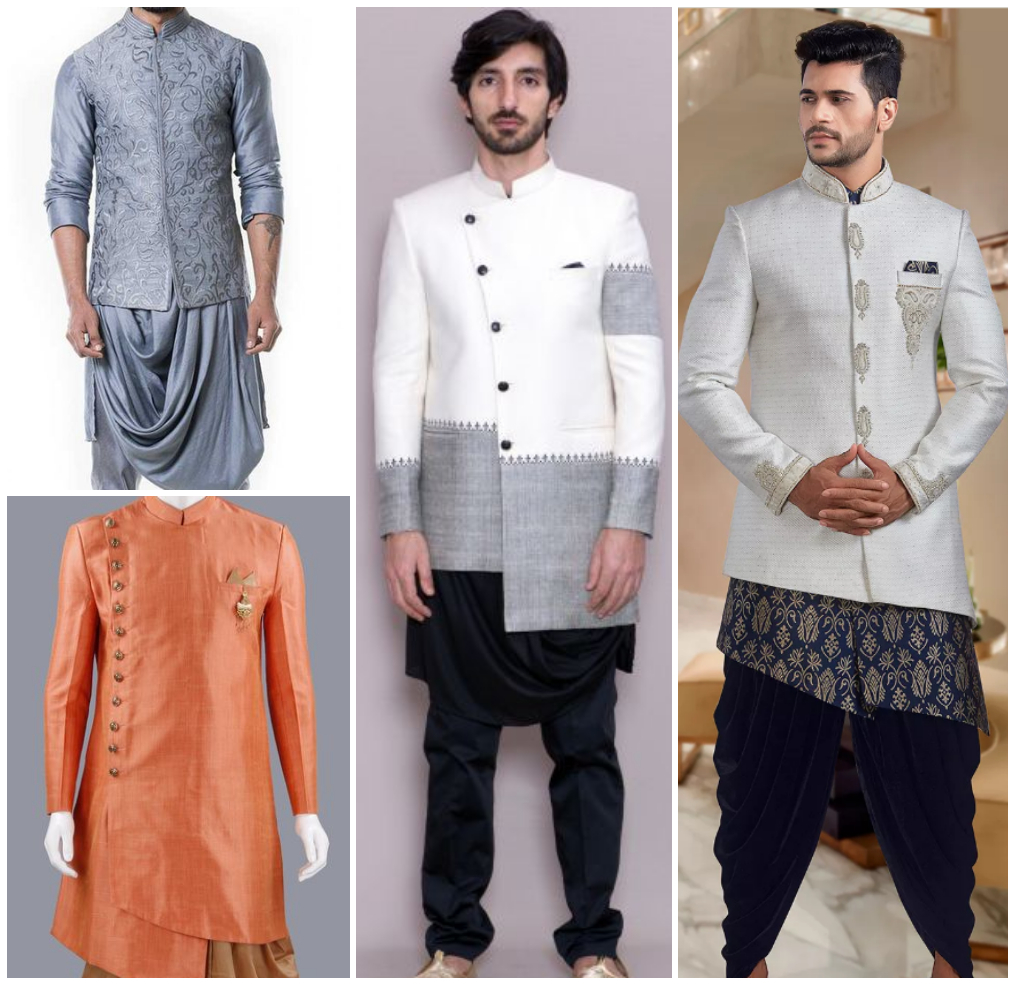 Fabric and style of the kurta decide the environment for wearing the outfit whether in ceremonies or as the wedding code. Gone are the days when there was no other option than wearing simple Jodhpuris now they are blended into innovative jackets with a perfect fit the superb mixture of Indian taste along with western is just worth appreciating.
3. Bandhgala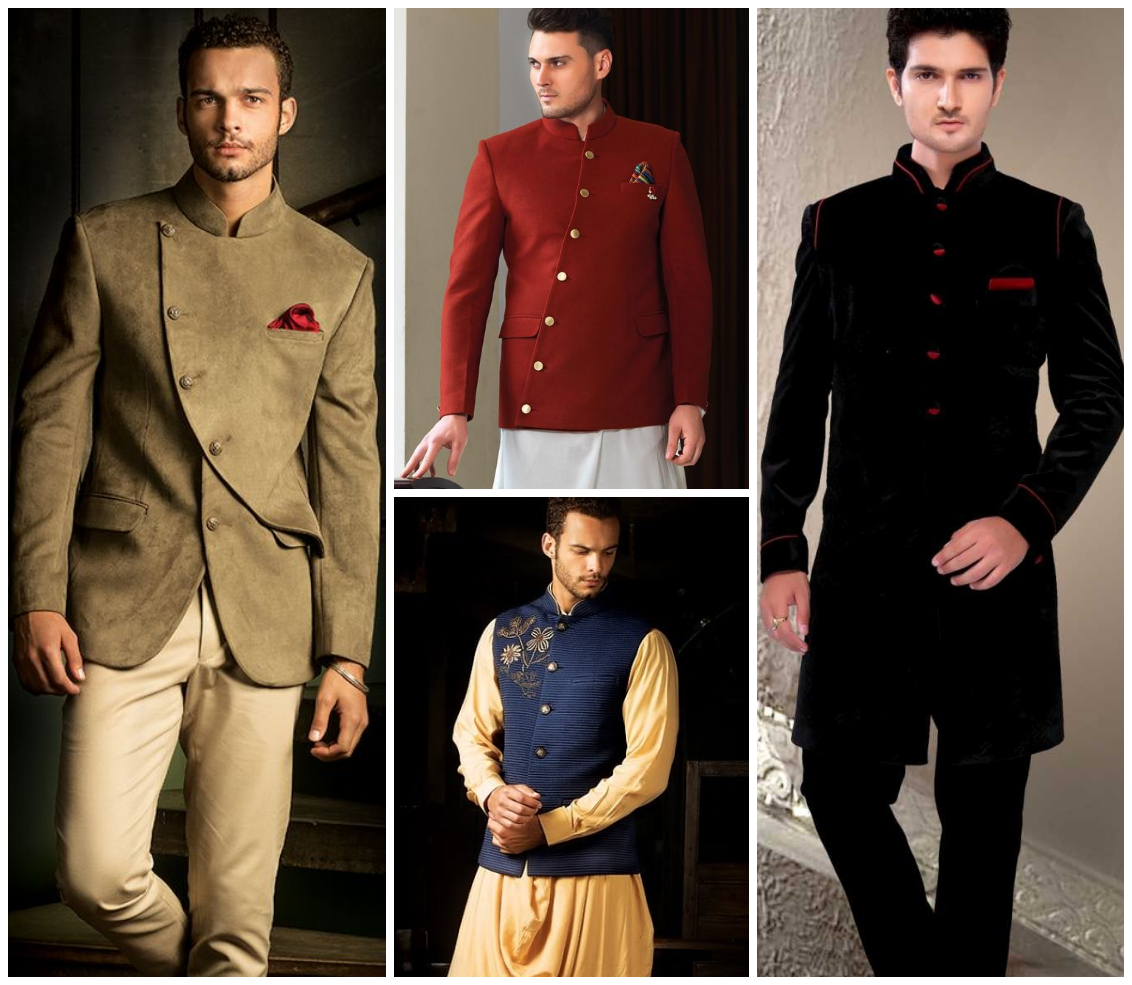 Bandhgala is another word for Jodhpuri suits, traditional version of the Bandhgala jacket is designed for weddings and festivities and revelries. To achieve the original look you need to be extremely particular about getting the right cut and fit. Cravats and scarves paired with the outfit work wonderfully to get the trademark look.
4. Jodhpuri Angrakha Suit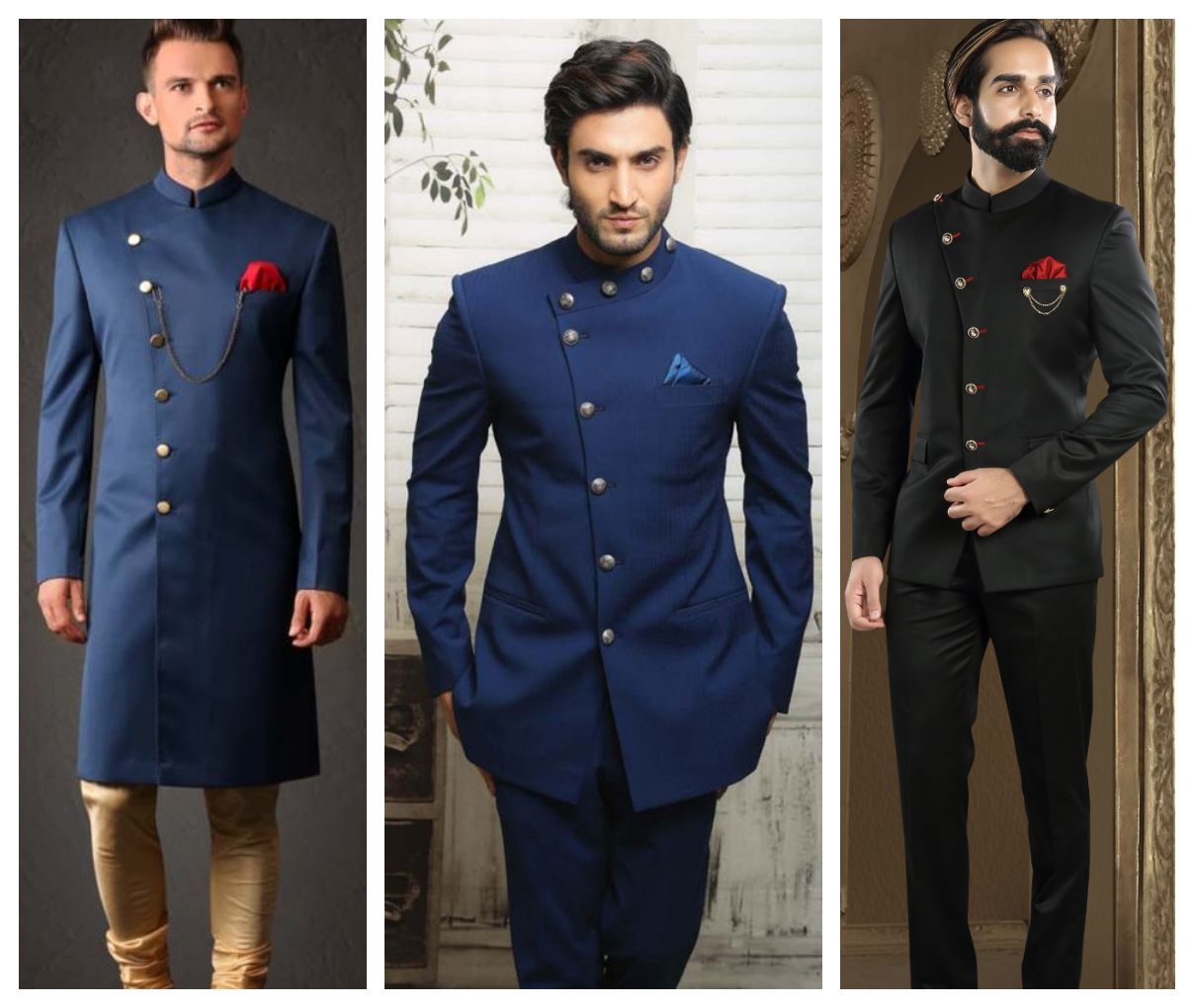 Angrakha is another traditional form of Jodhpuri suit, this upper garment overlaps and is tied to the left or right shoulder. In ancient times it was court outfit tied flexibly with knots and now it turned out to be hooked with buttons. The outfit is tailored in a variety of colors and designs making it all the more stylish and elegant. These are perfect smart outfits for traditional ceremonies to have all eyes on you.
5. Jute Silk Jodhpuri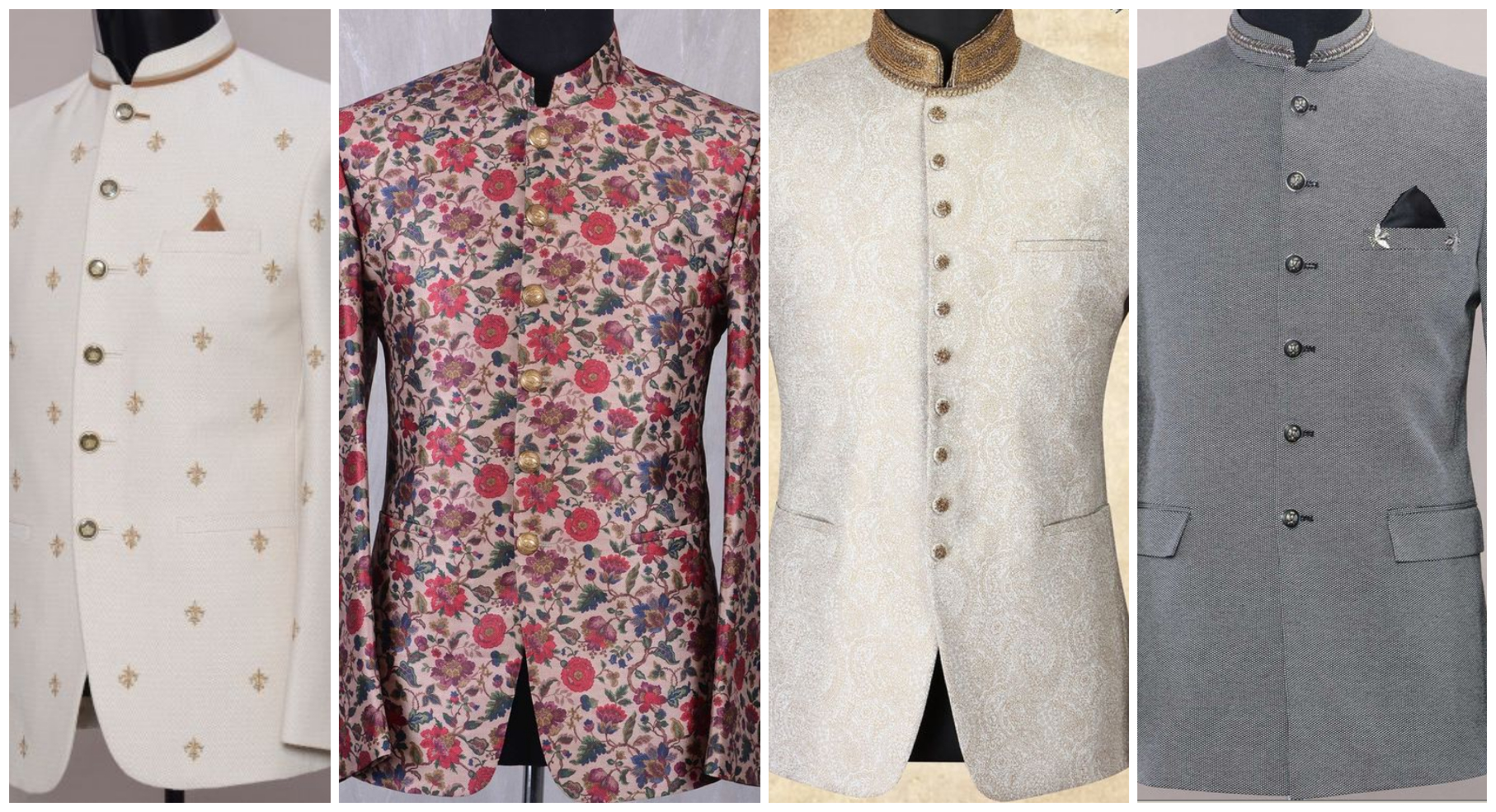 Art jute silk Jodhpuri strikes the perfect balance of the notoriously hard to define "smart-ethnic". Details in neckline and collar enhanced with button-up pattern define the legacy of Indian craftsmanship. Dress it with an apt matching bottom for quintessentially Indian style. The jacket should not be weaved too long or too short with a boxy unstructured look otherwise it will kill the purpose of the well-cut jacket and would appear weird.
6. Royal Jodhpuri Sherwani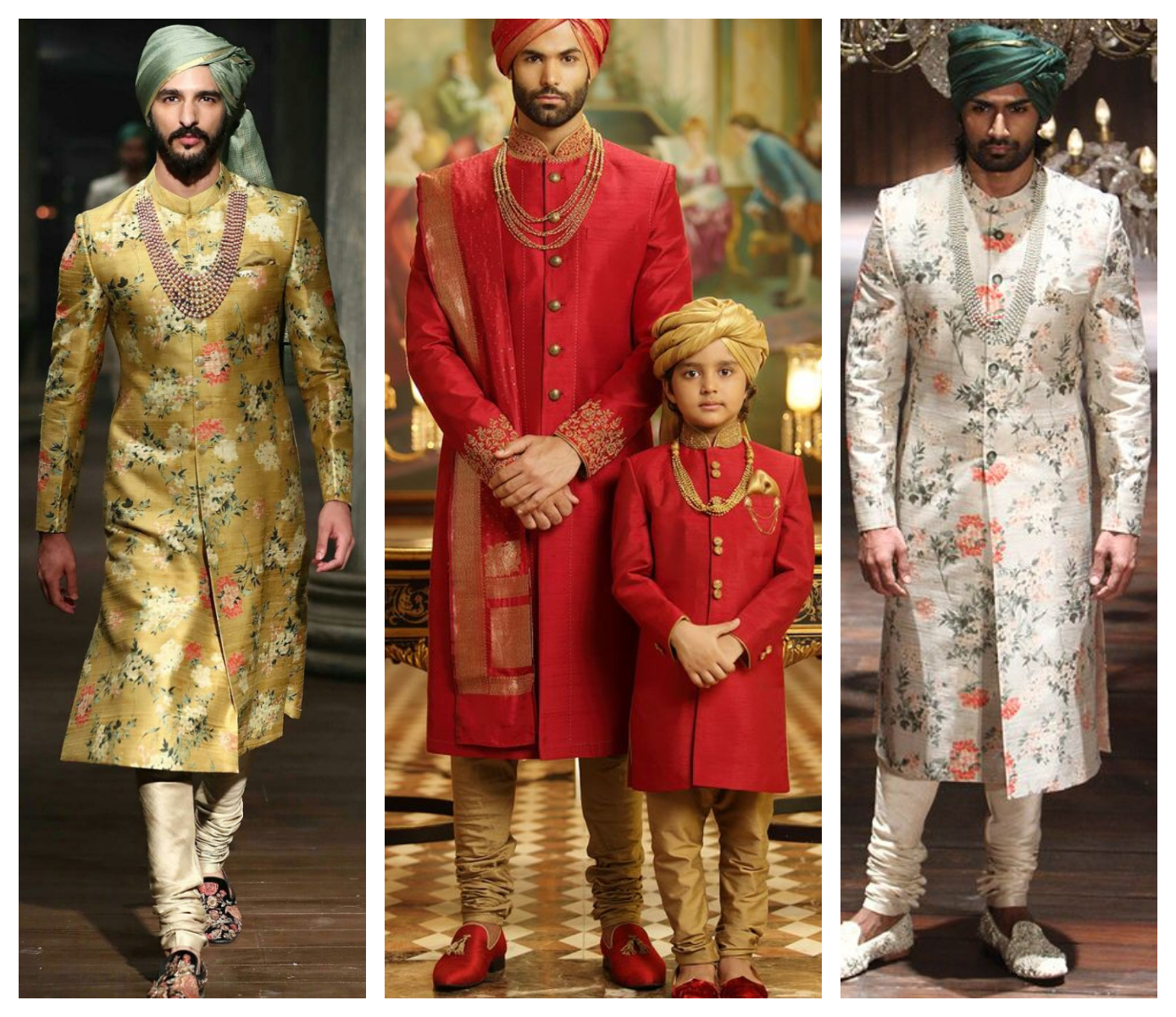 To make your special ceremonies unforgettable avoid buying simple readymade suit go for styled ethnic Jodhpuri Sherwani. The fascinating sherwani tailored in a perfect fit blended out of comfortable shinny fabric lends to modern edge of royalty. If you are fond of accessories wear a necklace or bracelet or a pocket square to balance it with the hue of the wedding ceremony.
7. Indo-western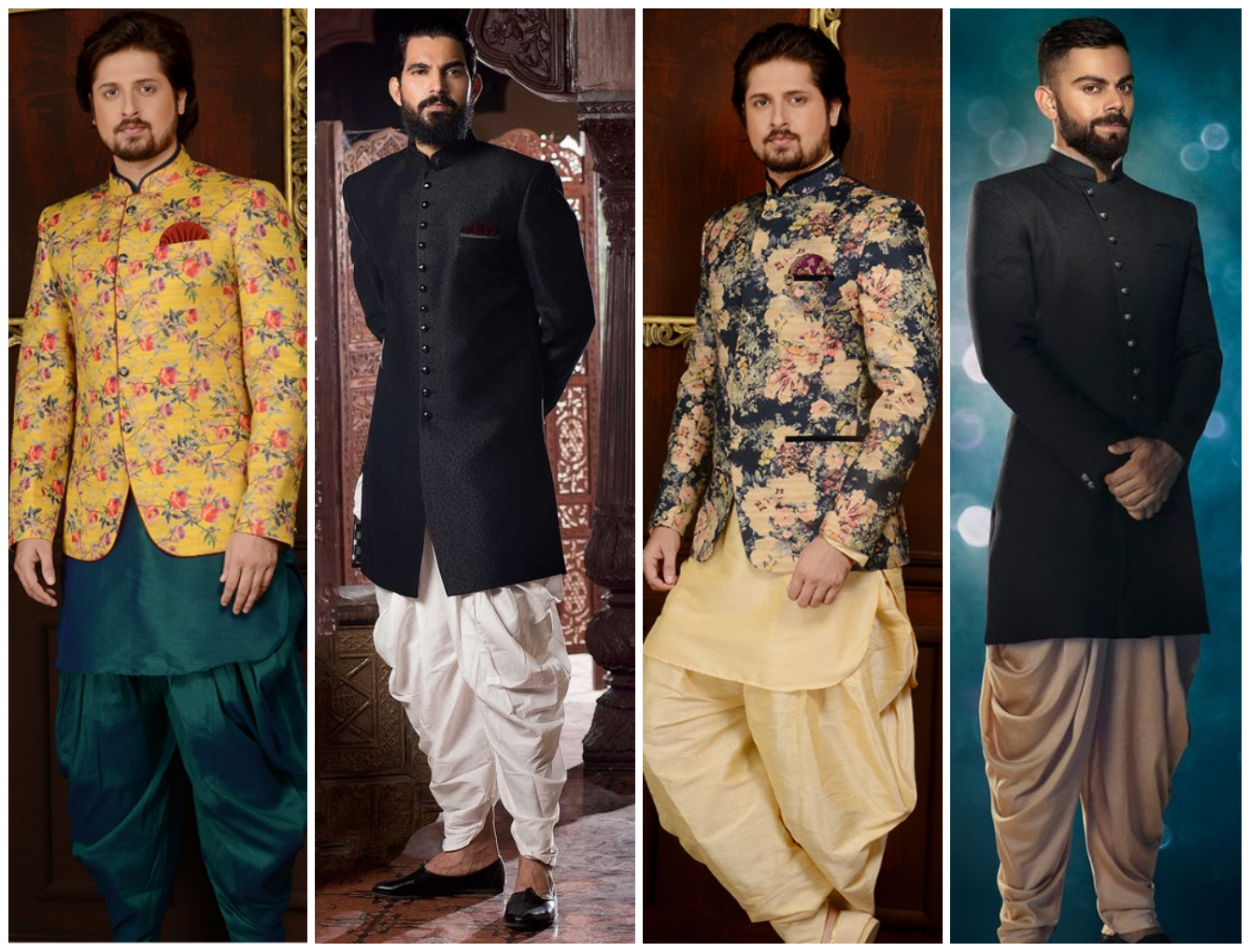 The unique Jodhpuri fad can be achieved by wearing a two-piece or three-piece style. Jodhpuri in Indo western mania looks dashing, the royal kurta is paired with salwar or dhoti and if a fine cut banarasi silk dazzling jacket is added to the outfit boosts your style quotient. The lovable outfit can be picked for formal ceremonies.
8. Raw Silk Sequins Embroidered Jodhpuri Suit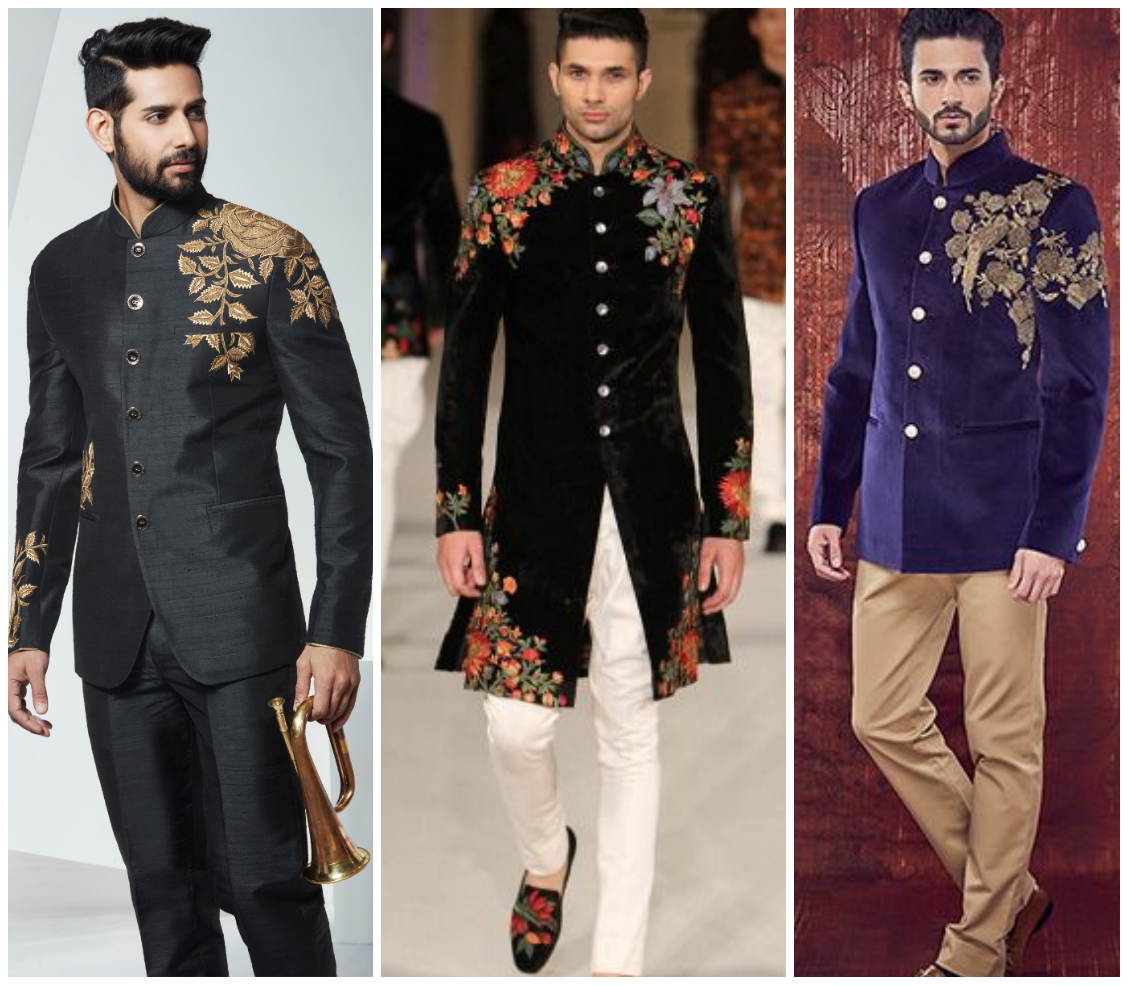 Want to get noticed on any gatherings and want an outfit that combines eastern influence with a western look Jodhpuris are the best option. Jodhpuri suit fabricated from raw silk featuring sequins, stones, and thread embroidery exhibits excellent craftsmanship. A well-embroidered Bandhgala collar and well placed decorated buttons sport the apparel alluring.
9. Velvet Jodhpuri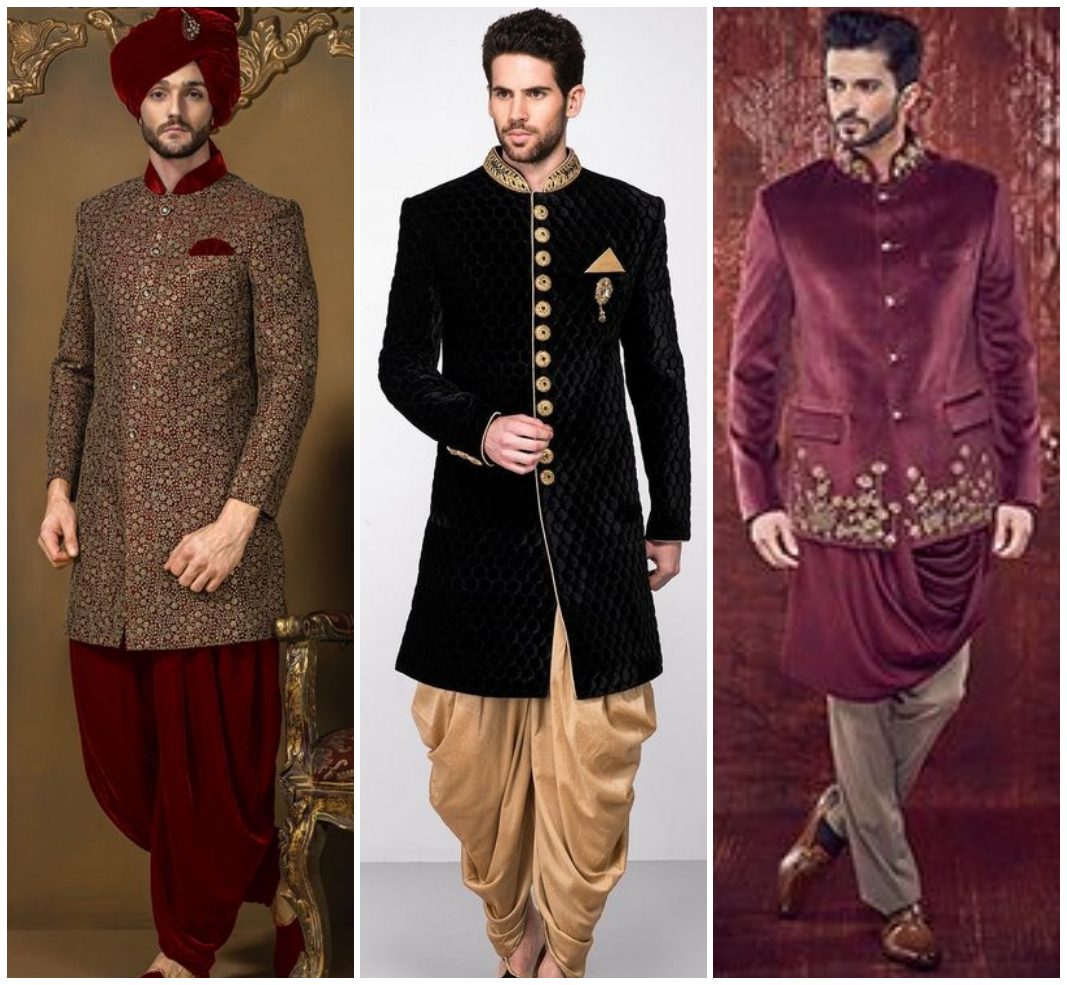 Dreaming of a traditional Indian wedding and social celebrations of other religions Jodhpuri suit crafted out of Velvet textile is good option to wear on. Velvet Jodhpuri is little warm stuff and is better to choose for winter occasions. The traditional attire fused with western trend looks appreciable. The flawless designs comprising artwork creates the sense of unique style.
10. Floral Ombre Jodhpuri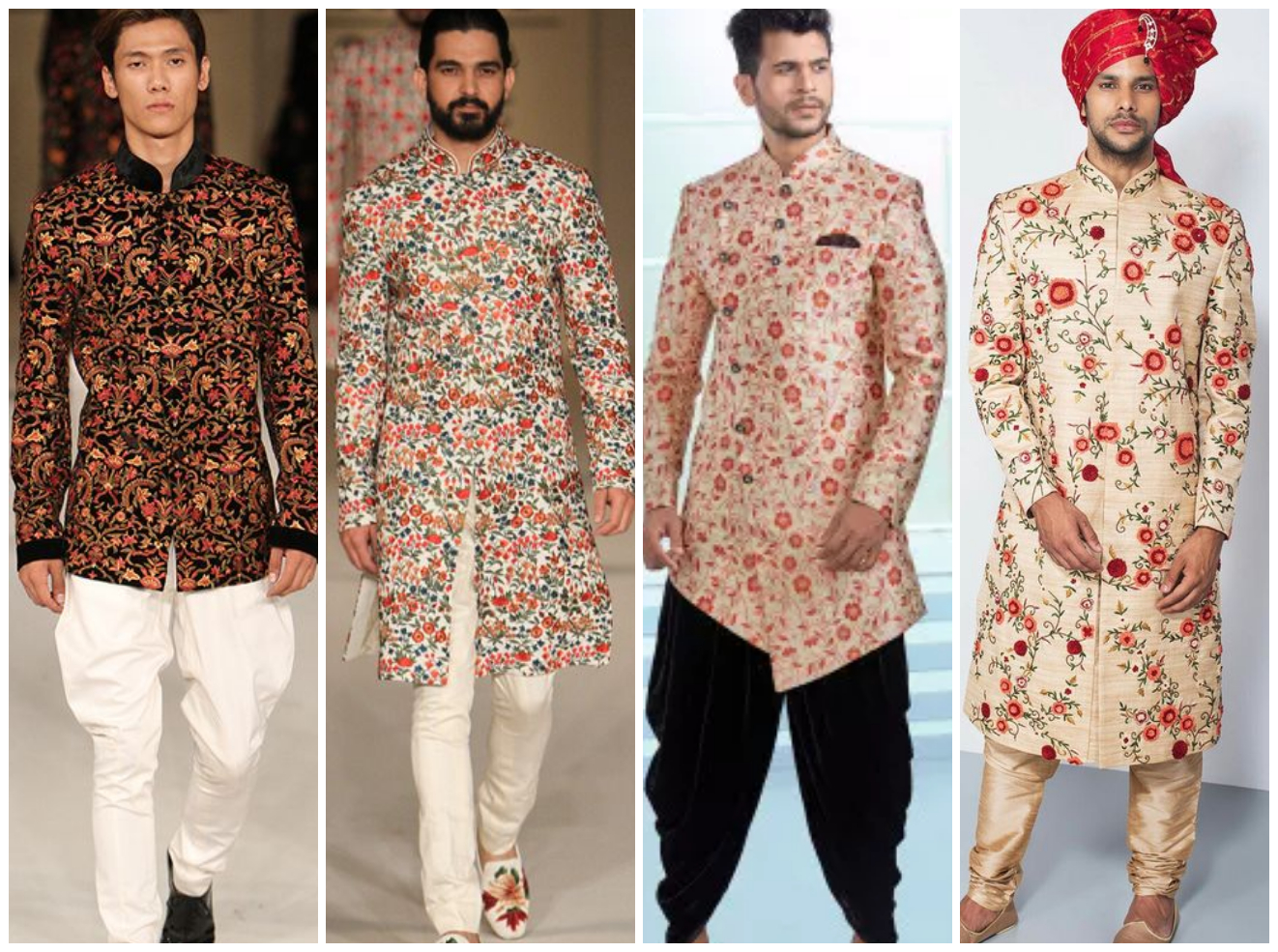 Want to stand out from the crowd? Go ahead and pair your floral omber Jodhpuri fabricated from silk jute or some comfortable silk stuff with polo pants popularised by the Maharajas. The beautiful embroidered floral designs made of different colors make your outfit more appealing. The best worn Bandhgala jacket with buttons and a customized pocket scarf is the epic tome of Asian style. Indo-western fab enhance your look and the style is perfect for traditional gatherings.
11. Terry Wool Jodhpuri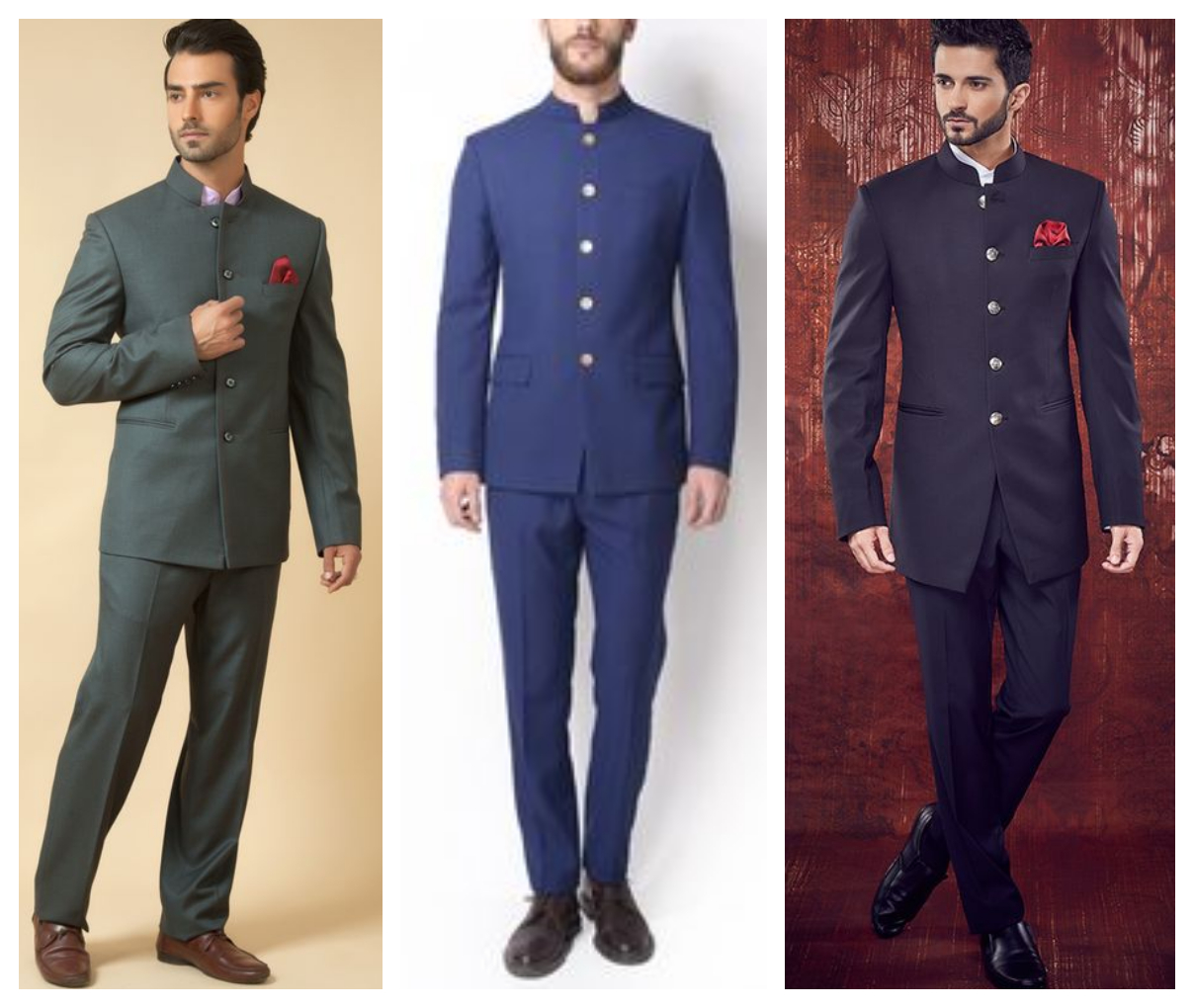 Exude class and sophisticated Bandgala designed from Terry wool web gives a perfect gentleman look. The luxurious Suit enhanced with buttons and pocket square enriches the royalty of your outfit. The versatile suit has highly formal and highly attractive reach to wear at formal royal gatherings.
12. Raw Silk Zari Embroidered Jodhpuri Sherwani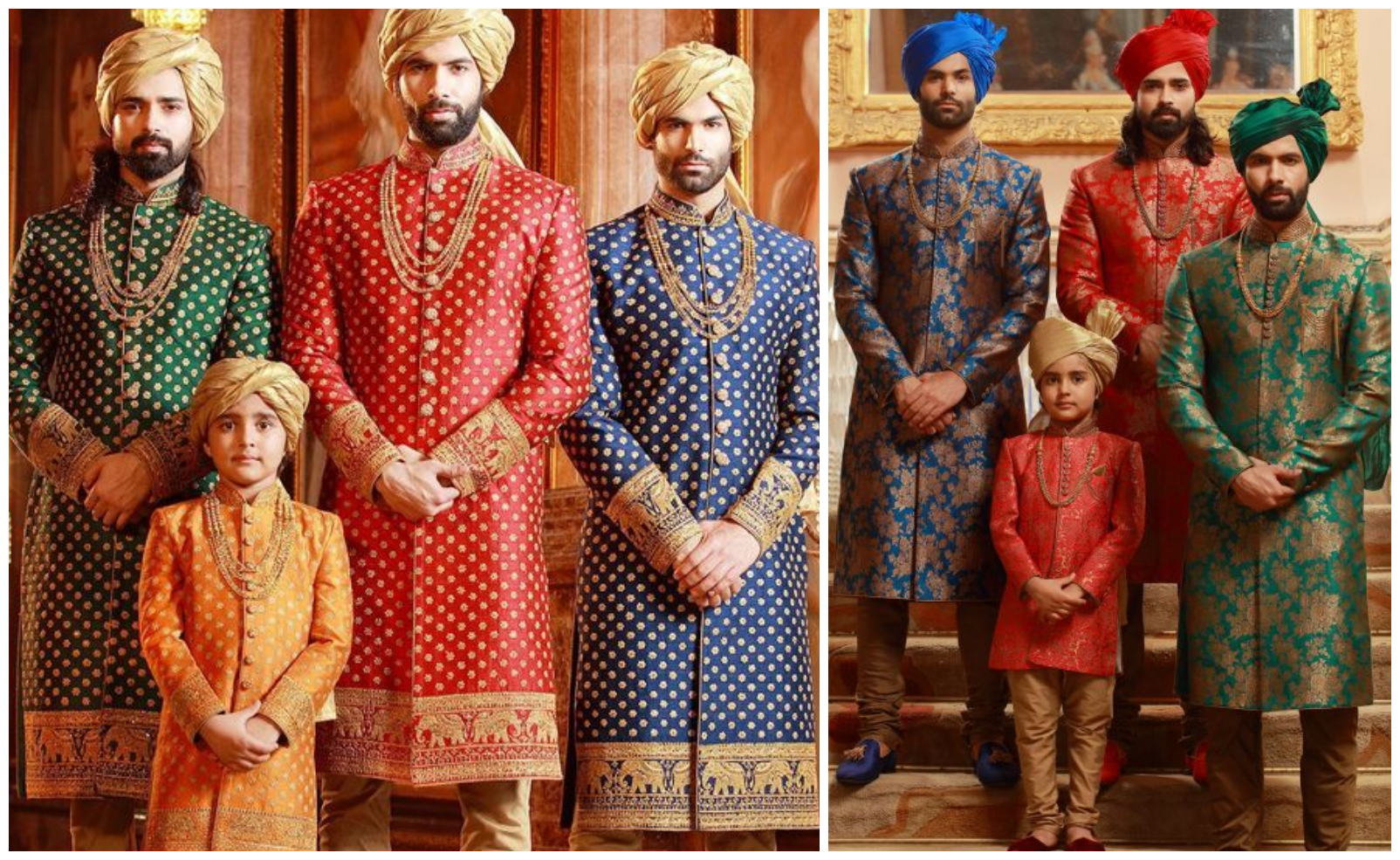 Jodhpuri crafted in sequins, resham, Zardosi work motifs and antique buttons makes it an extraordinary creation for reception, wedding or party. The ultimate benefit of owning a Bandhgala of silk blend with fine fit and cut is that it can flatter any body type and promises a royal look. The ultimate prince coat can be worn at any occasion whether it's a wedding soiree or a formal dinner. The royal fit makes your wardrobe intrinsic.
Styling a suit is the main issue that many men face when it comes to Jodhpuris, now you can create your own fashion trend that's bound to be breathtaking by using our rig-out catalog.
We have defined a variety of fabric and style collection to choose from for a particular ceremony, the stunning ensemble would give you very attractive look for some precious moments.
Do not worry share your choice freely with us if you are having modification suggestions for the royal attire or any of the style is enticing you can order for your next ritual without giving a twice thought!