Its a fine art to dress-up in well to do manner not go to over the top nor too undercooked. And on the day of the wedding, you need to be perfectly dressed to bask in the limelight of the Wedding Eve.
To ensure the best version of yourself for the special day is not an easy task.
A groom has to start the preparation for his wedding much before the day. When going to select the outfit for the ceremonies and the same day its the hard time to pick the perfect outfit.
Suit a garment set consisting of at least jacket and trousers from the same clothing. Basically, the suit comes in a two-piece or three-piece set or double-breasted varying in design, pattern, cut and cloth.  You can choose the fabric and hues according to the season of your wedding likewise for summers choose the lightweight and breathable fabric and for winters you can go for Wool, Cashmere, Tweed, Flannel or Herringbone.
Choose the belongings and accessories pairing with for suit. You can pick bow tie or vintage look if want some retro look. Tie pin, pocket watch, pocket square, wristwatch, flower bud and the most important be careful while selecting matching shoes with your suit.
Confining your search and stress to minimal we have enlisted the variations in suit patterns even according to the phase. Now it will be an easy task for you to have a perfect pick, flip through for inspiration and tips on how to dress like the most important man in the room.
1. Two-Piece Suit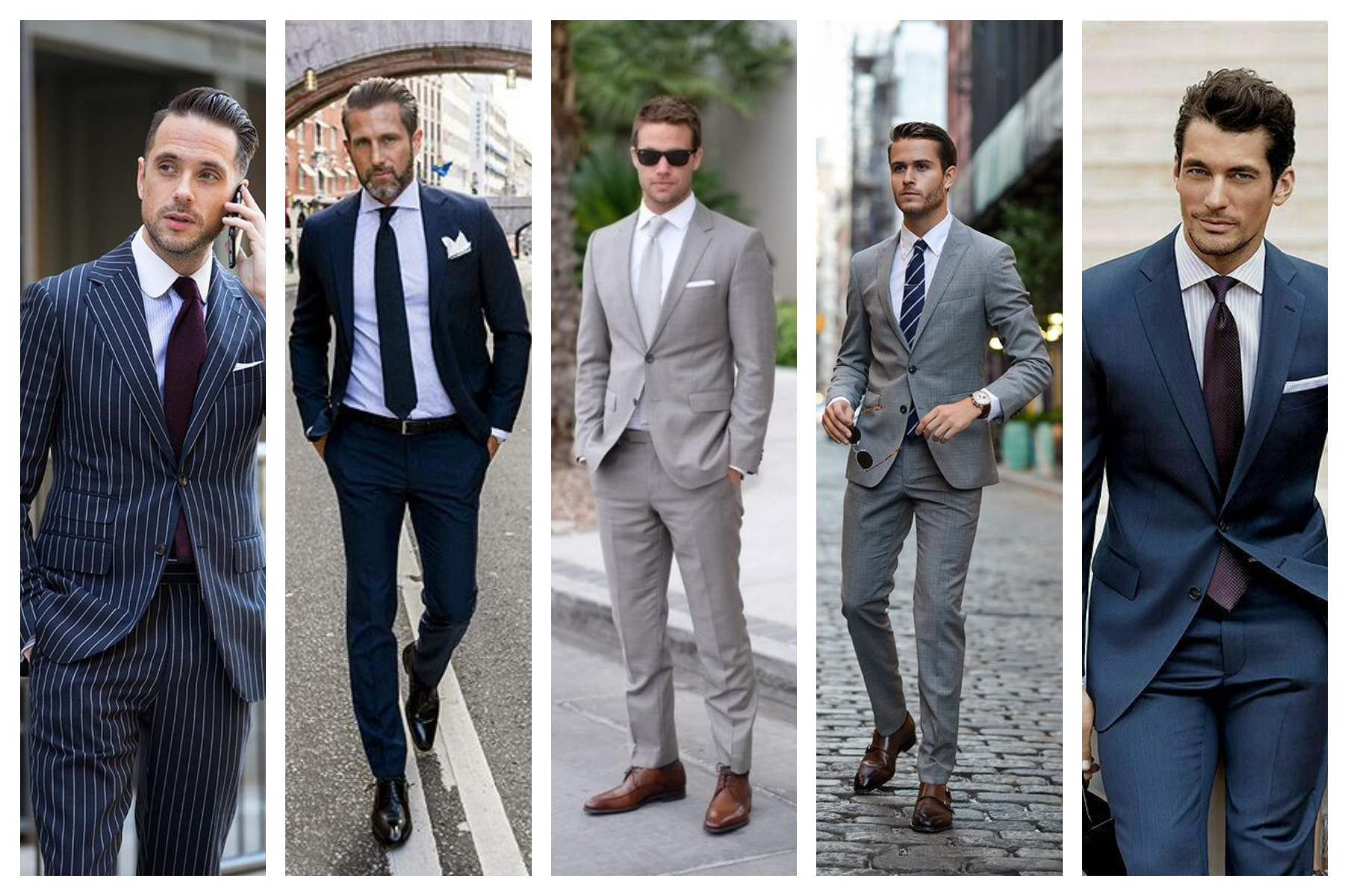 For the vast majority of weddings an ultimate all-rounder. The contemporary two-piece suit chosen in the right fabric satisfies the requirement of versatile dress code.
Suit Style: Two-piece suit tailored in perfect fit has a jacket and the trouser. If you are selecting this single-breasted jacket for weddings in hotter climes pick breathable materials like linen, cotton, and blends of the two servers.
Shirt: Select the colors like summery white, off-white, sky blue or pink. For richer hues choose the fabric of classical brands.
Shoes: A smart footwear almost anything goes here from driving shoes to double-monk straps. Dressy Loafers, Oxfords or Lace-up Shoes in the leather blend also look decent with this well-tailored two-piece dress.
Accessories: Team the suit with contemporary lightweight tie, tie bar, tonal or printed pocket square and the favorite shoes of yours.
2. Contemporary Three-Piece Suit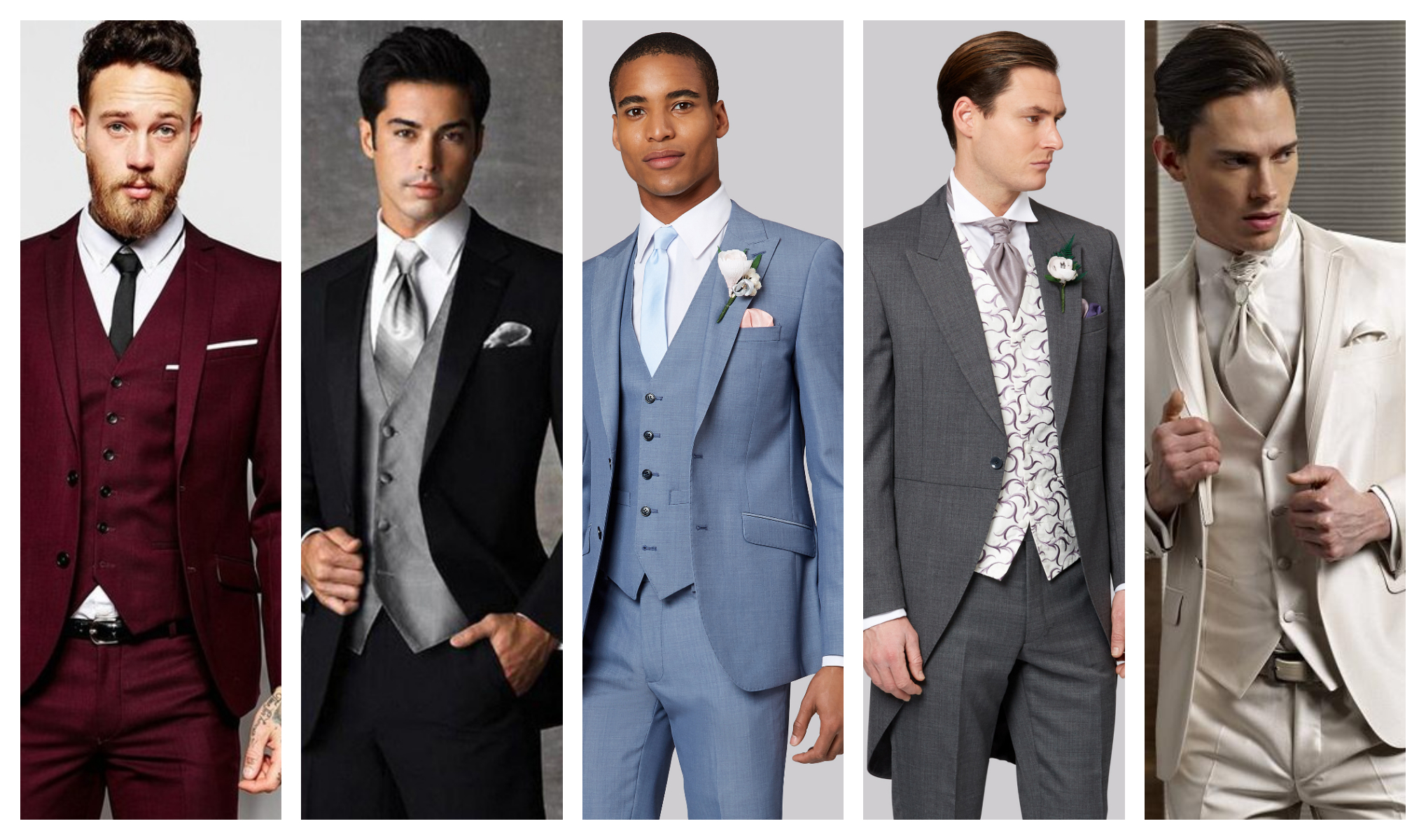 When you wear this formal and classical suiting your personality reaches a whole new level. The suit with jacket, trousers, and waistcoat a sartorial triple treat move regularly favored by the likes.
Suit Style: The subtle art of adding a waistcoat to a stylish suit jacket and trousers combination holds a great deal to dress up and look fabulous.
Shirt: The suited booted look achieved with plain or dim shade shirts or weaved in self-print.
Shoes: Brogue shoes, bucks or derby shoes would team up to makes it a top contender suit appearance.
Accessories: Cufflinks, bow, lapel pins, or pocket square are functional and fashionable accessories that can be teamed with. Fold the pocket square properly for the maximum effect.
3. A Vintage Look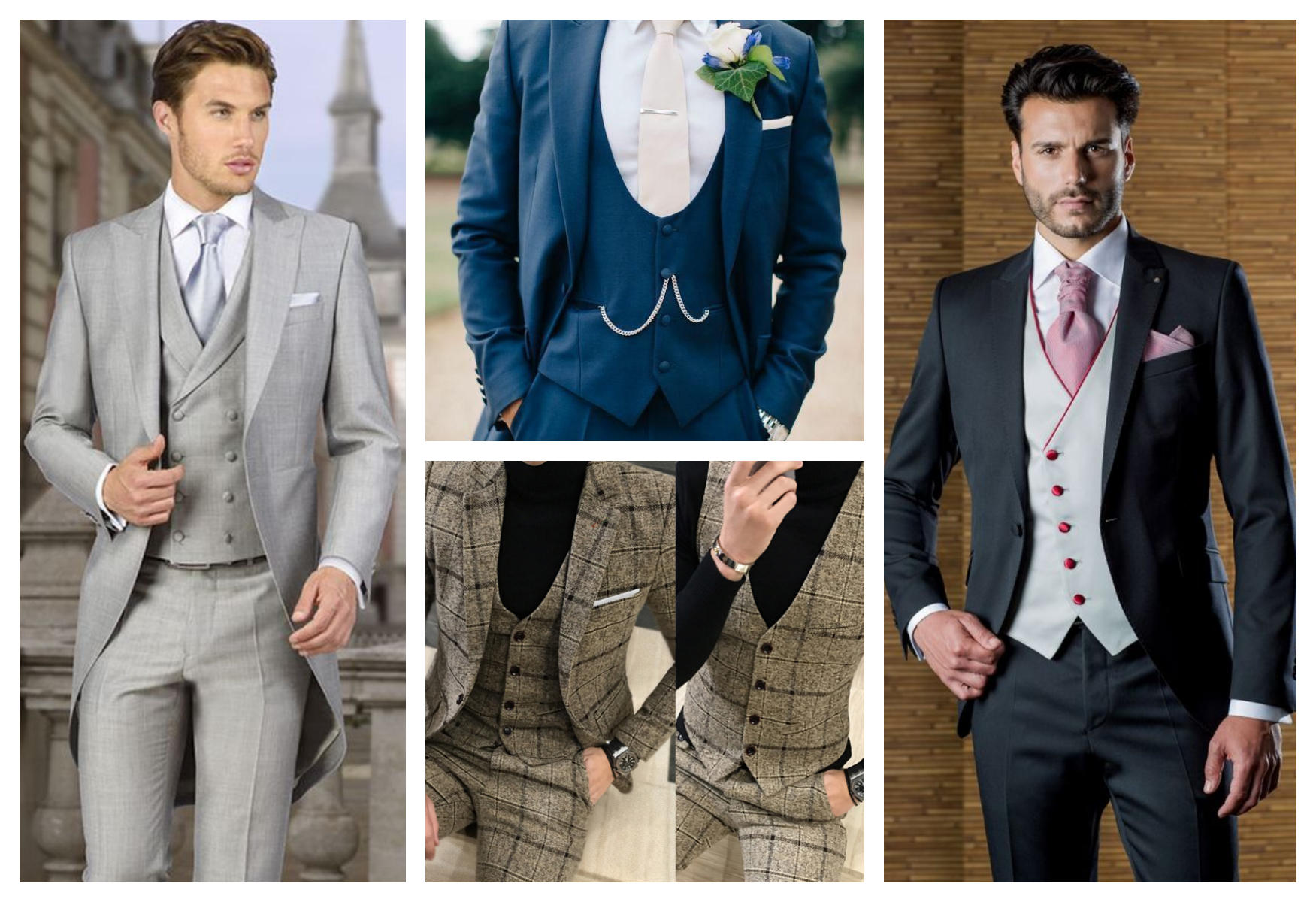 While planning your wedding much attention and talk is of finding a perfect pattern in latest trends with the desired fit. A grooms vintage should be designed whilst retaining his unique personal style.
Suit Style: Whatever the era, season or venue is waistcoat is the perfect vintage accessory. Waistcoat layered under the jacket in contrasting material look dapper and give extra warmth in autumn or winter wedding. Old fabrics like tweeds, houndstooth and plaids are fun stylish fabrics to look the inner country gentleman.
Shirt: Prefer plain white or nude shade shirts for a decent look
Shoes: Chelsea boot, Brogan or Brogue shoes are good aspects to try with the vintage outfit.
Accessories: Cufflinks, Lapel pins, ties can be used to ornament your vintage look. A pocket watch is a perfect vintage accessory is a simple addition that gives some old-world elegance.
4. Windowpane Suits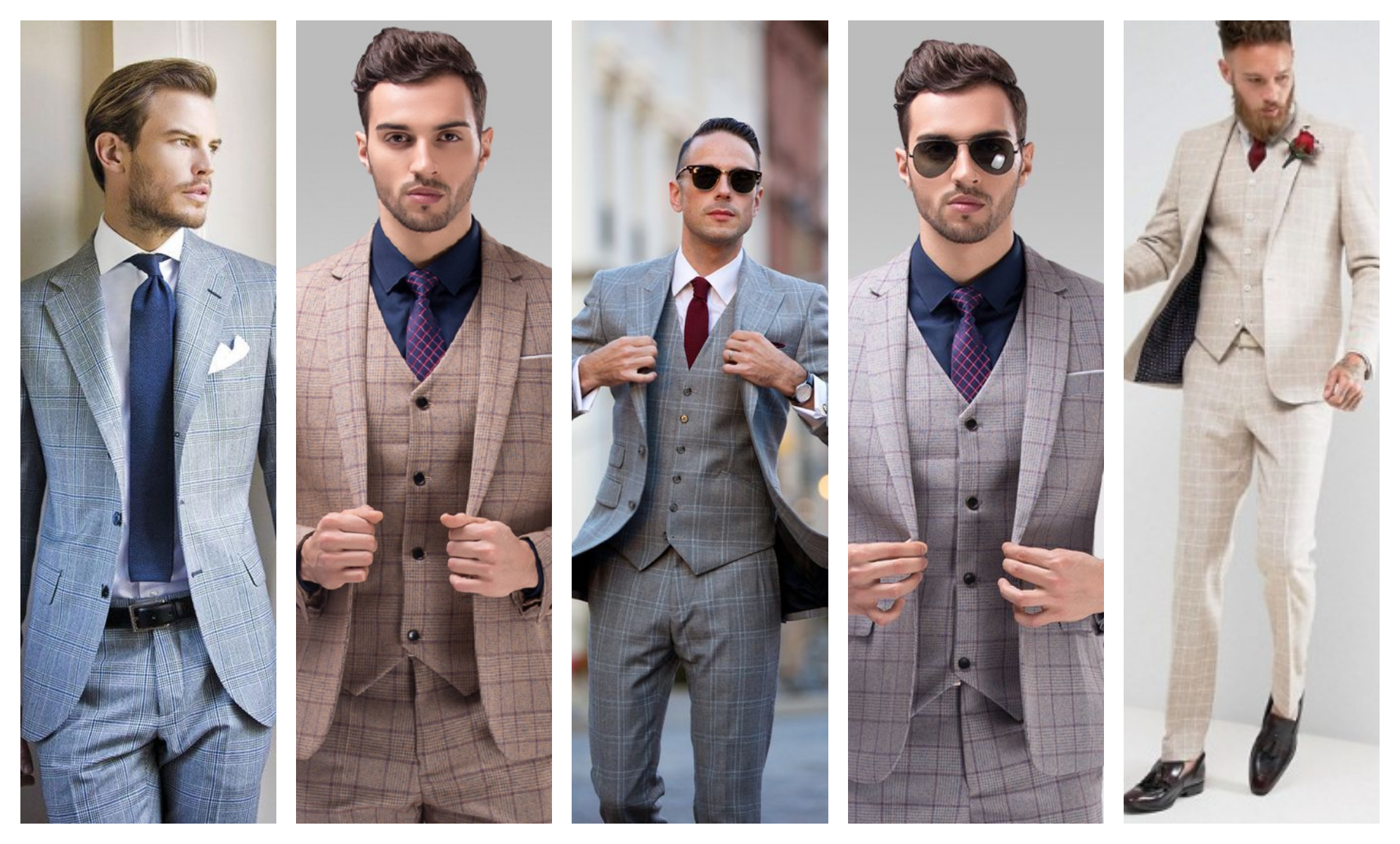 Stylish suits are ultimate weapons of men to get a sharp look. Windowpane style can be picked when their call is on trend. Windowpane suits are exactly the ones with the slim lines that cross to make shapes like old style windowpane.
Suit Style: Suits can be tailored in two-piece or in a three-piece set of same color and cloth. The only thing main in this suit style is the windowpane pattern of the suitings.
Shirt: You can choose a dark or louder color shirt like in navy or can go for demure ones but pair it perfectly with the color of the suit.
Shoes: Dark leather shoes, Slip In's, Steel Toe boots, Venetian-Style Shoes can be good choices to an ensemble in the look.
Accessories: Tie, Cufflinks, Pocket square, and flower can be the only choice to pair up.
5. Pinstripe Suit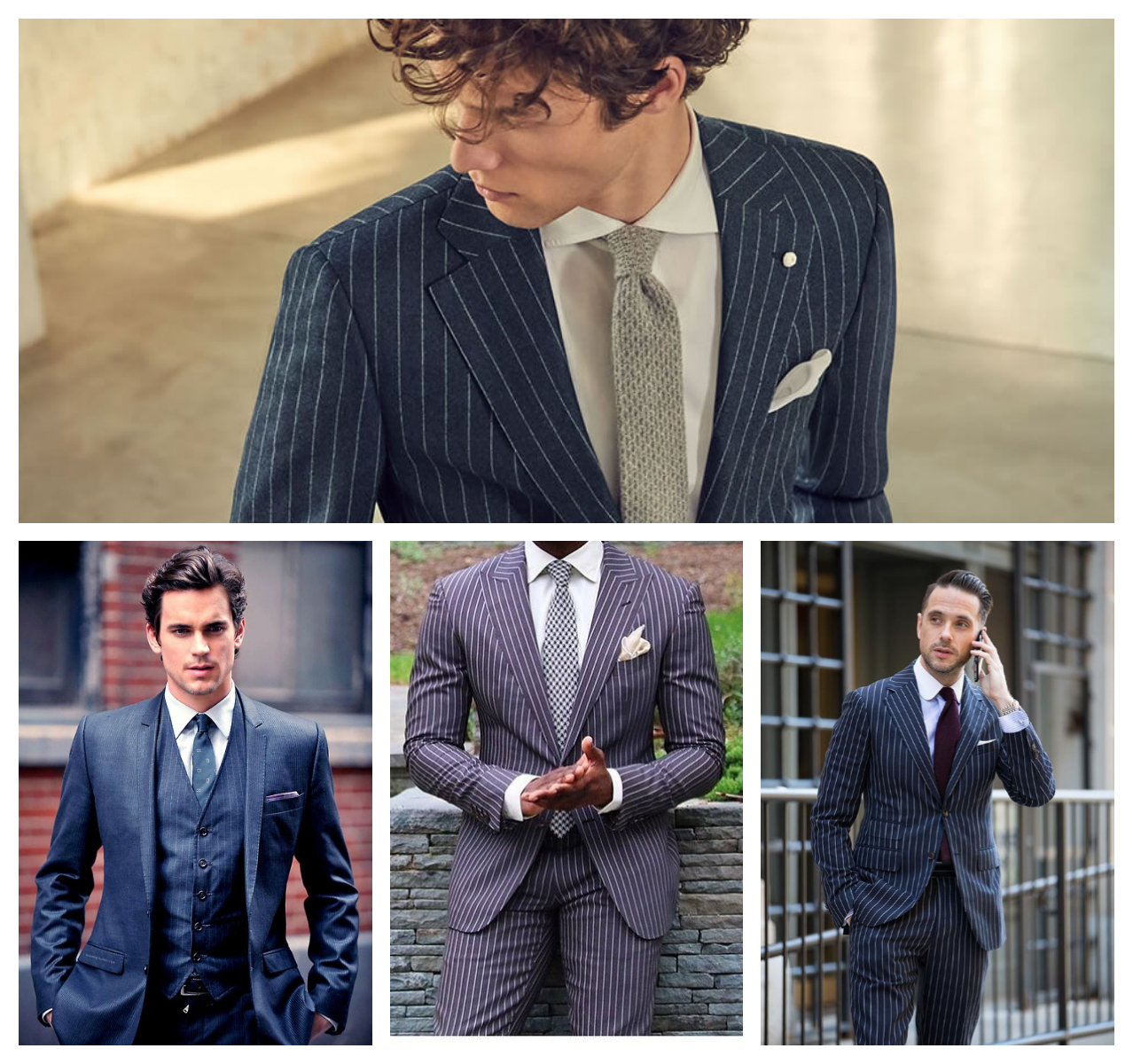 Pinstripe suit is a statement committing to the sartorial art designed in a narrow fit cut. Pinstripes are created in equal meaning that you will look good. The suits are a great thing with solid colors hued in navy, grey or charcoal.
Suit Style: Pinstripe is a suit made of very fine or narrow stripe in cloth especially in formal vogue. You can get a suit tailored in two-piece or three-piece in a breathable material or the one apt in an environment.
Shirt: White shirt can be preferred with dressy looks. For a change can pick complimenting shade or the same shade of suitings but in light patterns.
Shoes: There is a great variety of shoes to patch up with these suitings oxford, derby, brogue, monk strap, loafer, chukka, or Chelsea boot choose that may serve you better.
Accessories: A contrast collar with french cuffs, a power tie with deadly noose knot, lapel pin and big, brassy cufflinks and complimenting finely folded pocket square would serve you a smarty neat look. Add more swagger and frenzy with dark printed tie and pocket square.
6. Sharkskin Suit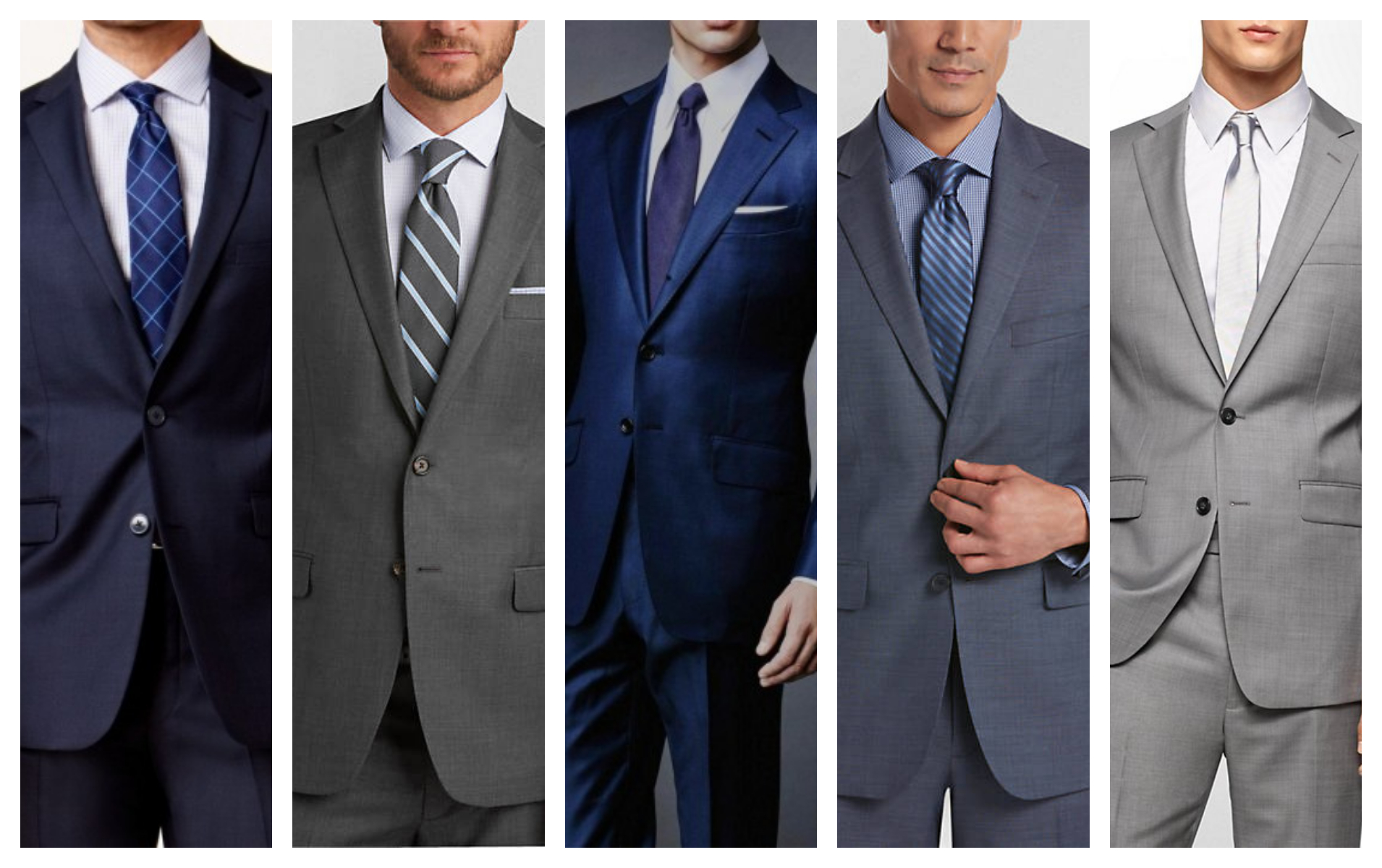 Sharkskin is popular for smooth worsted suits with a soft texture and shiny craze included in great wedding collection. The suit is normally preferred to wear in two-piece style featuring a slim fit and thin lapel. Sharkskin suits are greatly liked in grey and blue tones.
Suit Style: Sharkskin is all to do with the fabric used for suitings, most of the suits are made from mohair and wool or sometimes created with acetate or rayon. Sharkskin is woven in two-tone in smooth and soft textured fabric.
Shirt: Demure or contemporary dim colors of the shirt are nice to team with the suitings.
Shoes: Formal mode shoes will go well like Chelsea, boat shoe or brogue perfect to pull up classy look.
Accessories: Fishbone knot will look trendy for the wedding suit or try unique textured tie also staple tie bar on it for frenzy fad. Might go for a pocket square if you cherish the look.
7. Cocktail Suit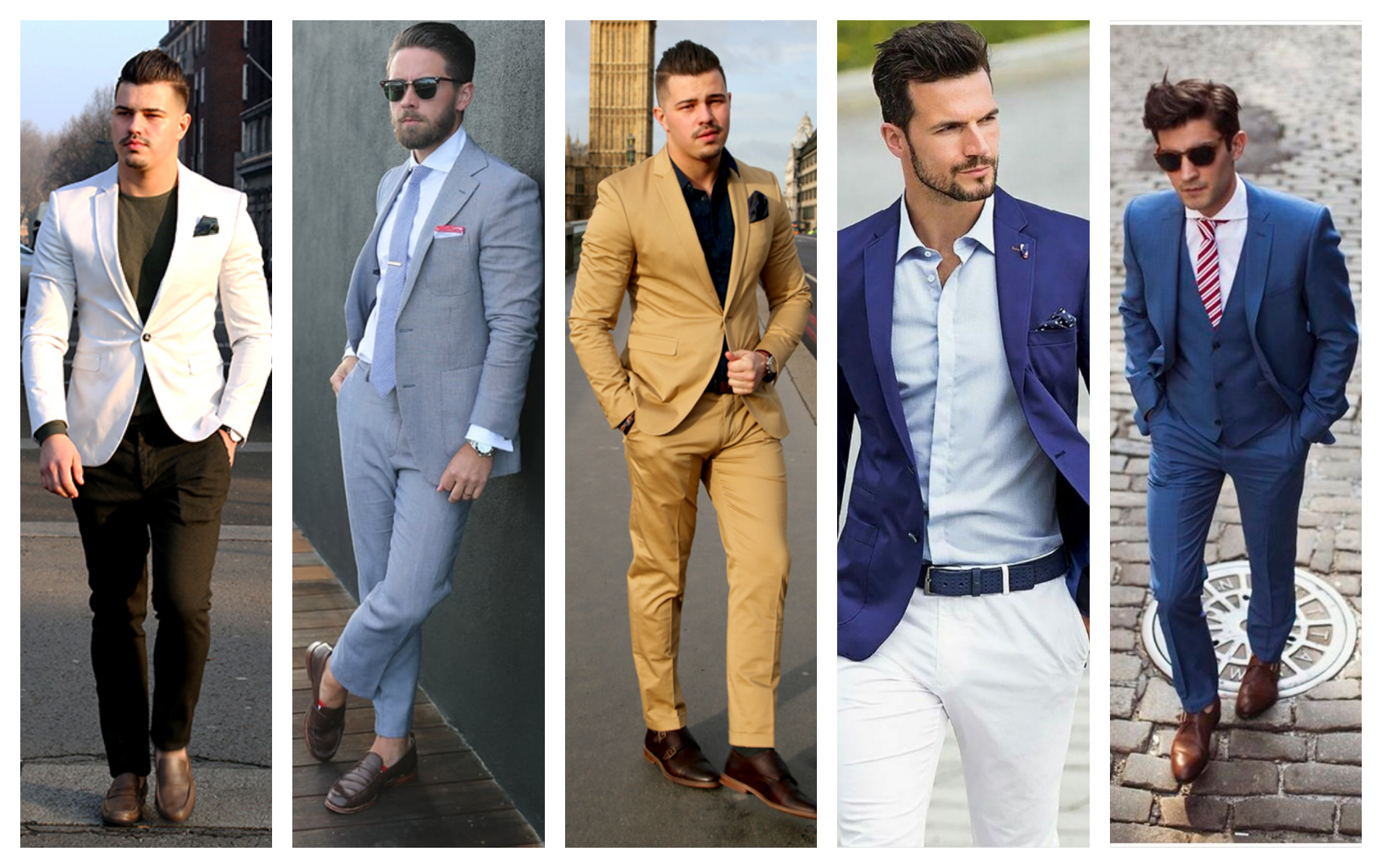 Cocktail attire is snuggle between semi-formal and smart casuals. You can get the suit tailored according to season and time of the day.
Suit Style: Cocktail attires have a jacket and trouser stick to the two-piece in a peak or notch lapel and keep the cut sharp and slim. You can pair the two in same color and cloth or team a nice combination. For winters you can choose heavier wool or tweed material.
Shirt: If the suit is patterned and bold in colors stick to block colored shirt or demure print.
Shoes: Opt for dark leather shoes in winter and tan in summers, you can go for Slip in's also with this look.
Accessories: A tie is still not must here, you can add cufflinks, a watch, lapels or a pocket square in finished folds pick them for boldness.
8. Slim Fit Tuxedo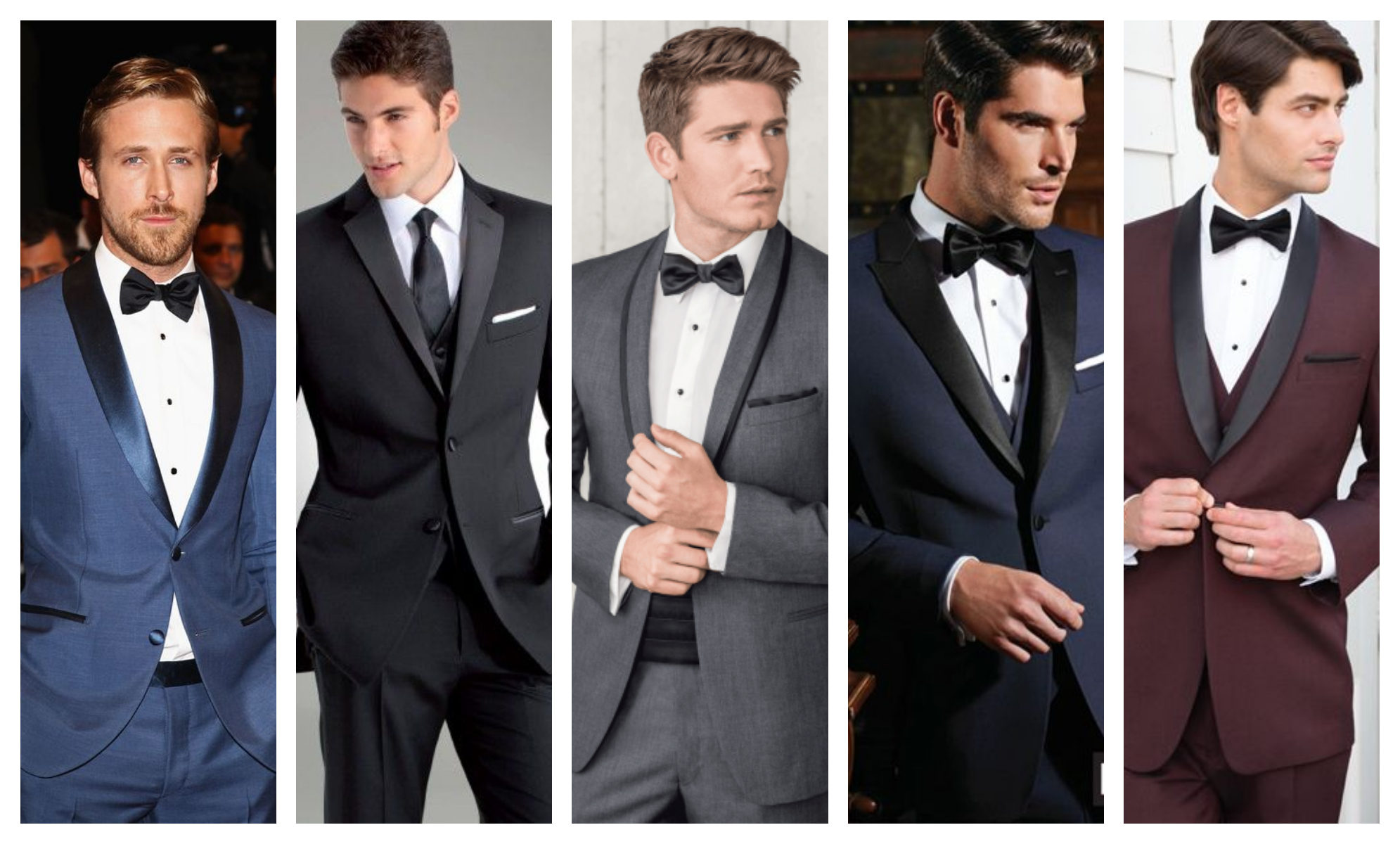 Classic tuxedos are formal wear of choice for many of the weddings. Tuxedos are also famed as dinner suits, this is a semi-formal suit for evening wear designed in certain patterns of satin on the suit fabric at lapels.
Suit Style: Tuxedos are primarily distinguished by satin or grosgrains jackets lapels and similar stripes along the outseams of the trousers. There are one or two styles of tuxedos in trend rest are outdated choose typically slim style.
Shirt: The lightweight formal suit can be paired with a white delicate shirt to get into perfect groom look.
Shoes:  There are two style options for black tie shoes: formal pumps or black balmoral oxford shoes you can wear on tuxedos. Formal pumps are made of patent leather or highly polished calfskin with black grosgrain ribbon on the top and are also called opera pumps or court shoes.
Accessories: Opt for bow or normal tie to accessorize your look along with cufflinks but avoid using a pocket square with tuxedos.
9. Summer Wedding Suit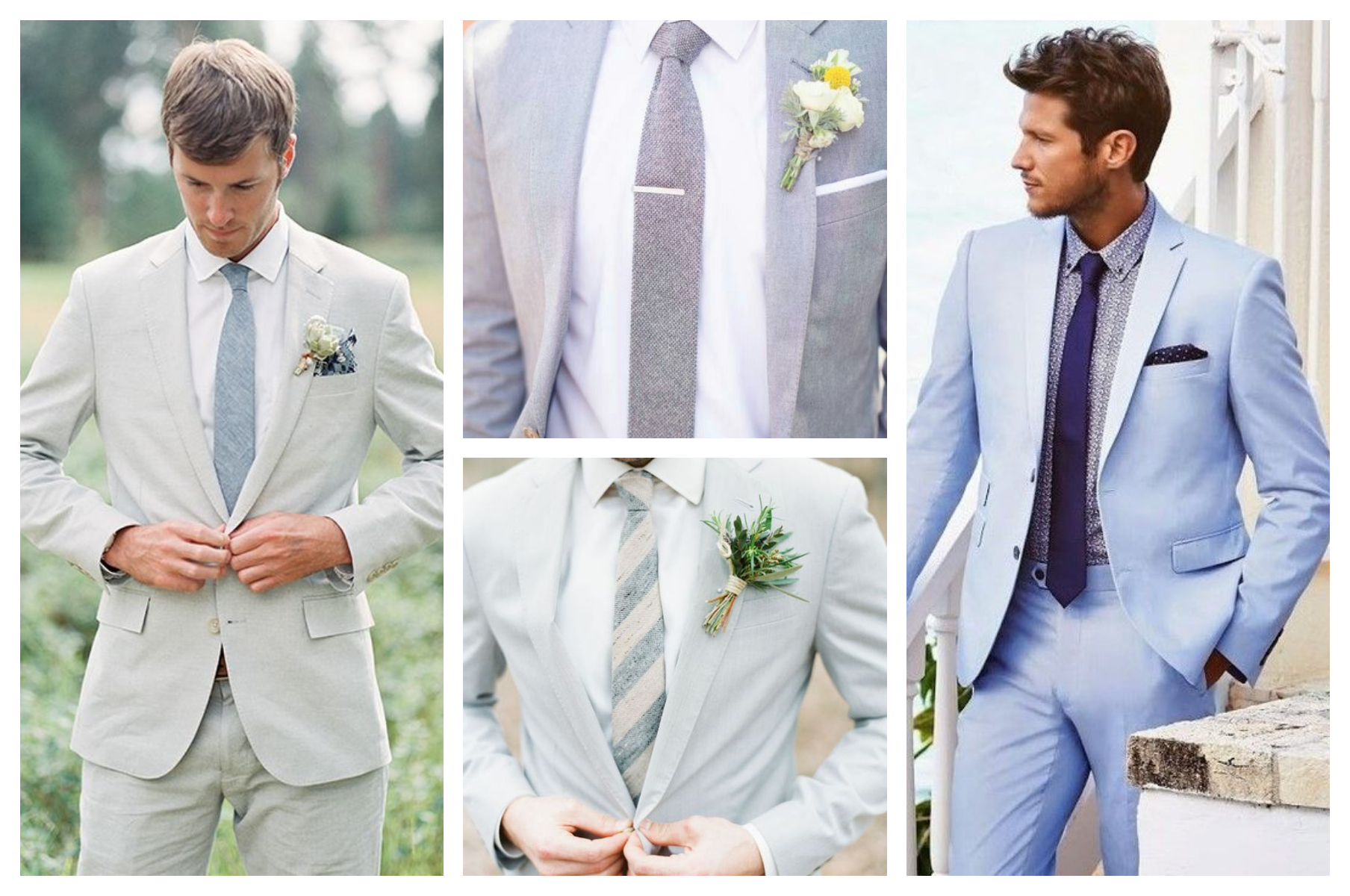 Don't shed your personality in the warmth of summers. Summers are the great time to experiment with light colors, light hues give you cool look that you want to achieve.
Suit Style: You can wear a plain shirt with complimenting pants or trousers. Want to add more to the outfit wear contrasting colors coat but don't use heavy textured clothing or double breasted-blazer choose breathable cotton or linen stuff. Hues of grey look exceptional with plain shirts and make a perfect color combination for summer weddings.
Shirt: Dim- pink, blue, purple, or wine shades go well in summers suitings.
Shoes: Add some real nice Loafers or Slip In's for a smart casual vogue.
Accessories: Use the flower to tug on lapels for a cool fresh look. Add a contrasting tie with the suitings and fine folded pocket square.
10. Winters Wedding Suit For Men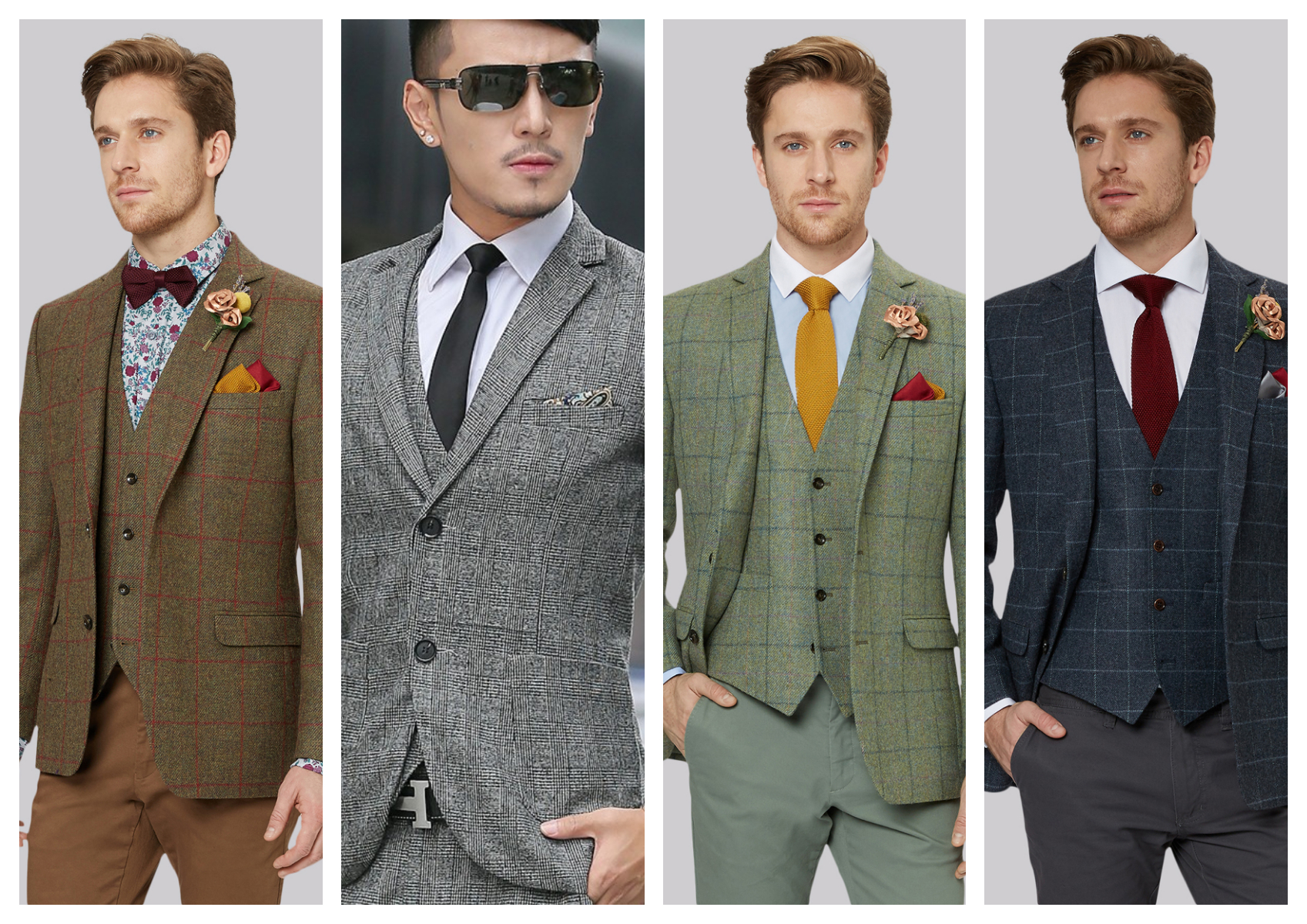 In winters you can choose either two-piece or three-piece style though you need to opt style and fabric that would imbibe you in warmth. The Groom needs to be comfortable in warm fabrics for the chilling morning wedding.
Suit Style: No doubt winter suits are made of warmer and thicker fabric but you have limited choices as compared to summers. For the best winter fabric pay attention to construction, you can choose from wool, cashmere, tweed, flannel, or herringbone to retain warmth. Winters are the prime time for darker hues. Black, navy or charcoal are all season suit staples though you can have little fun with colors. For a difference can opt for oxblood, hunter green, cognac or plum.
Shirt: You can go for plain or printed shirts with the warm suitings.
Shoes: Borgue, Chelsea boots, eye boot or round boot can be a great option to team with the mania.
Accessories: Knit tie or scarves are winter essentials to add styles. Dark floral patterns are happening for winters, you can achieve the trend with a floral tie, dark floral button up, or even a floral pocket square.
11. Casual Suit For Wedding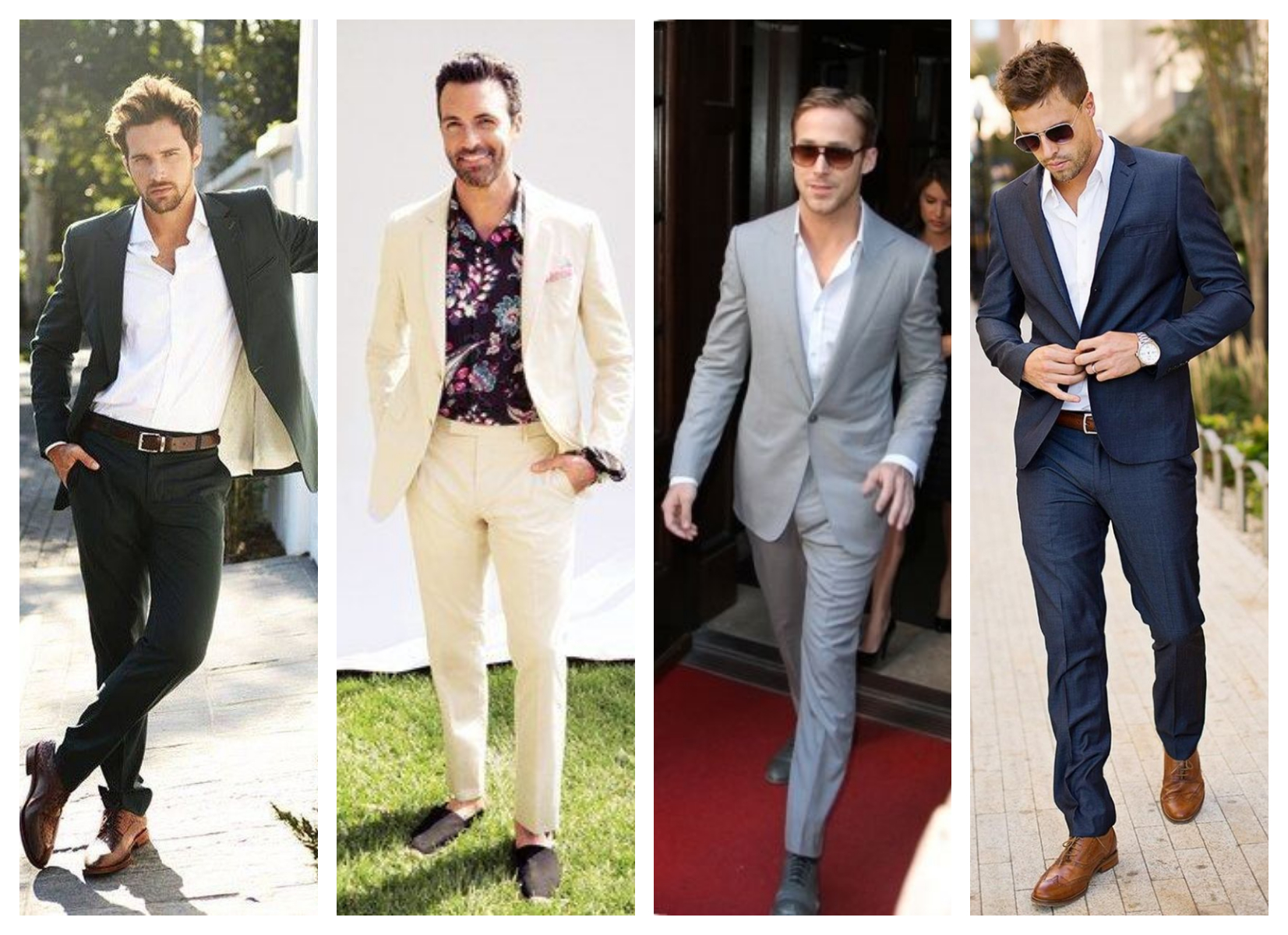 Smart casual is an ambiguously-defined wedding dress code or a refined tailoring as much as possible that is generally a neat yet casual attire.
Suit Style: Opt for something comfortable and stylish in a laid-back sense a jacket, trousers, and shirt. You can stick with the basics, but a smart casual wedding is a time to break out the colors. Avoid denim rather can go for geometric prints on jackets, add black or navy chinos and not full garnished two-piece.
Shirt: No doubt plain shirts will serve you well. Get creative, mix up standard wedding attire with Brazen route something little more outlandish will be on your way.
Shoes: No need to be too stuffy, stay neutral choose anything comfortable as smart Loafers. Want a little playful feel, opt a touch of color from burgundy, navy, mustard or olive green.
Accessories: Bust out the cool cufflinks, on point lapel pin and snappy socks but in a maintained sense of equilibrium. Neckerchief can be a stylish replacement of tie if you are comfortable with.
12. Bow Tie Wedding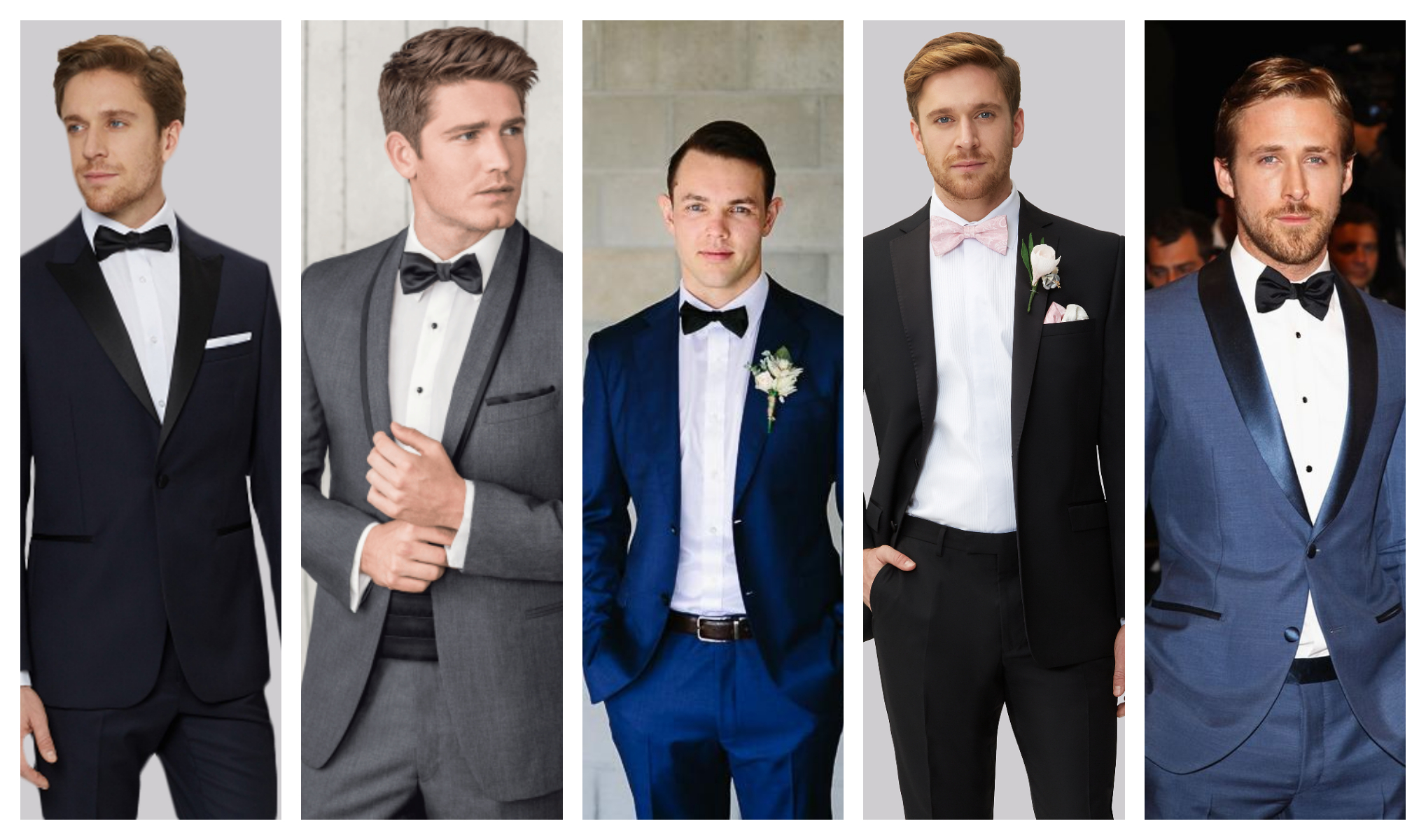 When it comes to wearing bow ties with suits wearing a three-piece suit with bow tie would be my second recommendation. The use of waistcoat minimizes the white space of shirt and using bow tie rather a normal one balances it.
Suit Style: Black tie or you can say the bow tie is the backbone of formal attire while selecting a wedding dress code. Formal weddings entail a standard tuxedo for a retro look teamed with the bow tie.
Shirt: Traditionally a plain shirt preferable in white color goes well with the bow tie and suit.
Shoes: Black socks and formal shoes are the choice of men to pair with black tie suitings.
Accessories: Pocket Square well finished in for folds with tie pin or flowers can also be a nice combination to the ensemble with the bow tie suitings.
13. Semi-formal Suit For Wedding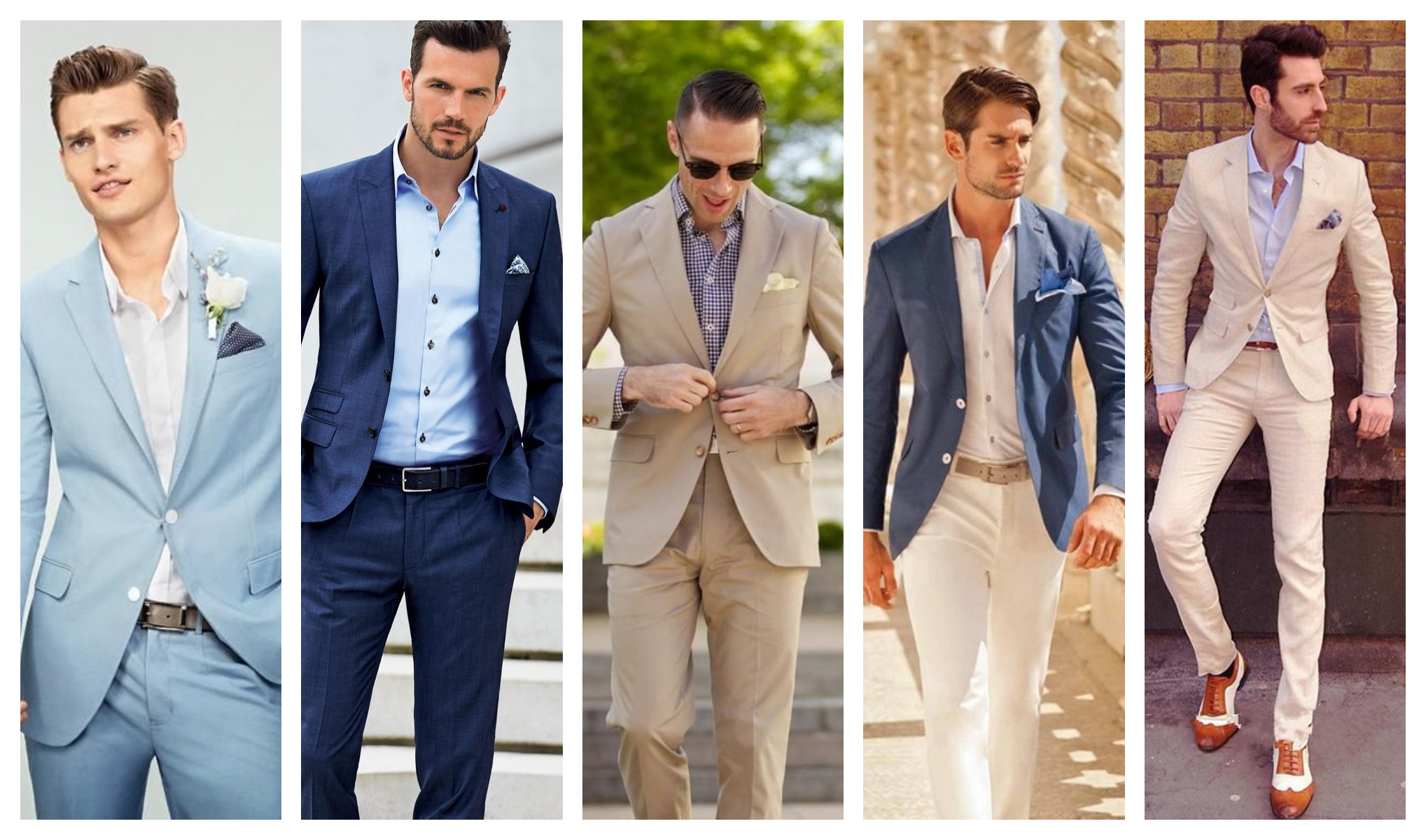 Semi-formal dress code is far more relaxed than bow-tie for the exemplary wedding outfit. It's so sophisticated to wear a semi-formal suit and to keep it far from the casual look or an official one.
Suit Style: Generally a dark-hued suit is a foundation of semi-formal look but it's not compulsory to follow the rule choose the color of your taste at least going well with your skin tone. Combine a pair of dark-colored trousers, with a solid color button front shirt and tie if you are desiring but keep it slim.  
Shirt: Pair a shirt with neutral colors of demure jacquard fabric with a mild pattern of lean windowpane check or pinstripe. You may choose white, light blue, gray or some light hued to bulge out the color of the suit.
Shoes: Complete the ensemble with a pair of Dressy Loafers, Oxfords or Lace-up Shoes.
Accessories: Tug a flower or use a tie pin on the jacket and embellish your lookings with square pocket settled neatly. Teaming a matching leather belt on trouser is also necessary for a precise look.
14. Beach Wedding Outfit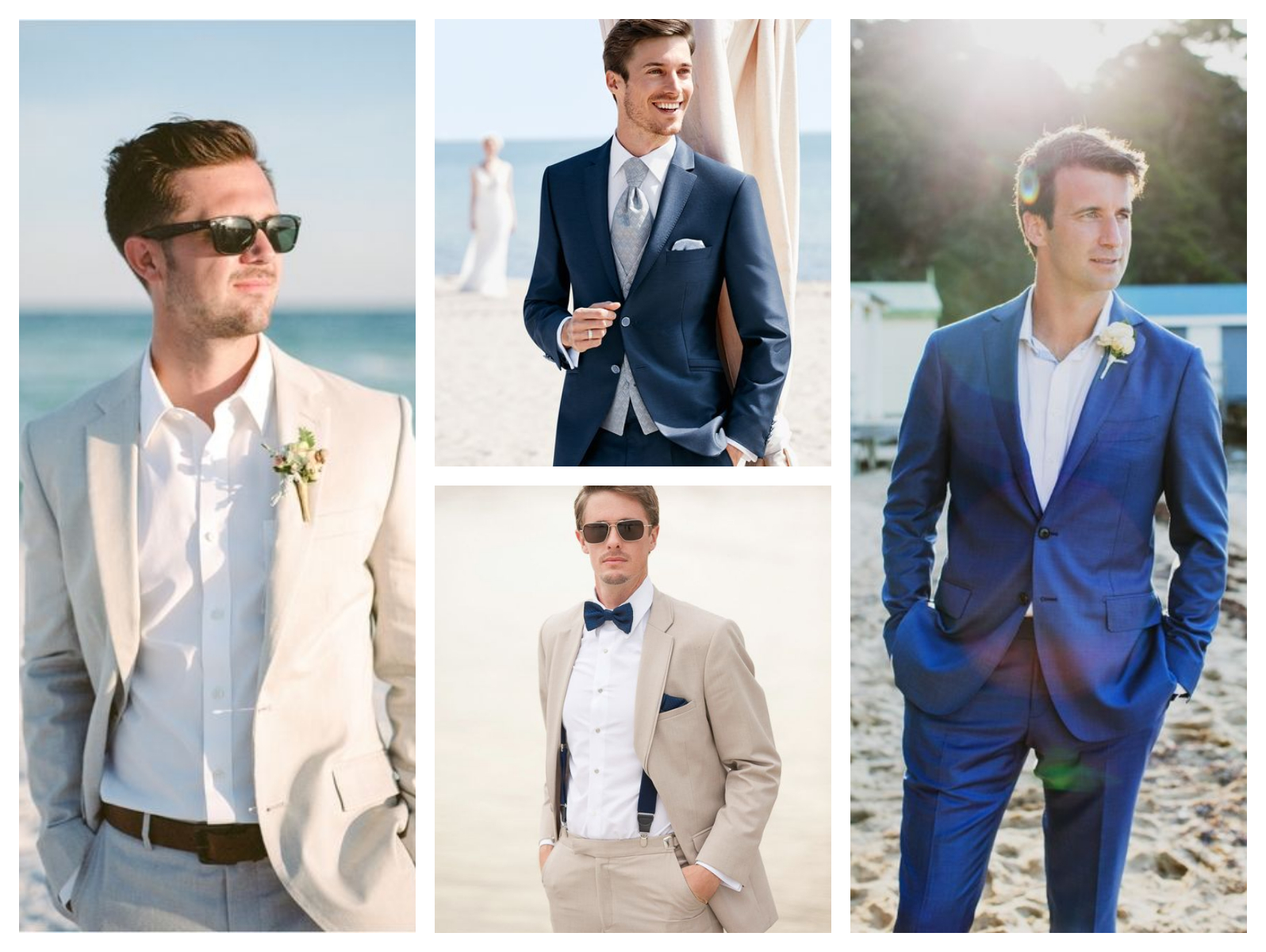 Messing to style for the wedding day flip through this style and decide an elegant outfit hued in royal colors when your wedding is destined for a beach. Opt a delicate two-piece suit with tie or bow in soft colors.
Suit Style: Wedding on the beach can often be chilly affair casual outfits can go parallel to these beach weddings. Preferable beige, navy or royal blue color are nice shades to think for the suit.
Shirt: White colored shirts are evergreen patch up for these suits or go for light shades. Keep the shirt plain.
Shoes: Find a pair of sensible loafers to team with, they look suave and easy to take out after the ceremony.
Accessories: If you are not wearing button up shirts you can use tie or bow. For more relaxed, rustic or casual weddings braces/ suspenders are the accessories of choice.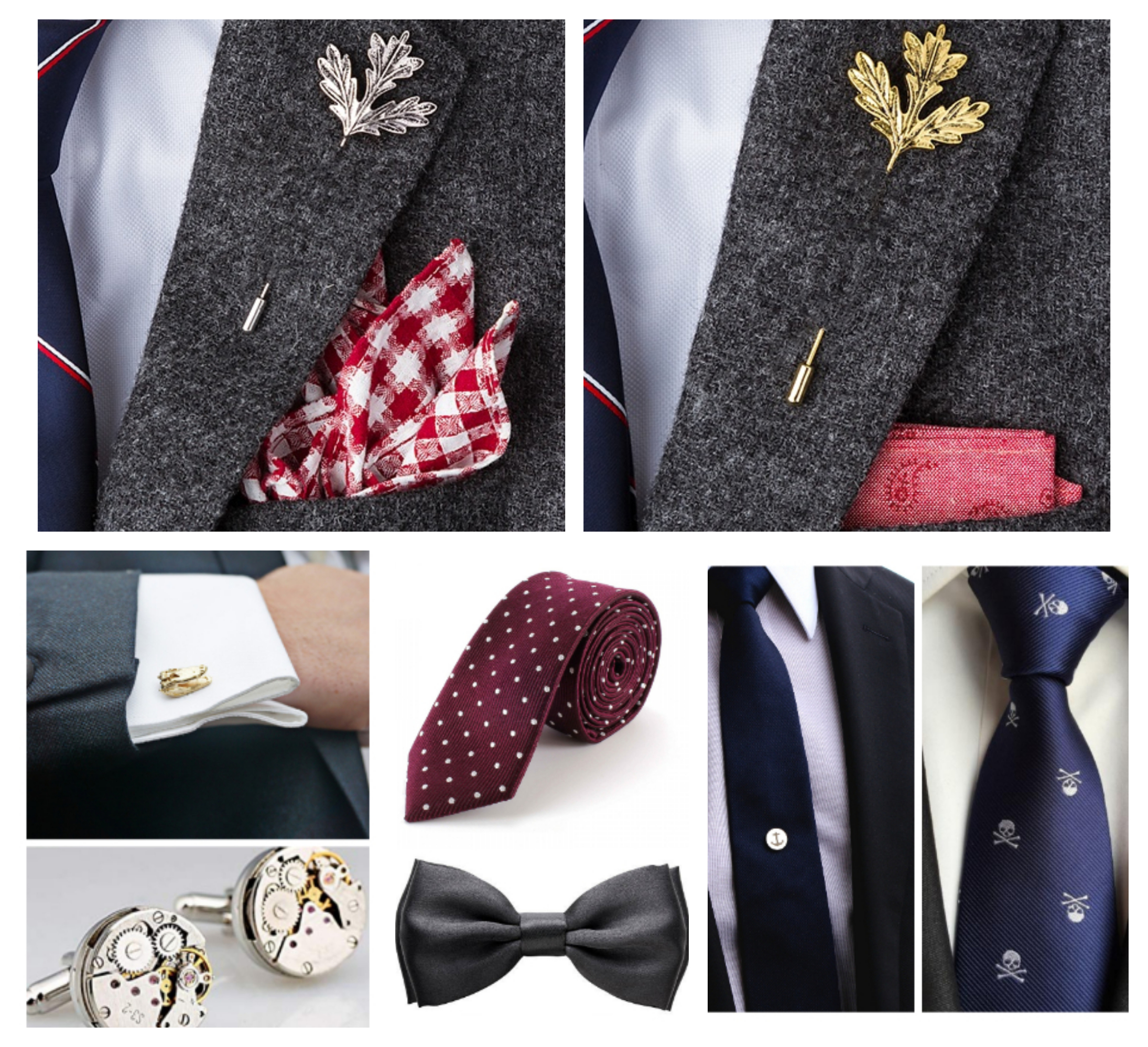 Days are gone when a grooms only option was the traditional morning suit or tuxedos, accessorized with a pocket handkerchief and cufflinks. Now the looks and outfits a hued in a variety of fabric are numerous. Our exclusive style guide for grooms motivates you to get inside scoop on the best wedding day looks and fits.
Don't dare to forget commenting below how you find our Suit Style ensemble. You are having a great option of ordering the mode you like to wear on your special day!