Patanjali is the renowned brand name among herbal products started by the initiations of our yoga guru Baba Ramdev. The base industries are situated near Haridwar in Uttarakhand. The brand manufactures numerous range of skin care, hair care, and food products claiming 100% swadeshi, herbal and vegan.
Nowadays due to increasing pollution and other ailments people like to prefer natural products with herbal ingredients as they have fewer side effects. Patanjali products are considered to be chemical free and mild for hairs that work effectively in removing dirt, grime, and oil. All the shampoos contain gentle infusions that leave your hair smooth, soft, bouncy and shiny after a single wash. The natural ingredients in the composition rejuvenate the scalp and hairs without causing any harm.
Patanjali Shampoos Review
Driven from Ayurveda these shampoos are enriched with nutrients that are suitable for all hair types. We have gathered here a list of amazing affordable Patanjali shampoos, surely you would like to treat you hairs with these mild shampoos.
1. Patanjali Kesh Kanti Natural Shampoo

Patanjali Kesh Kanti Natural Hair Shampoo from the Patanjali hair cleansers is the original variant. The product contains numerous herbal ingredients that are excellent for hair and scalp. The shampoo is a best herbal hair loss treatment which works well to prevent hair loss and improve hair growth by providing essential nutrients to the hair. It has gel-like consistency and smells strong like orange which is quite refreshing. Along with herbal treatment for hair loss, it cures itching and burning of the scalp. The product is recommendable for oily hairs only as it makes the hairs dry, but don't forget to apply conditioner after using this for softening the hair.
Pros
Do not damage hair as containing herbal ingredients.
Hairs don't dry out.
Makes hair shiny and soft.
Promotes hair growth.
Strengthens roots.
Suitable for all hair types.
Cons:
Produces less lather.
Makes hair dry needs conditioning.
Price: Rs 75
Rating: ✡️✡️✡️✡️  
2. Patanjali Kesh Kanti Aloe Vera Shampoo

The main ingredient of this variant is Aloe Vera which has proven by researches to show the positive results with dry hair. The shampoo really nourishes your hair and makes them smooth and soft. Aloe Vera product is a perfect choice for summers and monsoons with a quite refreshing smell. The product contains the goodness of lime along with aloe vera that provides necessary essentials for hairs. It has a transparent bottle packaging which seems quite appealing. This hair cleanser effectively removes dirt from hair and scalp, reduces split ends, and prevents hair fall.
Pros
Reduces dryness and itching on scalp.
Controls hair loss and improves shine.
Cleanses hair and scalp properly.
Cons
Price: Rs 85
Rating: ✡️✡️✡️✡️
3. Patanjali Kesh Kanti Milk Protien Shampoo

Patanjali Kesh Kanti milk protein shampoo is made up of natural herbs that provide essential nutrients to the hair cells for hair growth. The product helps in treating hair loss and dryness of the hair caused due to several reasons. The shampoo has milk proteins to treat frizzy hairs, hair roots and improves hair texture naturally. The amazing milk protein ingredient treats hair loss and dryness of hair strands due to various reasons drinking excessive alcohol, smoking, irregular sleep timings or other ill habits.
Pros
Removes dandruff and dryness.
Controls hair fall.
Made of natural ingredients.
Makes hair stronger, longer, shinner and healthier.
Sulfate free.
Keeps the scalp and hair moisturized.
Cons
Price: Rs 95
Rating: ✡️✡️✡️✡️
4. Patanjali Kesh Kanti Anti Dandruff Hair Cleanser

Patanjali Kesh Kanti anti-dandruff shampoo is an amalgamation of natural herbs which is effective in dealing with dandruff issues. The main nourishing ingredients of the shampoo are bhringraj, neem, shikakai, amla, turmeric, myrtle, tagar, and bukachi. The product can be used on daily basis to heal the disease as it is mild shampoo does not harm the dreadlocks. The shampoo along with treating dandruff gives nourishment to hair to reduce hair fall and roughness.
Pros
Contains natural ingredients like tea tree oil and rosemary which controls dandruff.
The product is gentle on hair follicles, scalp and shaft.
Adds shine to hair.
Moisturizes scalp and hair.
Controls hair fall.
Cons
Price: Rs 94
Rating: ✡️✡️✡️✡️
5. Patanjali Kesh Kanti Reetha Hair Shampoo

This product of Patanjali contains reetha as its main ingredient. Reetha is used since ages for it's cleansing properties as it is a natural hair cleanser.  It makes the hair soft and silky to some extent but not recommended for frequent usage. It helps in dealing with a hair fall issue and makes hair healthy & shiny. This reetha herbal shampoo revitalizes hairs and provides strength to the tresses.
Pros
Effective hair and scalp cleanser.
Removes roughness of hairs and scalp.
Treats dryness, dandruff, and other scalp diseases.
Contains natural ingredients making hair shiny and bouncy.
Stops turning hair gray.
Cons
Price: 72
Rating: ✡️✡️✡️✡️
6. Patanjali Kesh Kanti Shikakai Hair Shampoo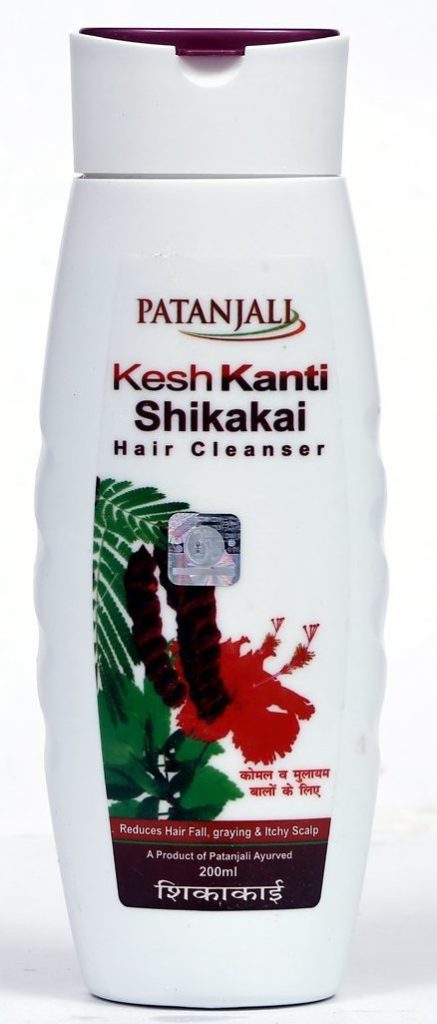 The product claims to contain shikakai which is a got cleansing agent and well known for making hair soft and smooth. The shampoo truly makes your hair look neat, shiny and bouncy. The shampoo is not recommended for winters but does wonders in summers and monsoons. The shampoo is effective in fighting early greying and whitening of hair strands. The shampoo is thick in consistency with an herbal smell and travel-friendly packaging.
Pros
Makes hair soft and smooth.
Removes excess oil from scalp.
Cleanses scalp without drying it.
Reduces breakage and controls hair fall.
Cons
Contains sulfates and silicones.
Price: Rs 79
Rating: ✡️✡️✡️✡️
7. Patanjali Coconut Hair Wash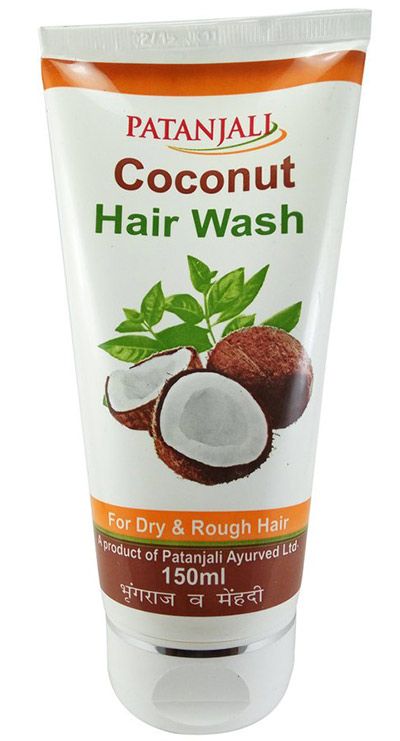 Patanjali coconut hair wash is a perfect choice for treating rough and frizzy hair. The congenial packaged bottle is a blend of natural extracts bhringraj, meethi, aloe vera, heena and coconut oil. Coconut is rich in Vitamin E and other essential minerals for promoting strength and nourishment to hairs. The product is gentle on scalp and hair leaving hairs extremely soft, silky and shiny. This coconut shampoo is truly a great savior that protects hairs from excessive loss.
Pros
Moisturizes and cleanses the scalp.
Reduces hair fall and strengthens the roots.
Gentle on scalp and hair.
Makes hair bouncy and shiny.
Controls hair breakage.
Cons
Not effective in removing oil from the scalp in a single wash.
Price: Rs116
Rating: ✡️✡️✡️✡️
8. Patanjali Shishu Care Shampoo
Patanjali Shishu care shampoo is a gentle product with balance pH levels. The base of shampoo is enriched with neem, tulsi and aloe vera imparting gentle and natural nourishment to the hairs of the baby. The delicate shampoo moisturizes the scalp and hairs of the baby by reducing the dryness effectively. The product has a sweet fragrance and is reasonable to add in the kit of your baby products.
Pros
Nourishes and protects hair.
Gentle for hairs and scalp.
Leaves hairs beautiful and shiny.
Cons
Price: 80
Rating: ✡️✡️✡️✡️
Finally, we have got a handful, resources from Patanjali Productions to get healthier hair strength. Whether you are looking shampoo for dry and rough hairs, frizzy locks, dandruff and itchy scalp of the same brand you can get over the view from my reviews. I have tried most of them their result is mind-blowing. If you are having twisted curly hairs than too these work well on their texture.
Hope these natural ingredients won't disappoint you in treating your hairs carefully as they didn't to me!