Wedding or a traditional occasion is the time to spread cheer and look magnificent. Bring a bold and classy change the ethnic attire and the style statement of your drapping. The epitome of desi beauty and glamour exists within the traditionally pleated drapes of Indian saree created with an ambiance of fashion and grace of wearing the tradition.
The exquisite drapes of different fabrics net, georgette, silk, Kanchipuram silk, banarasi silk or satin hued in lovely color combinations and blended in unique traditional designs and patterns all in one makes them an alluring outfit. The drapes are inspired by the lovely work weaved with elegant motifs, embellishments, and zari throughout the saree neatly.
Where wedding creations are concerned every angle has her own dreams to scatter. This is the time to flaunt your best style with grace to enhance your beauty. Here is a catalog of latest saree collection for brides, to show you the unique patterns and designs to choose from and decorate your wedding dreams.
Wedding Saree Collection For Brides
1. Yellow Orange Fusion Viscose Saree
The traditional Indian attire or you can say 'shadi ka joda' is synonym of bright elegant colors especially red, orange pink fusion. This ethnic saree made of viscose material is perfect for Indian brides. The beautiful color combinations used to design saree ornamented with golden embroidery and zari work. Bugle beads and stone work enhance the look of saree.
2. Red And Blue Net-Velevt Combination Saree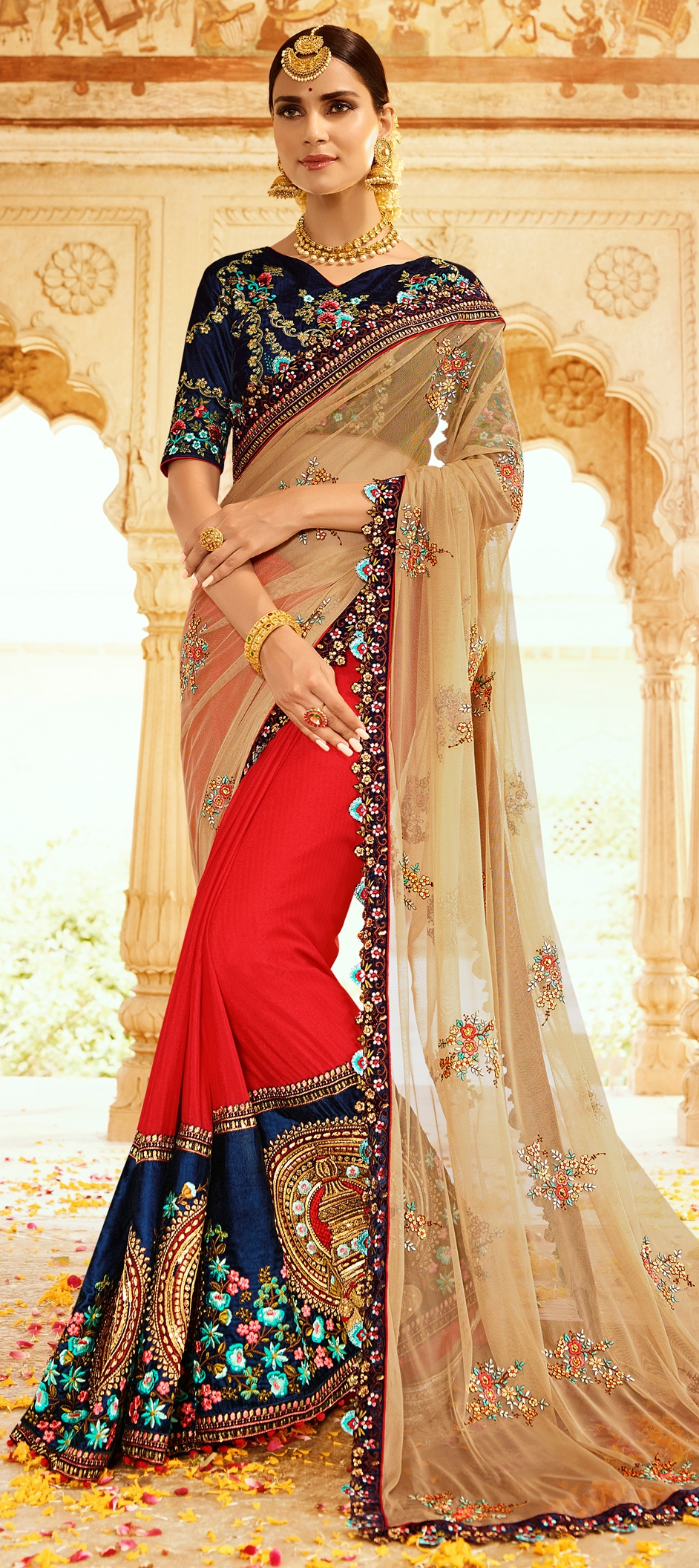 Floral embroidery is the next big thing in fashion for traditional drapes. Half net and half velvet saree a unique fusion appears eye-catchy. Red attire bordered in blue velvet and beige net combination for shoulder pleats appears the drape something different. Saree embellished with exquisite embroidery and lace at the borders of pallo iced with stone, tread and resham work makes the dress unique for the occasion.
3. Net and Art Silk Lehenga Style Saree in Peach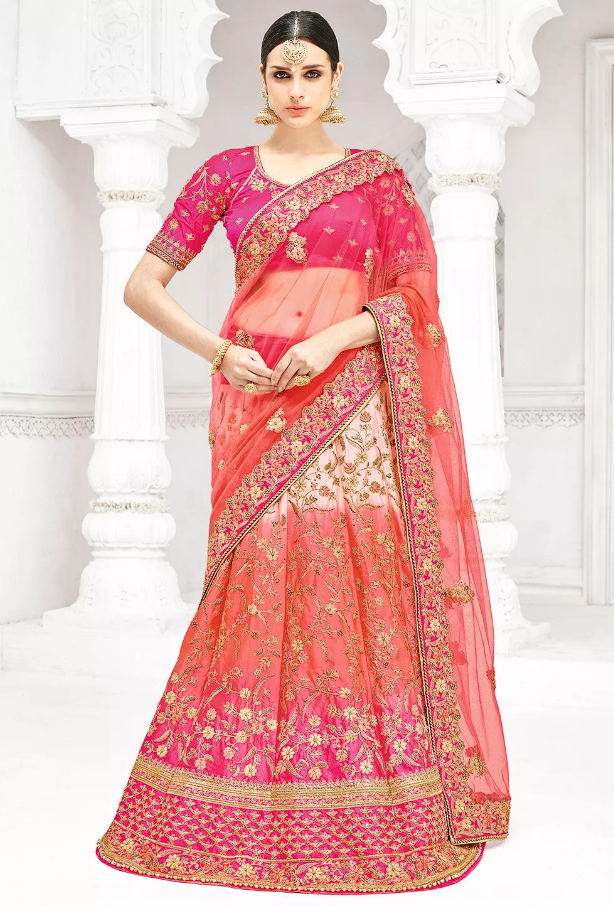 The eyecatcher drape with art silk lehenga style saree tugged with net pallo appeals stunning. The saree is draped with satin lining for the finished look. The beautiful attire enhanced with zari, resham, beads, Dori, beaded lace and a patchwork at the border boost up the look of drape. The deep colored saree patched up with the silk blouse in fuchsia crafted in sweetheart's neck looks amazing.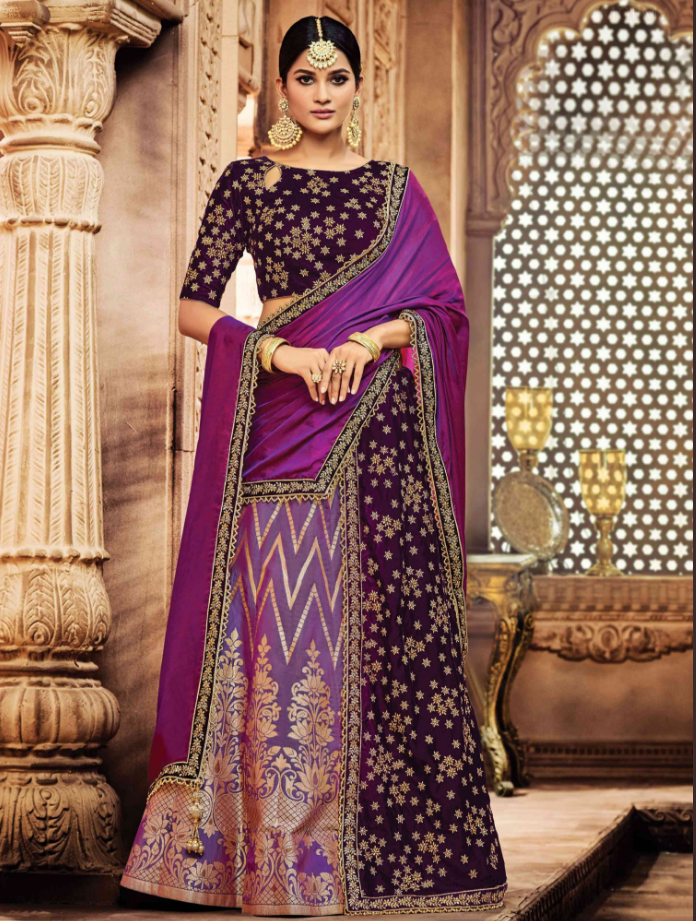 Another lehenga style banarasi silk saree fused with satin pallo enchant us with an air of old-style glamour of royal courts and an Indian princess. This purple satin silk woven lehenga saree is detailed with shimmery ethnic patterns with precision and neat lotus motif embellished with cutdana work, stone, and pearls.
4. Yellow And Pink Silk Saree With Gota Patti Work Border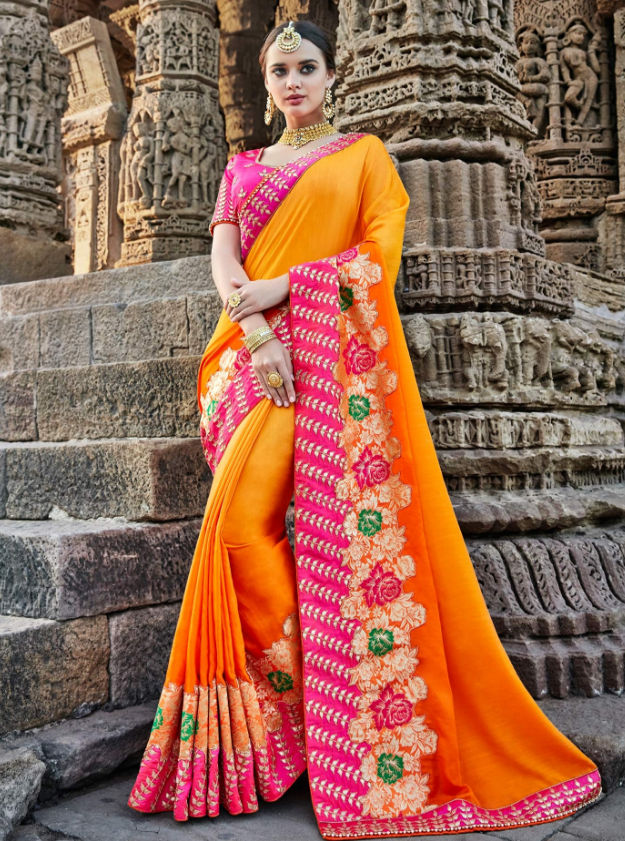 Be The Dazzling Diva Clad by drapping this nine-yard sunshine attire. The eye-catchy yellow and pink colors embellished with Gotta Patti work is the latest fashion in sarees. The pink border detail with floral patchwork neatly designed on fabric looks so pretty. The trendy saree patched up with golden jewelry is truly spectacular.
5. Blue Classic Beauty With Bugle Beads
The brilliant array of Navy Blue Net Saree with exquisite design and patterns will make you the ultimate classic beauty at the event. The saree designs synchronized with sequins and stone work beautified with lace, resham, beads, bugle beads, and stones exude a royal magnificence.


6. Red Jacquard Silk Saree With Weaving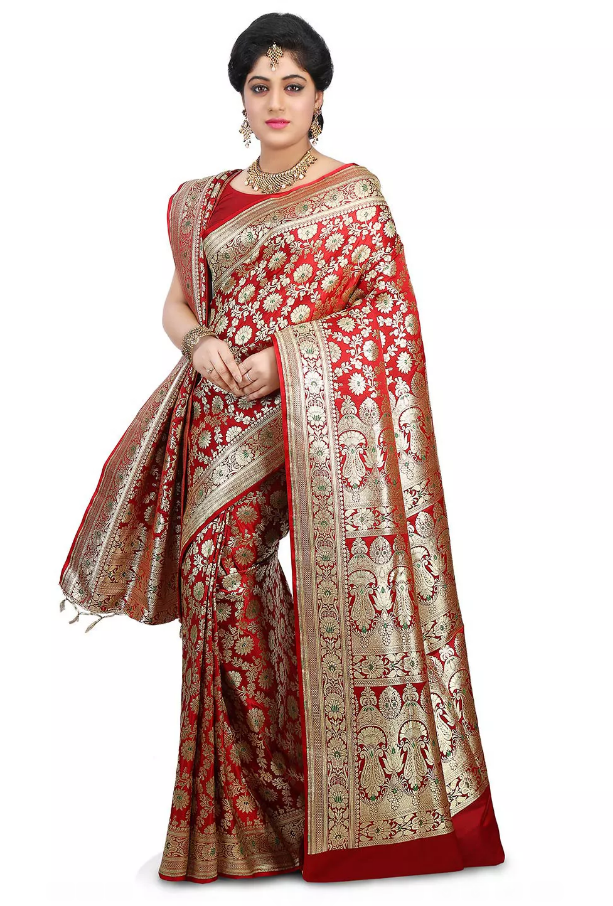 The epitome of desi beauty draped in deep silky folds and fine pleats appear dazzling goddess. The ethnic red saree weaved with zari and resham gives the bride traditional Indian look. The zari worked red base saree matched up with the pure plain red silk blouse looks appealing.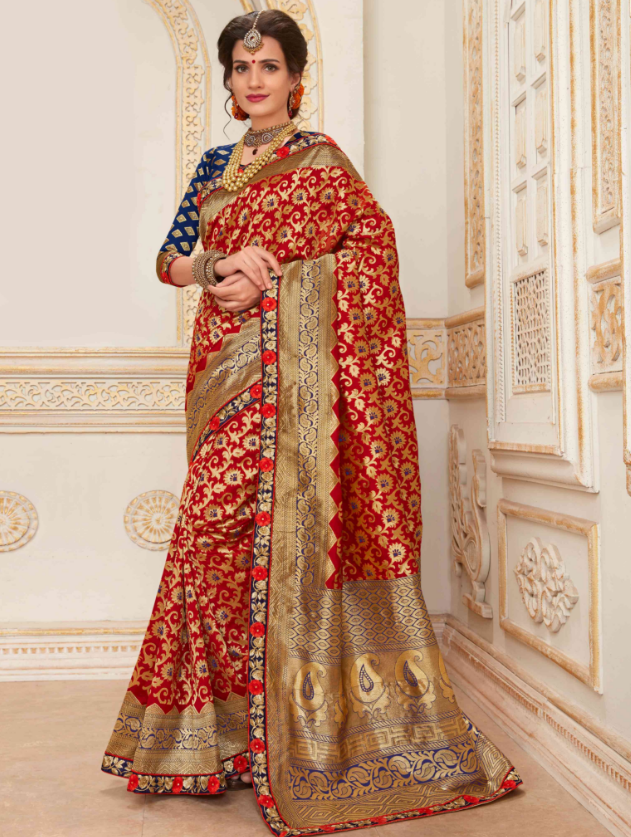 The red burst silk saree with elegant zari border graces the appearance of the saree. The zari booty weaving and resham stone weaving in the whole drape appear traditional motif. The red elegant saree with golden and blue border mingled with blue jacquard blouse gives the bride a special look.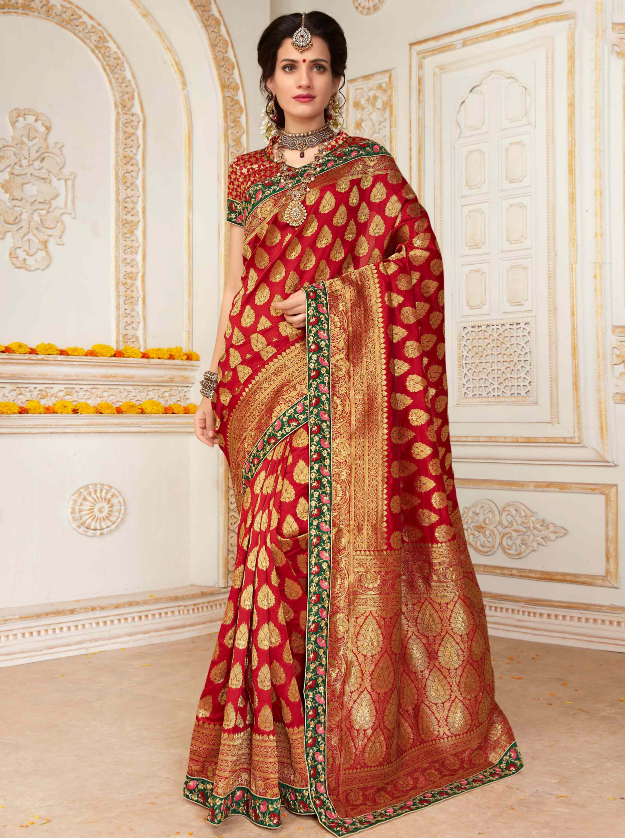 Red Jacquard Silk Saree With Weaving of heavy scattered zari work and a dark green border with floral motifs appeal a stunning ethnic wear for a bride. The elegant bordered drape teamed with traditional jewelry adds oomph to your look for the ethnic occasion.
7. Off White and Pink Banarasi Silk Jacquard Saree With Lucknowi Chikankari Work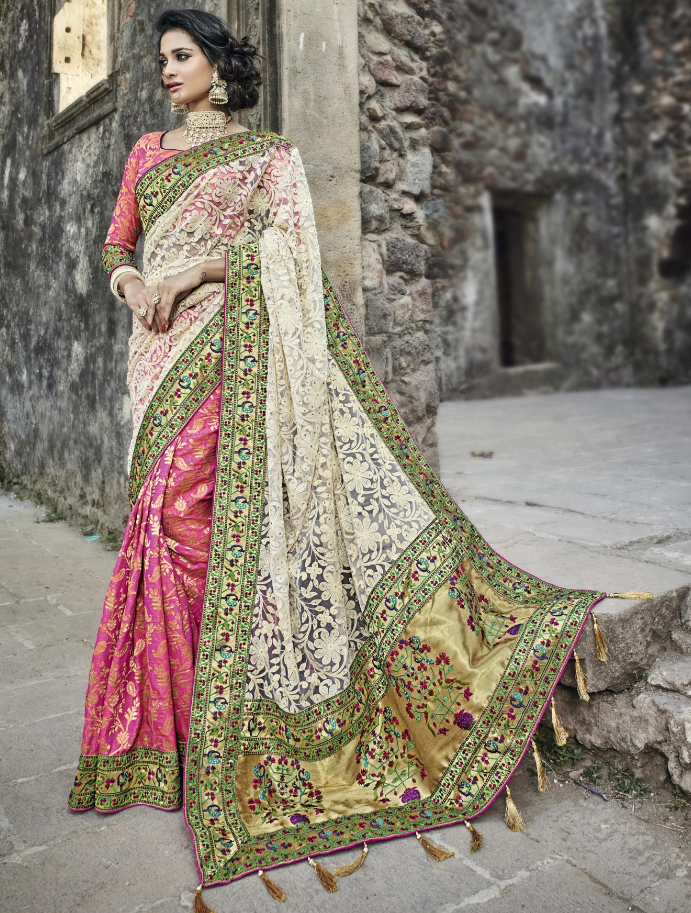 Off-white color, cant be the first thing that comes to your mind while deciding for a wedding dress, but a unique combination of off-white net fabric with Lucknowi Chikankari work adapted with Banarasi silk, jacquard and a color palette of pink, green and gold.  Intricate nature-inspired forms adorn the gorgeous half-and-half saree with an air of regalia makes the ethnic cocktail a grand outfit for an Indian wedding.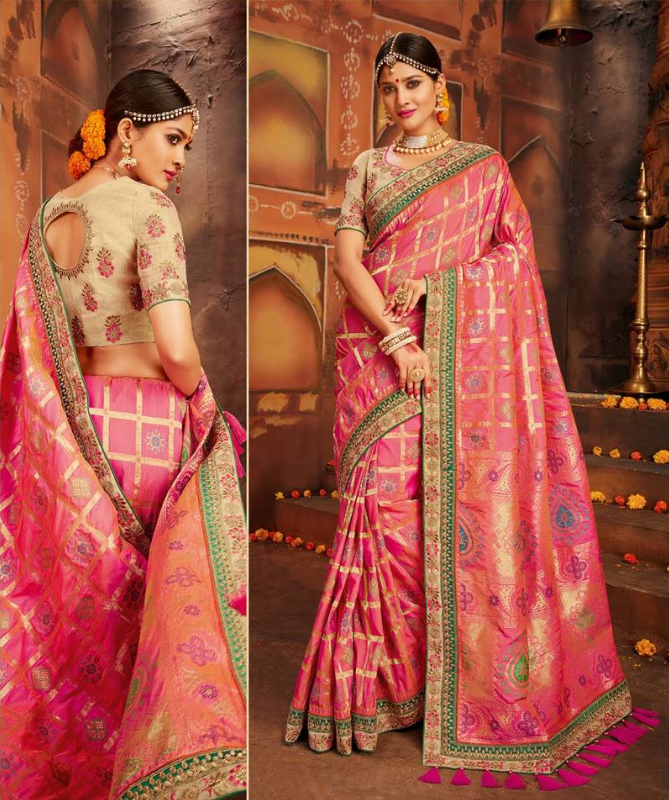 The deep pink colored attire exhibiting a sensational design of style and substance take your breath away. The traditional Banaras Silk jacquard fabric designed with class and style is a perfect outfit to stand out an occasion with a royal impression.
8. Blue Glamour
Indigo Blue Georgette Satin Saree With Heavy Dori Work And Golden Pearl motif with lace,  thread, zari and stones customized with pink embroidered heavy work border oomphs the grace of saree.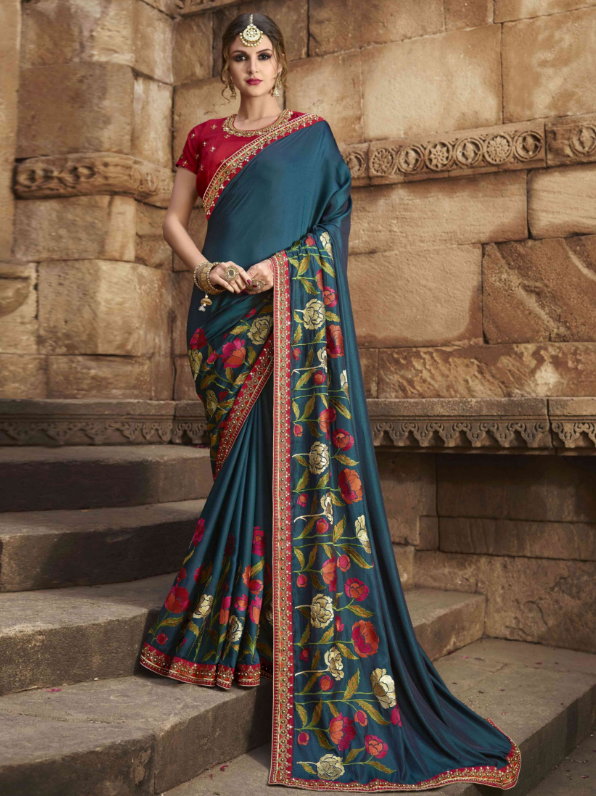 Blue Georgette Satin Saree With Heavy Thread Work And Golden Work ornamented with Dori, Lace, Pearl, Stone, Thread, Zari-Embroidery. A different grace of teal blue color with floral patterns makes you an exquisite bride.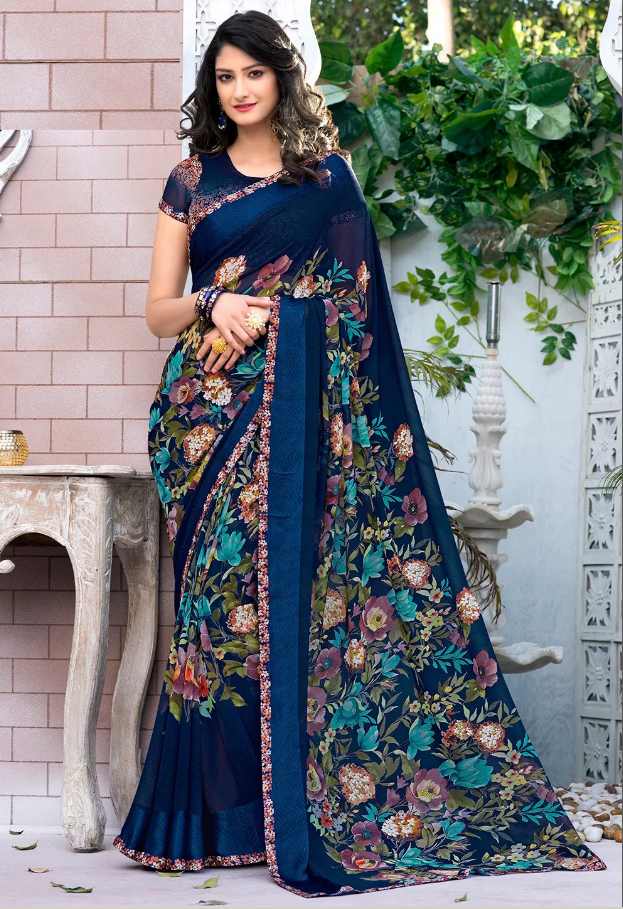 A bespoke glamourous faux georgette saree in royal blue is handcrafted to perfection is an epitome of sophistication and style. A perfectly twirled hemline with patchwork and gracefully enhanced with digital print cant seem to get the eyes off.
9. Charmeuse Brown Muga Silk Saree With Gota Patti Work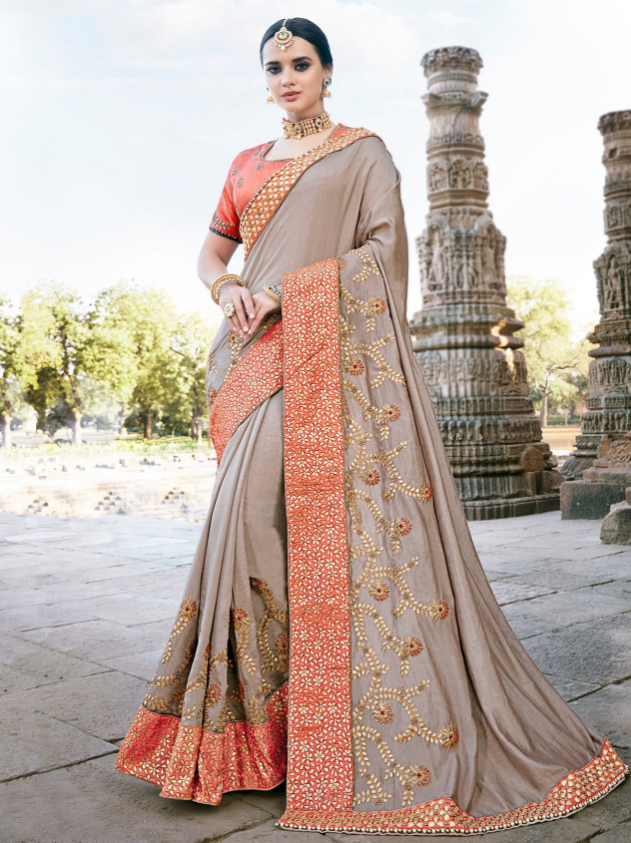 Want some different fusion drape yourself in this grey bloom beautifully bordered in peach color and ornamented with golden Gotta Patti work. The small and intricate designs on this saree look awesome and give rich and feminine grace to your ethnic drape especially border is made perfectly.
10. Pure Kanchipuram Silk Saree in Maroon
The ethereal elegance of Art Kanchipuram Silk Saree shines through the golden woven border. This Zari Woven Drape is Marvellously decked with Zari, Applique keeping the traditional element intact. This maroon silk saree adorned with decadent jewels is truly divine to look upon. Celebrate your special occasion with these bright hues of ethnicity, accessorized in your own way no more no less!
11. Green And Sea Green Ombre Georgette Saree With Embroidery Work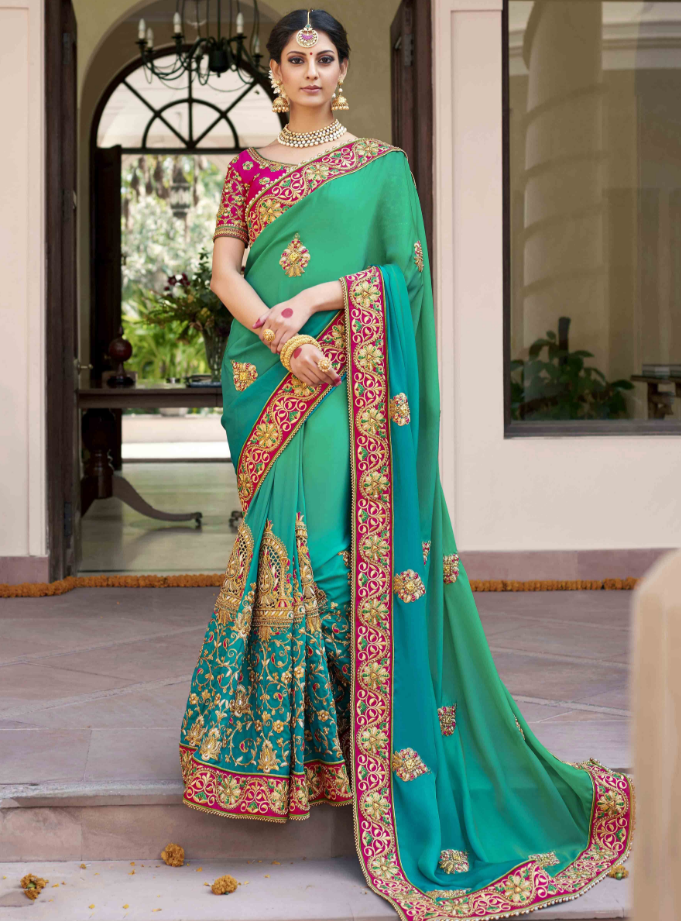 This Pretty Piece dipped in green and sea green omber reveals your beauty as a fairy tale that begins to unfold. This Charming Teal Blue Net drape of georgette fabric embellished with embroidery work lovely beads, lace, resham, silver Zardosi, and stonework. The golden bead lace perfectly twirlers hemline. The substantial features of this attire make the heads turn when you dress up in!
12. Art Banarasi Silk Saree in Coral Pink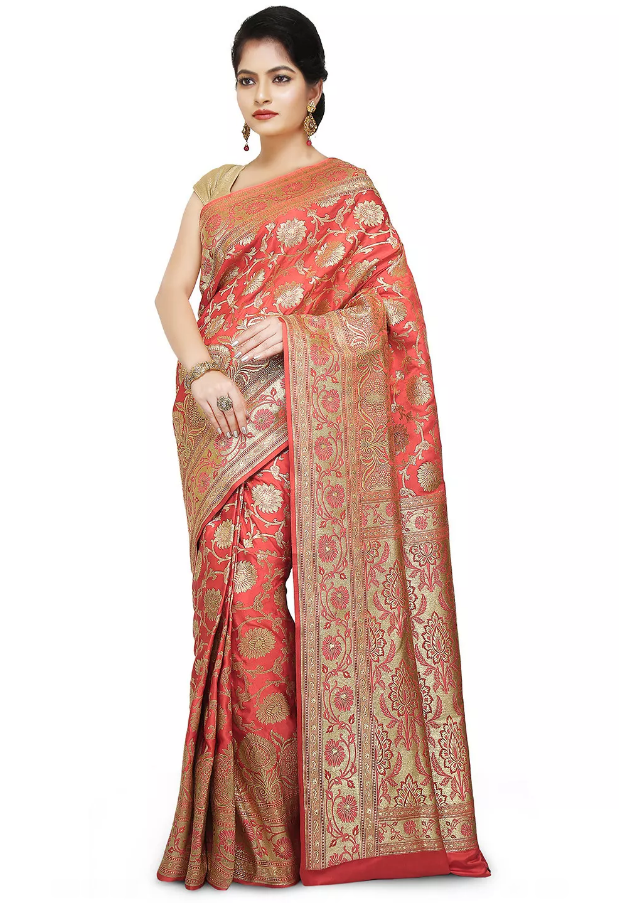 The traditional art silk saree drape Elegantly Woven with Zari in Floral Motifs teamed with a coral pink blouse beautifully frames the desi women.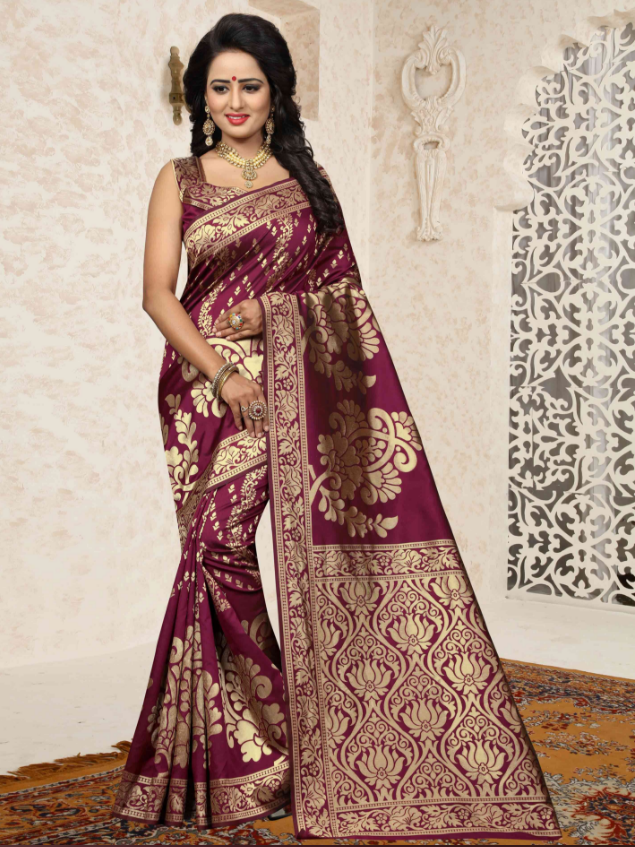 Deep colors and wine shades are now ruling the clothesline, the banarasi silk saree hued in wine with zari weaving subtly brings the ethnic look.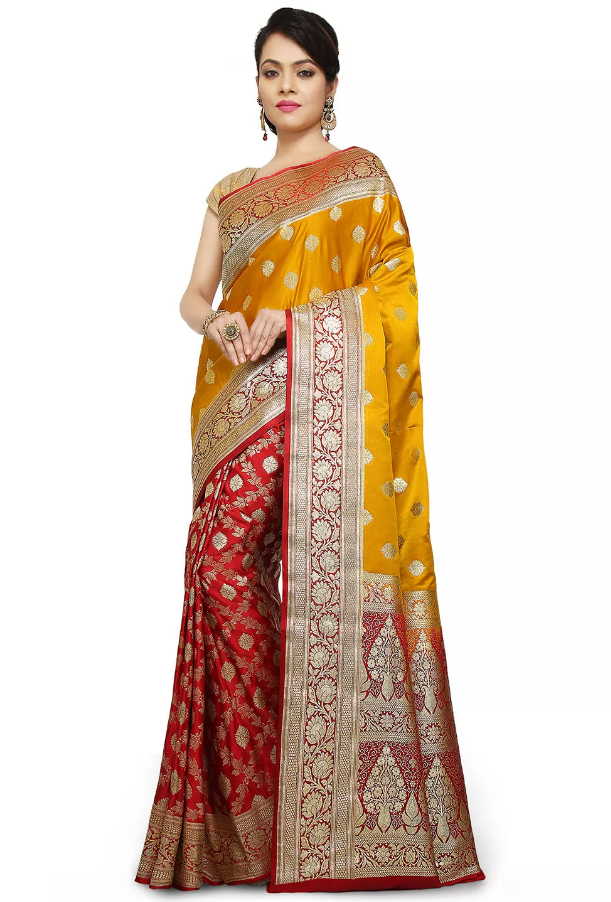 Silk sarees are most favored in South Indian Weddings for a traditional attire. Silk sarees synonymous with quality and design motifs in two tones evolve as a trendsetter for the ethnic occasions.
13. Orange And Sky Blue Crepe Net And Silk Saree With Art Silk Blouse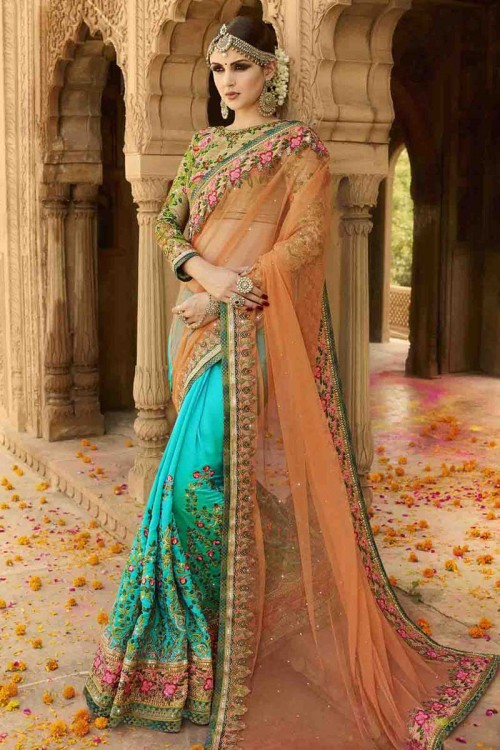 Desi wedding spectacle is always a breathtaking spectacle and you want to be the showstopper of the occasion get into a gorgeous diva look. Drape this nine-yard attire in orange and sky blue fabricated on a crepe, net and silk saree teamed with beige art silk blouse designed in boat neck and full sleeves. The attractive colored saree is embellished with resham, stone, zari, and embroidery in floral pattern hued in pink at the hemline. Team the saree with stylised jewels to attract showers of compliments.
14. Latest Cut Work Beige Color Wedding Saree
This brilliant array designed in cutwork on net fabric will make you the ultimate classic beauty at the next event you attend. This beige color net wedding saree is adding the gorgeous glamorous showing the sense of cute and graceful. This lovely attire is looking extra beautiful with embellishment resham work, zari, cutwork, and stonework. Comes with a matching blouse.

15. Peach Art Silk Saree With Resham Work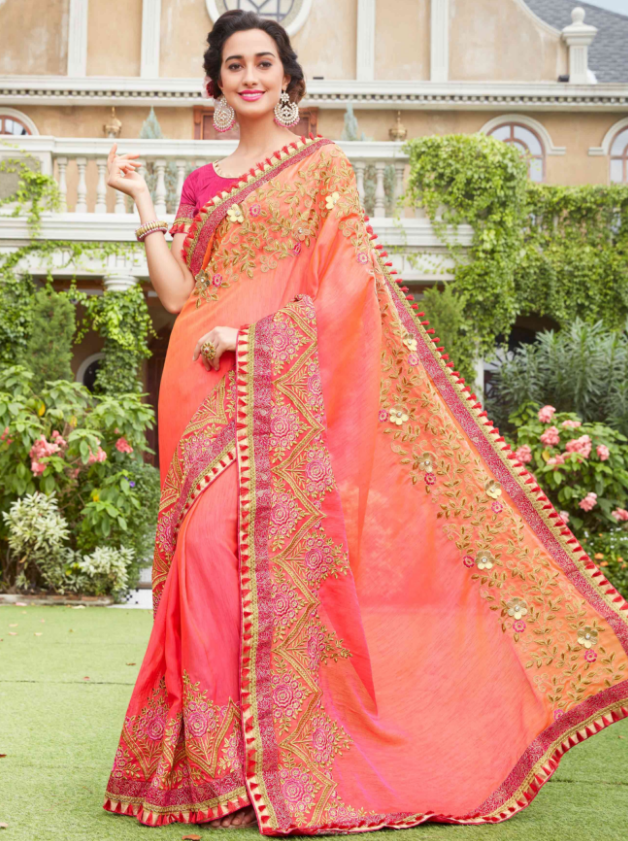 Whimsical Ballroom wedding needs something different to show off, drape yourself in the alluring peach colored drape. This peach silk saree ornamented with resham work and woven in zari embroidery describes the intricacies of this outfit as a whole.
16.  Sabyasachi Blue Blend In Silk 
Brides usually not tend to go with the not so obvious blend of colors and designs, a different aspiring look covered by Manushi Chillar epitomes a royal rich look. Carrying an eternal attire silk fabricated with zari border and star motifs whole over the saree plays a dramatic role in your look when teamed with traditional accessories.
17.  Stunning Red Inspiration
Red is synonymous with bridal attire, a zari work designer nine-yard attire compels to drag in. The beautiful georgette saree featuring heavy zari and stonework at the hemline and in booty pattern in the entire drape makes the graceful. The gorgeous saree teamed with elegant stylised golden and pearl jewels glares breathtaking.

The red tale with asymmetrical cutwork at the hemline of the complete saree and exuberant goldwork embellished in stone, cutdana, bugle beads, zari and pearl motifs weaved in the entire drape approves your wearing for applause. If you are a bride who needs a blend of modern look in the traditional attire than this sequin bordered red bloom is a compliment for a perfect outfit.
18. Sabhyasachi Nude Ethereal Assemble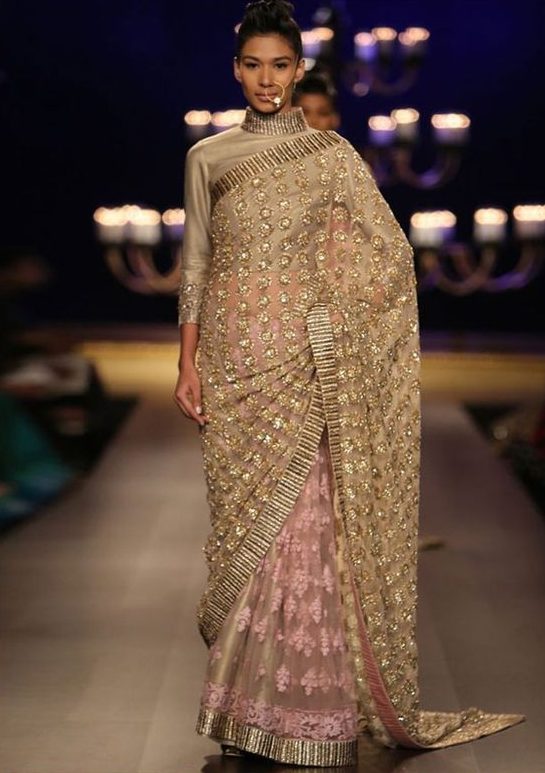 The lovely bridesmaid outfit in scattered gold colored floral Zari and golden beads work on the beige saree tuned with light pink color looks amazing. The alluring high necked sequined lace blouse teamed with this glamorous saree can be an ideal choice for an enchanting wedding.

19.  Orange Digital Net With Heavy Thread Zari Diamond Work Saree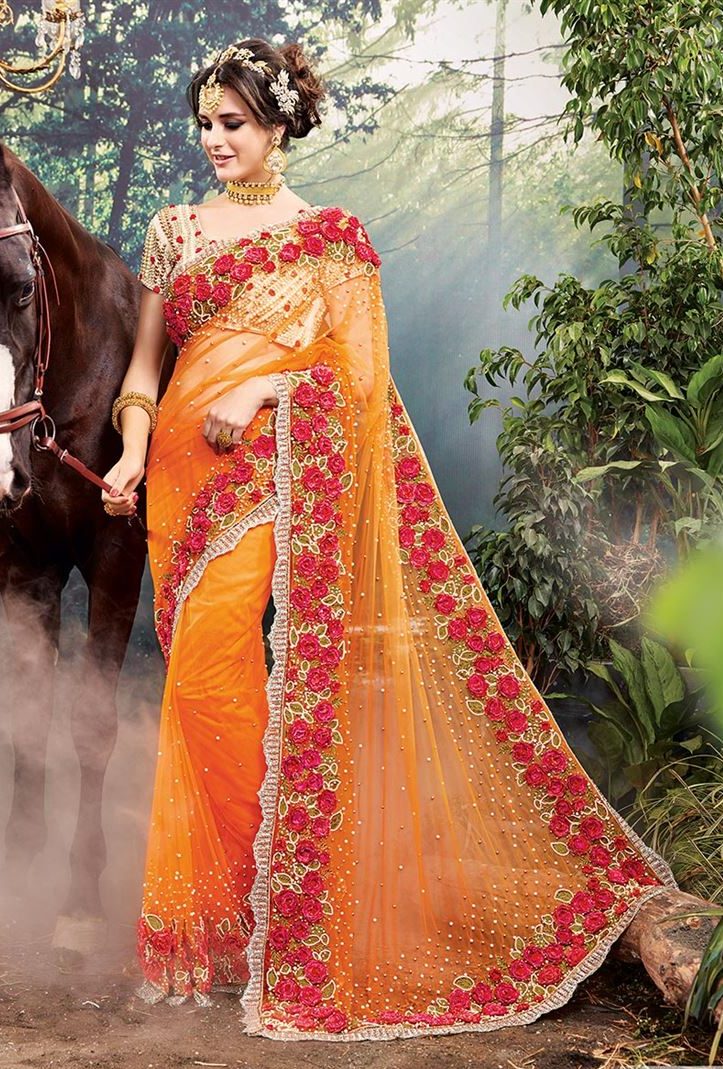 Be, an angle and create ascertain smashing impression on the spectator by wearing this elating orange color wedding saree. The beautiful designer digital net drape creates a dramatic canvas with strikingly decorated thread work zari work, tread work, butta and pearl work with heavy fancy border. Pair this gorgeous outfit stylish matching accessories will complete your bridal look.
20. Half Green Half Red Bandhani Toned up

Featuring cream, golden and red embroidery the ethereal silk attire is a fabulous traditional fusion to be a good choice on a traditional occasion. The plain silk dark green colored pleats enhanced with embroidery in the thread, cutdana small white pearls, and stones mingled with red pallo tuned in bandhani and elegant border make the piece unique with an attractive color combination.
21. Pink And Georgette Saree With Embroidery work
Impersonate into a mixture of boldness and beauty this pink colored georgette saree highlighted with beautifully carved embroidery in golden flower petals seems really bewitching. And red thread embroidery at the hemline designed with cutwork adds more ornamentation to the attire. Pair the saree with same georgette fabric blouse embroidered in red and golden at ends of three-fourth length sleeves gives a deep ethnic and unique look.
22. Appealing Net Pink Designer Saree For Bride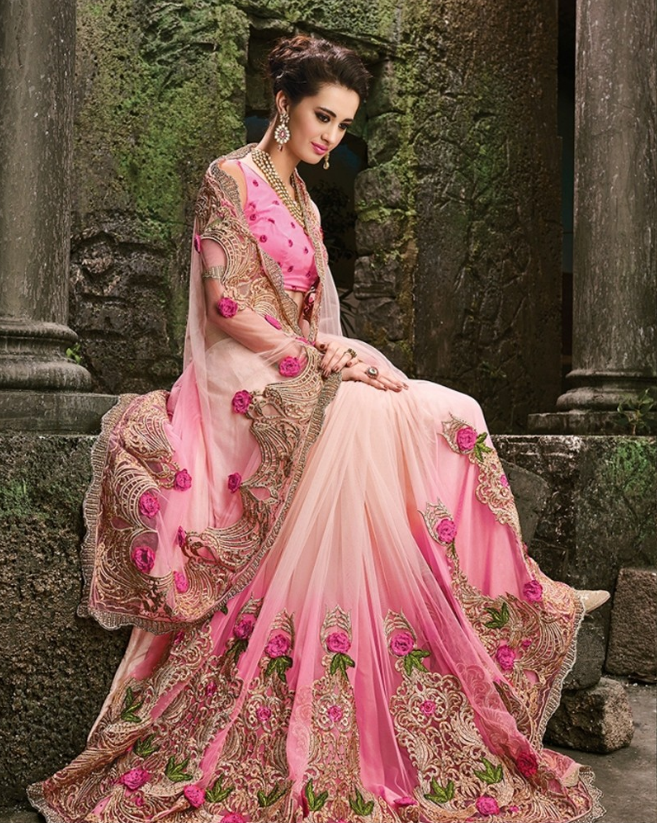 Subtle candy pink canvas drape is whimsical and wedding like one of the best choice for pinky girls. The delicate attire in pink net fringed with thread work contemporary traditional pattern with beautiful cutwork secured with beige embroidery and ornamented with pink roses creates the piece stupendous.
23. Orange And Pink Silk Saree With Zari Embroidery Work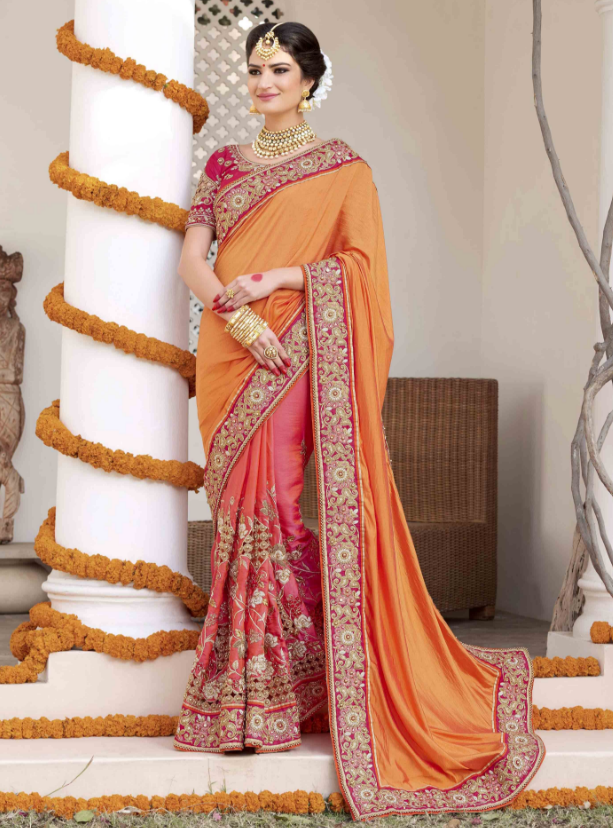 Those looking for the more traditional take on wedding glamour this stunning orange and pink silk saree with zari embroidery weaved is simply perfect! The saree featured with art silk blouse intricated in golden and pink embroidery with princes cut back makes the saree exceptional to behold. The unique cutwork pattern on the sleeves of the blouse and about the hemline gives the drape a perfect blend of a modern look with the ethnic one.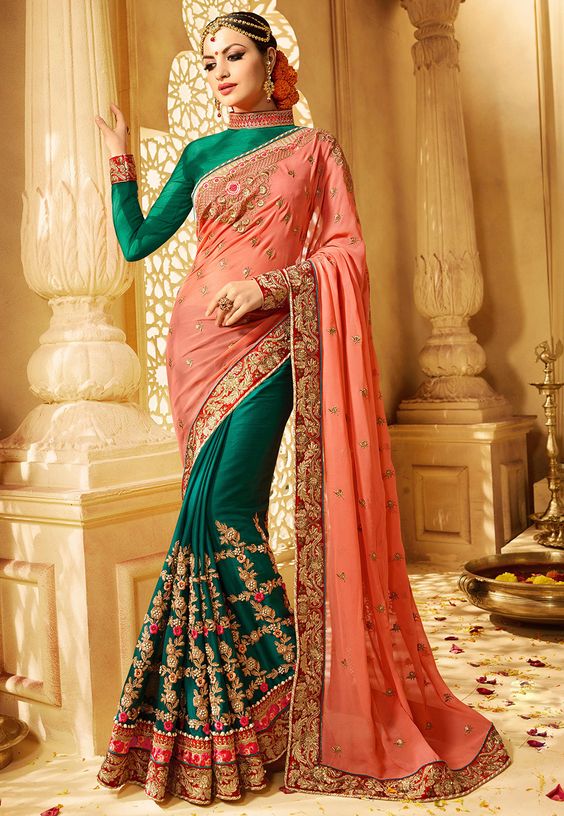 24. Green Silk Saree With Weaving

The shimmery enthralling drape with a sensational design of style and substance presumes the attire to be a very attractive ethnic piece. Woven Flowers on this Saree hued in green base color gives a very heavenly appearance to the saree. The saree is ornamented with sequins, lace border, weaving, golden beads, and motifs.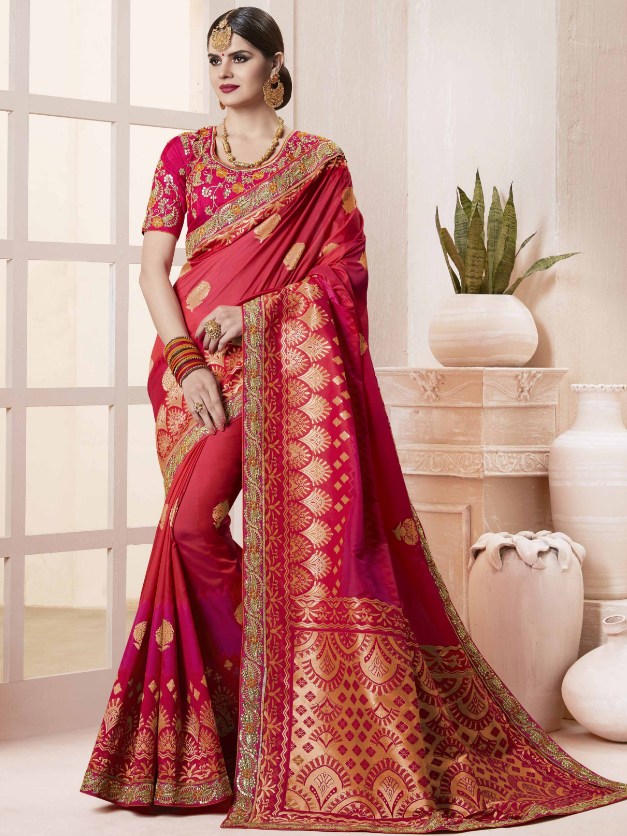 Red And Pink Banarasi Silk Woven Saree With Heavy Border teamed with straight pallo seems amazing. The appealing jacquard attire embellished with pearls, stone, thread, weaving and rich zari embroidery balloons into a beautiful silhouette.
25.  Red And Yellow Gaji Silk Gharchola Saree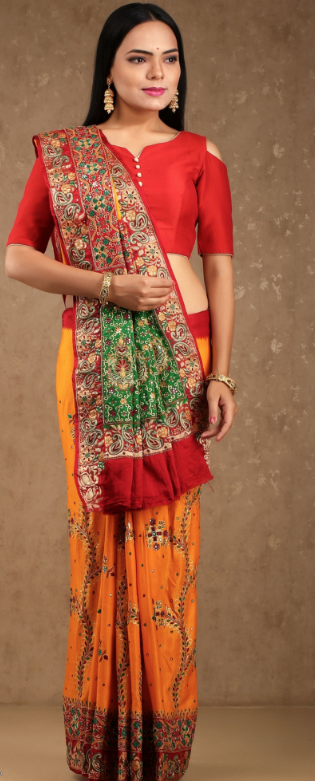 Gaji silk Gharchola drapes are traditional attires for the state women for traditional occasions. Gujarati brides draped in the Gharchola nine-yard attire ensembles the spectaculars sight. The red yellow combination hued with multi-colored leaf embroidery embellished with cutdana and mirror work beautifully frames the desi women.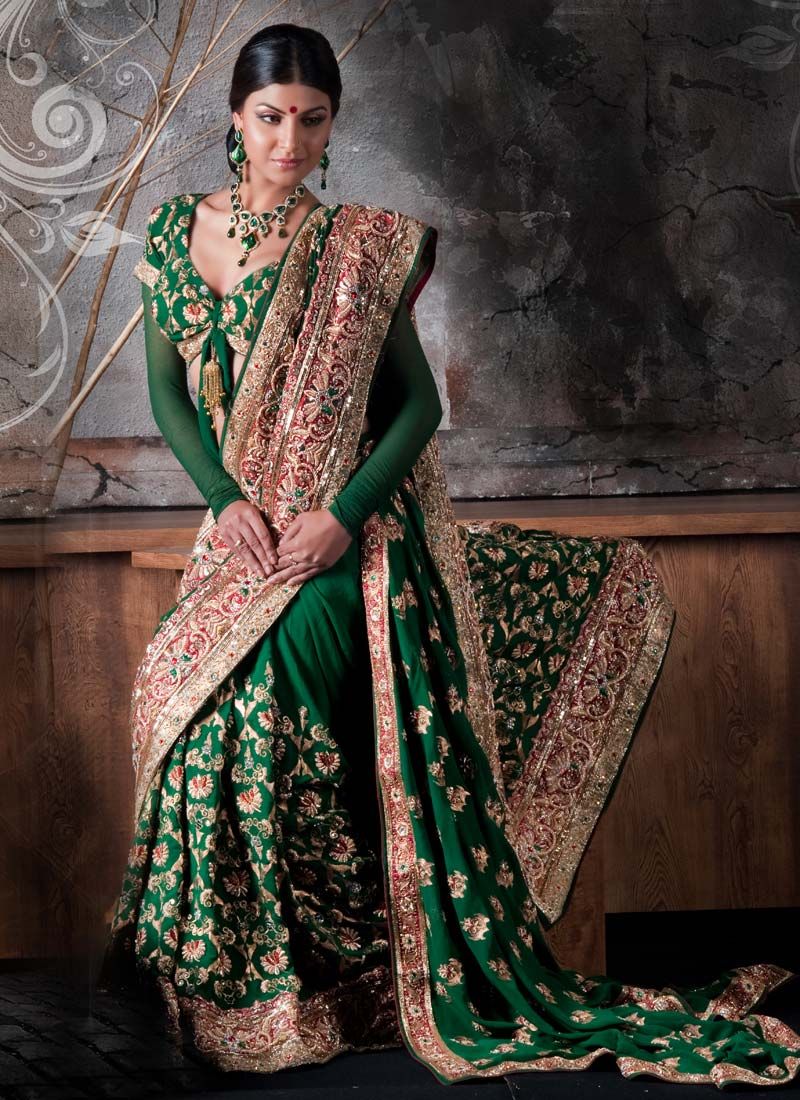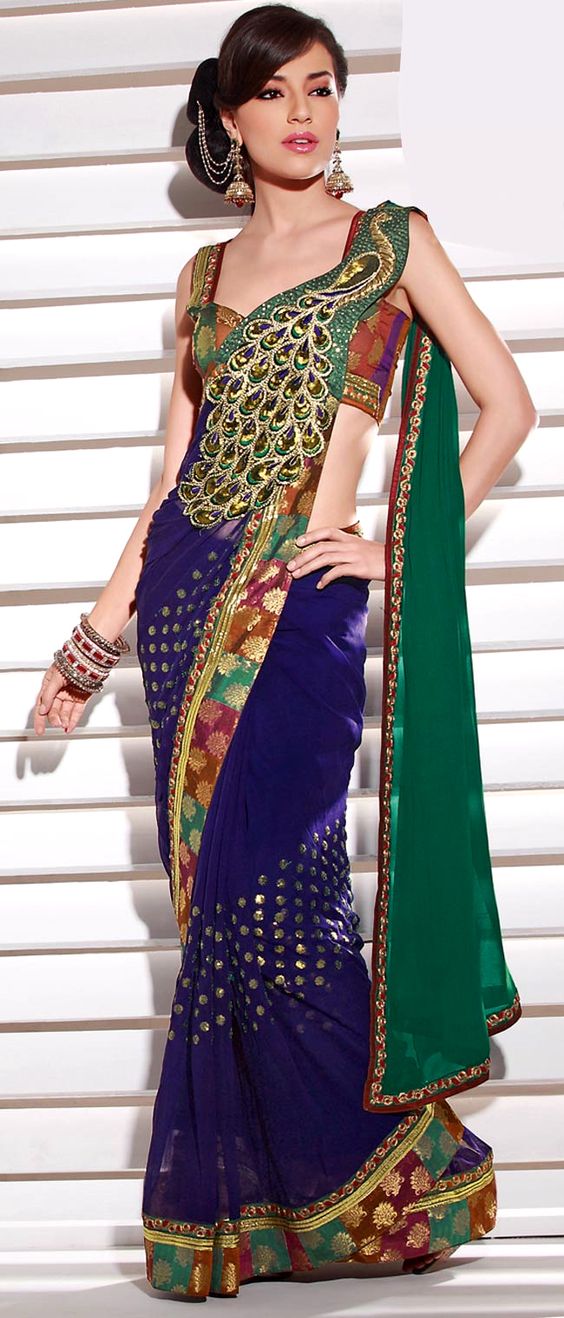 Classic green saree bordered with patchwork and thread work beautifully in a traditional pattern but with a little twist of embellishments and motifs adds value to wedding labels.
Jaw dropping, wasn't it? Wear one of these Indian bridal attire's and look no less than a princess yourself! The delicate matching drapes will surely win your heart.
Make your fairy tales happen in reality with the man of your dreams in a drape that is dreamy. The regal designs will make your wedding day! Share your views on our collection by dropping a comment in the section below!