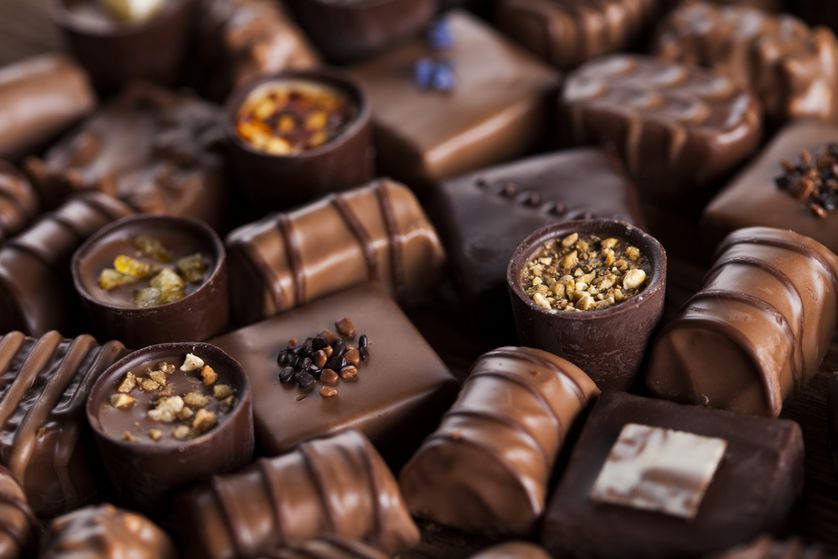 Chocolate – the name is mouthwatering, from young to old every being love to consume chocolate and are good surprising gifts for kids. Chocolates have a wide variety of infusions capturing the market stores but recently the dark variety has been creeping up in the list of popularity.
Indeed dark chocolate supports gut bacteria to produce anti-inflammatory compounds and is rich in magnesium & work great as anti-oxidants. Add on chomping dark chocolate helps you to enhance your inner glow. Some researchers from Germany has concluded, the dark chocolate consumption improves hydration and skin complexion by increasing blood flow. There is nothing better than dark chocolate to maintain your blood pressure.
Now what you think? Isn't the advantage of loving dark chocolate beyond your imagination. It's amazing to believe dark chocolate not only curb your desire but is a great cure for various diseases. To ensure the richness of dark chocolate consider the ratio of cocoa imbibed in it, more cocoa ratio produces better dark chocolate.
Exotic dark chocolate facts are really wonderful, I am sure like me you will go to the second bar of the dark chocolate to keep yourself healthy, admitting the more cocoa constituted the more bitter it is but for chocoholics like me can love consuming it.
Here I have pilled up some best brands to consume or to gift dark chocolates whatever you feel like. Go through the list you will surely add one to your cart as you will be tantalized by the name of chocolate.
Top Dark Chocolate Brands For Chocoholics
1. Lindt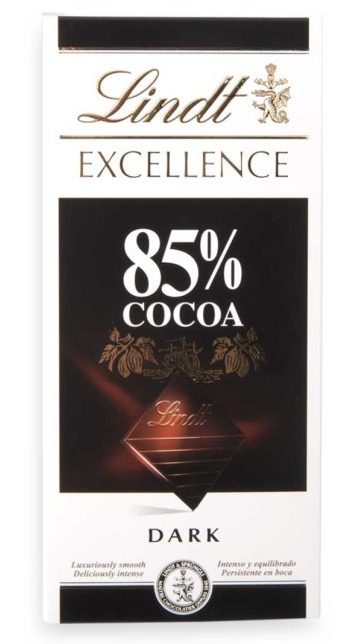 Hunting for the best textured dark chocolate plunge on Lindt an exotic product from a Swiss Confectionary Company. It has been infused with original richness and strength of cocoa beans. If you are die-heart chocolatier you would love its dark bitter bite that would melt softly in your mouth. The bar of 85% cocoa with an additive aroma has pure and sharp flavor. The sloth finish of the chocolate lasts in your mouth for long with wonderful taste and gives you immense satisfaction.
Price: 300 INR
2. Toblerone

Another desire, from the best Swiss Brand, offered in a unique prism shape. The beautifully designed Toblerone was started in 1932. The taste of chocolate has a bit of character but the texture is far from smoothness, no doubt chocolates flavor compensates for its texture. The dark flavors are packed especially in green or black colored box. The alluring bar has other variants that come in different specified packaging.
Price: 135 INR
3. Hershey's
Hershey's is a special dark chocolate brought into the market by manufacture from Pennsylvania since, early 1970's. It has sweet notes complimenting bitter undertones or you can say a perfect balance of bitterness and sweetness. A good chomp has a smooth and buttery texture with adequate cocoa bitterness to score high in the taste of chocoholics. The bar has its other variants with a different texture, flavor, and cocoa percentile.
Price: 780 INR
4. Kit Kat Dark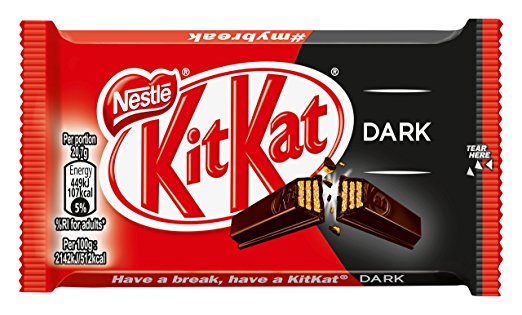 Kit kat the product of Nestle loved globally. Basically, the wafers are covered with plain dark cocoa-rich chocolate and have a milk chocolate variant, and the presence of wafer somehow distracts bitterness of dark chocolate. The smooth crunchy chocolate contains milk fat, cocoa butter, chocolate, Palm kernel oil, wheat flour and many others. The crisp mix dark chocolate work as great energizer and crowd pleaser. This best available brand in India comes in 4 fingers and 2 fingers, enjoy the yummy crunch with the rich taste of cocoa.
Price: 475 INR
5. Godiva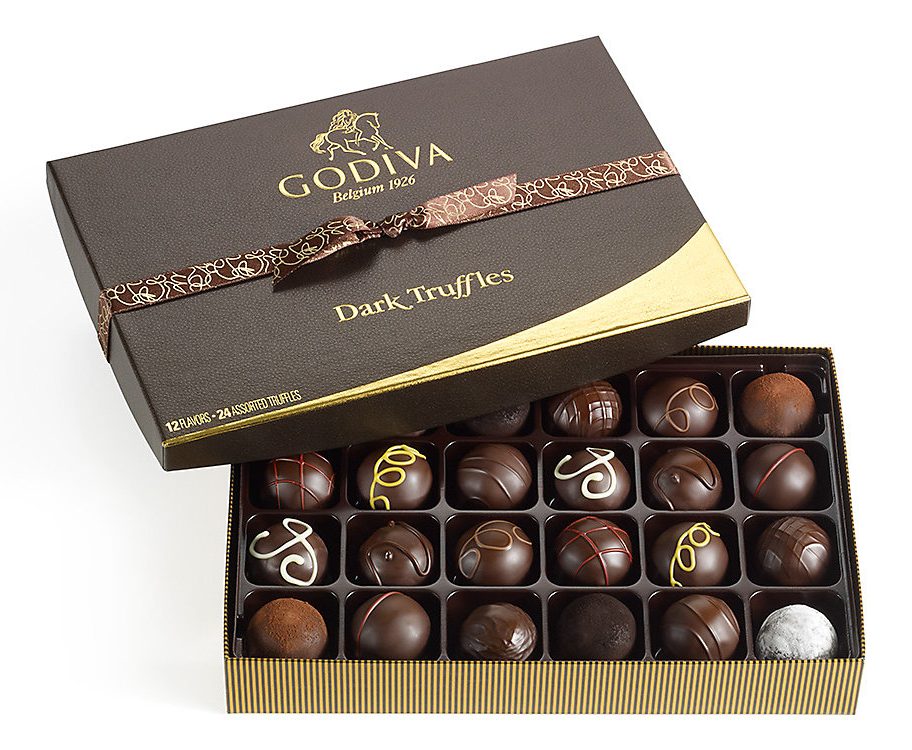 Godiva the brand for Dark Belgian Chocolate is the oldest manufacturer for producing Dark chocolate. The production started in 1926 and covers around 700 stores all over the world. These dark chocolate truffles conation 72% cocoa perfectly rich in taste for chocoholics. I would give it number one for me, you would too love its yummy bitterness. It also comes in bars and in a different ratio of cocoa infusion. The chocolate is little costly and a bit difficult to find in Indian stores, yet you would love the attractive packing and when you will taste it will be mesmerizing for you.
Price: $44
6. Cadbury Bournville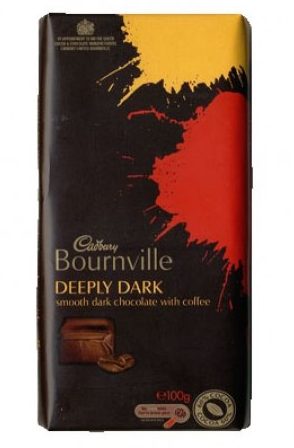 Cadbury the favorite brand in every nook and corner of India, easily available in Indian stores and allured for all its variants. Cadbury Bournville the special dark explicit of the brand has nice flavor and texture but is not much bitter you can easily consume it as the cocoa ratio is 50% and hits the rock bottom line in the list of dark chocolate lovers. Though texture and flavor of the smooth bars are mouth-watering, its sibling's constituting infusion of caramel, raspberry, almonds, raisins, bubbly all are more alluring.
Price: 275 INR
7. Jus Truf's
The one and only dark chocolate from Indian origin made from fine cocoa beans grown in South India. Jus Trufs offers an artisanal range of cocoa infusion with the right touch of balanced sweetness.  This is 100% vegetarian product free from any emulsifiers or soya lecithin. It's appreciated flavors of dark chocolate has a nice burst of the cocoa composition. The tempting chocolate melts quickly on the tongue and attracts you for the second round.
Price: 330 INR
8. Heidi Dark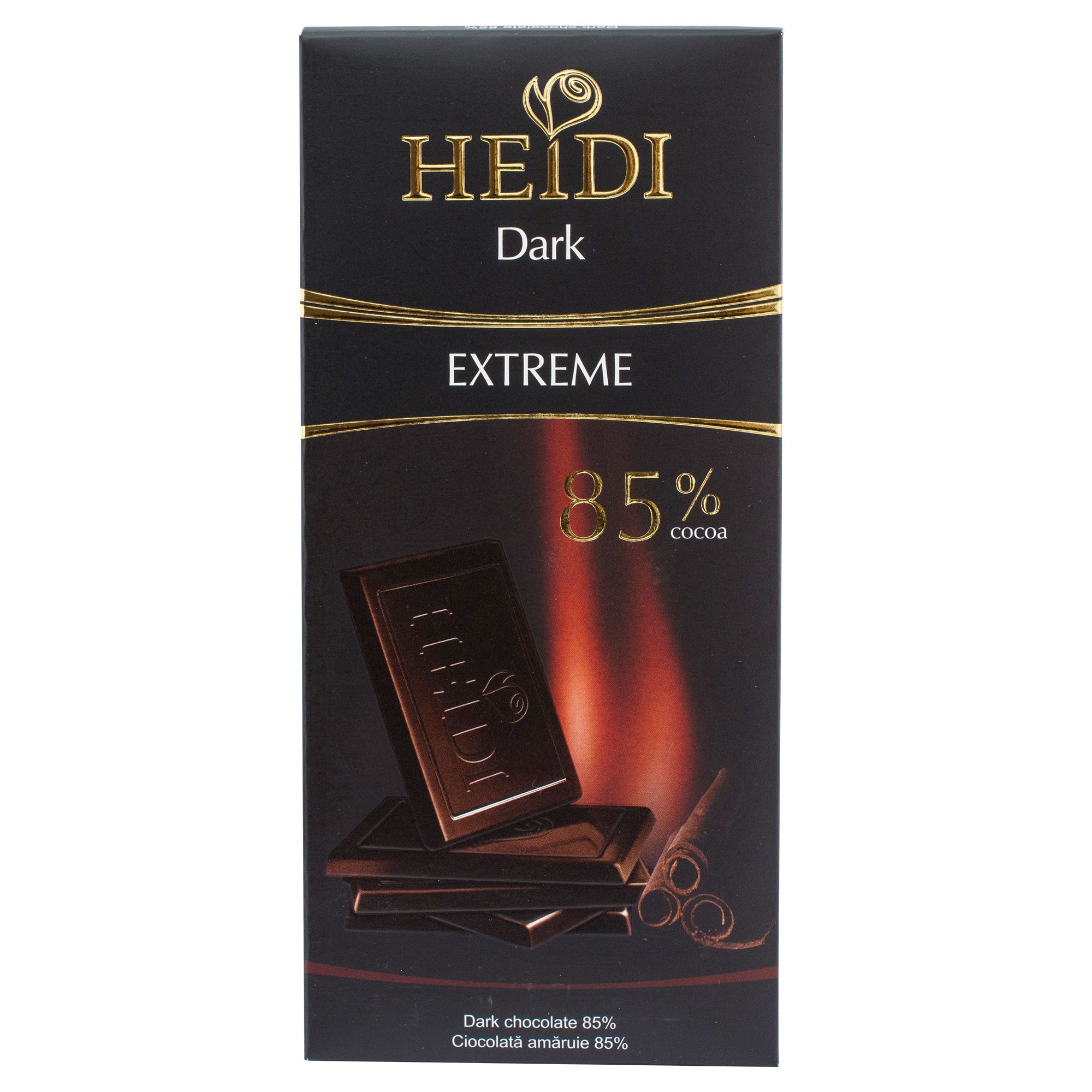 Heidi a natural vegetarian product made from 100% natural ingredients brings authentic cocoa flavors with it. The product made from distinct flavors imbued with cocoa butter, cocoa mass, sugar, cocoa powder soya lecithin as an emulsifier and vanilla extract. The mini bites of the chocolate bar are a delight. This handcrafted chocolate blended with 85% of smooth cocoa flavors raise your taste buds. The brand also offers other variety of chocolates and chocolate products those would make you fall in love with the brand.
Price: 270 INR
9. Amul Dark Chocolate
The oldest bite blended with the goodness of rich creamy milk and delicious cocoa in a perfect ratio to give you yummy delight. The smooth fine composition of ingredients gives you a better mouthfeel. The bar contains 55% cocoa with a fine texture that melts in mouth instantly leaving a piquant taste behind. The bar imbued with cocoa solids, cocoa butter, sugar and other ingredients indulges in the exquisite taste of rich dark chocolate. The white chocolate explicit of the brand is loved among the category of white chocolates and other variants.
Price: 360 INR
10. Mason & Co. Intense Dark Organic Chocolate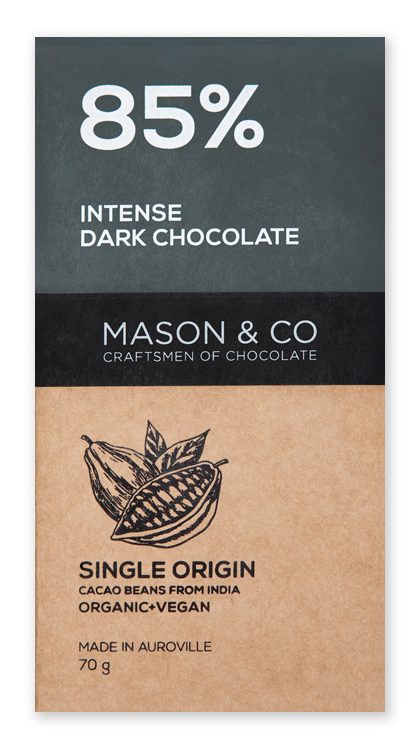 The intense flavored Dark Chocolate imbibed with 85% of cocoa. The organic certified Mason & Co is also a Bean-to-Bar chocolatier, the duo offers eight kinds of chocolate bars made from single origin Indian cocoa. The best about this chocolate is that the sweetness of the chocolate is given with plum sugar which is healthy for the body. And one more good thing about this chocolate is, the people allergic to soya or gluten can feel free to consume this chocolate without thinking as it is gluten and soya free. Chocolate lovers are crazy about this brand, don't forget to taste this.
Price: 325 INR
11. ASAP Almond and Dark Chocolate Granola Bars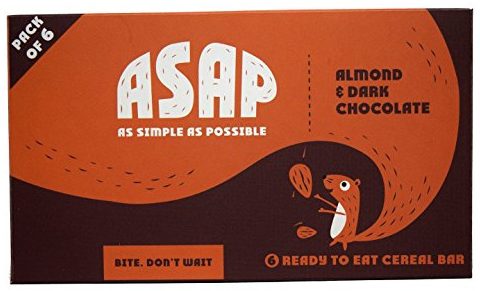 ASAP as simple as possible chocolate goes with the name by imbibing philosophy of goodness and simplicity yet being tasty, for rich cocoa and simple smooth texture not compromising the taste. This explicit bar is an ultimate combo of decadent dark chocolate and nutritive almonds a perfect pick for a deadly chocoholic. The chocolate is made of simple ingredients without any added preservatives and is a great source of fiber, protein and vitamin E. This product motivates the consumers due, of its salutary composition.
Price: 180 INR
12. Mammoth Dark Chocolate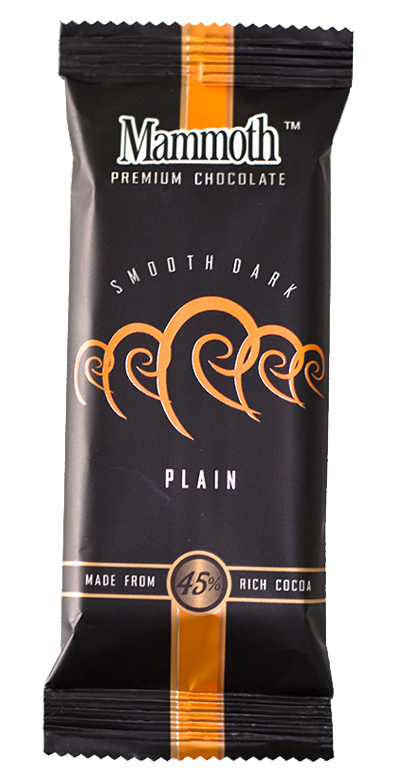 Mammoth a perfect blend, for Indian taste, is a premium handmade chocolate with minimum 45% cocoa content. It contains cocoa mass, sugar, cocoa butter, emulsifier and additional flavors. This composition is neither too dark nor too sweet and offers good consistency. But the product faints in the list of deadly dark chocolate lovers.
Price: 43 INR
13. Chocholik Belgium Chocolates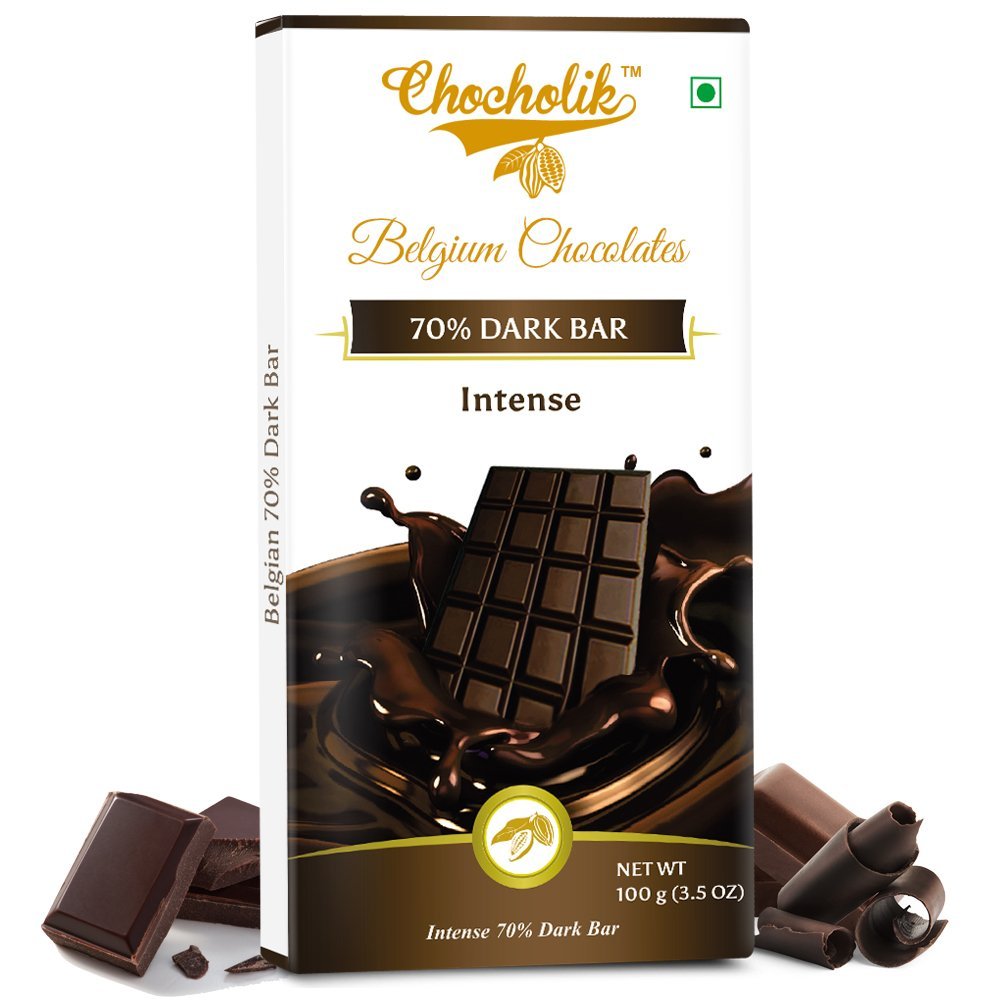 Enliven your senses with the ultimate chocolate delight The high-quality premium rich chocolate is made from most aromatic cocoa beans blended with the finest ingredients to create an exquisite and refined chocolate of intense flavor and elegant texture. The renowned Chocholik bars are one of the world's best Belgian chocolates infused with intense 70% cocoa. Mouthwatering luxury chocolate is provided with special melt proof packing by the company, so it's easy to order from any corner of India.
Price: 439 INR
Nothing can be better than this if you are getting taste with health. No doubt Hershey's brand is costliest on the list but believe me its the real cocoa tint. Chocolate ravenous you will surely love these brands go for tasting them undoubtedly!