What Is Business Casual for Women?
"Business Casual" not exact but can be constituted an informal version of business professional attire. In a nutshell, we can say business casual is a hybrid of casual wear and business professional.
The mix tradition of formal pieces with everyday clothing items is applicable to a wide variety of workplaces. For professionalism in working place, casual wearing is an everyday requirement.
Business wears can be suit skirts, pants, blazers, decent shirts, jackets, genteel tops or you can mix these elements. Starting with the basic pieces in neutral hues of beige, gray, brown, navy, black or white and then adding pops of color would give a different attractive look to your personality. Depending on your work environment choice the delicate balance to achieve the perfect business casual look.
Examples Of Business Casual For Ladies?
Stipulated towards casual culture some companies have a particular dress code, but most of them usually allow you to unleash your creativity to congregate smart/ business casual attires in your wardrobe.
We are accumulating some of the options of official attires that you can feel free to mix match and enhance your personality according to the work area.
Casual Jeans
Casual Pants/Trousers
Blouses/Tops
Pencil/Formal Skirts
Sweaters/Jackets/Blazers
Dresses
Accessories: Belts/Bags/Watches/Shoes
Summer Business Casuals Attires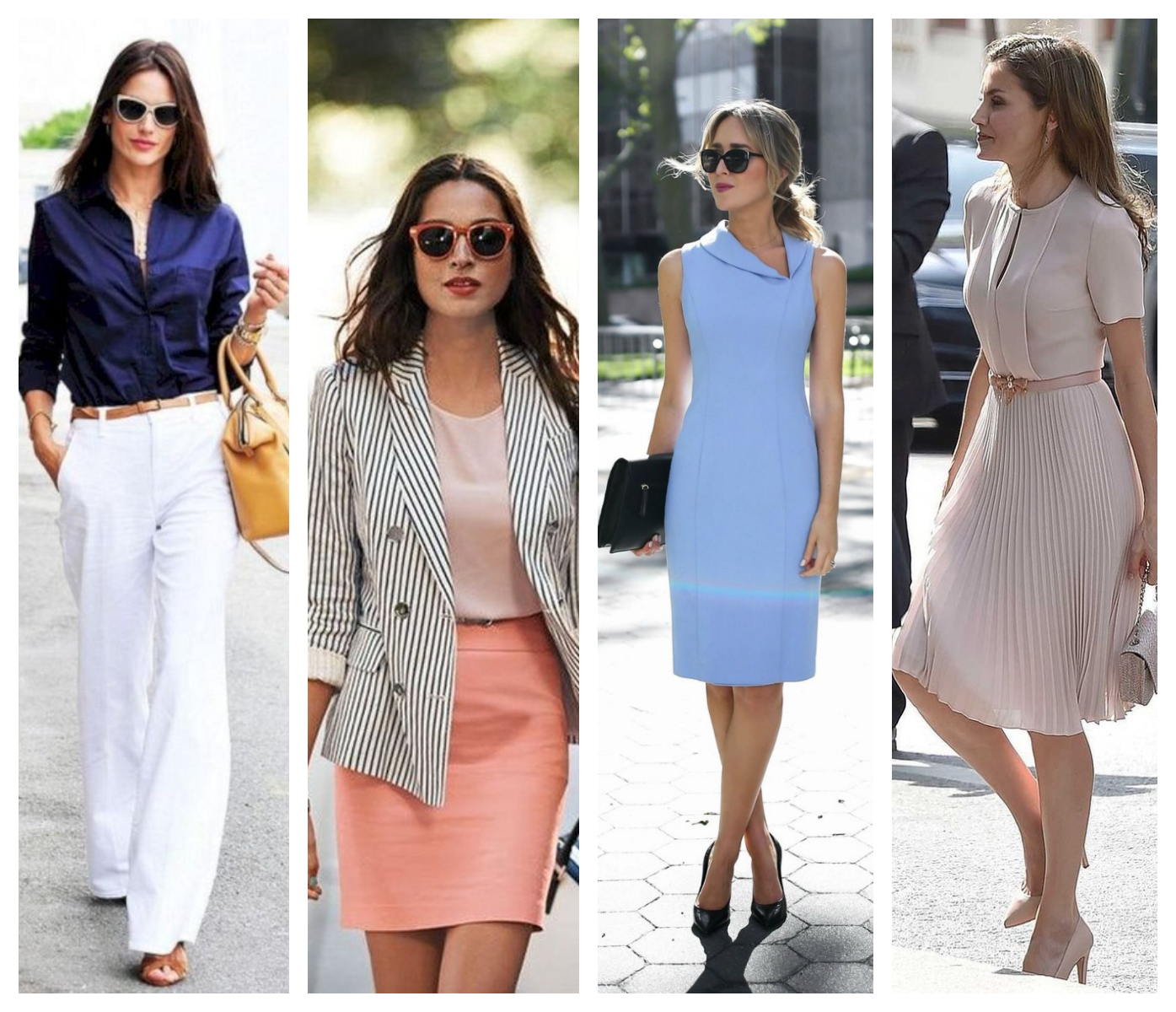 It might seem tricky for women to beat the heat while maintaining an appropriate outlook for the work area. No doubt tropical climates get unbearably hot yet there are some excellent choices for summer business casual arrays. Ideal for warm weather your selection of attires should feature light colors and breathable materials like cotton. Go for regular skirts and dresses in floral prints or light hues and avoid pencil skirts or the ones in overly tight styles.
Winter Business Casual Attires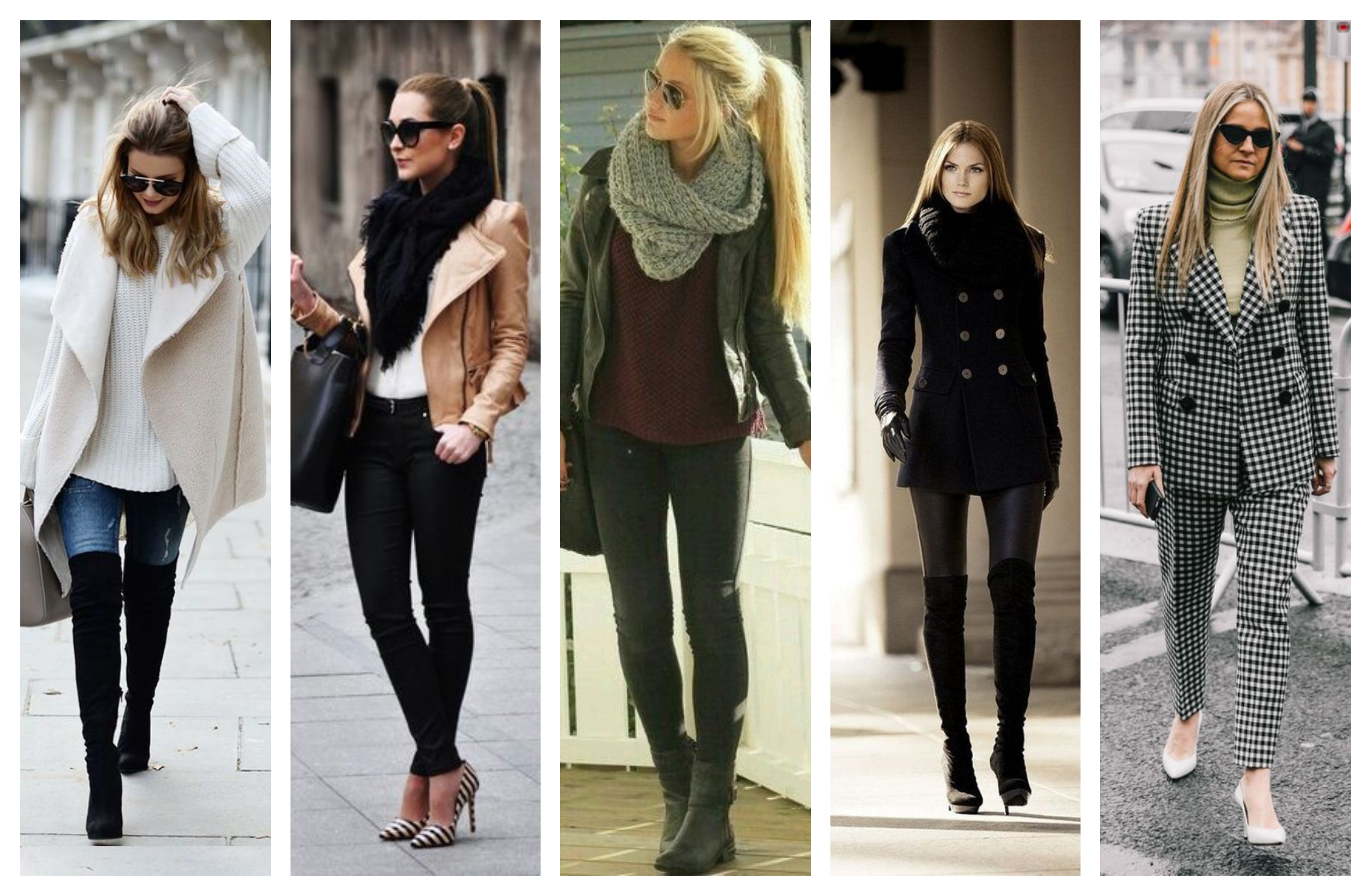 Opt for warm styles in dressing for winter business casual attire. Choose shirts with long sleeves, knitted sweaters, jackets, shrugs, blazers, and stockings all these will act as great guards against chilling winters. Layer the saviors on your body depending on how cold the weather is. Stockings come handy for dresses and skirts pick the thick and opaque one suitable for icy weathers. Plan your outfit glamourous for an instance patch a turtleneck top with a sleeveless dress, a camisole under a blouse or stockings with a skirt paired with a smart jacket.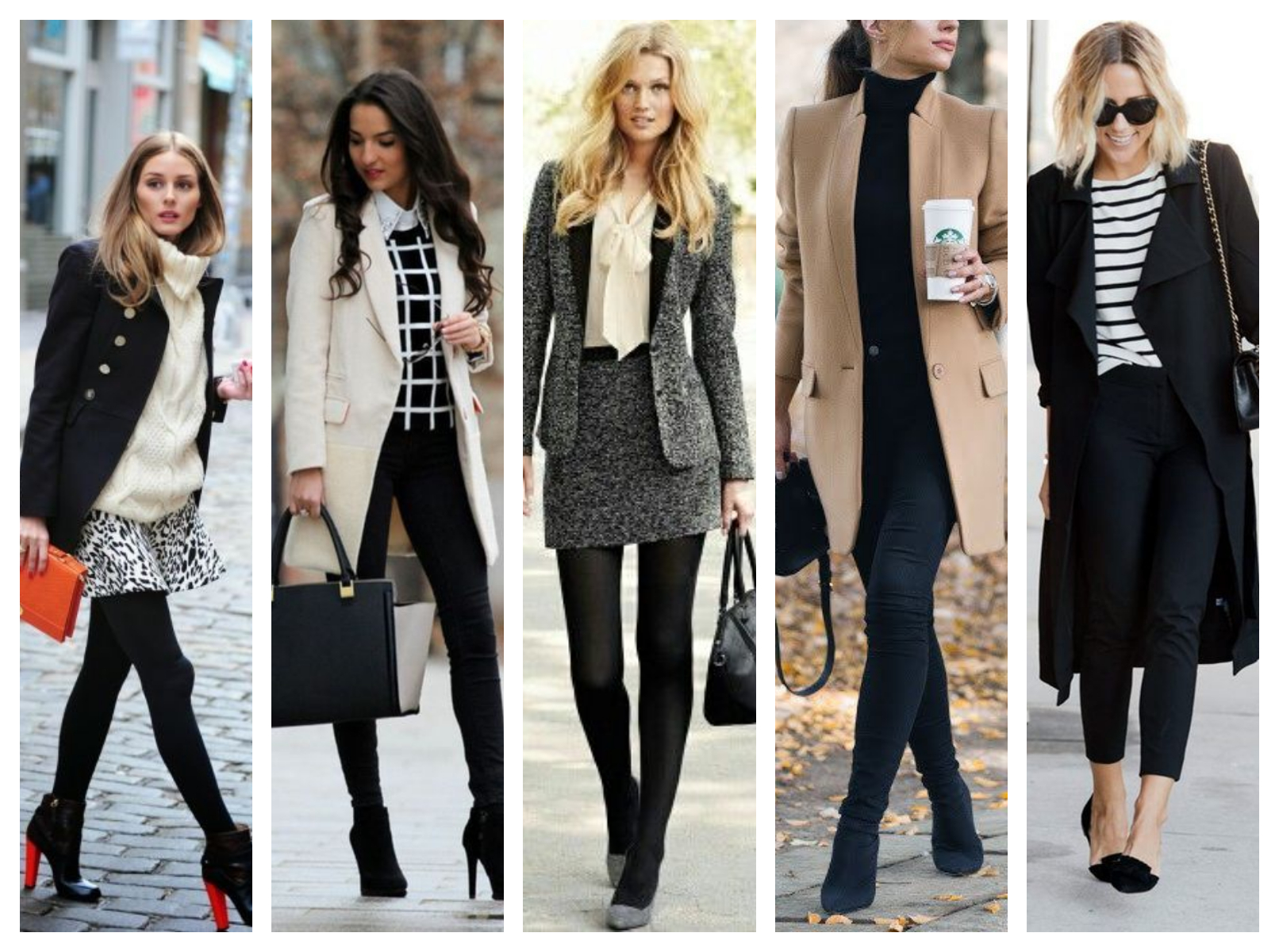 Business Casuals For Women Jeans
If your office scenario is not on the more towards the formal end of the spectrum, jeans can be a good option to be paired with a smart top and elegant shoes. Do select a skinny slim and dark washed jeans, partner the denim with polished and neat decent top to look graceful. Avoid wearing frayed hems and unpolished uppers as it appears underdressed rather ensure your look sophisticated.
Business Casual Pants For Women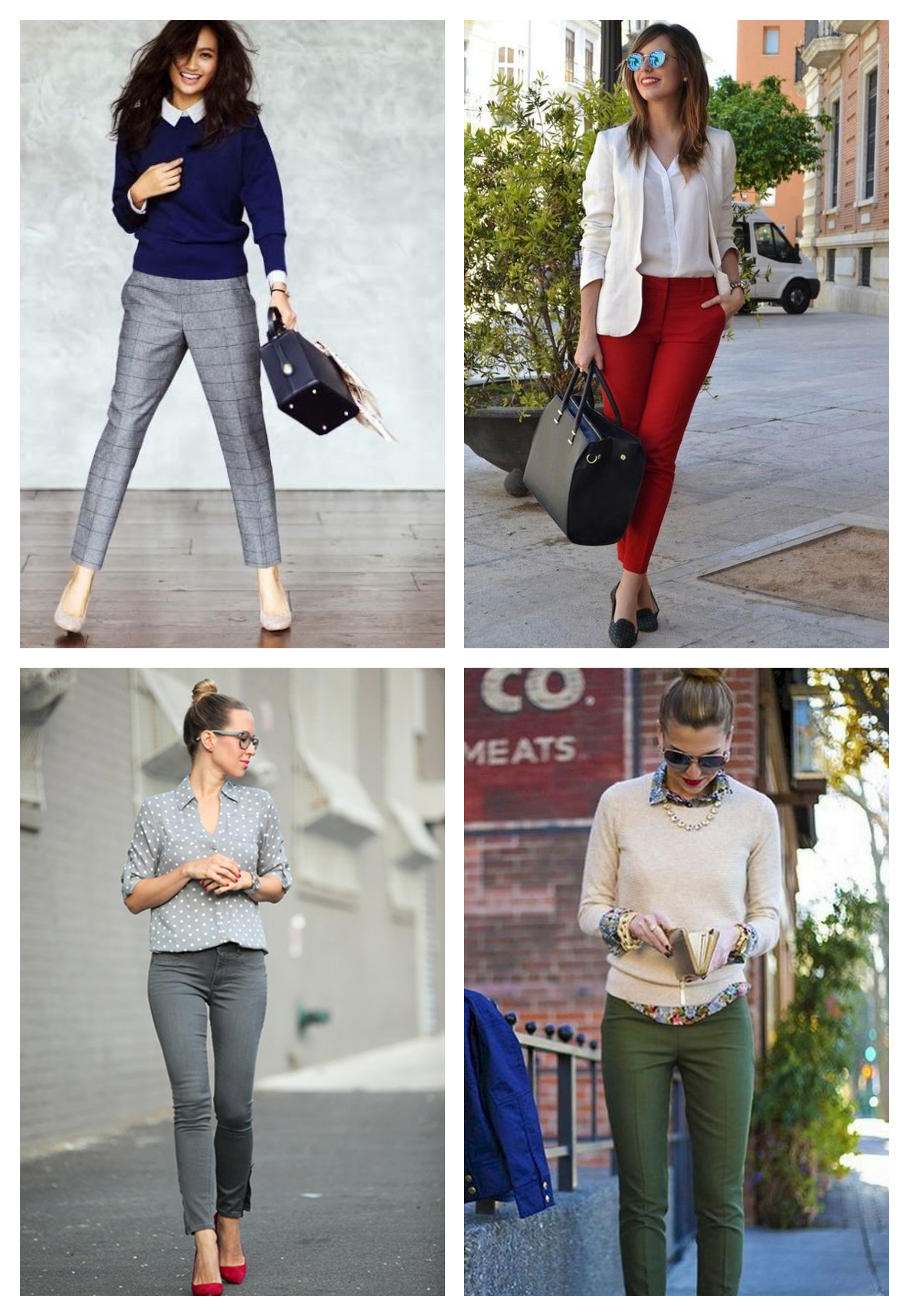 Women who adhere to business casual dress code pants are the excellent choice for them. First and foremost going for casual pants consider the fabrication select the textile with a little stretch to ensure maximum comfort while working. When it comes to color go for a smart pair of trousers in neutral shades or in dark hues prefer black, tan burgundy, navy, gray or want to unleash your creativity can opt for other vibrant colors but pair them with decent soft colored shirts. Alternatively pants with simple prints or self-prints can also be a nice option.
Business Casual Tops And Blouses
Shirts are not only the choice to be hooked up in your wardrobe of casual business attire. Tops and blouses with modest necklines go well as formals to pair up with pants and sober jeans. Prefer somewhat collared, boat neck, turtle-neck or square neck for tops, other styles such as keyhole blouses with long sleeves can be an ideal choice. Stay away from plunging necklines revealing cleavage. Feel free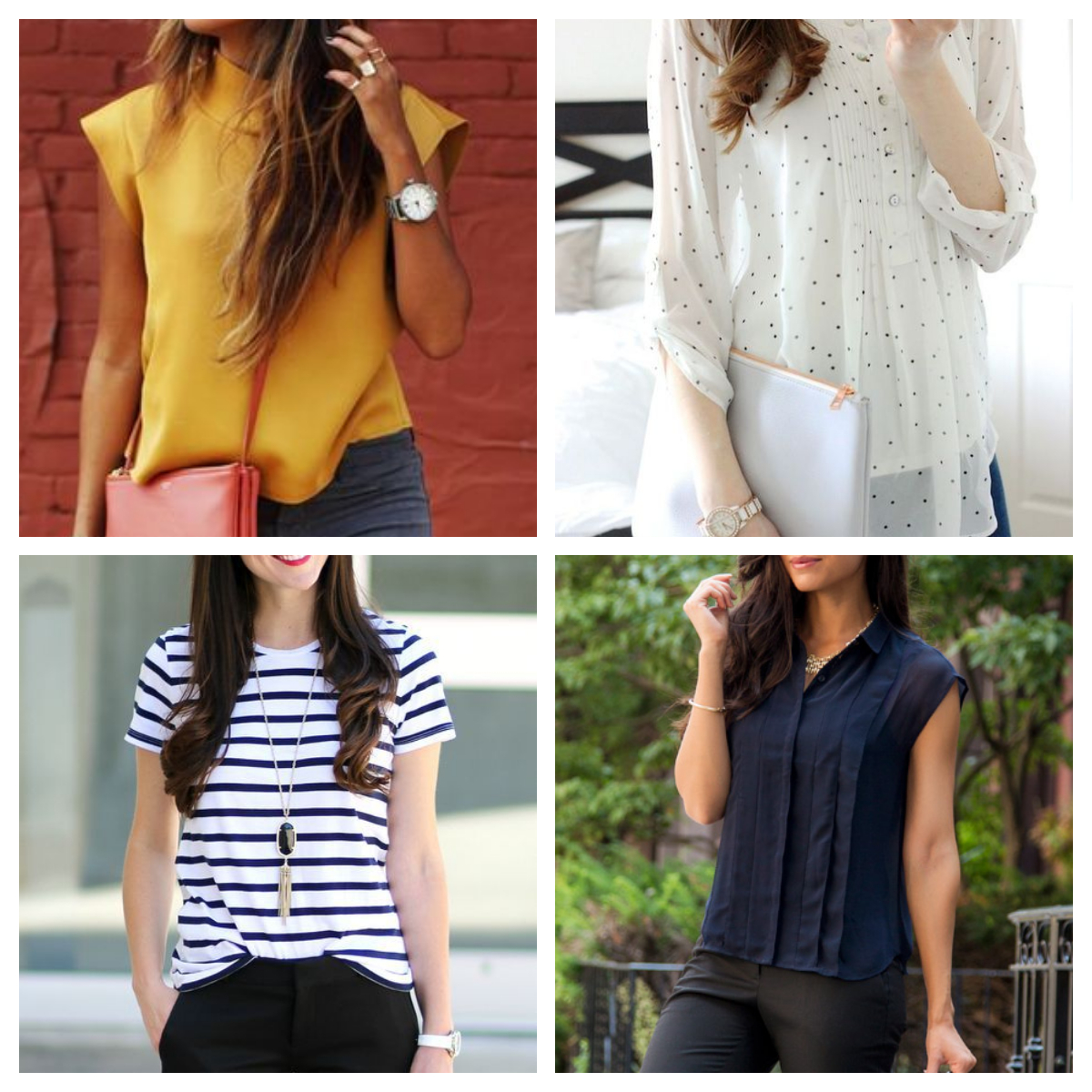 Business Casual Shoes
Women have many fantastic options when it comes to business casual shoes including Flats, wedges, heels, boots, loafers, brogues and ballet shoes and certain sandals can be an ideal choice. During colder era pull your booties to knee-length embellished with buckles and studs to the minimum or heels, like the comfortable kitten and block styles are also great options. Flats can be a comfortable option to be worn primarily with pants or, round or pointed toe ballerina style or even an Oxford can also be tried.

Business Casual Shirts For Women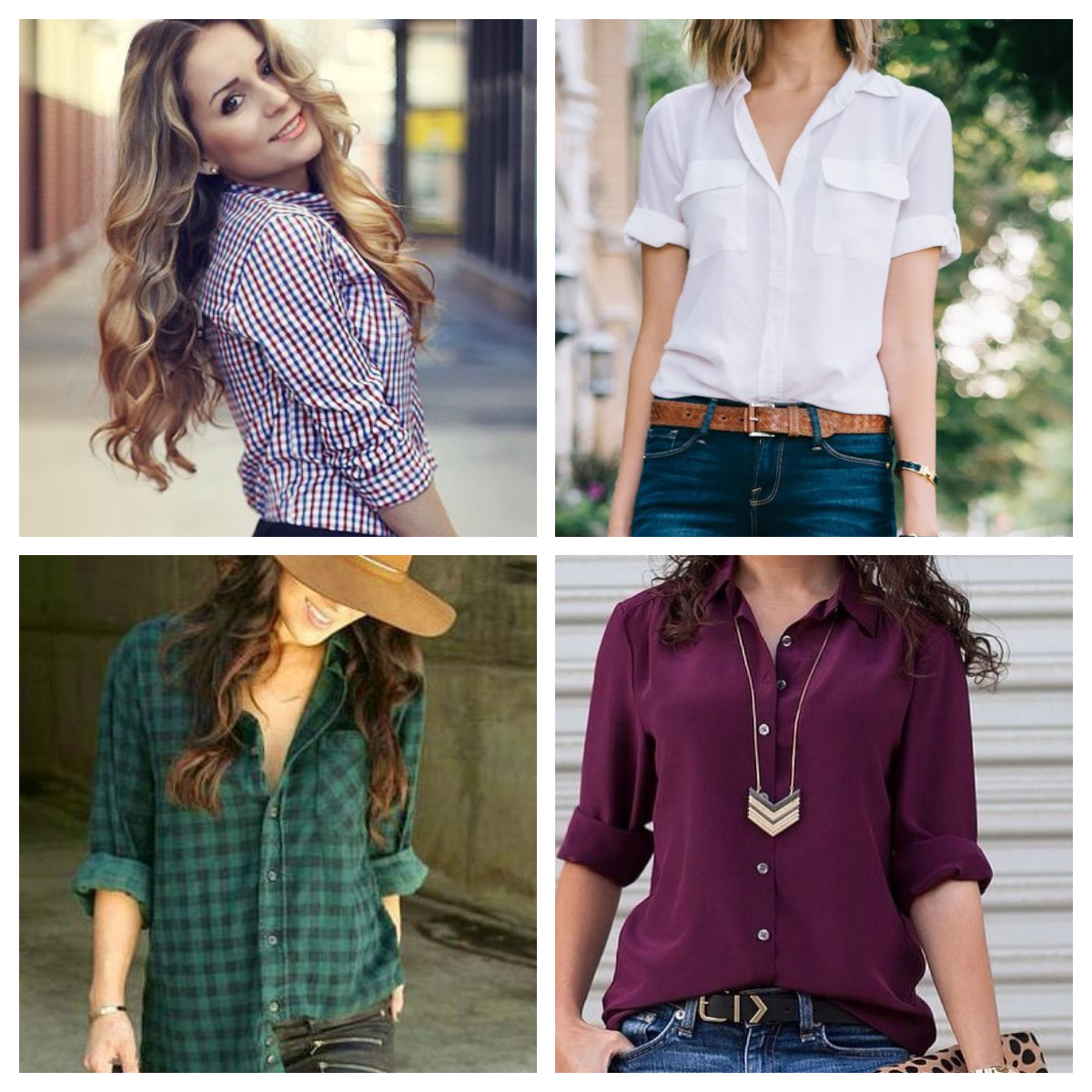 Pair a feminine silk or lightweight synthetic style shirt with your pants, trousers, jeans or skirts, but classic cotton design can be perfect for a decent and comfortable business casual outfit. While selecting a silk shirt, add a pop of pretty colors that complement your skin tone and hued with pastels, jewel tones, plaids, muted florals, self-prints, or checks to pronounce your outlook, but while picking cotton, keep your overall look subdued with soft and neutral colors. Do remember to keep your shirt tucked in to ensure neat and smart look. And don't forget to wear a camisole underneath if your shirt is all at the sheer.
Business Casual Blazers And Jackets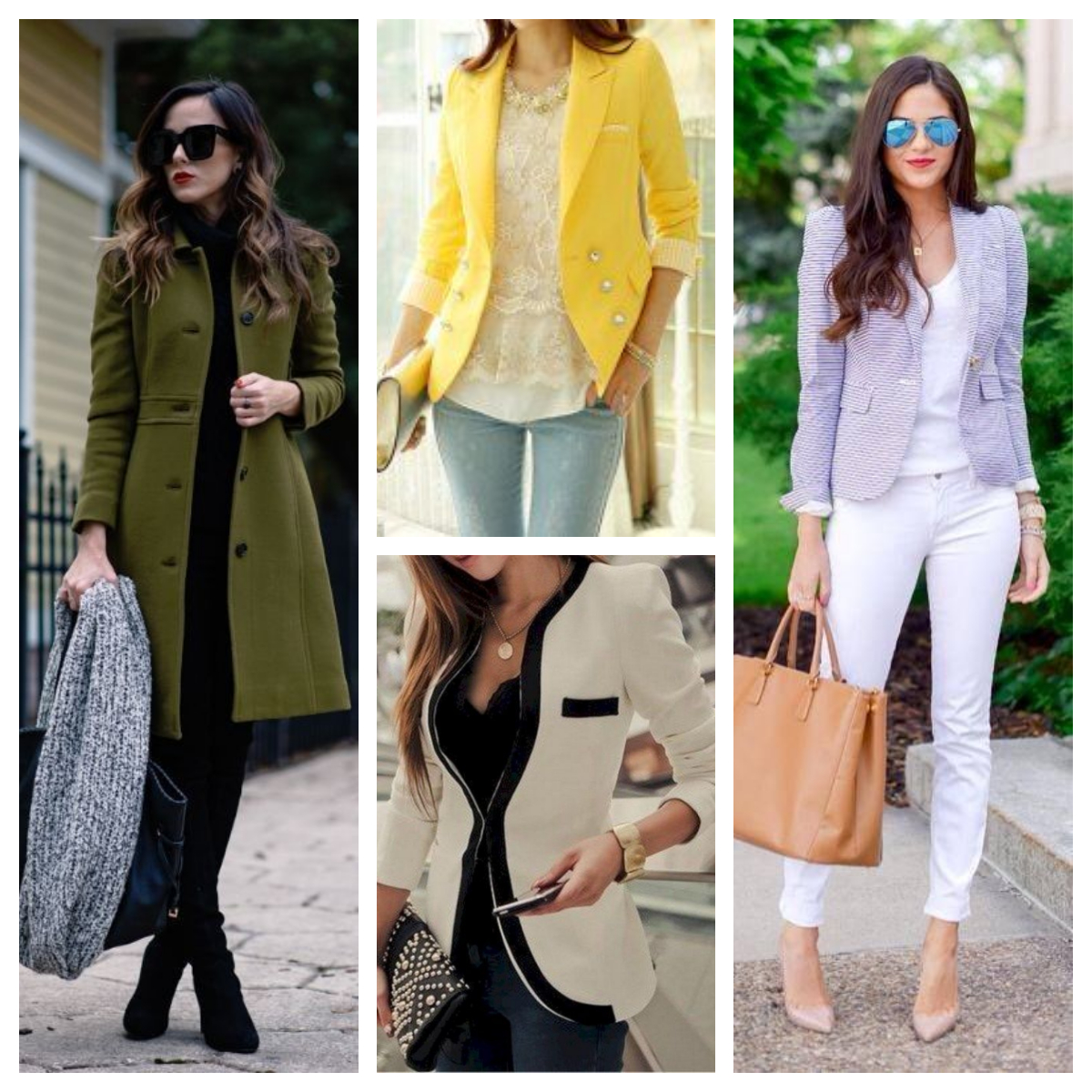 Blazers have been an inherent part of formal clothing. The perfect business attires are more of a requirement during colder months for warmth. Select well-fitting designs in classic colors such as black, navy, gray or can opt vibrant ones to pop your creativity. Catch up fabrics like linen or corduroy for a comfortable wear. Nix the boxy blazer and try something different in a jewel tone, denim, small pinstripe, or herringbone pattern.
Business Casual Sweaters
Sweaters, shrugs or cardigans are an excellent addition to any business casuals and can be very well used to layer your tank or sleeveless top. These not only provide an extra touch of warmth when required but appears ideally smart with winter casuals. Make sure the colors are not too loud to coordinate with your top and bottom and with the well-fitted pair of trousers or skirt contrast colored sweaters look great. You can invest in the variety of sweaters ranging from basic to fashion colors to pair with the casuals.
Business Casual Dresses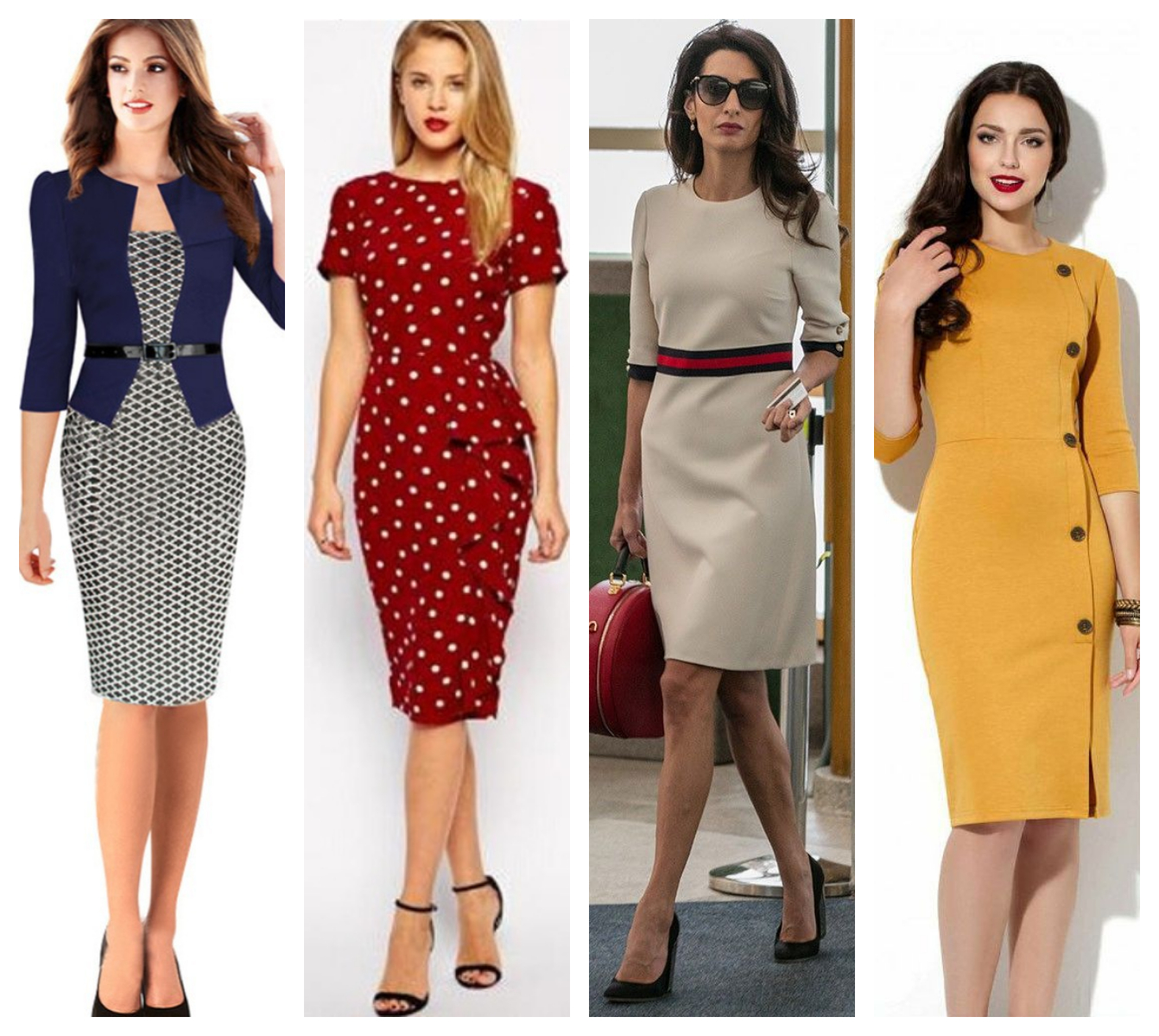 No doubt pants are the fantastic option for business casual attire. Although dresses can add a lovely diversity to your work wardrobe. Dresses are the fantastic option for a businesswoman who is always in a hurry, as the dress up does not need a coordination or brainstorming, unlike the other sets. Dresses polished in feminity are perfect attires for businesswomen in for warm days. Ensure the length of the dress is not very short, choose the longer ones in linen and bohemian designs. Your pick should be appropriate in styles such as pencil, wrap or A-line design with an ideal fit.
Business Casual Skirts For Women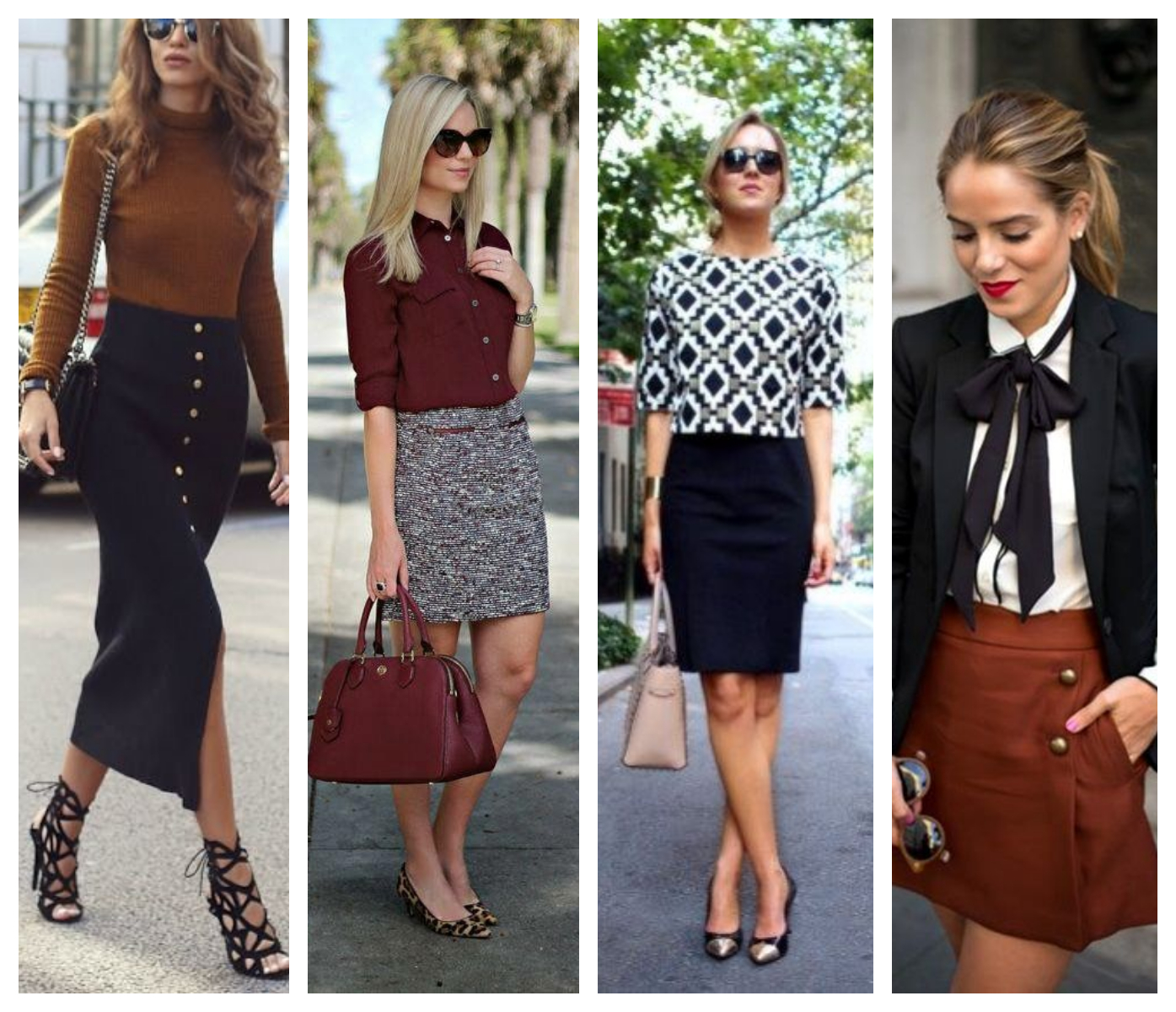 Making a business casual dress code easier add a few chic skirts to your closet. Versatile skirts are not only stylish ones with some patterns like pencil skirts, A-line, and pleated styles are appropriate for office wear. Make sure the length, fit and slit of the skirt are not modest and suitable for the work area. Bright colors and prints, particularly floral are little more difficult to wear in the office environment select the decent ones.
 Business Casuals For Plus Size Women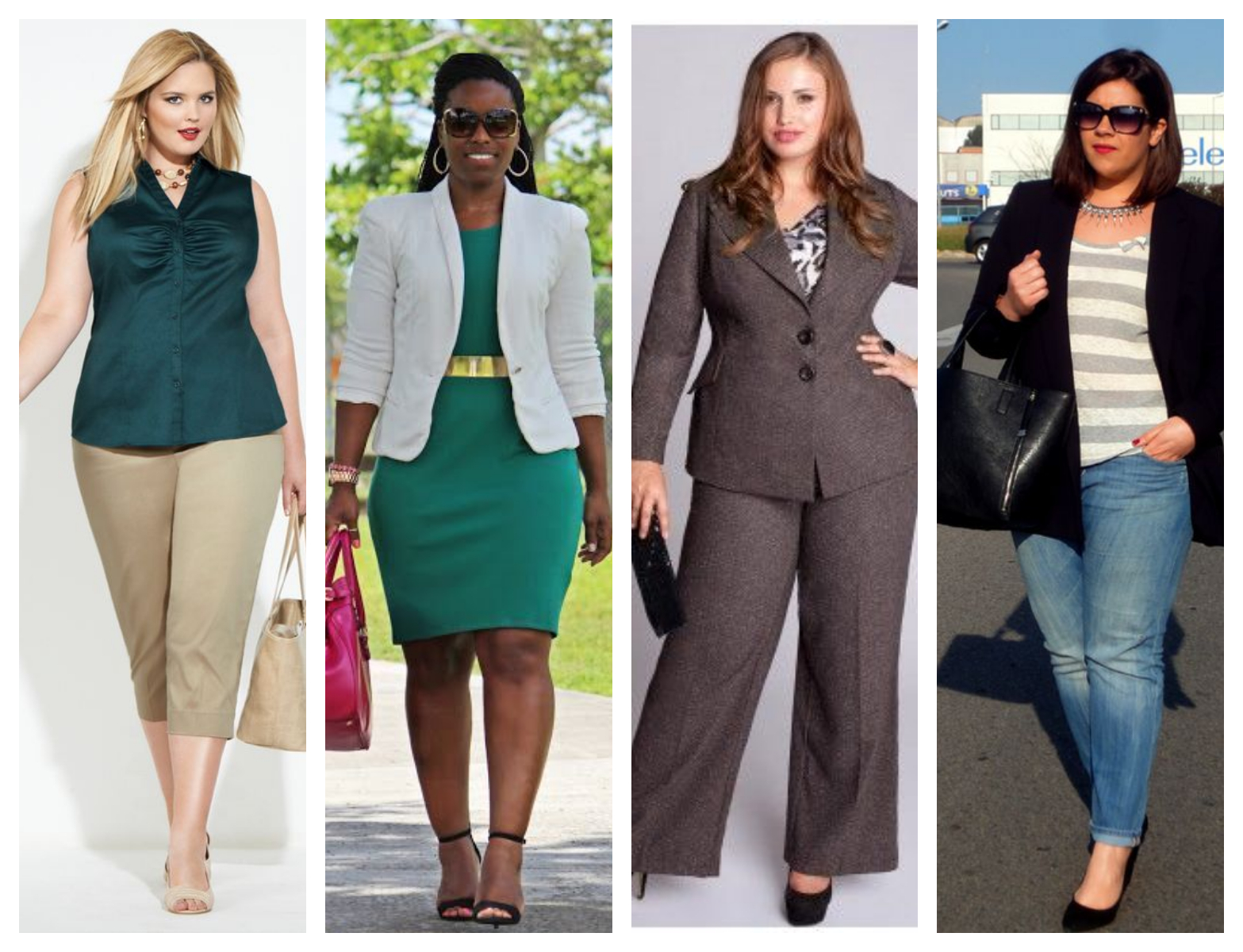 If you are curvy don't worry while shopping for your business casuals. Now there are a wide range of design, patterns with a variable range of sizes available to pick from. When it comes to fit select the garments with a flattering fit for your shape.
Rather choosing low and high rise styles in pants it's better to choose the mid-rise design for an elegant look.
Casual bags For Business Women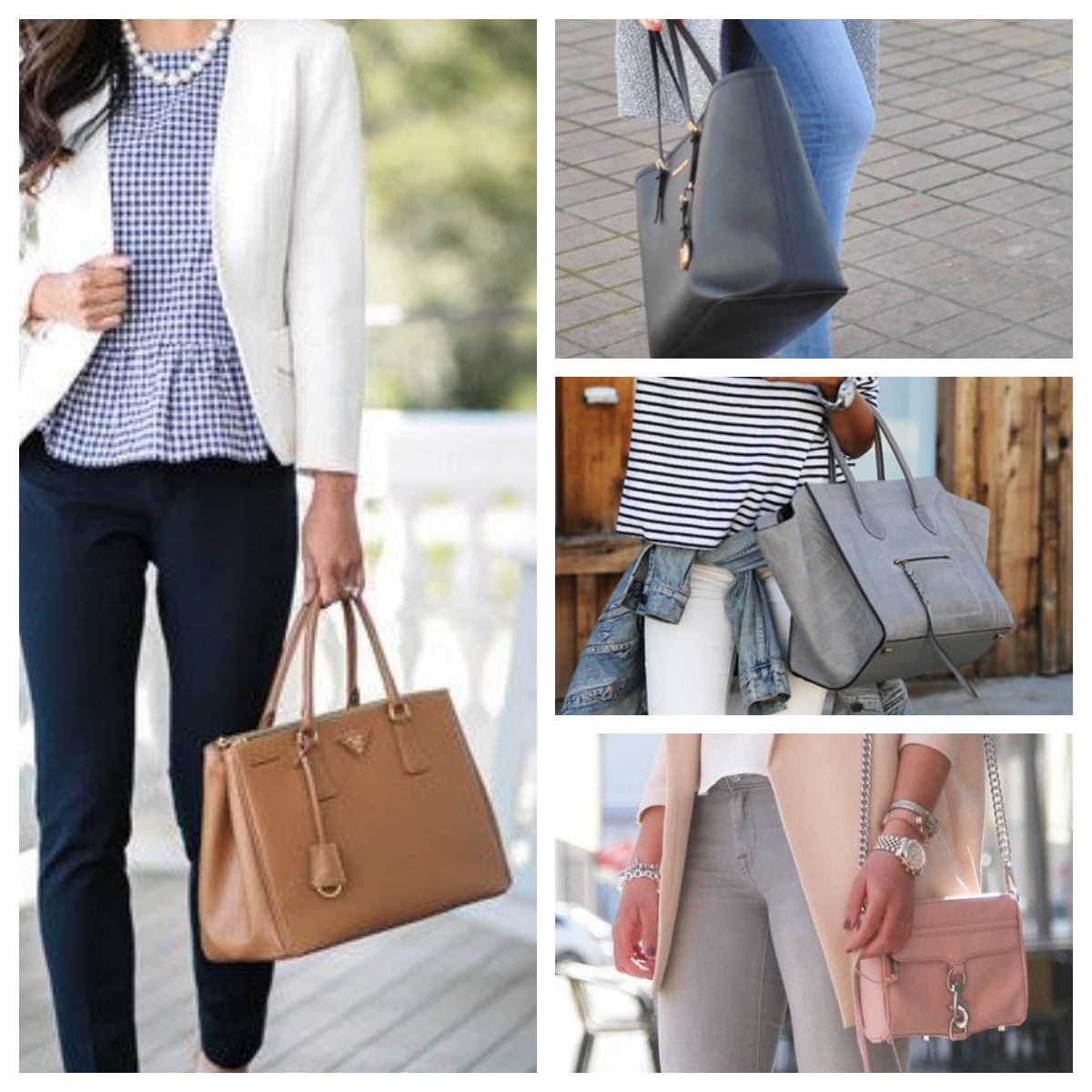 Now-a-days outfits are all about classy pick amped with accessories and bags rather than gaudy and loud dresses. Bags are the important belongings adding grace to any woman's outfit. Choosing a bag of different style and unique pattern with every dress gives a refreshing new look every single time. Bags of various brands and fabrics are all peculiar in colors and designs bewitching the young chics.
Shopping Tips For Business Casual Attires
Look for the appropriate length of a skirt or dress to be comfortably worn in the office environment. The length of the skirt should be right above the knees and should not be so short that you feel uncomfortable, prefer keeping the hemlines near knees.
Avoid wearing plunging V-necks or halters or too revealing necklines and try something modest with round, scoop, boat, square or collared style necklines.
Normally three-quarter sleeves are accepted to be perfect for office casuals. Whilst your office is on the colder side opt for full sleeves in your dress design.
Ensure the fit of feminity polished dresses is ideal, the casual attires should not be too tight to wear especially dresses or skirts. Avoid the skinny fit or overly tight styles as it gives an odd and uneasy look, even too baggy looks are not recommendable.
First and foremost regarding the color of casuals is to look the best that would suit your skin tone. Stick to decent prints and neutral colors like gray, white, navy or black.
Be budget conscious to fill your closet, pick the affordable on-trend items to complete required outfits for each season. Invest in the quality collection so, it can be worn year-round.
Make sure your business casuals are neat and clean, ironed well and free from wrinkles.
Add smart accessories, light jewelry, and low heels or dressy flats to your casual outfits to complete your smart official look.
What Not To Wear As Business Casuals By Women?
Low rise pants
Rugged denim
Tank tops or noodle straps
Deep-V or plunging necklines
Capri or cargo pants
Tops with skinny straps
Flip flops
Baggy clothes
Captioned T-shirts
Athleisure wear
Sundresses
Sequins
Bodycon dresses
Short length dresses
We have ensembled an eye holder business casuals to be worn in formal places. Assuming you will find the article reliable to help you in deciding what to wear and what not to wear for your casual outfits?
Do comment in the section below how you relished our casual attires catalog?