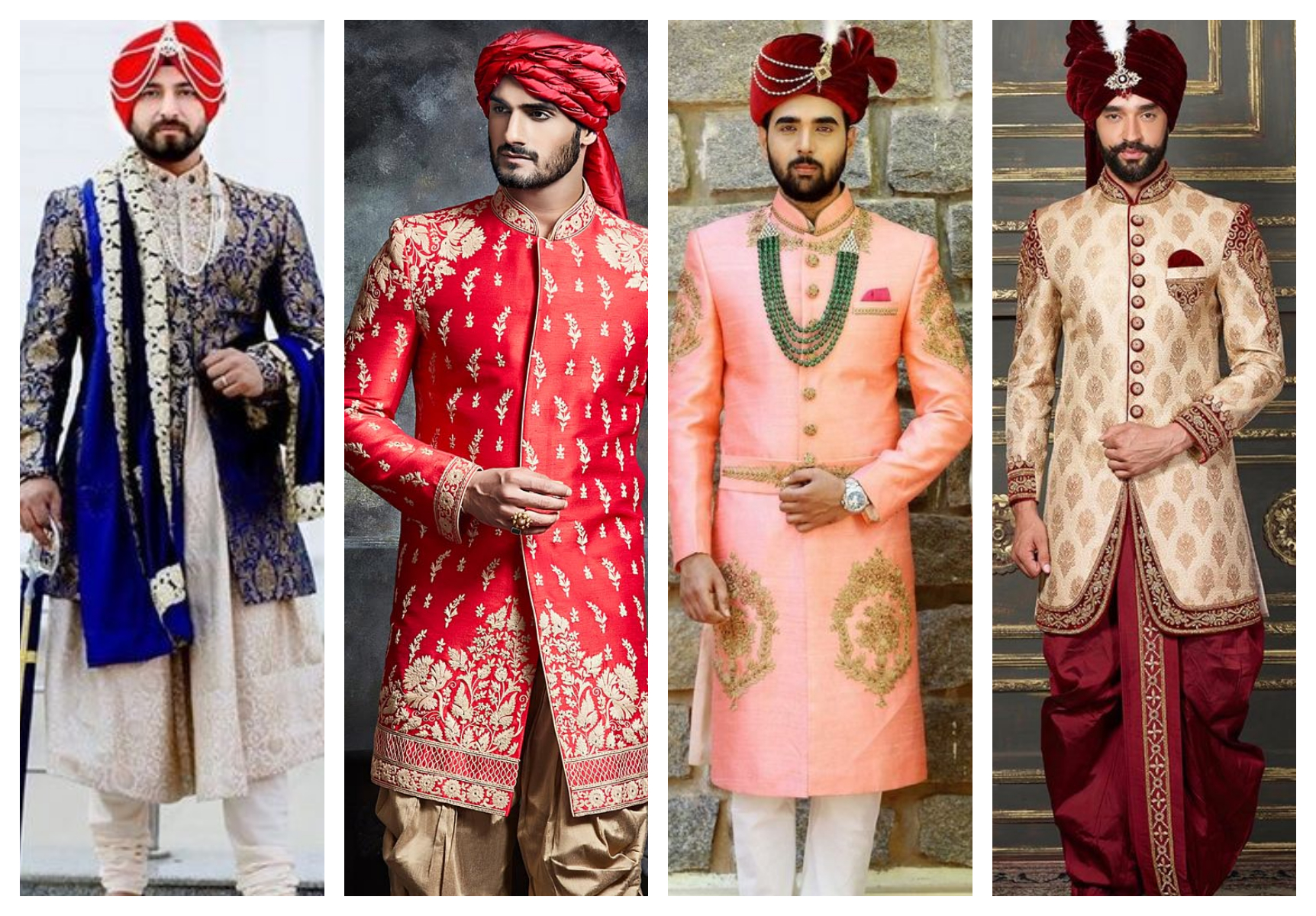 Are you on the hunt for the latest wedding collection? To look Mr.perfect on your big day then you have approached the right place. Choosing a wedding dress is the juggling process so do it on time right after finalization of the wedding date. Because there are many other things to patch up with the outfit like shoes, accessorize, and the most important is the perfect fit of the dress.
Clothes are like stories that speak of times bygone of history and romance, find the ideal attire for your big day. Browse a range of fits, colors, and fabrics than shop a perfect fit for your style and wedding theme. The most popular trend in the modern Indian Society is the adaption of western men clothing into traditional Indian Fashion many men want to find the lavish style of Indian wedding apparel.
Here we are showcasing the latest wedding Suit styles, Sherwani patterns, and Indo-westerns of the hottest trends, so you can be the center of attention on your big day for all the right reasons. Go ahead and browse to pick the right outfit type for your dream day.
1. Suits For Groom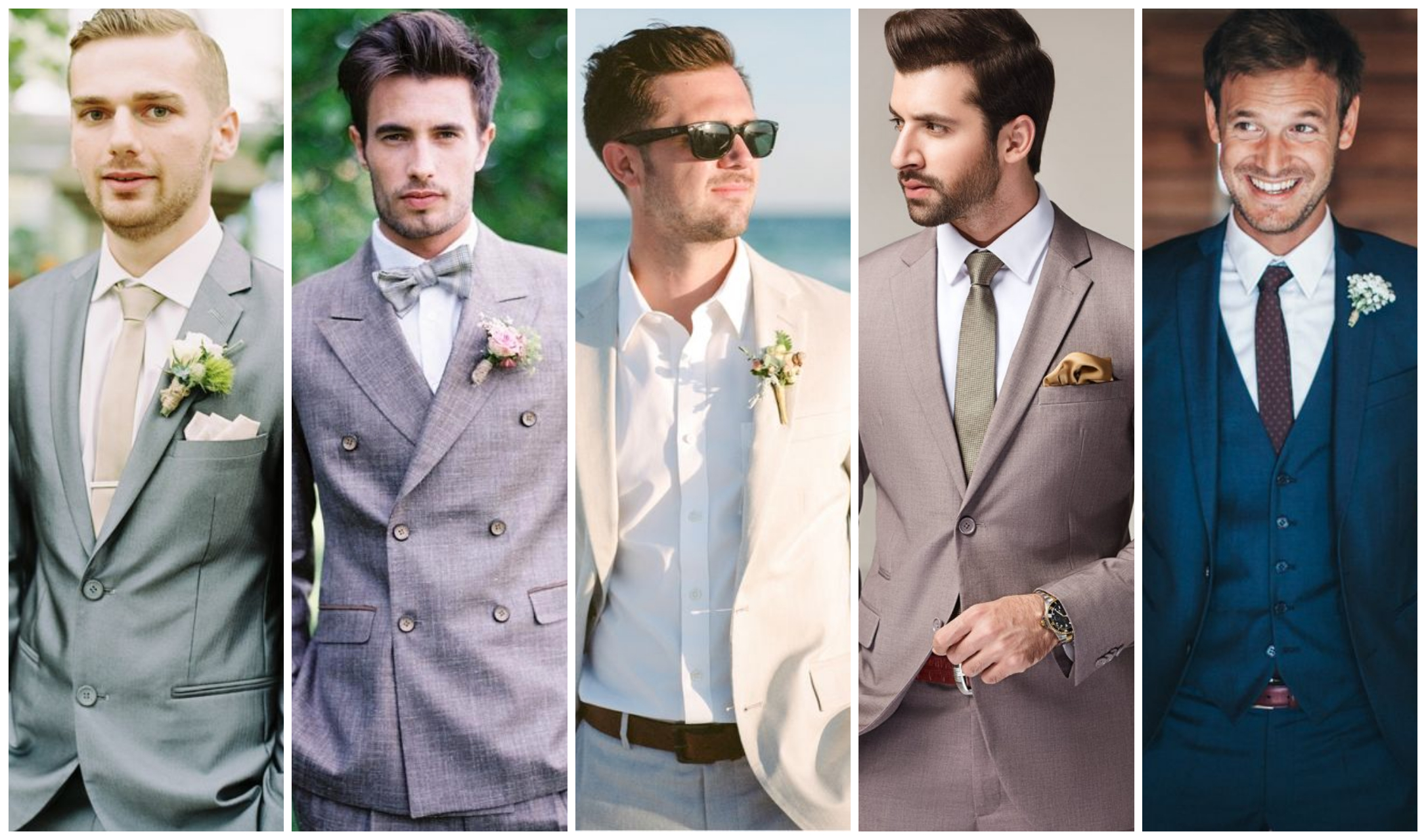 The western suit is one of the interesting and elegant outfits that has been ruling men's fashion globally. Western suits for groom would be a smarter choice, pick the color and style of suit that should match your personality.
Style: There are a variety of suit patterns from two-piece, three-piece pattern to Vintage mode. Choose the fabric and style according to the season and time of your wedding day, you can opt warm vintage fabricated in tweeds for winters and breathable cotton or linen for scorching summers. Pinstripes or windowpane can be preferred for sartorial art design with narrow fit cut for a gentleman appearance.
Footwear: Select dark leather shoes in winters and tan in summers, style can be any formal one like Chukka Boats, oxford or brogue shoes for a bold formal look.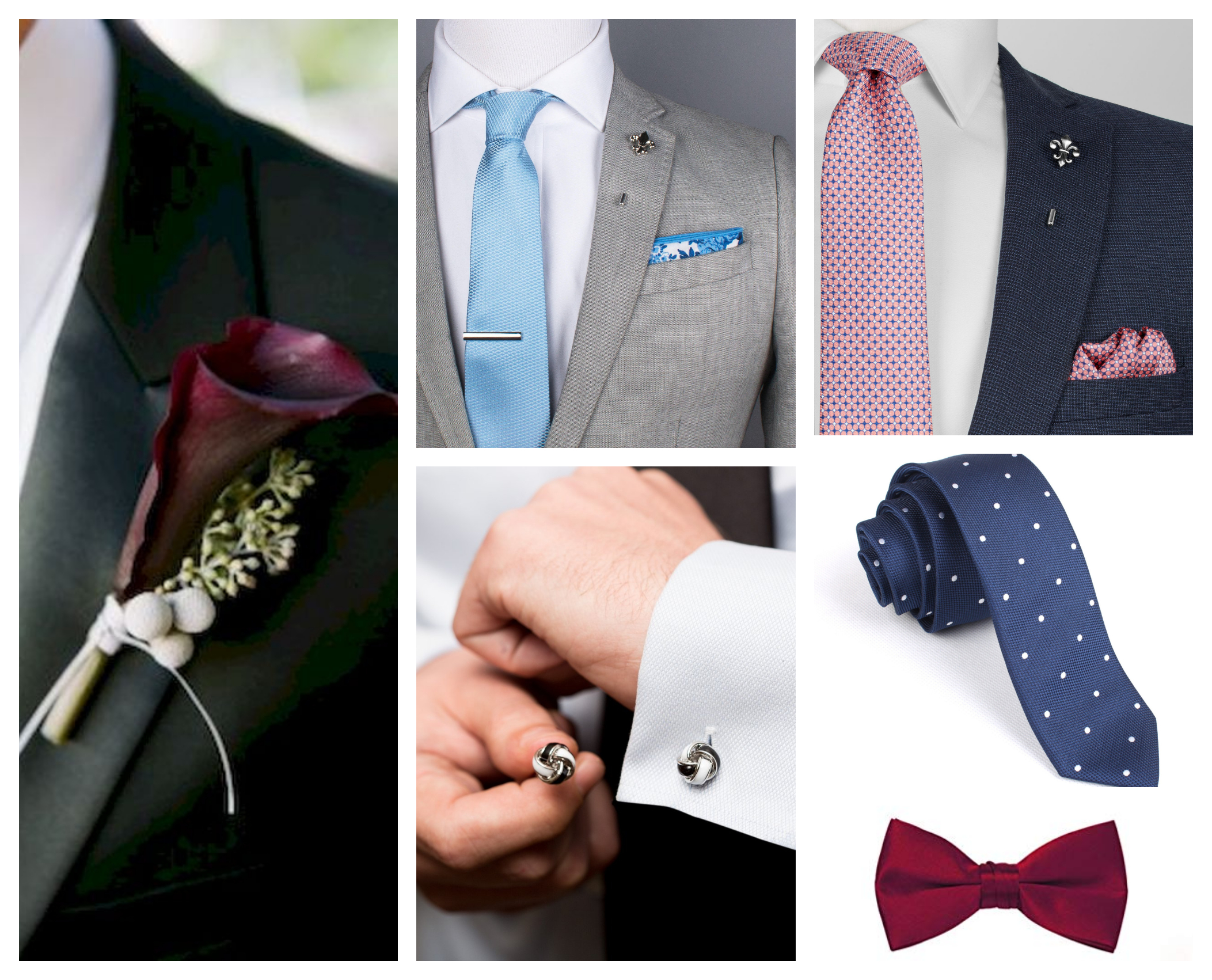 Accessories: Boutonniere, lapel pins, finely folded pocket square, tie pin, tie or bow, and cufflinks are the retrofits pick according to the suit you have selected do not over accessorize your outlook. Be decent in decorating the outfit with add-ons.
2. Tuxedos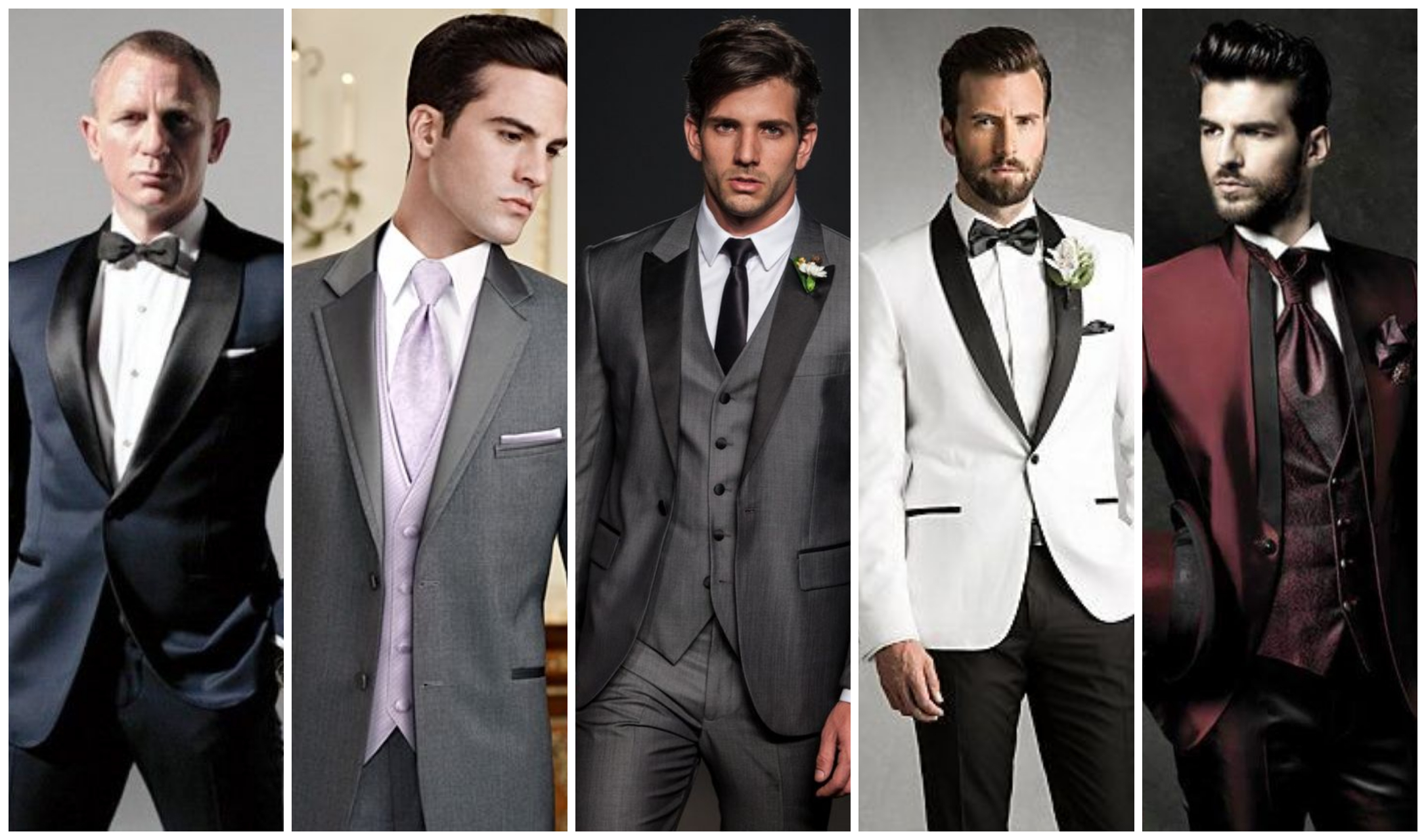 A lot of focus is put on the wedding dress when it comes to the big day, classic tuxedos are the high choice of English men. Tuxedos mean a slightly less formal suit designed in satin lapels, the brink of cuffs and pockets are also sometimes crafted with complimentary satin.
Style: Satin or grosgrain on lapels or hemline of trousers differentiate tuxedos from other suit patterns. A white shirt is always the right choice to wear on with tuxedos, adding a jacket to the suit encourages a sharp look.
Footwear:  A smart formal leather pumps, oxfords or Chelsea boots are the variety to match up with tuxedos.
Accessories: For a top contender suit appearance cufflinks, bow and pocket square are the best match-ups.
3. Royal Red Sherwani For Wedding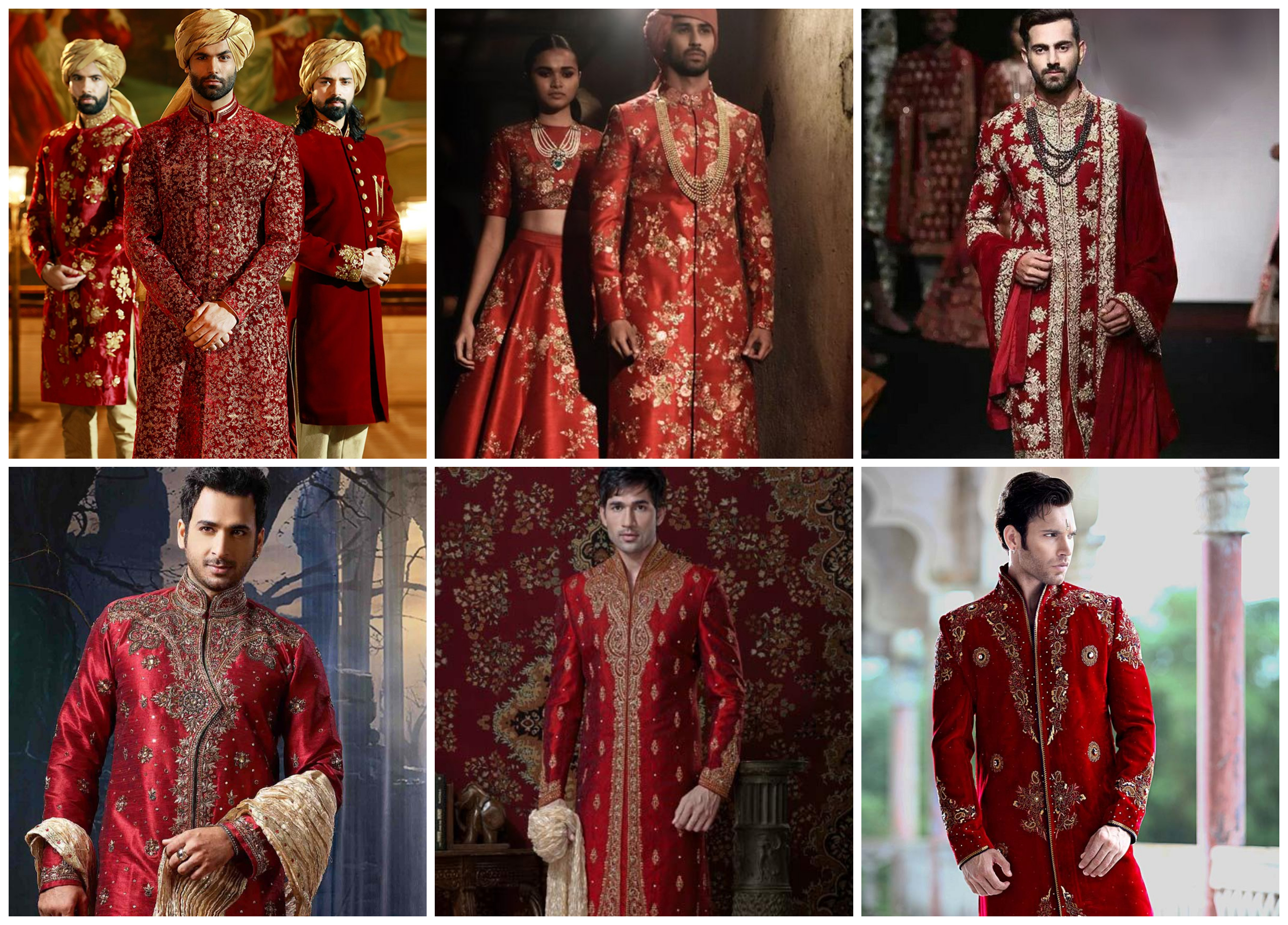 The wedding is a special occasion call for something more traditional sherwani is a good option. Be very precise in selecting the fit and color of your sherwani if confused which would go best with your skin tone and want to maintain the traditional hues go for royal red.
Style: Look a class apart with magnificent sherwani that to hued in Red is the perfect balance for a traditional Indian wedding. The bright clothing exudes sophistication and luxury, as they are made of the finest linens and elaborately designed with sequins, thread, stones, zari or embroidery. The beautiful sherwani is carved on velvet or raw silk fabric for the finest touch.
Footwear: Shahi mojaris are the best option to team with sherwani, brocade juti or Austrich stylish leather mojari can also go well with this traditional outfit.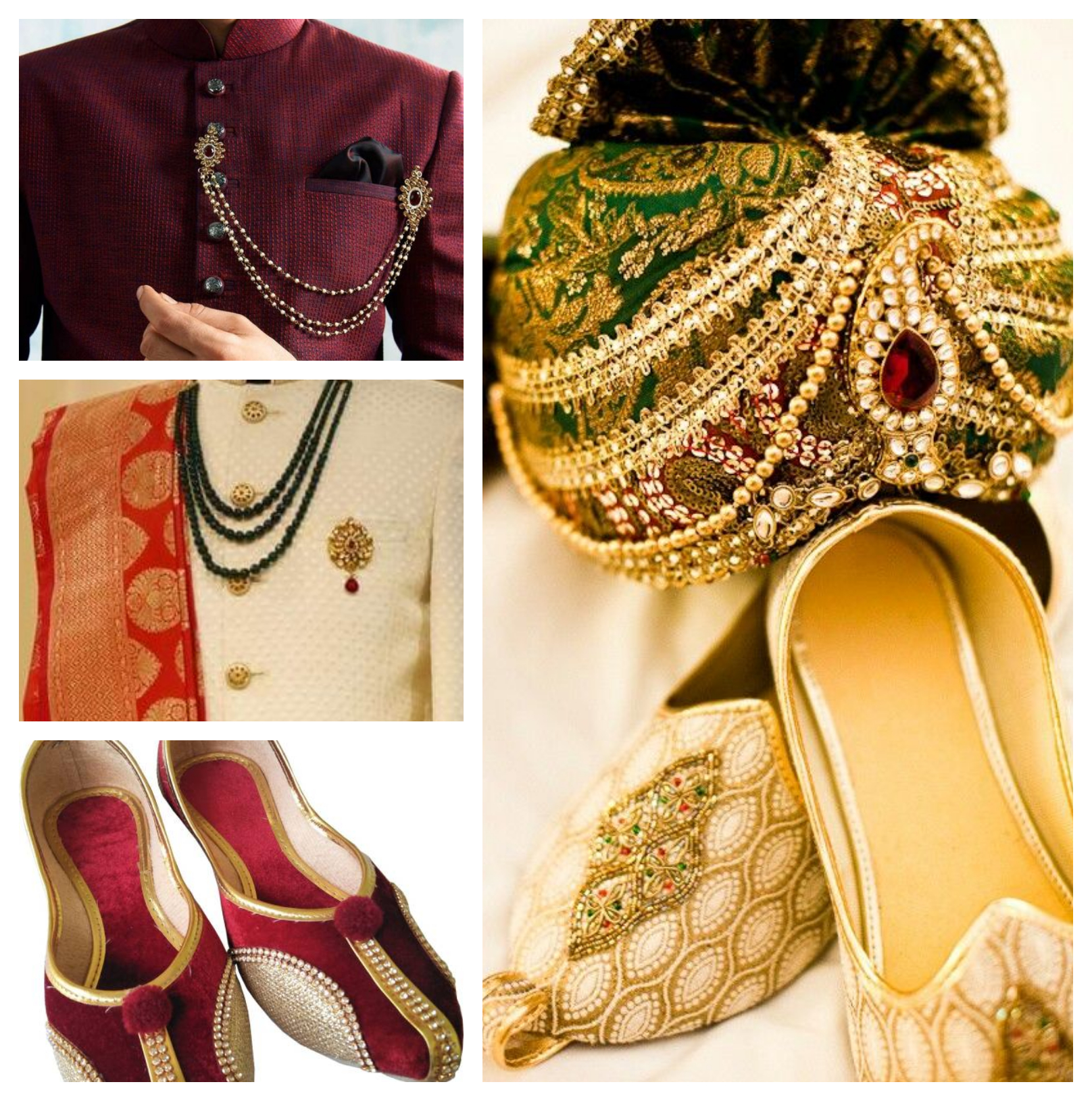 Accessories: Brooch, Safa, Dupatta, Kilangi, pocket square, and juti are the companions to your attire that would complete your regal look.
4. Sherwani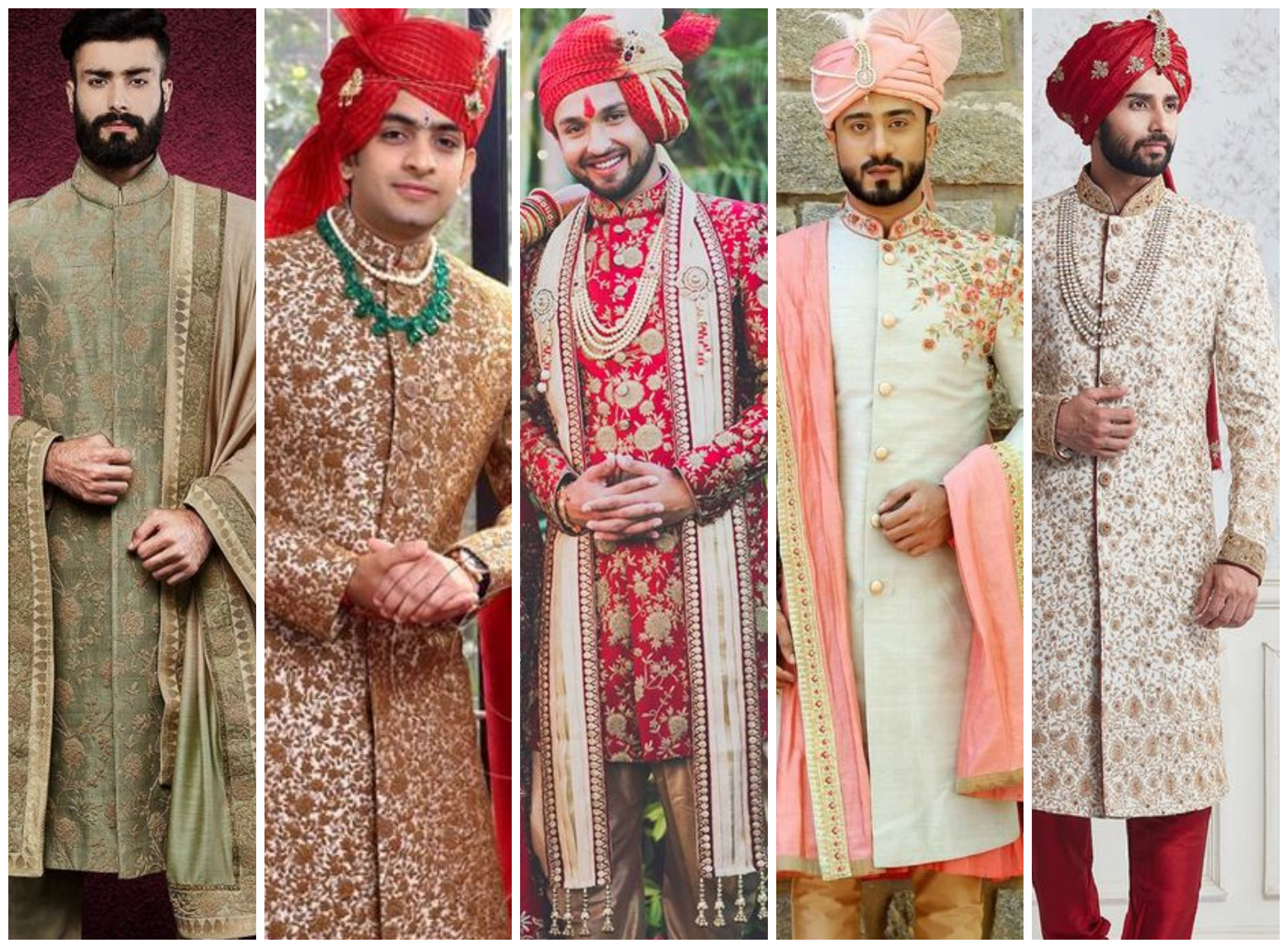 Sherwani is a long garment traditionally associated with the Indian subcontinent, for huge weddings grooms prefer to wear this conventional outfit to feel the essence of royalty.
Style: A large variety of color combinations in sherwanis and an exquisite quality of fabric will leave you spoilt for choice. You have to juggle and pick the right design and color which will go best with your skin tone. Jacquard fabric is mostly used to blend new embellishments to form an elegant wedding dress. Opt for right fit sherwani with minimal work.
Footwear: Brocade juti or Austrich stylish leather mojari can also go well with this traditional outfit or shahi mojaris are the best option to team with sherwani,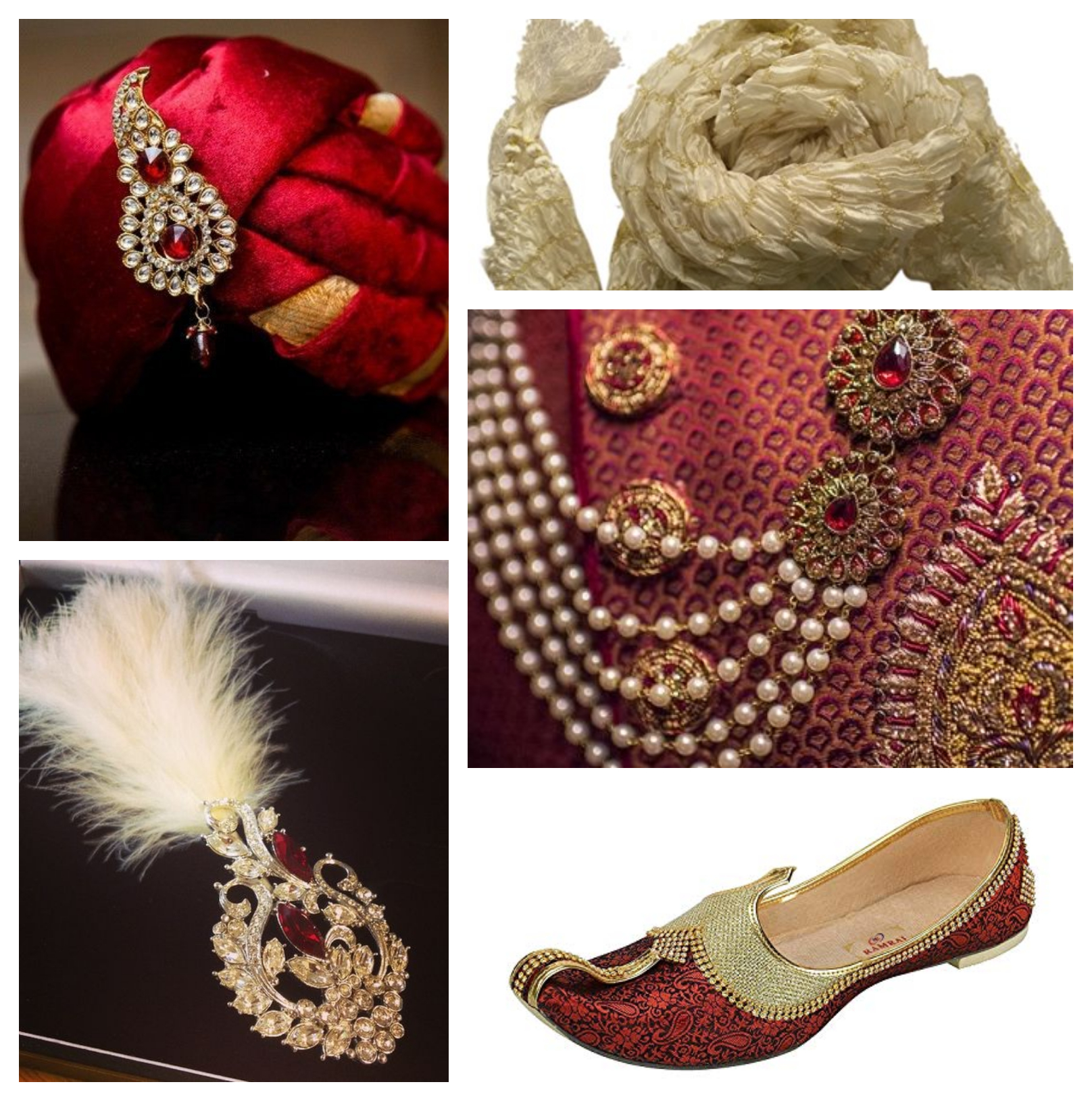 Accessories:  From festivals to marriages to all other celebrations, these unique accessories: Brooch, Safa, Dupatta, Kilangi, Pocket Square, and Juti will glam up the traditional look and make heads turn.
5. Indo-Western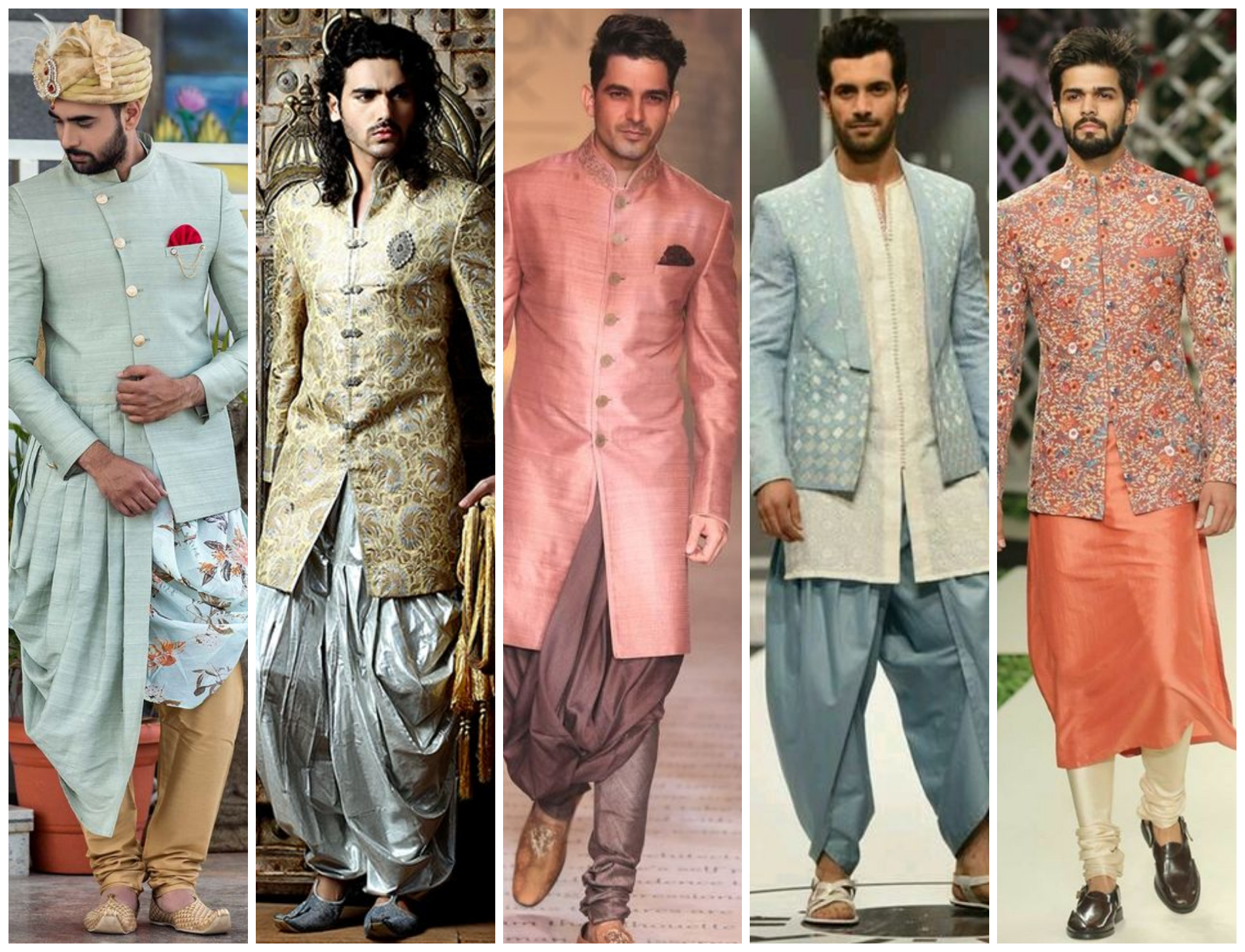 The times are changing the men who redefine trend combines mystique of India with the style of West. Indo-Western style has no limits of range in Men's wardrobe. The indo-western suit is a great ideal for an occasion like the wedding.
Style: The Indian outfit either kurta or sherwani when integrated with the western mania bust out with new series of fab. The perfect fusion of Indo-western designs comprising of highly detailed embroidery and intricate work makes you look regal. The mild shades look awesome in new trends of fabric, the unique design pattern teamed with breeches, pajama or dhoti gives you a more interesting look, as the groom.
Footwear: Pointed toe loafers, Mojaris or Nagra shoes can be some of the choices to pick from the right pair can definitely do wonders to his looks and revamp his outfit.
Accessories: Outfit wouldn't be complete without the right accessories like a brooch, turban, pocket square, Kilangi, or dupatta. The choice is yours!
6. Silk Kurta Pajama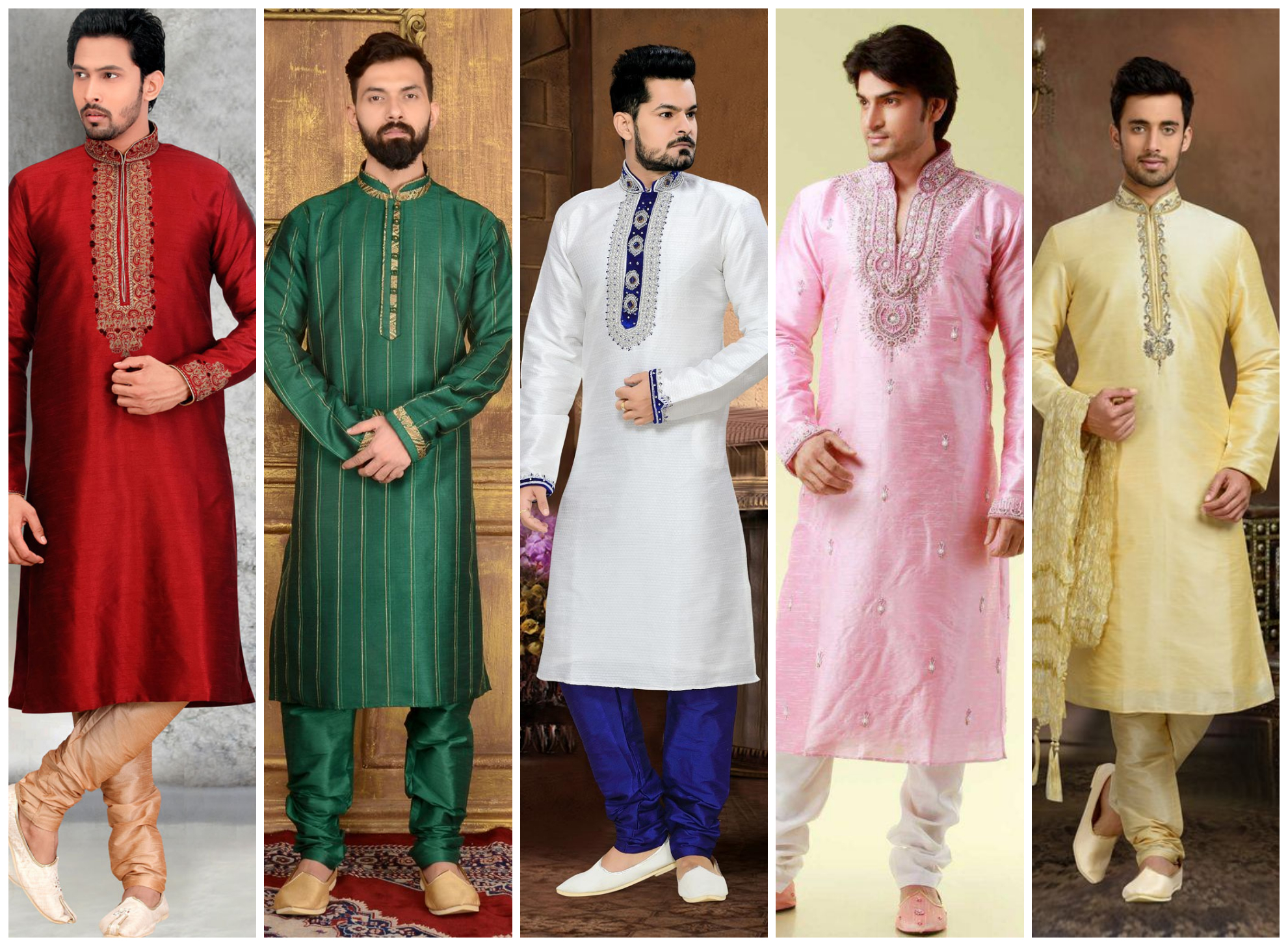 Kurta Pajama is widely considered as a traditional dress in India and other South Asian countries.
Style:  The loose fitting garment made of silk crafted out with embroidery and sequins on bands and cuffs. The kurtas are much more adorned on conventional occasions in colorful hues paired with matching pajama and mojari. For a memorable wedding, outfit, wear a sophisticated raw silk kurta pajama with a nice fit, teamed with dupatta.
Footwear: Mojaris are the best compliment to go with kurta pajama.
Accessories: Mojaris, stole, Safa can be some choices to team with this traditional outfit.
7. Dhoti Kurta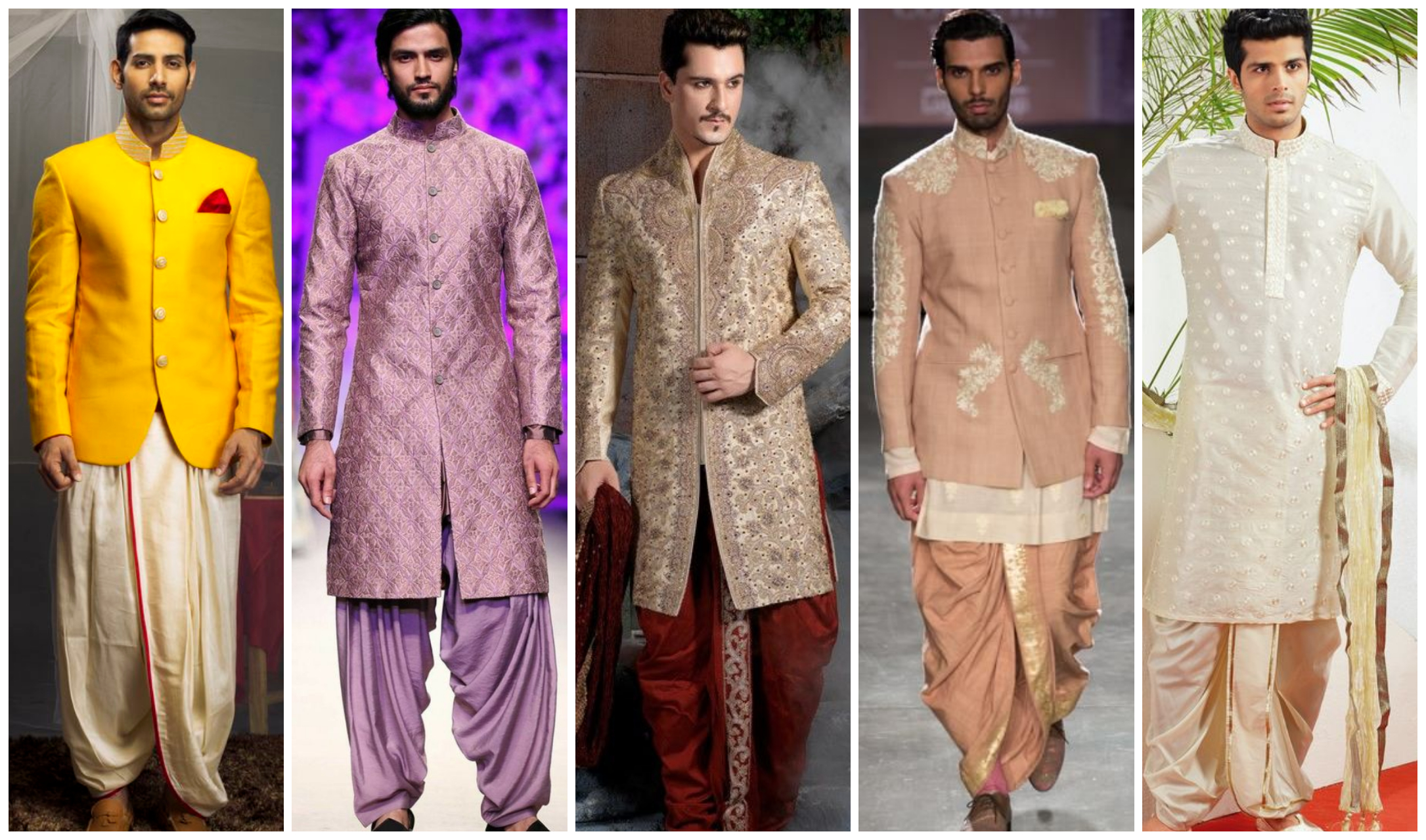 Dhoti kurta is another traditional attire to wear on for the special day of your life.
Style: Lace or embroidered dhoti teamed with Bandgala or kurta or banarasi silk sherwani gives a unique appearance for the conventional occasion of your wedding. Specially sherwani style Bandgala when paired with dhoti oomph the look of the groom.
Footwear: Punjabi jutti,  Mojaris are the best combinations with dhoti or tassel loafers can also be one choice for a different look.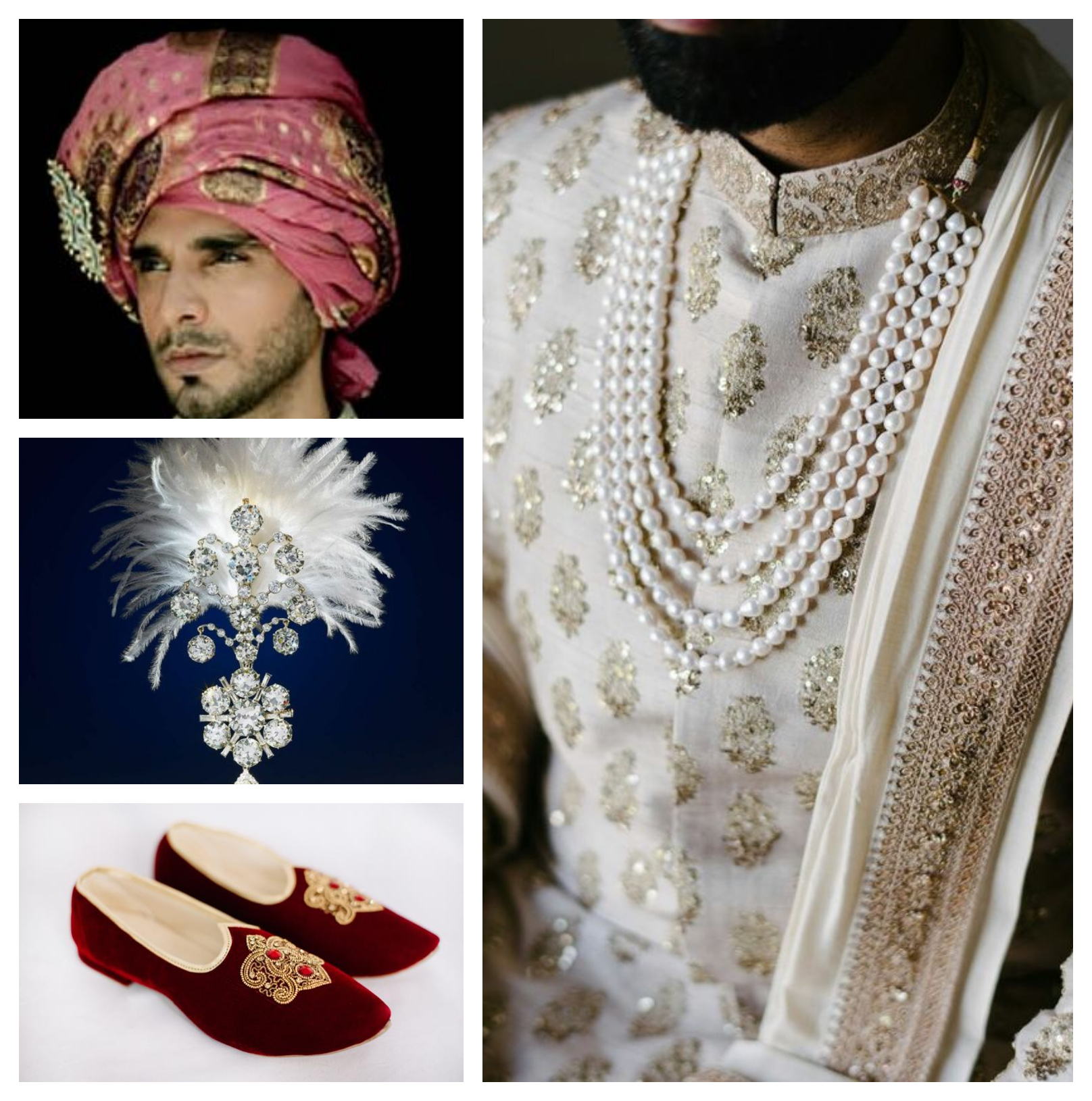 Accessories: Brooch, Safa, stole or dupatta can be the add-ons, sequins or pearl accessories can be picked up for the more subtle look.
8. Jodhpuri/Nehru Jacket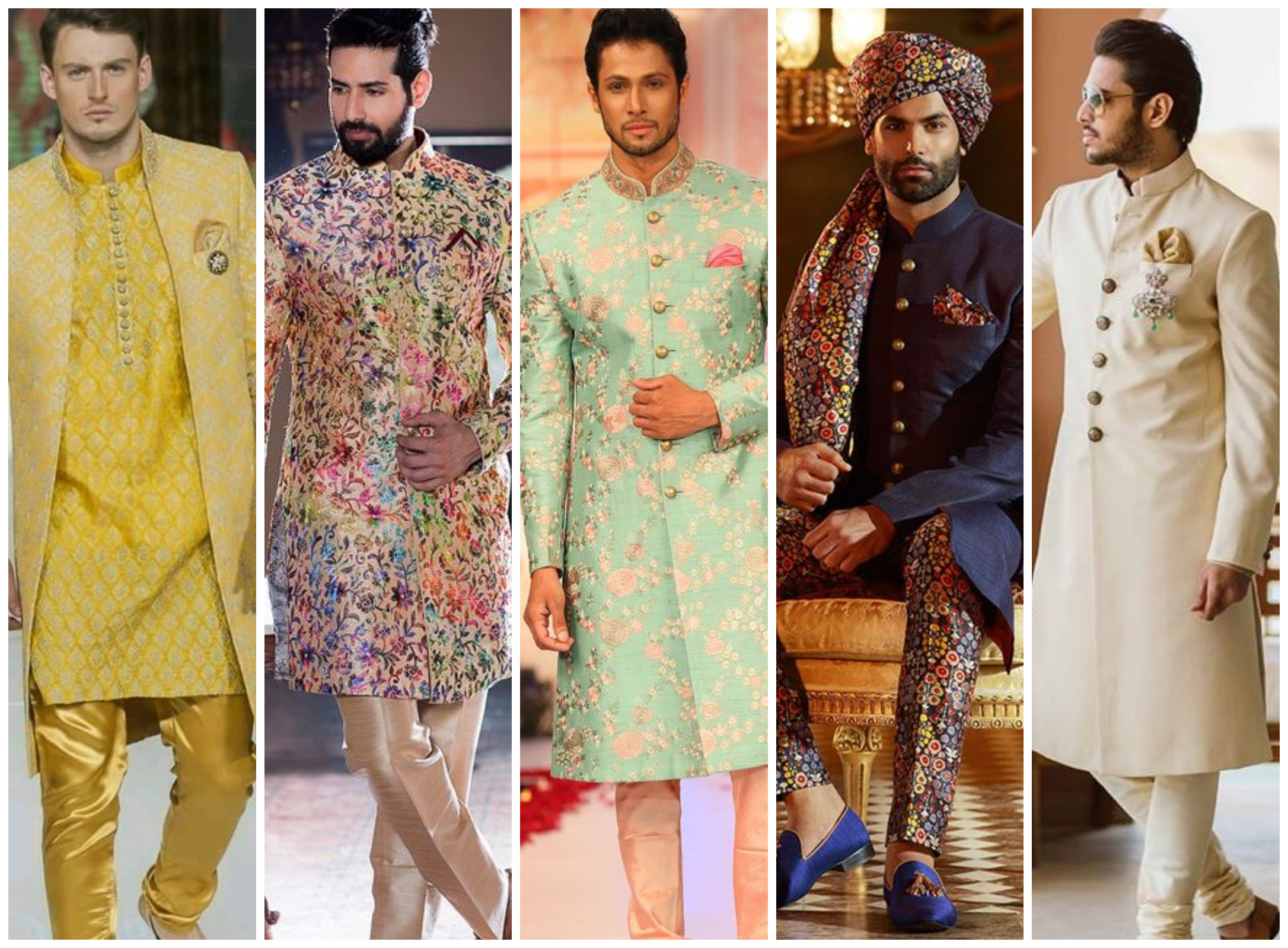 Bandhgala is the fashion statement for a Royal look. Bandhgala is also famed as Nehru Jacket that brings out the finesse and poise in any gentleman.
Style: Wedding outfits continue to be goals for all upcoming brides and grooms. Your outfit should be perfectly complimented with brides outfit. The Floral embroidered or brocade Bandhgala when paired with silk bottoms gives an ethereal look, or if you are selecting plain upper use pocket square for the nice look and printed bottoms.
Footwear: Mojaris or Punjabi Juttis or Slip In's can be the only option to pair-up.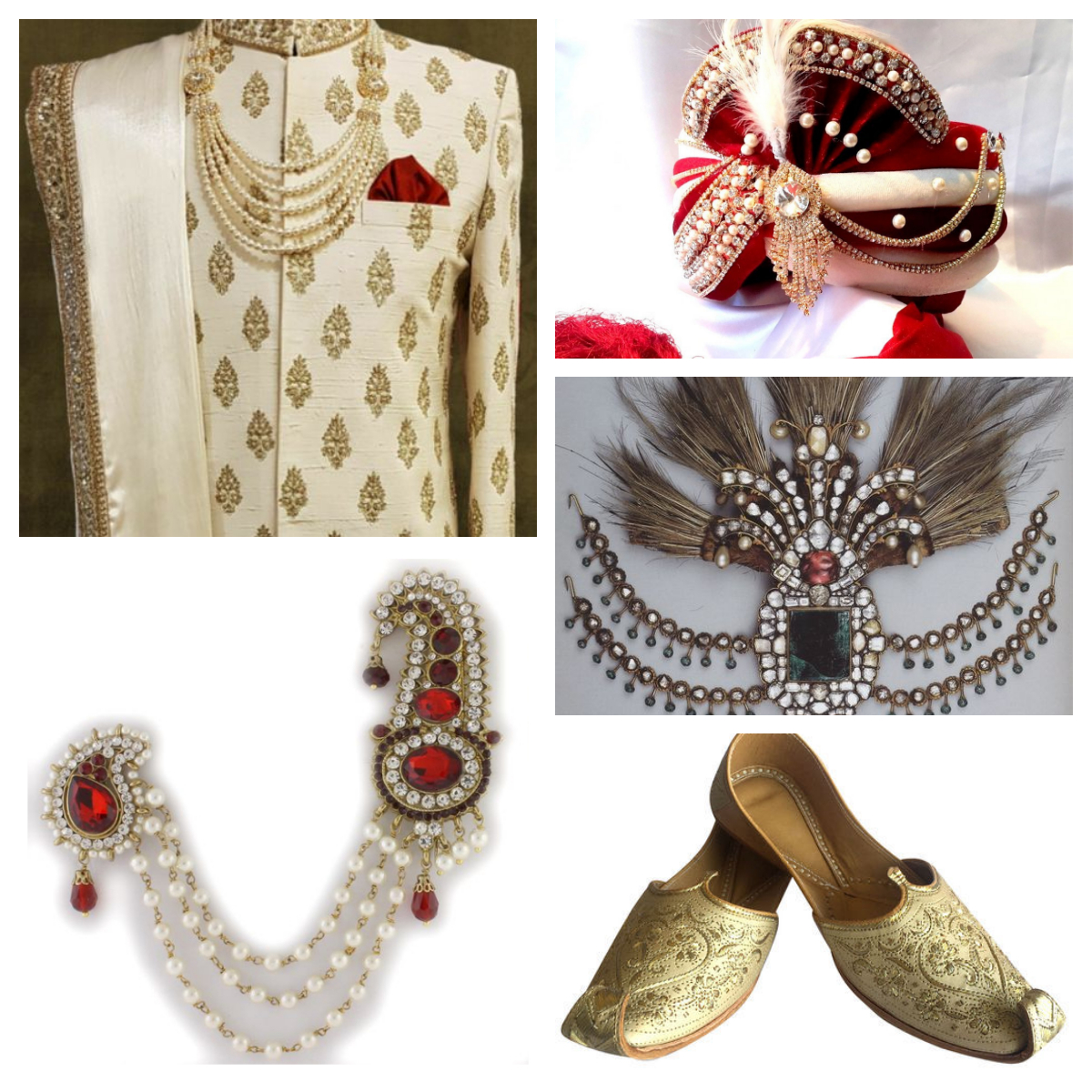 Accessories: Brooch and Safa are enough to use as accessorizing with Bandhgala to make heads turn.
9. Muglai Sherwani
Mugal Sherwani is an outfit of royals of the traditionally associated aristocracy. The royal sherwani blended in style and fashion make the Indian groom look elegant and stylish.
Style: The classical sherwani is in frock style with heavy embellishments of zari, sequins, embroidery, and stones. This sherwani is usually worn with a pair of churidar and Safa for a regal look.
Footwear: Heavy embellished mojaris or Juttis are the highly endeavoring footgear.
Accessories: Necklace, Safa, Brooch and stole of idiosyncratic style are a great pick for festivals to marriages to all other celebrations, these unique accessories will glam up the traditional look and make heads turn.
10. Rajasthani Sherwani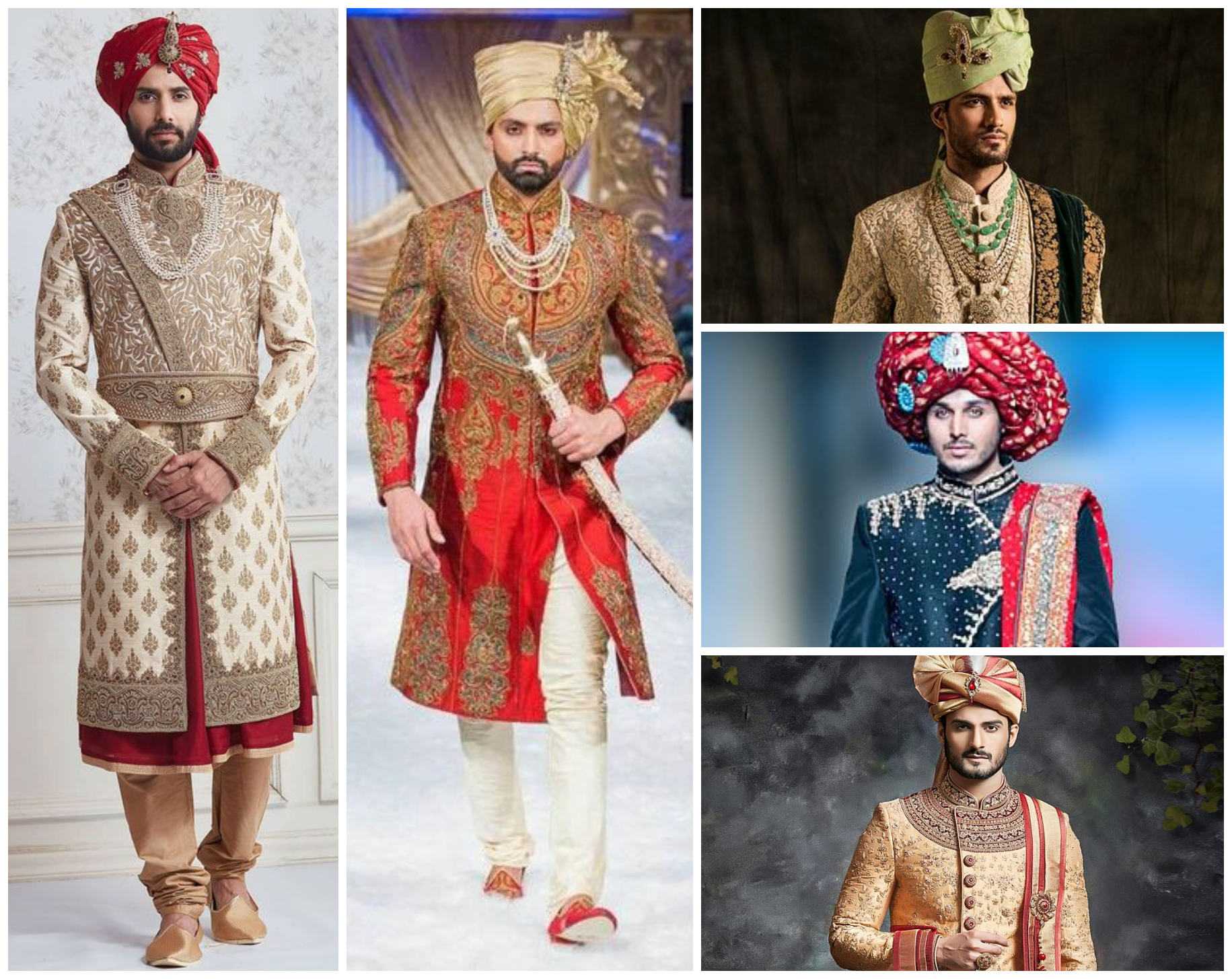 Rajasthani sherwani is inbound with the fusion of Indian and Desi style statement, in the epoch of ethnicity of wedding event the attire looks glamorous.
Style: The intricate details of Rajasthani Royal Sherwani in frock style with heavy work embroidery on raw silk fabric add up an ace to your charismatic personality. The regal outfit is teamed with churidar and tugged in embellishments to remind us of royal legacy.
Footwear: Mojaris or embellished Juttis are the only footgear in the substantial range of colors to team with the outfit.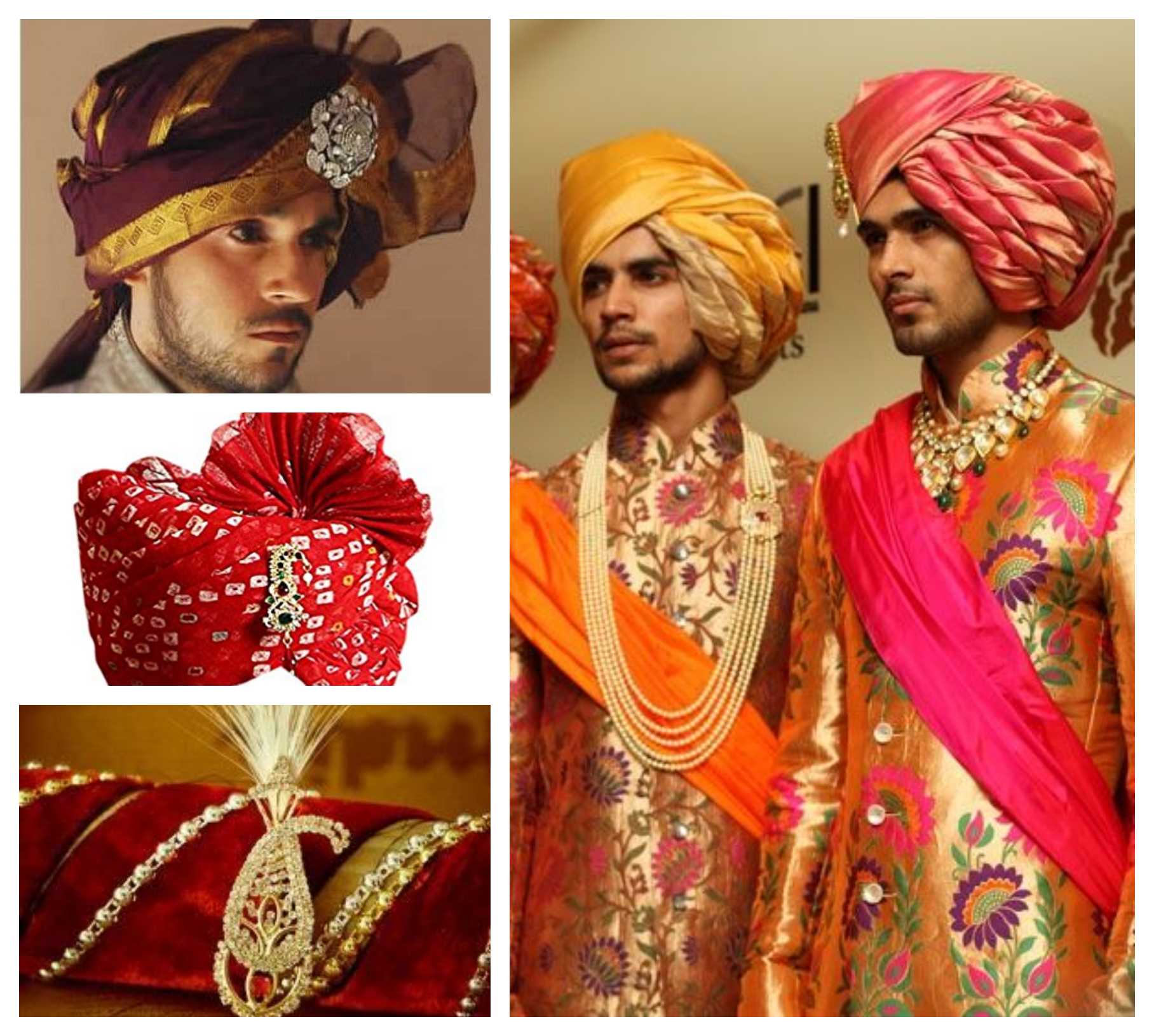 Accessories: Stole, Neckpiece or turban, especially in bandhani pattern, looks awesome or an intricately designed brooch adds to your personality. Carry a sword for the more royal look enraged in a blend of comfort and grandeur.
Gone are the days when focus during Wedding was the only bride and her dresses and belongings, now groom is also considered a cornerstone of the wedding among the new couple. And Men's fashion cycle has moved from being tailored to fast-moving readymades so our ensembles are in the same context. Hope you find the variety and variation in our unique collection. You can feel free to comment on the designs and patterns shared by us, on the more you can order too! Friends we will desperately wait for your response!