The magic silk drapes of nine yards intensify the look of beautifully carved angles. These ethnic charms are crafted in a special style using different fabrics and embroidery techniques. This Indian outfit differs in style and pattern from different regions, each region has its own variety like Banarasi silk saree, Gujrati Patola saree, Kanjeevaram Silk saree, Dhakai saree and many more.
Silk sarees are an epitome of charm and grace for women and look magnificent for every occasion. Even if you are not a saree person there are some vogues of sarees you must have ensembled in your wardrobe, they will just look beautiful on you. The unique appeal of specific sarees will make you fall in love. Some specific sarees are meant to wear on particular rituals and poojas. The fashion of these sarees is never outdated you can wear them in a traditional or modern way as you desire to.
To oomph your style statement we have segregated few best types of Indian sarees in our fashion catalog. Have a look and order the Silk Saree Online for the upcoming function.

1. Banarasi Silk Saree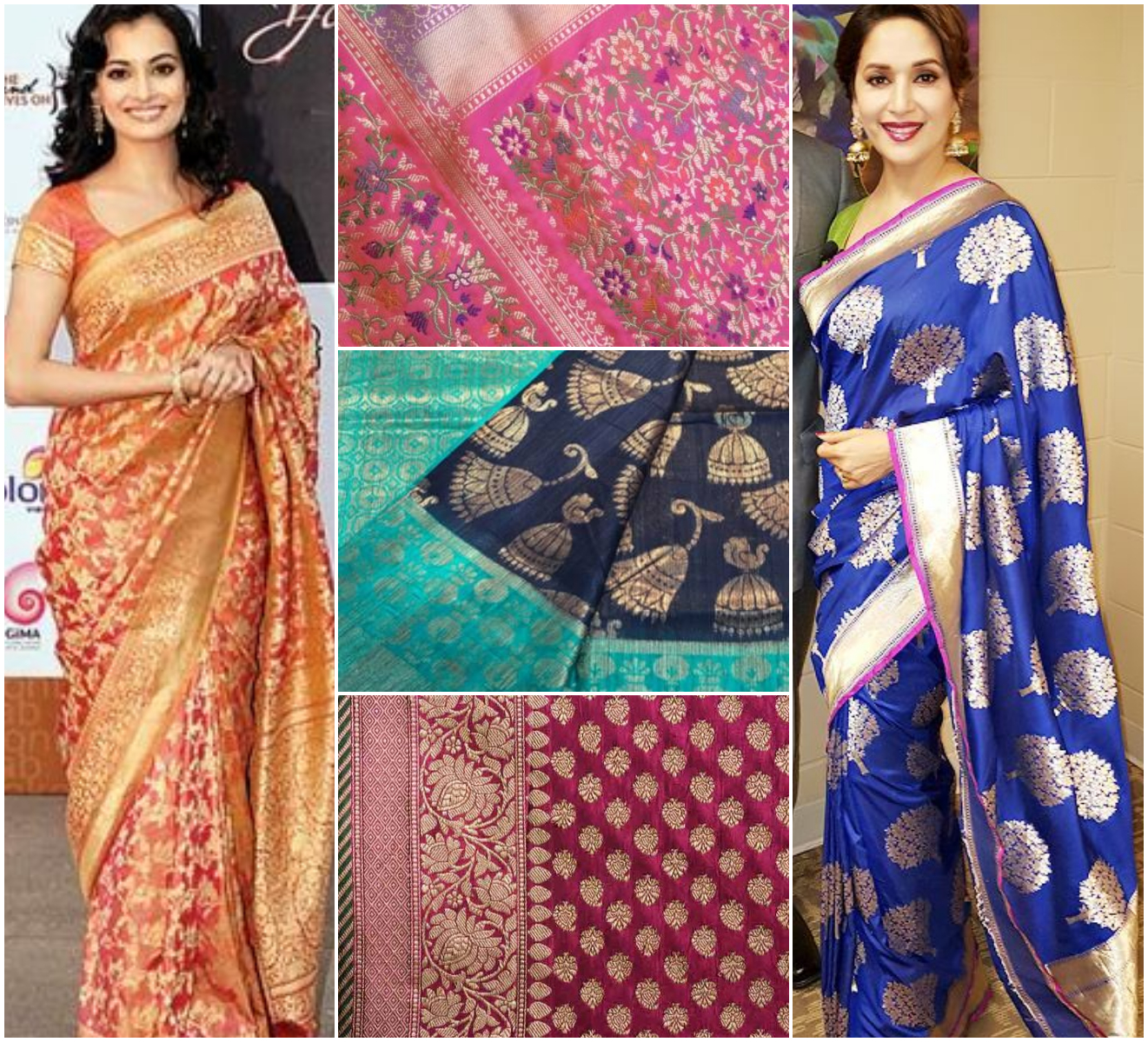 Banrasi silk sarees are the indigenous affairs for the brides of North India. The supreme Bnarasi sarees originally belong to Varanasi, Uttar Pradesh. Banrasi sarees are beautiful mix feasts with marvelous colors and sheen texture something enough to achieve you everyday compliments. These traditional crafts have heavy golden or silver embroidery weavings. Banarasi sarees are fabricated on various varieties of silk fabric like katana, shattir, tissue etc. These brilliant drapes teamed with gold jewelry are lady love for great events and festive gatherings.
2. Kanjeevaram Silk Saree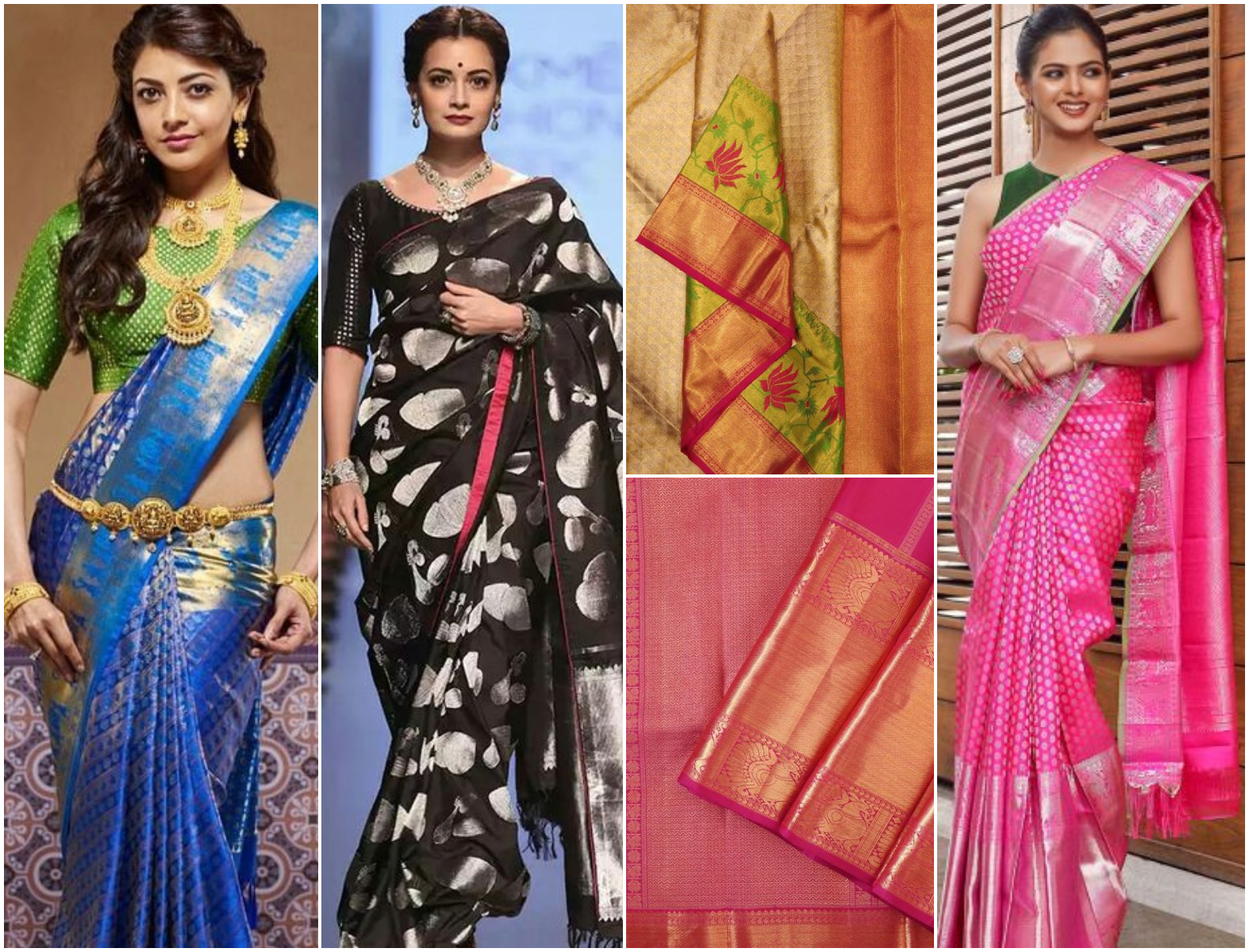 Kanjeevaram Sarees with royal and glossy temperament are the great fascinating attires in the tone of brides. Kanjeevarams are famous bridal sarees for the women of South India, especially Tamil Nadu. The themes of these elegant sarees are correlated with nature and exhibit appealing beautiful designs. The prominence of Kanjeevarams is the silk thread used in weavings of saree is made up of three single threads twisted together. But now in recent days, you can find women from North India are in love with these drapings and ordering these Kanjeevaram Silk Sarees Online for bridal affairs. Astounding texture, vibrant colors and excellent plain or temple patterned borders has brought the saree to fame.

3. Paithani Silk Saree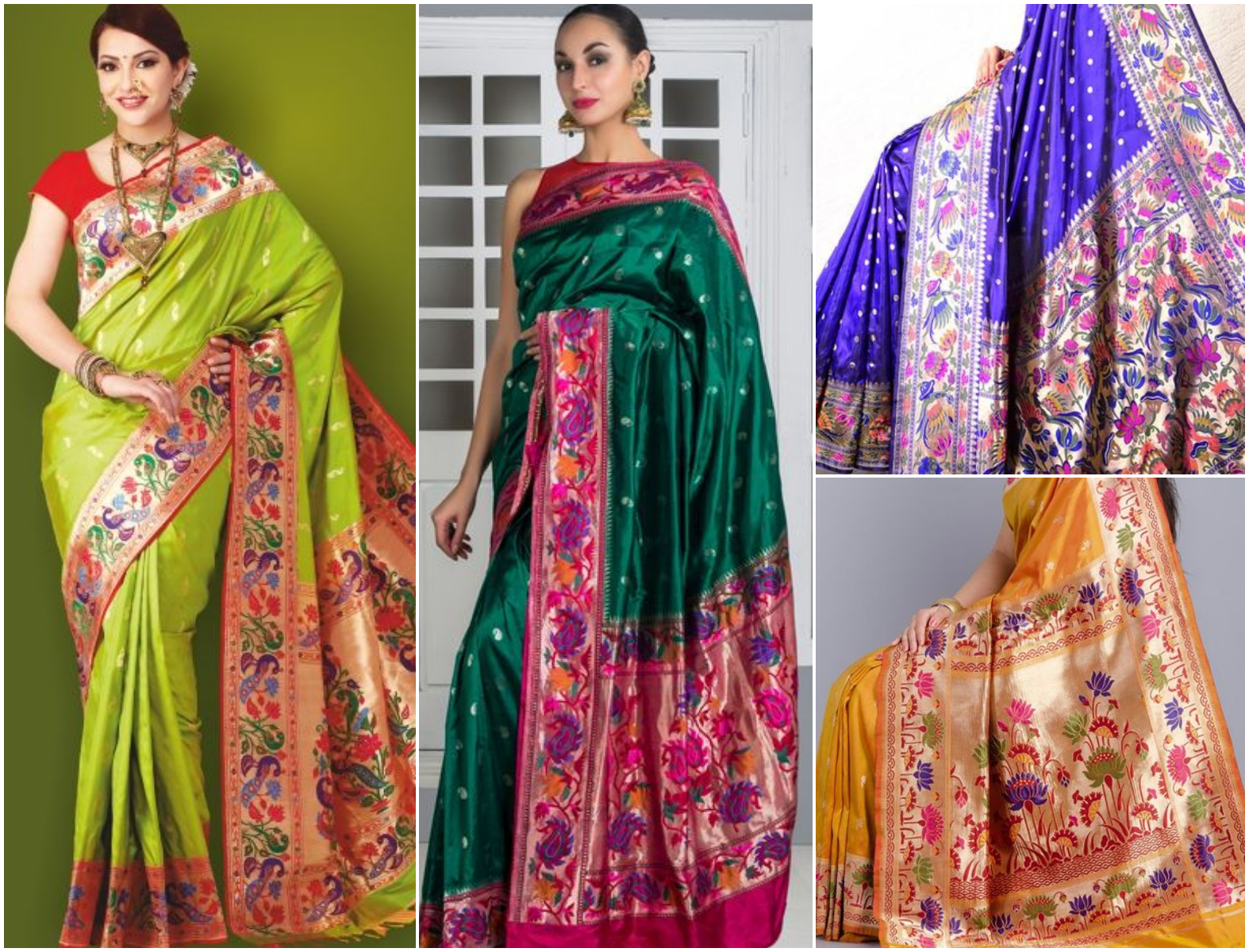 Paithani Silk Sarees woven with many intricacies in exquisite designs make the women fall in love with the attire. These beautiful weavings originally emanate from Paithan, Maharashtra. Sarees are inscribed with natural motifs like flowers, peacock, Narali prints etc and are favorite among the women who love to wear ethnic attires with natural representation for their daily course. Shop the wide range of these exquisite sarees in brilliant colors and pair them with chokers or just heavy Jhumkis for an appealing look.
4. Chanderi Silk Saree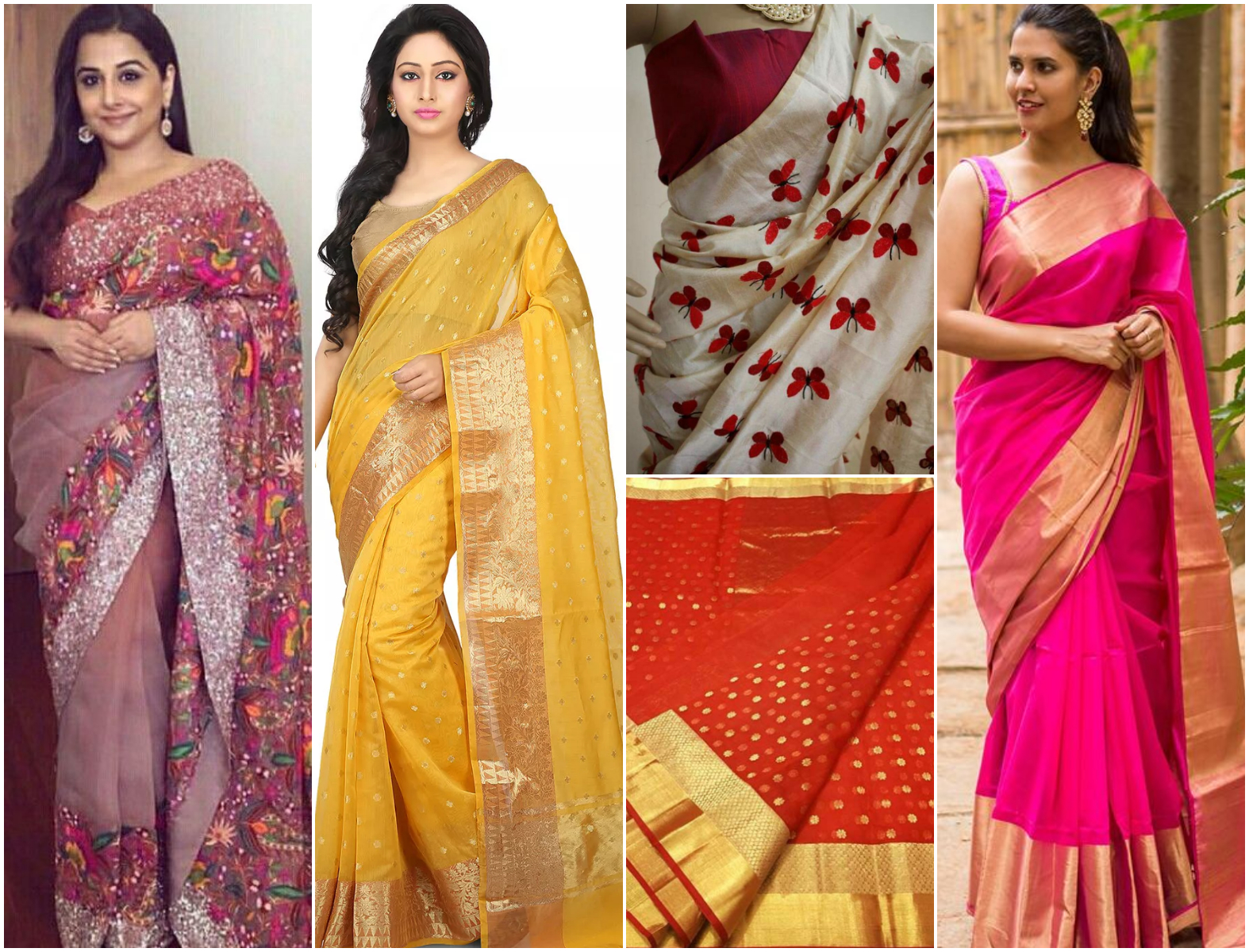 Chanderi Silk Sarees are native to the land of Madhya Pradesh. These luxurious sarees are a kind of tissue silk sarees exhibiting pretty royal affairs. These masterful arts of textile industries are conveniently available online. Chanderi Sarees Online are given with various traditional patterns and geometric graphics. Typically the traditional patterns of Chanderi sarees are inspired by nature like gold coins, swans, birds, peacock, fruits, flowers, and heavenly bodies. The finely textured Chanderi silk saree engraved with zari work or embroidery worn with traditional jewelry accentuate the beauty of delicate gender.
5. Muga Silk Saree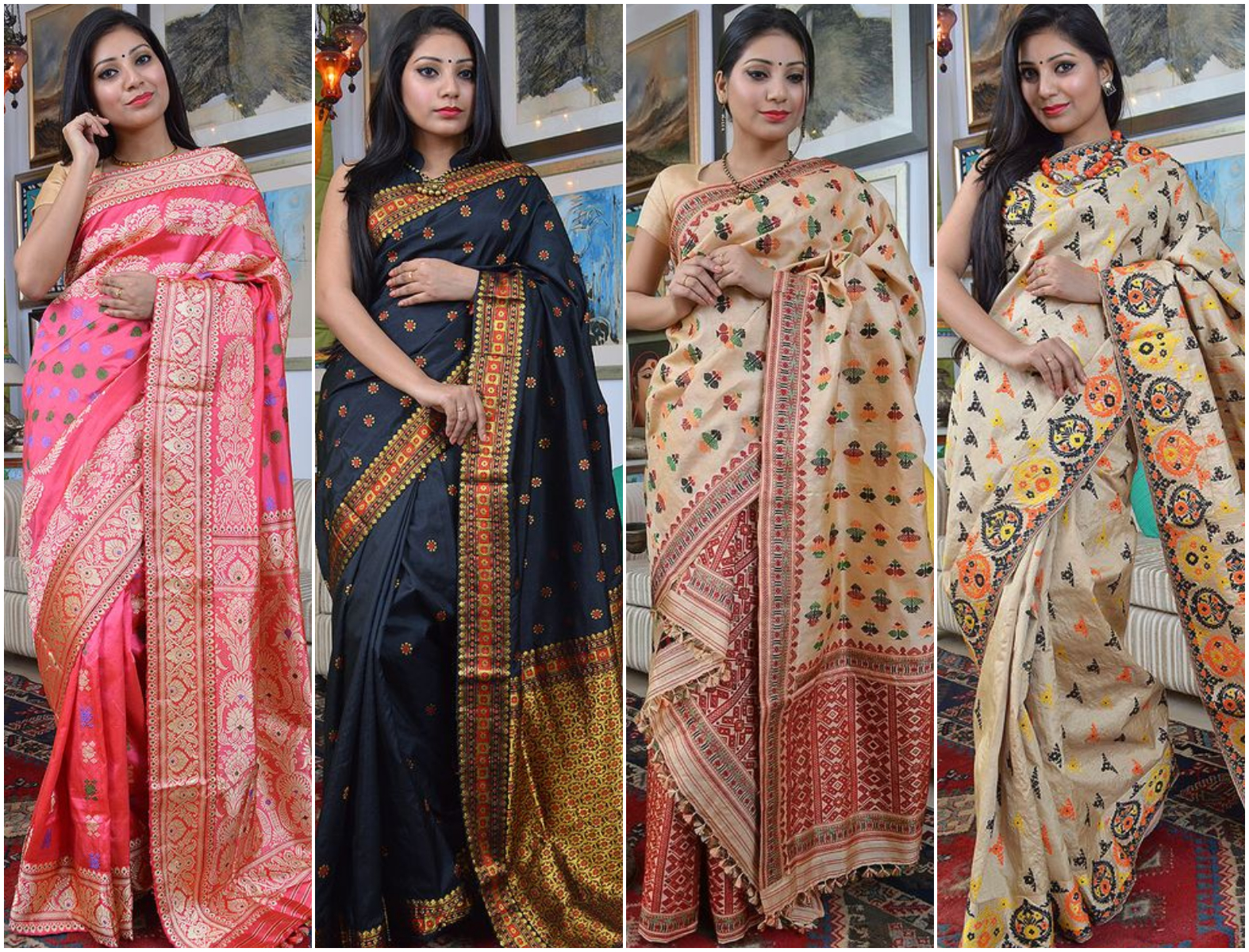 Muga Silk sarees are the fine crafts of Assam woven by traditional skilled weavers. These exquisite sarees are distinguished from other silk arts by the golden yellow color of saree or the golden work ornamented on these exclusive pieces. Muga silk sarees are made from a special kind of silk yarn secreted by particular eminent larvae. This silk yarn thus produced is very glossy and durable. You can also find Kantha work decorations on these exclusive conventional drapes making them elegant for party wearings.
6. Patola Saree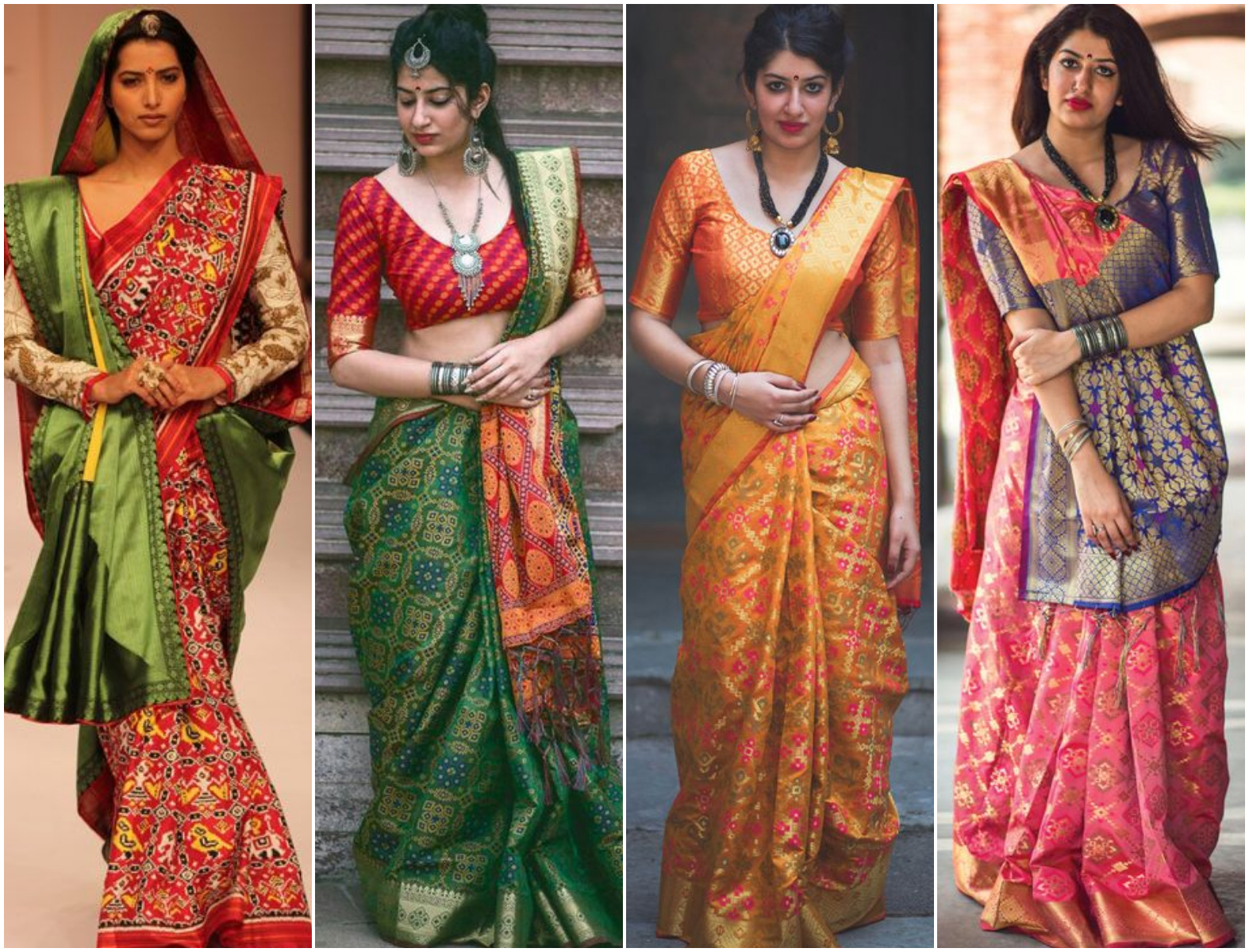 Popular Gujarati Patola Sarees are made in Patan, Gujrat. Patola Sarees are usually made from silk in double ikat weaving. Splendid Patolas are rich handloom sarees the real art of these sarees is closely guarded by weavers of Rajkot. Earlier this royal art was worn by noble families of Gujrat. These Gujarati sarees exhibit strong design patterns in highly bold and vibrant colors to grab everyone's attention.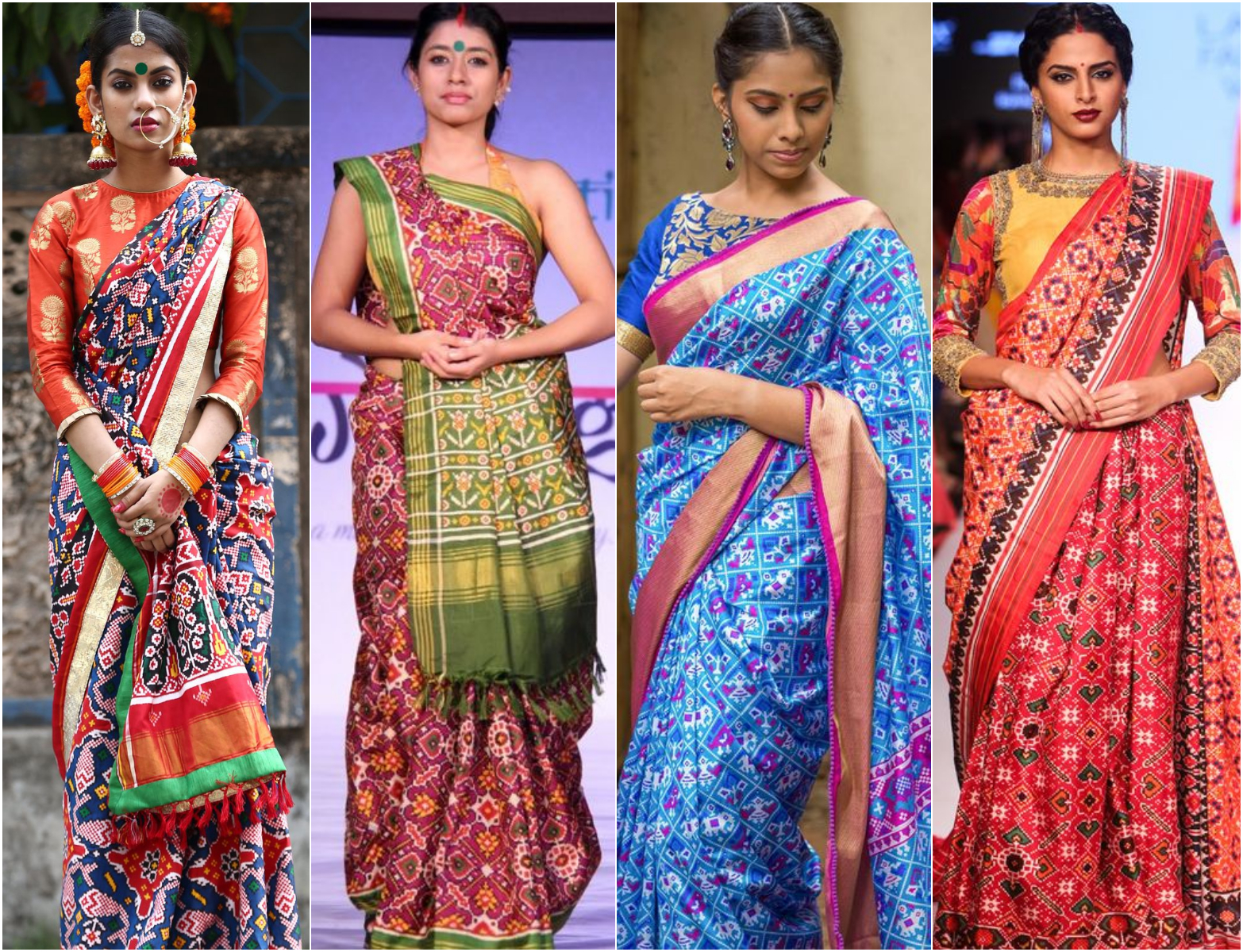 7. Baluchari Silk Saree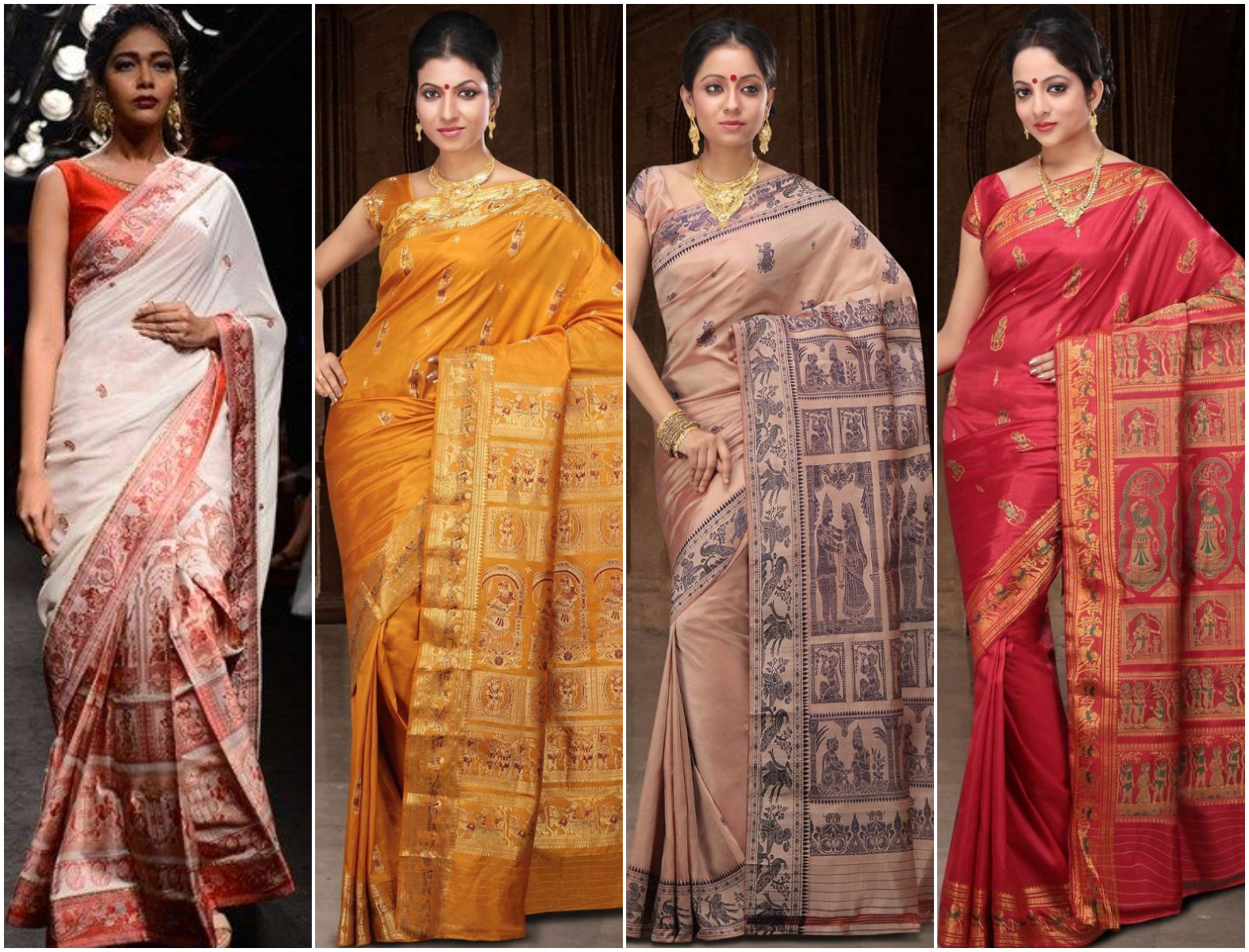 Silk can't be off the platform of attires for special occasions. From the wide range of silk sarees, Baluchari is another class from West Bengal. Traditional yet designer Baluchari sarees are unique in its style because of the borders and pallu of saree showcase the ancient stories from royal epics. These sarees can be worn on poojas or festivals with polka and gold jewelry sets.

8. Dhakai Silk Jamdani Saree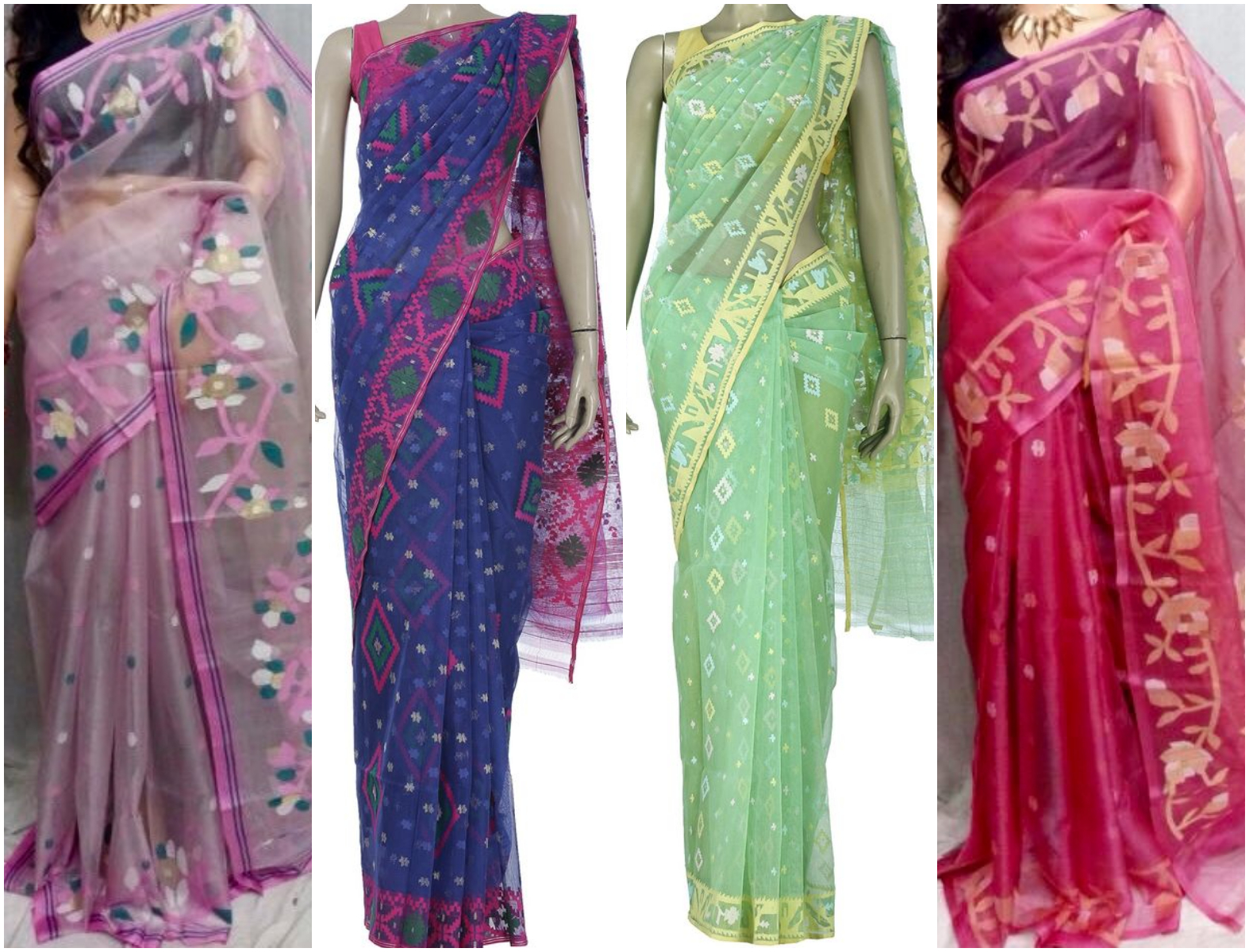 Dhakai sarees are also famous by the name Jamdani sarees. As the name of drape suggests this saree is made exquisitely in Bangladesh but now in recent times these are woven in some place of West Bengal. These sheer silk sarees are the choice of simple women of West Bengal for their daily course. Jamdani work when mixed with Dhakai sarees fabricated in silk come up with a new blend Dhakai Kamdani sarees.
These lightweight sarees are easy to carry for daily routine wearings or official wearings.

9. Assam Silk Saree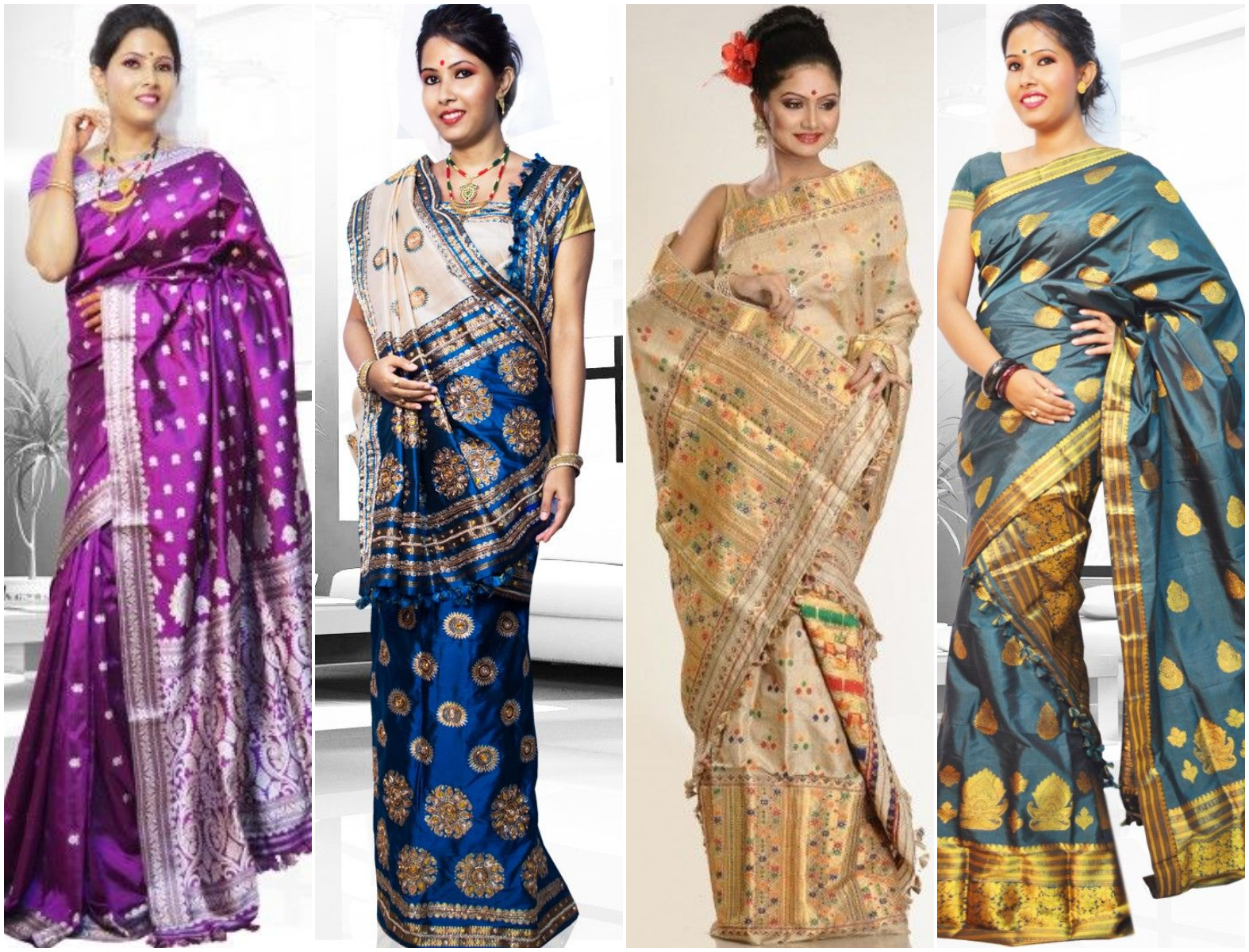 The beauty of the serene land of Assam is reflected in the traditional Assamese attires. Mekhela chador and Muga silk are the famous delicate weavings with vehement thread works of Assam Silk Sarees. These silk drapings are the privilege of Kamrup district of Assam. Assamese Silk Sarees are loved by the women of the state for their wedding rituals and festive ceremonies.
10. Bhagalpuri Silk Sarees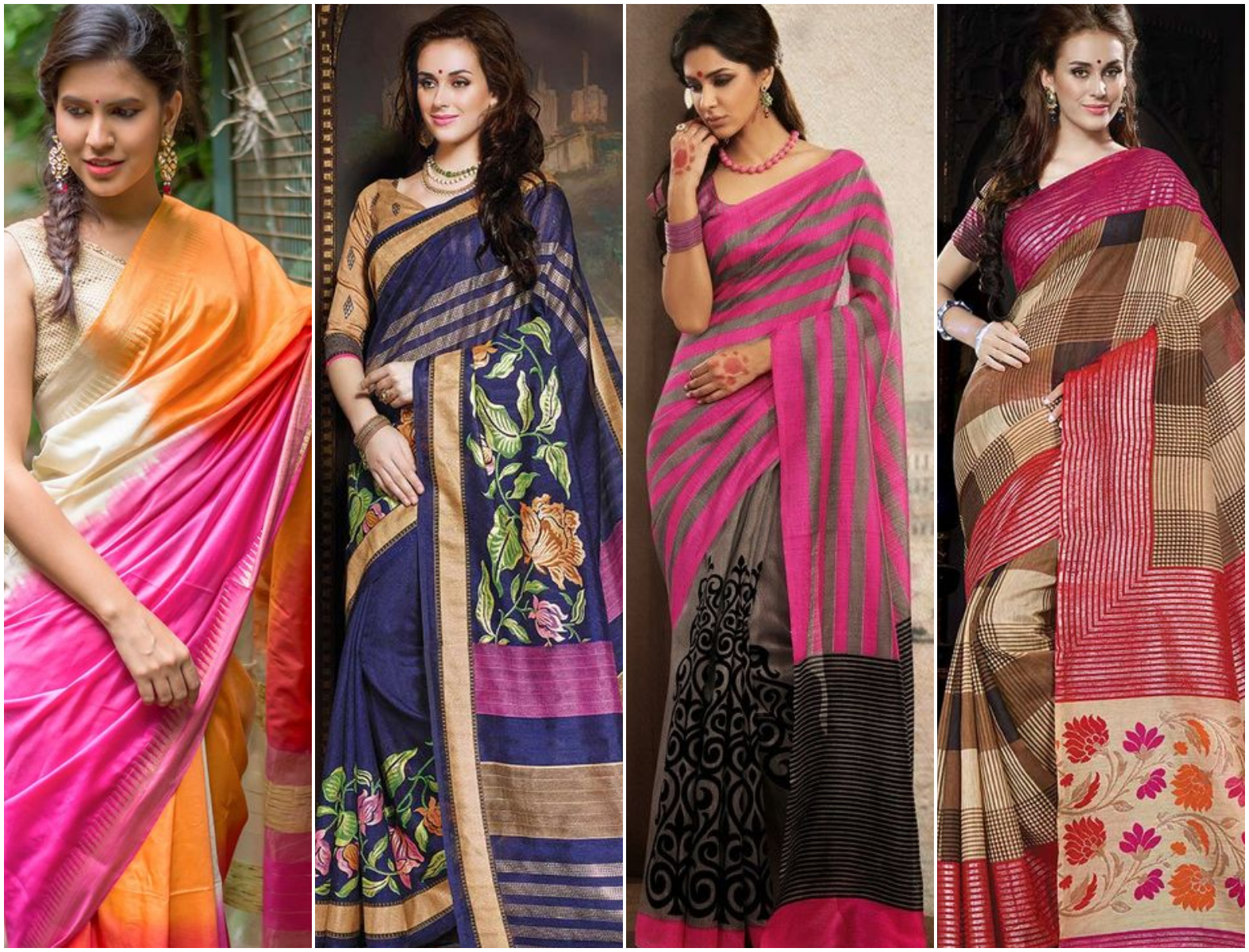 Tussar Silk sarees is another name for the gorgeous Bhagalpuri Silk Sarees. These silk sarees are creations of the skilled artisans of Bhagalpur, Bihar. These sarees can be preferred for routine wearings or for small gatherings. Adopt traditional jewelry and designer blouse with the saree for the more deeper look. Now you have great options to buy Bhagalpuri Silk Sarees Online to fulfill your desire.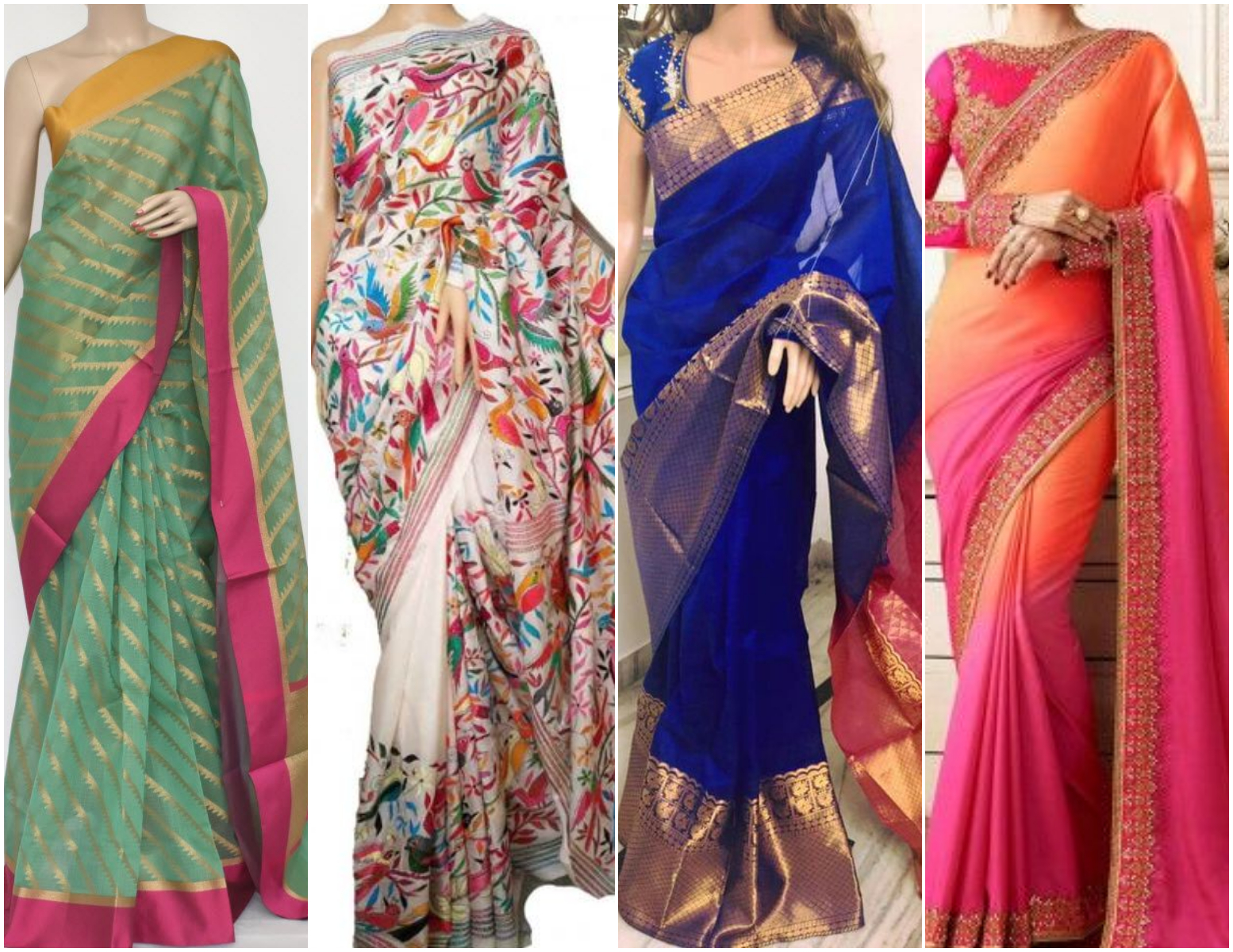 Radiant and fuller ethnic appeal of the silk sarees can do a lot to carve women's personality. Keeping the latest design techniques and superior silk fabric in priority we have cataloged some amusing pieces of Silk Sarees.
Now no need to be upset for just surfing, you can order these Silk Sarees Online as per your desire and likings by just a comment below! We will cherish your response!