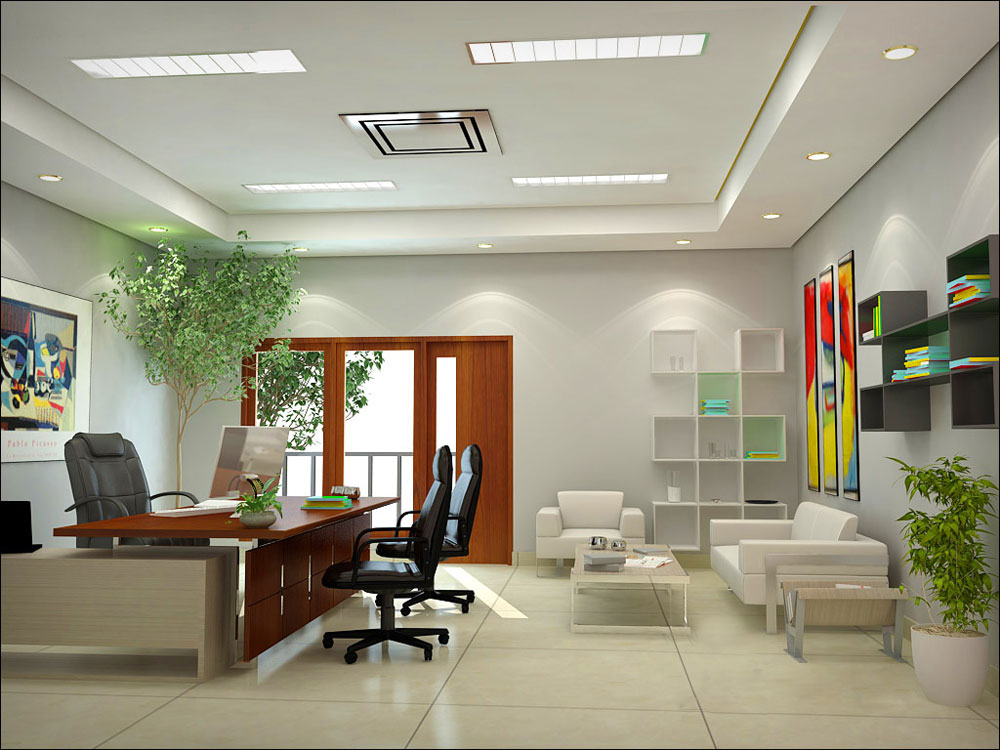 Interior decor of the office is the reflection of your company and helps to cultivate the culture and identity of the working environment. Interiors of the office depend on the kind of office you are owning whether its a squeezy home office, small-scale office or large infrastructure. Choose the vibrant and teaming colors to design the office that compliments your corporate visual identity. Make sure the office compound should look spacious, properly organized with the attractive reception area.
First, the layout than the proper furnishing of the office is the major step. For that use natural, bold, and high-quality materials like teak wood, metal, and minimal designed glass. You can also theme up some unique concepts for work area, reception and meeting rooms as the big software ventures like google and facebook have adopted. The vibrant color vibes and spacious attractive environment would surely boost up your employee's work interest indirectly bringing your company to heights. We have collected some latest designs for Office Interior Decor, have a look to get an idea to design your own office.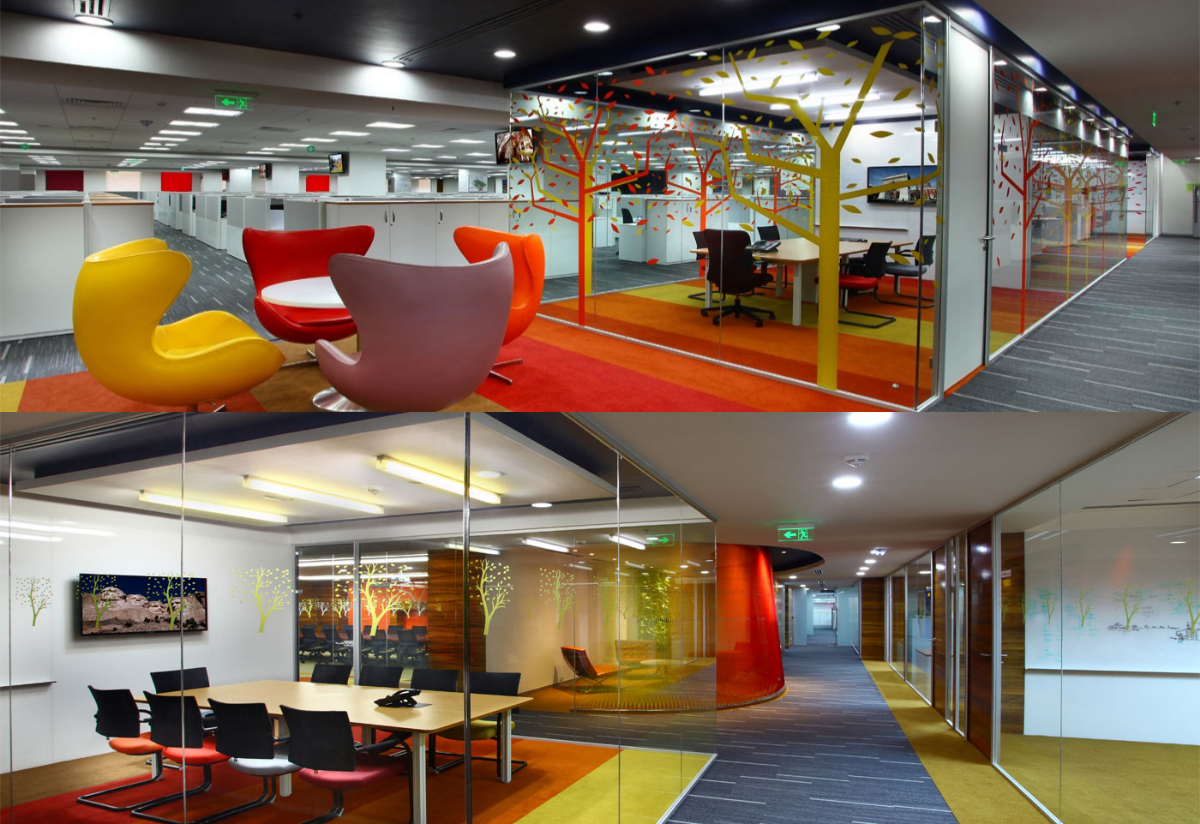 1. Cool Start-Up office Designs
Inspired office designs for cool start-ups break down the traditional ways of doing business. The legendary office designs opting for the spaces with the same free-thinking attitude are quite impressive. While designing the office don't forget to focus on creating an environment to make your business a success. A stylish start-up office comprises an elegant reception area to give a polished first impression, energetic conference room, and a decorative common space to impress visitors and clients. Experienced commercial designers design well office layouts and office trends. Include gardens, plants in work studio, bring natural light to keep employees energized and promote creativity by including bright colors in designing.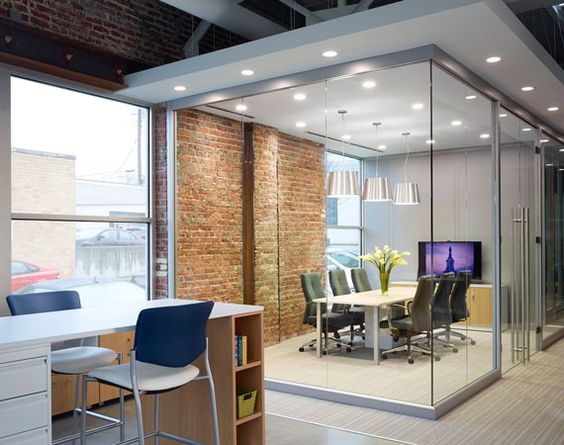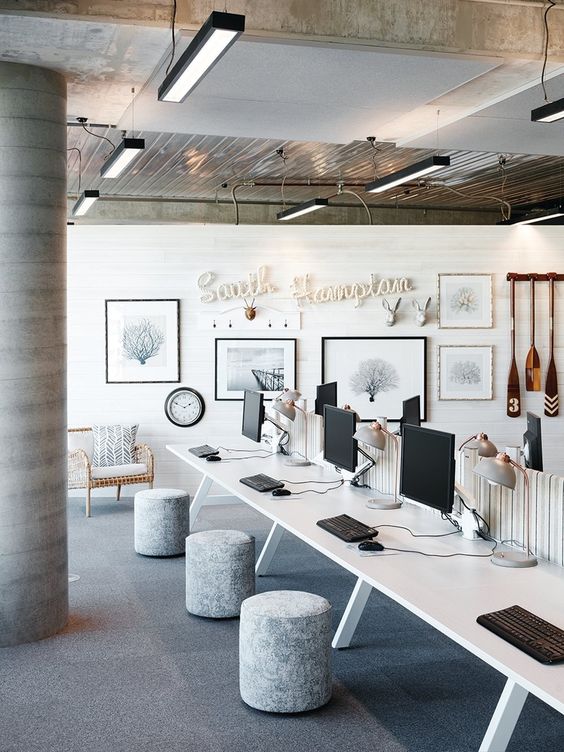 2. Home Office Interior Designs
A sophisticated home office secluded from domestic distractions has become more than a trend. Hard Workers or who want to maintain their earnings by working from home find the best way to accommodate a creative and inspiring working environment in their homes. A stylish home office for a production environment can be summed up with a comfortable chair, potted plants, custom build shelves and functional & decorative elements. Choose ant bright color in combination with white walls to bring more elegance to the environment. Cover the floor with carpet and if possible face your chair towards the window to get energy from light and greenery. Add the sofa to one of the corners of the office for the visitors or for a bit of relaxation.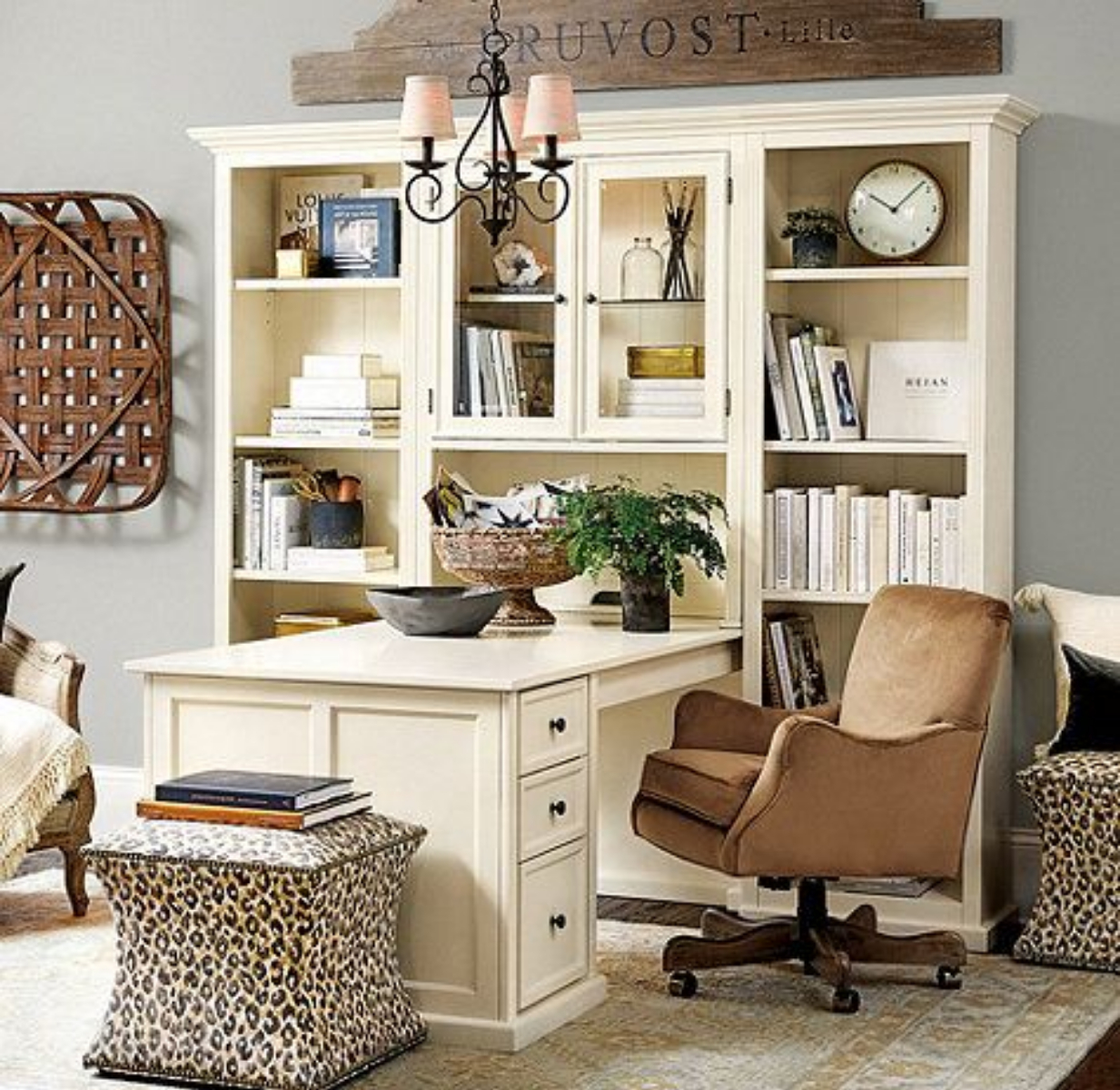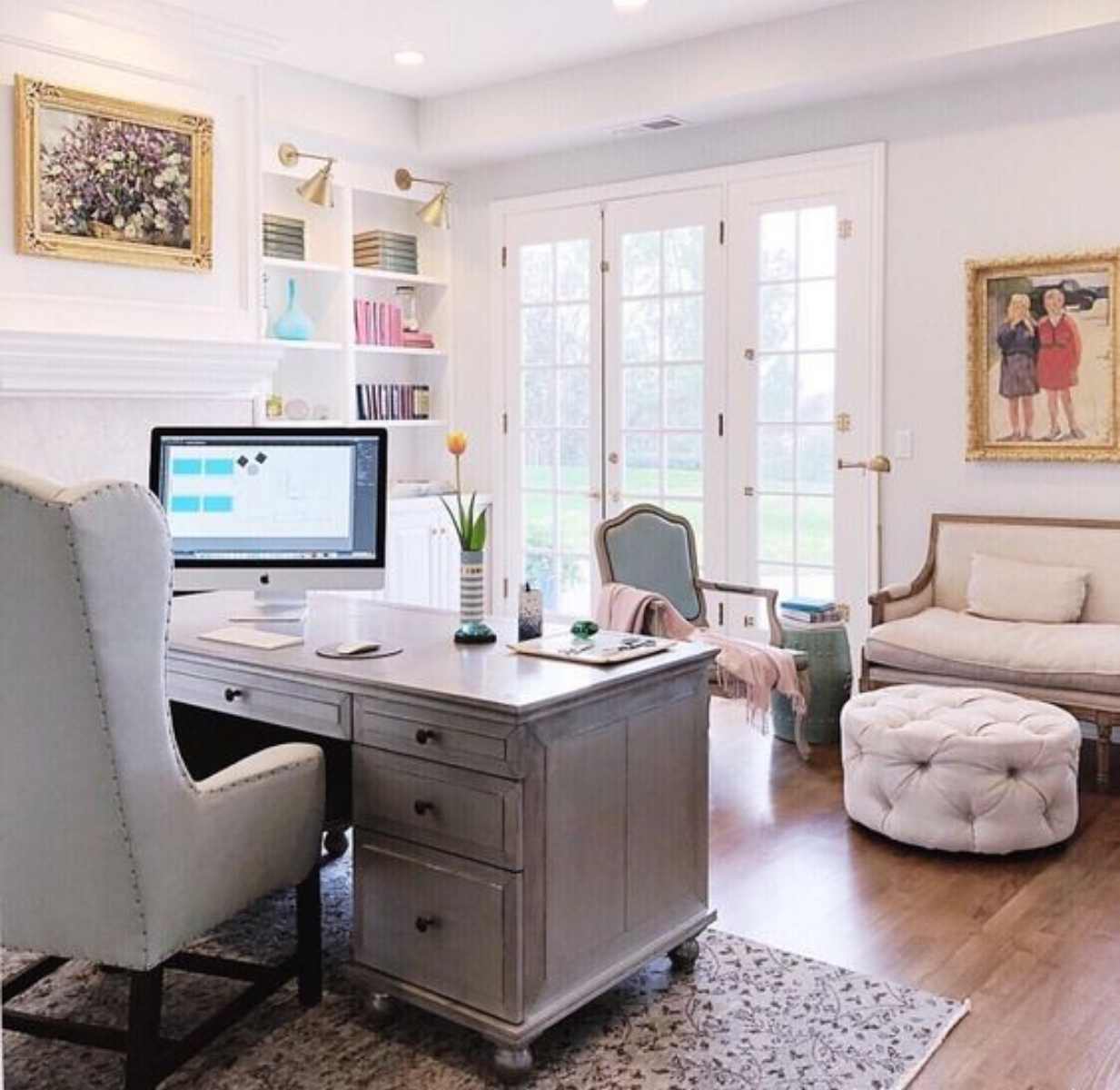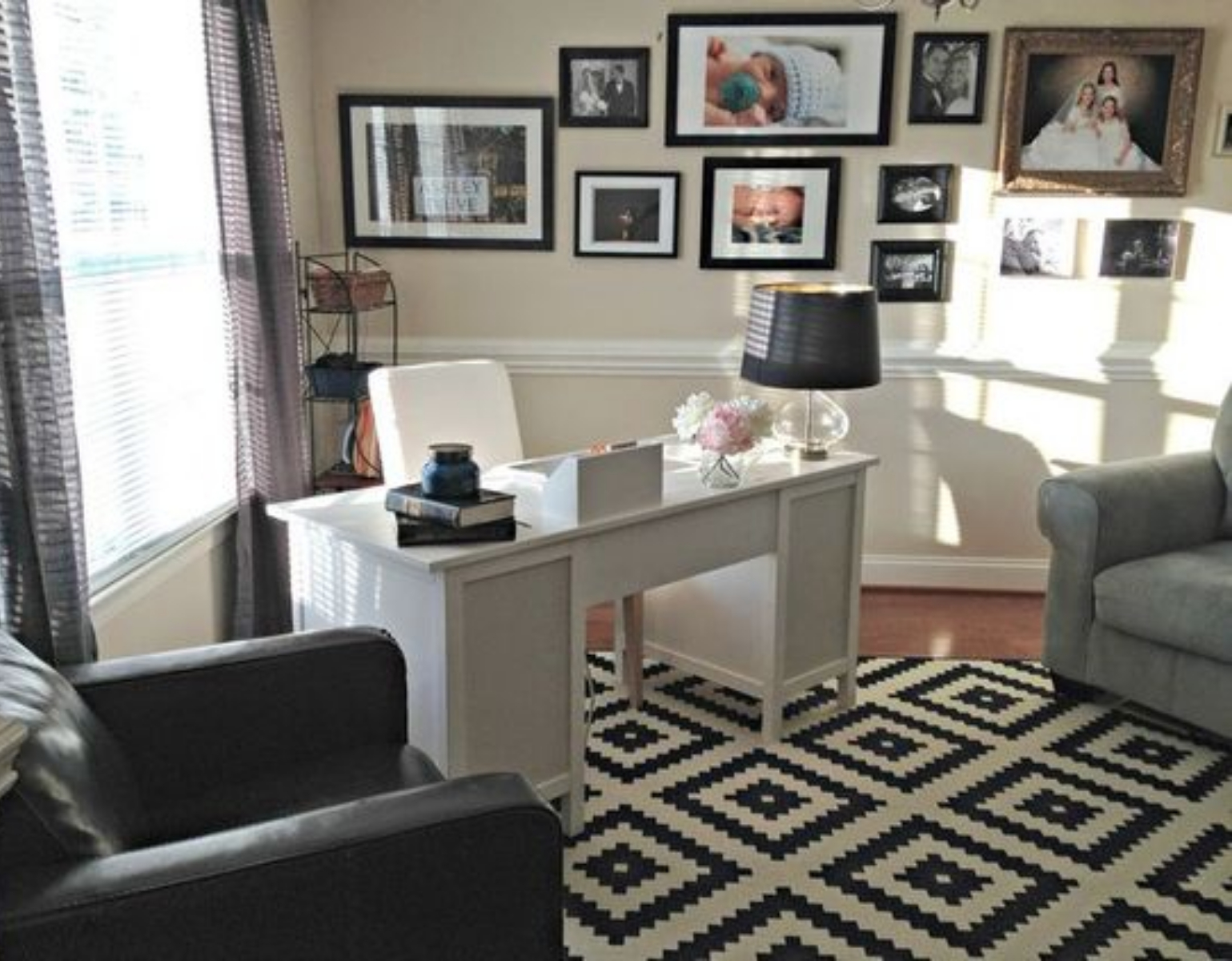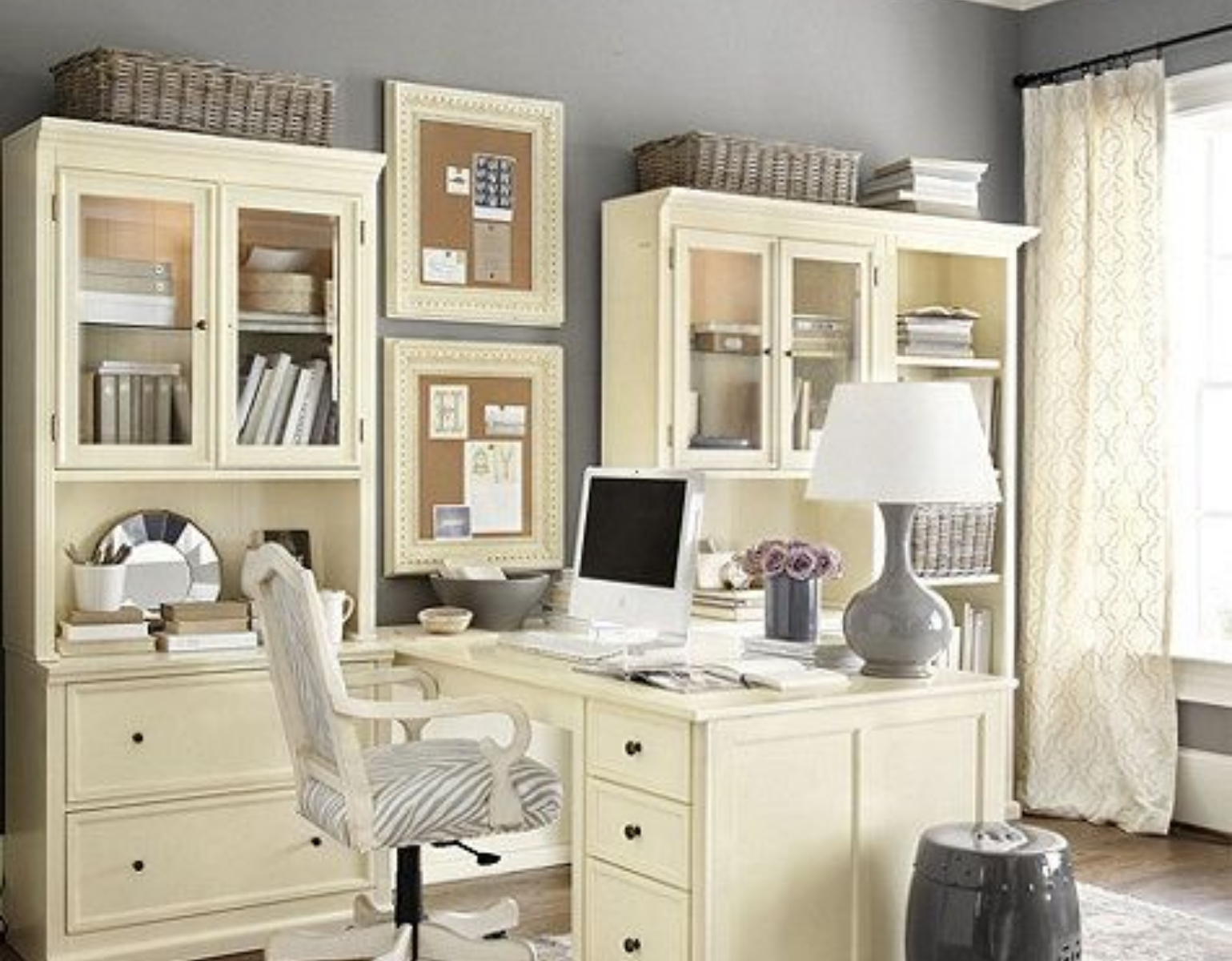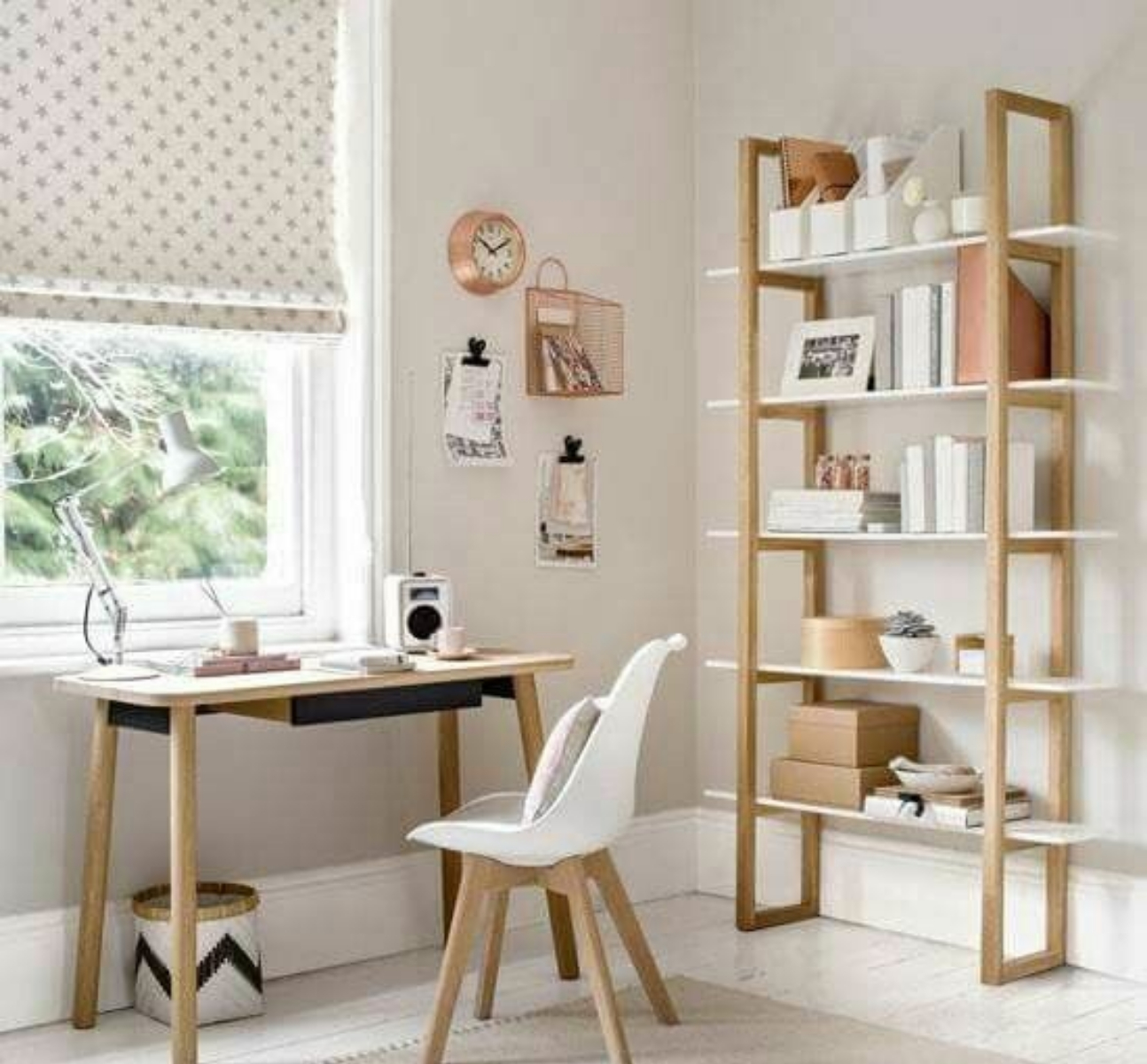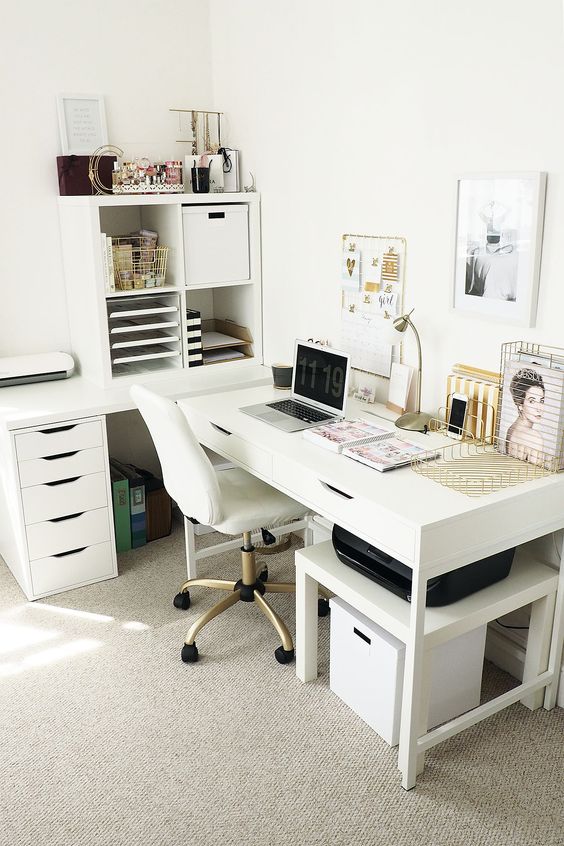 3. Small Office Interior Designs
If your business is confined to a small office, do one thing make it a bit spaces by well managing and creating a comfortable environment for your employees. To give a boost to your business it is necessary to well-organized space with a beautiful color scheme, unique furniture, proper arrangement for natural lighting, use of high-quality artificial light, and natural plants. These important elements for office decoration sum up into a well-designed office with a motivational environment. Choose good quality furniture with comfortable chairs to give comfort to employees. Include proper drawers and shelves in office to maintain work files, good PC's and WiFi support should also be proper for better productivity.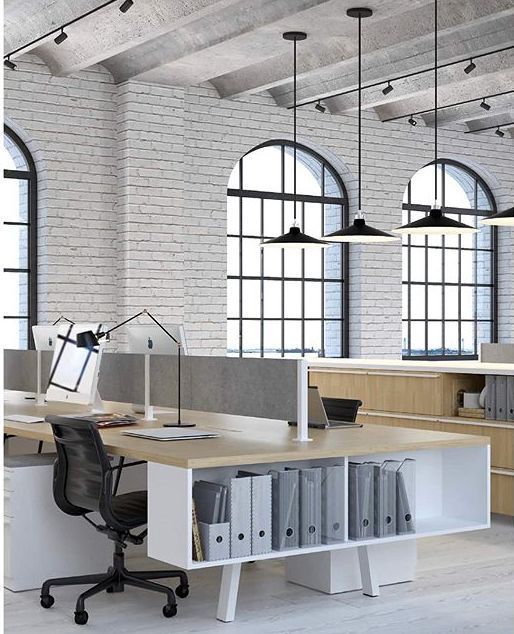 4. Large Office Interior Designs
Large infrastructures need big layouts of interiors to carry out day to day business dealings packed with tranquil and modernity. In the world of modern art and technology forget about the old offices which were typically cubicle, surrounded by white walls and lite by white fluorescent lights. Unconventional workplaces achieve tremendous success working on the key point that creative work environment helps to stimulate minds and inspire innovation. Complete overhauling of office layout with bright colors, proper lightening and versatile furniture for a modern styled meeting room, attractive reception area, colorful reception waiting room for visitors with sofa, a cafeteria as a contemporary meeting space, modernly designed office altogether sum up for amazing office interiors for large infrastructures.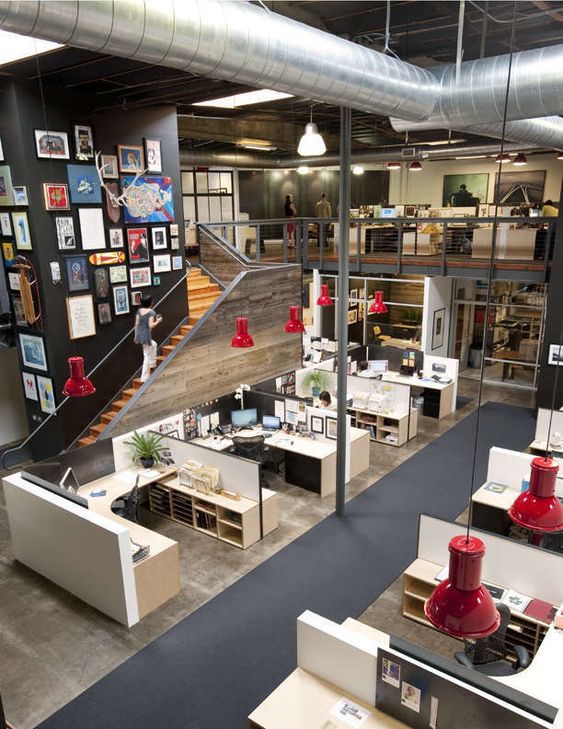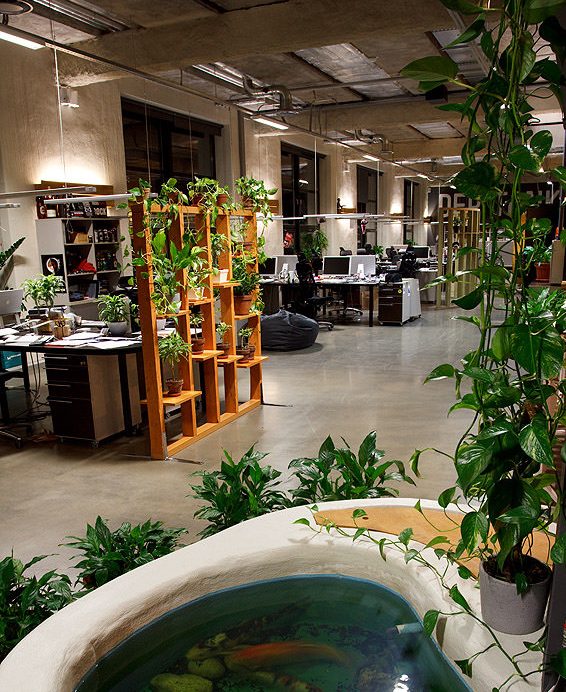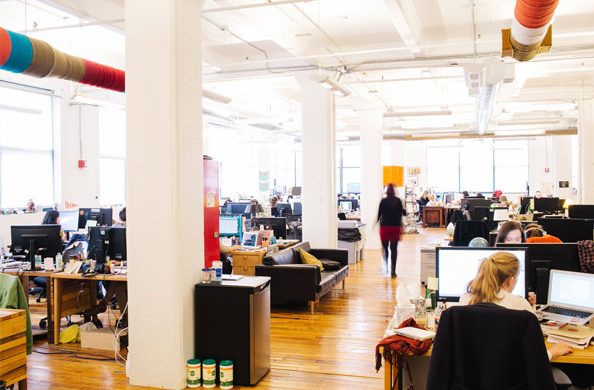 5. Real Estate Office Design
For the interiors of real estate office, a perfect design is desired with minimal space and contemporary approach. To achieve high-class interiors of the corporative office is furnished with natural, bold and high-quality materials metal, wood, concrete, brick, glass, and teak wood. During Interior designing of a corporate office focus on transparency, tactility, and flexibility to bring natural light, freshness and serene working oasis within the chaotic context.
6. Creative Office Design
Design your office with creativity as the big empires like Google and Facebook has done to boost up the productivity of their company. Creative interior design of the company has the most crucial role to play in boosting the image of the company, and in heightening the moral of employees. To create a modern office make sure the best utilization of the space, consider privacy and flexibility in working area with adequate storage and proper lightening. Modern unconventional ideas for interiors may vary from uniquely designed cabins either in shape or decorated with colorful crafts in mindblowing themes to the pleasing reception area for stimulating the office environment. You may also opt for a luxurious boutique hotel or Penta house style for office interiors to inculcate more domestic, warm and comfortable feel at the work center.


7. Google Offices
The famed energetic and creative designing of Googleplex and other Google offices worldwide is probably an inspiration for many other companies as well. The company chains follow suit with creative and vibrant offices to provide an enthusiastic and comfortable environment for their workers. The giant offices of the software venture have each nook and corner of the office uniquely designed a comfortable ideal cabinets resembling any automotive, spaceship and certain other themes are bases of interiors. Google fosters certain colorful vibes and inspires its team with a creative well-designed space. Relaxing common working space, proper decorated and well-furnished food courts, bewitching colorful reception area, and calm visitors space are the elements of the offices of this top company of the world.



8. Glass Walls Office Design
Expeditiously changing trends have also influenced the interior decor of workplace upto great levels. In the modern decor layout glass has become a major design component of office interiors. Start-ups and even the existing ones are interested in investing in the idea of an open look with natural light flowing throughout the office space. Glass wall with minimal and clean design combines durability and flexibility. The flexible workspace has certainly arrived with the arrival of these modern cabin dividers yes the glass walls. Interiors of the small office can be separated with glass wall for a separate reception area, opaque conference space, managers cabin letting the office feel spacious and glowing with natural light.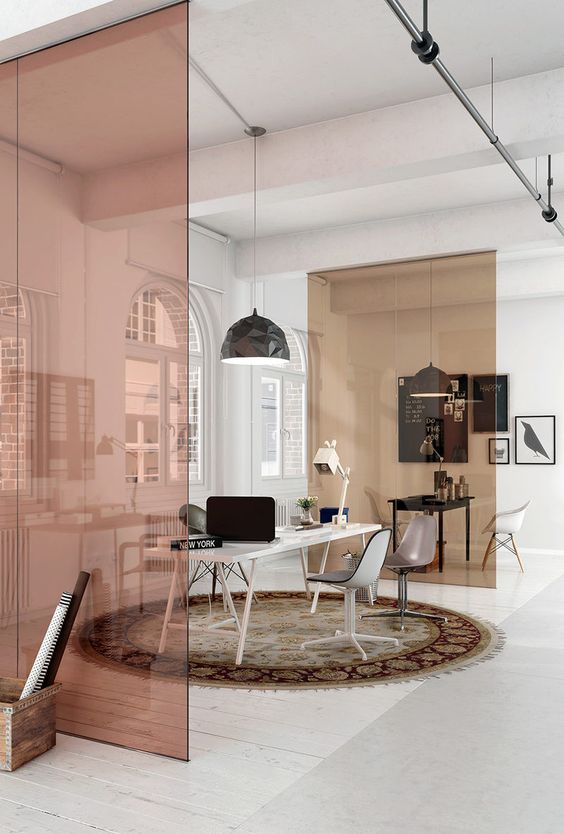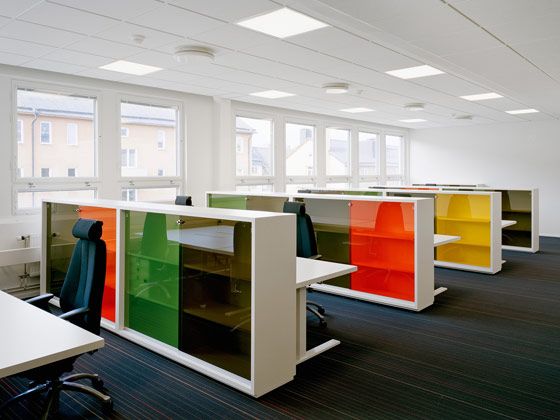 Hope you would find some best designs for the decor of your new startup,  or you are thinking to renovate your running space than to the catalog has mesmerizing ideas for you! Do comment on how you find our catalog collection for the interior decor for the office!