By giving a contemporary twist to the typical ethnic wear Indian fashion has been set on fire by aesthetic lehenga sarees. From the past few years, trendy sarees styled in lehenga are the first pick for ethnic wearings. The splendid new version of sarees from lehenga choli adds a new element in the fashion world of bridal collection.
The traditional drapings consist of a saree stitched in the pattern of lehenga for easy wearing and is a striking fusion of lehenga and saree set in a new version. This mode of saree retains the traditional essence reserved especially for festive seasons and cultural affairs.  Lehenga saree is the call of our when you are attending any conventional ceremony, wedding events or celebrating Diwali or Navratri. This right pick adds glamour to your overall look.
This artistic fad has given a passe' to the 9-yard typical drapings and blended the age-old saree into a convenient readymade drape with fixed pleats. The best part of lehenga saree is the fashion is rich in embroidery, zari, beadwork, cut-dana work and stonework with heavy embellishments. The design gives an ideal outfit to wear less heavy attire than lehenga and a little more than simple saree on traditional occasions.
We have enlisted the latest hassle-free dressing relatively easy than the traditional sarees for the fashion ladies in the wide range of design and patterns. Have a look at the latest designs available with us!
1. Wedding Collection Lehenga Saree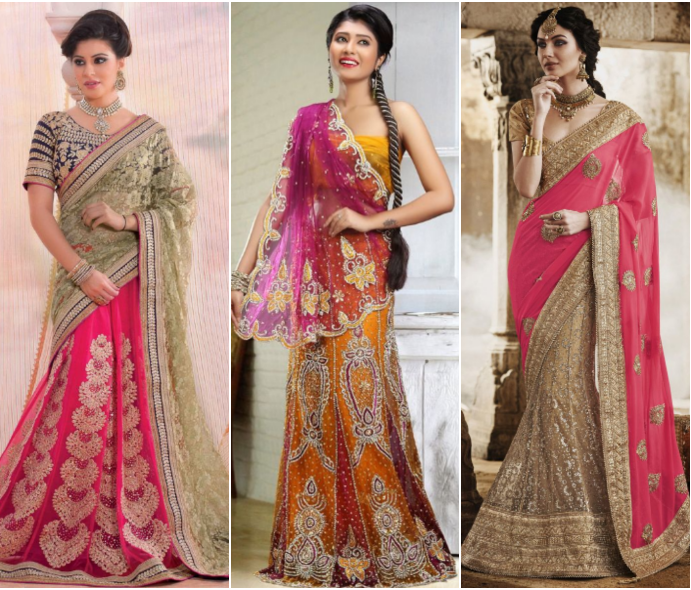 Wedding Lehenga Saree drapings are made on delicate fabrics like satin, silk brocade or net. The bottom of the saree is fully sequined with zari and thread work. Paired with the beautiful neck cut blouse and elegant net or chiffon pallu having laced border. The unique traditional piece can be worn with ravishing accessories for the reception party.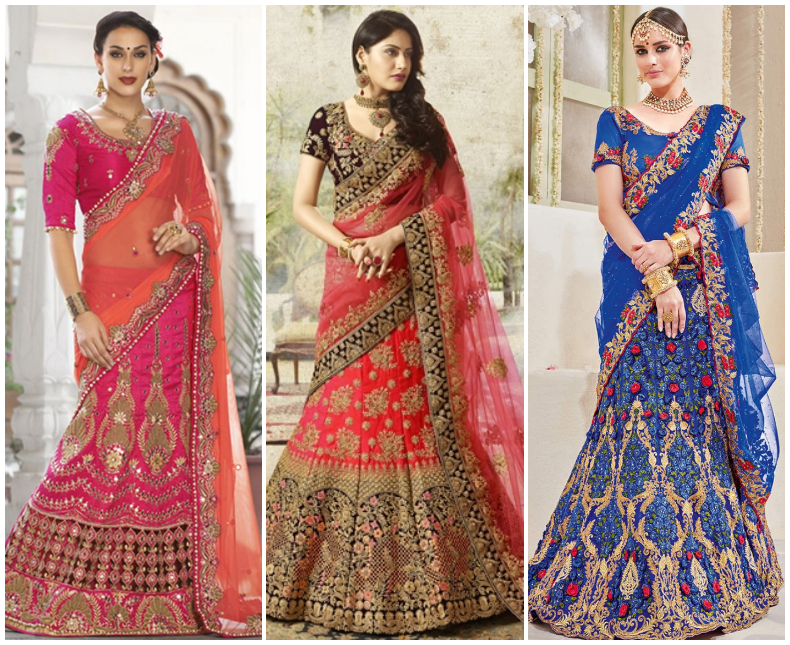 2. Embroidered Lehenga Saree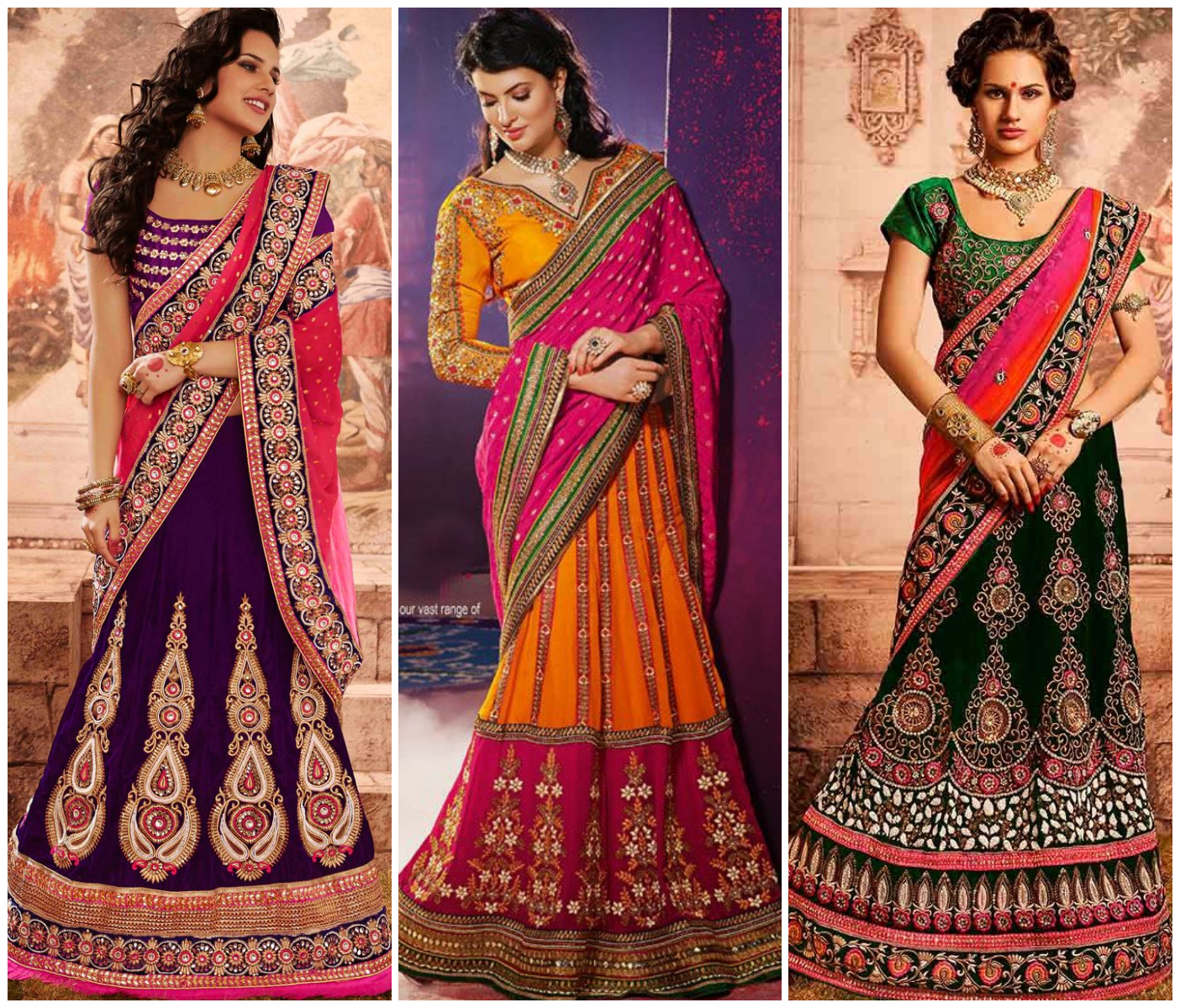 Heavily embroidered lehenga sarees are made by skilled professionals on sophisticated machines. The eye-catching color combinations of thread modified on different fabrics blossoms. These sarees are preferred for a traditional look at engagement or wedding of friends or cousins.
3. Designer Lehenga Saree

The wide range of latest designer lehenga sarees designed in a premium quality fabric is easily available online these days. The patterns adhered to dazzling look are fabricated on basically net fabric with silver, gold or multi-colored motifs. Designer blend Dhupion lehenga framed with patchwork also looks scrumptious to wear on party, events, festivals, and weddings.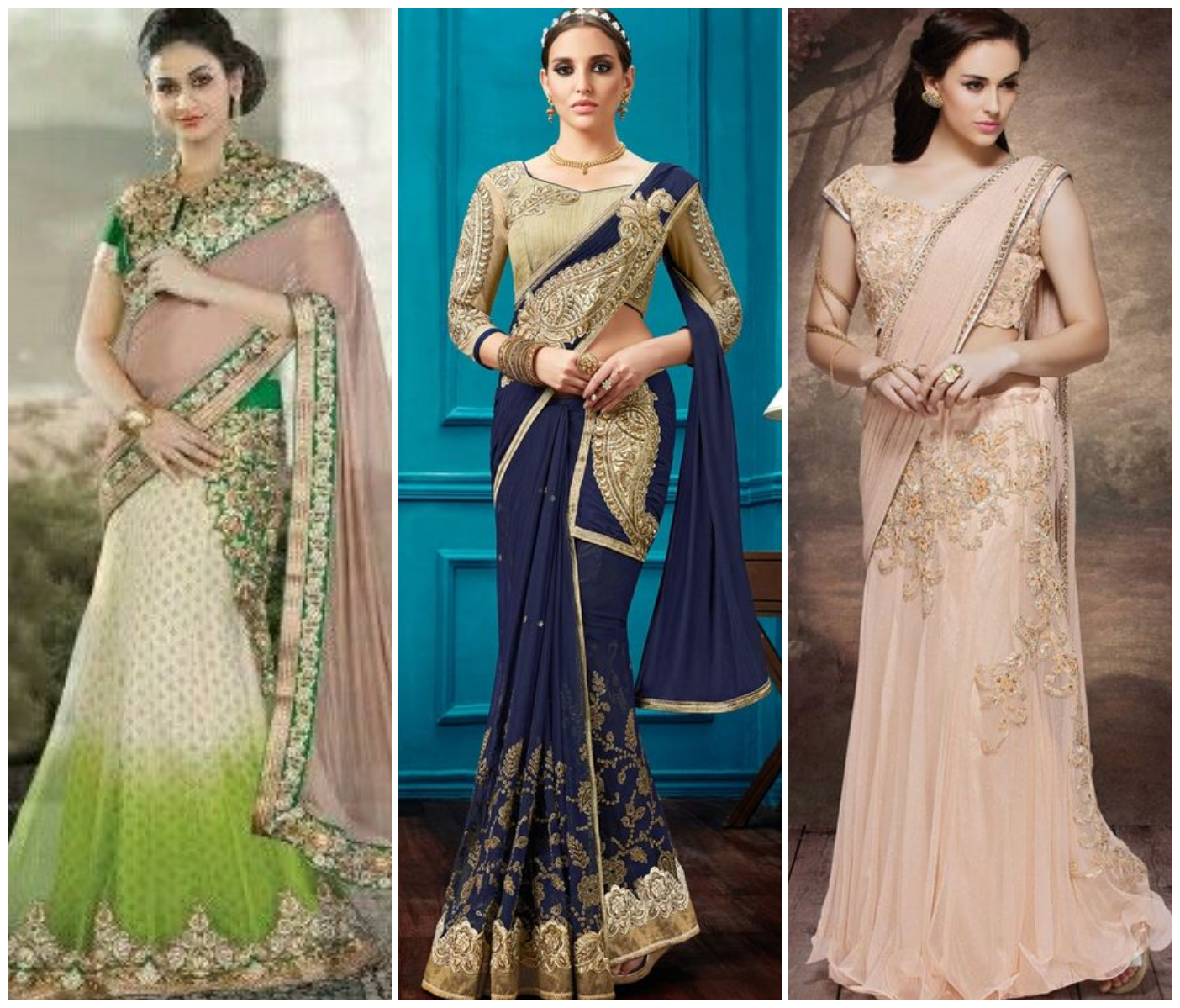 4. Half And Half Lehenga Saree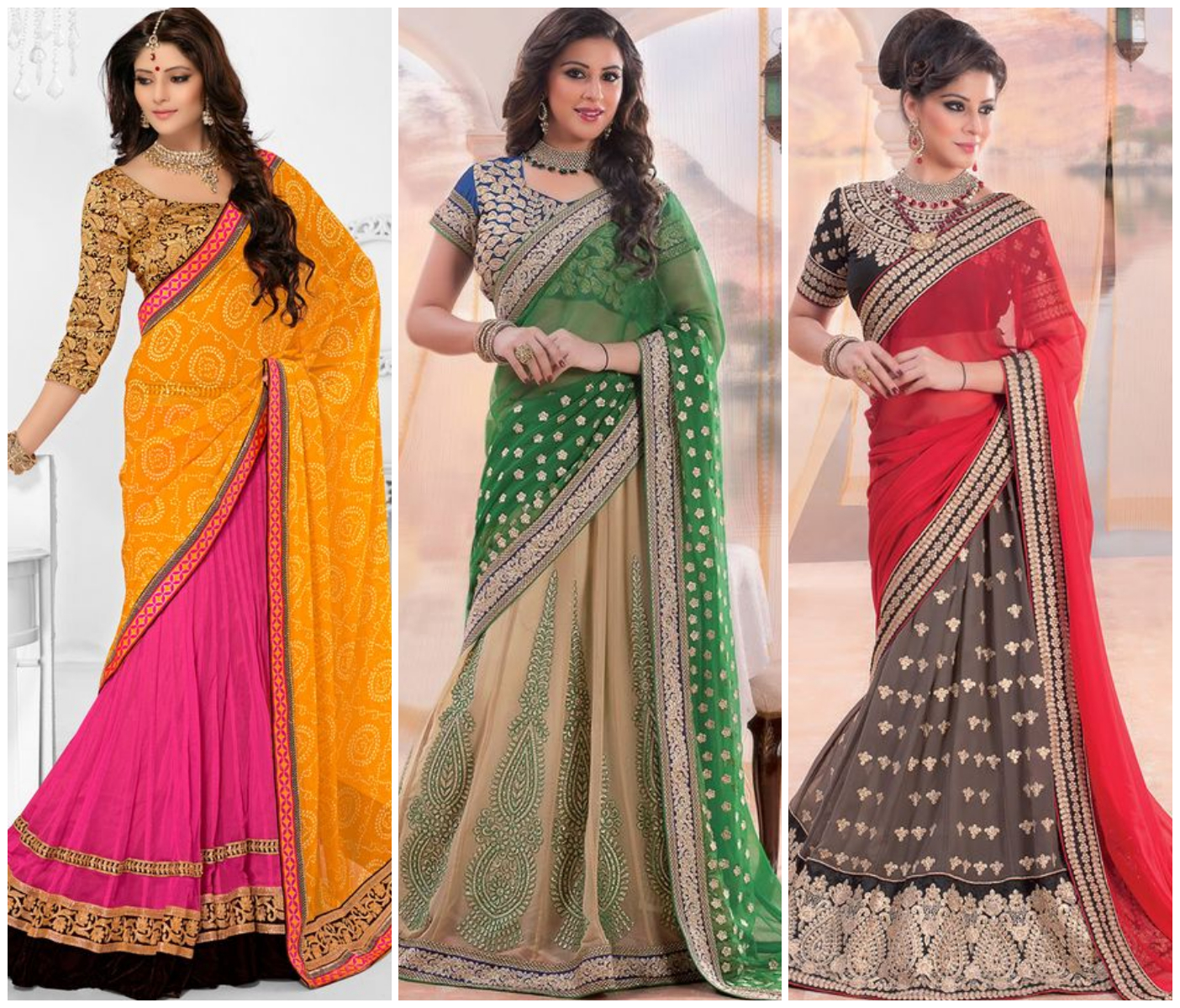 For the conventional fashionista half and half patterned designer lehenga saree is a great choice. These are two-toned sarees flared with different color and Palu of different mix matched elegantly. The lehenga may be flanked with prints or embroidery "Jaal" or any unique style. To make the look of lehenga luxurious the helm is given with broad embroidered border or elaborated with gotta work. Accentuate your look with delicate ornaments to make it the best outfit for festivals.
5. Net Lehenga Saree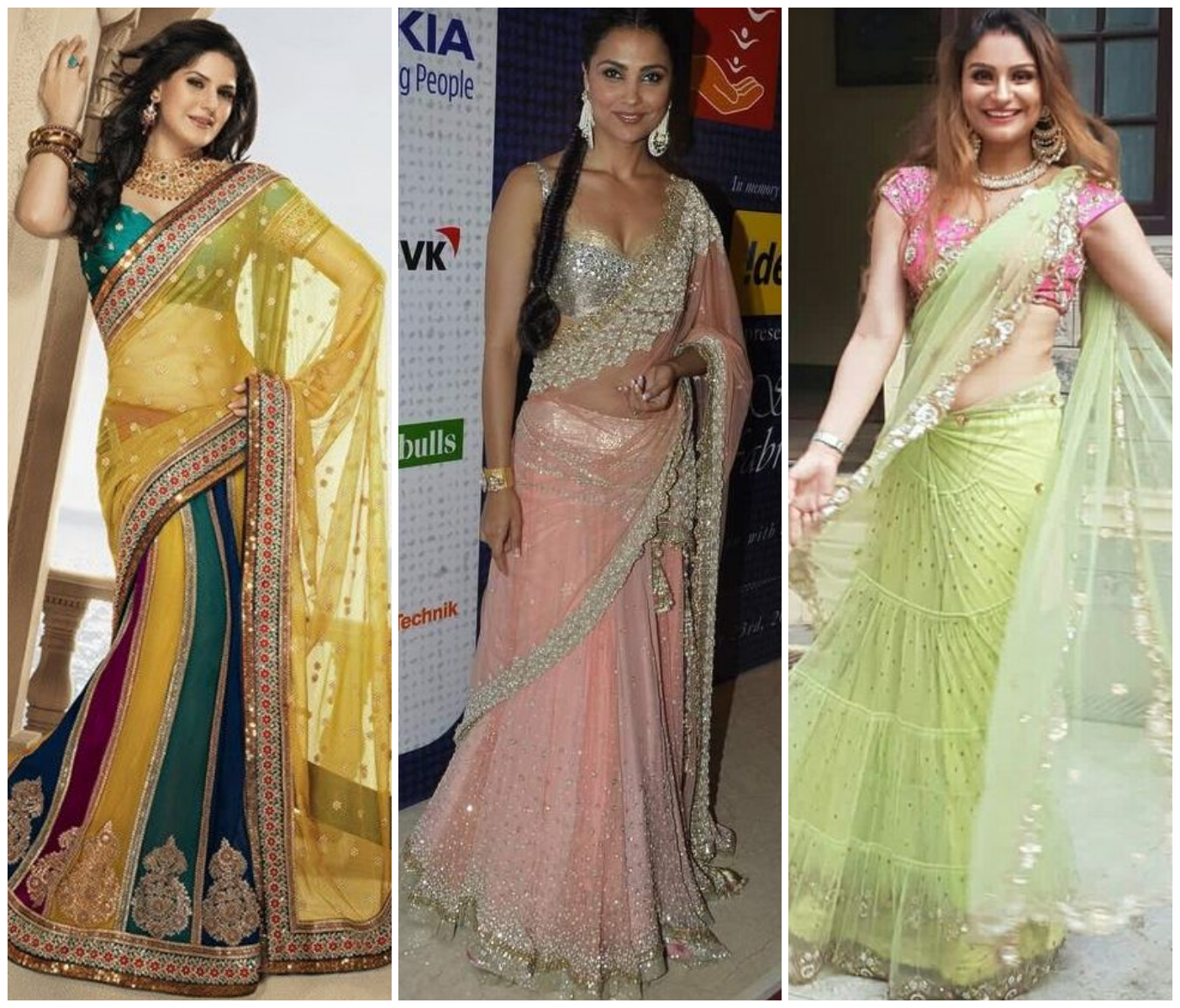 Net lehenga saree with satin base is comfortable to wear on cultural ceremonies. The Lehenga saree is modified with colors, embroidery, and sequins for a delicate look. Net attire enhanced with poly Shantoon lining underneath designed with resham, zari, glitter work, Dori and patch border looks stunning. The striking lehenga teamed with a sexy blouse gives you a new look on the festive eve.

6. Traditional Lehenga Saree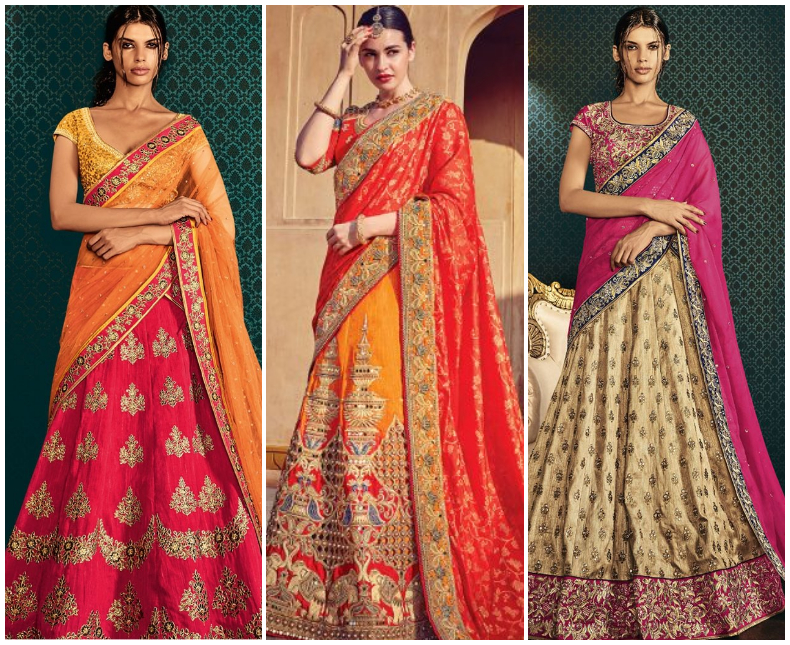 In the prevailing fashion trends, traditional lehenga sarees have their place. The cultural motifs are designed on quality fabric with the latest technique. The sarees are elegantly designed with the fusion of beautiful colors to enhance the beauty of the wearer. You can wear these striking patterns on Rakhi, Karva chauth, Diwali or any Pooja ceremony at home.
7. Chiffon Lehenga Saree

The exclusive spectrum of chiffon lehenga saree envoys every fashion loving women.  The good quality chiffon is given a satin or glace cotton base underneath to give strength to stitch and to add grace to the motif. The exclusive designs are crafted on the lehenga saree with zari, thread, beads or pearls. Sometimes the helms of lehenga are given broad borders for a rich look. Chiffon sarees are loved to wear at festivals.
8. Brasso Lehenga Saree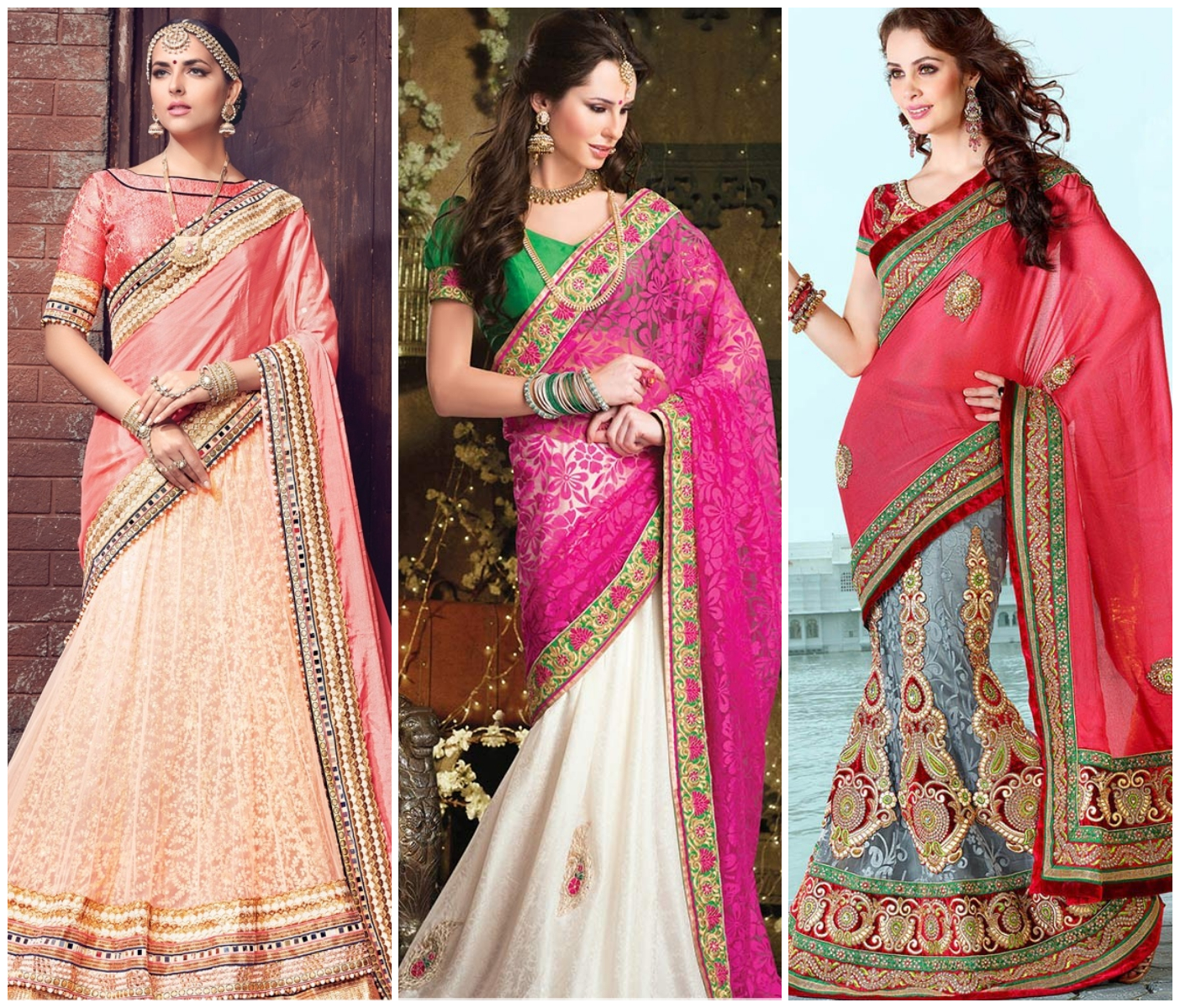 Brasso material resembles net fabric but is opaque in texture. The lehenga saree fabricated from Brasso is an ideal choice to wear at parties. The sober Brasso saree with light work of flowers or butti all over and helm of lehenga elaborated with gotta or brocade lace give the outfit a traditional look. Modern day brides chose these kinds of lightweight fabric outfit for normal festivals and poojas.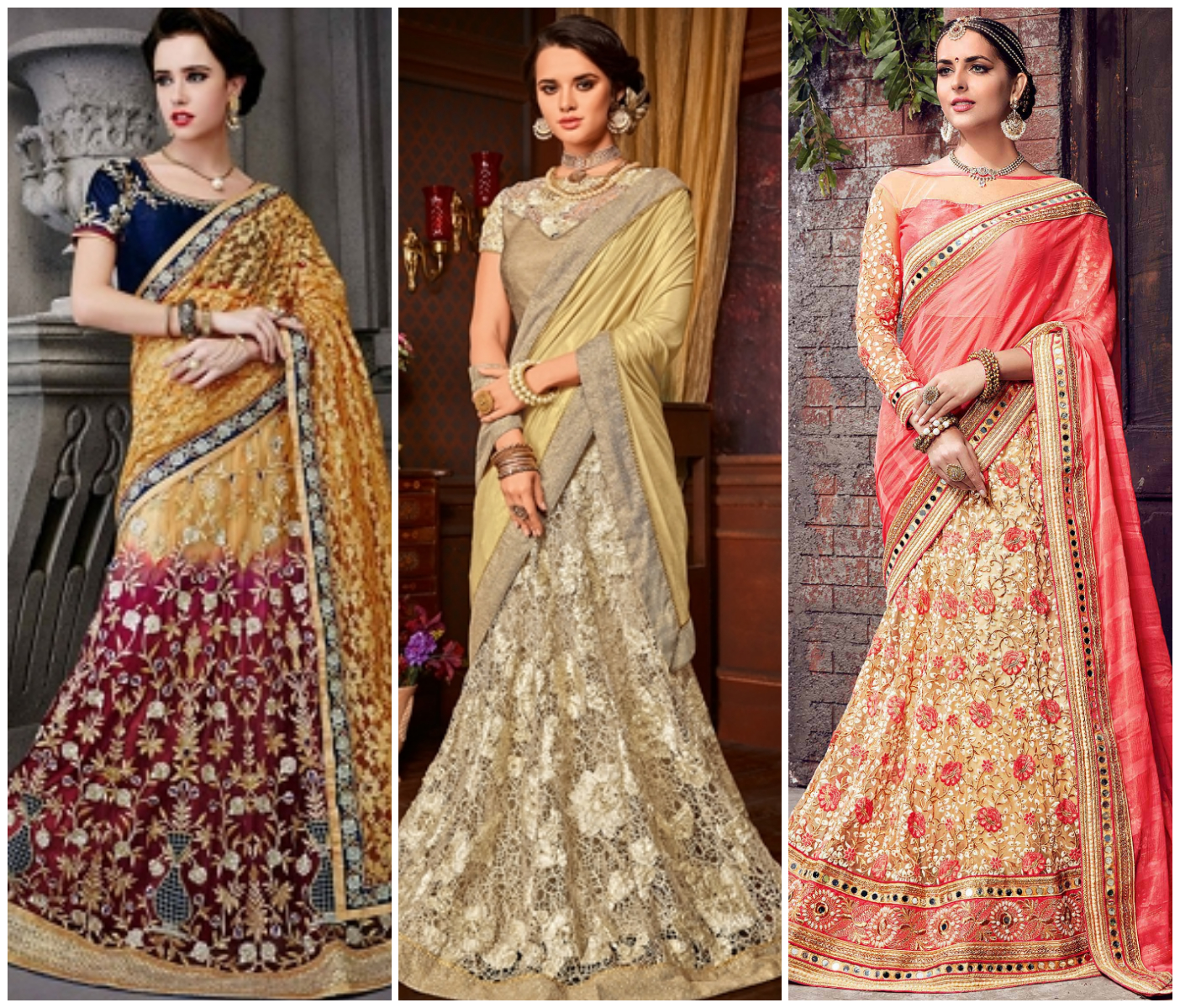 9. Silk Lehenga Saree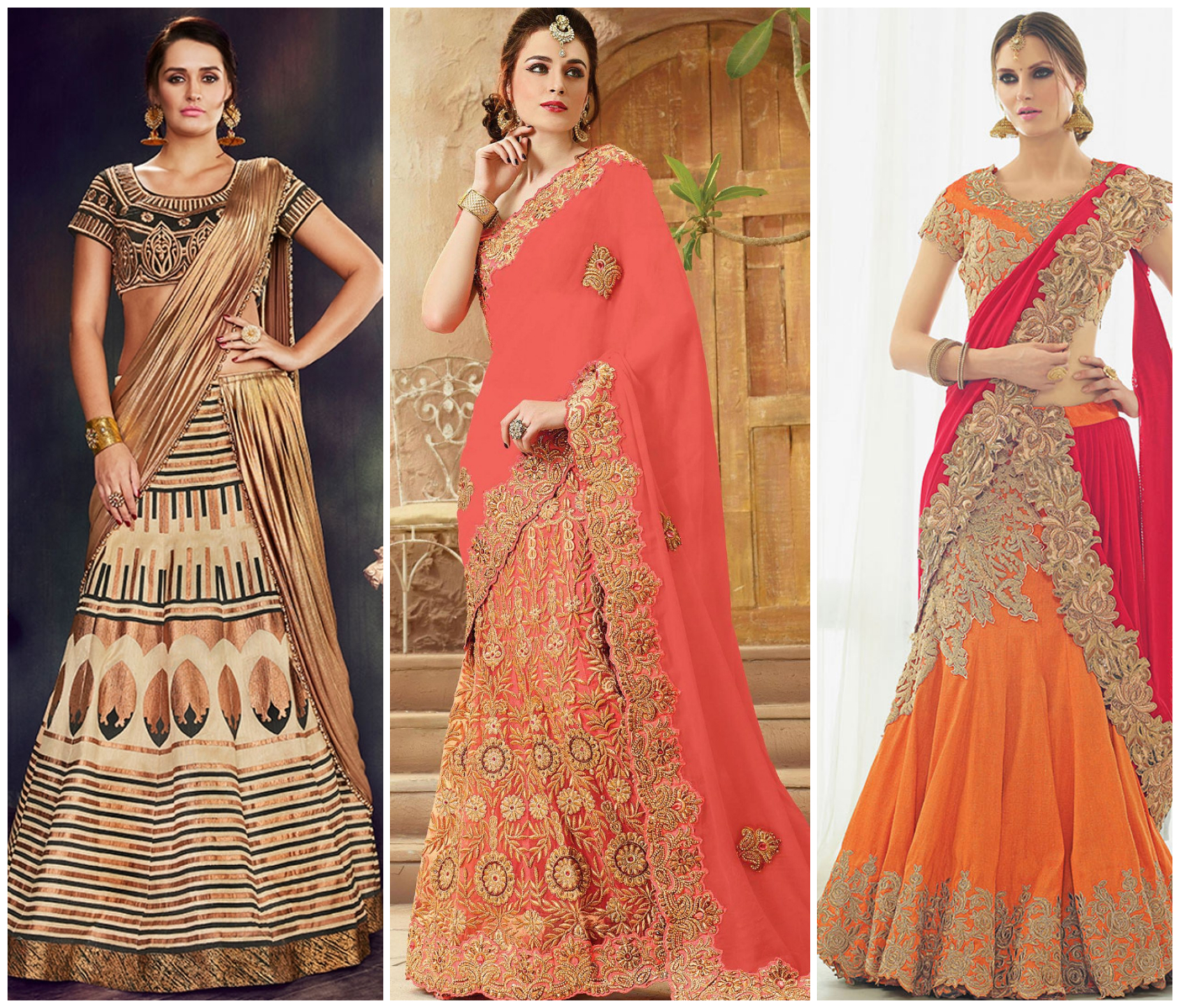 Art silk Lehenga style saree with satin lining underneath enhanced with zari, resham, stone, beads, and sequins, beaded lace or patchwork makes the piece an eye-catcher drapes. Team the elegant lehenga drape with a fuchsia silk blouse with a nice cut neck for a stunning look. The customized traditional design patterned lehengas are loved by women to wear on festive and parties.

10. Dupion Silk Lehenga Saree
Beautiful skirt in all the ethnic way elaborated with a sequined pallu gives a rich look to this outfit. The skirt of lehenga saree may be designed out of plain dupion silk fabric with self-print or decorated with thread work motifs and kundan work. The look of dupion silk lehenga saree is glamorous and reveals the story how sarees have hugely experimented in the world of fashion.
11. Partry Wear Lehenga Saree

Designers with creative approach have upgraded the style of lehenga saree to the new level filled with royalty and elegance. Lehenga sarees in tight fit give a perfect mermaid style outlook. These lehengas are decorated with some applique work and motifs of beads, kundan, pearls, thread or zari work. The helm of lehenga can be sequined or enhanced with broad lace and pallu can be finely elaborated with cutwork embellishments to give the lehenga saree an ideal look for parties.
While you have browsed our latest collection of designer lehenga sarees did our ensemble attracted you?
Do give your review in the comment section below how our collection appealed to you? And feel free to order the pattern you are liking to get into!