Are you getting married soon? Then firstly our team congratulate you on starting the new journey on the roads of the wedding with the expression of elation onto the path filled with joy, happiness, and love. And if you searching the Pre-wedding Photoshoot Ideas then we here come up with the most approaching Amazing and Romantic Pre-Wedding Photography.
You have never imagined these most creative ideas and props for your pre-wedding shoot. As you all know that before 4-5 years we all were unaware of the pre-wedding shoot. What was it? No one knows about this. But now the generation has changed. Youth is spending a huge time and money with lots of interest to make their love chemistry more memorable before starting the new chapter of life.
pre-wedding photoshoot helps best to the couple to know each other(especially in the case of arranged marriage) and spent some fun time together. Also, to know your photographer in a very cool manner without any burden and also to get familiar with the camera before the wedding day captures.
Here check the most popular pre-wedding shoot ideas & props.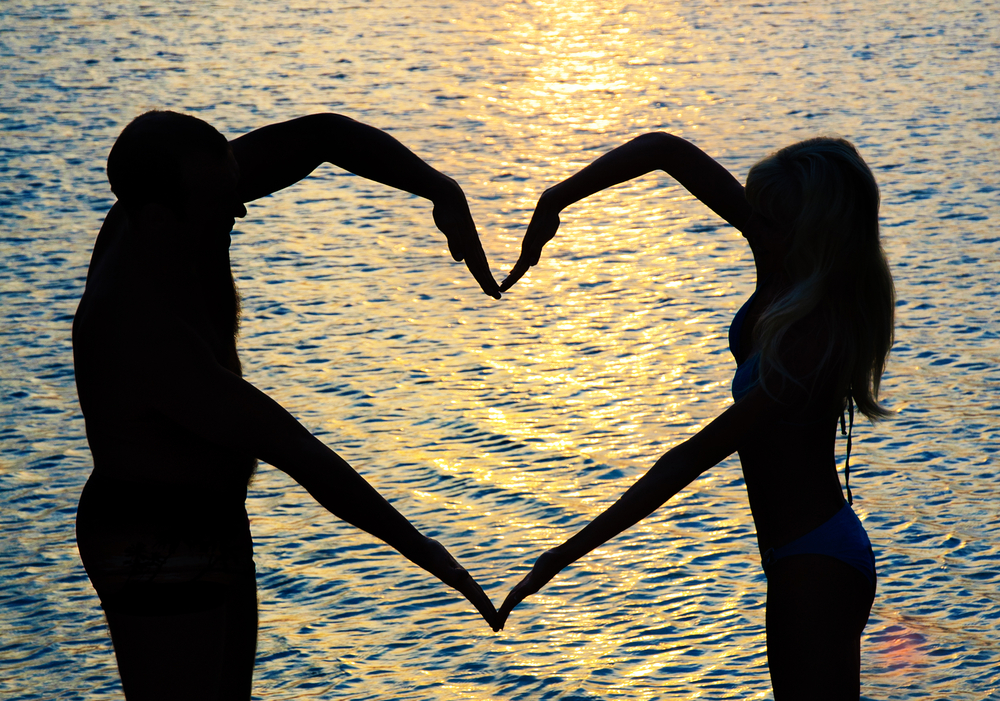 Astonishing & Eye-catching Pre-wedding Photography Poses Every Couple Should Try
Getting a wedding shoot is not as simpler as it looks. Capturing beautiful romantic moments with your love is the dream of every couple. For this, you should keep in mind your photographer has a good experience with pose guide and knows the camera skills professionally. You can also take an idea of poses through these shared images.
Now the pre-wedding shoot has become the essential part of every couple before the wedding. In spite of, exotic pre-wedding shoot locations, stylishly adorable outfits, funny and fantastic props, the best photographer is the one that will give the exclusive look to your pre-wedding photo shoot. Let's have a look:
1. Save The Date
'Save The Date' pre-wedding photo shoot idea is a great way to let your guest know about your wedding date. Besides the traditional way of invitation everyone nowadays wants a unique and perfect way to the wedding invitation. As it's not possible to send an invitation in a feasible way so it has become the latest trend to send invitation online. Also, the official invitations are sent before the 15-20 days of the wedding so you can send this invitation cards to aware the date to your friends and family before they make any another plan. Here are various pictures we are sharing for saving the date pre-wedding photography.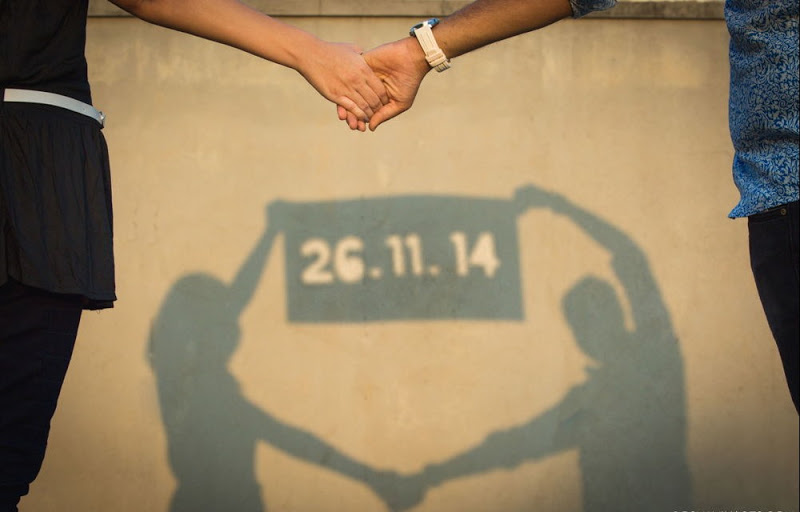 Save The Date Photoshoot Ideas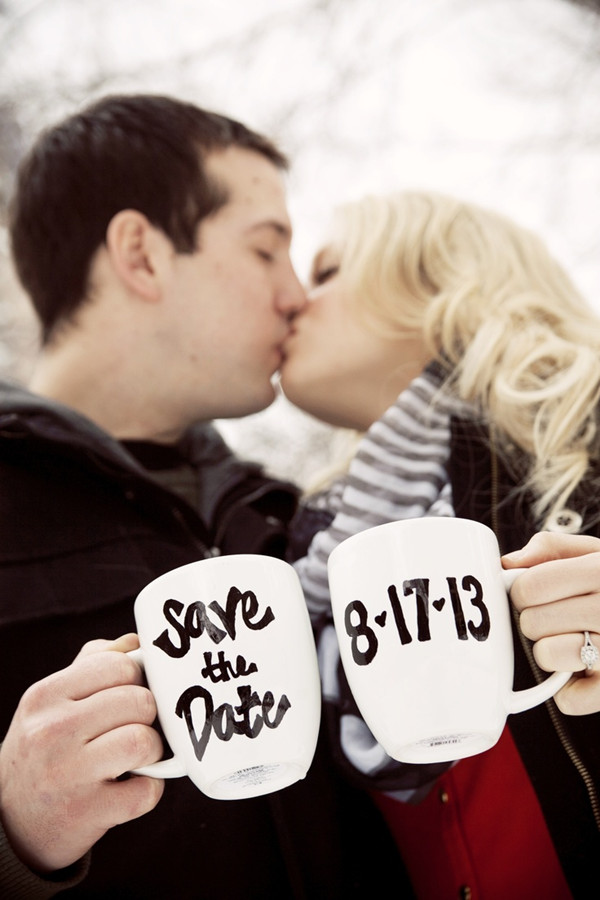 Save The Date Pictures Ideas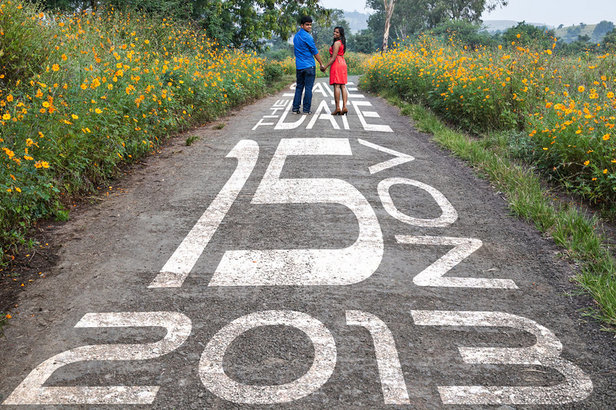 Save The Date Pre-wedding shoot Images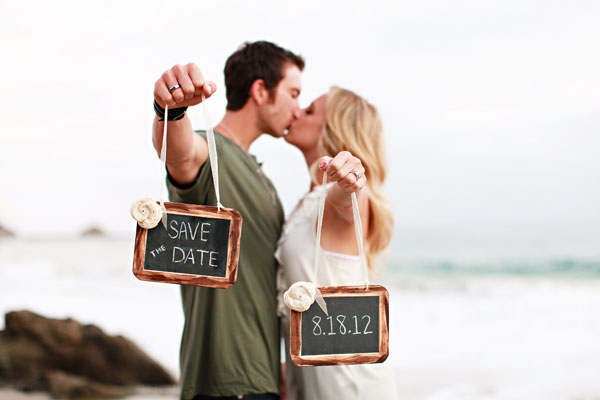 Save the date board shoot ideas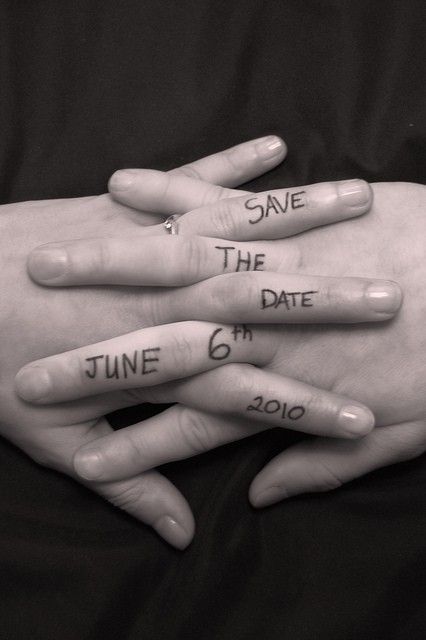 Simple Save The Date Photoshoot Pose
2. Dupatta
A picture speaks more than words, then why not add some romantic moments of expression that explain the whole emotions itself. Dupatta is the most sensual prop used in the pre-wedding photography. It's the unique, interesting and loving idea to add some wonderful moments in the photography shoot.
Many of the scenes can add the special effect to pre-wedding photographs while the Dupatta. Divyanka Tripathi style couple under the red net dupatta is nowadays are the one that is most popular. You can also capture the picture girls flying dupatta in the air in front of boys car. Some of us we have shared here in the picture collage.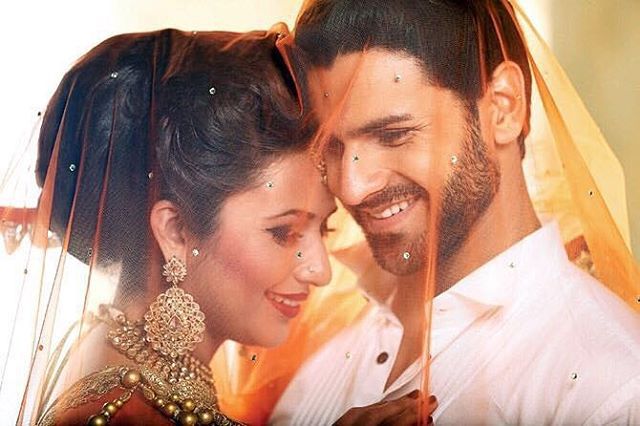 Pre-wedding shoot with Dupatta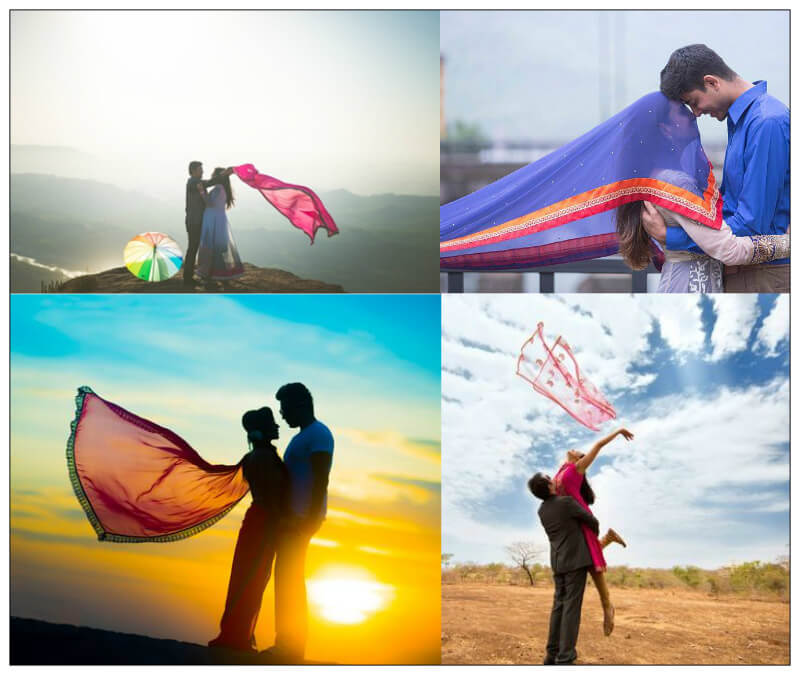 Pre-wedding shoot poses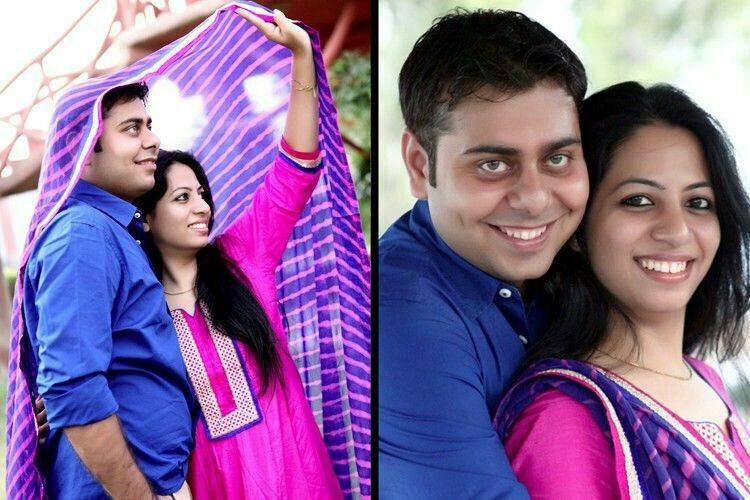 Wedding Photography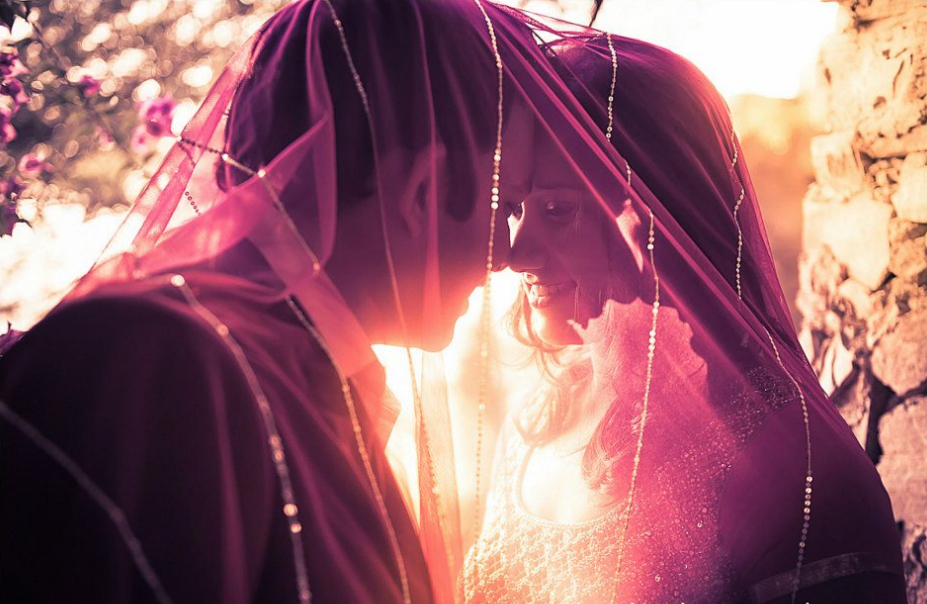 3. Balloons
The gorgeous couple can have fun with the balloons at some romantic locations or on the beach side. Balloons are always an amazing prop for the pre-wedding photography sessions. With jumbo size balloons, you can make many poses including friends also or only the couple. Also, balloons are available in various sizes, shapes, printed or pain. Heart shape balloons are best one to capture proposal shoot photographs.
You can also order the balloons on your shoot locations directly through many online balloons providers as they will not fit in your car!
Balloons can add a bewildering expression to your photographs if they are used properly. You can also make balloons as the save the date concept prop just by writing your wedding date by the marker. Imagine you are again a kid and have fun with the colourful balloons.
Pre-wedding Props For Wedding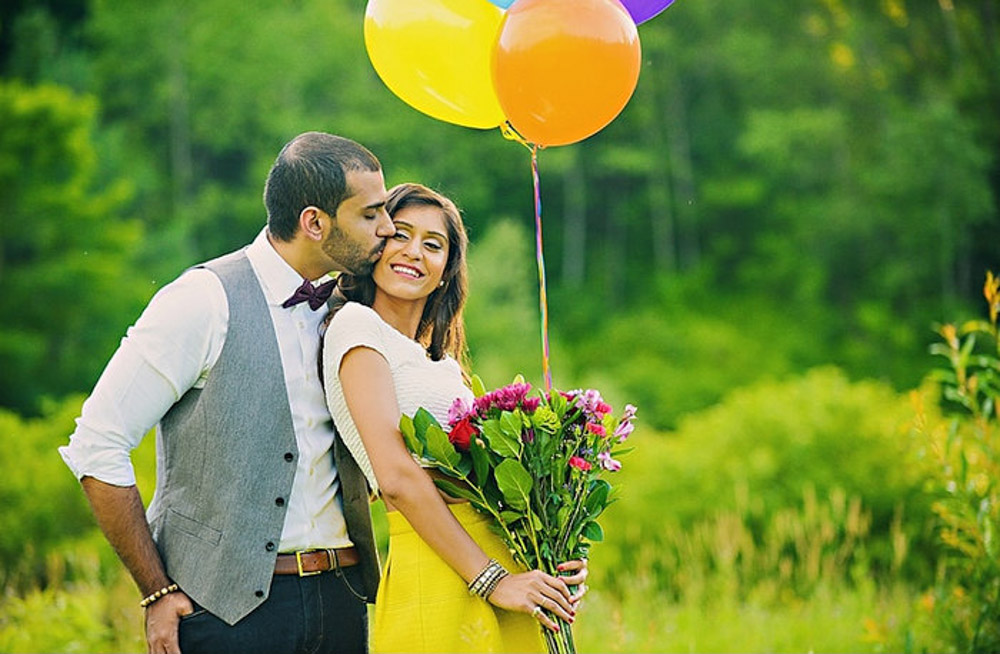 Pre-wedding shoot themes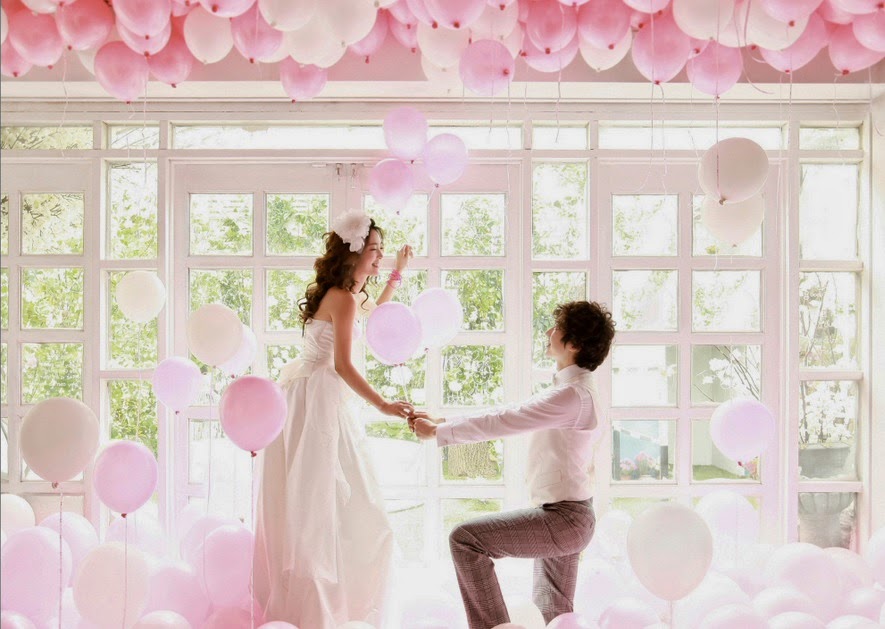 Indian Pre-wedding Photoshoot Ideas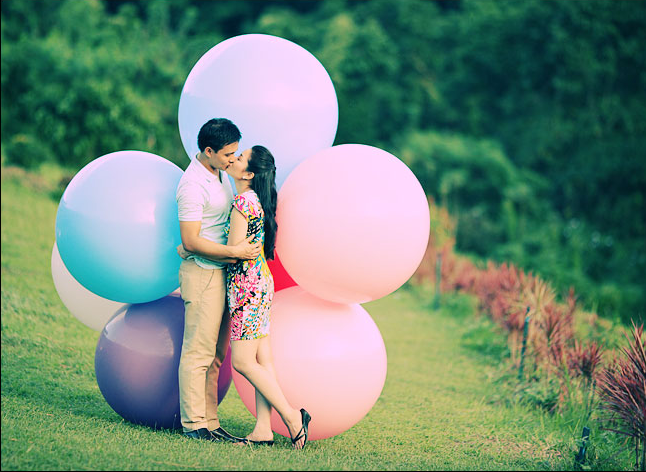 Pre-wedding shoot Themes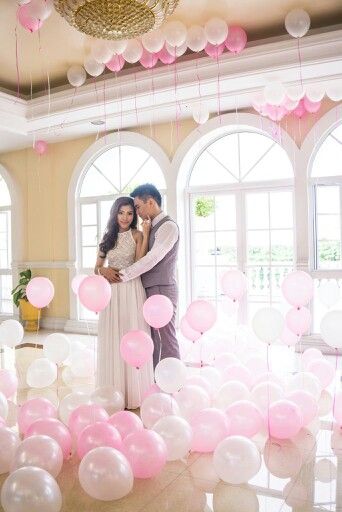 4. Bubbles
Either this prop you will consider as one of the cheapest props but this will recall your childhood memories and give an elegant and dreamy effect to your wedding. It is guaranteed that you will blast so much fun with these bubbles. Ask your photographer if they can arrange the big one and pose for someone else is blowing bubbles on you or this little one also looks cute as you have fun with this yourself.
You can easily find this bubble stand in any toy shop. Easily available at any play or stationary stores.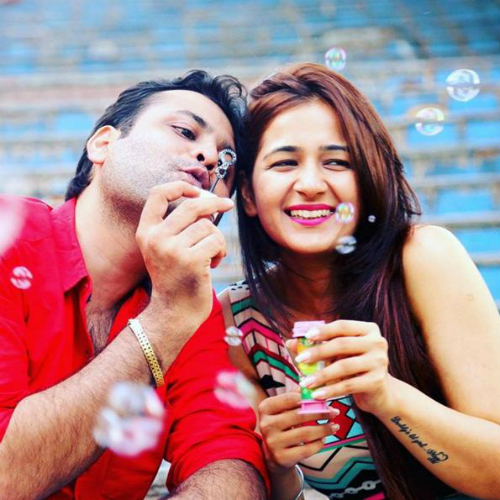 Pre-wedding Props DIY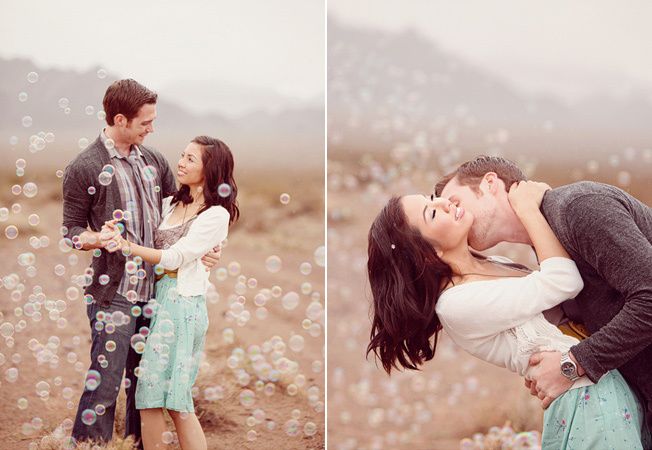 5. Colours
This will add really fun and lots of colours to your pictures. If your photographer is skilled and experienced then this shoot looks amazing otherwise there are chances to get messed with your dress. Colours will add the drama to your pictures and Holi colours are best for this. Add this prop in the last of your wedding shoot, if you don't want to look colourful for the rest of the pictures.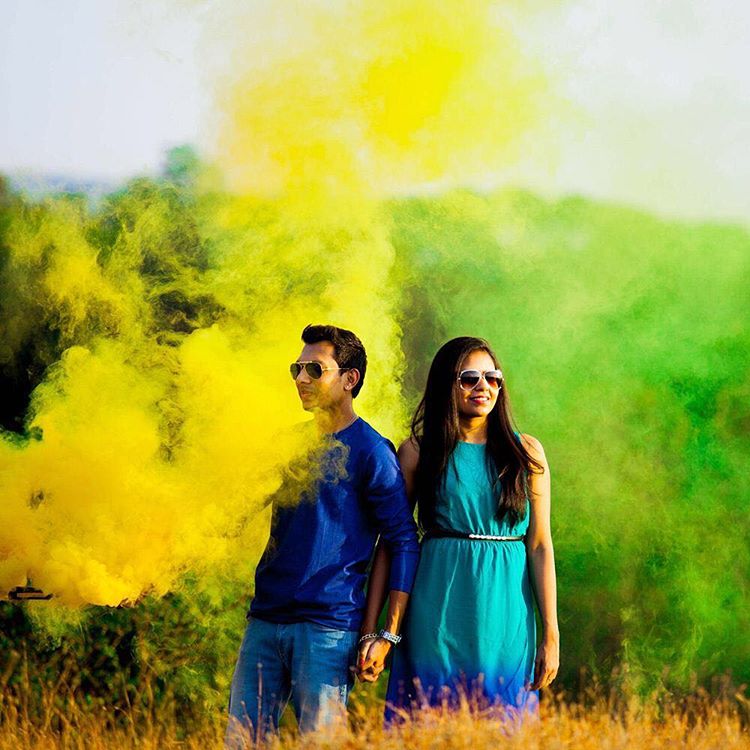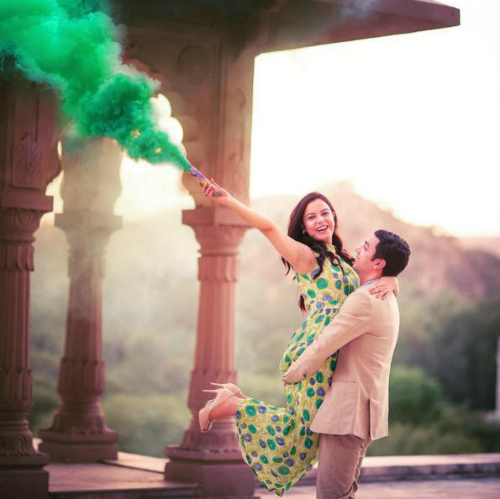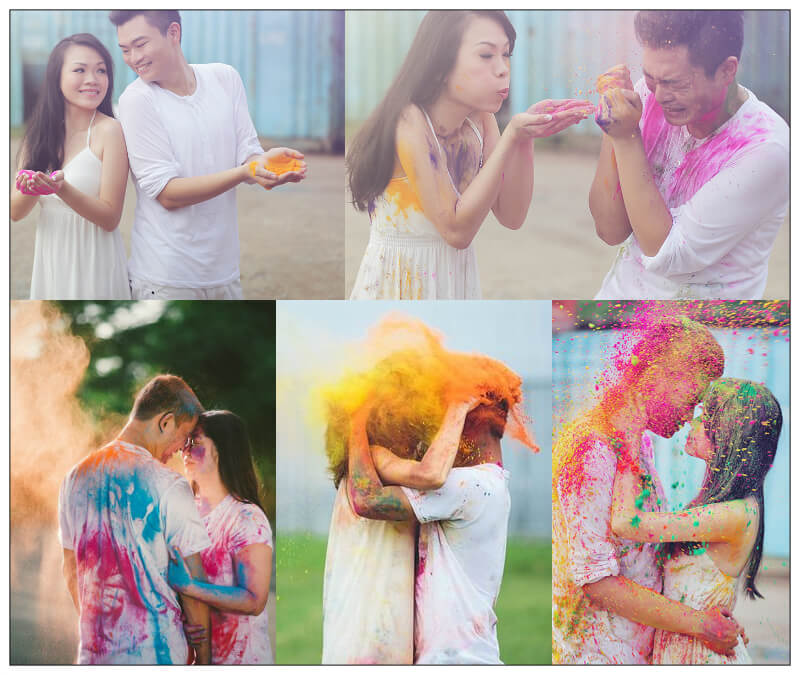 6. Exotic Locations
Exotic locations add the extra values the to overall look of the pictures. Locations always complement the pictures. As some locations look awesome at a certain time so you can ask your photographer to freeze that moment in your photos. Mountains, old forts, natural places are the most of the couple's favourite places for the pre-wedding photo shoot. You can also opt the old buildings, railway tracks or museum, cafe and any restaurant etc.
If you are doing your shoot by an experience well professional photographer then you can be a little less worried or the timings, as their camera is all enough to capture the exact moments.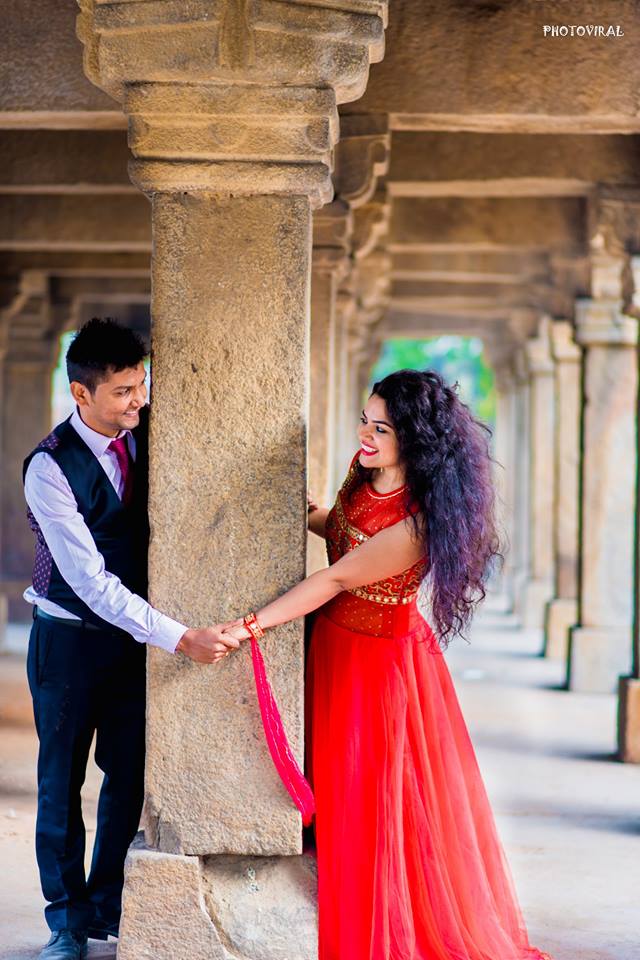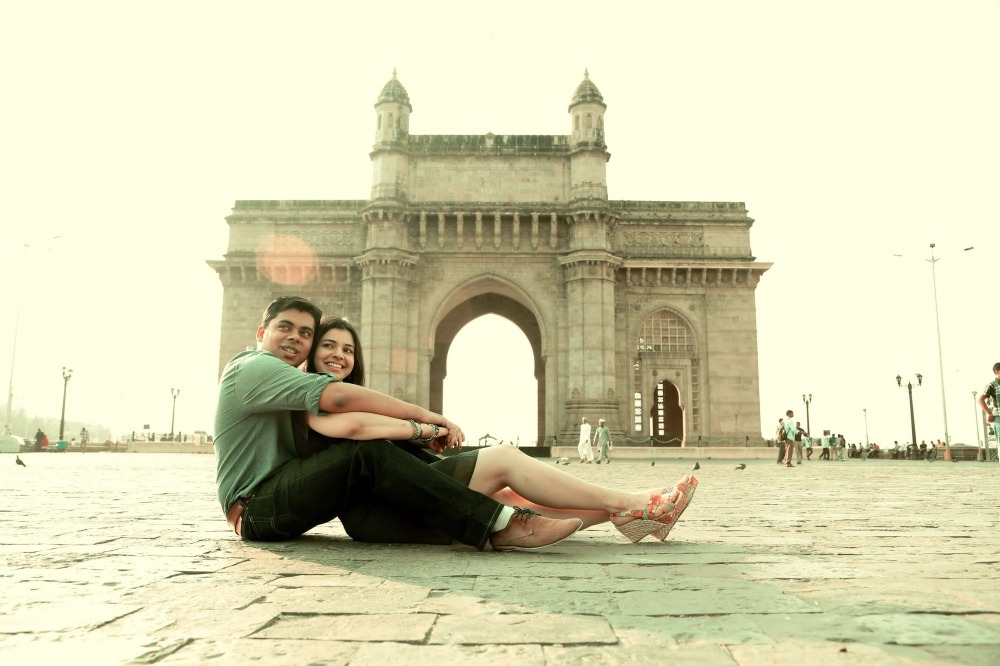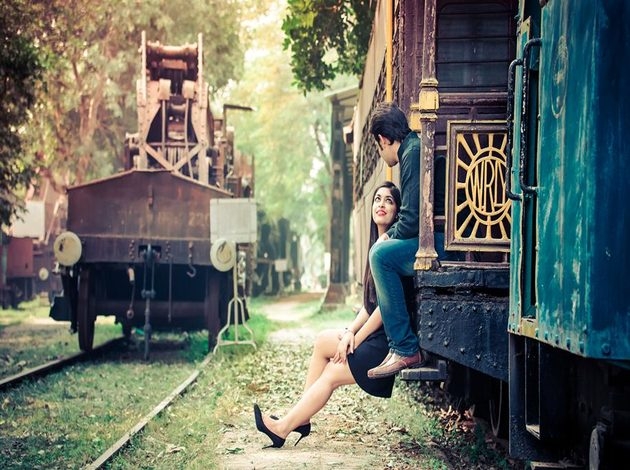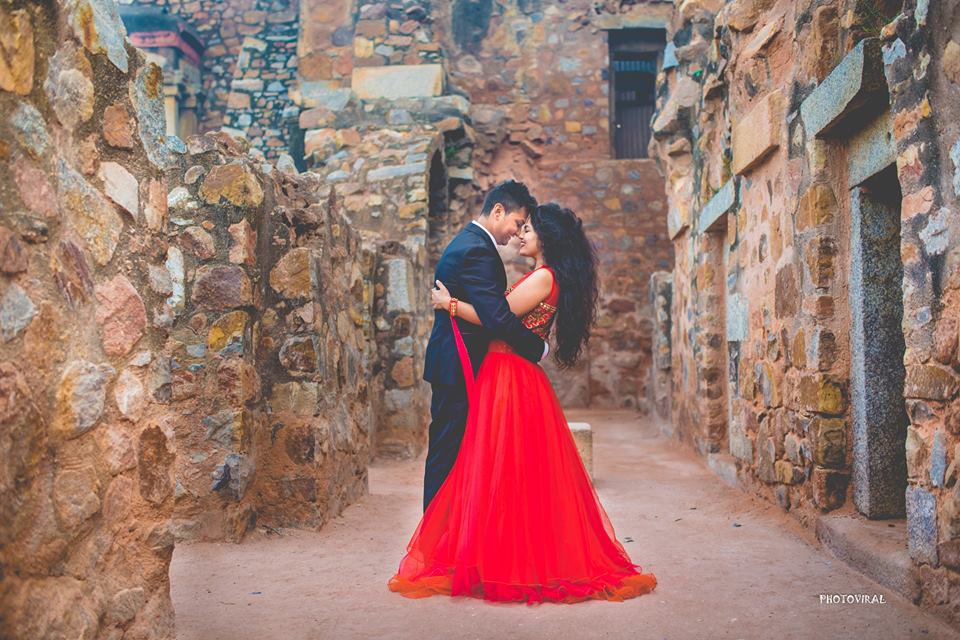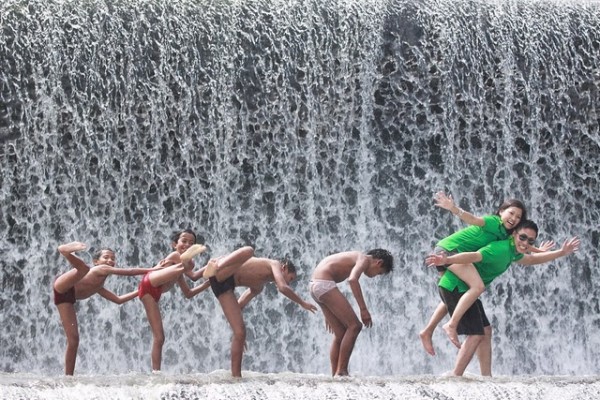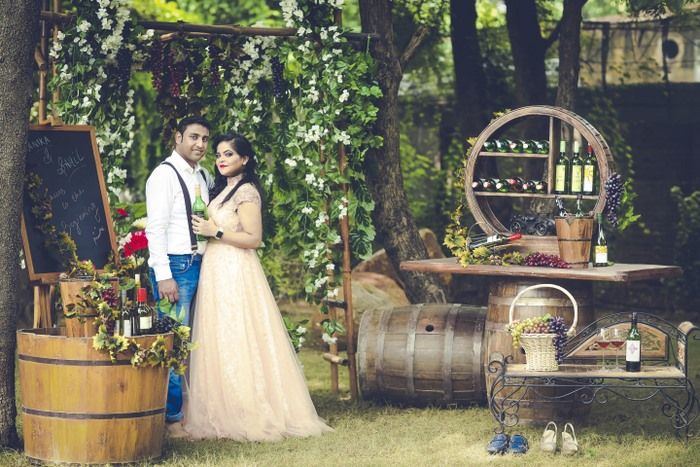 7. Historical Palaces
India is blessed with the beautiful historical places all around that provides the romantic backgrounds during the pre-wedding shoot. Either you talk about Rajasthan, South India or Mumbai or Goa every city has adorable scenic places and incredible architecture. These places will enhance the beauty of couple.
Taj Mahal is one of the most favourites places to couple to pose in front of the symbol of Love for the pre-wedding shoot and who says that Forts only can be seen in history books, they look amazing in the pre-wedding shoots also.
Chanakyapuri National Rail Museum also gives a perfect modern look to the couple with the amazing backdrops of trains. This is the best and affordable pre-wedding shoot place.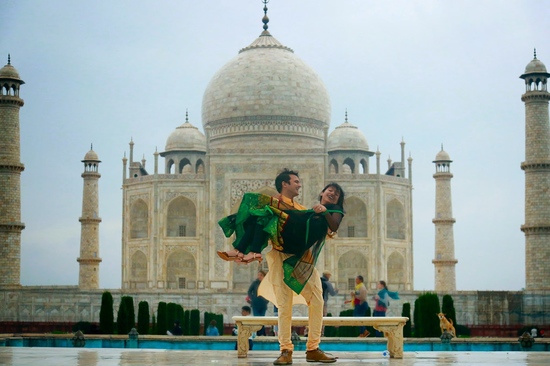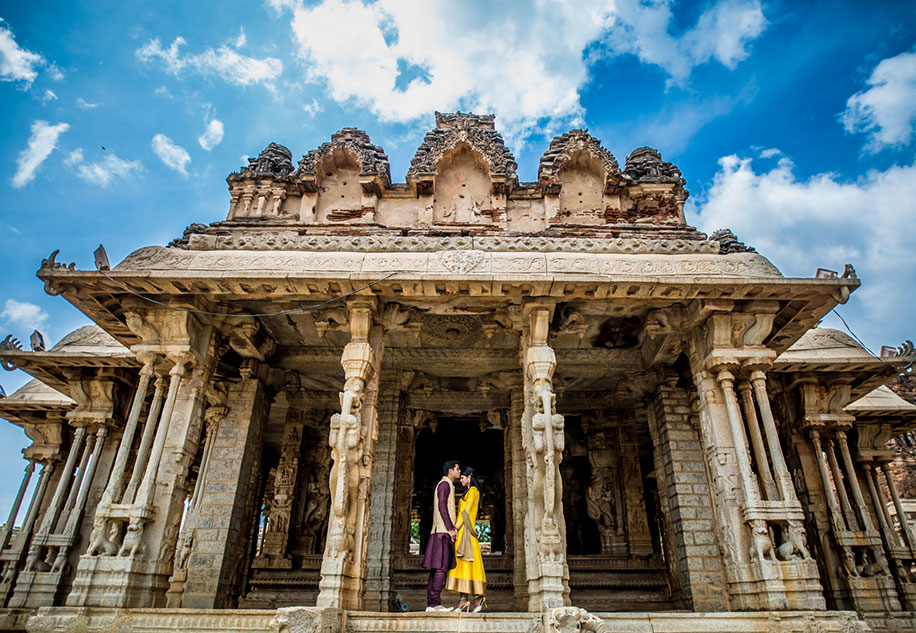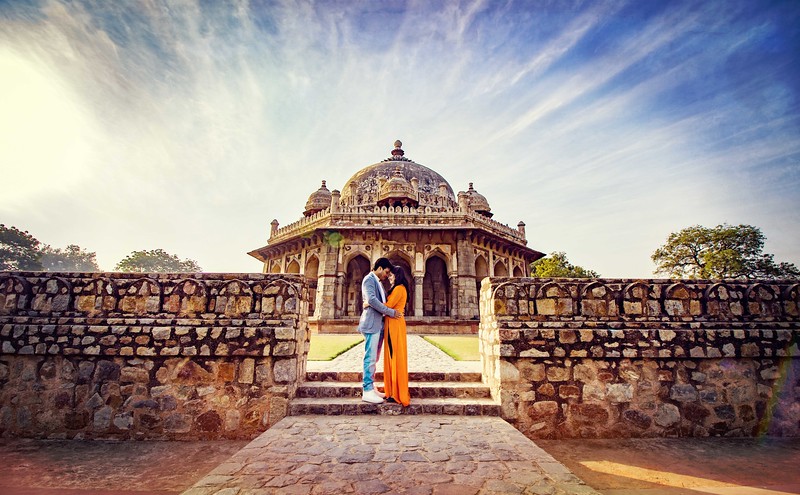 8. Funny Frames
Everyone gets only one chance for the pre-wedding shoot so let's make it more memorable adding some beautiful, antique or funny frames that reflect the bonding between the couple. And also you will have a lot of fun while using these frames to fit into them.
You can hang these frames at your favourite locations and take a lovely shoot. If you are a party animal then these frames you can also use for your party shoots also.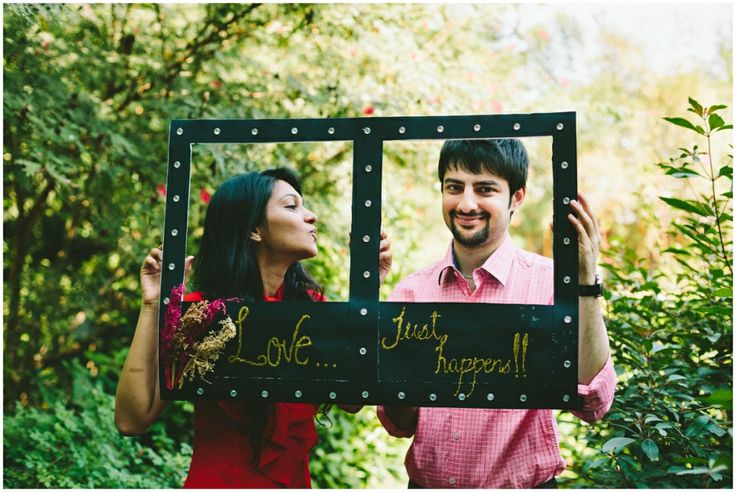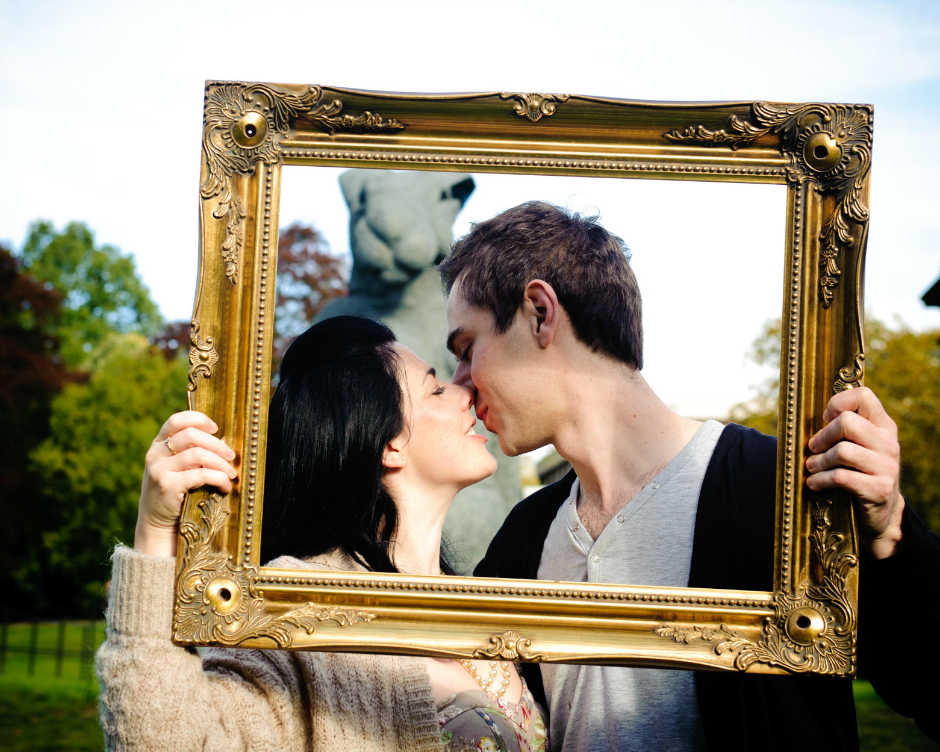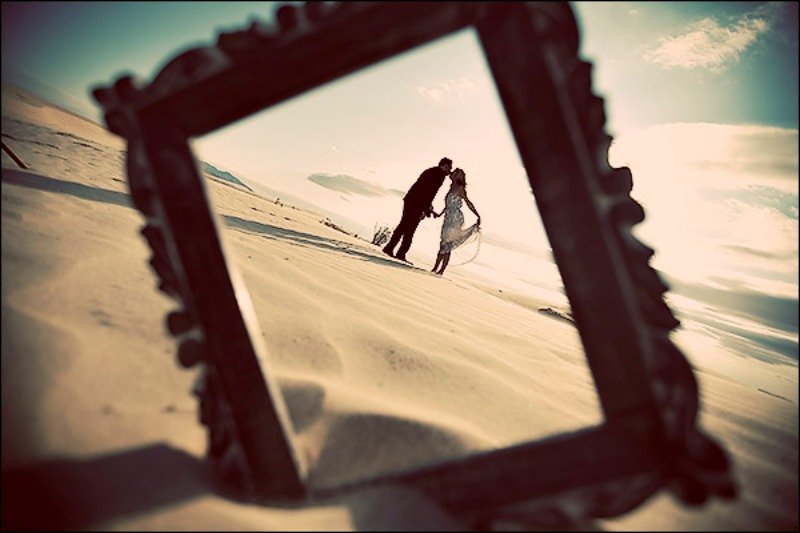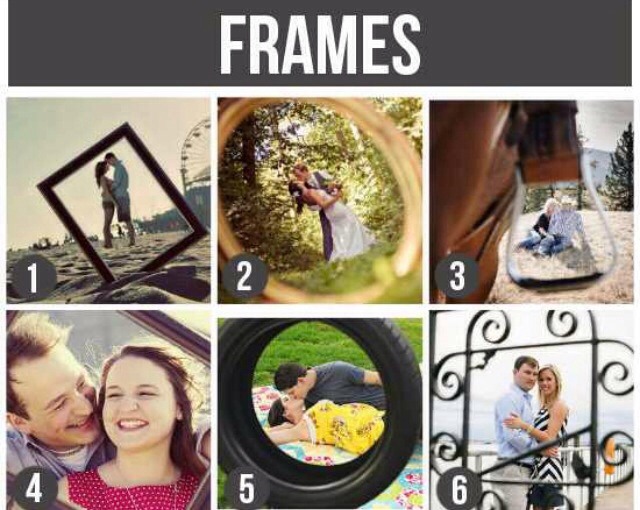 9. Engagement Rings
Rings come in one of the favourite poses of wedding or engagement photography styles. As rings symbolize the love between the couple. In India, it is one tradition of wedding ceremonies but in another country exchanging rings are the complete wedding ceremony.
Rings in hands are the classic pose for old photographers but now you can add more adventure with your creative mind and blooming ideas to give the more glamorous look to this all-time favourite photography pose.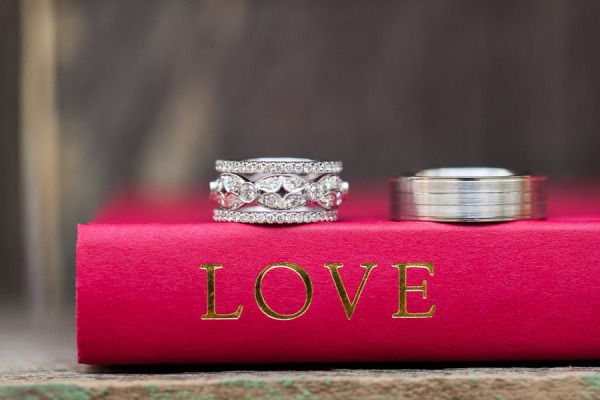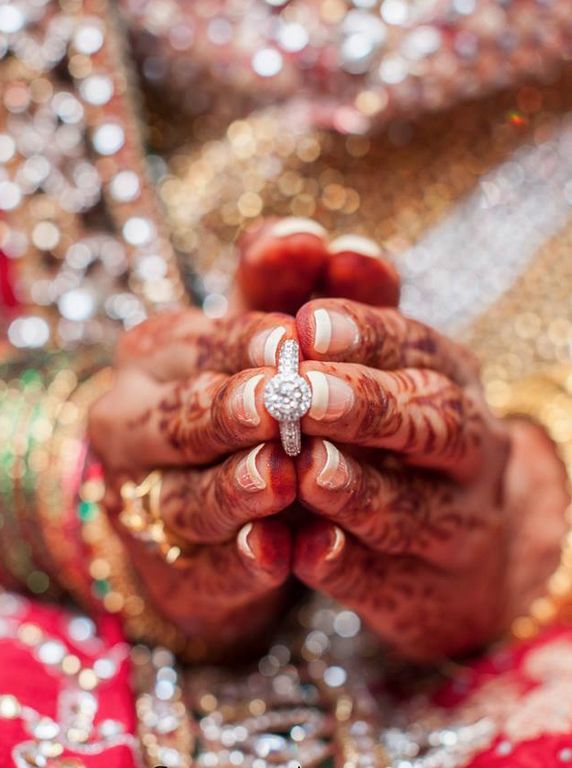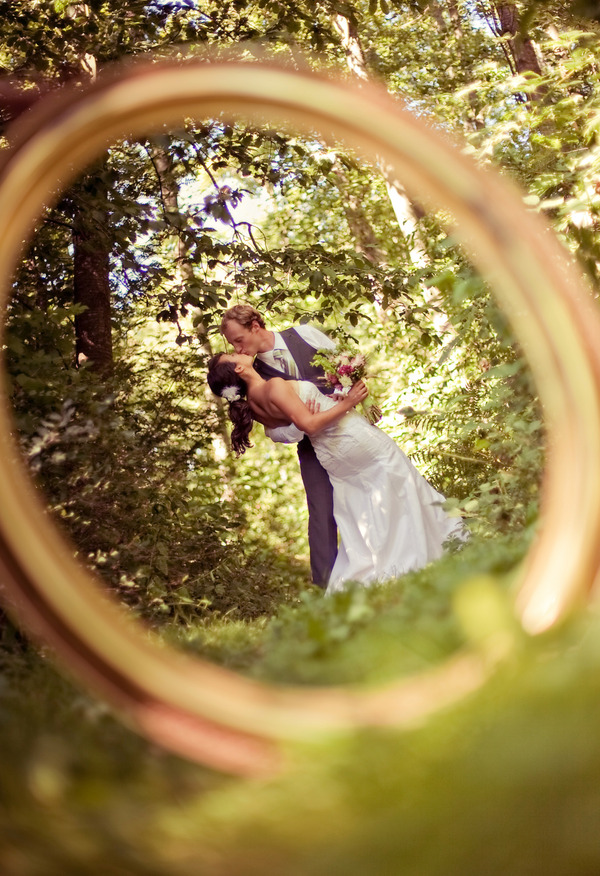 10. Quirky Captions
This pre-wedding shoot will not only extend the size of your wedding album but will give you the best memorable moments in your love life, either you are doing arrange marriage or love.
These quirky and funny captions will enhance the fun to your shoot. You can take either the printed captions on board or you can take them as handwritten or on the chalkboards or the customized designed on cards. If you choose a paper written or the chalkboard style then you can choose as many as you want and this pictures will really have no words to define.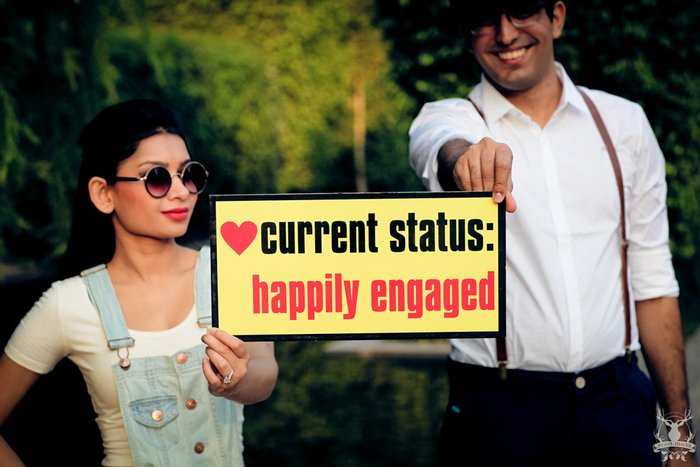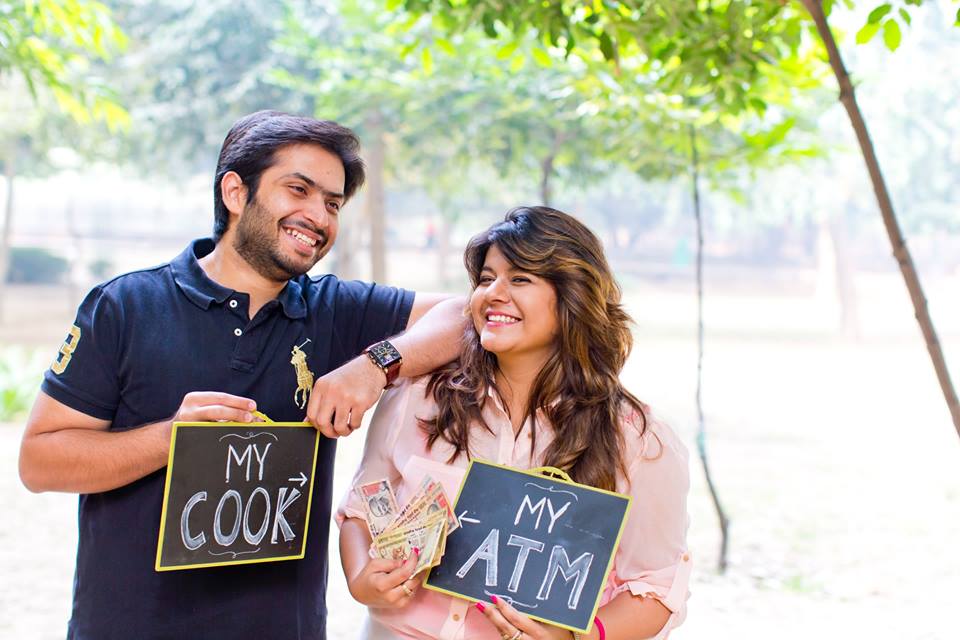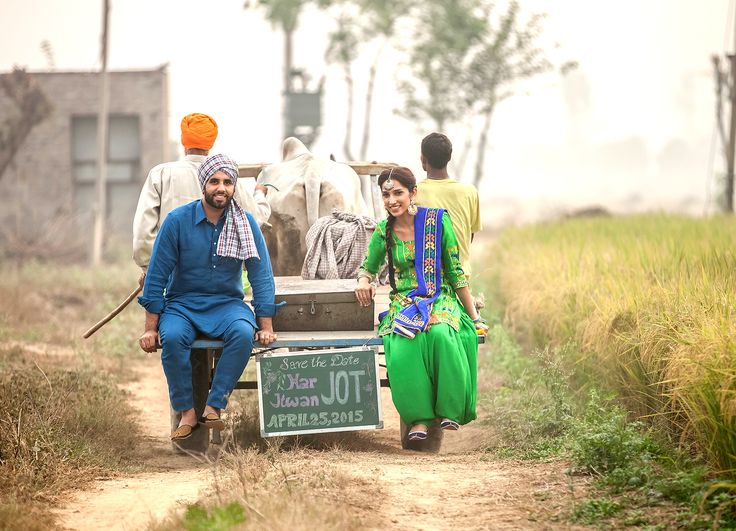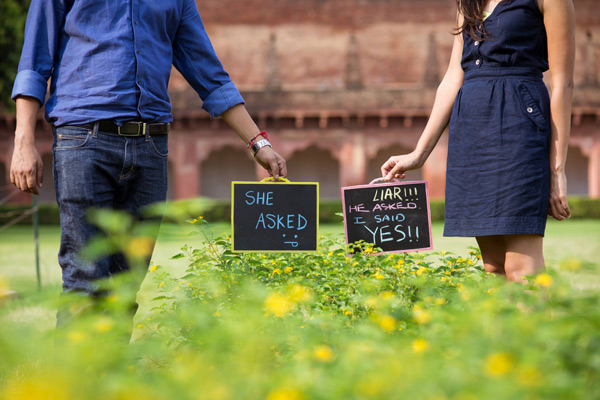 12. Flowers
Flowers are the symbols to express love from the ancient times. This is really the super duper hit idea to make your pictures look adorable. When it comes to the wedding, flowers are the first that comes to the mind. Flowers are the perfect way to express your love and the right time to make lifelong memorable memories.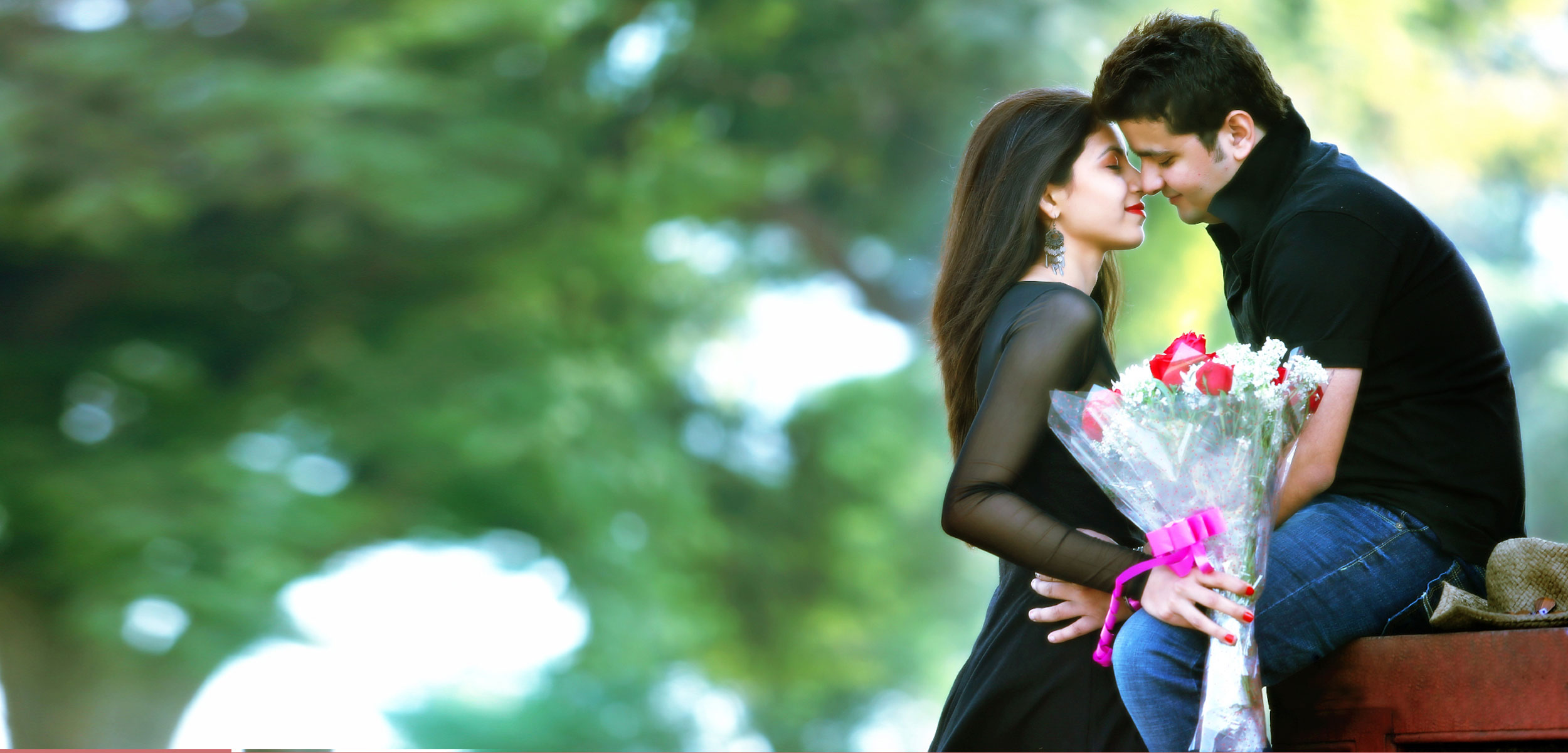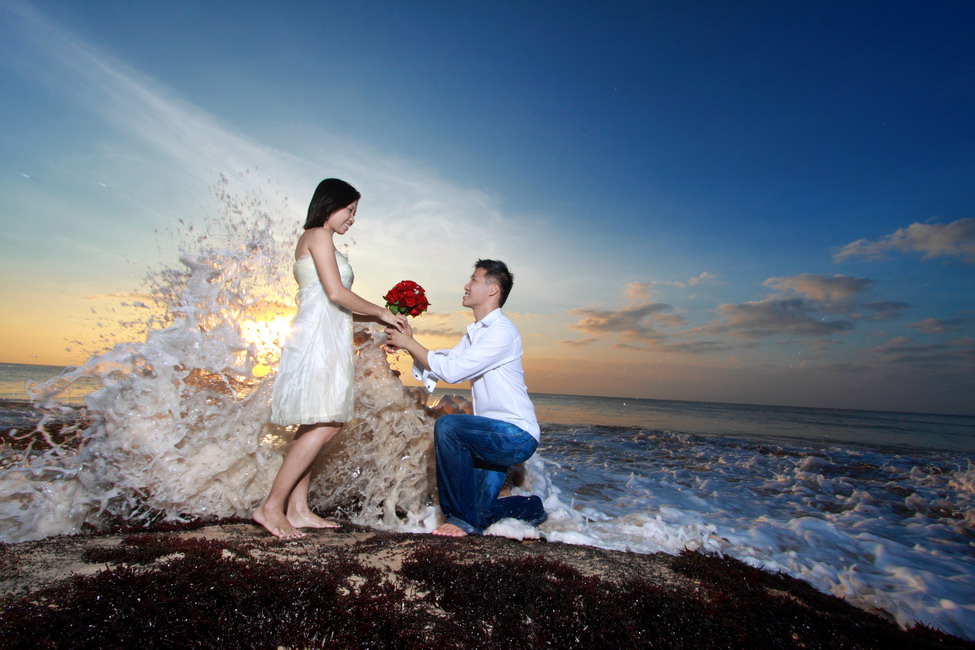 13. Love Is In The Air
This is the time when you are just starting your relationship as this period is considered as a golden time period of everyone's life. So, these moments should be captured!
With some love poses you can add more cuteness to your pictures with your going to be better half!
After selecting the props, pre-wedding shoot dresses, locations, the biggest questions comes how to select the photographer. As majorly all focus depends on the photographs instead of the location and dresses. The actual glam comes up with the perfect photography and editing. So it's very curious to know about the photographer.
These Indian pre-wedding shoot ideas are really breathtaking.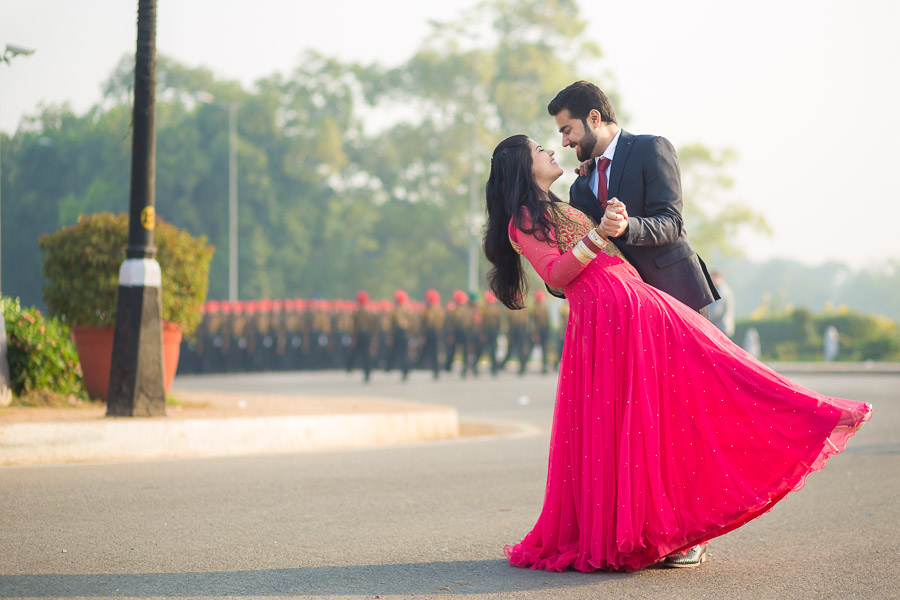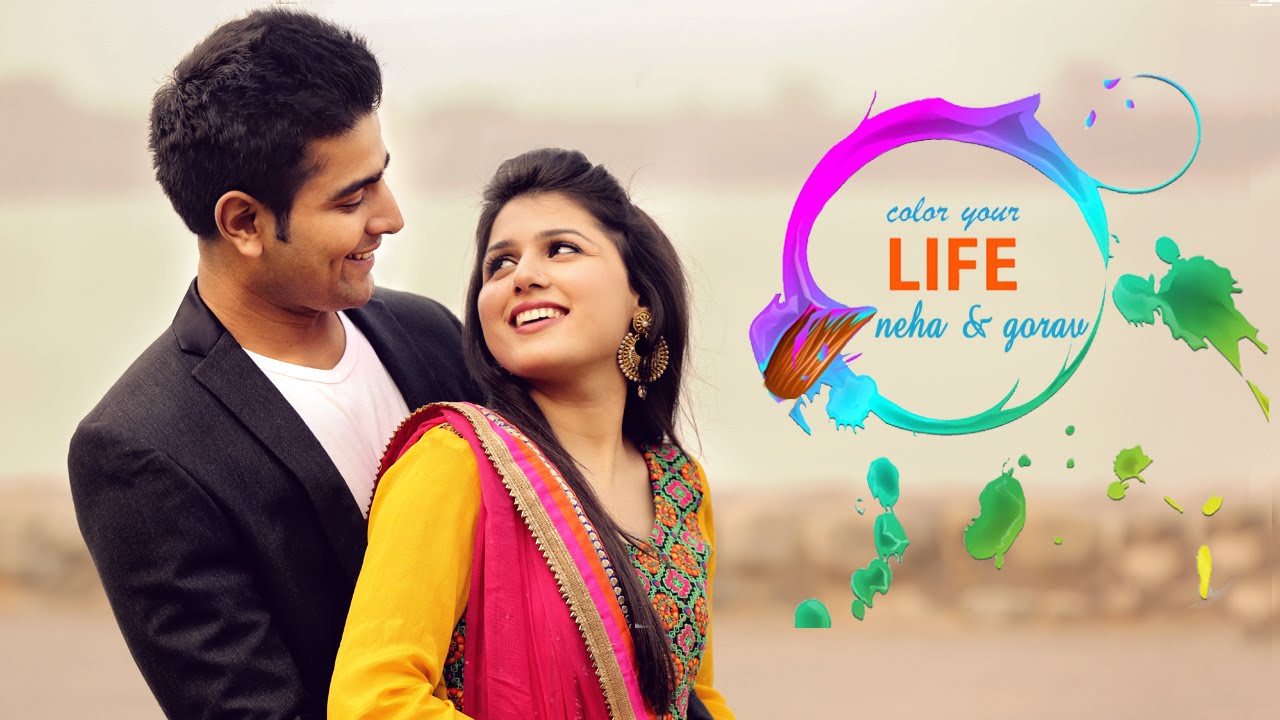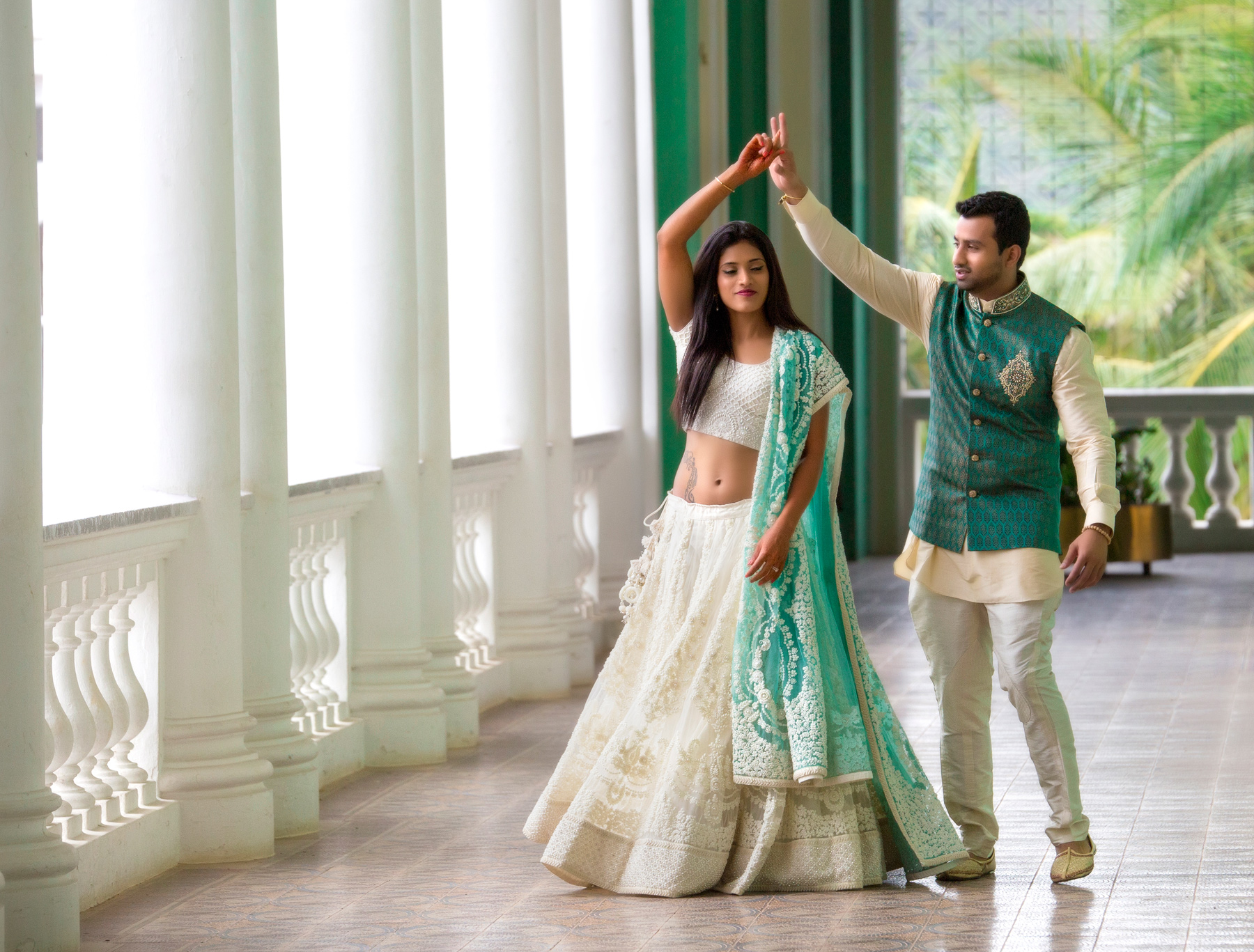 14. Love Track
Love track is basically the concept related to pre-wedding shoot location would be on the train track. Poses on railway tracks comes one of the best pre-wedding shoot locations that is highly recommended by the photographers.
You can also resemble this pre-wedding shoot to your real love story as of how train crossed all the station to reach it's final destination so your love also has been pass through various obstacles to reach the final step of the wedding.
You can choose any of the train track that is less crowded by trains or if you find them if they do not seem safe then there is also a National rail museum at Chanakyapuri. The place is really very beautiful and gives the real feel of the old time. You can also select your dresses according to the vintage style to give the old-time look to your photographs or slightly modern look.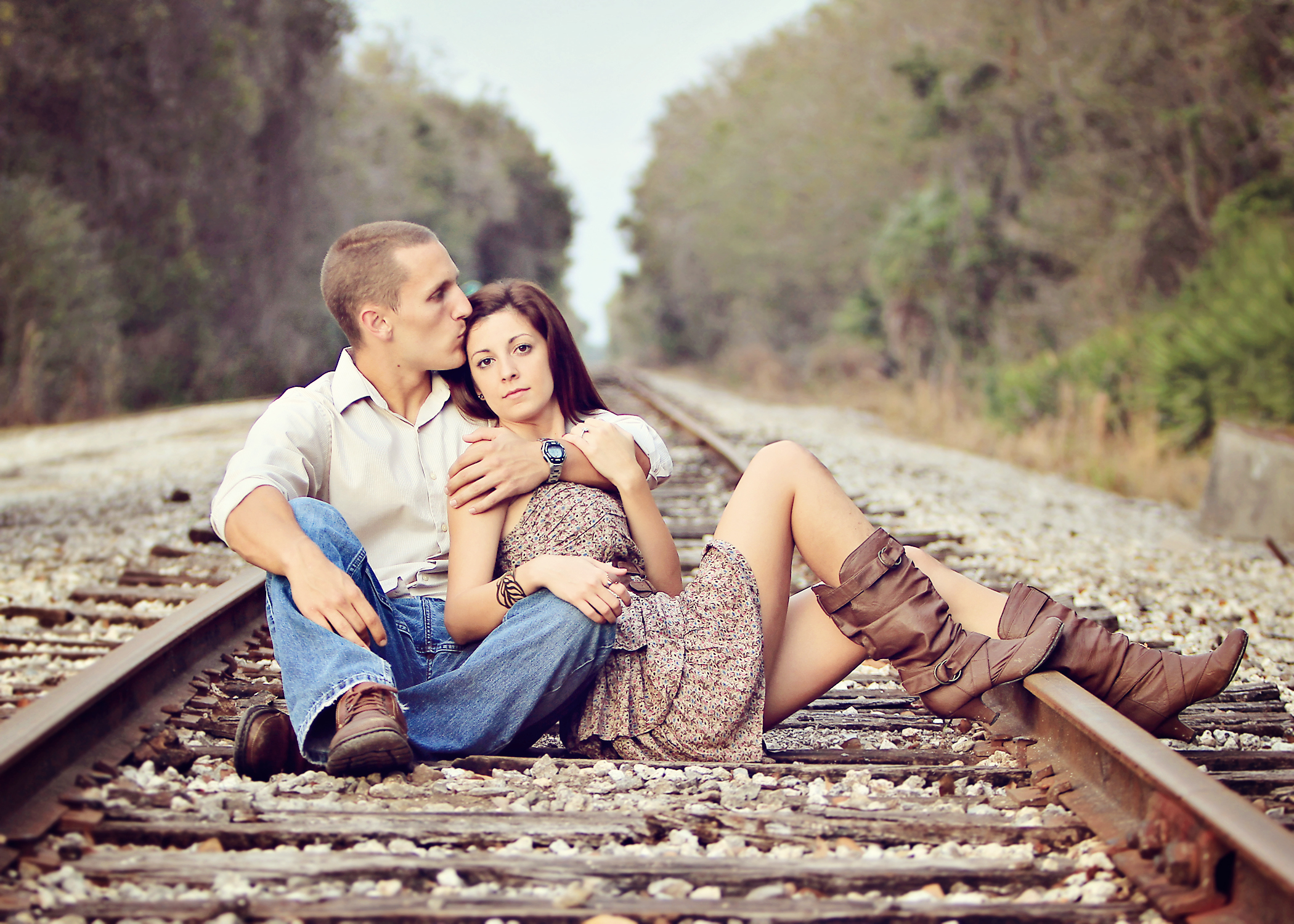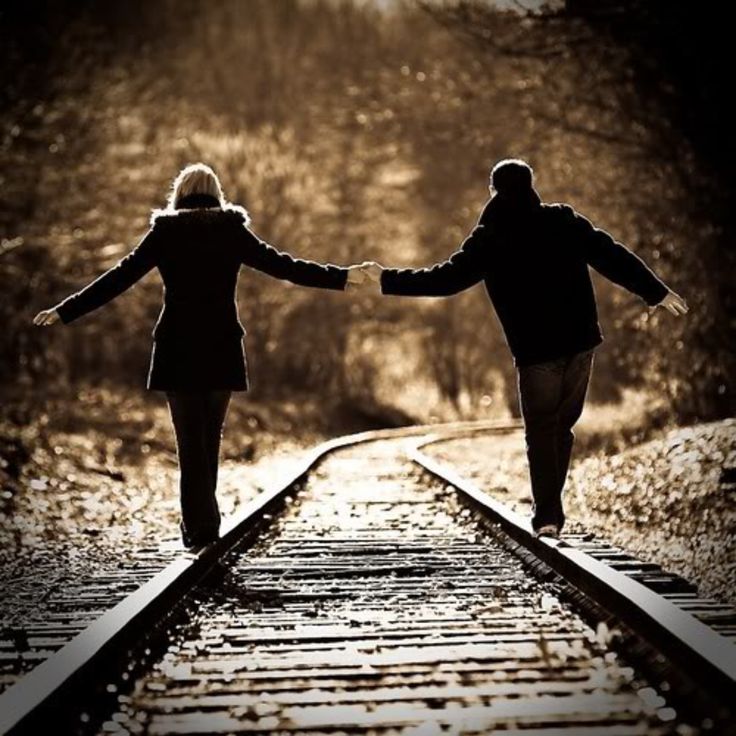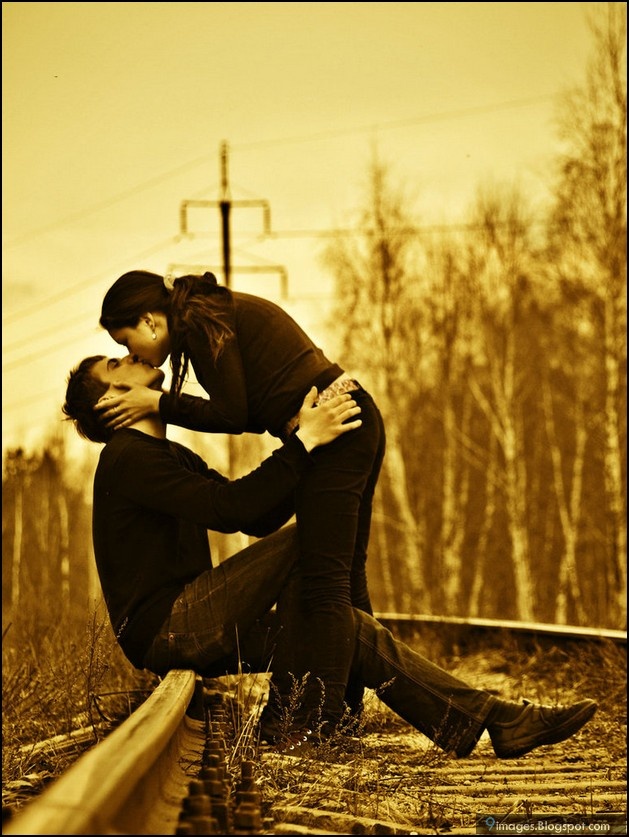 15. Candid Pre Wedding Photography Poses
Everyone wishes to have this kind of photographs, instead of the student style pose and forced smile. As if there is not an issue with the budget then hire a highly creative photographer for the candid photo shoot. Before selecting the photography style, be clear with yourself that what kind of pics for your wedding shoot you want. Candid doesn't mean that you don't have to follow any instructions. They will guide you for the hands, foot, smile, gestures pose etc. You should keep in mind that you had paid a lot so don't hesitate in front of the photographer while making the poses.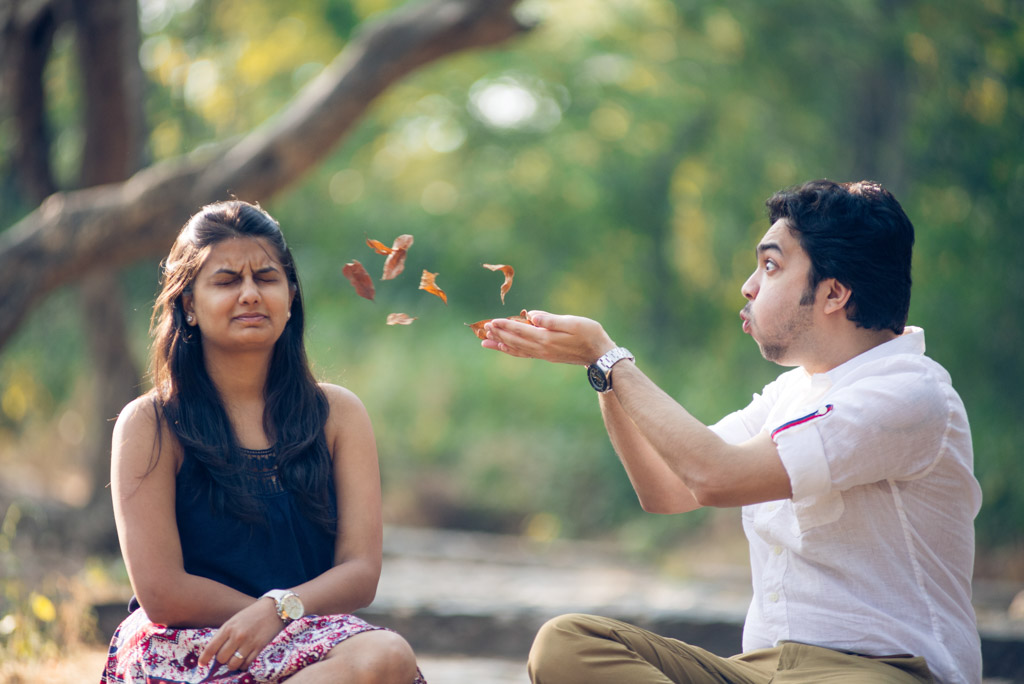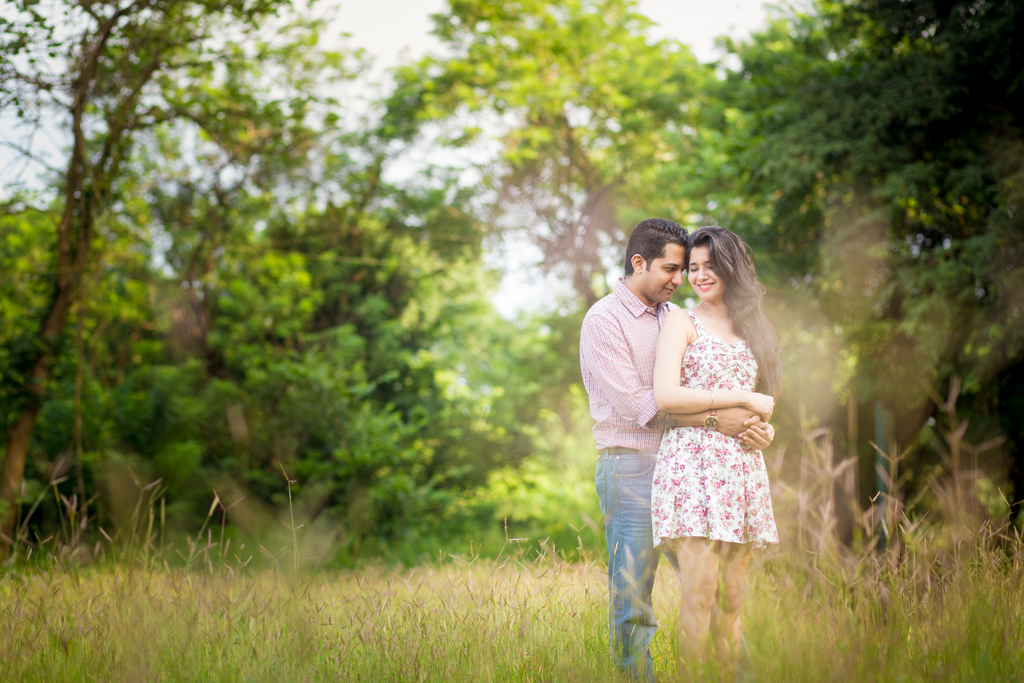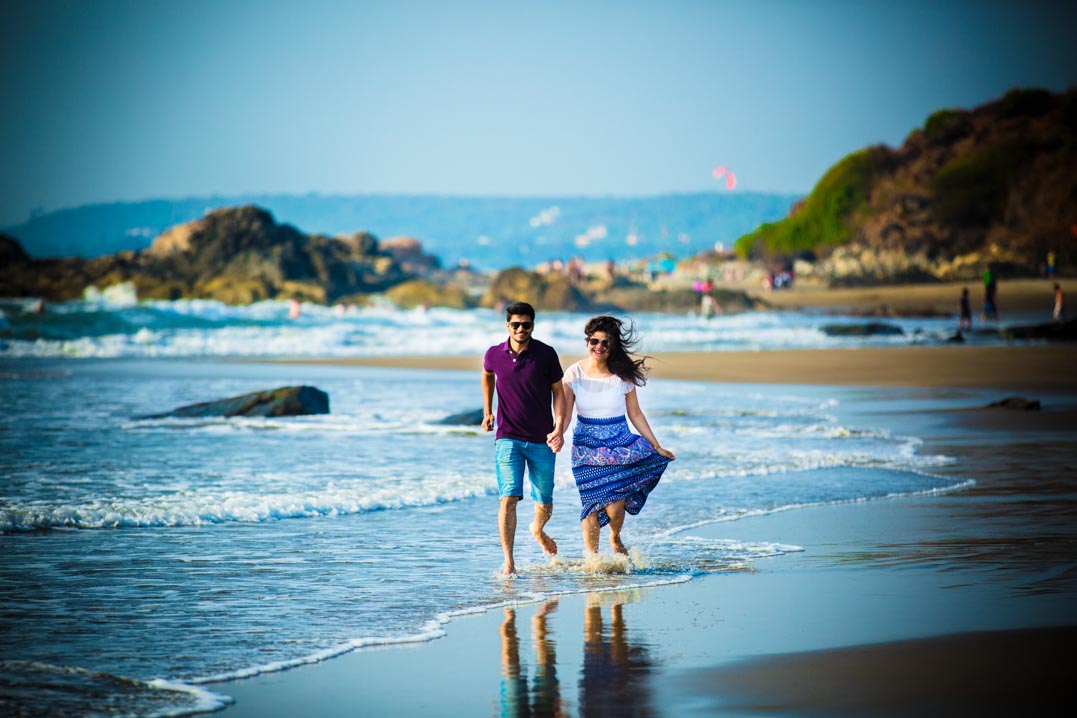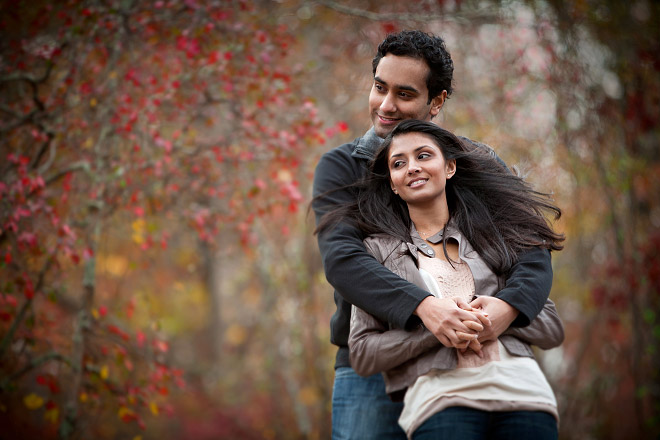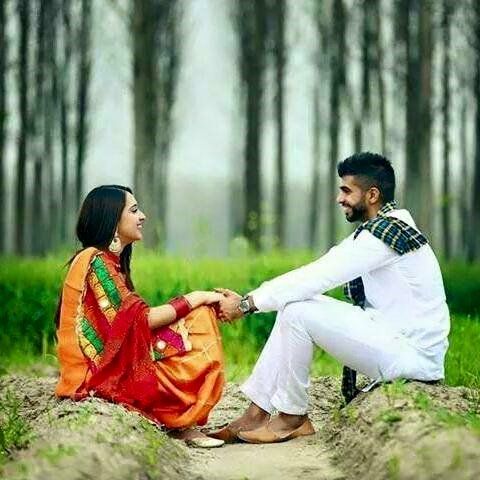 16. Punjabi Couple Theme Photography
You have no wonder that how's bride and groom shines in the Punjabi culture. If you are a Punjabi if then too then just try to add some poses to your pre-wedding album in Punjabi style.
This really gives a very lovely affectionate look to your pics. And personally being a Punjabi I will suggest you this has a different unique fun in the ' Sarson ka khet' or some more Punjabi culture pose.
You will never forget the fun you will catch up during Punjabi style pre-wedding shoot.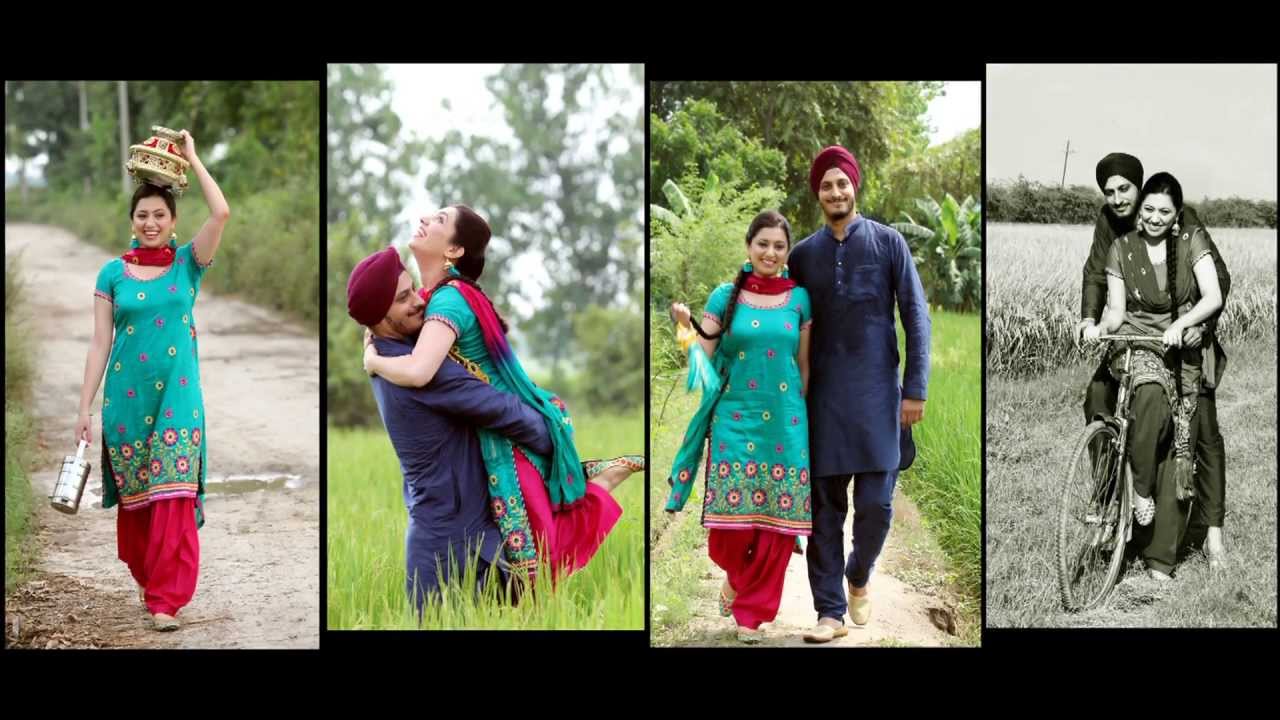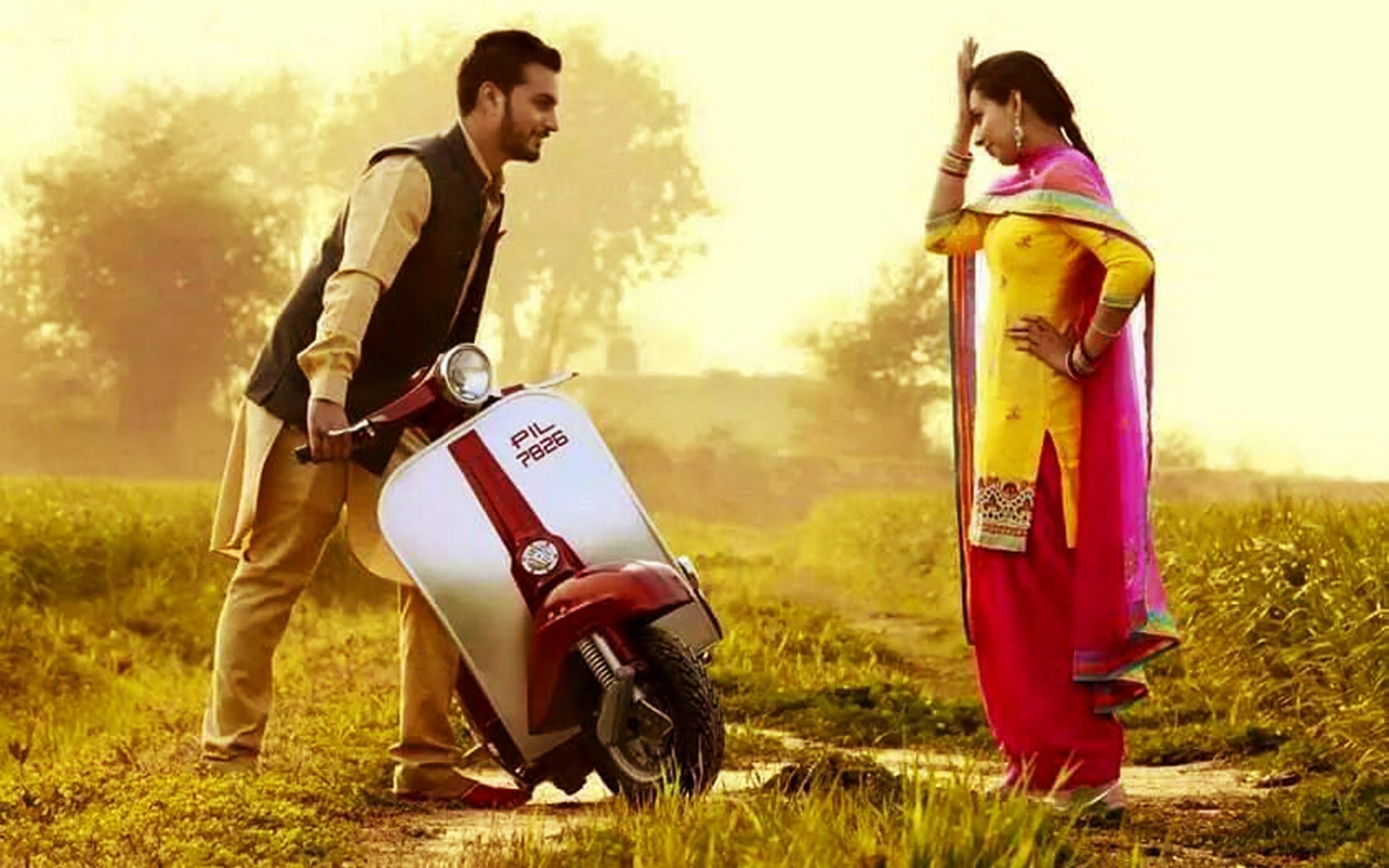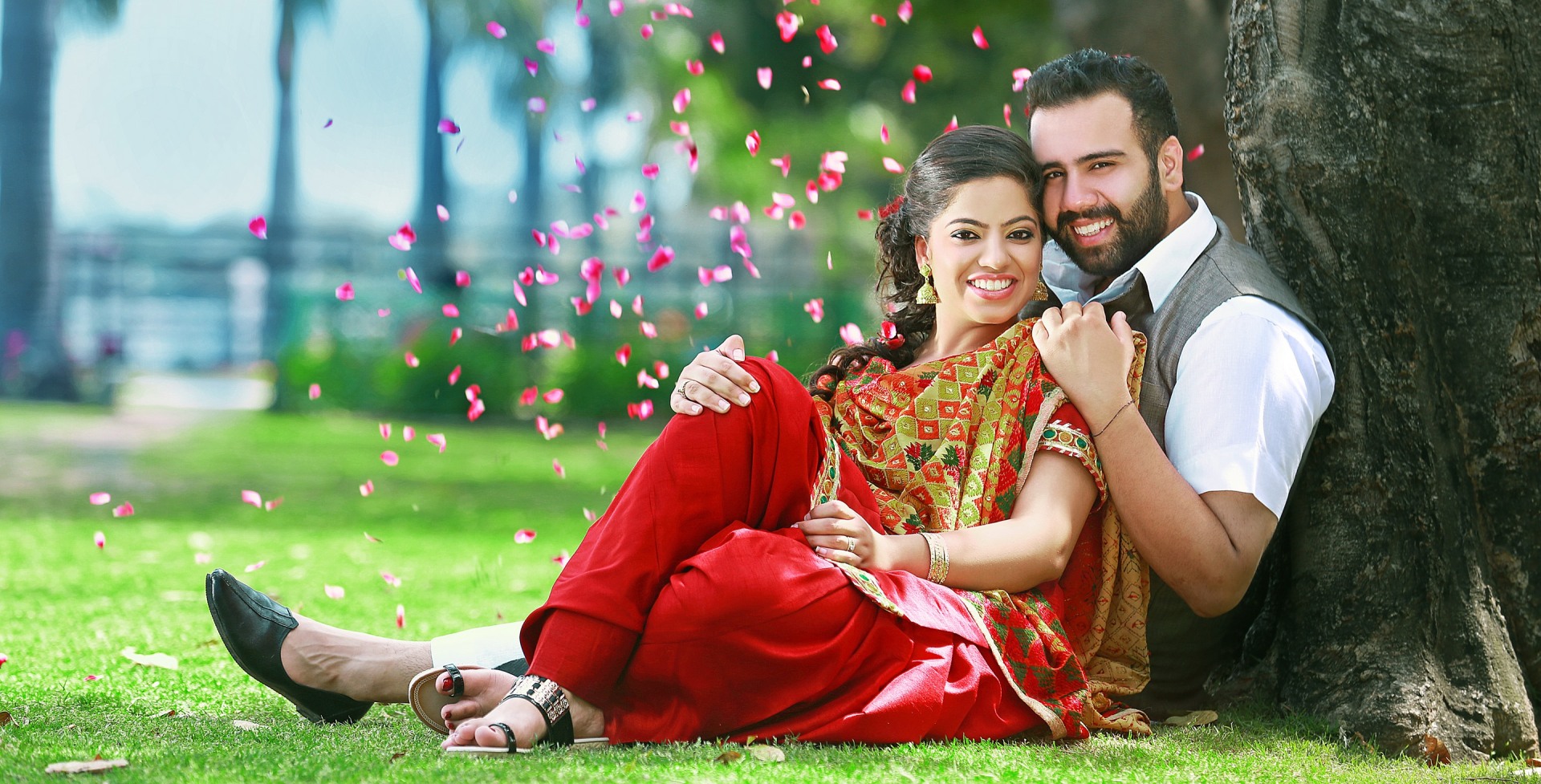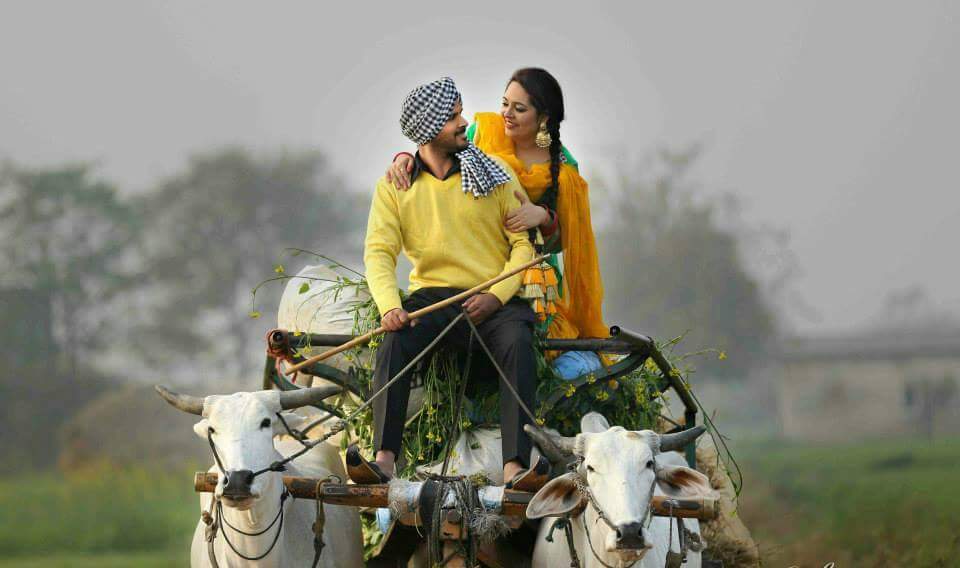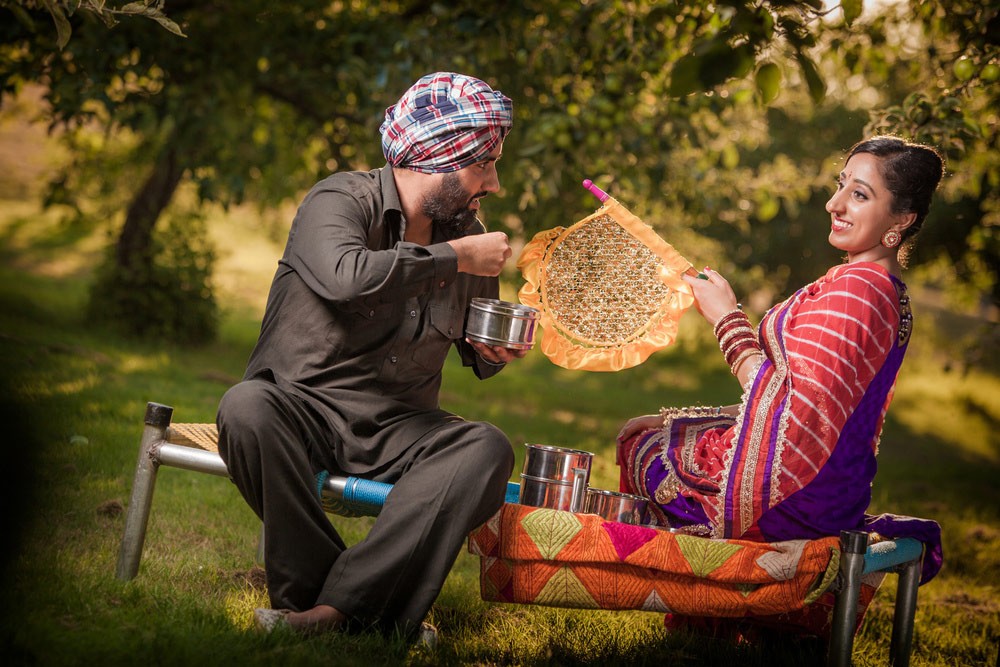 17. Magical Love Poses

 
For these stunning pics, we don't have any words, these are just magical. Every time when you will see these pics you will fall in love again and again.
Hows you find these dreamy pre-wedding shoot photos. These will really give the classic and elegant look to your pre-wedding photography.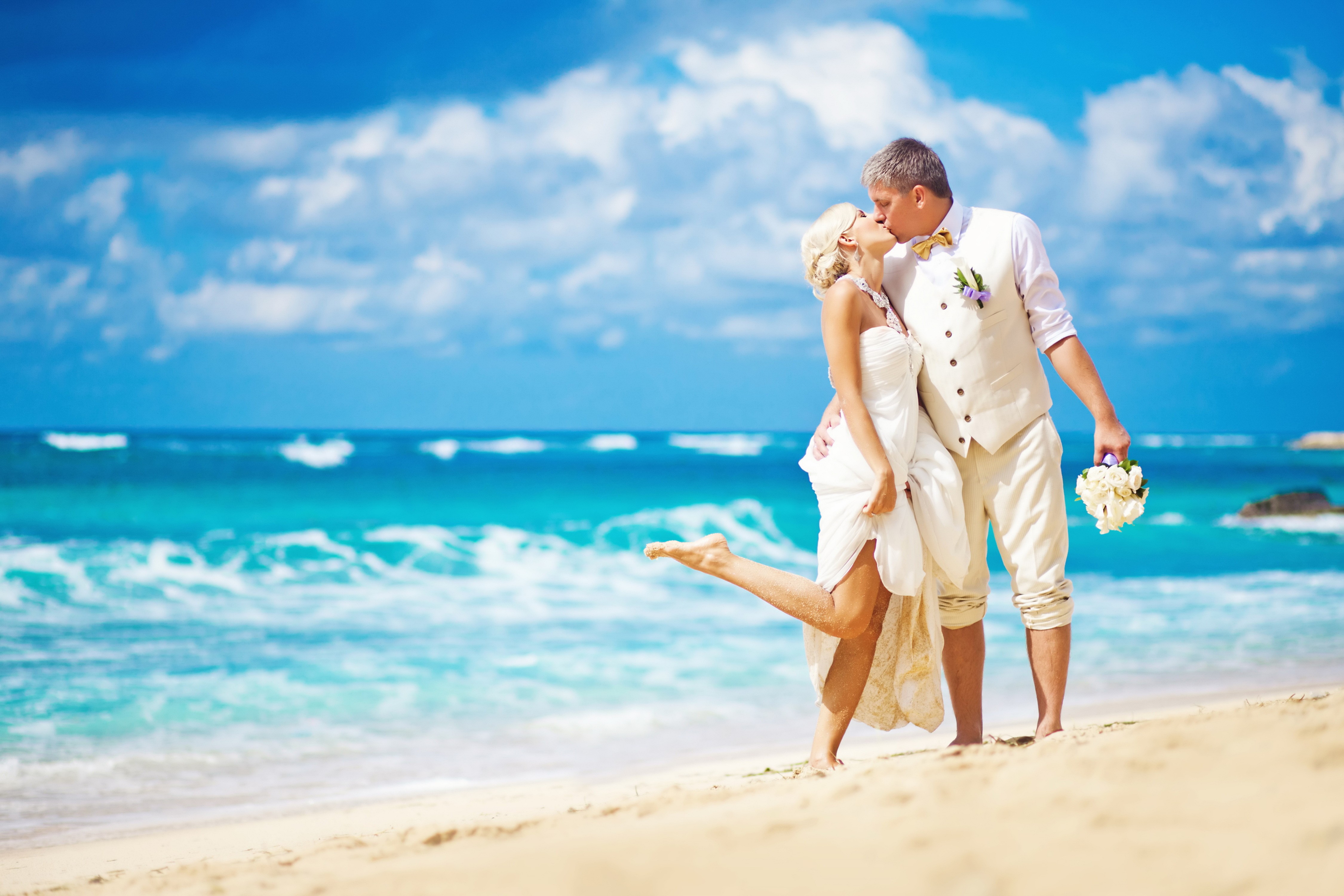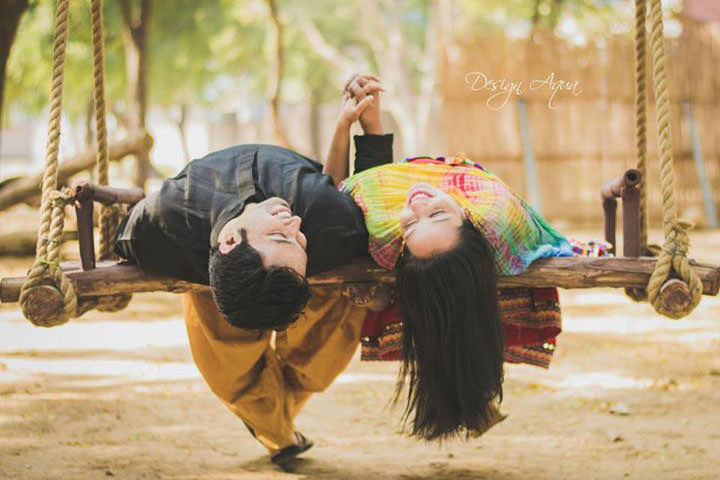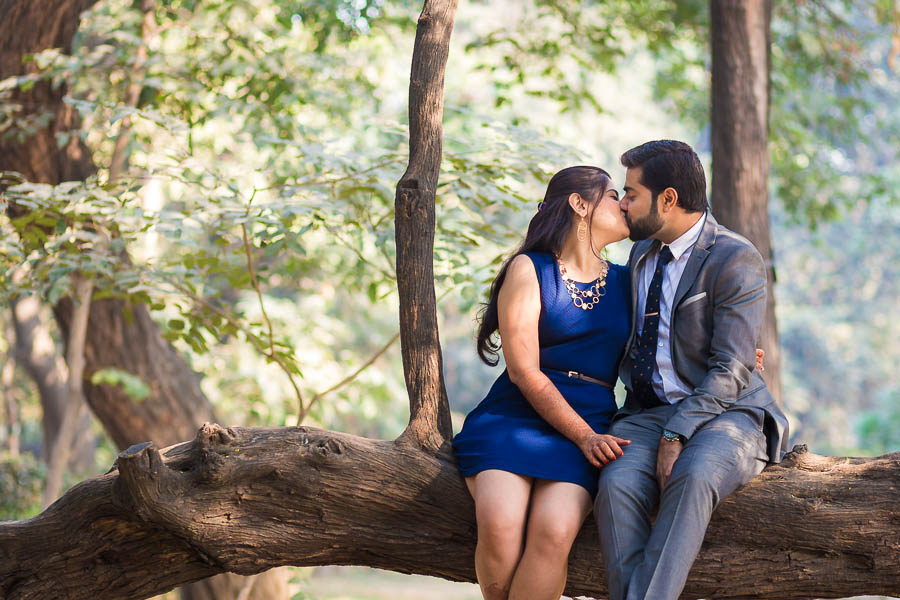 18. Reflection Photography
This photography style really looks cool. You can capture the most precious moments in your favourite things. The beauty of reflection photography has no words to define. Capturing the romance between the couple in the reflection of water and glass, not any idea can be better than this.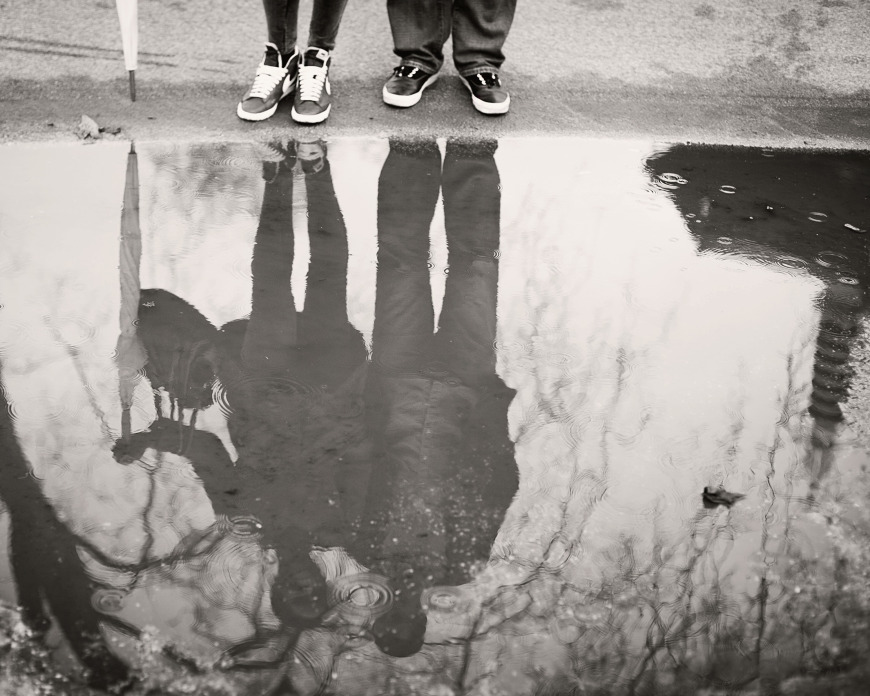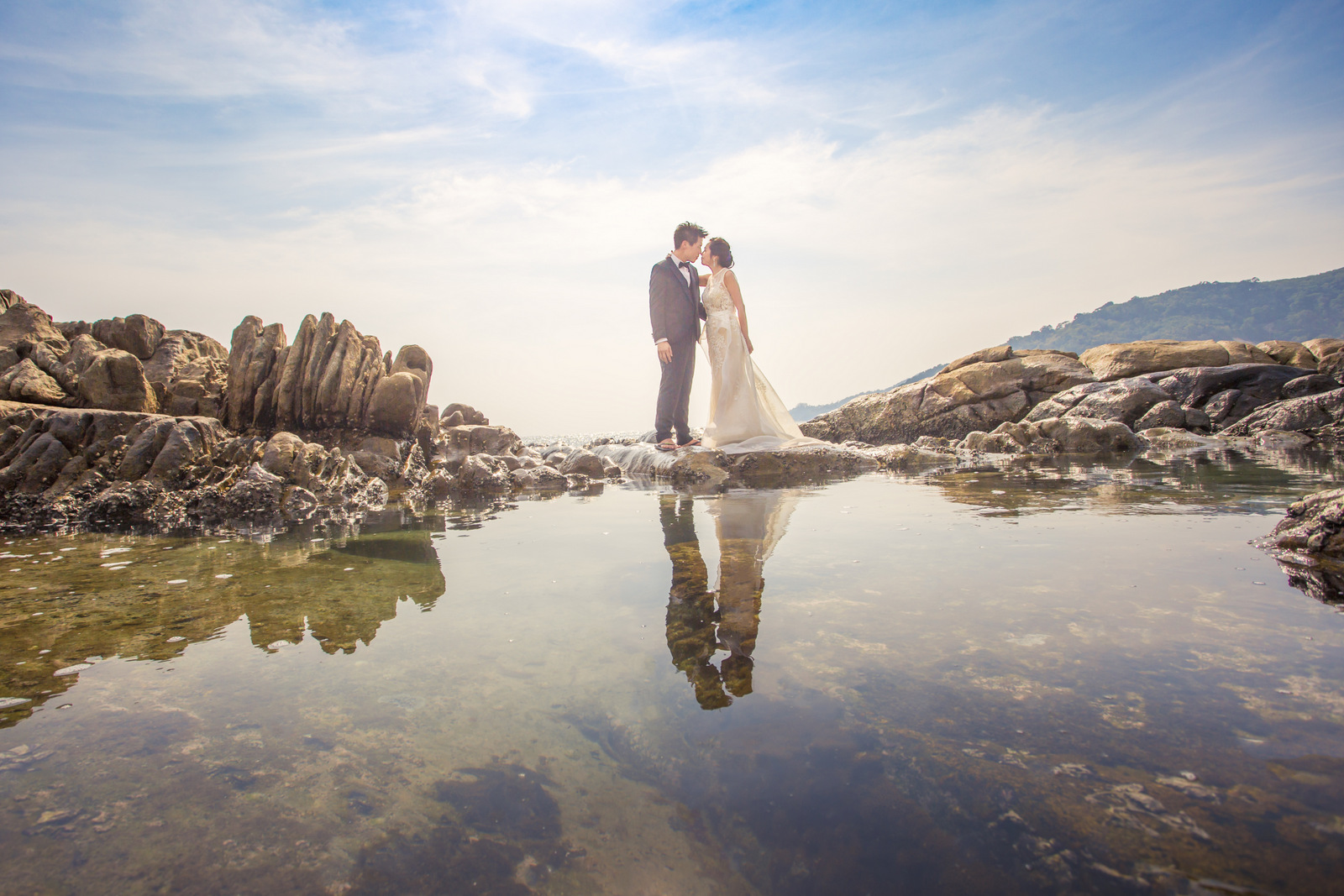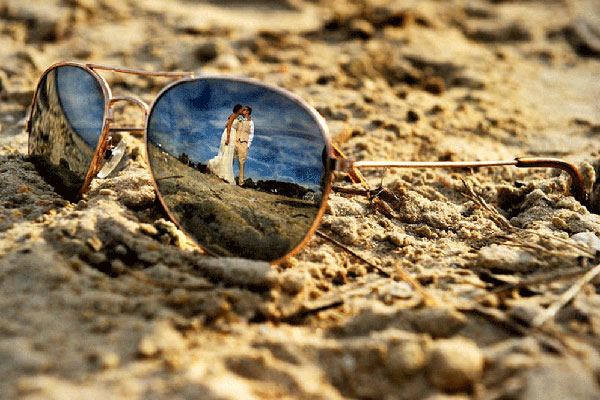 19. Pre-wedding Photoshoot In Rajasthan
When we talk about Rajasthan for the pre-wedding shoot, it is full of the royal locations that capture those intimate moments of couple pre-wedding shoot and gives them a beautiful lifelong memory.
Rajasthan is full of forts, and as Forts are generally one dull coloured walls so they radiate your beauty and gives a prominent look to the outfit.
If you are also planning for the destination wedding in India then Rajasthan is the best place.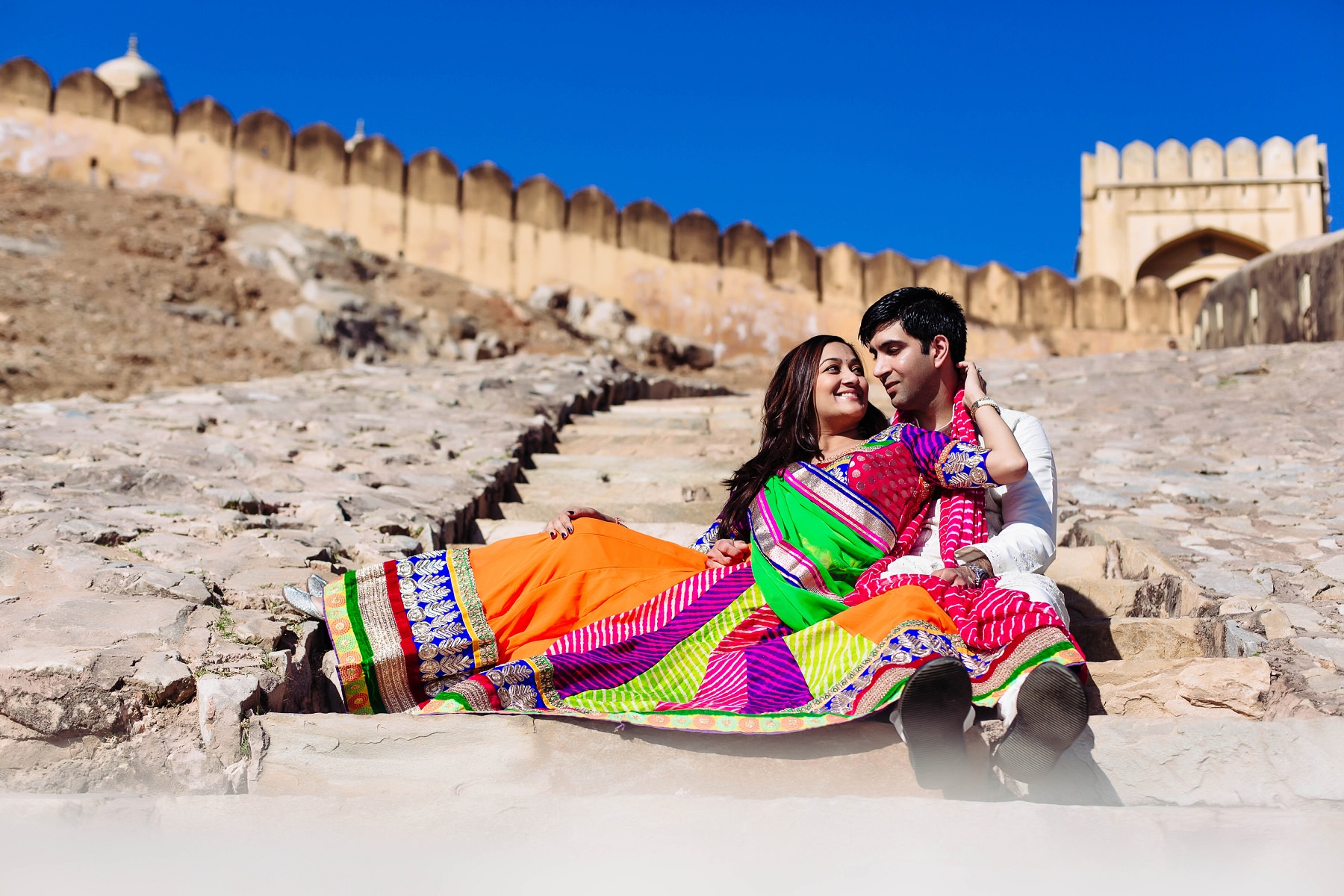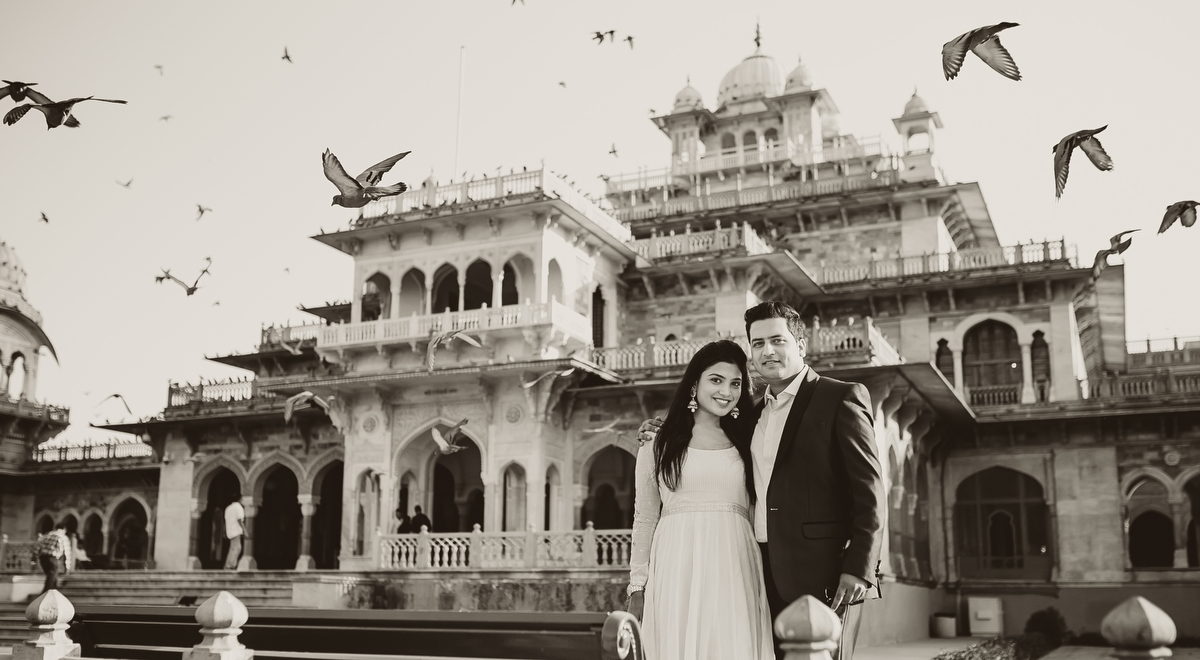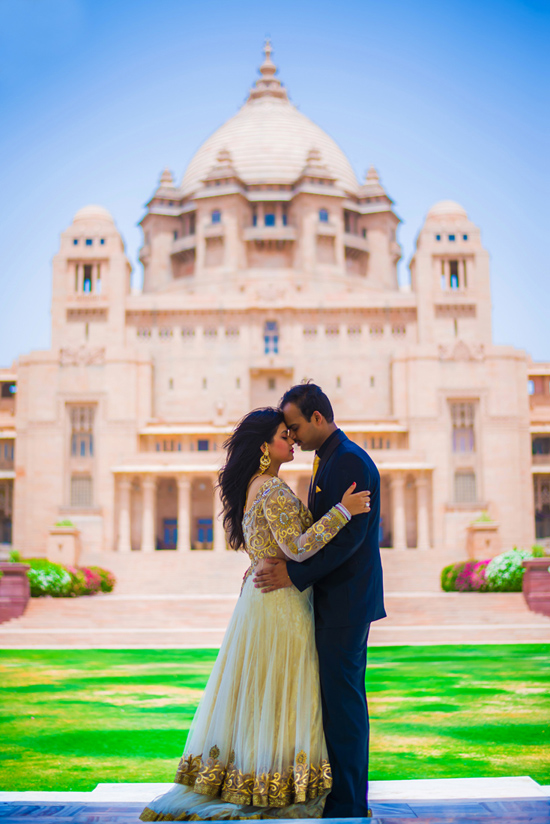 20. Romantic Rides Photography
A Pre-wedding shoot is totally the thing that you can sketch out your personality through the pictures. If you are a person who wants adventure and fun in your life then bicycle prop is best suitable for you. You can also give vintage theme using the bicycle. The basic concept behind pre-wedding shoot pictures is having as much as fun it's possible with your partner.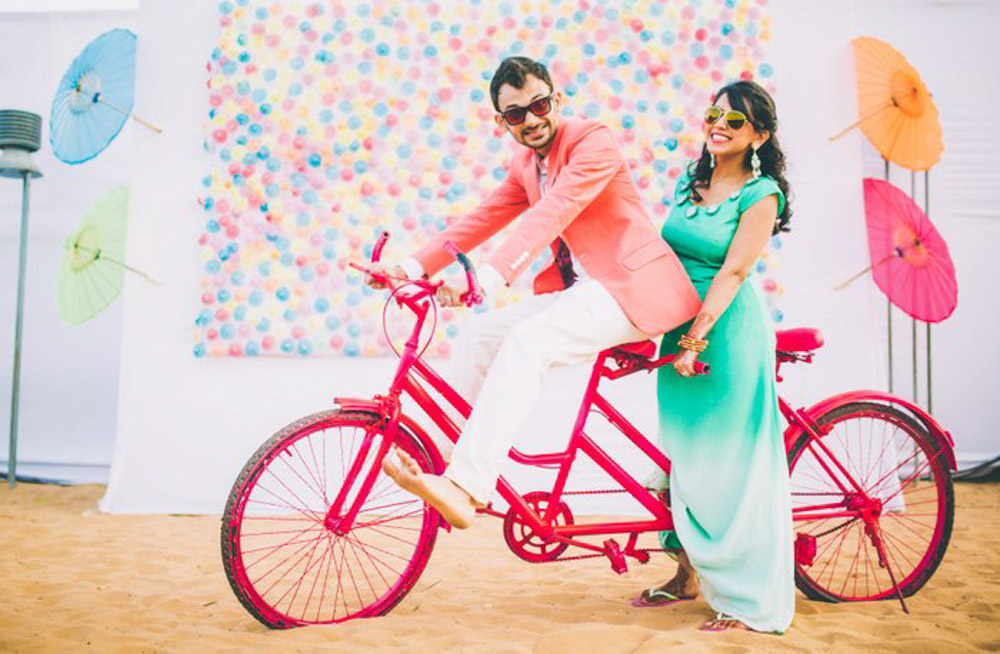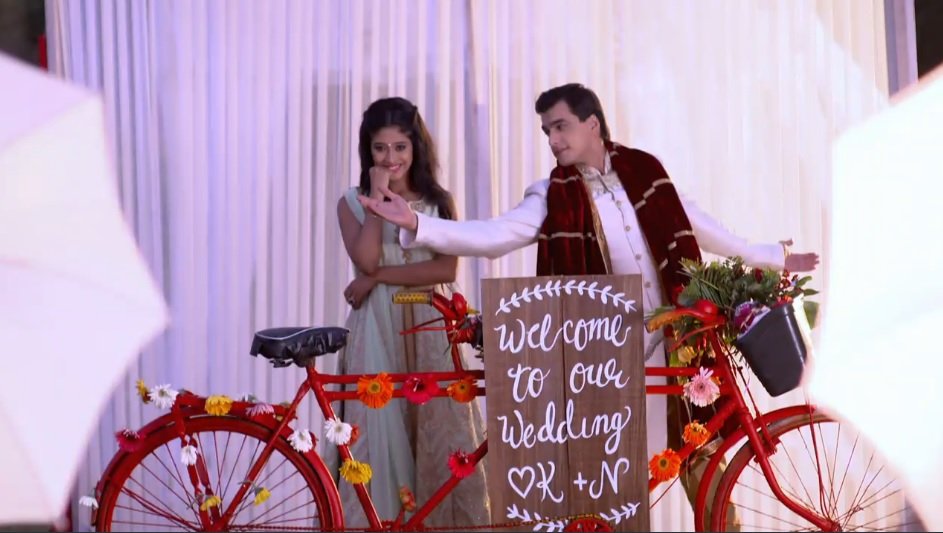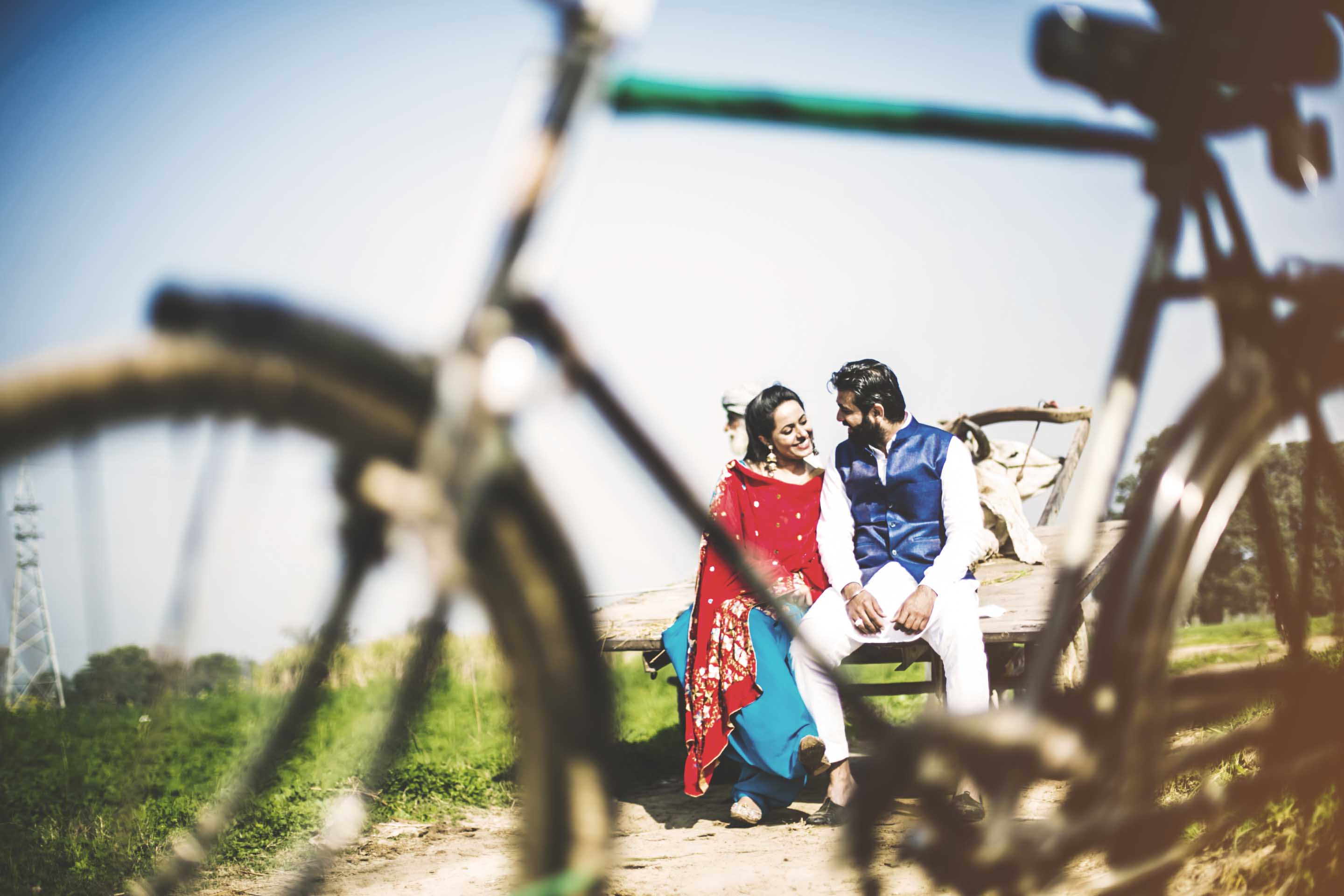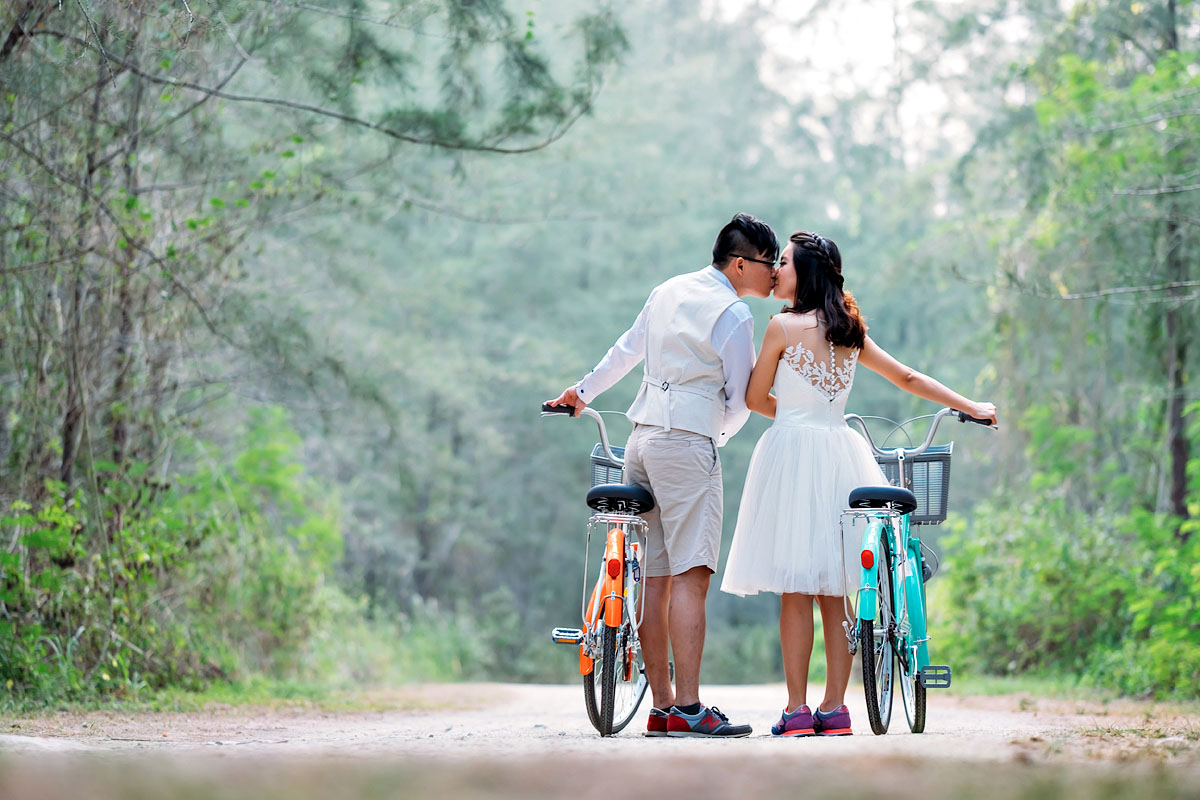 21. Moments of Love
These love moments pre-wedding shoot photos are so amazing that I also feel the love. Basically, the style of pre-wedding photography has been designed to capture the fun and romance, exists between the couple through the lens of the camera.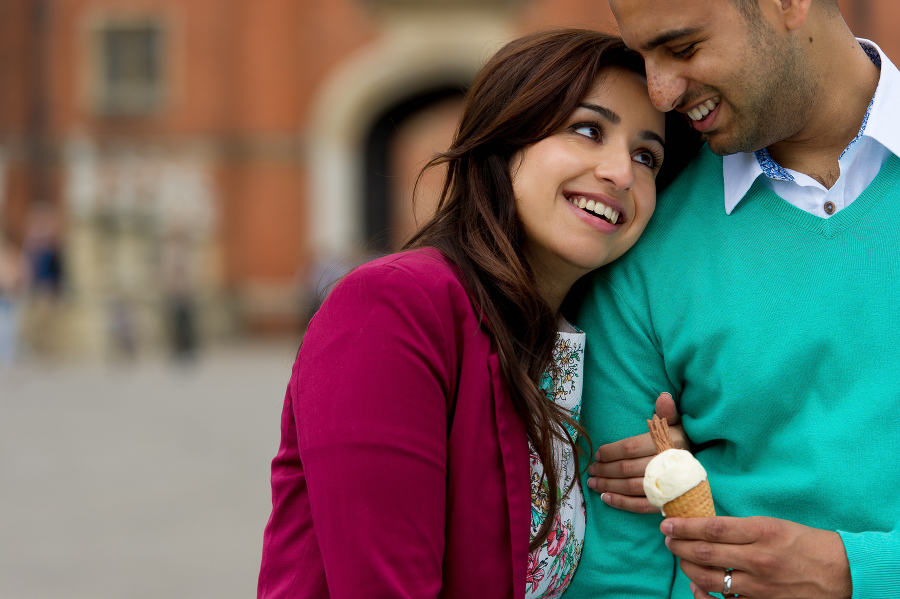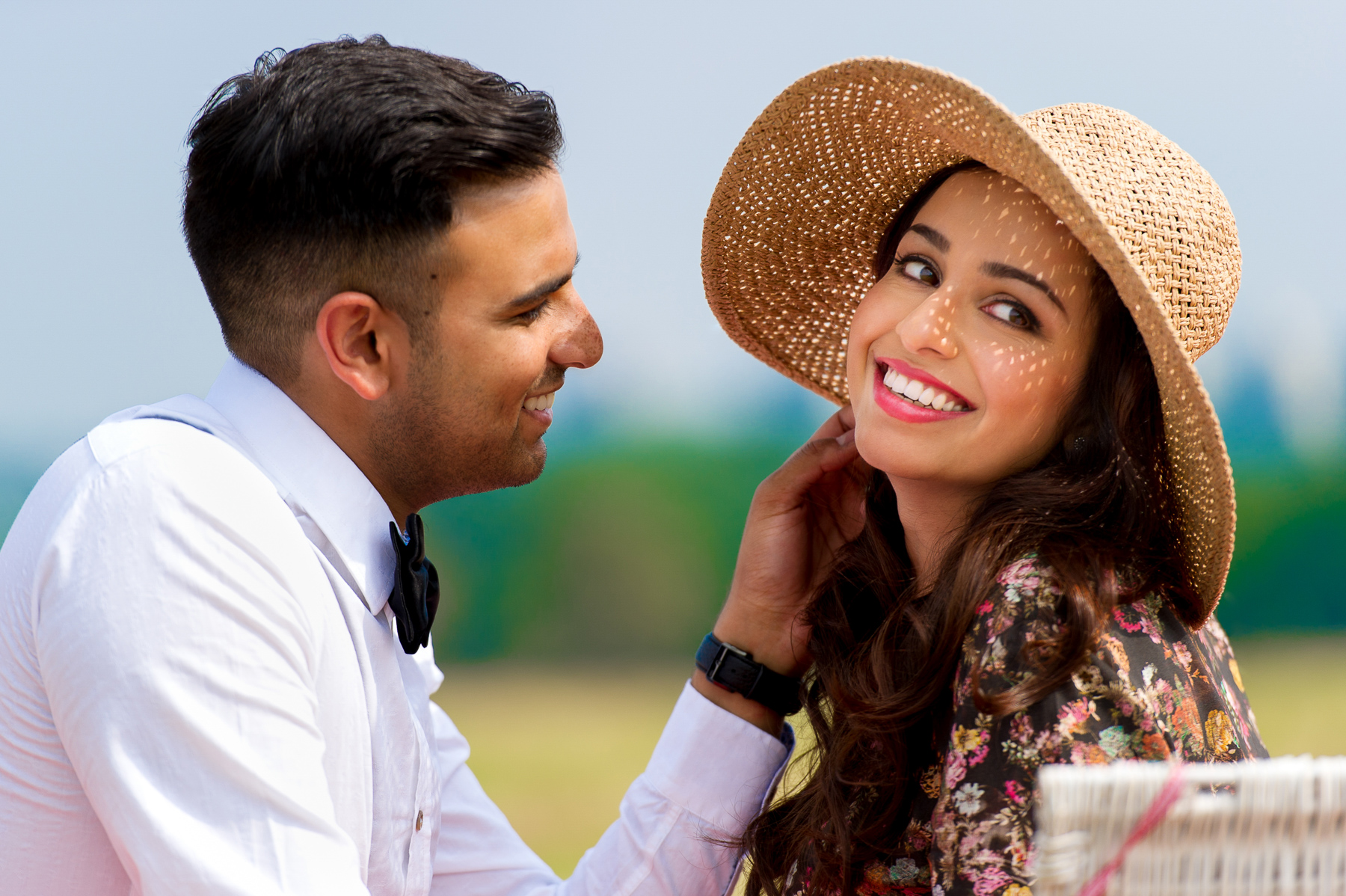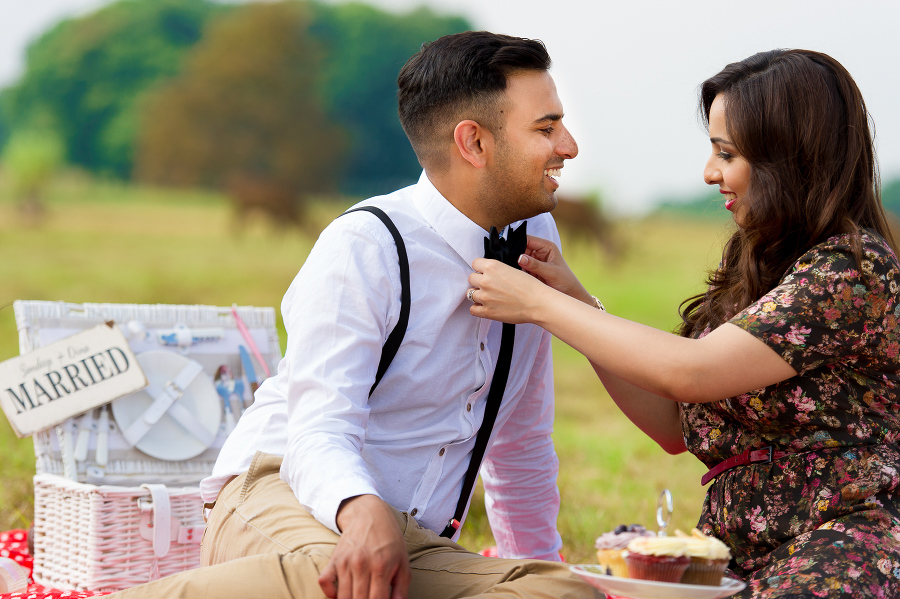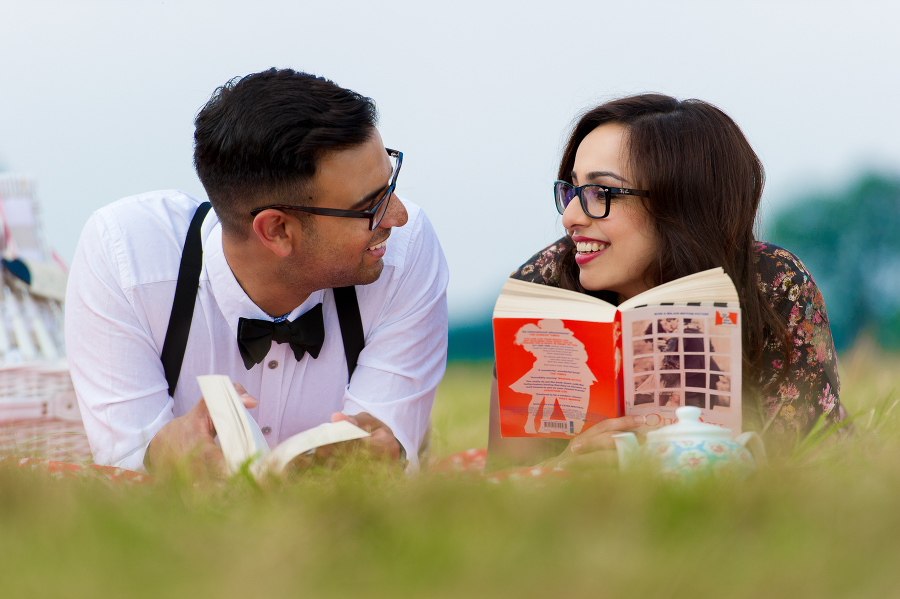 Soon we will come with the more photographs separate for each prop. So, check this article in continuity.
22. Pre Wedding Shoot At Beach Side
You don't want to miss the beautiful sunrise and sunset with the natural architecture elements of surf-riding. Every location is best when you are in love with your better half but this is the unbeaten location. Plan your pre-wedding shoot with the pre-arrangement and pick a photographer who is well aware of the locations.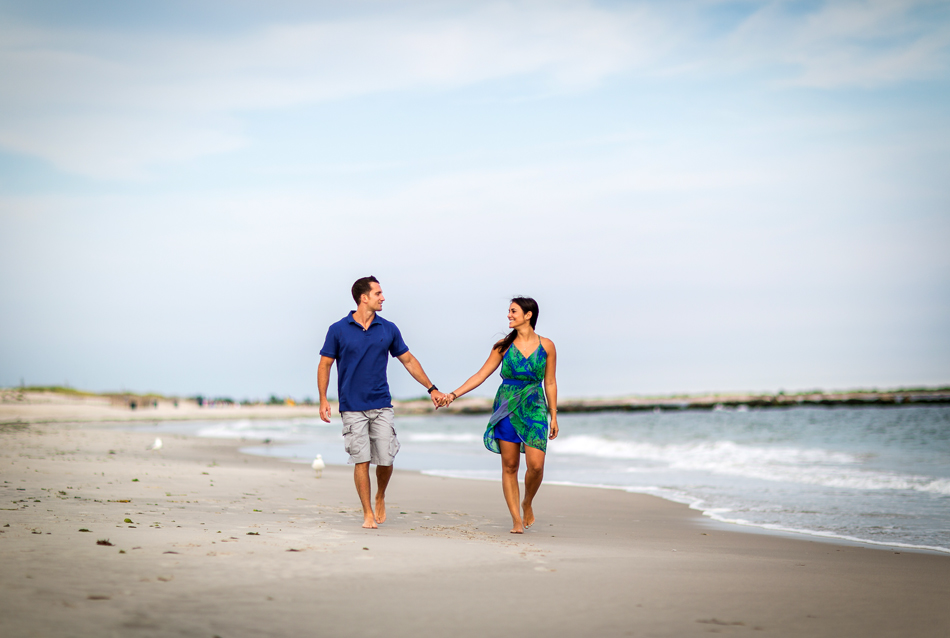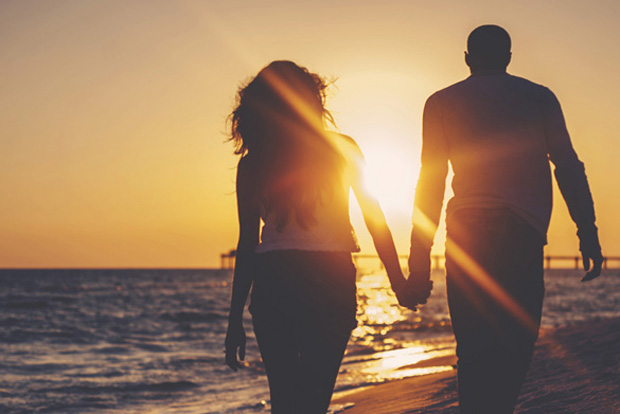 23. Bollywood Inspired Pre Wedding Shoot
A Pre-wedding shoot comes to those experience that you get to live only once. And we are here doing our best to make them as best as. If you are a Bollywood fan, here are some poses for the pre-wedding shoot that are inspired by the filmy couples. Sarso Ka Khel, Romance in Rain, sneaking kiss scene, under dupatta, flowers or some another beautiful love poses. Also, give a look at another category poses to find the best for you.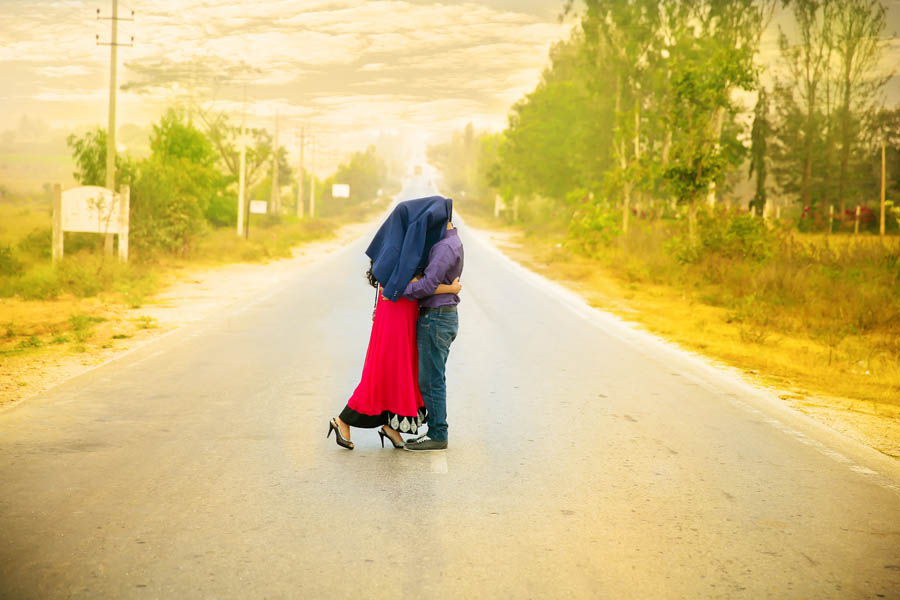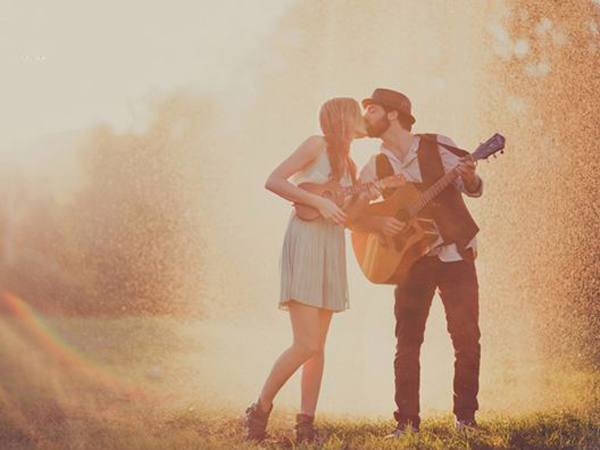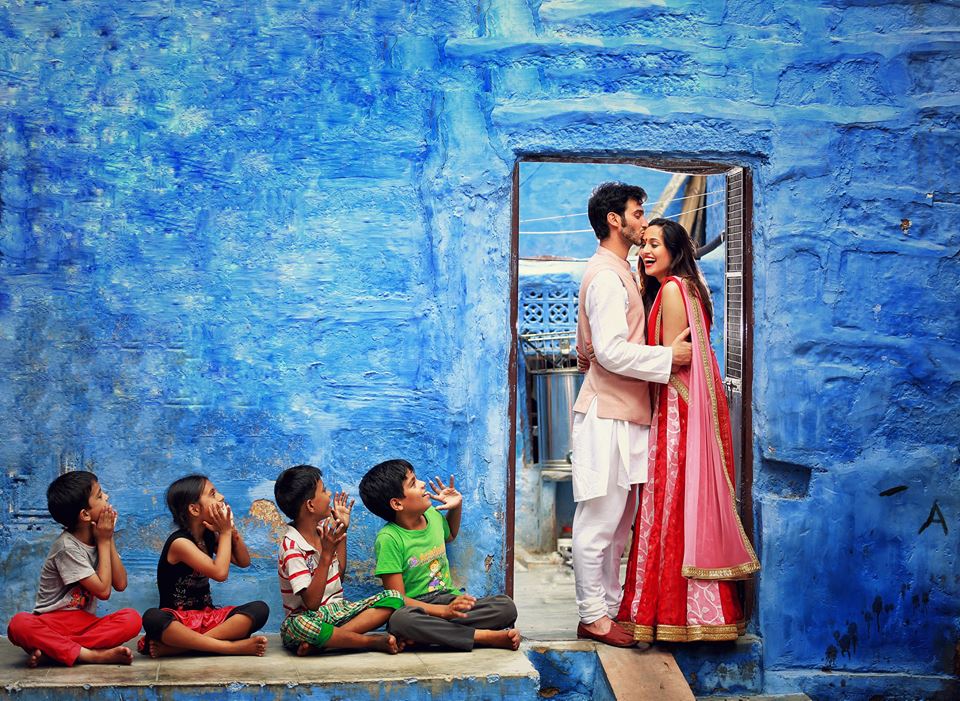 24. Scrabble Letters
You can use scrabble letters to express love towards each other into your pre-wedding shoot. These scrabble letters speak a lot instead of words. While taking pictures with scrabble letter keep the focus on the light and the words. They should be easily understandable. Also, you can use these letters to save the date photoshoots.
You can also spell couple name just to express love. These pictures really look very simple but express the most.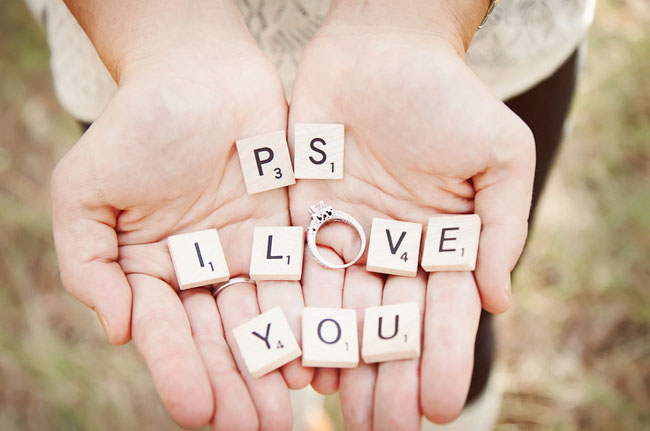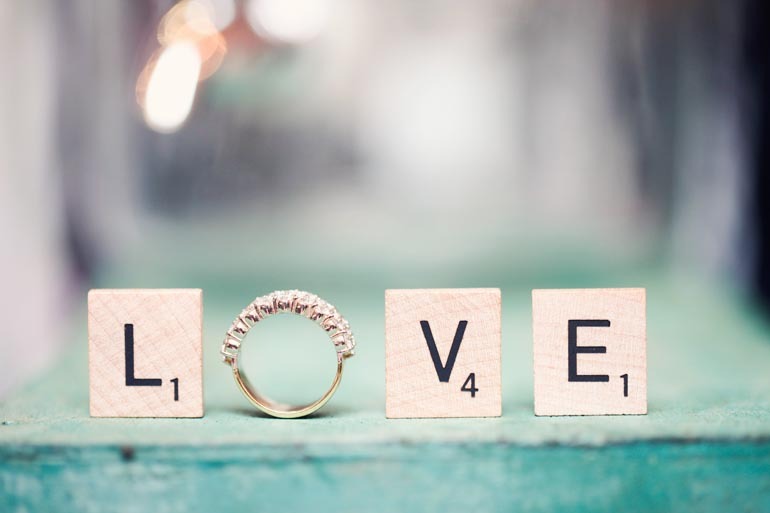 25. Fairy Lighting
This prop looks pretty and gives the extra shine to the couple images. These fairy lights are very cheap DIY for the pre-wedding prop. Props really work great when you are the first time in front of the camera as a couple.
It's really full of fun while making 'love' or couple name or anything romantic with the fairy lights or simply wrap up the fairy light onto the couple. Ask your photographer to arrange something for you or you can also prepare some DIYs with fairy lights.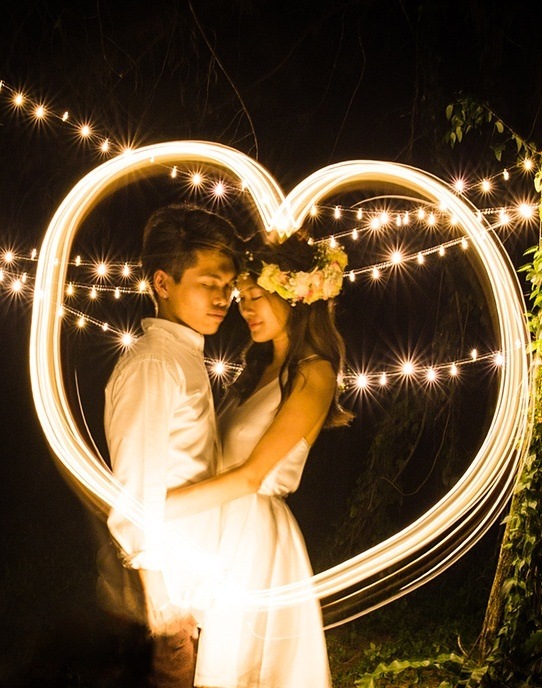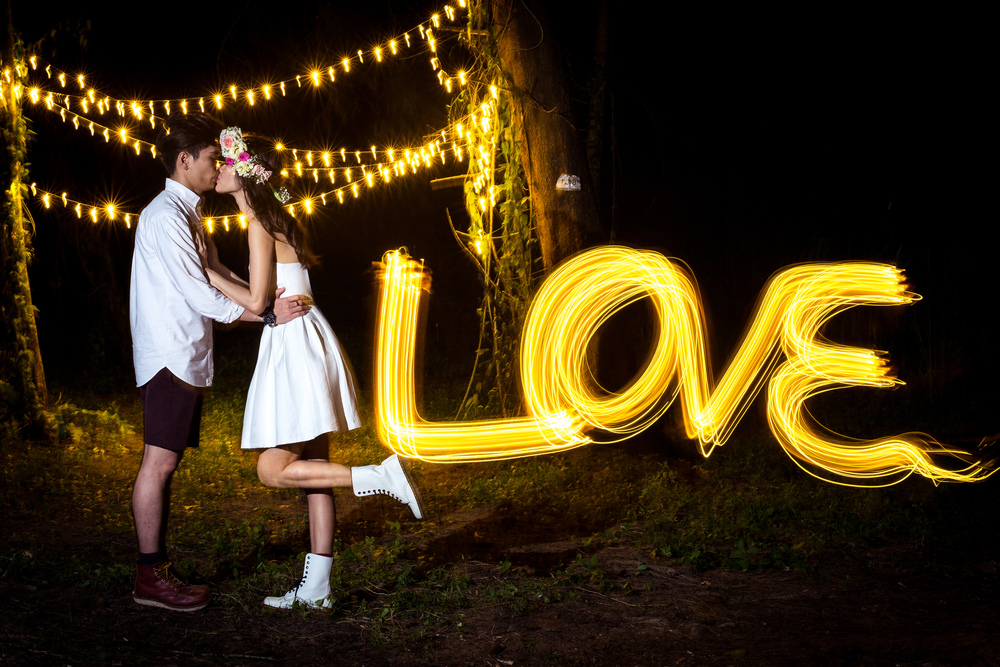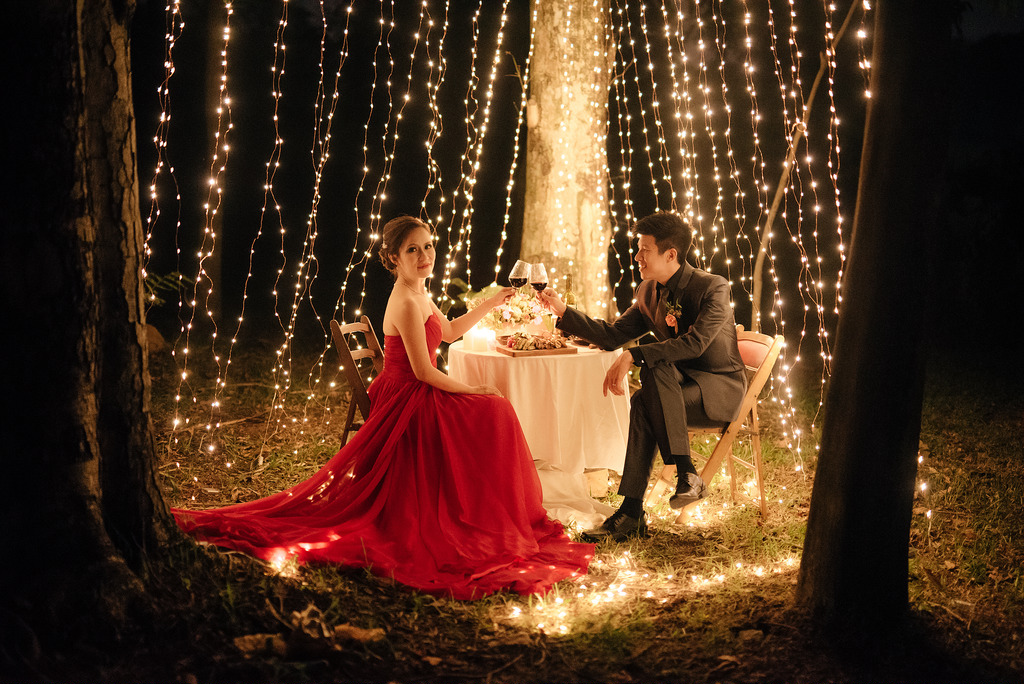 27. Paper Props
This is a really very great versatile idea for the pre-wedding shoot as a prop. As the best thing about that is you can change the captions and also can modify them into various colours. This pre-wedding pose using paper prop will help you recreate memories of your love time.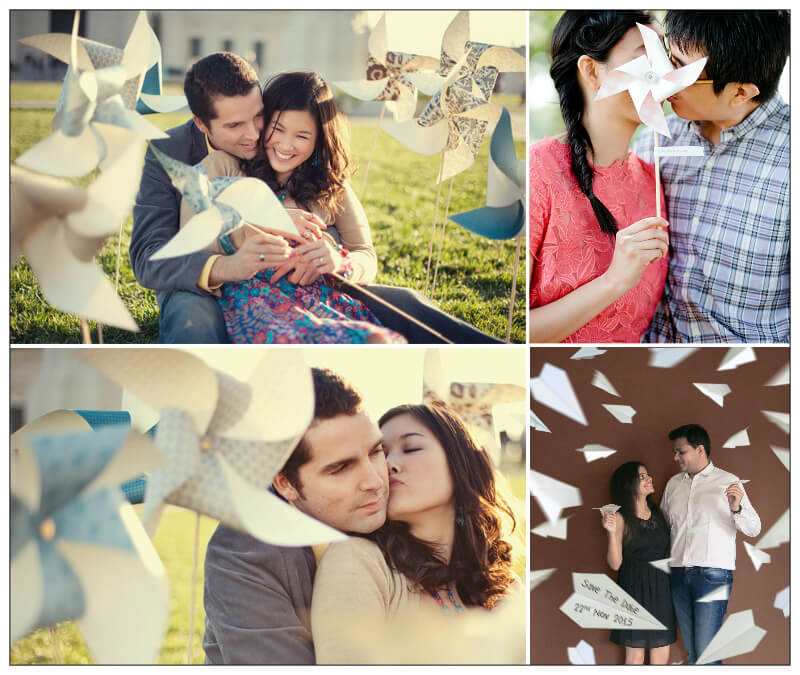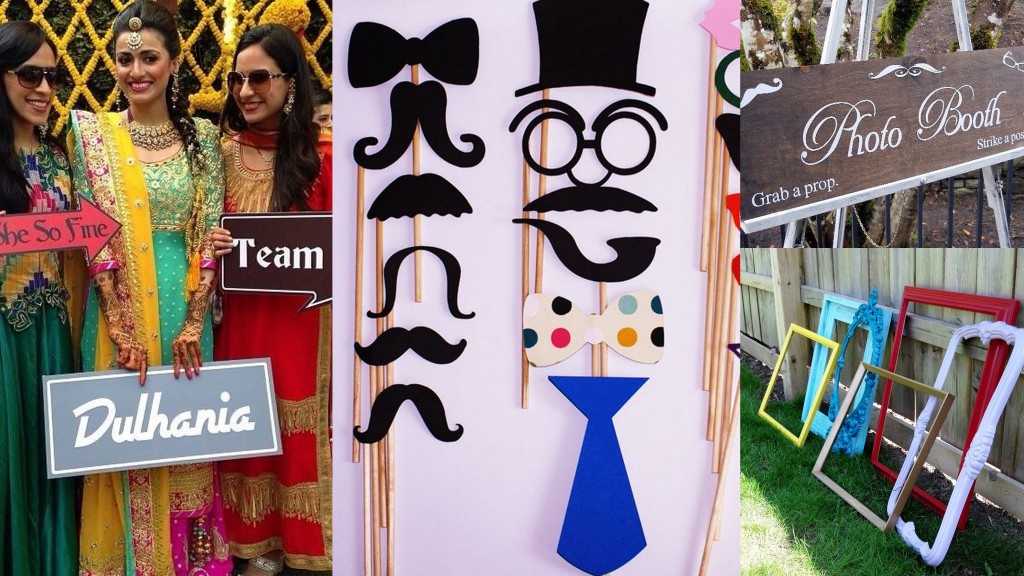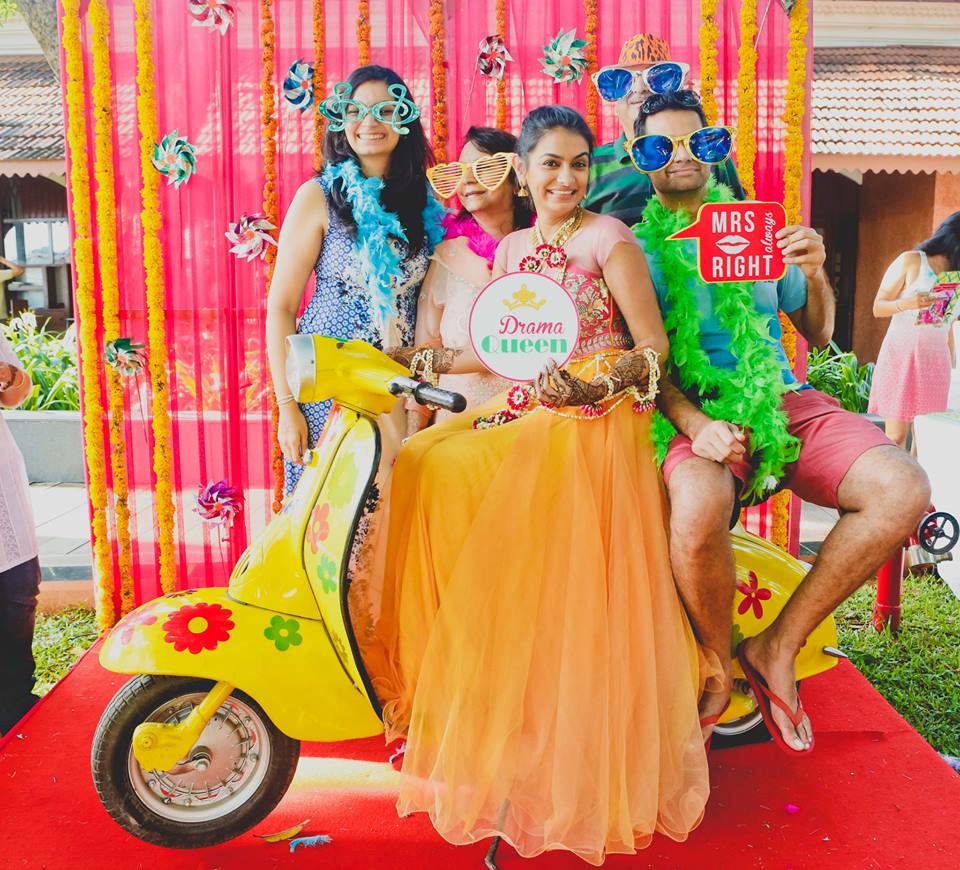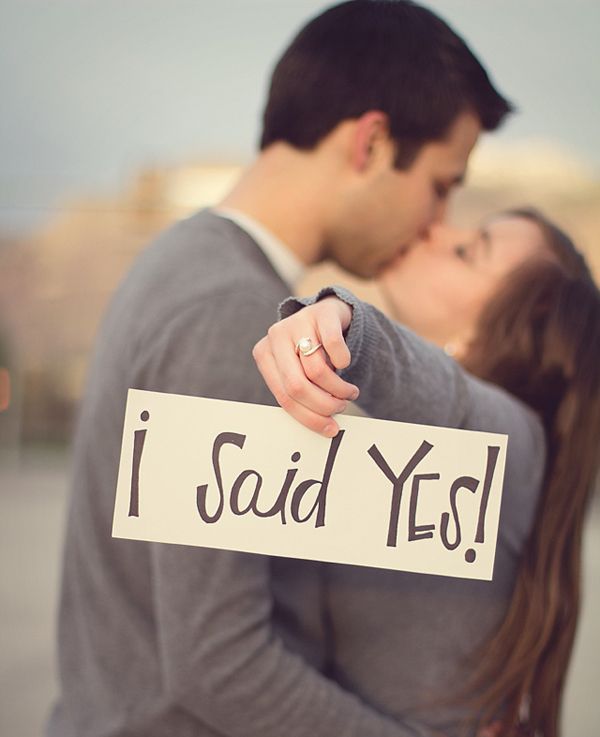 28. Umbrella
Umbrella is the prop that has been used for many years to add the romance to the pictures. Besides using them in rain, creatively use an umbrella in your pre-wedding photo shoots. A couple holding an umbrella together or behind the umbrella looks amazing and add the feel of romance to your wedding album.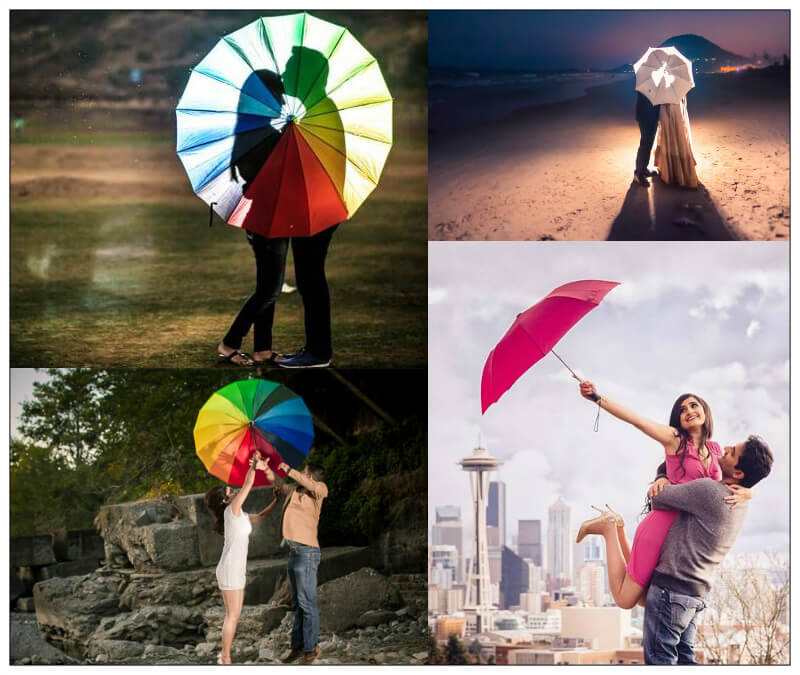 29. Food
If you are a big one foodie then this one gonna be a really very innovative idea including food in the pre-wedding photography. Love candies, coffee or cupcakes and more you can add to your pre-wedding photos.
You can select a theme cafe or coffee house on the highway to add the more adventure to your pics. Really this trend is catching up soon and going to be viral pre-wedding shoot photography.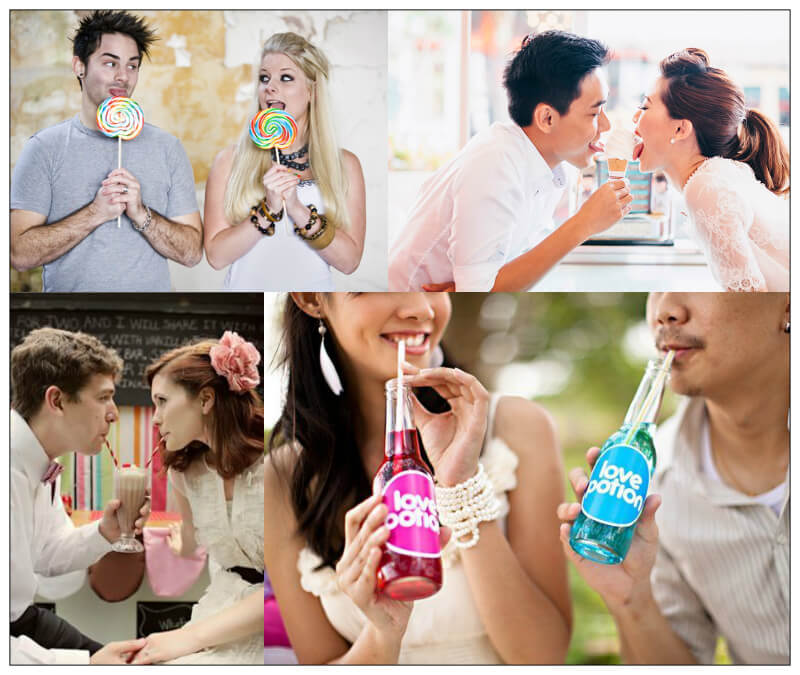 30. Your Mobile Phone
You can also use this pre-wedding photo shoot idea that will really capture the wedding joy. This is very creative and interesting way to use your own mobile phone as your pre-wedding shoot prop. This idea will help you best to create memories.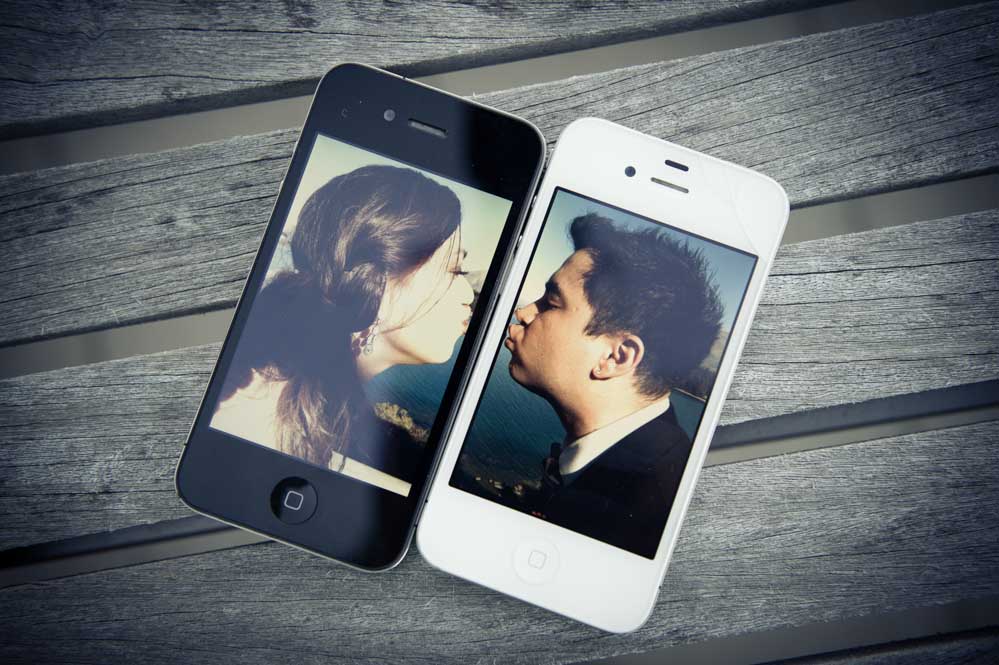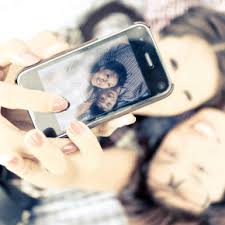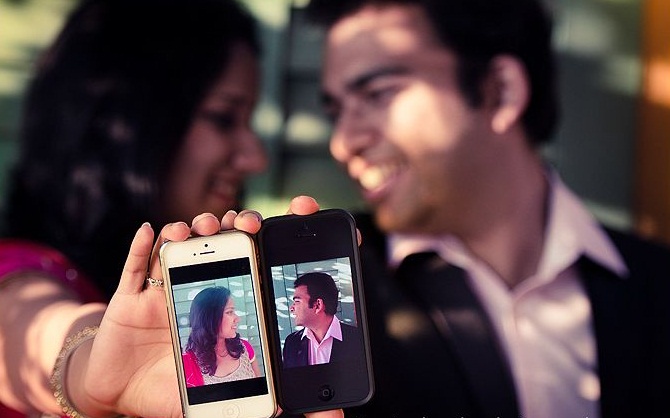 After watching these fantastic pre-wedding shoot photographs not you feeling to get married soon or if you are married then missing the most that time.
If you are a couple who is just married or bride or groom to be or a photographer would like to share your pre-wedding shoot experience or your pre-wedding shoot photography then your suggestions are always welcome. If you think that I have skipped some points or some other creative ideas then you can share your pictures with us! Please do comment.
And all the photographs and bride/ groom to be can share details here to meet at this place to get a beautiful pre-wedding photo shoot appropriate to you!