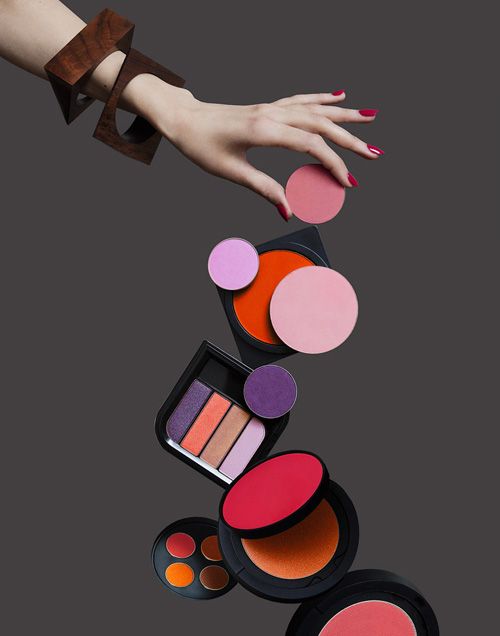 Glamorize to demigoddess is the dream of ever tender gender, isn't it your too? Even our little angles want to prettify themselves by smearing beauty products. There are numerous of brands available in the market to jazz up your makeup. Here we have come up with one of the best cosmetic brand NYX the major conquering brand at our drugstores.
Nyx has changed the makeup game by consistently bringing up new hues, blends, and shades of products to leading cosmetic market. Every single time you will visit a cosmetic you will find a new blend. From your luxurious brands, this one has carved the top selling position with the help of innovative social media and the quality products it brings to the drugstores. You can buy the best suitable shades to your skin tone from the variety of products enlisted below.
Top NYX Products You Need To Try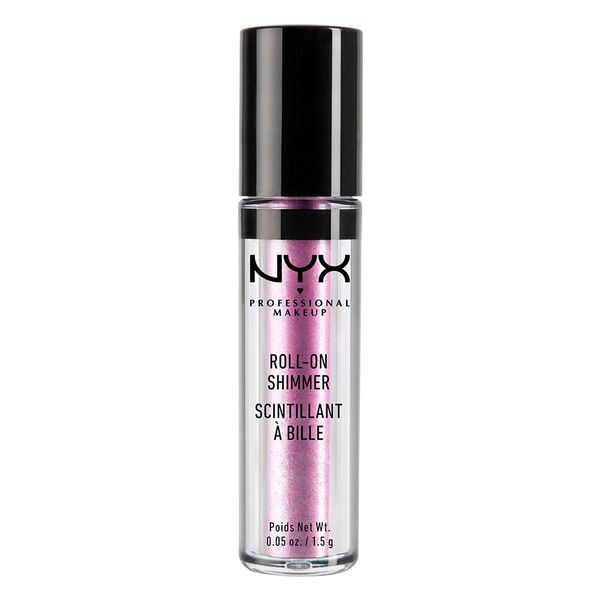 This roll on shimmer adds a tinge of sparkle to your smoky eyes. Use this glamorous looking shimmer on eyeshades, while rolling you can control the intensity of the pigment. You can use the blended shimmer powder with brush or fingertips to add luster to your look with the brilliant shades of the dramatic product.
*Price: 2472 INR
Rating: 4.6/5
Review: Easily roll the product, on the desired body parts eyes, face or body to jazz up your look.
Pros
Cons
 

Available in 12 vibrant shades.
Long wear.
Smooth texture.

 

Might get greasy sometimes.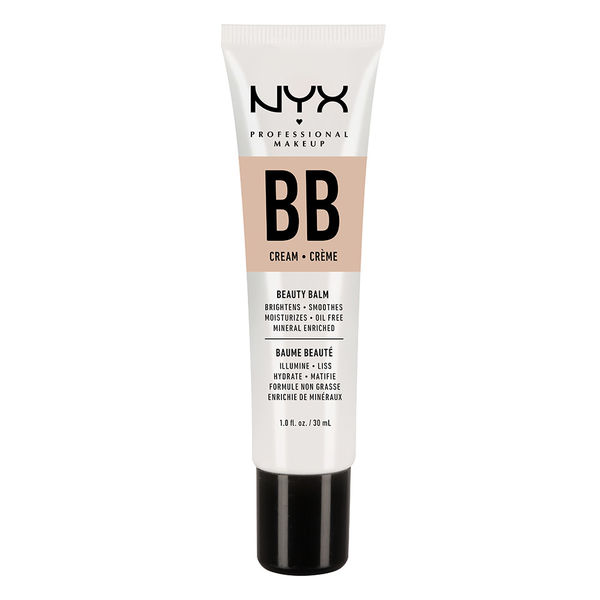 You can achieve the perfect "no makeup look" with this BB cream. The luxurious oil-free formula infused with minerals hydrates the skin and helps the complexion appear to brighten and smoother. Wear it alone for lightweight color or as a primer under foundation to get a radiant glow. Fairly support humid climate and don't run off and is perfect to set with translucent powder.
*Price: 1514 INR
Rating: 5/5
Review: It gives amazing results, as come in different shades suitable for different skin tones. I love to wear it on daily bases to cover the pigments and blemishes.
Pros
Cons
 

Smooth primer for skin.

Mineral enriches formula.
Hydrates the skin.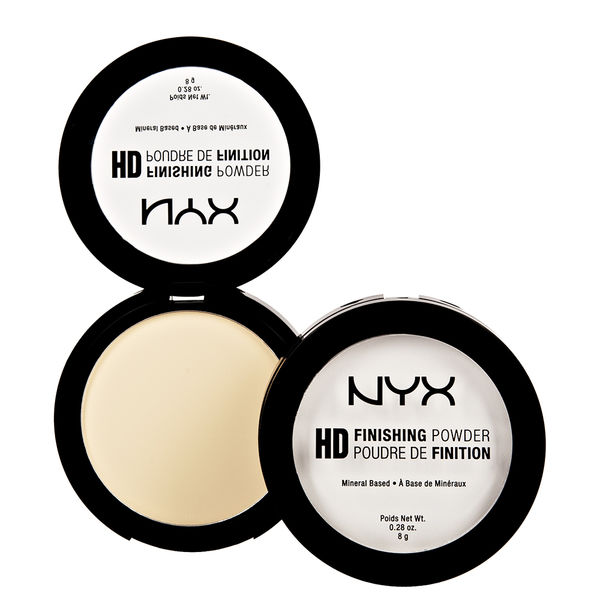 Prefer this smooth, translucent, feather-like product to seal the concealer. The silky pressed powder gives a fresh matte finish to enhance the glow of your face. The mineral-based finishing powder works a charm for oily skin. The product may look like a finely ground splash of flour but works a miracle to hide brownie pigments, unlike other powdered products.
*Price: 2438 INR
Rating: 4.7/5
Review: The translucent product softens the appearance of fine lines & pores and works a miracle for all skin textures.
Pros
Cons
 

Affordable.
Gives smooth and soft finish.
Adds natural matte finish.
Best for oily skin.
Works best to lighten skin tone.

 

Not prefferable over dark circle concealer.
Might not suit dry skin.
Retouching of powder is required after sometime.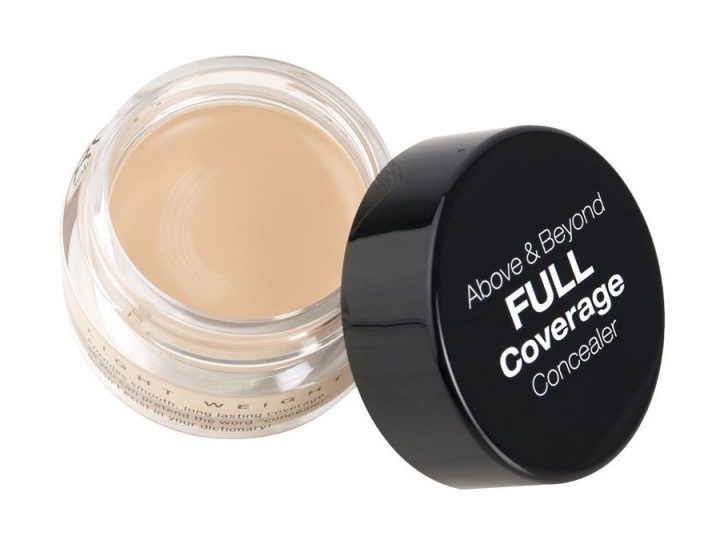 NYX Concealer is an advanced formula that provides long-lasting full coverage. This lightweight concealer is available with an arsenal of 12 shades. The excellent concealer comes small pot packed precisely and is easy to take off & use. Use the product with foundation and after that apply NYX HD Finishing powder.
*Price: 892 INR
Rating: 4.5/5
Review: It's a full coverage concealer that works for every skin type to hide dark circles and blemishes.
Pros
Cons
 

Gives natural finish.

Emollients keep eye area hydrated.
color
Good pigmentation.

 

Multiple coverage is required.
Needs to be re-touched after few hours.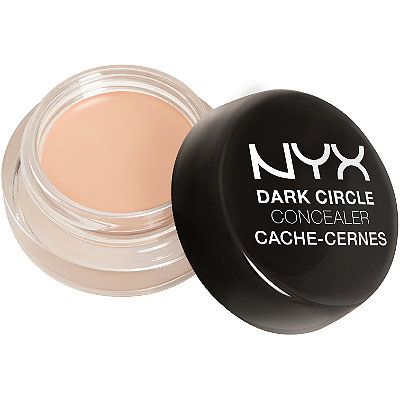 NYX Dark Circle Concealer is a full coverage concealer with orange pigments used to counteract the appearance of dark circles. The concealer is formulated with coconut oil for intensive moisture especially for under eye. The product is a serious solution for challenging beauty problems like wrinkles under eyes, pigmentation and dark circles. This formulation successfully hides the blemishes and jaw up the beauty of eyes to give them defined bulgy look.
*Price: 3101 INR
Rating: 4.7/5
Review: Great color corrector to camouflage dark circles and fine lines under eyes.
Pros
Cons
 

Infused with intense coconut moisture.
Smooths and hydrates skin.
Non cracky product.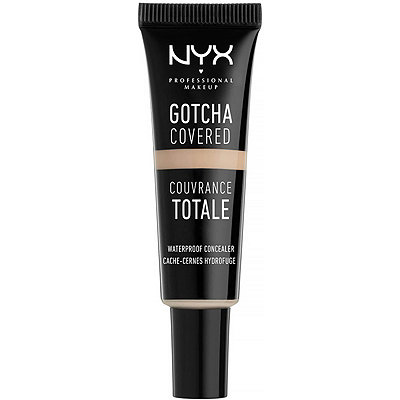 Gotcha covered a full coverage concealer efficiently covers up imperfections and discoloration. The long-lasting concealer is infused with coconut oil that hydrates your skin and leaves your face with a healthy-looking glow. The highly blended concealer hides imperfections without creasing or caking. The concealer is a great waterproof product available in more than ten gorgeous shades.
*Price: 719 INR
Rating: 4.4/5
Review: This affordable concealer camouflage perfectly fine lines, pigments, and dark circles. You might be impressed by its wonderful work.
Pros
Cons
 

Nice pigmentation.
Waterproof.

 

Not preffered for oily skin.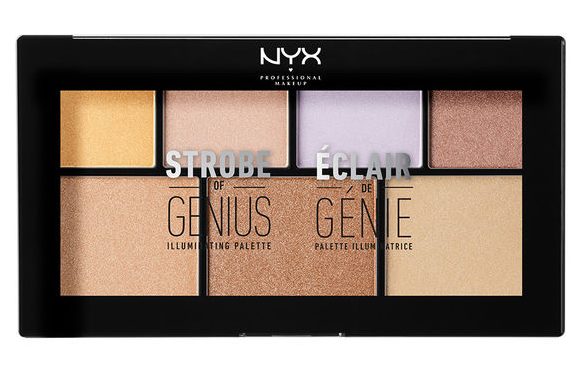 Want to enhance features with illumination must have an incredible new collection of new products to achieve today's most buzzed-about highlighting trend strobing. NYX Professional Makeup presents seven velvety smooth shades which feature severe levels of illumination. The versatile shades of this allured brand are creamy and buttery in texture. The best part is it has enough shimmer to pop up your look and no need to apply additional glitter.
*Price: 980 INR
Rating: 4.8/5
Review: Stop juggling with too many products this one is the best illuminators designed to buzz highlighting trend.
Pros
Cons
 

Pulverized very well.
Soft and smooth shades.
Suitable to every skin tone.

 

Product damage issue while ordering online.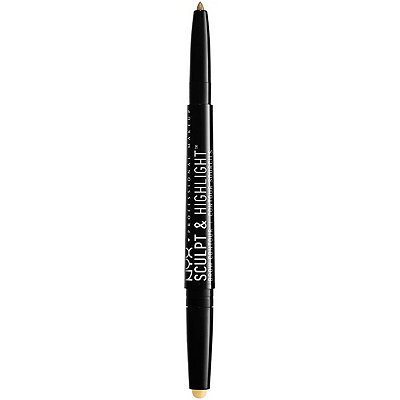 Nothing conspire your look more than beautifully defined brows. NYX Sculpt & Highlight Brow Contour is a 2-in-1 pencil that fills, interprets and uses shadow and light to lift the brows to give perfection to eyebrows. The great thing about the two shapes is it facilitates and makes application easy. The sleek brow contour is formulated with nourishing castor seed oil which avoids flaking the application.
*Price: 825 INR
Rating: 4.5/5
Review: The highlighter stick is easy to use, it gives a very natural lift to the brows.
Pros
Cons
 

Infused with castor oil.
Dual end countering stick.

 

Takes alittle bit learning curve.
NYX HD Blushes are high definition lightweight formula that blends evenly. The precise packing is cute travel-friendly that can fit in any corner of your small kit. The vibrant, silky soft blush delivers bold color with each swipe, the reason for winning everyone's heart. The luxurious looking blush is paraben free. The blusher without being over shimmery provides a sweet and subtle glow to the cheeks.
*Price: 600 INR
Rating: 4.7/5
Review: The travel-friendly product delivers deep shades.
Pros
Cons
 

Long-lasting.
Lightweight.

 

Dusky complextion may need more pigmentation.
Less product compared to price.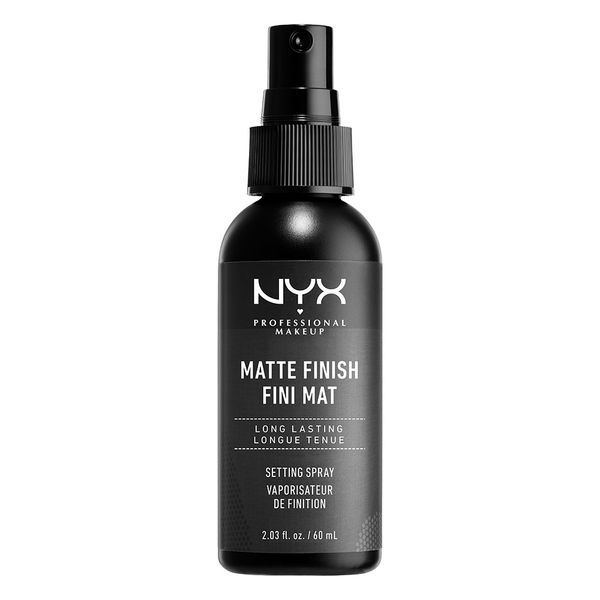 If you demand perfection and fresh look in your makeup NYX makeup setting spray will help you out the. These sprays are lightweight and work hard to make your makeup stay long and comfortable. The gorgeous spray gives the matte shine-free finish. The spray makes your makeup set preventing unwanted color fade. This lightweight non-greasy formula dew flawless fresh glow.
*Price: 4897 INR
Rating: 4.5/5
Review: Brush the spray before you blend the concealer, it will make the makeup intact and long-lasting.
Pros
Cons
 

Ideal choice for hot weathers.
Oil controlling formula.
Gives natural shine.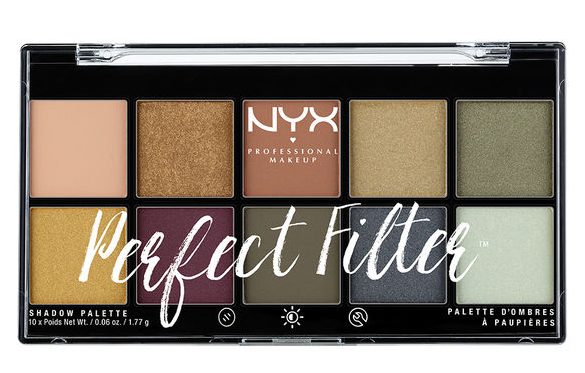 Nyx Professional Makeup Perfect Filter Eyeshadow Palette comprises of easily blendable shades. The high color payoff palette comes in a combination of five bewitching tones. Each palette is collectible set inspired by photo filtering effect. Most of the brands big or small make a palette of 2 or 4 shades in combination, but the new NYX perfect filter features ten vibrant hues of the fantastic eyeshadow.
*Price: 1500 INR
Rating: 4.6/5
Review: The poping look cosmetic comes in five striking color combinations.
Pros
Cons
 

Nice colour combination palette.
All colors are vibrant.
Product has silky & smooth texture.

 

Needs frequent touch up.
Multiple coatings required.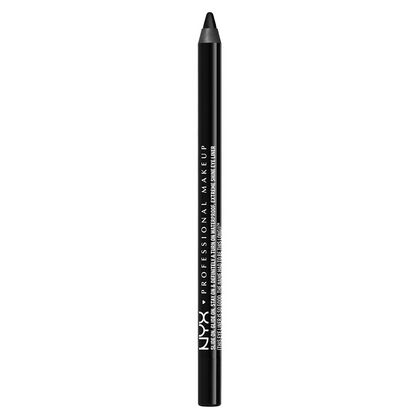 NYX Cosmetics Slide On Pencil is a waterproof formula that gives intense, rich color. The pen shape eyeliner is easy to apply on eyelids as its creamy texture glides down smoothly defining perfect wings in extreme color. It is the liquid liner in pencil form to stay out of the mess. The Silky soft eyeliner is available in 18 intense shades; the jet black color delivers powerful, robust color to line eyes. The long-lasting formula doesn't smear or smudge and is suitable for sensitive eye people. 
*Price: 2386 INR
Rating: 4.8/5
Review: If your eyelids are super soft or tight you can easily use this product to pop up the look of your eyes.
Pros
Cons
 

Texture is creamy.
Long-lasting.
Smear-proof.

 

Sharpner is not gifted along with the eyeliner.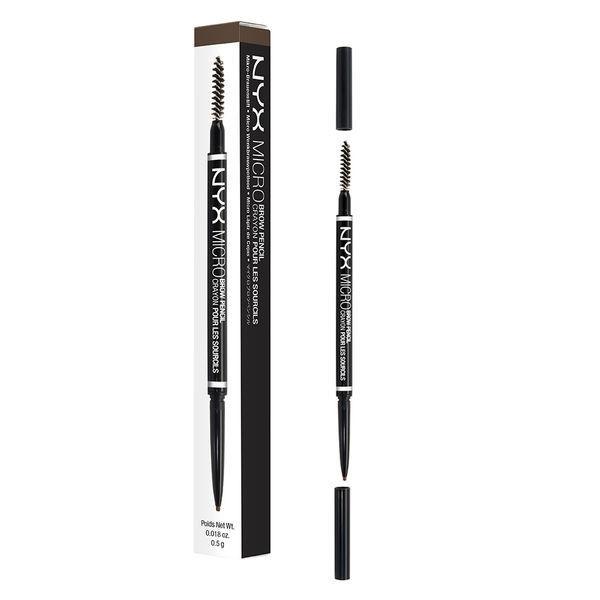 Nyx Professional Makeup Micro Eyebrow Pencil builds shape and fills sparse brows. The mechanical brow pencil with super skinny tip creates a beautiful shape of natural brow hairs. The dramatic pencil coats even the finest hairs finest hairs with color for a natural looking finish. It has spoolie brush to blend harsh lines and jazz up beautiful eyebrows. 
*Price: 875 INR
Rating: 4.9/5
Review: Love the pigmentation of the product, the spoolie shades help to the brows well.
Pros
Cons
 

Easy to work with.
Comes in variable shades.
Gives a natural look.
Pigmentation is good.

 

Not smudge-proof.
fades easily.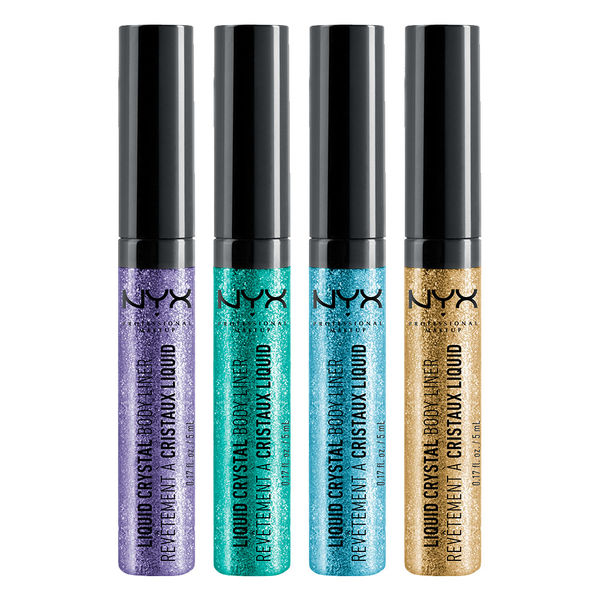 The super-pigmented eyeliner highlights your eyes and transforms your look in seconds. This product gives Colorsdramatic look with the exciting range of color choices. The thin and delicate brush tip allows clean and precise line application. People like this product as it provides intense and bold color to emphasize the go glam look to eyes. The delivery of fun-loving shades lasts long, and pigments are smudge-proof.
*Price: 911 INR
Rating: 4/5
Review: Great liquid eyeliner is having long staying power.
Pros
Cons
 

Longer stay.
Color choices are vibrant.

 

When applied it gives little burning sensation.
Sometimes get clumpy.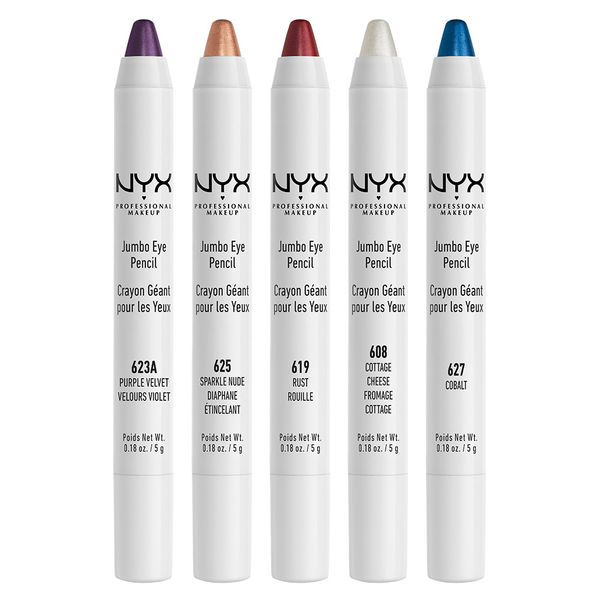 The radiant eyeliner is made with a blend of mineral oil and powder. The creamy textured Jumbo Eye Pencil glides on effortlessly defining fine wiglets. The jumbo pencil concept is making everyone crazy as it follows no pulling, tugging or fading concept. It is used as double for eye-shadows and eyeliners.  The most voluptuous pencil comes in the huge range of 32 shades that work for both day and night. Probably use an eyeliner underneath the jumbo application.
*Price: 550 INR
Rating: 4.5/5
Review: Great for brightening your eyes over or fair skin tones.
Pros
Cons
 

Creamy textured.
Glides effortlessly.
Eyeliner works as eye-shadow as well.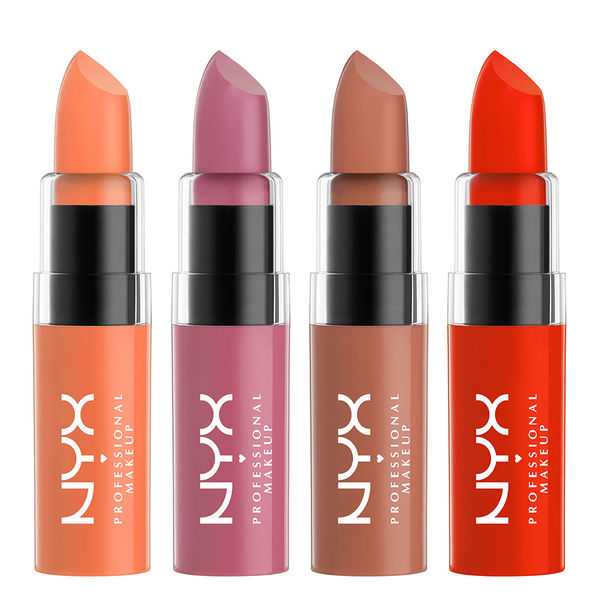 Full yet lightweight, creamy coverage treats your lips to a kiss of smooth. The soft formula fused with highly saturated colors delivers luxurious satin finish. Gals admire Butter Lipstick for its glossy top shiny texture; the progressive product has taken over the place of traditional lip balms. The irresistible Butter Lipsticks are highly saturated formulas that come in 12 new luscious shades. 
*Price: 550 INR
Rating: 4.9/5
Review: Really adorable as it's a riveting replacement for the lip balm.
Pros
Cons
 

Smooth textured.
Gives glossy finish.
Great hydrating product.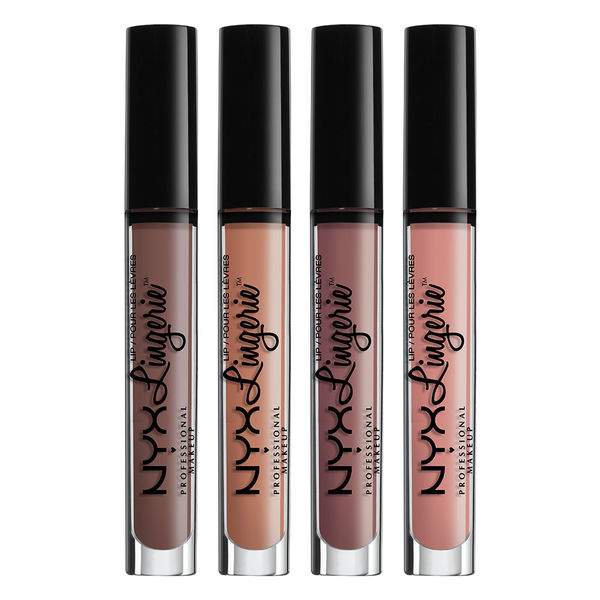 Warm color components of NYX Lip Lingerie are another product allured by NYX customers. Coat the curve of your lips with luscious liquid lipstick to slip into something seductive. Colors are available in hues from cinnamon pink, chocolate brown, classic nude beige to warm mahogany red. Each sultry shade of the weightless liquid lipstick defines lush matte finish.
*Price: 650 INR
Rating: 4.8/5
Review:
Pros
Cons
 

Variable color choices.
Soft textured.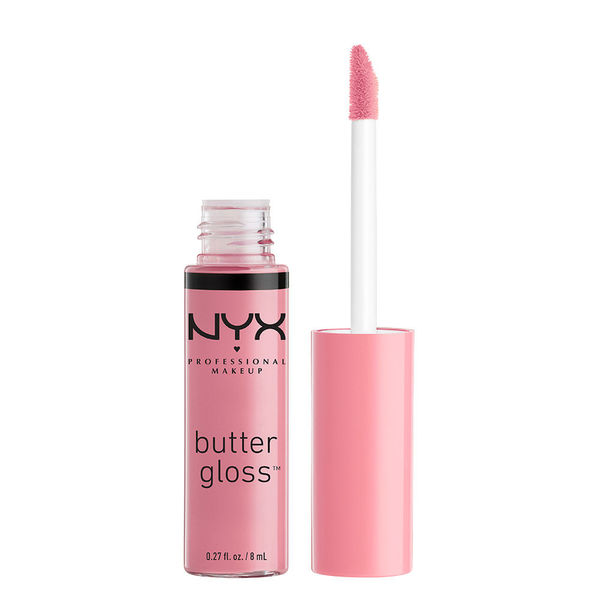 The scrumptious new NYX Professional Makeup Butter Gloss is a non-sticky formula that leaves your lips soft and supple. Butter soft and silky smooth formula melts into the lips. The kissable product comes in super 22 shades that deliver sheer to medium coverage making your lips look downright luscious.
*Price: 550 INR
Rating: 4.5/5
Review: Lip gloss lovers will color admire the various shades of this NYX product.
Pros
Cons
 

Nice hydrating product.
Pocket-friendly.
Highly pigmented and glossy textured.

 

Needs touch-ups frequently.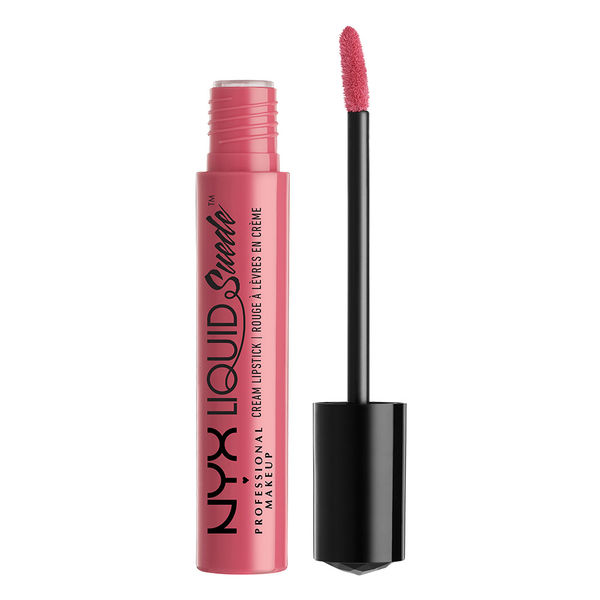 Using variant colors of NYX Liquid Suede Cream Lipstick is fun loving. The waterproof formula creates the lustrous look with every swipe and is available in 12 dramatic shades. Liquid Suede cream doll up your lips with an intense metallic finish.
*Price: 650 INR
Rating: 4.6/5
Review: Great waterproof formula gives the gorgeous matte finish.
Pros
Cons
 

Waterproof formula.
Give velvety finish.
Vibrant colour choices.

 

Not suitable to dry and chapped lips.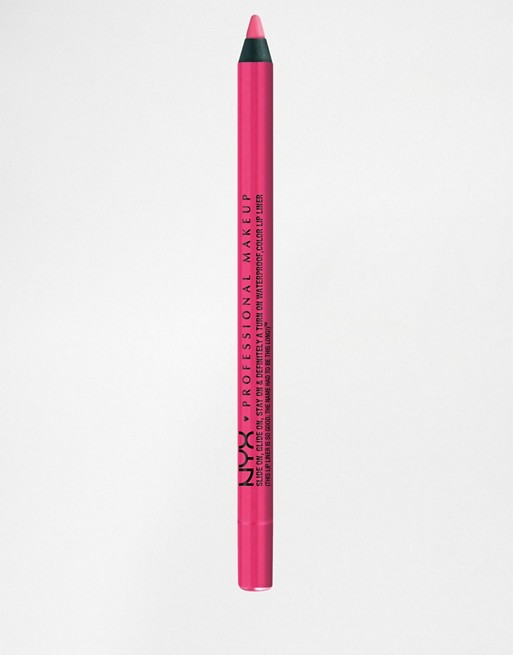 NYX lip liner is so good; the name had to be Slide on, Glide on & Stay on Lip Pencil. Draw out your pout with Slide on Lip Pencil for rich matte color. Pucker up and try from the 28 incredible shades that match up with your lipstick palette. This lip pencil goes on extra smooth and prevents feathering of lipstick. The super smooth waterproof liner defines long stay finish.
*Price: 800 INR
Rating: 5/5
Review: Love to line my lips with this slide on lip pencil.
Pros
Cons
 

Glides easily.
Long-lasting.
Creamy textured.
Best color payoff.
Wide adorable colour range.

 

Gives a little dry feel sometimes.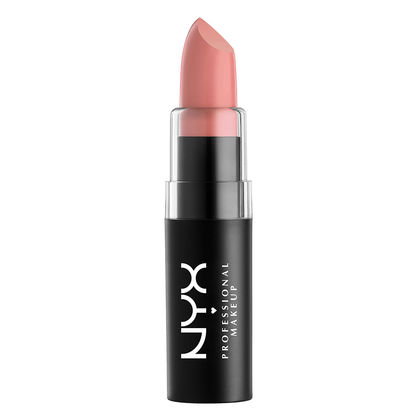 The beautiful mate shades are affordable and easy to wear. Load your lips with highly pigmented lipstick choosing from the 12 brand new shades. The lipstick is non-glossy that gives a high matte finish. These playful pops of colors are now available in a range of fresh new hues jaw up to the look of your pout with a silky matte finish that never feels dry.
*Price: 625 INR
Rating: 4.7/5
Review: This is a pretty good matte lipstick, the formula doesn't immediately create cracking and clumping effect and stays longer.
Pros
Cons
 

Highly pigmented.
Variable shades.
Non glossy.

 

Might be better with primer.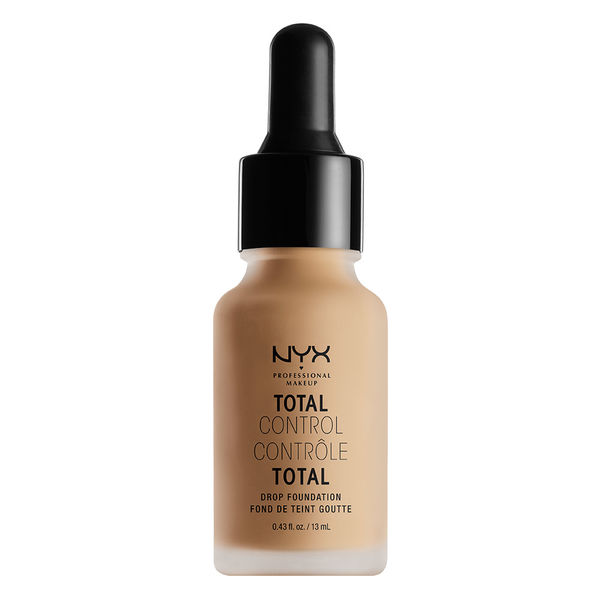 Just a drop of new Total Control Drop Foundation gives your face ideal coverage from sheer to full. Brush after application of foundation to give a smooth finish to your makeup. The favorite fan foundation comes now in new five different shades, for a wider range of skin tones than shades available earlier.
*Price: 1250 INR
Rating: 4.5/5
Review: Highly recommended for all skin tone, gives matte finish glow.
Pros
Cons
 

Velvety matte formula.
Available in wide range of shades.
Gives matte finish.
Gives smooth base for makeup.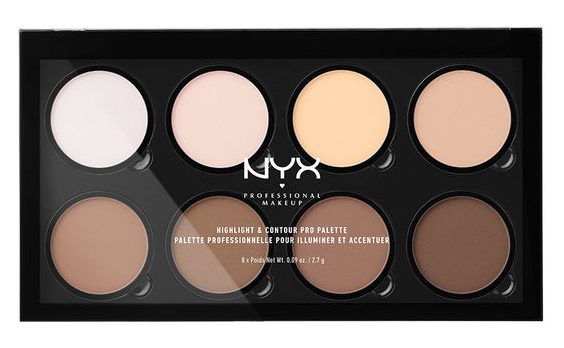 The mighty colors of the palette are highly impressive. Refillable highlight and contour palette are customized to eight contouring shades perfect to emphasize your favorite features. Contouring is the best way to highlight the facial features, so preferred by every makeup lover chick due to its butter-like smooth blend.
*Price: 1600 INR
Rating: 4.7/5
Review: It is dry powder based contouring palette but blends like butter to pop up your makeup.
Pros
Cons
 

Smooth texture.
Highlights features.
Good contours.
Best for beginners.

 

Very big cant carry in purse.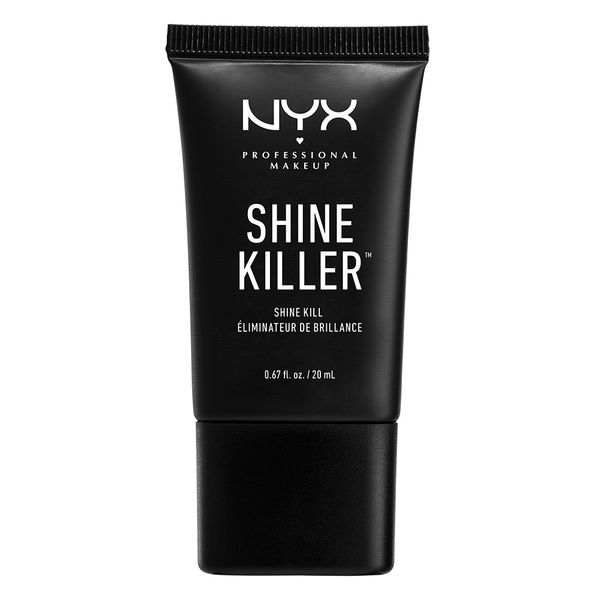 NYX Professional makeup Shine Killer is an ultimate weapon in the battle over shine. Wear it before you apply your favorite foundation for a fresh matte look on bare skin. The rich pigmented formula eliminates shine and oil from the face and keeps your face matte all day long.
*Price: 752 INR
Rating: 3.9/5
Review: The product is long lasting but becomes shiny at the end of the day long for oily skin.
Pros
Cons
 
 

Not much suitable for oily skin.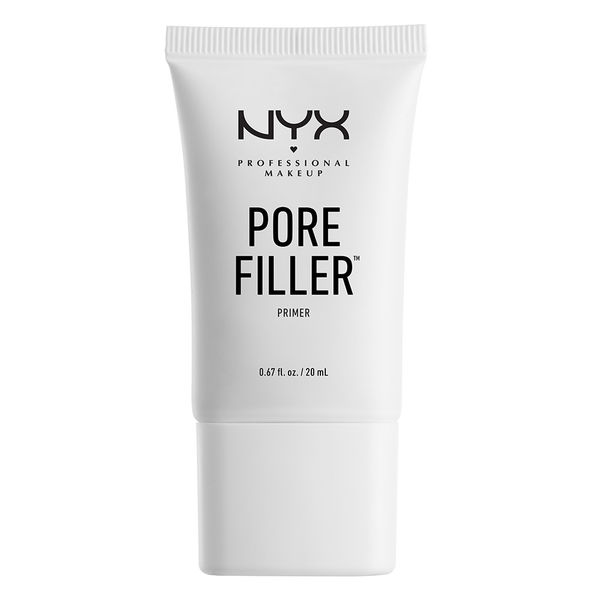 The professional pore filler does a miracle by reducing the appearance of your pores. This perfect pre-foundation coat is talc free and oil-free formula infused with Vitamin-E for rejuvenating skin texture and is great preparation for smooth makeup application.
*Price: 1425 INR
Rating: 4.7/5
Review: Love this product as it is infused with Vitamin E, effectively tones up the skin.
Pros
Cons
 

Minimises pore openings.
Oil-free formula.
Infused with Vitamin E
Tones skin.

 

Needs touch up after sometime.
So, we have enlisted best cosmetic products offered by NYX. Which one would you love to try out instant? Do mention in the comment section below your episode! Buy Soon!
*Prices may vary according to availability or on sellers offer!