Diwali is around the corner and this is the widest celebrated festivals in India. The day is celebrated in India with immense excitement and enthusiasm.
People of All age groups celebrate this festival with a lot of passion. The whole family does Pooja of Goddess Lakshmi and Lord Ganesha on this day and children burst firecrackers and women celebrate this special day by decorating their homes with Diya(Diva), lighting candles and making rangoli at the doorsteps of their home to welcome Hindu Goddess Lakshmi, the Goddess Lakshmi. So, friends like Diwali is just arriving don't forget to decorate your home with the Beautiful Rangoli Designs.
Here we are sharing some Simple & Easy Rangoli designs for Diwali to help you decorate your home beautifully. Let's start practice to make rangoli design.
Also, Check:
Beautiful Rangoli design For Diwali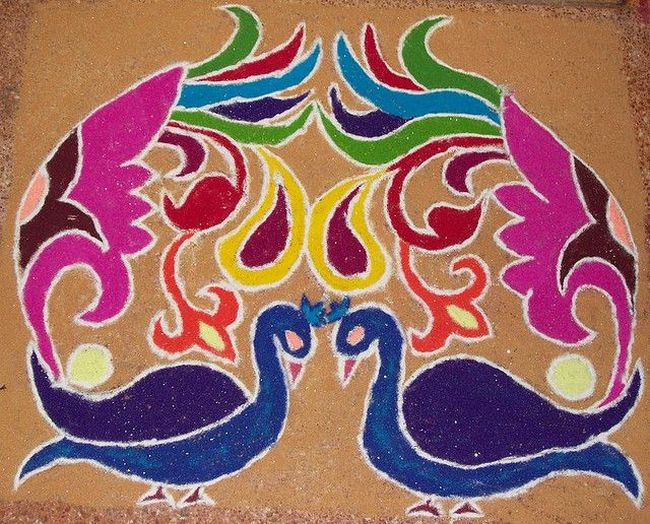 Diwali is a time when we make beautiful & colorful rangoli designs.A beautiful Rangoli is the best way to greet your guests. Some draw free hand rangoli designs with the rangoli pen. Different types of rangolis can be made with or without colors but colorful rangoli looks more attractive and as the peacock is our national bird and it looks beautiful in rangoli also.
Diya Rangoli Design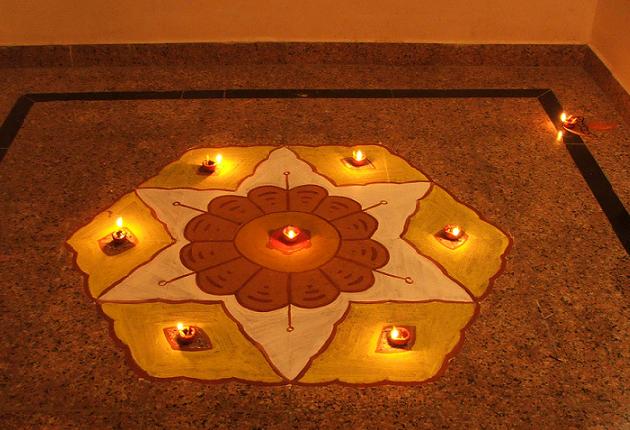 This is an another rangoli design with Diva / Diya. As this rangoli is painted on the floor with colors and just they put diyas and it looks beautiful. This is a simple way to make rangoli for them who are beginners in this field.
Colorful Rangoli Design For Diwali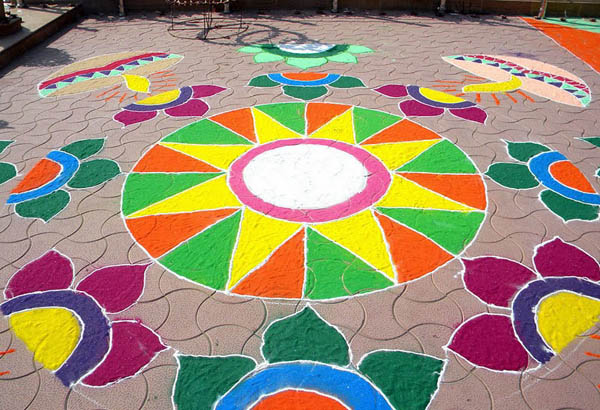 Rangoli can be of any size and shape according to your doorstep size.Here in this rangoli image very large Diwali Rangoli has been made by using very vibrant colors and Diya shapes are also made at the corners to give Diwali theme to rangoli. Combination of colors is the main thing to make rangoli beautiful.
Circular Rangoli Design For Deepawali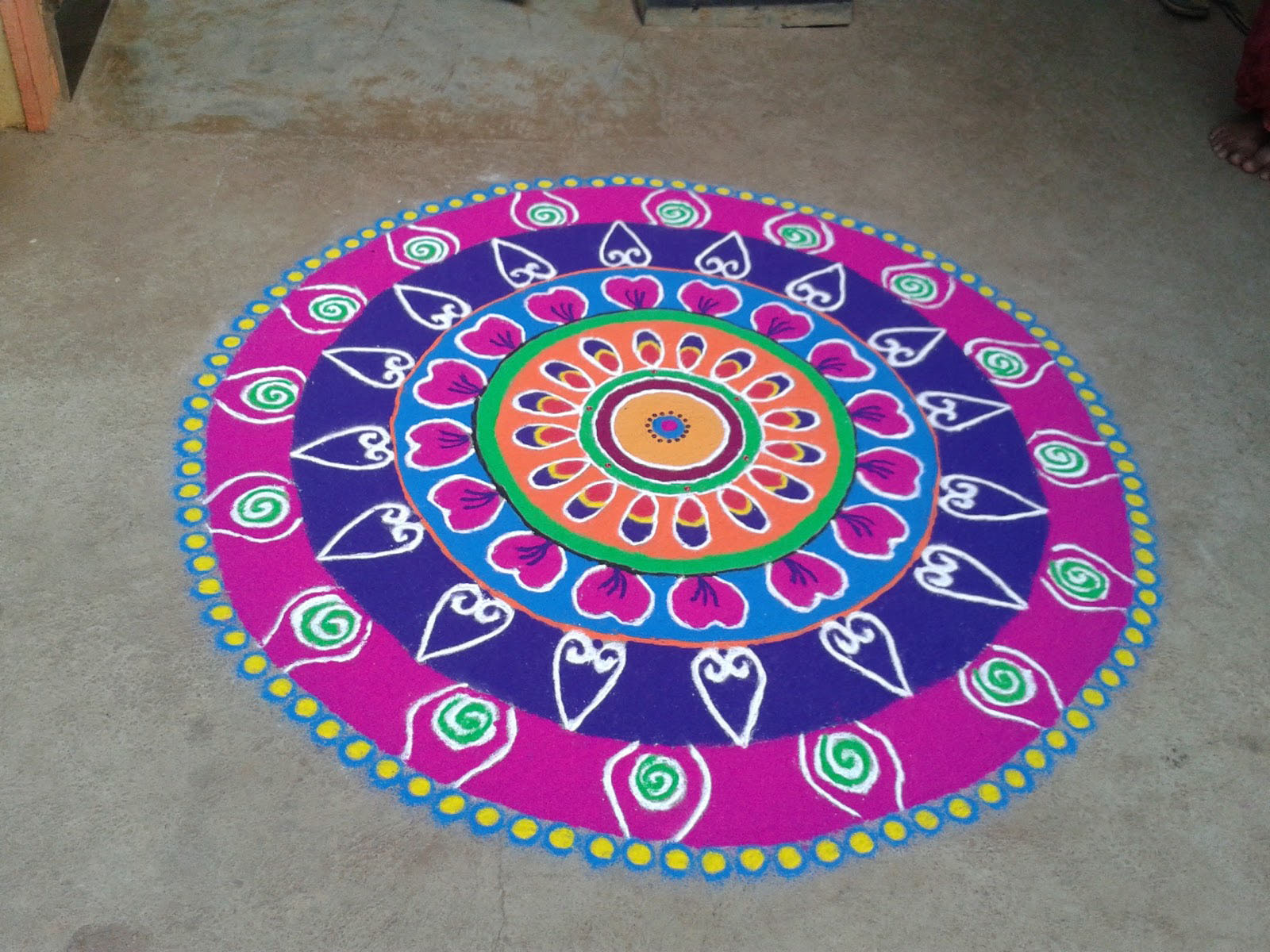 The best Rangoli designs on Diwali are sure to reflect the rich heritage and traditional values of your home and our country India. While the process of making the Rangoli through sprinkling powder by hand is a difficult and laborious task but it is worth the effort for sure.
Rangoli Design With Diya and Flowers For Diwali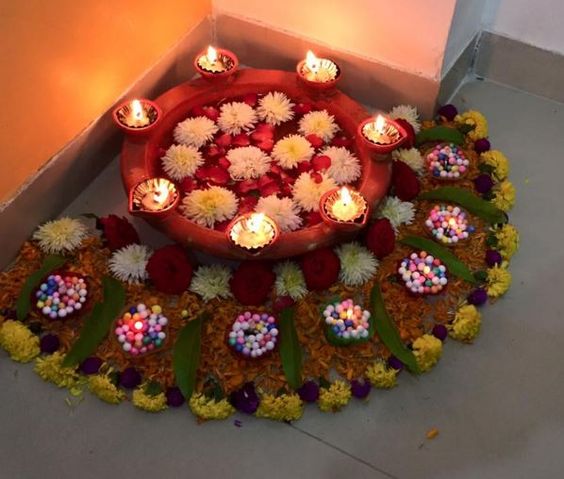 Rangoli is made from artificial colors like Vermillion (Sindoor), and natural ingredients like turmeric and flowers are also used.Here we are sharing stunning pictures of Diwali Rangoli Designs with flowers and diya and feel the warmth of this auspicious festival.
Best Rangoli Design For Diwali 2015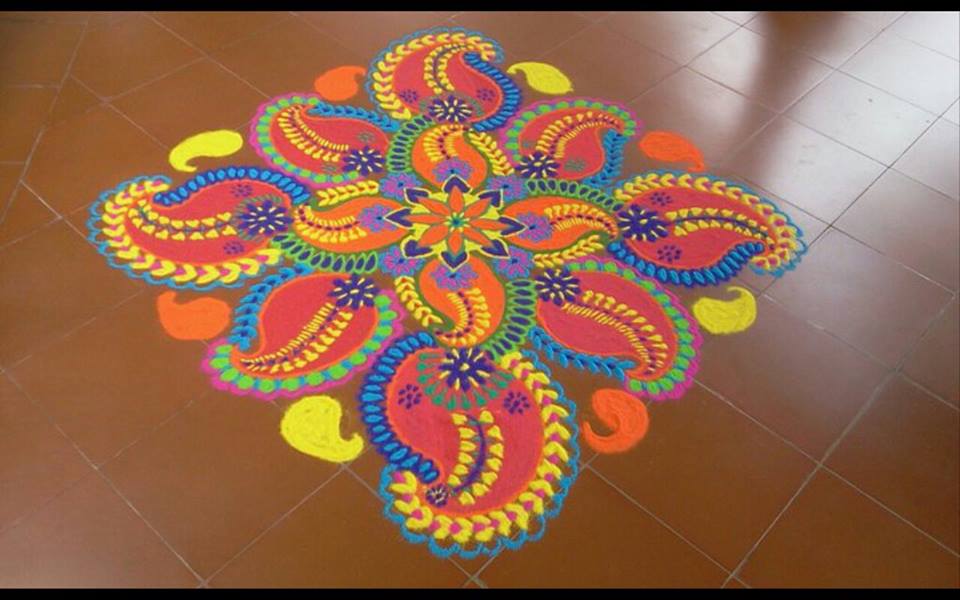 Here we had made rangoli with the mixtures of colors. Colors are sprinkled on on another to make mango shape and flowers. Bright colors have used to make flowers shape and many colors green, blue, red, yellow, orange, dark blue are used by us in this rangoli. Though it appears difficult it is actually simple to draw.
Traditional Rangoli Design For Diwali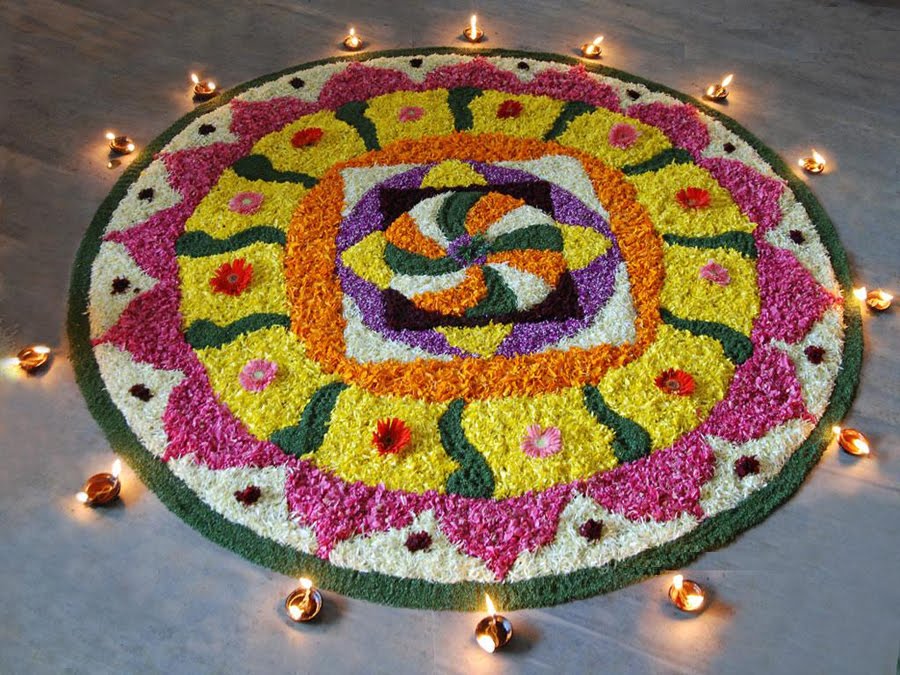 For the Best Rangoli Design, you can use some ingredients like flowers, tree leaves, the bark of the trees etc. For this floor art, you must use the powdered colors only made from grounded rice flour. The white stone powder is also used as it is brighter and will lend a perfect finishing to your Diwali Rangoli designs. Use cereals, pulses, chilly powder, turmeric etc to give it a variety of natural colors. The flowers that you can use are the roses, marigolds, and chrysanthemums.
Colorful Peacock Rangoli Designs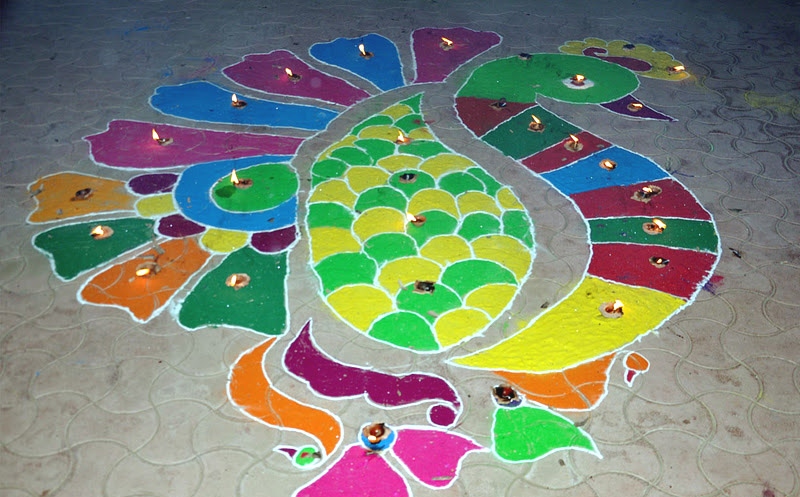 Nowadays, rangoli is not only a tradition instead its an art or creativity or we can say rangoli craft because here we are not using any traditional method here.Here in this rangoli, we have made a peacock with a different creative style and also put some diya in between this. Its giving traditional Diwali looks with style to this rangoli.
Floral Diwali Rangoli Design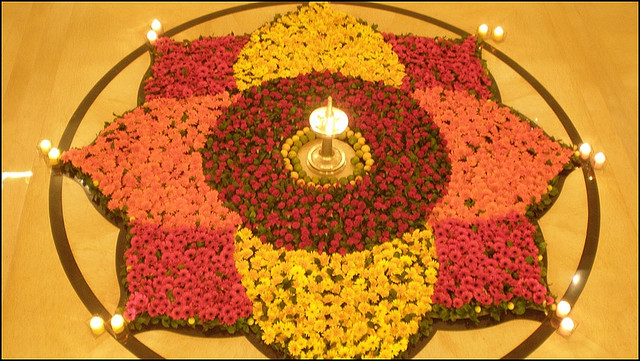 This is very simple rangoli design made using flowers and diyas. Rangoli making depends on the practice that how unique rangoli that you can make but if you are a fresher in this field then this design you can make on this Diwali at your doorstep for the warm welcome of Goddess Lakshmi.
God Ganesha Rangoli Design For Diwali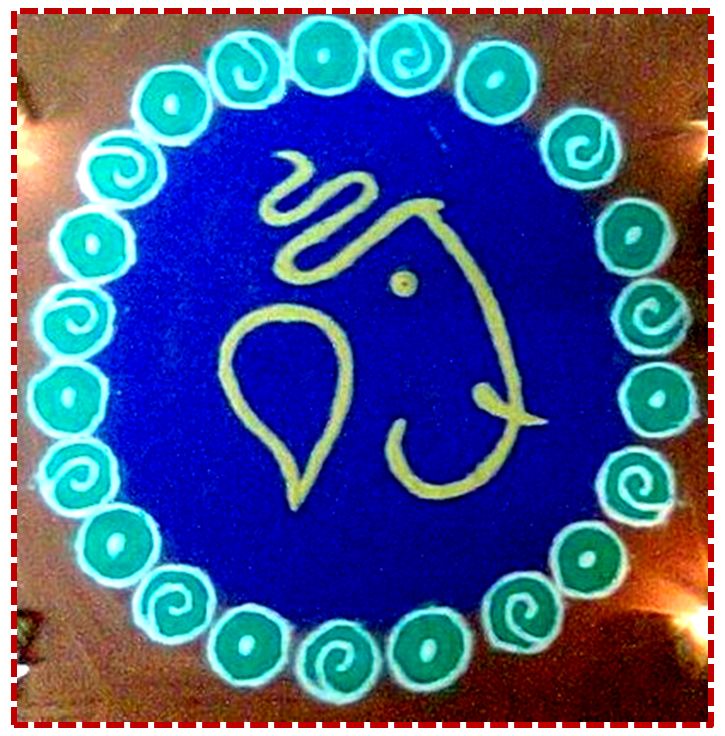 God Ganesha face outline has been made on the dark blue background. As making God Ganesha on the Diwali gives very beautiful looks in the rangoli. But as everyone can't make easily this so here we have shared God Ganesha Rangoli for Diwali that everyone can make this design easily.
Lord Ganesha Creative Rangoli Design With Flowers For Diwali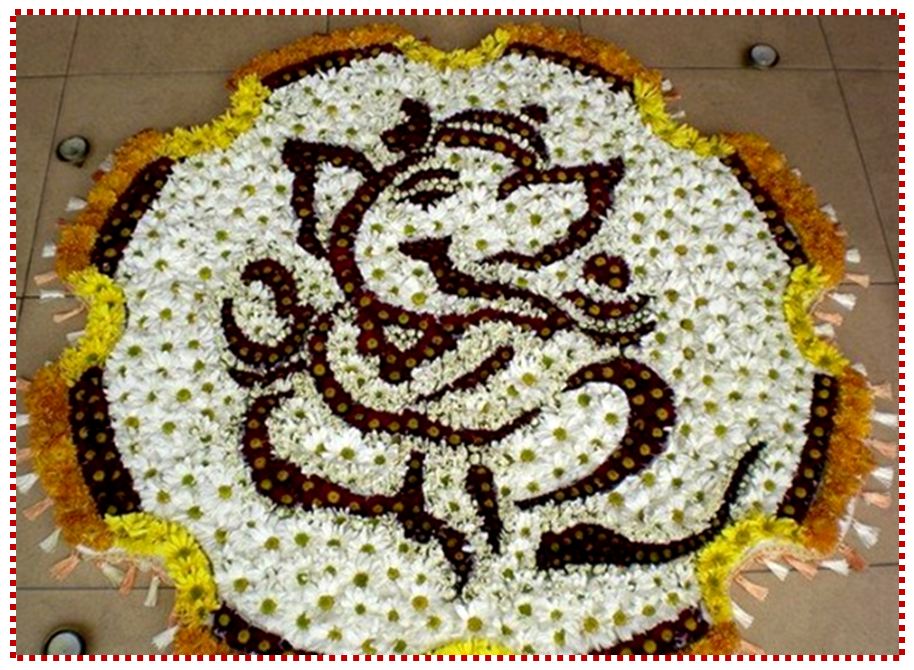 Thinking about the theme that you like and which stunning pattern you want to make on this Diwali. Some of the people love to make a symbol of Goddess Lakshmi or God Ganesha. Here we have shared a beautiful god Ganesha rangoli made with flowers. You can also use different colors of flowers for making rangoli. You can also make footprints of god on the doorstep to welcome prosperity into your home. Put some Diyas and candles into the Rangoli to make it brighter.
Simple and Easy Floral Rangoli Design For Diwali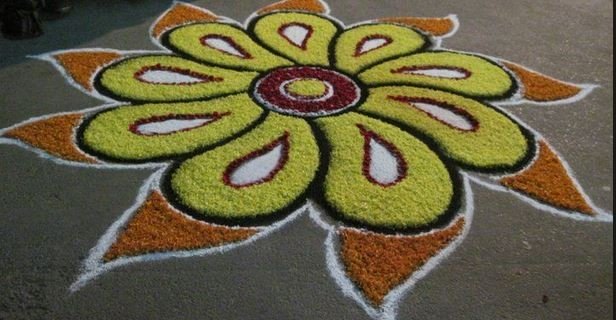 This rangoli has been made with yellow, orange, green and white colored grains of rice. And Flower shape with leaves the corners are giving a traditional look to this beautiful rangoli.
Easy Rangoli Design For Beginners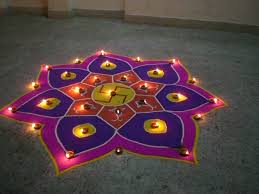 Center quilled with Swastik shape is giving a proper Diwali theme to this rangoli design. This is very simple rangoli design, the beauty of which is elevated by the combined use of bright colors with diya.Diyas add a touch of light to this beautiful work of art.
Easy Rangoli Design For Diwali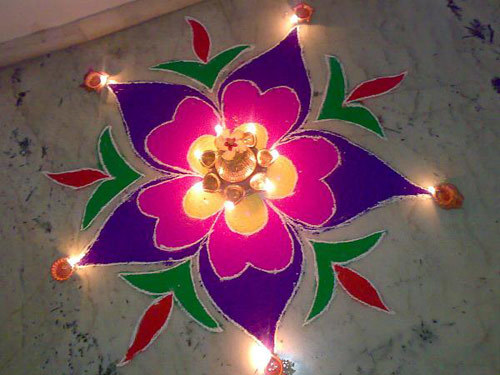 The design here giving the twin aspects of Diwali, namely bright colors, and lighting. The diya stand in the center encircled by a row of flowers is highlighted by a vivid pattern of petals drawn using colored powder.The flower is filled with the bright colors, also giving a traditional look to this rangoli. The outer perimeter is the compilation of small leaves and diyas are also added here to highlighted it.
Welcome Rangoli Design For Deepavali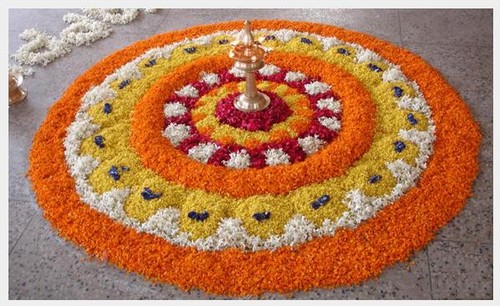 Flowers are always suited for any occasion. The design is also very simple to make this rangoli. In the Center, the Light stand is there to give an extra glimpse to this Diwali theme rangoli. As the design is very simple to make.You can draw circles with chalk before spreading the flowers to make this rangoli.
Latest Beautiful Rangoli Design For Diwali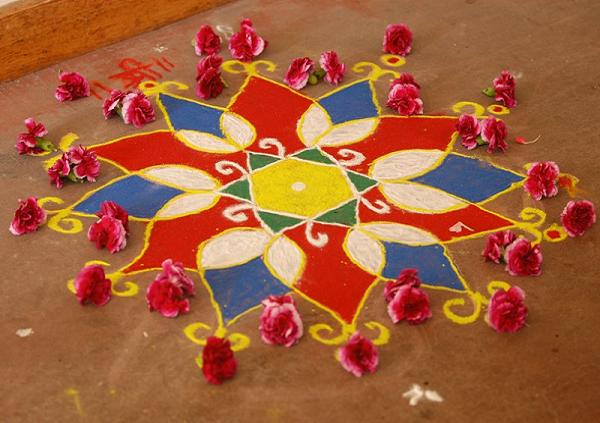 Best simple rangoli with greedy sunshine terminated by the broad flower looks more elegant by Diwali latest rangoli designs. A Rounded Floral Ethnic designs of Latest Rangoli drawn with vibrant colors, red, blue, yellow and green on the background, having the conventions of long petals on the Floral designs ended with the yellow corners.
Latest Rangoli Ethnic Design For Diwali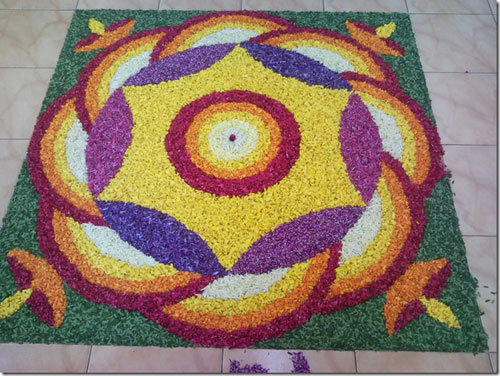 A diya being symbolic of Diwali is an inseparable part of its celebrations. Rangolis incorporating floral petals are great for beginners since they are more forgiving to mistakes. It looks beautiful irrespective of the occasion. This particular design, though a little labor intensive, when finished is sure to leave a lasting impression.
Unique Rangoli Designs For Diwali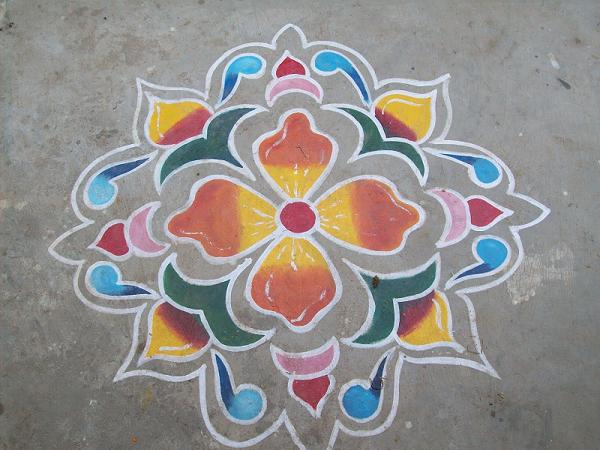 This rangoli also looks very beautiful. The method used in this rangoli is that this rangoli has painted colors on the floor with different colors and outlines has been done by white color giving a unique look to this Diwali rangoli design.
Beautiful Simple & Easy Rangoli Design For Deepawali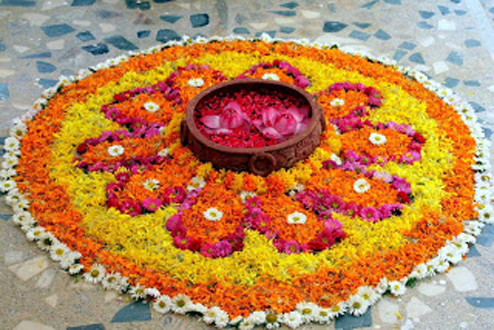 This circular rangoli design has enriched with the prosperous light for the reverence of deity, to celebrate this joyful Diwali. This Diwali Latest rangoli Ethnic design pattern has come up very well, having the features of Diya in the center.
Semi Circle Rangoli Design For Diwali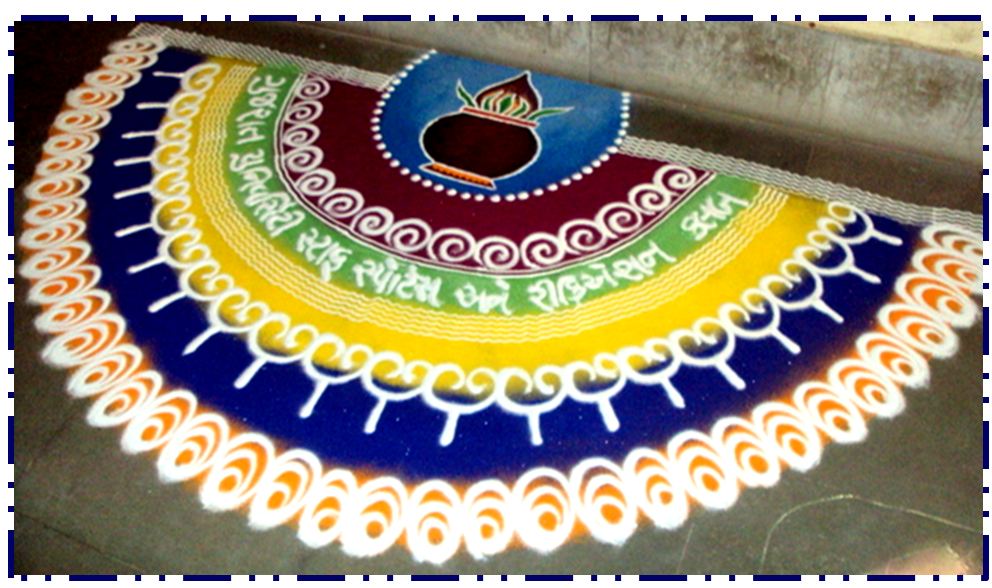 This is a semi-circle rangoli has been made at the doorstep of home. Making Kalash is giving a very traditional look to this occasion special rangoli design. This pattern is very suitable for the south state rangoli makers as some shloka has been written in a line in between this rangoli. Using vibe rent colors giving an extra beautiful look to this rangoli design.
Best Rangoli Design For Diwali 2015
Though the design is simple, it looks quite beautiful when decorated with diyas. It is a floral design in the center drawn on a contrasting background with serpentine curves in the periphery. Diyas can be placed wherever suited to enhance its beauty.
Free Hand Rangoli Design For Diwali 2015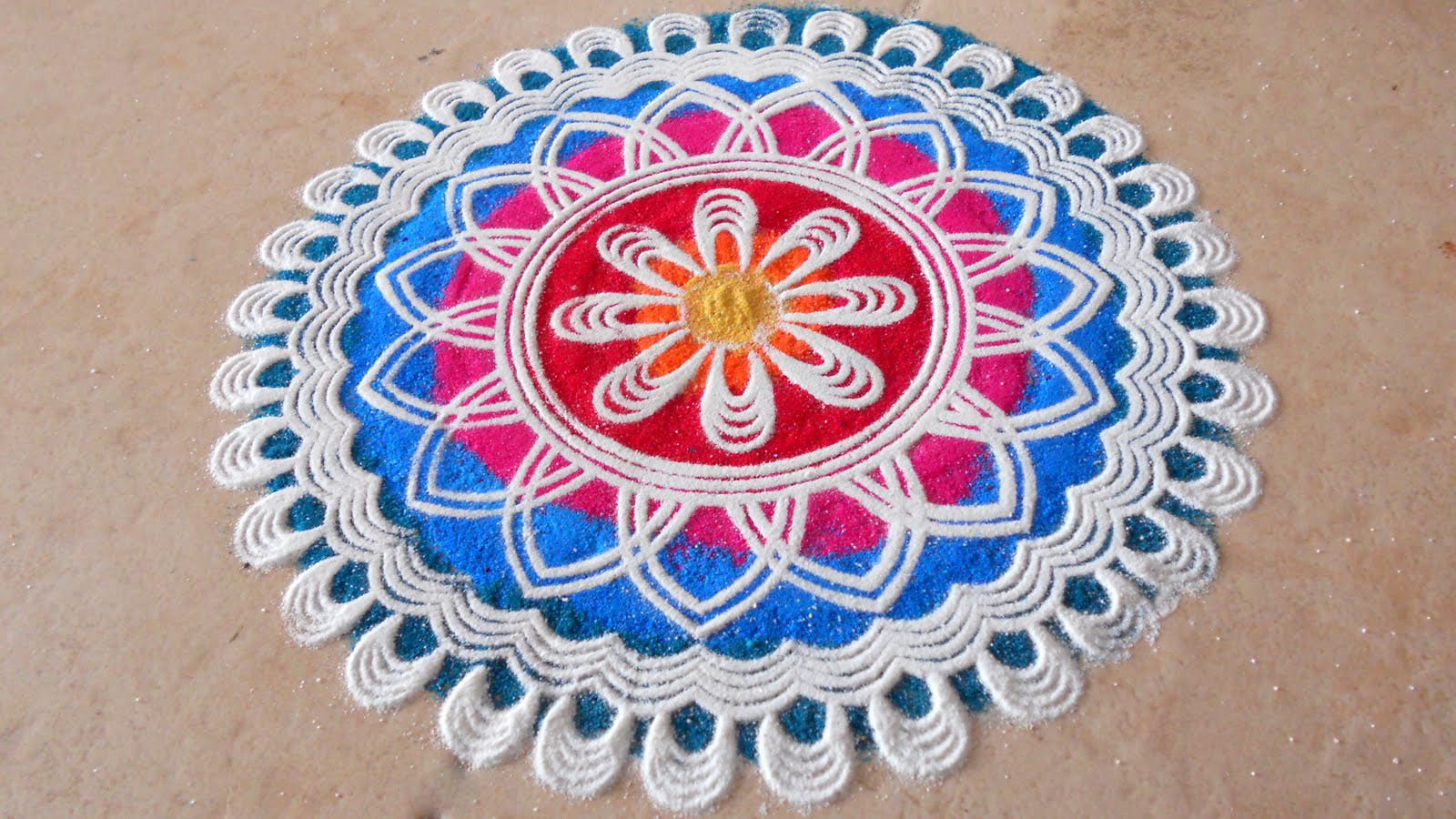 Rangoli is not as easy making work as it shows but it just needs time, energy and creativity that goes into bringing out the best Diwali Rangoli designs.But, before starting out to make one it is only wise to know what it basically entails. Rangoli is about drawing images and motifs on the floors of your home by using colored powders, rice and even flowers. It promises to bring home Goddess Laxmi, the Goddess of wealth and keeps you protected from the evil eye.
Special Rangoli Design For Diwali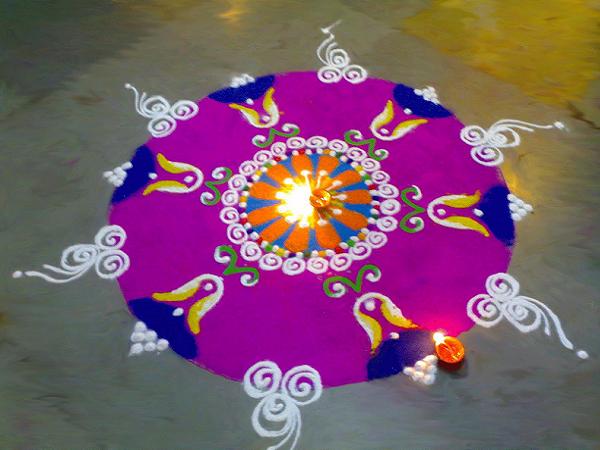 This is a bright rangoli with contrasting yellow, pink and blue colors incorporated into it. At the periphery of the circle is alternate patterns representative of small and big diyas.
Colorful Rangoli Design For Diwali 2015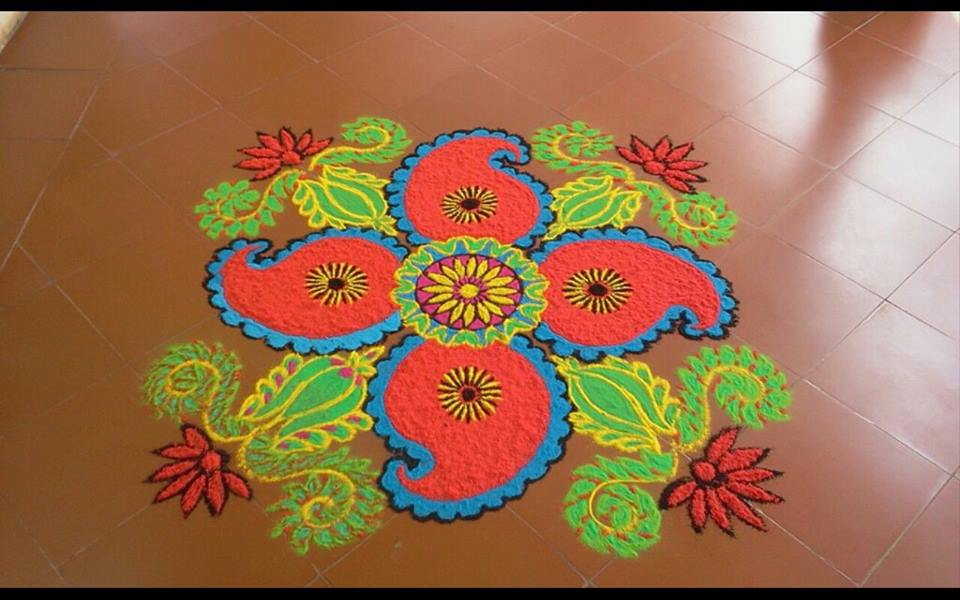 Diwali is one of the biggest festivals in India. So make the Best Rangoli Design for Diwali to make your home stylish on this Diwali.One important thing to keep in mind is that the entire pattern of Diwali Rangoli designs must be an unbroken line, with no gaps in between as it is believed that evil spirits can enter through such gaps.
Floral Swastik Rangoli Design For Diwali
This is a floral rangoli design which is mostly available at every occasion. Making this rangoli does not need more skills and practice in rangoli making. Once outlines are drawn then it can be filled by the younger children in the home too.In this design, petals of marigold have been used. You can replace them with any other flower of your liking. Make sure that the different colored petals are all more or less of the same size.
Simple Beautiful Rangoli Design For Deepawali
As this rangoli does not need any professional skills in rangoli making. After making outline boundaries younger ones also can fill colors in this. Thus in making this rangoli full family can contribute their part to decorate your home. And placing diyas in the mid of the leaves also increasing the simplicity and beauty of this beautiful rangoli.
Lord Ganesh Rangoli design For Diwali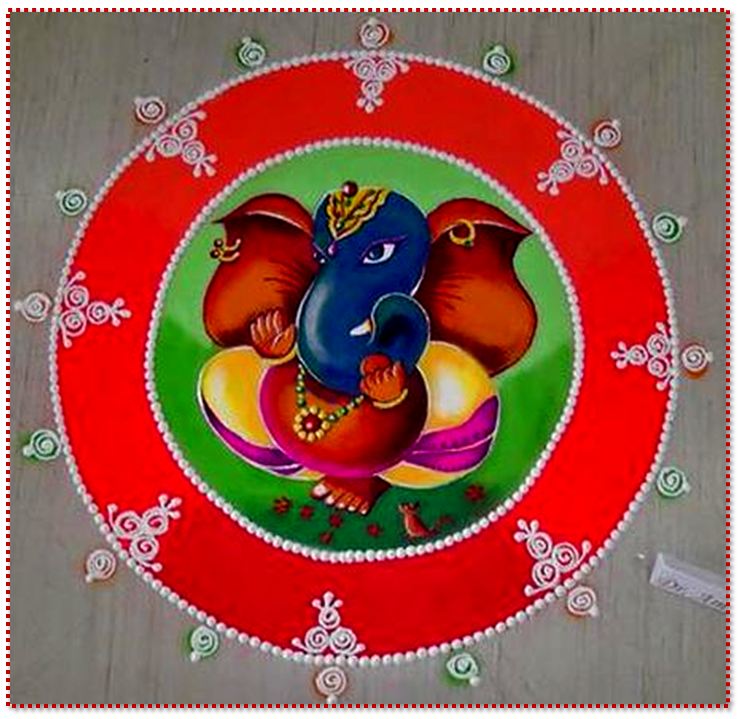 This is definitely will be the best rangoli design for this Diwali. Lord Ganesha has been drawn with the different combination of colors on the green background, has the main attraction of this rangoli design. his is a vibrant pattern combining free form artwork and an elaborate meshwork in concentric circles. This design should be attempted only by those with a steady hand.
Happy Diwali Rangoli design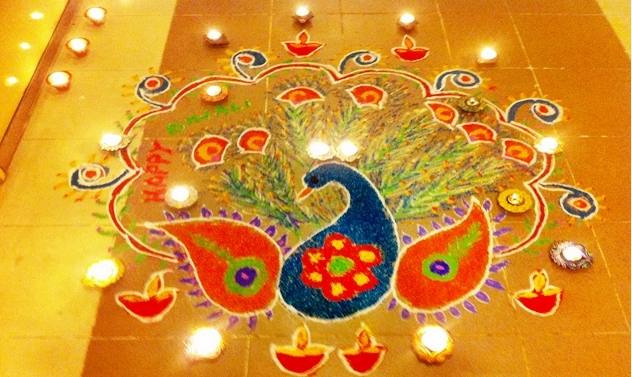 This is also an ideal rangoli design for Diwali as this has a lot of diyas giving the festive theme. vibrant colors looking more beautiful when they combined with diyas light. In this rangoli design sprinkling of colors has beendone very carefully and colors are looking more beautiful with the diyas light.
Peacock Love Bird Rangoli Design For Diwali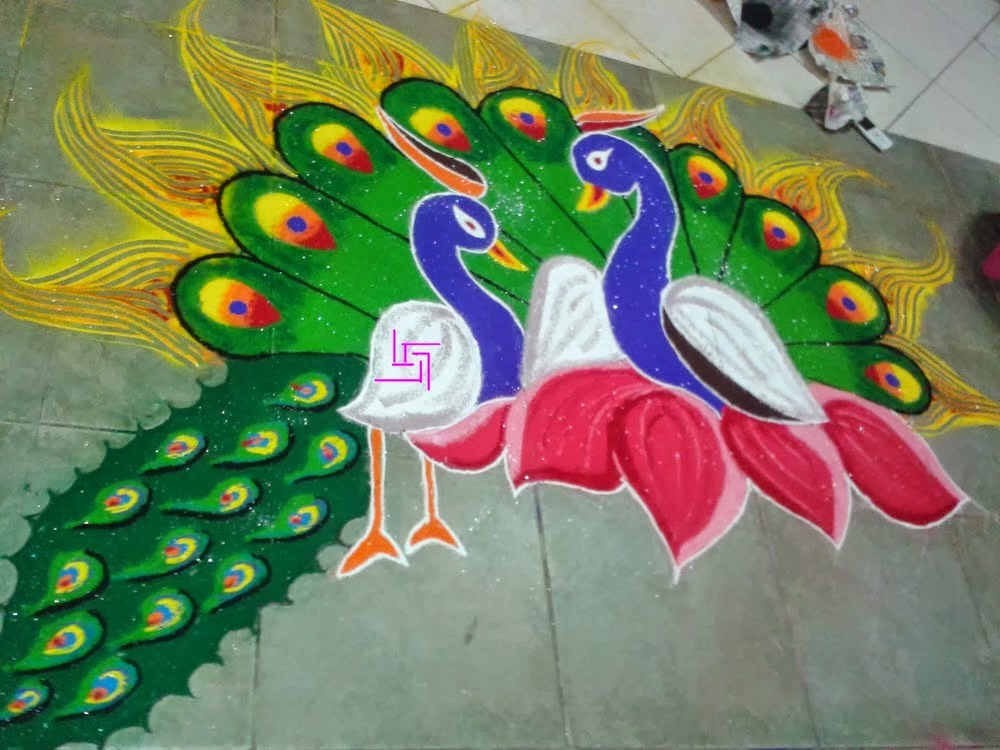 Design of a peacock by using bright colors and making a pair of peacock shows the love and peace at the Diwali festival. This rangoli is looking very beautiful. This is one of my favorites to make a couple of birds in rangoli designs.
Diwali Special Rangoli Design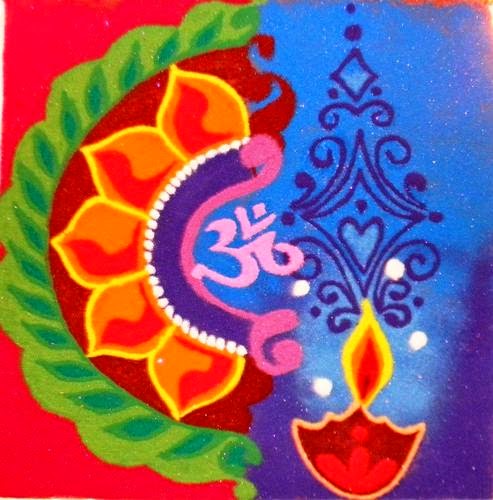 This rangoli has a lot to say includes diya with the symbol om written on it and bright colors also making it more beautiful with some pattern in the write.
Floral Rangoli Design for Diwali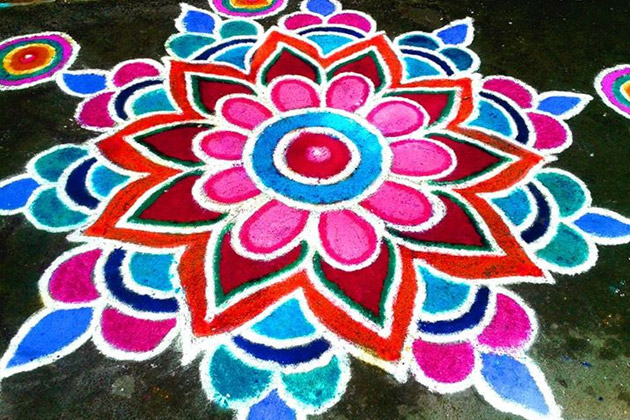 This is a bright rangoli with contrasting red, pink and blue colors incorporated in it with the white outlines. The design is not as simple as its looking to see.
Amazing Rangoli Design For Deepawali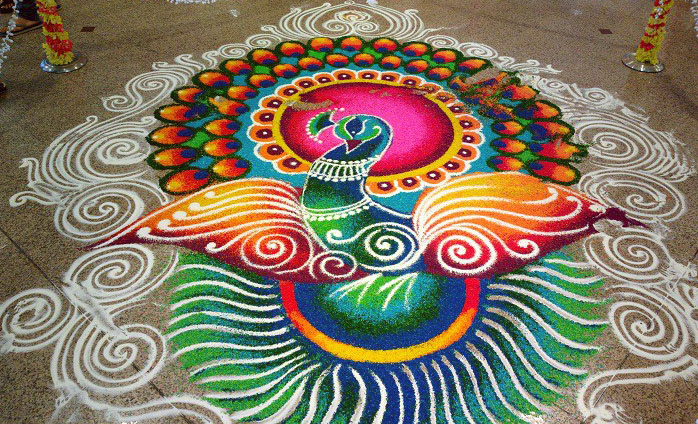 I don't have any words to express my feelings after watching this beautiful rangoli design. So, I will not say anything about this beautiful rangoli design.
Stunning Rangoli Design For Diwali 2015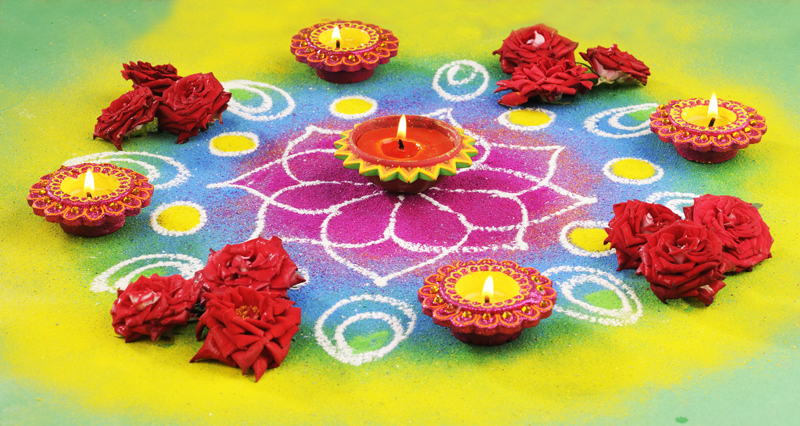 This is a small, simple yet extremely vibrant design. In addition to the ornate colors used, the colorful pattern of the diyas adds a definite charisma to this rangoli.
Beautiful Peacock Rangoli Design For Diwali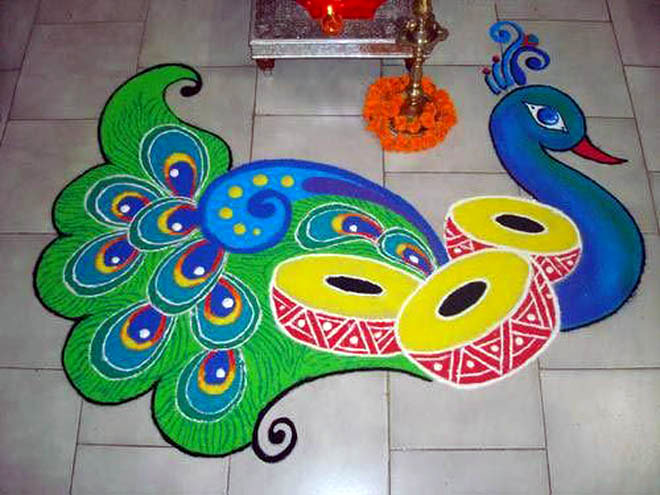 We love the contrasting colors like orange and pink used for the surrounding design. We also love the unusual designs and patterns used in this Rangoli. In the center, a bright yellow color is used to do the rangoli. The surrounding designs also are unusual and add to the beauty of it.
New 2015 Rangoli Design For Diwali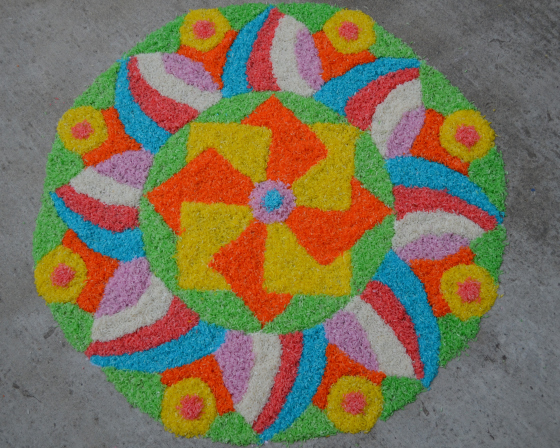 This design is very apt for any religious function or to do at the time of festive occasions. We love the unique pattern used and also the simple flowers used for making this rangoli. The petals of marigold are used in this design with the lotus bud in the middle being the center of attraction.
Hope you love to design these designs. We soon will be back with the more Beautiful Rangoli design till than you can try these Best Rangoli Design For Diwali and tell us which one you have tried!