Hey pretty gals, If you are getting bored with your routine simple plane nail paint shades and wanna do some interesting with your nails to give a more glossy and beautiful look to your hands then you are at the right place.
In the hot summers if you are planning for a party and don't want to carry heavy makeup then with some interesting nail art designs can give you are more classy look with simple makeup and cool party dress.Nail Art is very simple to do, you just need a little practice for that.
Either for beginners, it can be full of efforts that's why we today think to help you in a more easy way through sharing Step By Step Nail Art Designs Tutorial. By following these easy nail art tutorial for beginners you can give a more innovative look to your nails. I hope you will understand better How To Do Nail Art At Home – Step By Step Tutorials.
Creative Easy Nail Art Designs For Lazy Girls
Hey, girls if you are also lazy like me and wants to do some creativity with your nails to look attractive then here are some Easy Nail Art Design At Home For Beginners. If you are a beginner then also need not to be worried there are also some easy nail art designs ideas for you my dear friends. Every time you do not need to do it with some nail art tools there are also some accessories in our kit like bobby pins, cello tape by using them you can also make your nails to look damn beautiful. Girls, get ready to do some Interesting & Funny Nail Art Designs.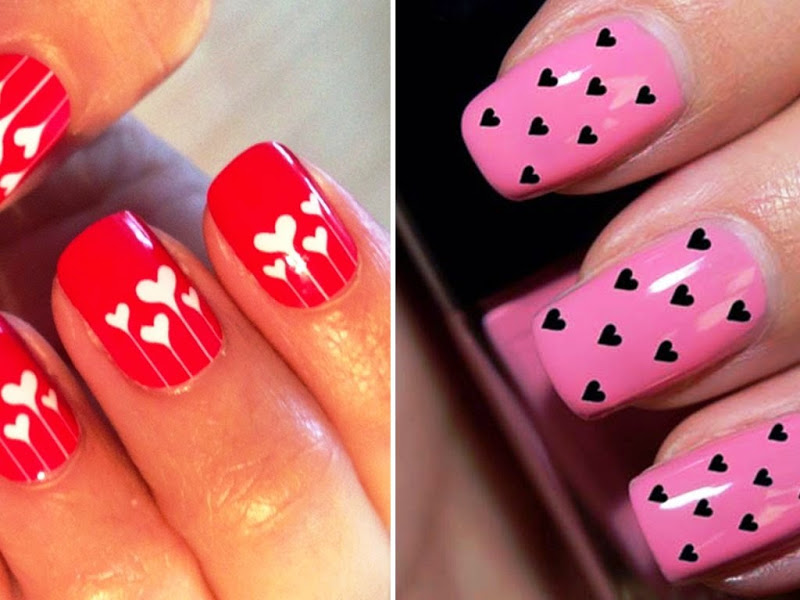 Top 25+ Splendid Nail Art Designs For Beginners At Home
1. Gorgeous Nail Art Designs Step By Step Tutorials
There are many ways to look gorgeous with beautiful nails, good looking and fashionable. Nowadays people love bright colors, styles that play…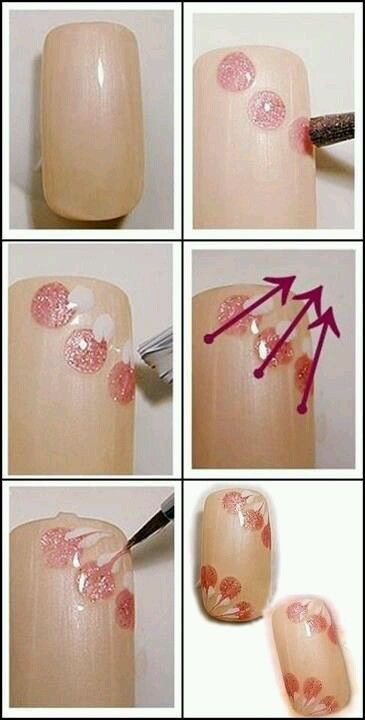 2. Stunning Nail Art Tutorial For Summers
As the hot summers are running and girls have started to fill their wardrobe with the summer collection. So this is also necessary for them to apply fashionable summer nail arts on hands.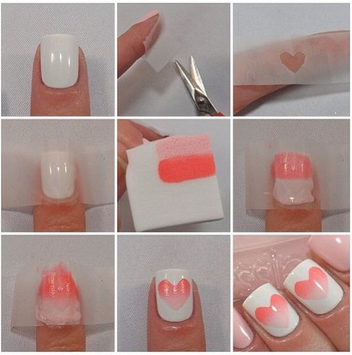 3. Feel Cool With Bright Colors Nail Art
It look amazing when you wear bright colors in summers, So let's try this time on nails also. This is the great time to feel amazing in the hot summers with cool bright color nail art.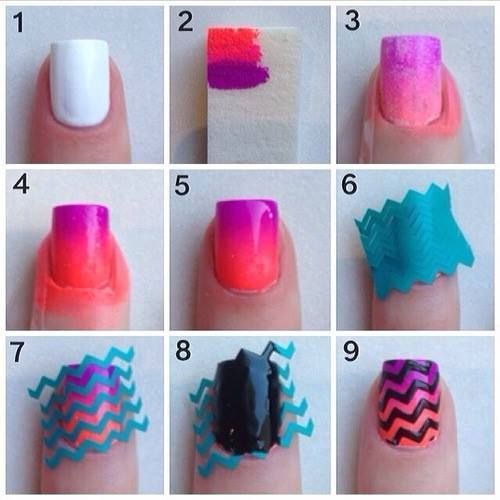 4. Holiday Nail Art Designs
Holidays make you lazy therefore we have come up with the easy & simple nail art design for beginners at home. You can easily make them with the lowest efforts.
5. Simple & Easy Nail Art Designs
Not everyone can do nail art on hands, you just need some interesting easy nail art tutorials and that's we have for you. Maybe this one is looking very typical but this is one of the easiest nail art designs.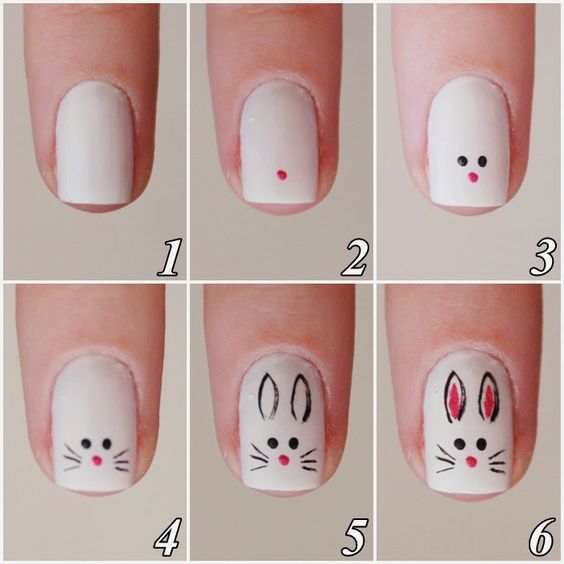 6. Latest Nail Art Designs
If you are bored with that simple plain one colored nail, so here this one will suits you the best. This is the latest one that you have never tried before.

7. Water Marble Nail Art Design
If you love to apply the new texture of nail arts then you can try this one. Just add thick nail paint in a bowl of water and make nail paint pattern through some stick and apply it on nails with the help of any wrapper.

8. Beach Wave Nail Art Designs
If you are planning for a beach party in hot summers then an idea of this beach nail art designs will be the perfect one. Add nail paint colors on a sponge and dip it into the water and apply it on your beautiful manicured nails.

9. Golden Spark Nail Art Designs
This one is the simplest nail art design. You just have to apply any light color nail paint and sprinkle golden sparkle with the help of nail paint and straws.
10. Leopard Nail Art Designs
This leopard nail art texture looks very difficult but it's quite simple when you will make this. These types of nail arts look soothing in the hot summers with any type of dress.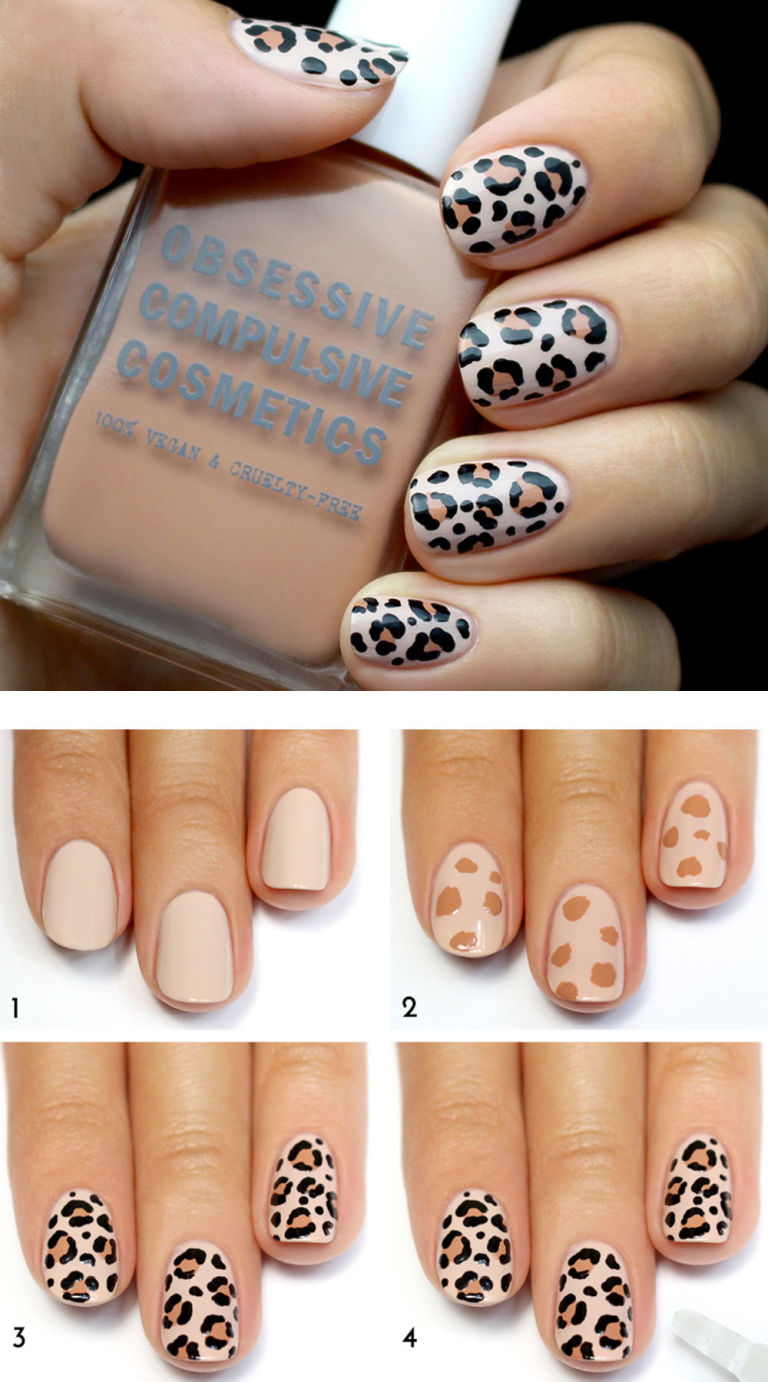 11. Tricky Nail Art Designs
When you will see this nail art design you will get confused but this is the most simple nail art designs just have to make this by using this trick.
12. Super Easy Nail Art Designs
This one is the super easy nail art designs tutorial. This will be perfect for the beginners at home to learn nail art. You don't even need any kind of instructions for this nail art.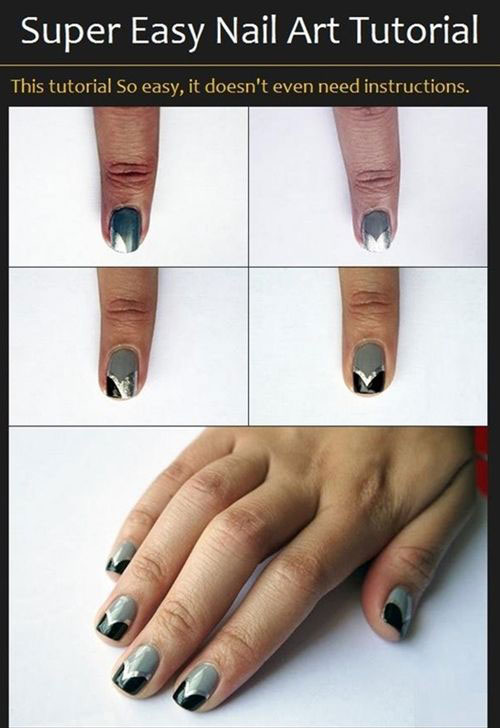 13. Matte Nail Art Design Tutorial
Gone are the days, when only red nail paint was on trend. Now it's the time to have some really artistic and creative designs on your pretty nails.

14. Butterfly Nail Art Design Step By Step Tutorial
Butterflies are the favorite pattern of girls on every dress or clothes. Let's try this time on nails. This will look much pretty as you are.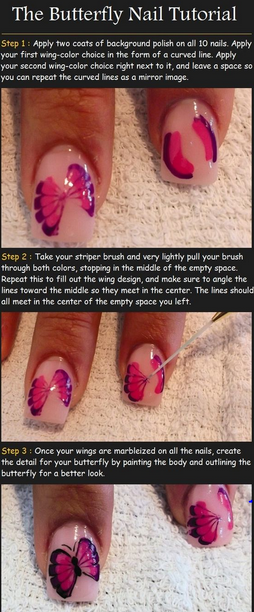 15. Smiley Nail Art For Kids
If your holidays have started and you want some fun then this will be the best nail art designs to enjoy summers with a beautiful funny smiley.
16. Artist Nail Art Design
A beautiful nail art can brighten up your dull day. That's why we are here with the new artistic nail art design to cheer up you.
17. Floral Nail Art Design
Flowers are the most beautiful creation of god after women and when both will get together on the beautiful hands give a more pretty look. Let's have a look.
18. DIY Galaxy Nail Art Pattern
If you love to fly in a galaxy on your palm then you can make this nail art pattern. This pattern looks very typical but here we are sharing very simple galaxy nail art tutorial to help you to make a galaxy.

19. Waves Nail Art Design Tutorial
If you are getting bored and wants to do some adventures with your nails then this colorful waves nail art design tutorial is the best way. You can also try this with the same color nail art.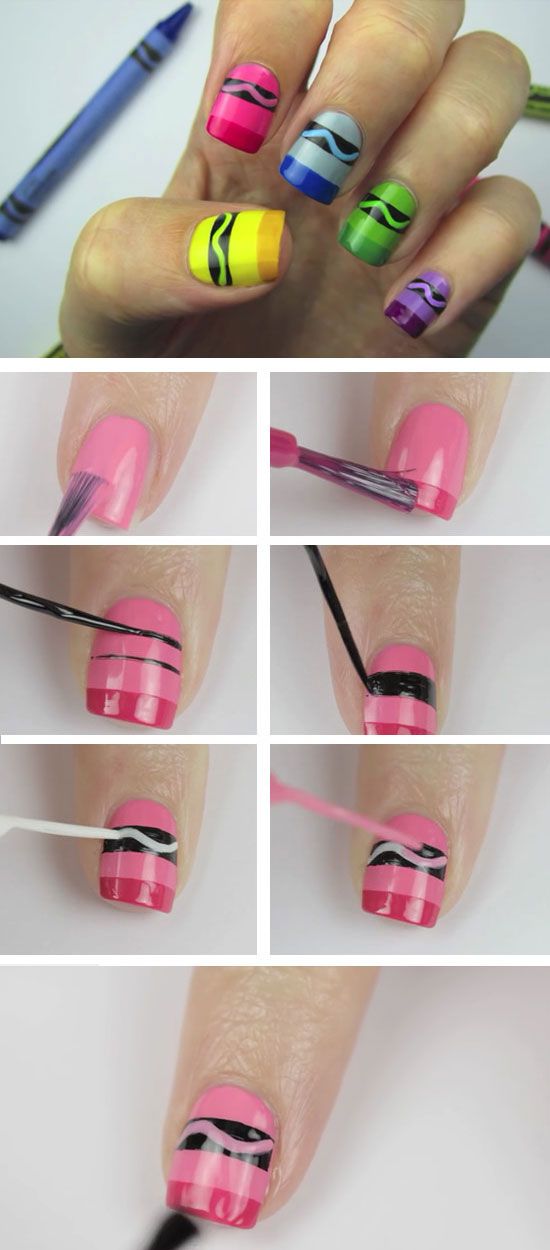 20. Stylish Nail Art Design Pattern
You will surely like these different unique nail art pattern for your hand. Simply with the help of tape, you can make these patterns with the combination of two different color nail paint.
21. Plaid Nail Art Tutorial
if you like plaid nail art pattern then you can try this with the matching color of your dress. With the western costumes, this will give an amazing look in hot summers and also in winters too.
22. Easy Nail Art Tutorial For Beginners
If you are planning a party and a beginner in the nail art then this one will be the perfect idea for nail art. Combination of black and golden or silver will give the glossy party look.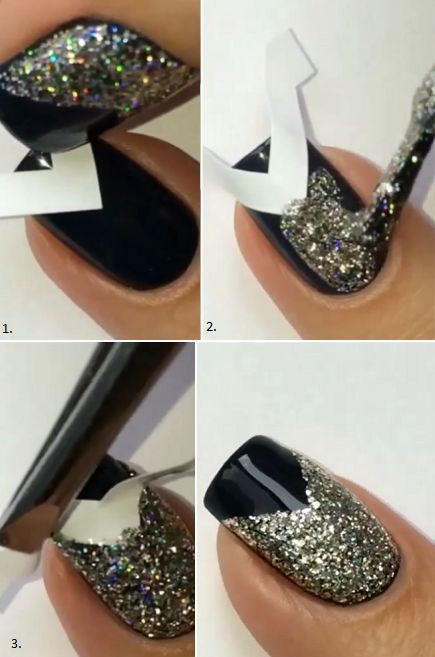 23. Nail Art Tutorial For Kids
If your kids also want her nails to look pretty as you are then this one is the nice idea for your kids. They will also play with your nails.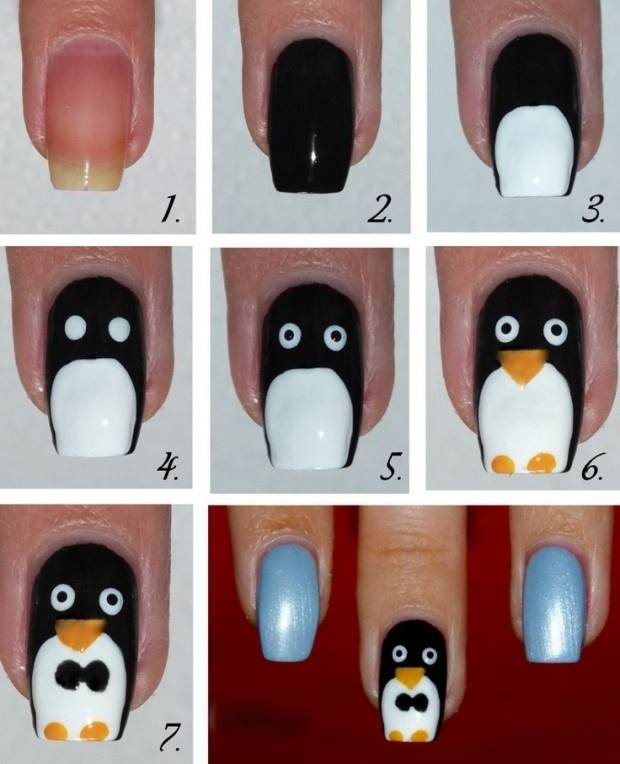 24. Multicolor Band Nail Art Tutorial
This multi-color nail art bands will look amazing. This looks very difficult but it's very easy to make with the help to this tutorial.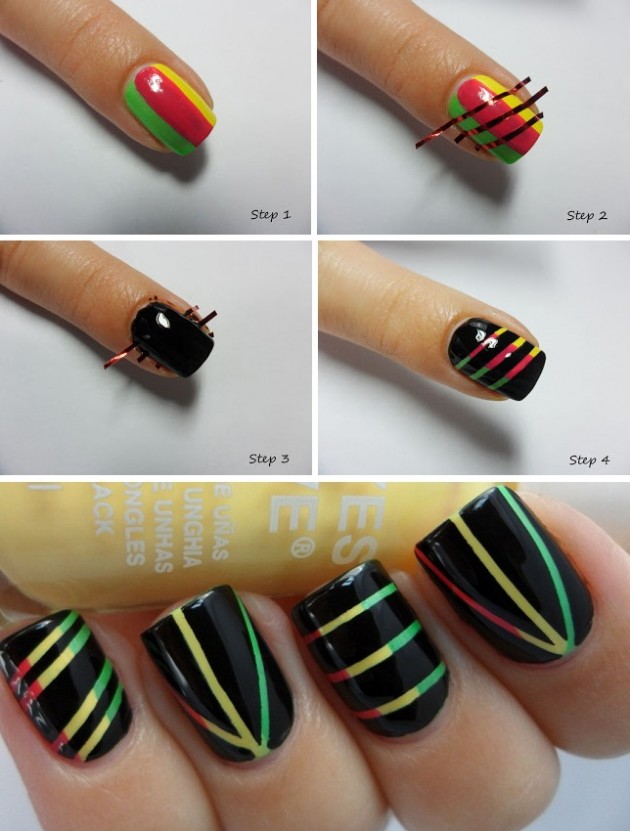 25. Christmas Nail Art Design
Red and white always looks pretty and give the Christmas theme to your nails. You can also try this method with your own color choice.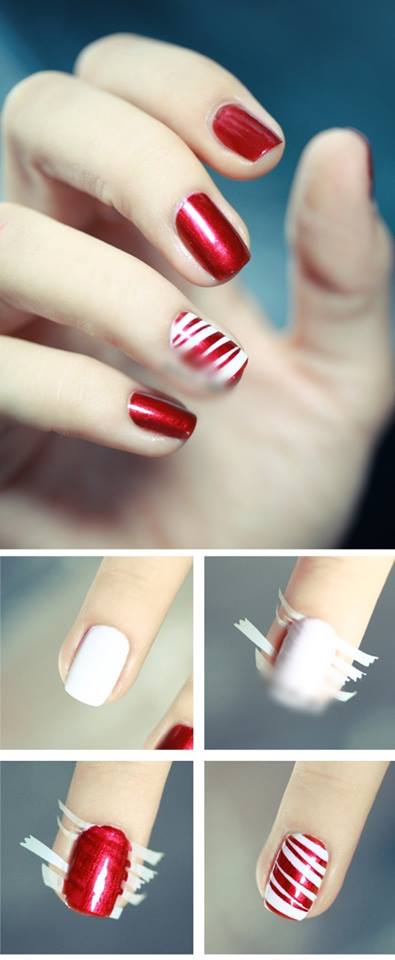 26. Bubble French Manicure
French Manicure is nowadays in the latest fashion and it's also very easy to apply on nails. Try this nail art pattern with the bright color nail paint.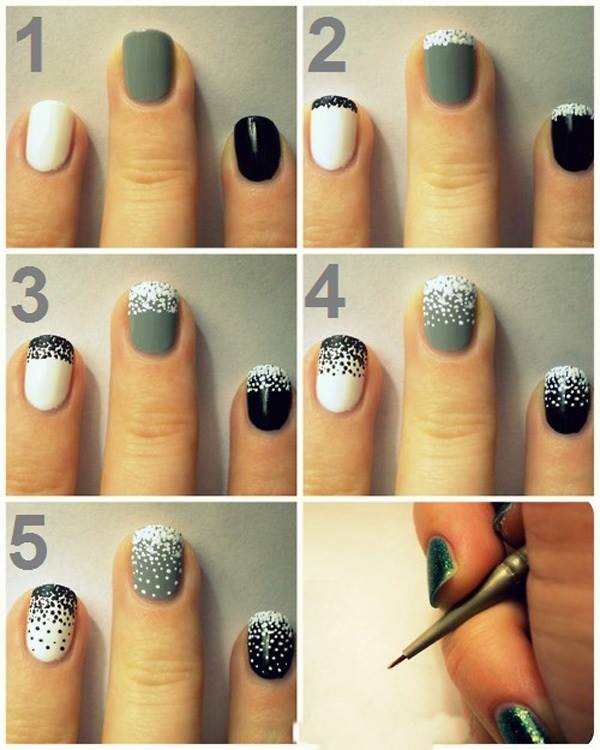 Hope these Nail Art Step By Step Tutorial will be beneficial for you. Hope you will get help from them to learn Nail Art At Home For Beginners. All the nail arts looks pretty. Nail art is kind of makeup. There are not any such rules you have to follow. Just you need your patterns and a little practice!