Hey, guys, hot summers are running in full swing and if you are planning for summer vacations but getting confused what to wear to look more hot but cool inside in this hot weather, wereSo here we are with some Stylish Summer Simple Kurti Designs For Girls.
Fashion always remains same after even many decade but every time it comes with some new revolution. Kurti with Palzzo was in trends when our grandma was young and now it's back in trend. So this is the dress which our old age ladies can also wear. These are some Summer Kurti Designs Best Collection 2018 that you can wear on any occasion.
Here you will find Latest Ladies Kurti Design For Summer, Kurti Designs Best Collection For Eid and much more.
Latest Trends Of Women Summer Kurti Designs
As shopping is one of the most interesting parts of women's life but this is really a very big challenge to choose summer Kurti designs & patterns as there is a very wide range of kurti's collection available in the market.There are a lot of brands for summer kurti's collection in the market these days. But to trust them with their higher prices is really very problematic. Therefore, we are representing Best Summer Latest Trendy Simple Kurti Designs Collection which you can also purchase from us.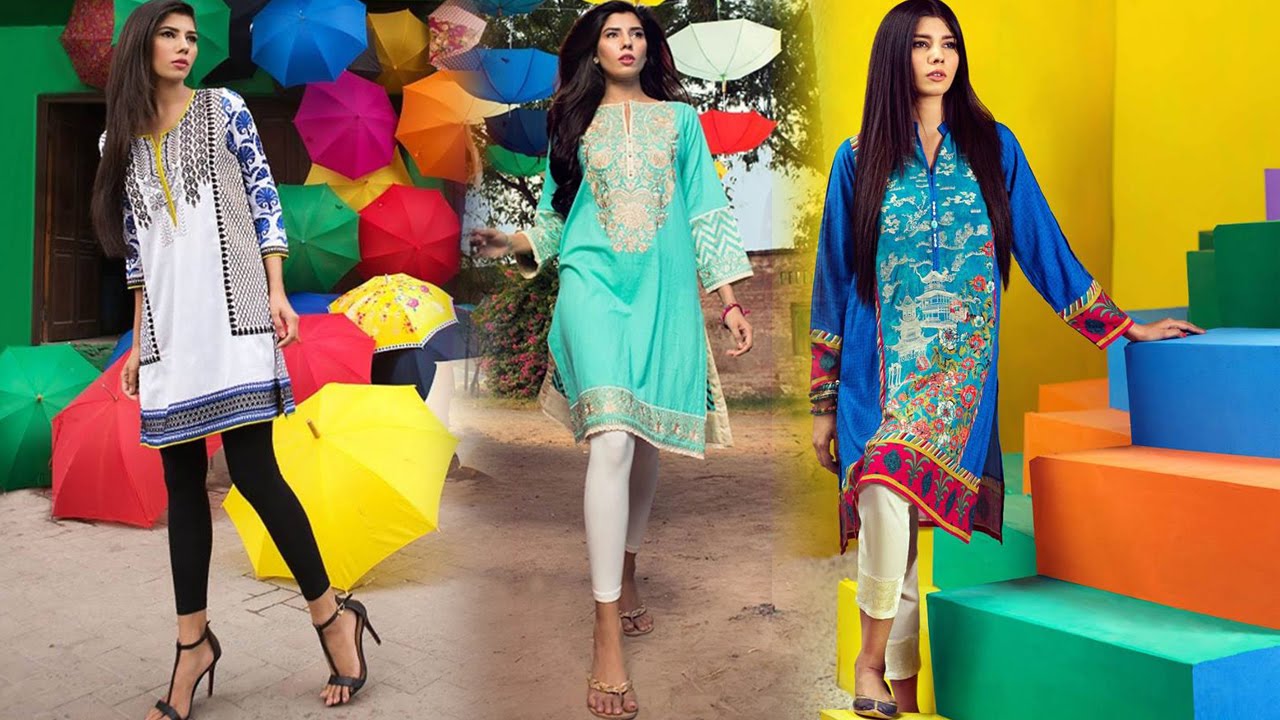 Designer Cotton Kurti Designs & Patterns For Women
For more latest designs and order join us at our Instagram.
New Stylish Summer Kurti Design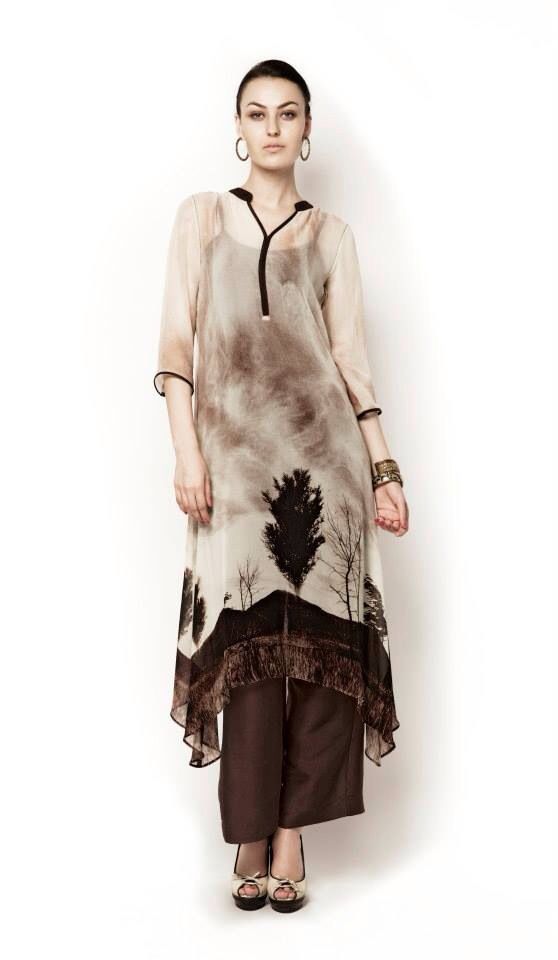 In summer's these type of lightweight printed loosely fitted kurta looks amazing and feel very comfortable. You can use these types of kurta both as formal or casual.
2. Formal Wear Kurti Design For Female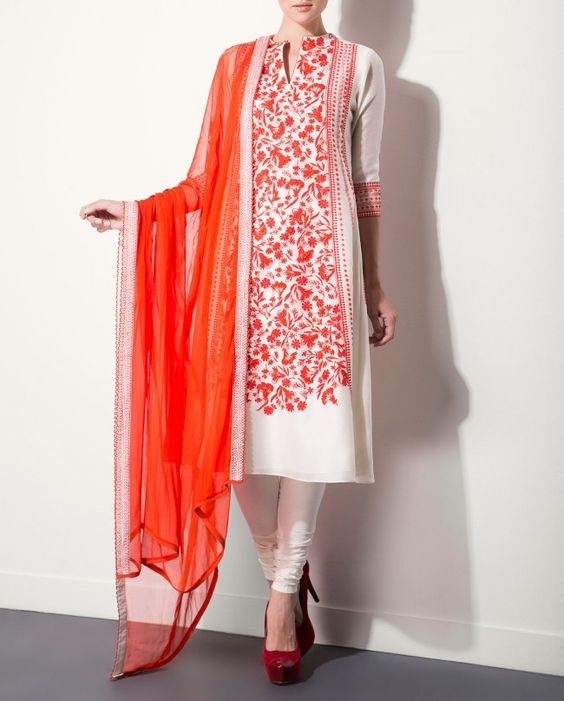 If you are working women and have to wear formal stylish kurta then this will be a perfect idea. Soothing and bright color combination gives the attractive look at a workplace.
3. Kurti Design For Girls 2018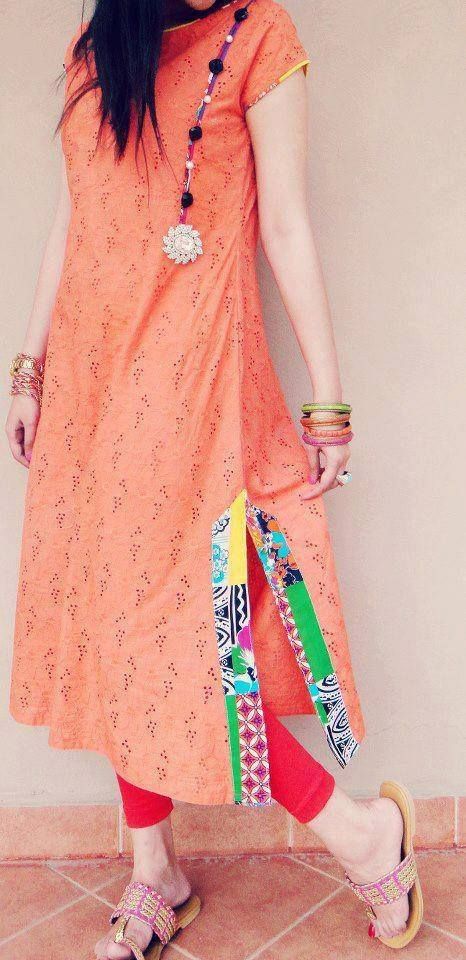 hey girls if you are feeling hot in your tacky jeans in this hot summers then here we are with the latest designer summer kurta design to extend your magnetic look.
4. Beautiful Kurti With Churidar Suit Design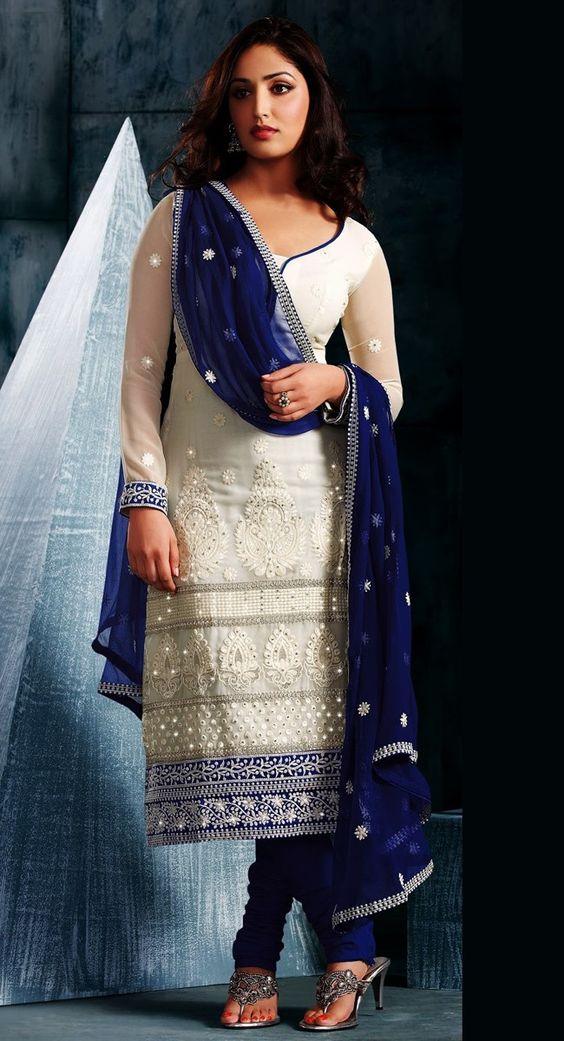 For more latest designs and order join us at our Instagram.
If you are planning to go out for a party in summer then it's impossible to wear heavy embroidered suit or sari. At that time you can look for these kinds of Kurti With Churidar Designs. These patterns look wonderful and give the very soothing look.
5. Kurti Design With Short Cropped Pants Design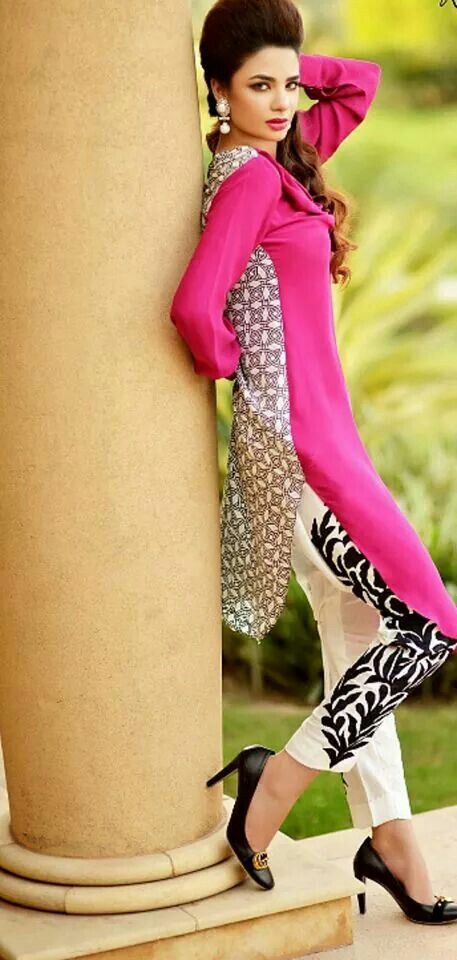 Nowadays short cropped pants are on the latest trends with long Kurti. Instead of Kurti you can opt embroidery for pants. This will look splendid when wear printed kurta with short cropped pants.
6. Printed Kurti Designs For Summer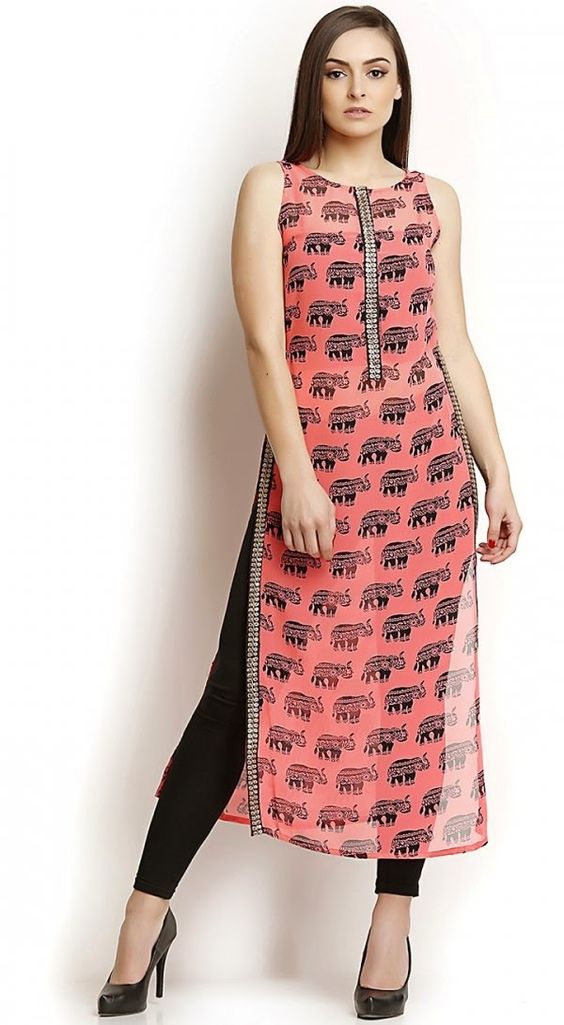 Always try some different style to look smarter and create your own unique style. You will really look cool on this hot summer Kurti.
7. Latest Summer Kurta Design Cataloge
If you are searching for a simple daily wear cotton kurta with a plazzo pattern then here this is for you. These types of kurta are also available at readymade kurta store or you can make this with these type of cotton printed palazzo.
8. Kurta Design For Stitching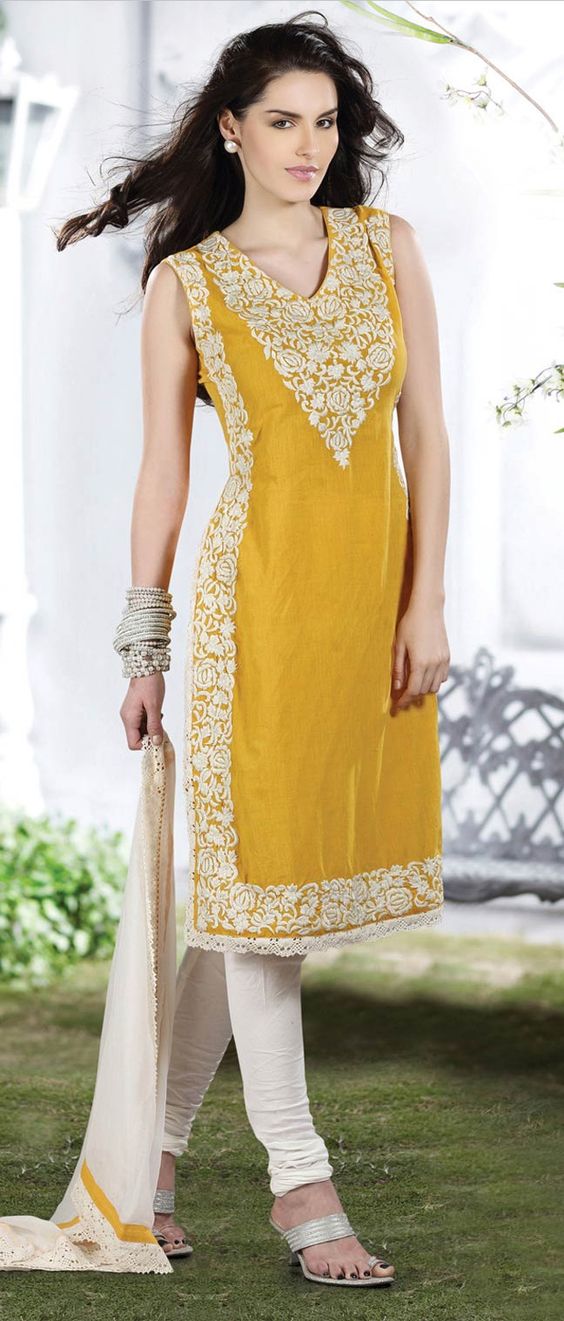 If you are planning to stitch Kurti with churidar then hows you find this pattern. Light weight thread embroidery kurti and the decent color combination look gorgeous.
9. New Kurta With Stylish Palazzo New Arrival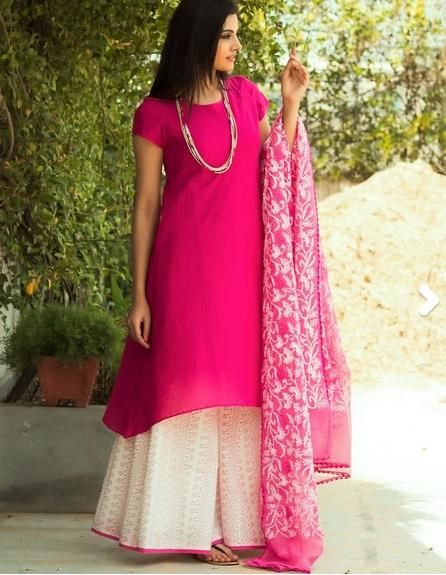 If you are searching for Kurti style that is affordable, comfortable, easy to wear. Also simple and can be also used as party wear then this will be the best suitable options. Plain Kurti with cotton plajjo with floral printed dupatta looks amazingly simple.
10. Stylish Party Wear Kurti Design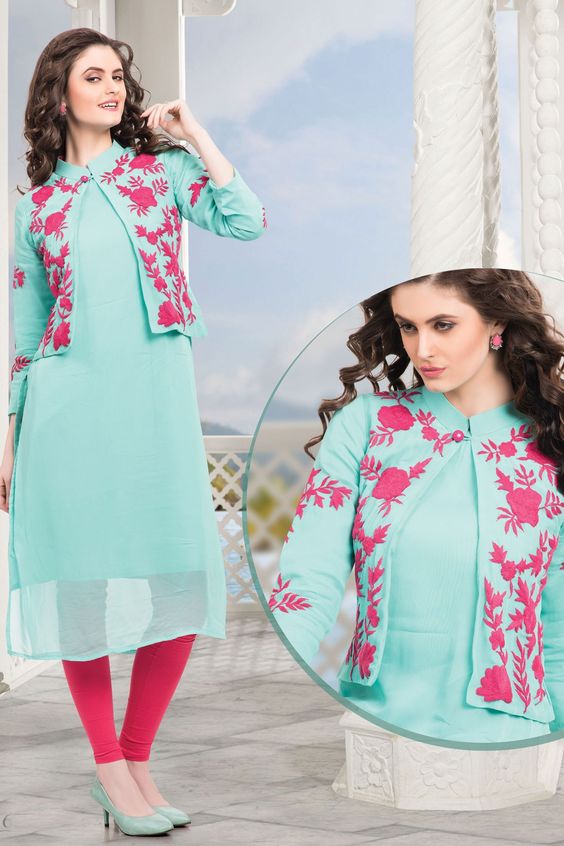 Nowadays Kurti Designs With Jacket are on the latest trends. You can make the style statement by following the latest fashion. Soothing color contrast gives radiant look. Nowadays different style of bottoms are in trend. You can also go for the plazzo or pants.
11. Stylish Cotton Kurta Design For Female

This pattern of Kurti Designs For Summer looks perfect. As simple and attractive this dress shows as this is. This is very comfortable either you can also wear it pre or post pregnancy duration.
12. Indo Western Kurti Design & Pattern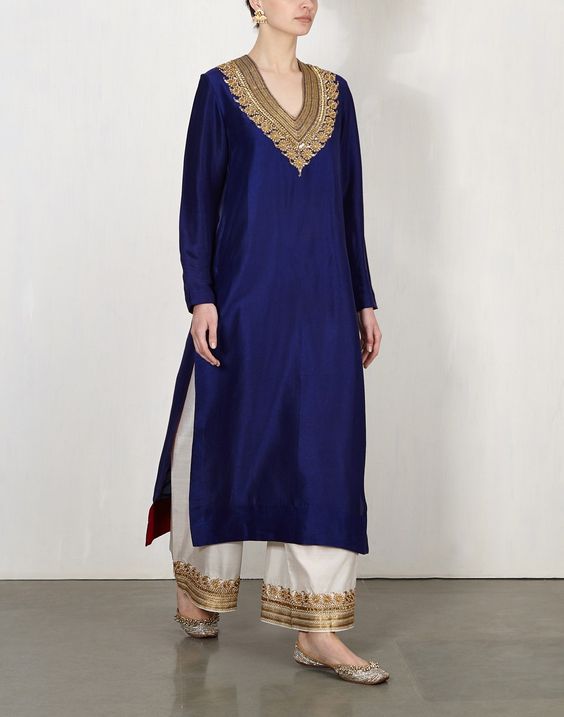 Indo Western Dresses are replacing the market trends. This Indo westen kurti with embroidered Palazzo is looking very unique and Juti's are completing the fabolus look.
13. Best Summer Eid Wear Kurti Designs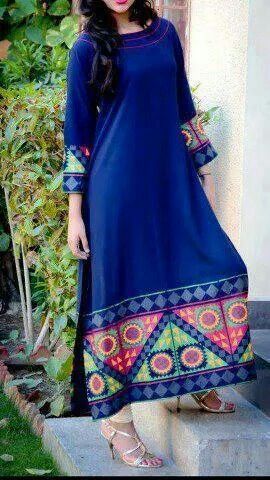 If you are searching Kurti design for Eid then what are you thinking after watching this pretty Kurti design. It will look cool and attractive in the hot summer.
14. Gorgeous Kurti With Palazzo Designs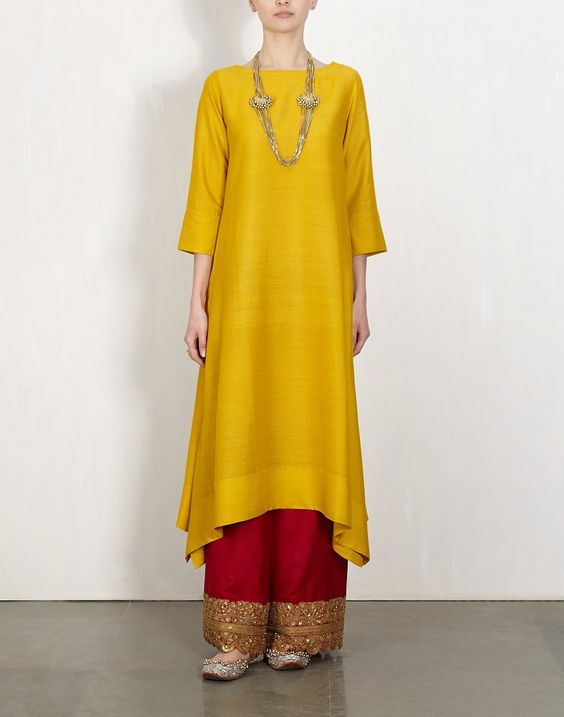 This C cut shape kurti is nowadays in the trend with the palazzo pants of with the short hot pants. Time has gone when you have only churidar and salwar were two options for bottom wear. Now there are lots of options.
15. Kurti Designs With Buttons Pattern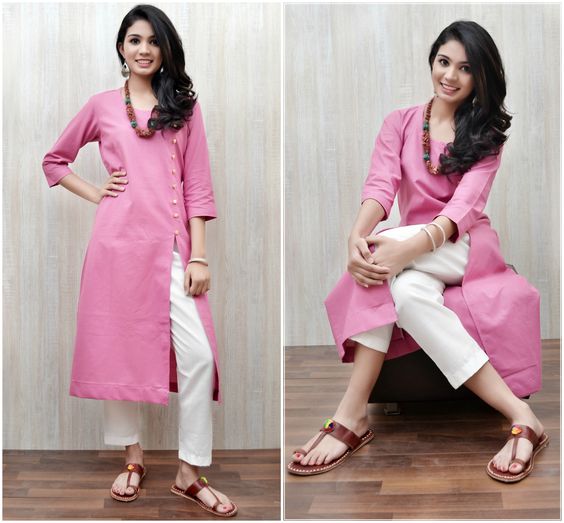 If you need a very simple trendy kurti for summer then this will be the right option to choose. As if you don't like to wear embroidery then you can replace them with buttons. Nowadays very wide variety of buttons are available in the market.
16. Simple Long Kurti With palazzo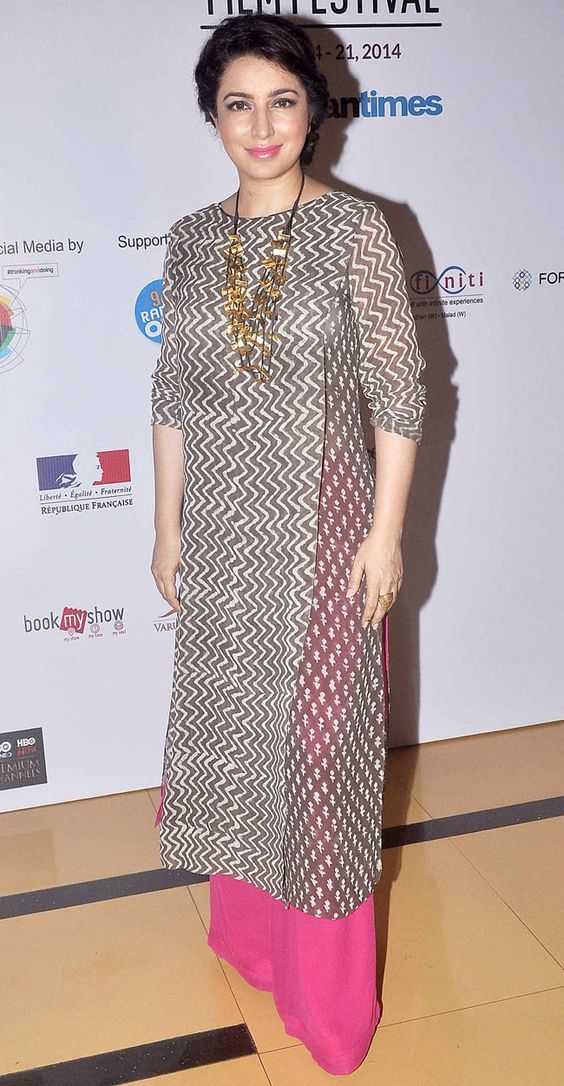 Long shirt with Palazzo is the best dress of this year. If you want to take it simple due to summer then printed patterns are best suitable for summers. Either you can take printed palazzo with plain long kurti or vice-versa.
17. Simple Kurti With Churidar & Printed Dupatta
You can also think for this option when both kurti and churidar are of same color. Printed Dupatta is increasing its beauty. This is the best evergreen kurti pattern for this summer.
18. Stylish Kurti Designs Patterns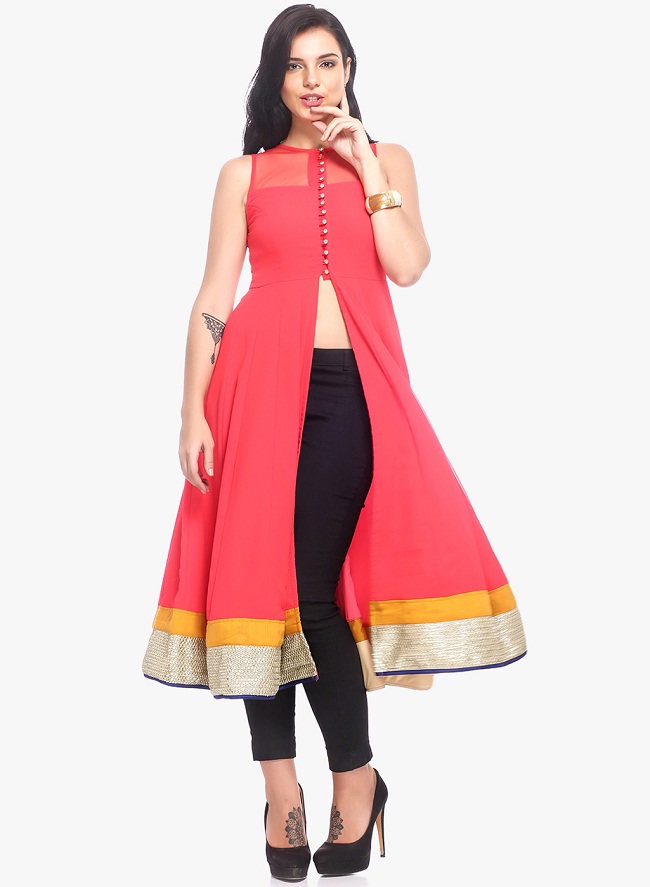 Stylish Kurti Designs can give very different look to every woman. You can wear this on every party, function, offices anywhere you want.
19. Pakistani Kurti Design For Eid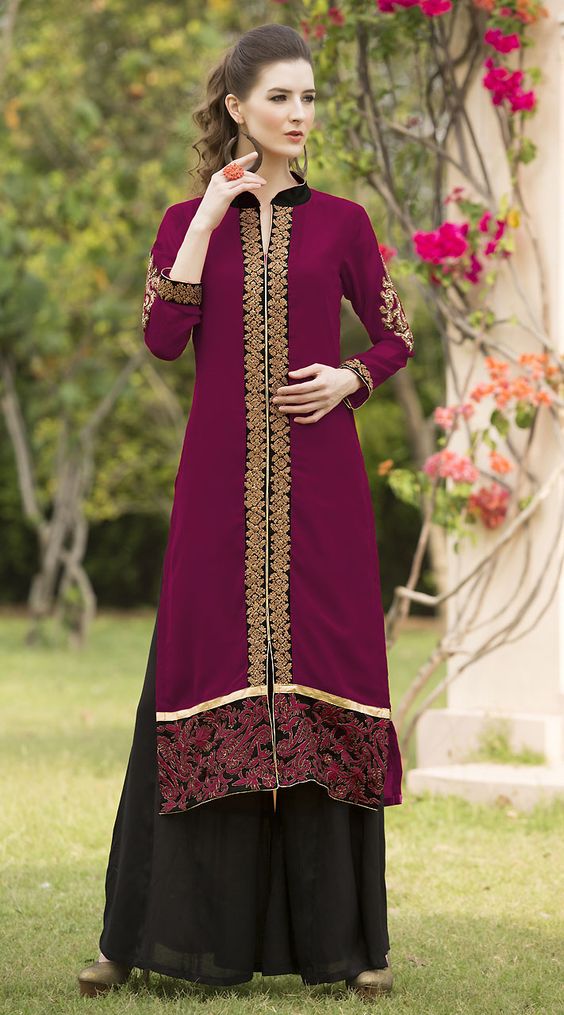 Pakistani Designer has also worked a lot for this summer latest kurti collection. Long kurti with palazzo are designed specially for eid. Palazzo looks amazing on the tall girls or women.
20. Latest Floral Kurti For Summer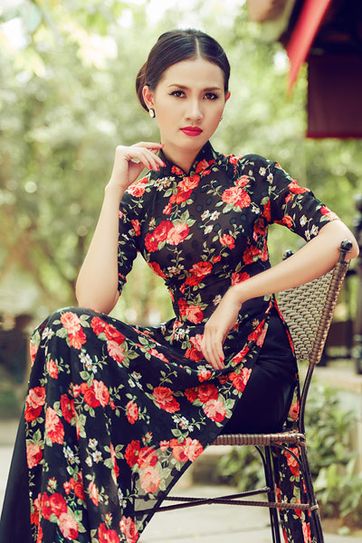 Floral Patterns looks beautiful on summer's kurti patterns. As this is very old tradition but this really looks amazing.
Hopefully you will like these Latest Designer Patterns Of Kurti Designs. Here we have tried our best to cover all the New Arrivals of this summer. Soon we will come with the more designers wardrobe till then you can order one of them. Stay connected with us for more updates or you can also connect us at Facebook, Twitter or Instagram.