Lehengas famous as Ghagras in Hindi is the lavish ensemble among ethnic outfits. Our holy land is a fusion of multiple cultures, festivals, and traditions spread wide from nick to corner. Indian women for various festivals like Karva Chauth, rakhi, or Diwali want to wear some traditional outfit to look beautiful and enhance the cultural look of Indian society.
Lehenga choli is the favorite ethnic couture of woman to get into conventional look for parties and weddings. The unique attire is modified into different forms to wear according to the occasion. For modern style, you can choose crop top or Indo western fusion but for complete traditional look opt for A-line style or flared patterns.
A normal look of lehenga is like an ethnic skirt hooked around waist teamed with an elegant cut blouse with different neck styles and motifs and net or chiffon dupatta crafted with sequin border or lace. Even various kind of embroidery work is done on the lehenga making it simple to heavy with work and pleat style.
Before deciding to buy one for the ceremony go through our latest design catalog, might any pattern or piece entice your heart, then go for ordering the lehenga choli online.

1. Flared Lehenga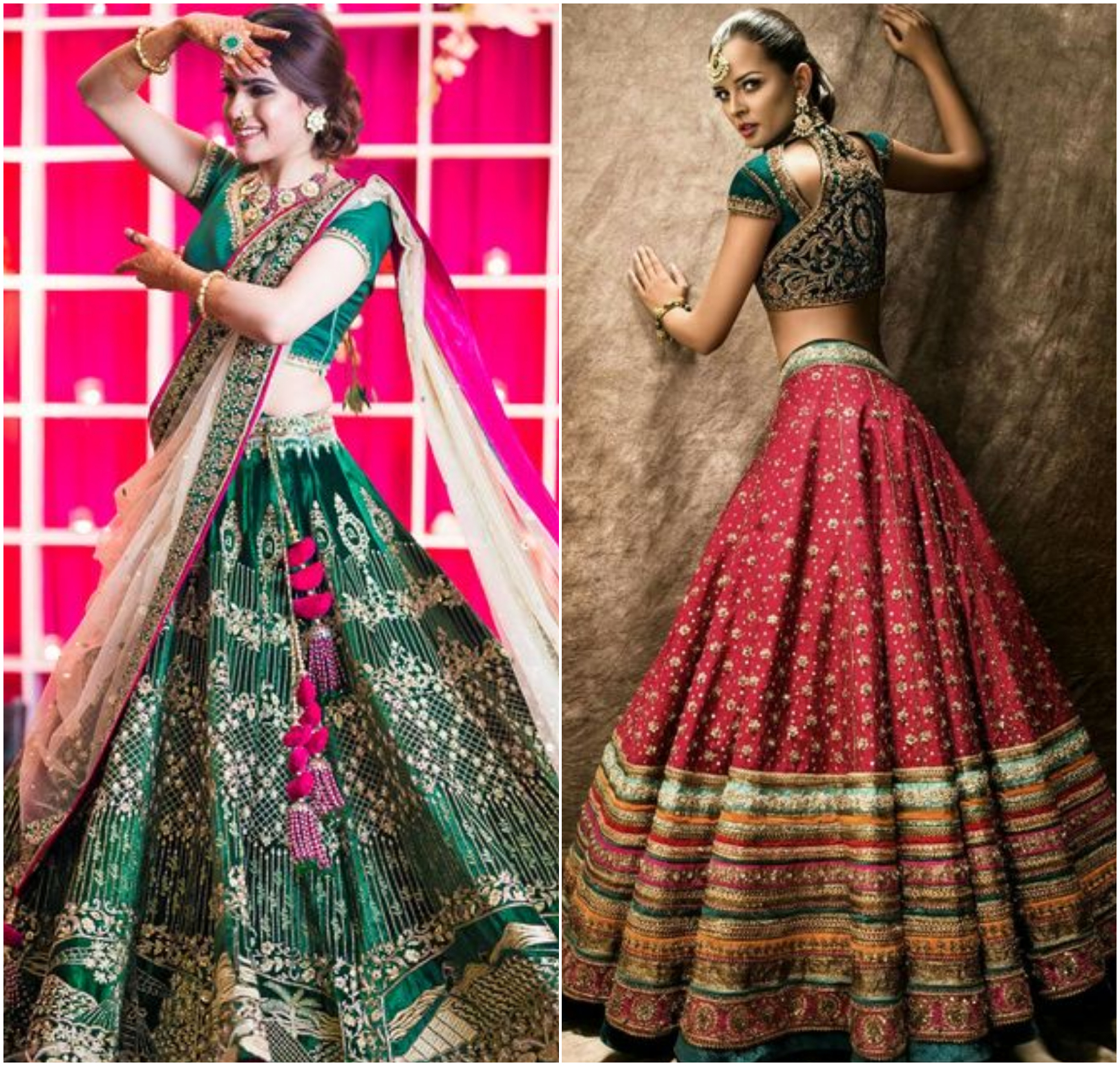 A lehenga with an age-old fashion with a broad flare at helm forming a complete circle looks elegant in traditional styles. The lehenga starts with numerous pleats diffusing at the helm to form extreme volume or large flare. Design your own huge flared lehenga with lightweight fabric to form multiple pleats diffusion don't prefer heavy embroidery for such kind it would be difficult to carry than.
2. Sharara Lehenga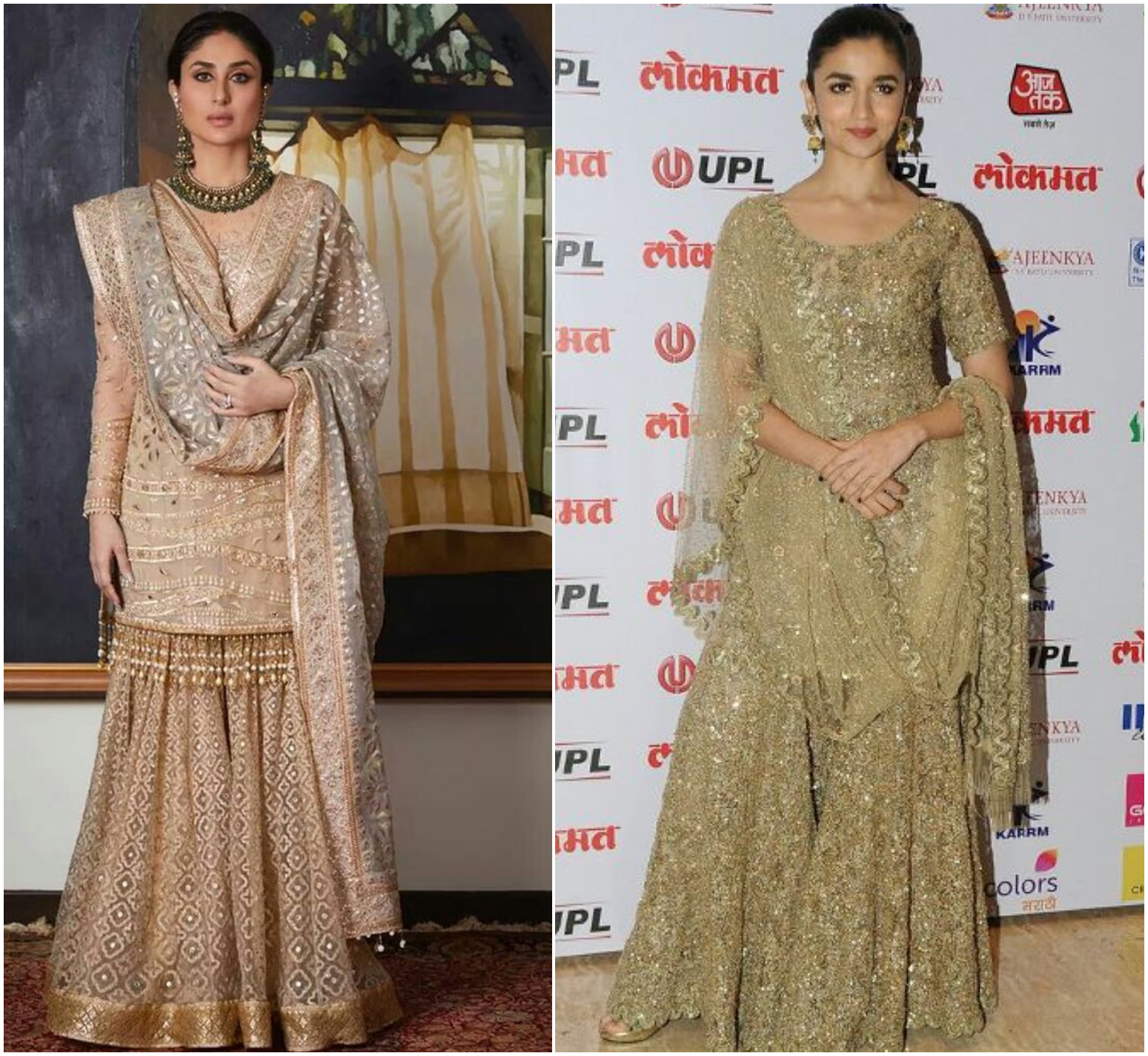 Trends keep on changing expeditiously, the changing boom has also evolved the categories of lehenga too. Sharara is basically the design pattern belonging to Pakistan's tradition. The beautiful motif lehenga is loved by our celebrities for a change. The bottom is stitched from the middle of the helm resembling a huge Plazo but in whole looks like lehenga and it is paired with long kurti and heavy dupatta.
3. Paneled or Kalidar Lehenga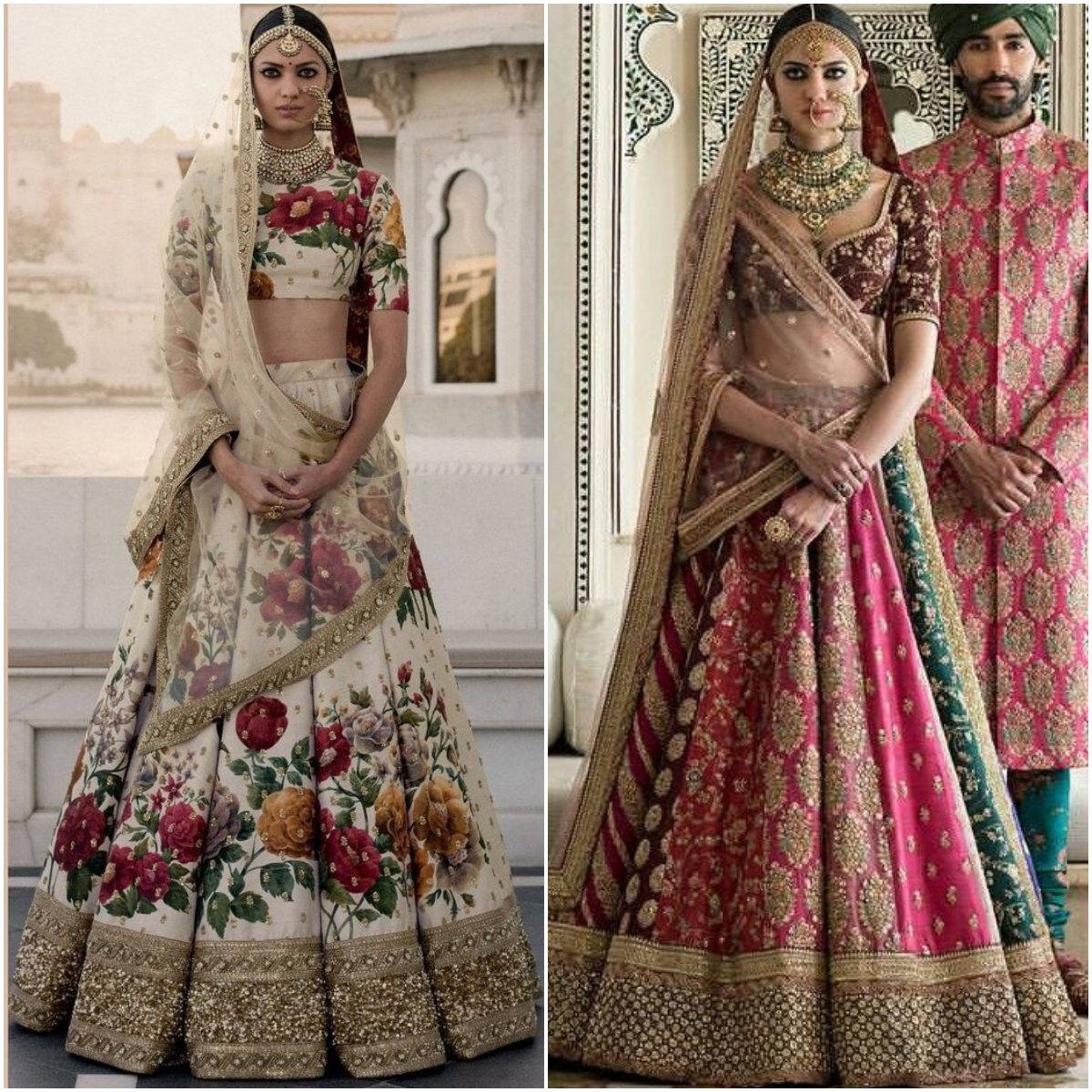 The unique style consists or horizontal panels of fabric attached along the length of flare of lehenga, these panels are known as "Kali's" in artisans language. The volume of flare can be increased or decreased depending upon the number of panels joined. The lehenga formed with colorful fabrics is the great choice to wear on traditional functions.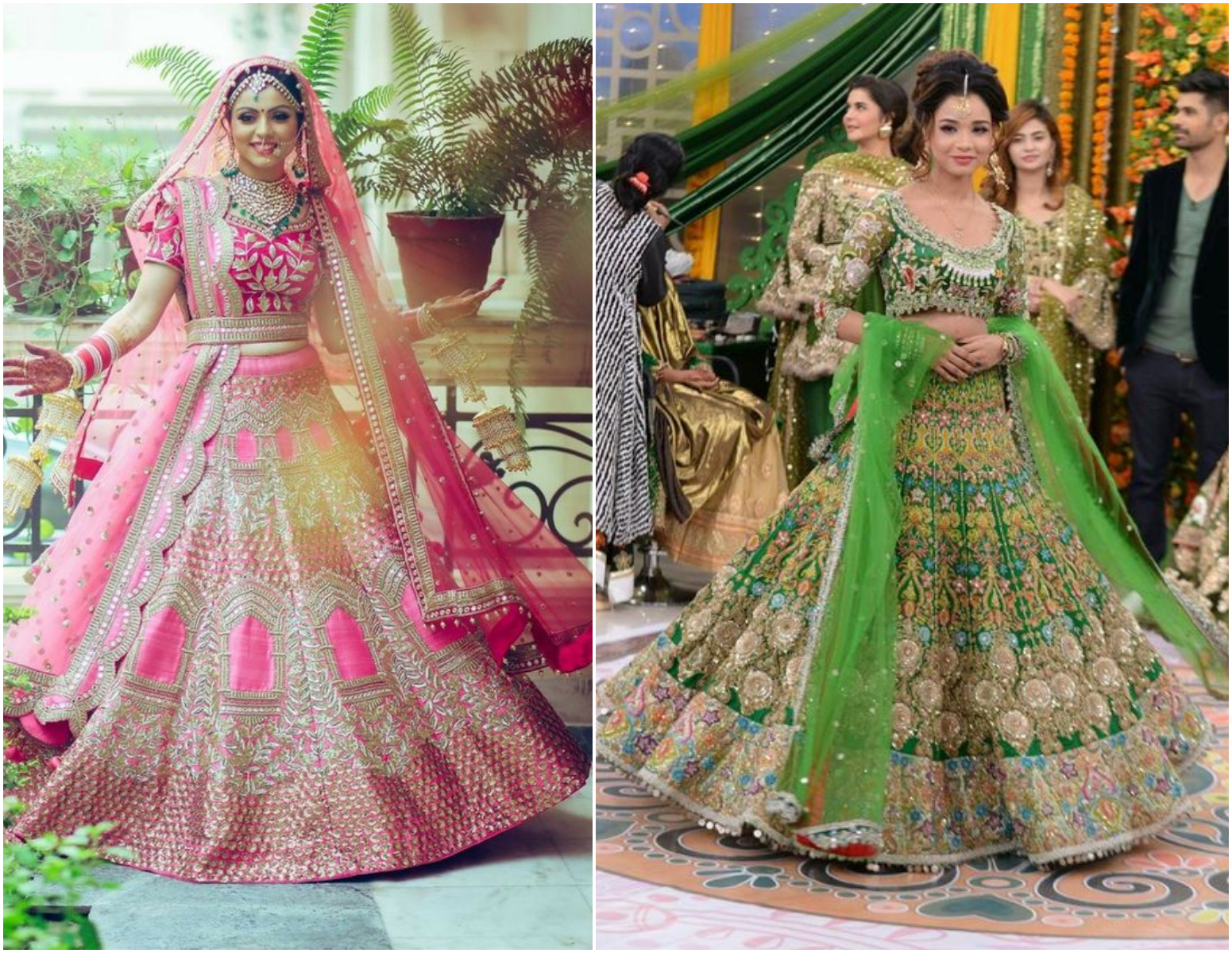 4. Lehenga Teamed With Jacket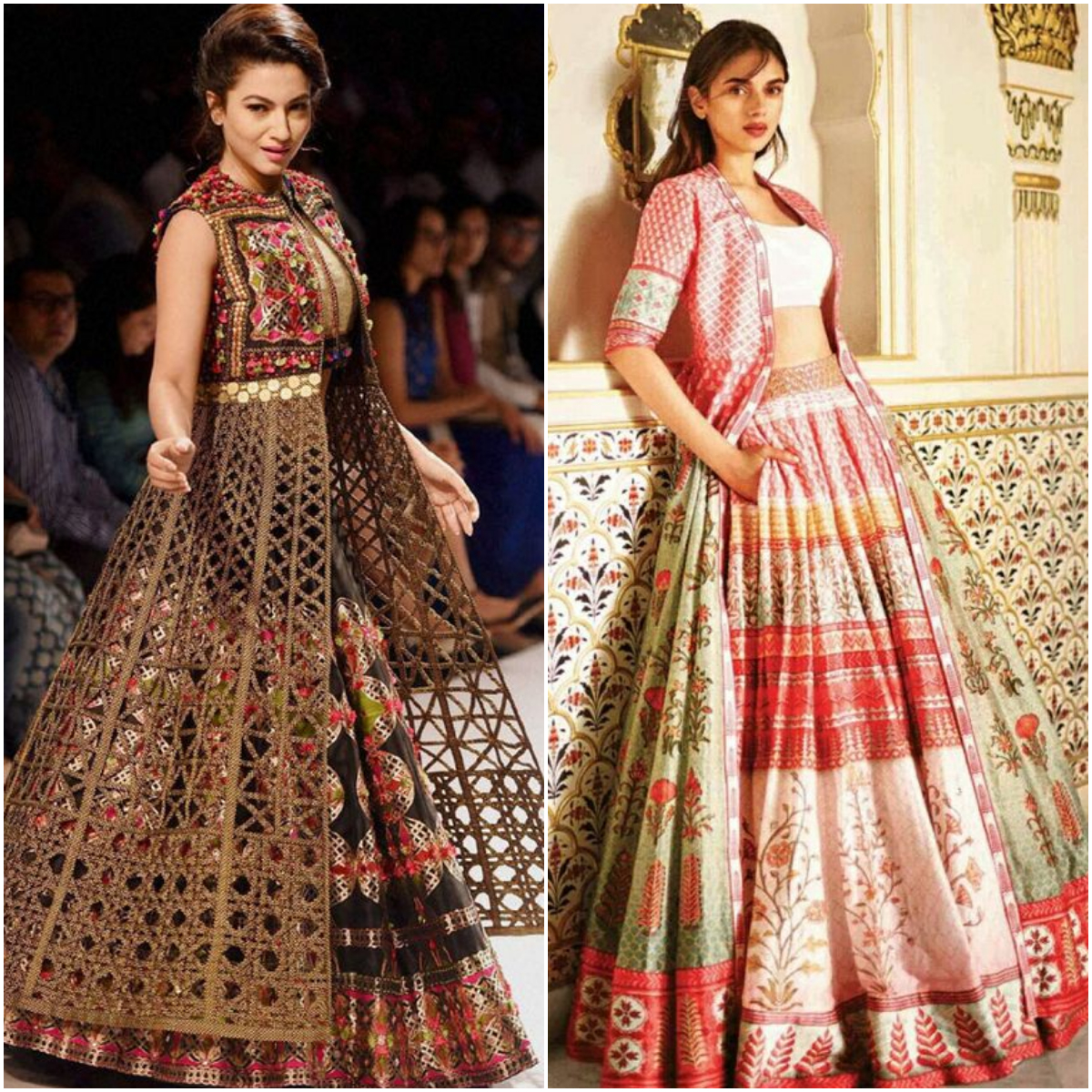 The style is on the top hits these days for wedding ceremonies. The pattern is designed with a short blouse, simple huge flared lehenga teamed with a delicate net or zardosi embroidery jacket. A little portion of helm line glances through the long jacket, this small portion can be decorated with patches or broad brocade lace. You can choose the variation in wear mainly by jacket looks subtle, decent or rich appeals.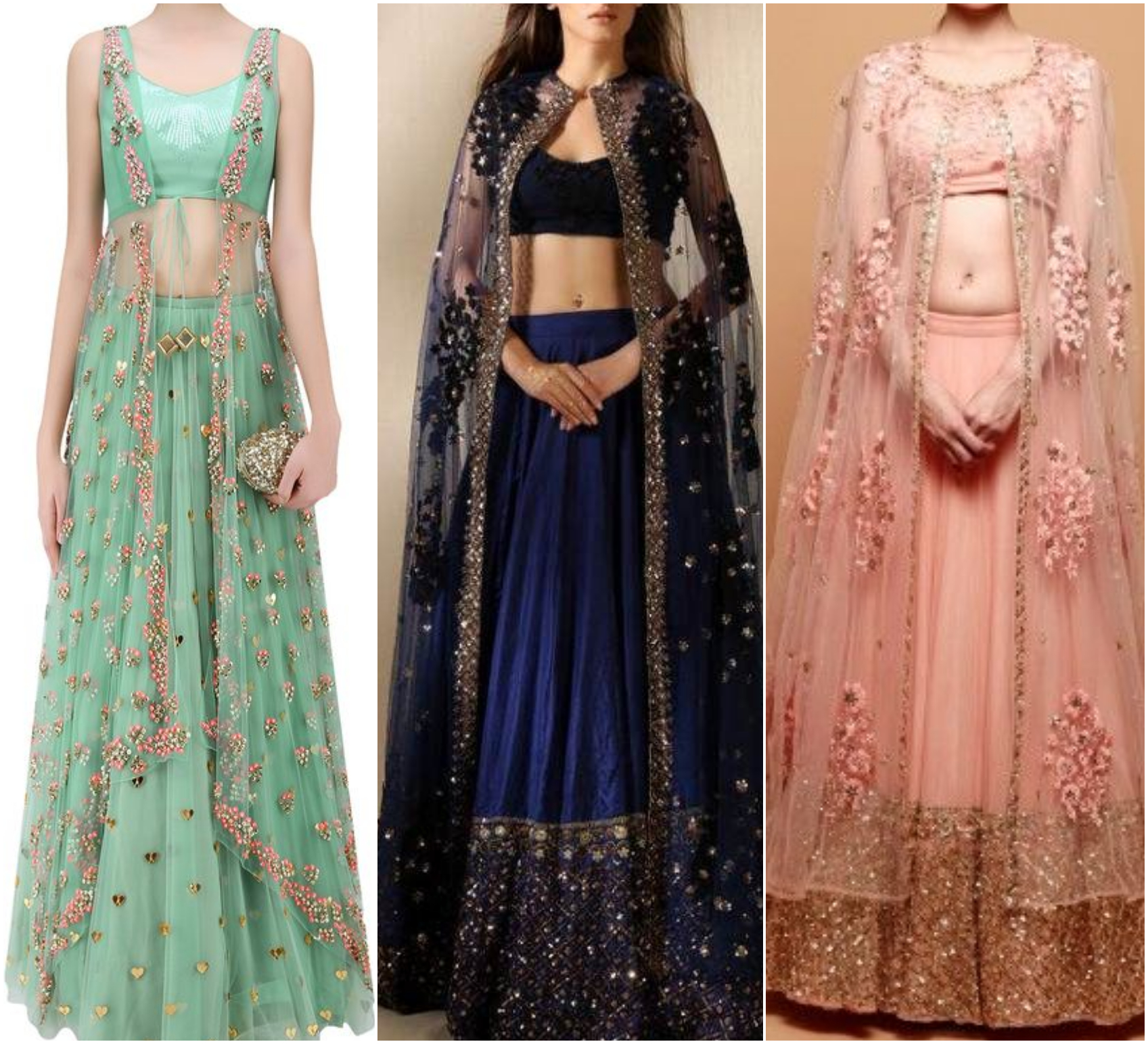 5. A-Line Lehenga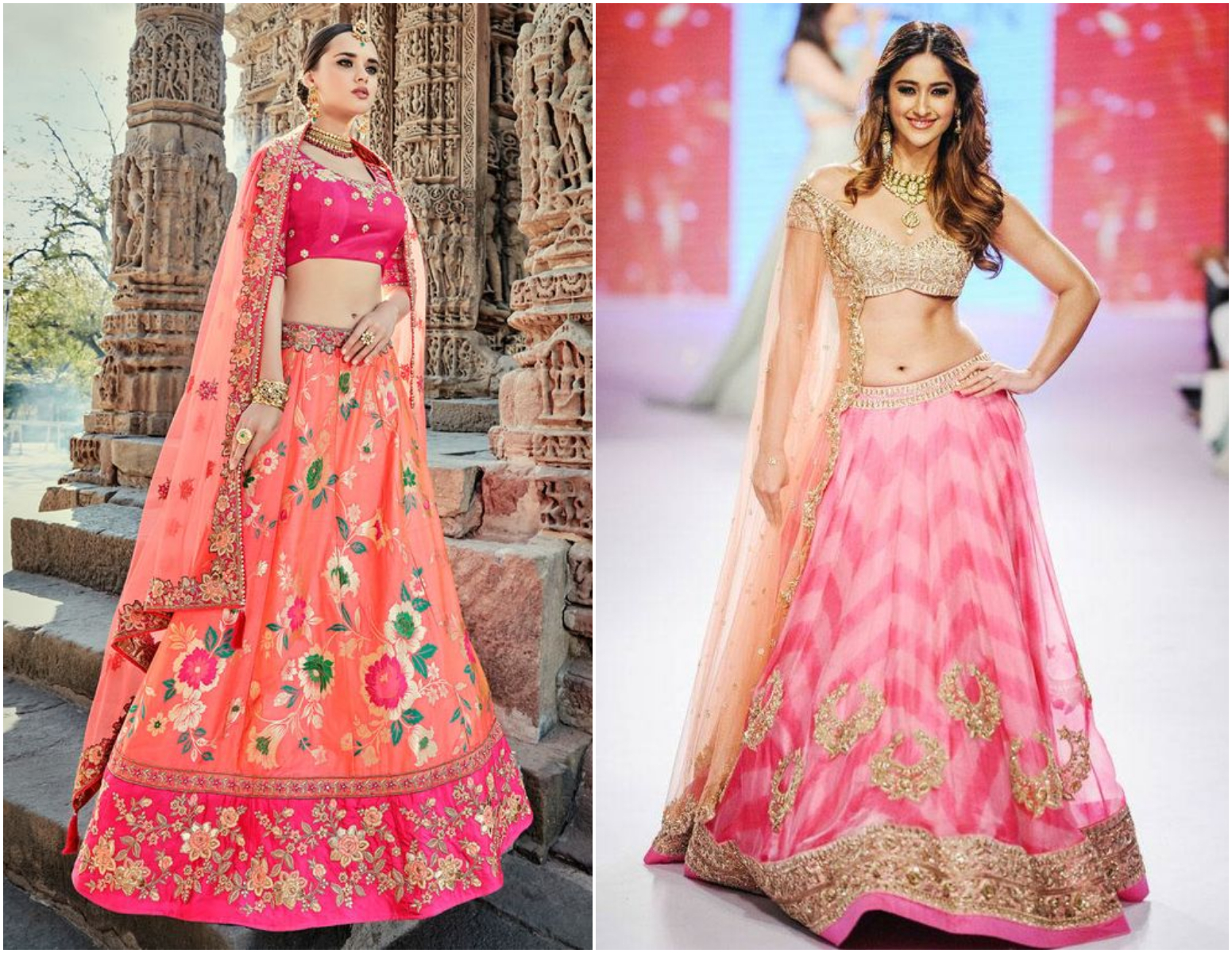 This lehenga pattern is suitable for hourglass and pear-shaped body types. The shape of A-line lehenga forms a perfect shape of A. The number of pleats is quite less keeping the flare to minimal. The lehenga is tighter at waist and flares at hems, the wear is suitable for casual parties.
6. Straight Cut Lehenga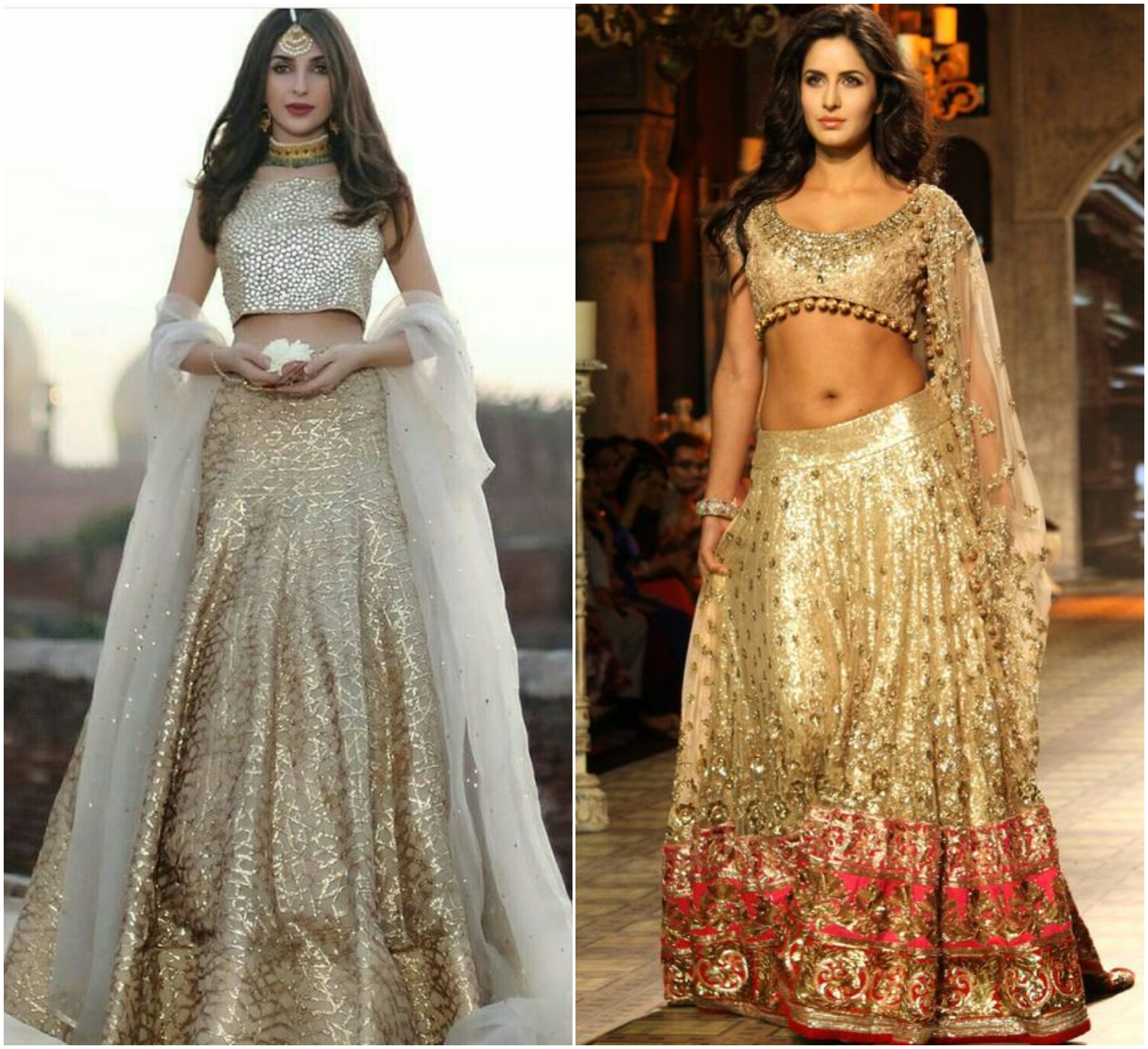 The skirt of straight cut lehenga flows along the curves of the body and doesn't flare out like other patterns of lehengas. The form is extremely skin hugging so be careful while selecting the pattern to choose if it will look good on you.
7. Mermaid Lehenga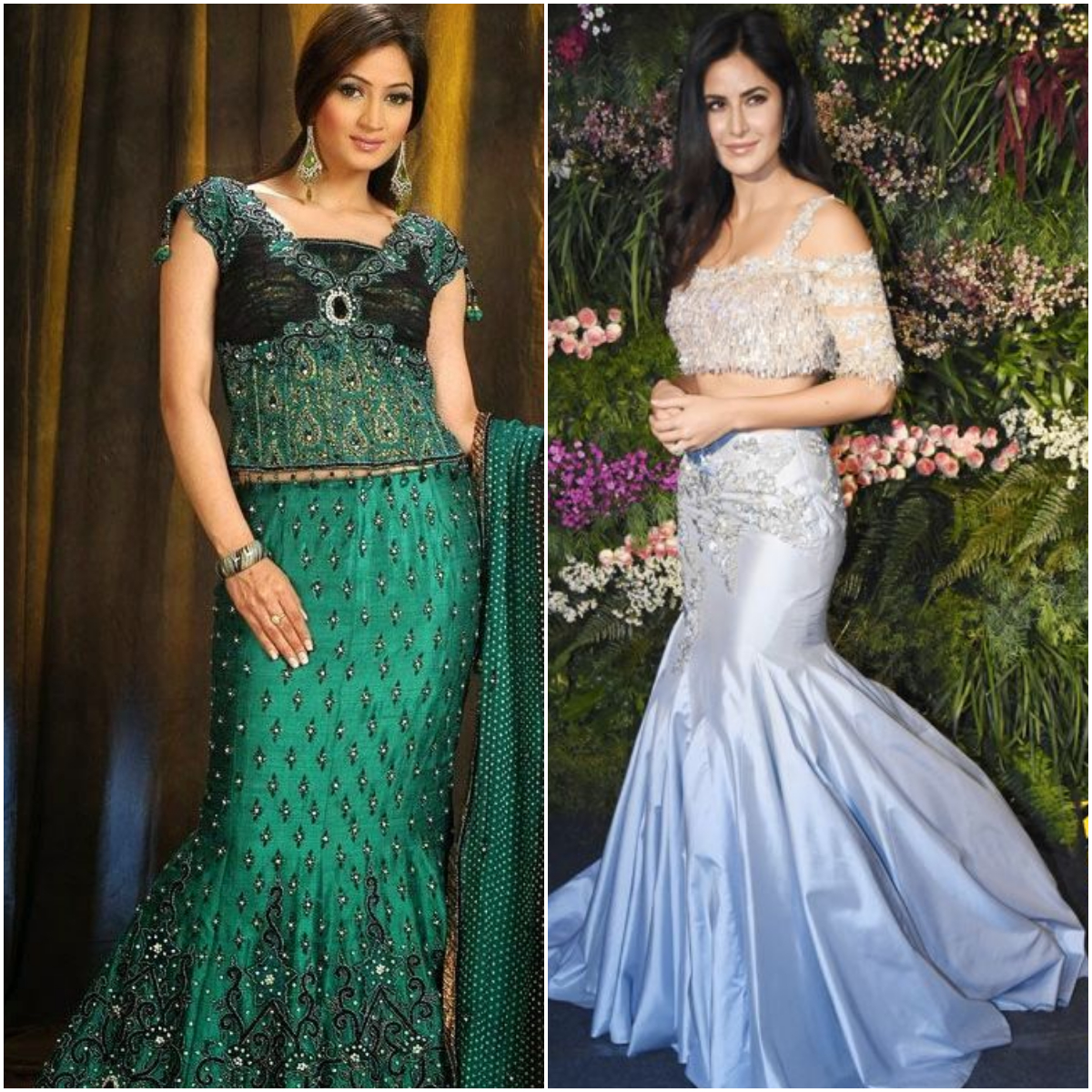 Mermaid design is also famous as fishtail or trumpet style, the lehengas resemble the shape of mermaid or fishtail. The fad is designed tight at the knees and flares from the calves giving you a beautiful look of a mermaid. You need to wear proper body suit beneath because the lehenga is given tight fitting at hips and waists.
8. Half Saree Lehenga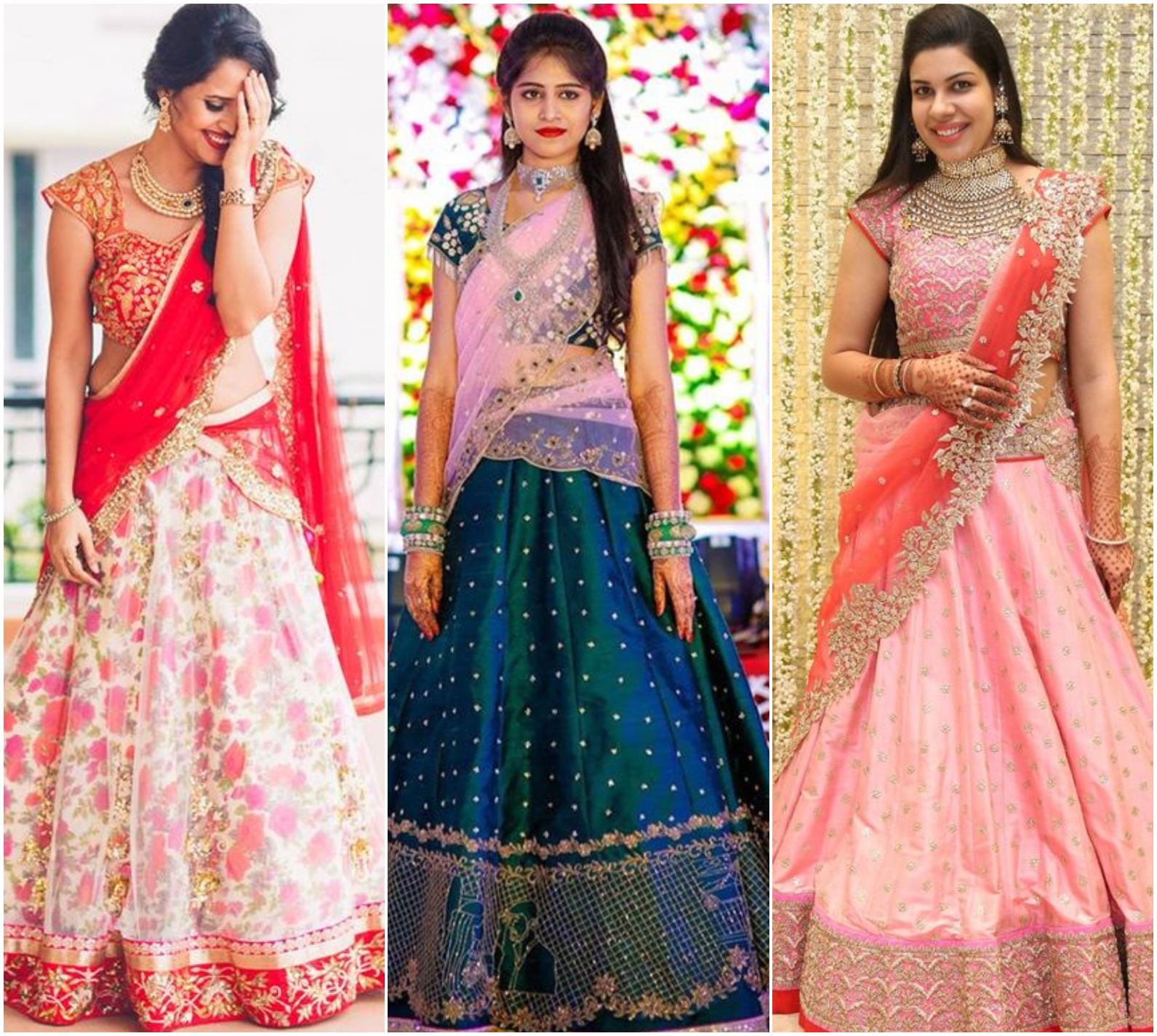 This vogue is inspired from traditional South Indian Half Saree. The look of the lehenga is only due to the way one has draped dupatta along the lehenga and it gives a virtual saree look. Normally it is low flare A-line lehenga blende almost on silk fabric.
9. Double Flare Lehenga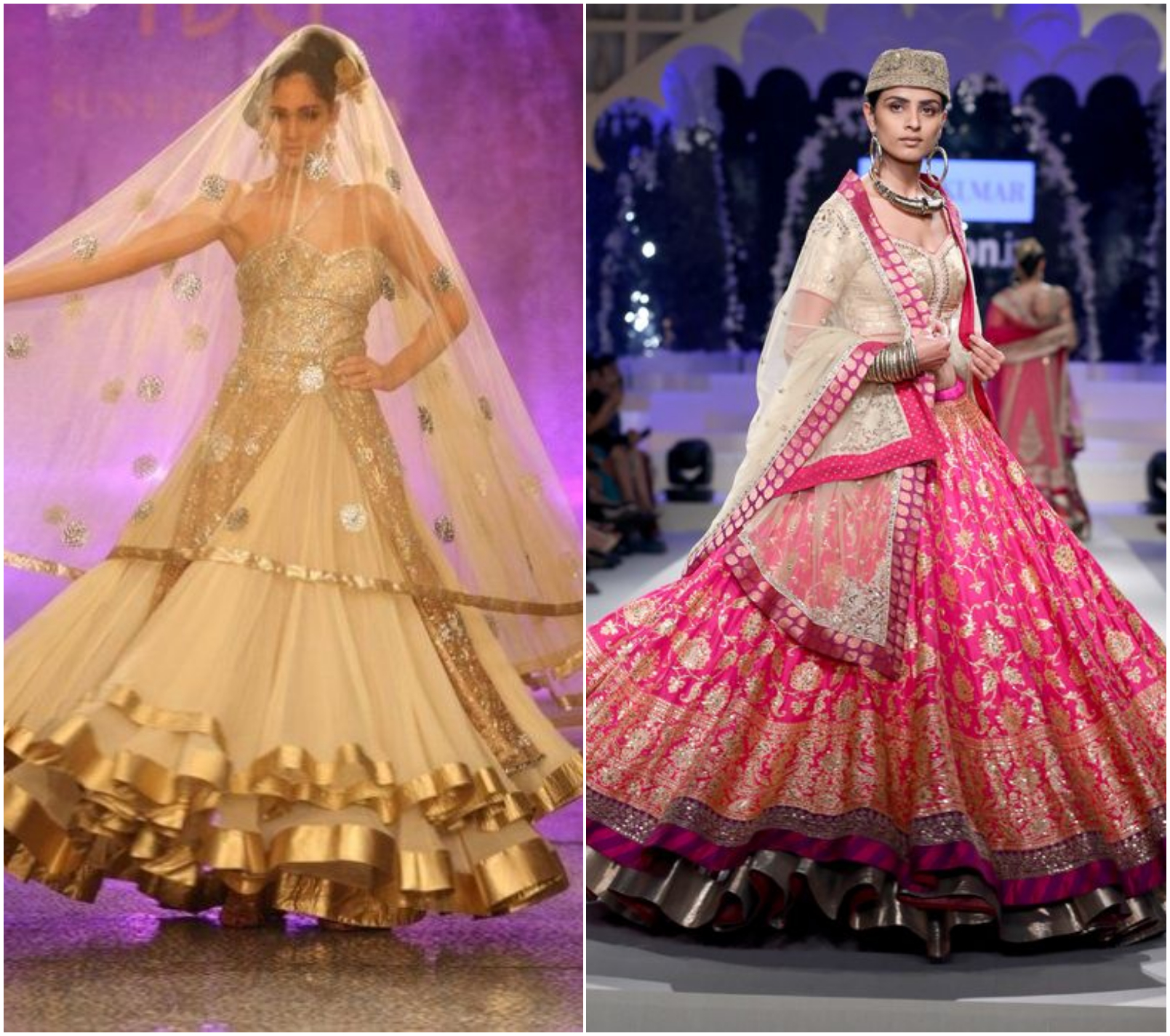 The type suits best on the hourglass or pear shape body structure. The lehengas with a huge flare are added-on with two or three more flares to increase the volume. Choose the lightweight silk or brocade or net fabric to get the desired volume lehenga. If heavy fabric or heavy embroidery is chosen it will be very uncomfortable for you to carry the attire.
10. Trail Lehenga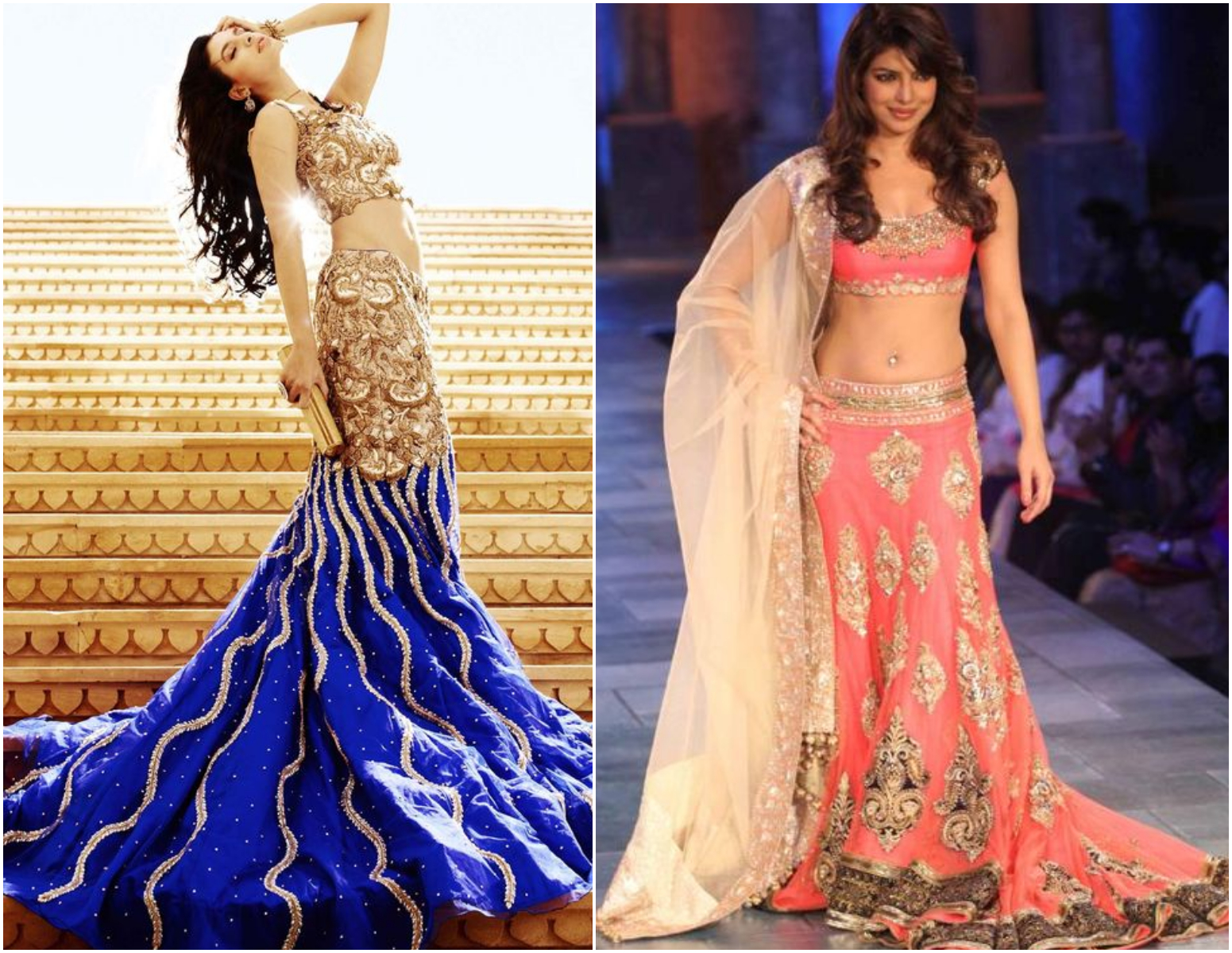 These are normal A-line or Mermaid skirts lehenga having an extra fabric making a long trail at behind. Depending on your choice and comfortability select the mode for the occasion you want to get into the fabulous outfit. The princes cut lehenga looks very charming with a long trail and delicate work fabric.
11. Crop Top Lehenga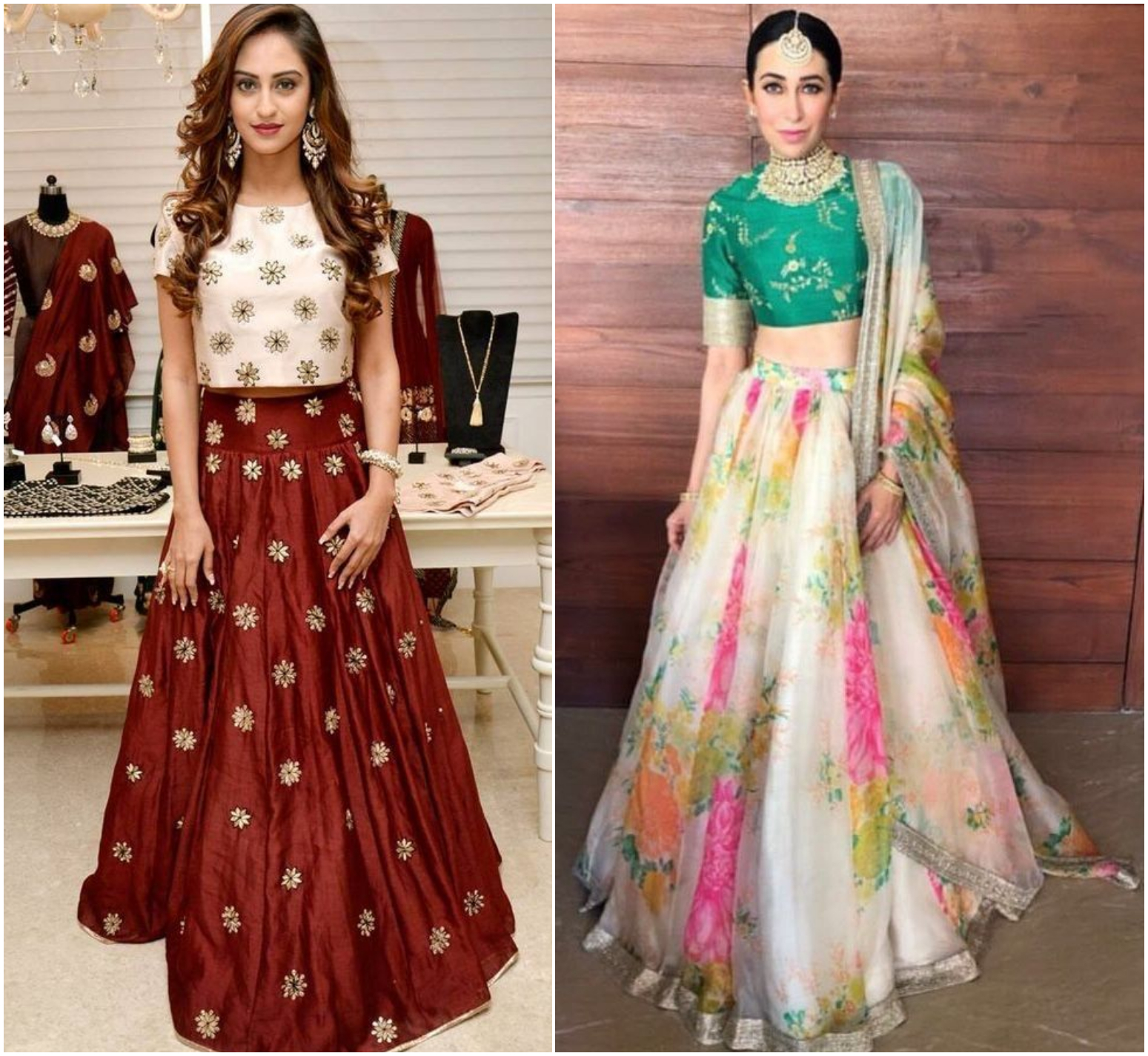 These are the latest styles in the fashion world of lehenga. The latest crop top lehenga collection has set the trend so high up for all the occasions from sangeet to parties. Crop top lehengas in silk, brocade, velvet, and net are simply worth to try as a new look for wedding ceremonies. The skirt styled in silk brocade with a plain or sequin embroidered top, always mix matched to get a new look every time.

12. Indo-Western Fusion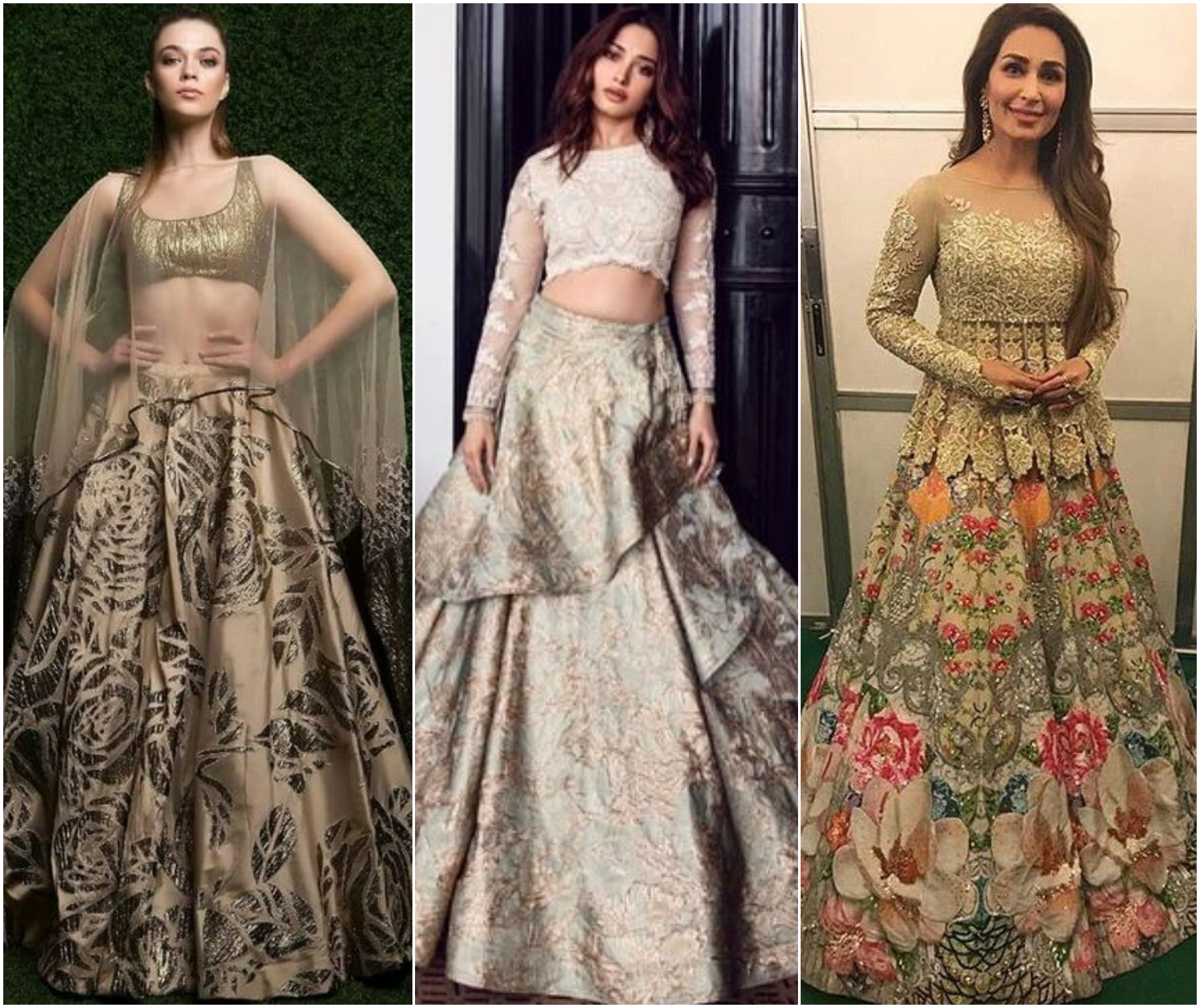 New chics always want to try something different for every upcoming occasion. For the variety of styles, a long sleeve choli or off-shoulder wrap around choli or tyling peplum top can be paired with Jamawar brocade lehenga, sequin lehenga or banarasi silk plain lehenga. The style exhibits a fine blend of western fusion with Indian cultural lehenga choli. These are the latest modern styles and quick picks for cocktail parties or conventional gatherings.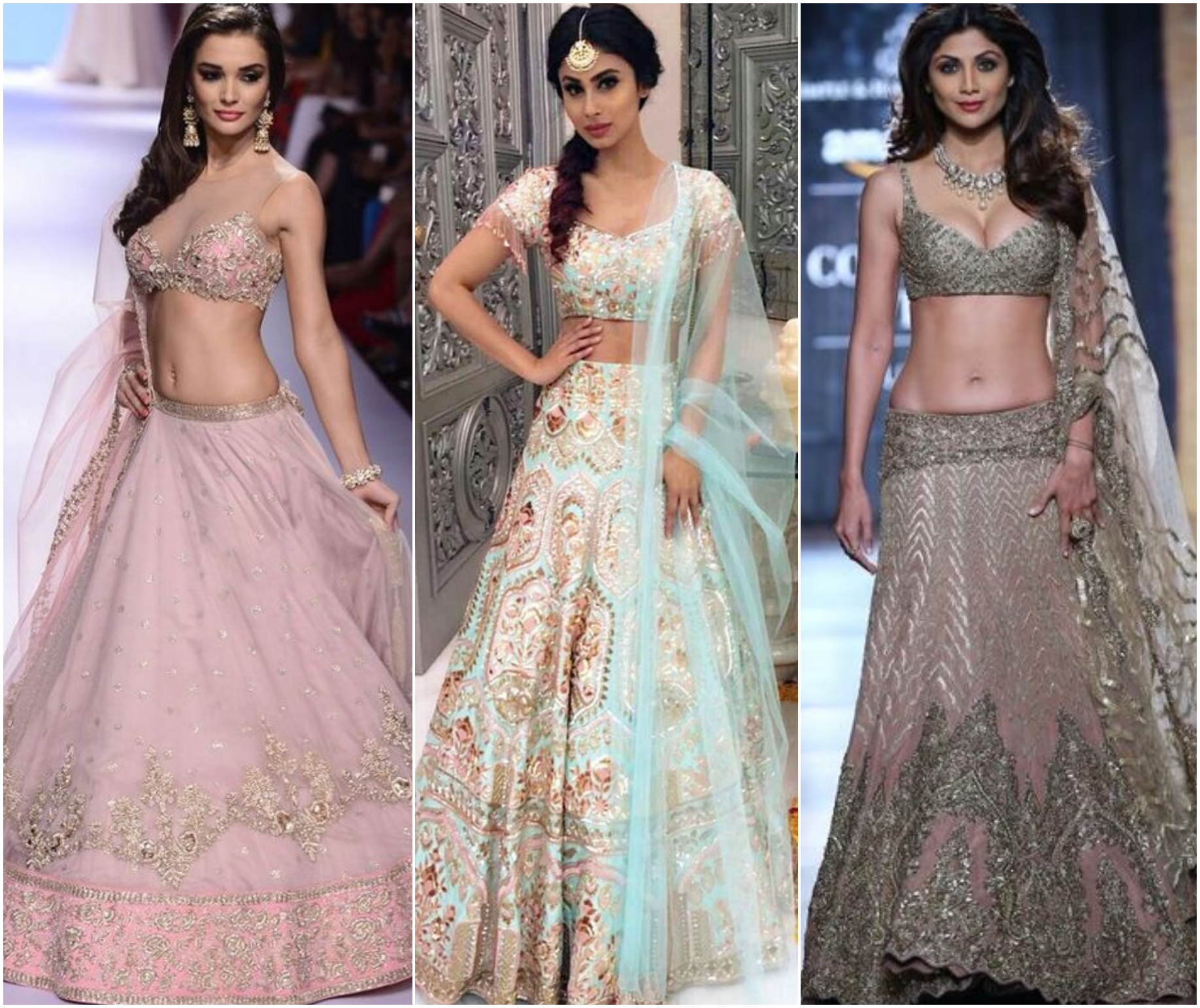 To accentuate your personality choose the right shape and style of lehenga choli, the perfect pick will bring out the best in you. Is there any mode you are liking to wear on! So comment soon to order the piece!