Healthy shiny hair is a dream for everyone nowadays. Who doesn't want to stop hair loss and stimulates hair growth? Hair oils are essential to keep hair in a good condition. The market is full of various brands of hair oil, but how one can rely on that. Most of them are only based on the advertisement. Oils will really help you out to give you best hair care routine for improvement of hair care health.
India is the country called home for Ayurveda and when we talk about Ayurveda, this is not complete without Patanjali. Patanjali Ayurveda has some hair oils that are related to various hair problems like hair fall, hair loss, dandruff, scalp itching etc. Hair oiling not only nourish hair and scalp but this also maintains healthy hairs and keeps them happy.
If you are getting confused that which hair oil will be best for you then this article is really going to be very helpful for you. In this article, I will also review Patanjali Hair Oil Review, Rating. Which hair oil is best. So, stay connected to get to know.
Top 5 Best Patanjali Hair Oil In India For Men and Women
1. Patanjali Kesh Kanti Hair Oil
Review : 
Patanjali Kesh Kanti hair oil comes in the plastic bottle with the flip-flop cap that is really very convenient to use. But the pack is not so much travel-friendly. And the cost of this product is only 220/- INR. for 300 ml pack size. As there are some more packs of small and big sizes are also available. So, you can purchase first the small one for trial. The shelf life of this product is 3 years.
The texture of this hair oil is also the same as the most oil has. It's a non-sticky hair oil. It has a soothing fragrance, feels like camphor and amla. Aroma of this Patanjali Kesh Kanti oil is not much high that will not bother your nose.
Product Highlights:
The product comes with sesame oil and coconut oil as base oils. It contains extracts of Amla, Neem leaf, haldi, Mehandi Vacha, result, etc.
Pros And Cons: 
This Patanjali Kesh Kanti Hair oil is the best natural and Ayurveda remedy for hair loss, hair fall, and dandruff but if you are planning to purchase this for dry and frizzy hair then this will not work so good. This hair oil not only nourishes the hair but also when you apply this oil at night, you will get a good stress free sleep. This effects a little slow but this can prevent baldness and dandruff effectively. This also prevents greying of hairs and repair split ends and any kind of damage by the use of any kind of chemical usage.
2. Patanjali Almond Hair Oil
Baba Ramdev's Patanjali product is getting quite famous these days. As many people are taking these products and giving their positive reviews about this. As these products are not so much costly also. But, for your awareness,  I want to share that there are 2 almonds oils are available from Patanjali. One is Patanjali-Divya badam Rogan almond oil that is also almond oil and the second one is made by Patanjali, especially for hairs.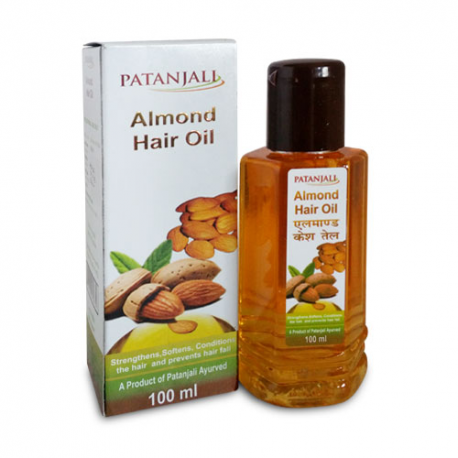 Review: 
The Patanjali Almond hair oil comes in a cute transparent hexagon shape plastic bottle with brown flip flap cap. Packaging is good enough but this is not travel-friendly as the cap is not so good so chances of leakage are might possible. Also, consistency is same as the most oil has, yes it's runny, not so much thick. Patanjali Almond Hair Oil price is Rs. 50/- for 100 ml. The shelf life of this hair oil is 2 years. This comes in dark yellow colour and perfume smell is too strong that can bother your nose.
Product Highlights: 
This hair oil comes with sesame oil, Emblica Officinalis, Terminalia belerica, Prunus amygdalus and Terminalia chebula etc. In the back side of the packaging, all the ingredients are mentioned.
Pros And Cons: 
If you really want to give a good care to your hair then you can surely invest in this product. I have tried so many hair oils but this one I will personally suggest to you. It strengthens, softens and conditions the hair and will also prevent hair fall. This can also be used as the hot oil treatment. And this is best suitable for all kind of scalp. Very less quantity of this hair oil is required.
3. Patanjali Tejas Teilum Oil
You don't need to spend a lot on this oil as this will work as 2 in 1 product. This is also a good body massage oil as well as hair oil. This is pure natural hair oil specially made for both skin and hairs.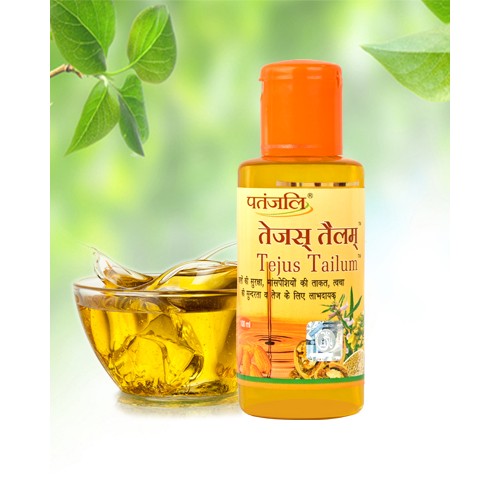 Review: 
This product actually works really good. This not only gives the nourishment to the hairs but also this will give the strength to your hair roots. The price of Patanjali Tejas Tailum is Rs. 60 for 100 ml. This oil comes in a very tiny size transparent plastic bottle with the opaque cap with the flip-flop. I can't take guarantee of this packaging as this might be spilt while opening a lot. The shelf life of this product is 24 months.
This oil smell is sweet and pleasant but too much strong. Some perfume liquid has been added into this for the sweet smell. This is very lightweight hair oil and doesn't have much thick consistency.
Product Highlights: 
Patanjali Tejas tailam contains badam oil, walnut oil, sunflower oil, sesame oil, peanut oil, mustard oil and a couple of more.
Pros and Cons: 
Patanjali Tejus Tailum oil is a good product for strong hair and healthy skin. For skin, this gets absorbed on skin very soon and gives a soft and glowing skin. You can use this on hands and feet too. I like this oil very much as this works for both skin and hair. This will make your skin very smooth and shiny. Also, the result of this oil is good on hairs too. You can massage, either 30 mins before hair wash or overnight. And this removes very easy by shampoo. But there are many problems with the smell.
4. Patanjali Coconut Hair Oil
As good hair gives the confidence so this is necessary to give them a good care. And this is the product which has given me 100% results. This Patanjali herbal oil is really a miracle for the scalp.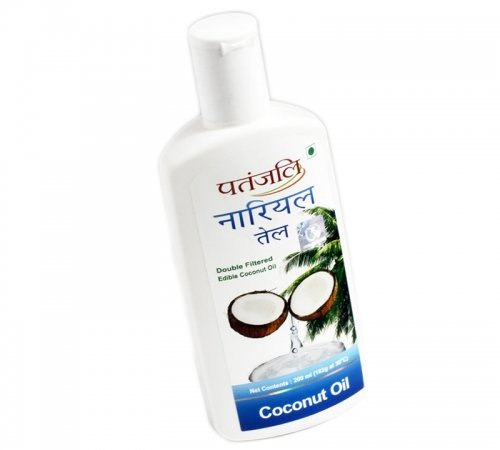 Review:
I love using this coconut oil as this can be used multi-purposely. The bottle is made of plastic and white in colour. The cap flips open and has a small hole. The cap is prone to leakage so it does not travel-friendly. The Price of Patanjali coconut oil is 48 Rs/- only for 200ml. As this is much cheaper. According to me, nothing can come at this cost. The shelf life of this product is 15 month. If you have dry skin then this also moisturize the skin too.
Product Highlight: 
It's not greasy at all because of its' completely pure and very lightweight. Just massage your scalp with this oil for 10 mins and keep it overnight and gently wash your hair in the next morning.
Pros And Cons:
As this is Indian product, so it's totally organic. Also, it's free from chemicals and light-weight. This nourishes your hairs and prevents hair fall. This gets absorbed easily into hair. This makes hair manageable making them less prone to tangles. You can also use this oil for face and be cooking too.
For best results, use this oil on hair twice. This will cure the dryness and dandruff of scalp.
5. Patanjali Amla Hair Oil
Hair plays the major role to give a person attractive look.
Review:
You can trust Patanjali hair oils blindly and can use them regularly in your life. It comes in a small plastic, transparent bottle with a cap that flips open and has a small hole. The cost of Patanjali Amla oil is Rs. 50/- for 100 ml. The colour of this hair oil is dark green and the shelf life of this Patanjali product is 18 months.
Patanjali Amla hair oil will cure dandruff and greying hairs. It gets wash off easily with the mild shampoo.
Product Highlights: 
This oil is a mixture of sunflower oil, sesame oil, olive oil and also the almond oil along with the amla oil. If you want long, voluminous, thick, black shiny hair then start using this amla hair oil. This will give a fuller and softer looks to your hairs.
Pros and Cons: 
This is super affordable hair oil in the Indian market. Also, this is chemical free hair oil. Apart from preventing hair damage, split ends, this will also add shine to your hair and will give you glossy and voluminous hairs. After massaging your hair with this oil, you will feel relaxed. One major pro of this, that this oil will leave not any single stain while you apply this in the night and also induce a good night sleep.
In spite,  all of its pros only negative points is that it is a little greasy. If you really want results from this hair oil then use this regularly for a long time. Surely, you will get the positive results.
6. Patanjali Sheetal Oil 
This is one another product from Patanjali that is multipurpose oil. This oil claims relief from stress, headache, sleeplessness, body ache, joint pain, hair fall, and dandruff.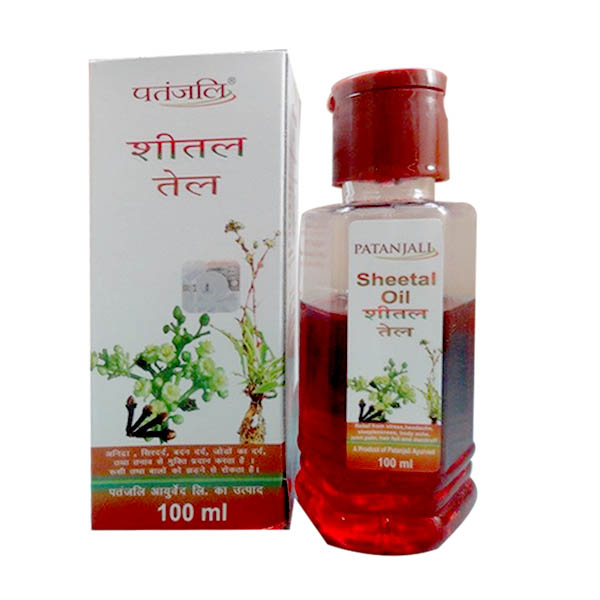 Review:
This one is the multipurpose oil from Patanjali, you will get many benefits from this product. The cost of Patanjali Sheetal Oil is only Rs. 55 for 100 ml. This is really very effective for hair loss, hair fall and for dandruff. The colour of this hair oil is pink with the reddish undertone. This oil comes in a plastic transparent bottle with the flip-flop cap. Again, the same packaging is not travel-friendly.
The texture of this hair oil is a little heavy as this is not completely non-sticky. Aroma of this oil is really soothing and stress relieving. The fragrance of this hair oil adds cooling effects.
Product Highlight:
This oil includes Til oil, Pudina oil, Amla oil, Kapur, Tulsi, Jatamanshi, Ratanjyot, Long oil, Bhringraj & Nilgiri oil.
Pros And Cons:
This Patanjali product is really in budget product for various use as this is best for massaging, joints pain, knee pain and hair loss, hair fall and for dandruff.
This oil takes a little more time to wash off it. At least 2 washes are needed. Oil is not best suitable for frizzy hair and also this doesn't make hair soft and shiny but this ayurvedic oil gives best results for hair fall while mixing this with any another hair oil.
Benefits Of Patanjali Hair Oil
Every product from Patanjali has a good shelf life, so you can use them for a long time. And also all products available in various sizes from the small one to the big one. So, if you want a trial pack, you can take the small one. Also, products are not so much costly so they will not affect your pocket much. And all products are easily available as they have many stores in every city or you can also purchase online too.
Also, let me know in the below comment session that which one Patanjali product is your favourite and if you want to share your reviews for that, also most welcome. I will publish them here for the people's convenience!