Patanjali is India's fastest growing brand that is run by yoga guru Baba Ramdev and Acharya Balkrishna, an Ayurveda expert. The brand is coming into the headlines due to its various beauty and healthcare products. From the past few years, Patanjali is getting popular and people are getting crazy for Patanjali products. That's why on the demand of readers we think to share the review of Patanjali beauty cream so that they can use them easily.
Patanjali has a very wide variety of beauty products and Ayurveda has always been the most preferred choice when it comes to cosmetic creams for regular use or medicine to get rid of any health issues. And the best thing about using Patanjali products is that these beauty products not only care for your skin but also keep you away from the worry of any side effects. As it's all products ingredients are extracted away from natural resources that will give your skin radiant glow and keep you away from acne, pimples, and wrinkles.
I am a big fan of Patanjali Products, recently I am using them and I found that they are really good one. That's why here I am sharing my personal Patanjali Face Cream and Each product from Patanjali will give you value for money.
Patanjali Face Cream Review
Patanjali has been recently launched many new products in the section of Beauty. Before starting the review I would share one thing with you that Patanjali is quite famous for their cheap price products and all the products from Patanjali are chemical free and ingredients are blended in a balanced manner such that one can take its proper benefits to glow their skin. I will share everything so..let's go down to see the complete details.
1. Patanjali Swarn Kanti Cream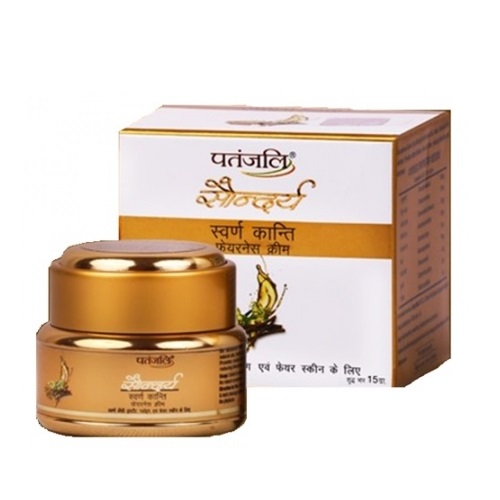 Review:
Everyone needs brighter, fairer and healthy skin. This Patanjali cream gives the proper nourishment to the skin and a shiny look to the face. It also works on blemish and skin darkness and nourishes the skin This Swarna Kanti fairness cream from Patanjali is an Ayurvedic blend of the purified gold, natural oils, vitamins and fruit extracts. You can also say this Patanjali gold cream too. As the company claims that this cream has been made of 24-carat gold. That's the reason for this high price.
The Price of this Patanjali Swarn Kanti Fairness Cream is 399 Rs. for 15 gm. You would never imagine that Patanjali will launch some product with so much price, but they did. You can use this cream normally as you use others.
This cream comes in a plastic box that is golden in colour and cream has a white colour with the ayurvedic fragrance and thick consistency. This cream is best for all kind of skin types. This doesn't make your skin dry or oily. If you are looking for a good fairness cream then choosing any another cream that contains chemicals, just simply select this. This is the ideal cream for fairness. This is the Perfect Patanjali Face Cream for Summer, might be this will give dryness in winters.
But, overall these cream effects remain until you use this regularly. When you stop using this cream all glow will be gone in 2-3 days. If you can spend 400/- per month for the temporary fairness than you can use this.
2. Patanjali Sundarya Cream
Review:
Patanjali Saundarya Anti-aging cream is a completely herbal cream that is totally safe for skin. This cream works best for wrinkles free fair skin. Powerfully active age define formulation with natural oils peptides, herbs & fruit extracts that reawaken the skin through luxuriously moisturizing & improving firmness, visibly reducing wrinkles & neutralizing environmental damages. 15 gm in 299
The price of this cream is Rs. 299 for 15 gm packaging. Just apply this as like the other creams. This cream has a lovely tiny tub packaging comes in silver colour. Packaging is travel-friendly. The colour of cream is white and it's light and having the thick consistency. This has a strong lavender smell. This cream is easy to blend on the face but makes the skin oily. So, if you are having the oily skin then just keep away with this cream.
This cream will slightly improve your skin texture and will do nothing except that. Neither this will work on marks and blemishes and nor makes the skin glowing. Also, doesn't show any effects on fine lines too. As due to oily skin I didn't use this for a long time. Maybe this will take the time to show it's anti-ageing, properties. It will be good to say that this is Patanjali face cream for dry skin only.
3. Patanjali Moisturizer Cream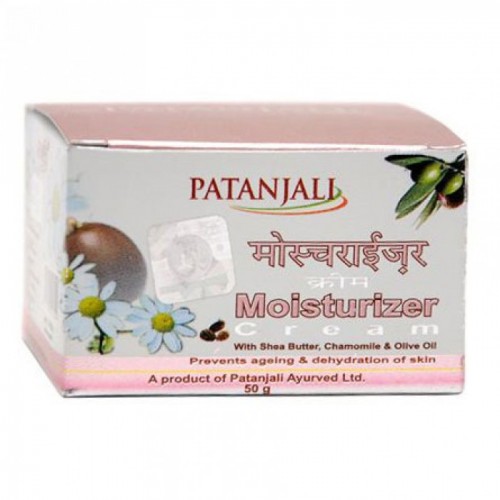 Review: 
This is again a highly effective product comes in the list of Patanjali Beauty Products. This is the ideal Patanjali face cream for winters. Moisturizer cream is the most vital part of daily skin care. For the healthy skin, everyone should use the moisturizer cream after the bath. As in the winters, hot shower just relaxes the body but absorb the moisturizer and oils of the skin. So, never skip the moisturizer after the bath.
This cream has the power of chamomile, shea butter along with the olive oil. These natural products are laced with nutrients and natural skin healing moisturizers. This is also the Patanjali face cream for men too. Men can try this cream daily to overcome the dryness and roughness of the skin.
The cost of Patanjali Moisturizer Cream is 75 Rs. for 50gm and the shelf life of this cream is 2 years. This cream comes in the pink cardboard packaging and the cream also comes in pink colour with slightly thicker consistency. This cream has a little sweet fragrance of Shea butter cocoa that long lasts for 3-4 hours. Packaging is also travel-friendly.
This is a moisturizer cum cream that is also from the most trusted brand and especially doesn't having any chemicals. So, I would suggest buying this. This will make your skin baby soft and a little quantity stays a long time. But I would not suggest this for oily skin.
4. Patanjali Anti Wrinkle Cream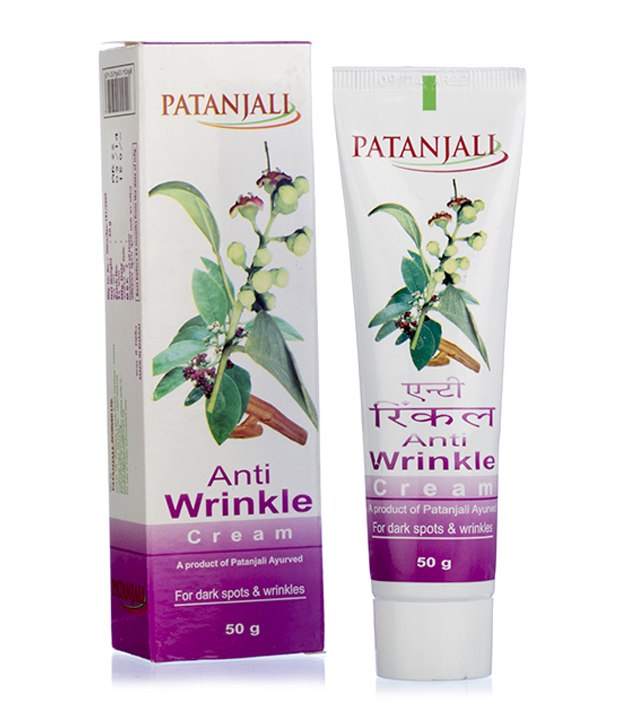 Review:
Early ageing is nowadays is getting very common issue due to diet and lifestyle. Patanjali Anti-Wrinkle cream is a wonderful cream for dark sport and wrinkles. This is a natural face cream to get rid of fine lines. Patanjali Anti-wrinkle cream is made up of natural ingredients that supply proper nutrition to your skin cells and prevent the appearances of early signs of ageing.
This cream also shows best results on combination to oily skin. Or we can say that this is the best Patanjali face cream for oily skin. People with dry skin can also use this cream if they want, just apply a little much high amount. This cream will make the skin hydrated and non-greasy so you can also use this cream as the makeup base and this works well.This cream feels slightly heavy while applied but it glides out within minutes. This cream doesn't have sunscreen properties so it will be best to say this is Patanjali Night Cream.
The price of this Patanjali Anti-Wrinkle cream is Rs.150 for 50 gm. This cream comes in a tube. So the packaging is travel-friendly and colour of cream are bridge and smell are natural.  Use this twice a day for the best results. An overall cream is good enough for treatment of fine lines and wrinkles but this will not remove acne or pimples.
5. Patanjali Beauty Cream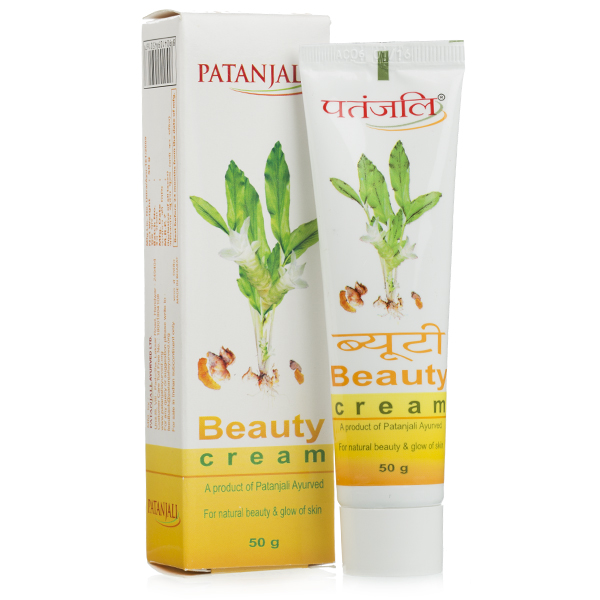 Review:
This Patanjali beauty cream can be used for both for the day as well as the night cream. This is a pure Ayurvedic treatment for glowing skin. The price of this Patanjali Beauty Cream is Rs. 70 for 50gm. It's not much expensive if you want to use this regularly.
This cream comes in a white colour standard looking tube with the round screwing cap. The tube is completely filled with the cream. So, this time you don't have to pay for the air. Packaging is quite simple and travel-friendly. The cream is beige in colour and has a very pleasant fragrance.
The texture of the cream is heavy and sticky, you have to rub and massage gently when you apply this. This makes the skin soft and supple and gives the skin fresh look. Regular use of this cream will make the skin problem free. But this cream is not so good for oily skin as the texture of this cream is greasy that makes the skin oily.
6. Patanjali Aloe vera Moisturizing Cream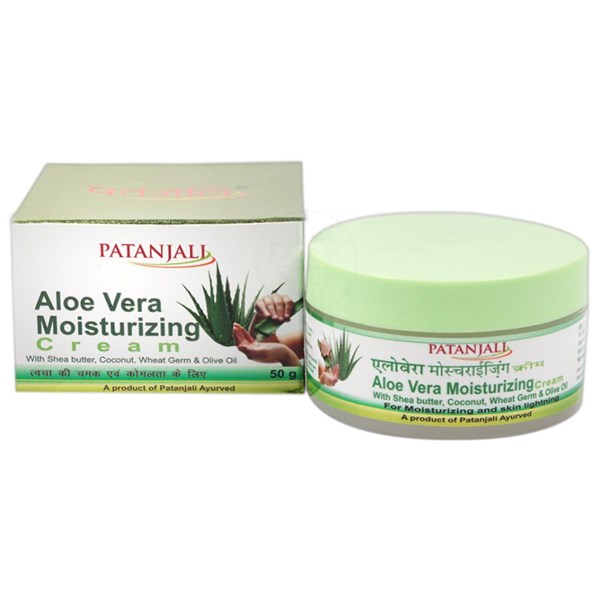 Review: 
If you are a big fan of using aloe vera then this Patanjali product is perfect for you. Patanjali Aloe vera Moisturizing cream is best to prevent ageing and dehydration of the skin, protects skin against winter dryness and roughness. This cream is the best natural moisturizer cleanser that makes skin soft smooth and beautiful. It helps in balancing the pH levels and water content of your skin. It provides moisture to your skin and removes dryness from your skin in a natural way.
It helps in balancing the pH levels and water content of your skin. It provides moisture to your skin and removes dryness from your skin in a natural way. This cream comes in a circular plastic tub with the screw open green colour cap and the colour of cream is white and has a thick consistency and fragrance is similar to talc powder but it will fade away after 10-15 mins. This cream is a little heavy on the face but perfect for hands and arms.
Overall, this is a best natural moisturizer for winters and summers too but this is not a luxury product for skin care. A single tub will stay last longers so it is also an affordable cream.
So guys and gals how are you find this article related to Patanjali Face Cream. We have tried our best to share each and everything about the Patanjali Face Cream. Also, we have covered Patanjali face cream Price list of each product.
Patanjali products are really very natural and good for skin. And the main point is that they all are made of natural herbal ayurvedic ingredients. They are completely free from chemicals and the main thing is that they are " Made in India". India has a treasure of natural herbs and Patanjali is using them wisely.
So, just take a glance at the above shown Face Creams and decide which one is perfect according to your skin type. And just once give them a try. Also, if you have used or using any product from Patanjali don't forget to share your experience with us in the below comment session. This will really be very appreciating that we are doing something for our country.