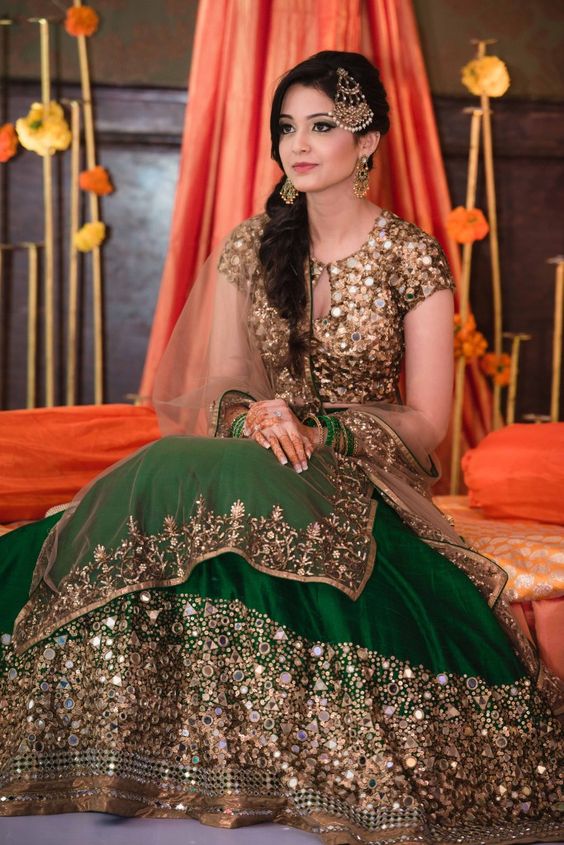 When pretty dames carry gorgeous lehenga the only word comes to the mind is "Archangel" the beautiful incarnation of God. Talking about the festival season or wedding season range of ethnic wear strikes to look best on these grand events. Lehenga compiled up with an incredible hairstyle is a perfect combination of a sensual and traditional outfit.
To make your look go gross it is important to go with a catchy hairdo, draping a bright gorgeous lehenga with matching accessories want work out alone to give you ravishing look. Women in beautiful and authentic looking lehenga reflect Indian culture and tradition. For a raving beauty, we have piled up a 36 beguiling Hellenic and boho looking chic dreadlocks. Go for the hairstyles that would best suit your face shape and apt with your lehenga design & pattern either modern or have ethnic touch. These sophisticated hairstyles would surely add oomph to your beauty to capture everyone's frame of mind.
1. Front Puff With Loosy Curls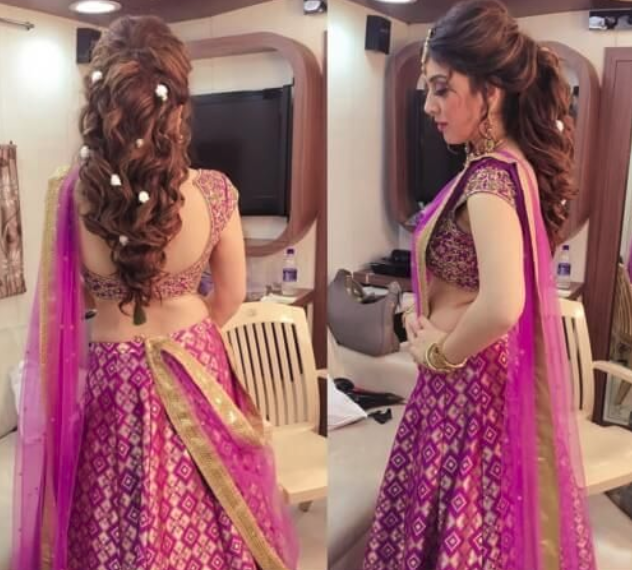 Bumpit inserted at the crown of head figuratively elevates the hairstyle into something incredible. Before curling, the hairs with the curling iron apply heat protectant all over the hair. Smoothly curl your hair taking 1 inch part every time. After finishing up the final curl spritz light hold hairspray to prolong the lifespan of crumples.
2. Exquisite Hairstyle For Short Lenght Hairs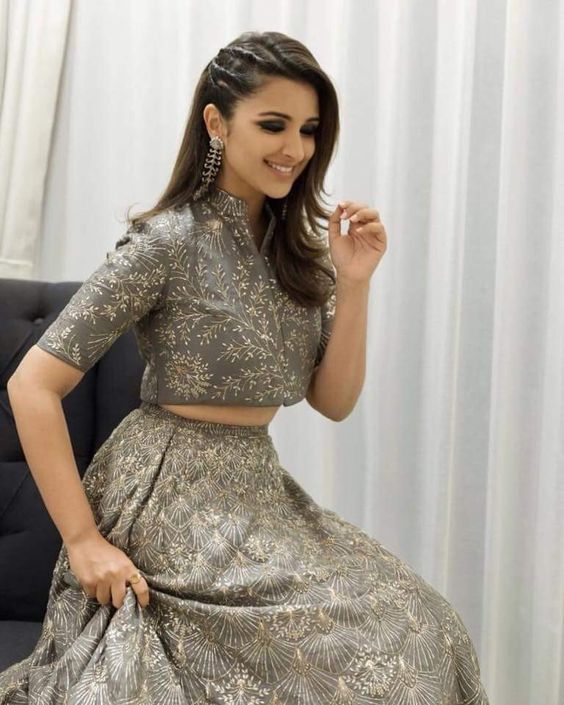 The simple chic hairdo gives you classy hairdo with a side sweep. Keep half the hairs open, of a longer part and slit the shorter part in three strands. Twist and turn each strand and hook it with a bobby pin. The smarty hairdo will brush you up for classy occasions.
3. Side Parted Loose Braid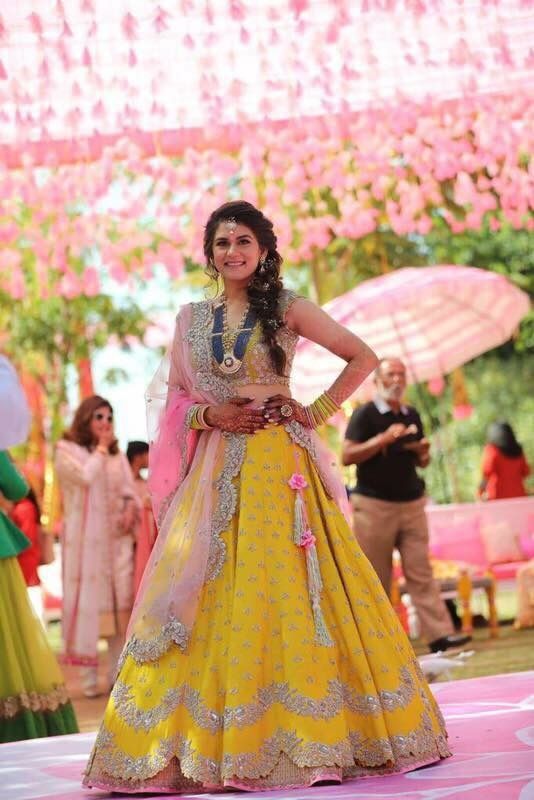 The most trending hairstyle with lehengas nowadays is wonderful side braids. The pronounced side braid with wispy bangs or a simple twist on either side gives a chillaxed look for formal occasions. To give a messy variation to this hairstyle let the thick bangs lose.
4. Center Parted Hairstyle With Mang Tikka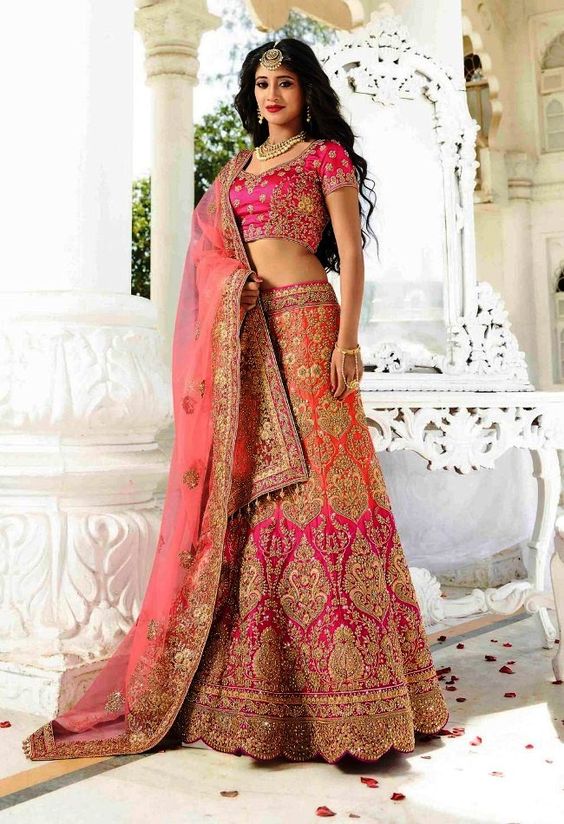 If your hairs are naturally little wavy, this is the best time-saving hairstyle for a sexier look. Just brush up your hairs back with a center partition and to add oomph to your look ornament your hairstyle with mang tikka. You will look stunningly gorgeous for any traditional occasion.
5. Retro Hairstyle For Short Hair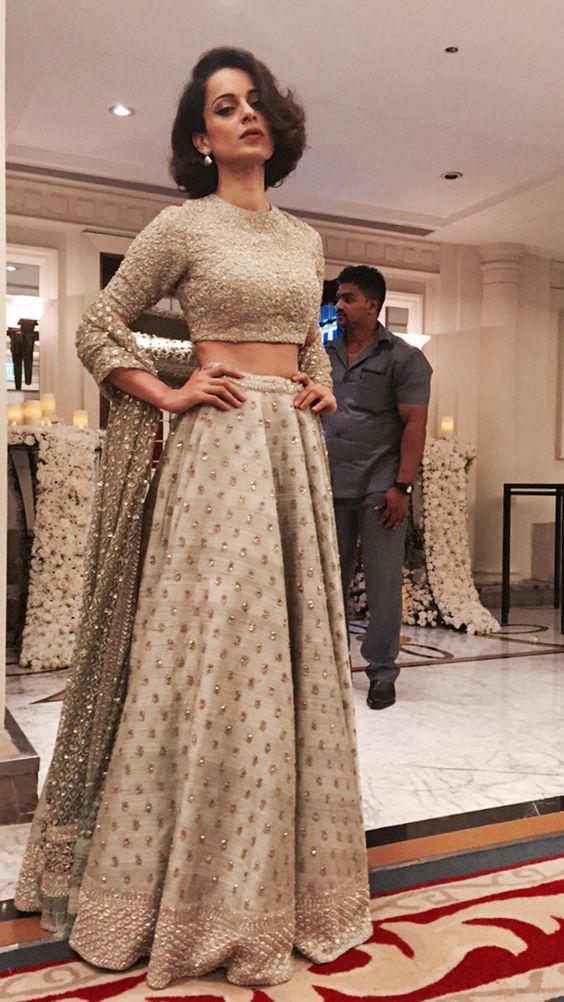 Old styles are revolutionized, after disappearing for short span many of them come back. Vintage short hairstyles can be perfect, not only for casual outlook but also gives you appealing look in the fashion world. Probably go for, only blow drier after having a head bath and give a side partition you will look amazing.
6. Ornamented Braid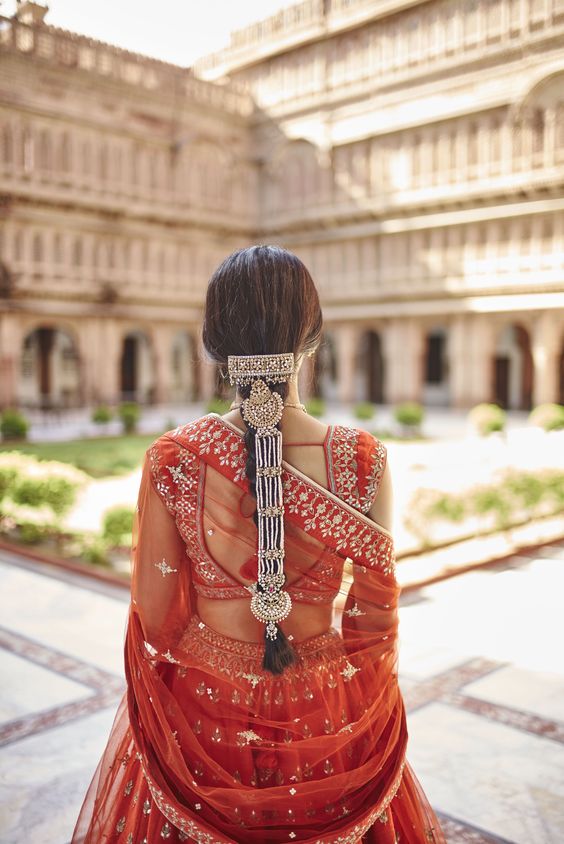 The traditional chronic three-strand braids are one of the most versatile ways to wear your hair. Make a simple back brushed plait embellish it with accessories of pearl or kundan. Wear this hairstyle for traditional occasions with lehenga.
7. Half Up And Half Down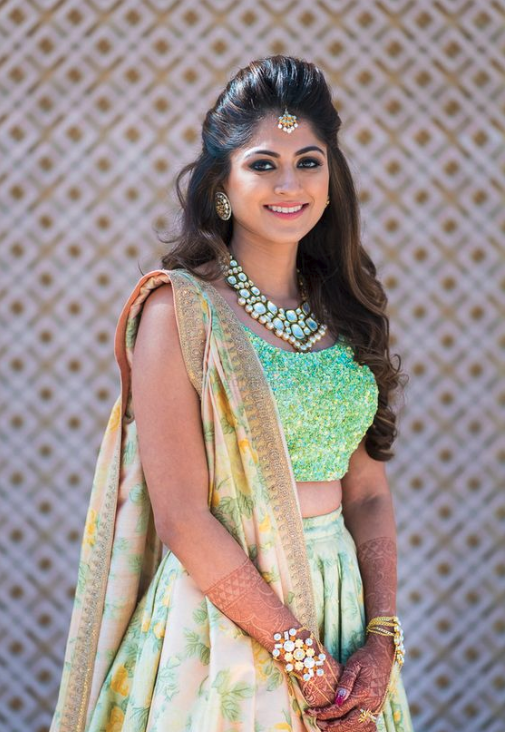 Hook up half of the hairs puffing up a little bit with the help of simple tools such as styling comb and texturing spray. Leave rest of the hairs open after having a blow drier. Spritz, light hold hairspray to uphold the pattern.
8. Low Side Bun With Flowers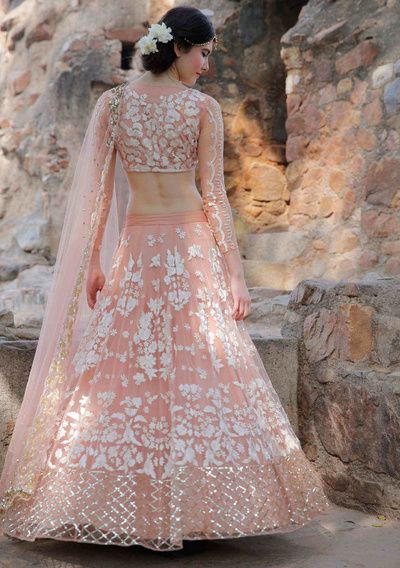 Another idea of making low side bun with lehenga can look very classy and nonchalant. Side part the hairs bring them to either of the sides make an elegant fussy knot near the nape of your neck. Adding flowers to the bun makes it sassier.
9. Messy Low Bun With Curly Fringes In Front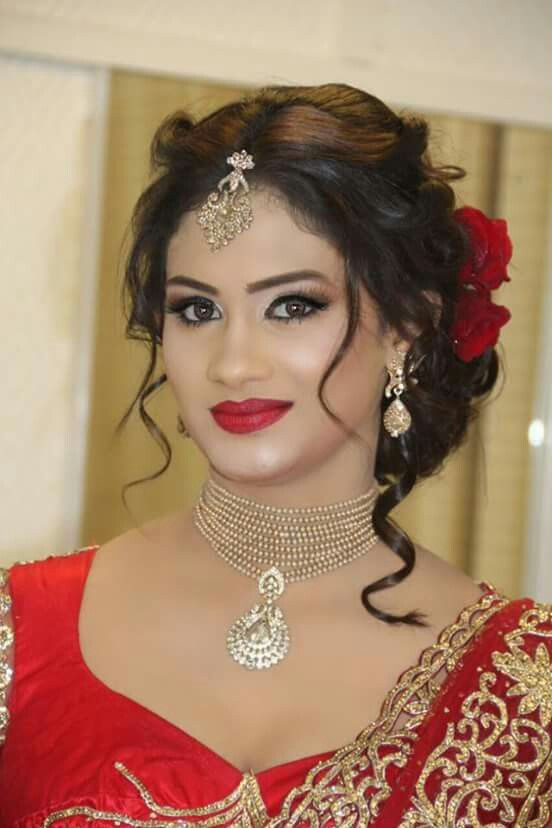 Oh! you are desiring to dress up yourself in lehenga choli for the special occasion of your life surely you would like to be the center of attraction. And you want to flaunt back of your beautiful blouse but your long tresses are provoking to hide it . Give a try to intricate low bun entangled with softly twisted fringes. To add oomph to your hairstyle go for some curled flicks in front beautifully embellished till neckline.
10. High Up Layered Bun With Puff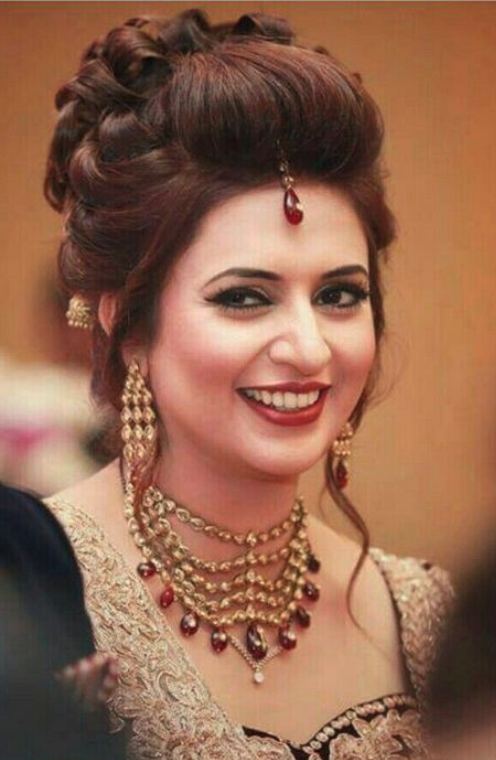 For a modern look with a bun hairstyle, this Updo of twisted layers woven into elegant bun elevated with puff and garnished with front fringes suits you best with your lehenga. You can add mang tikka to your puff enticing your beauty.
11. Dutch Style Braid With a Jhoomar-Tikka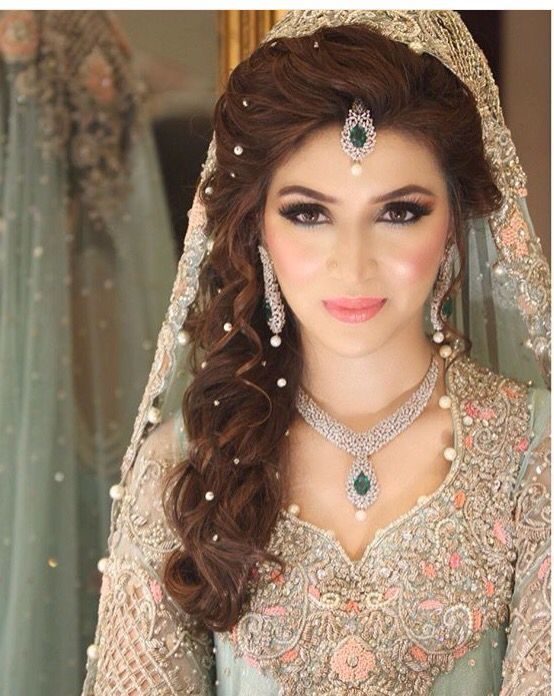 Dutch braids are most alluring nowadays by every formal party lover. Brush your hairs in one side make a dutch braid revamped with curls and messy locks. The loose messy dutch braid accessorized with pearls or flowers make it perfect for lehengas.
12. Fishtail Braid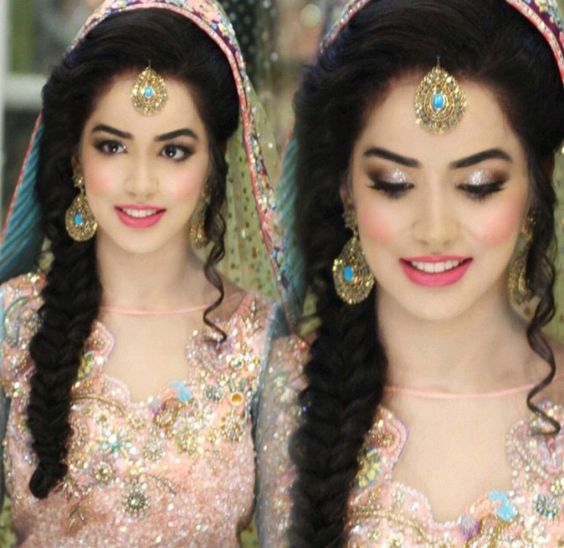 For a sweet and adorable look on your engagement, the bumped up fishtail is a spectacular hairstyle. Weave the strands of your braid in one side in a fishtail pattern or can embellish the braid with flowers or accessories to achieve magical looks. The curly fringes on the other side frame out the beauty of your face.
13. Crown Braid Side Bun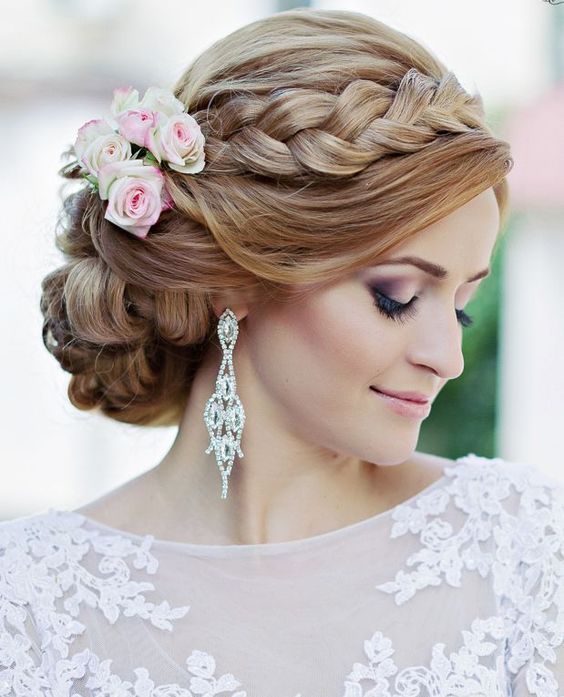 If you want to choose a byzantine hairstyle for your engagement but can't opt, due to softly textured hairs then use hair extensions to get the desired look you want. Side part your hairs, keep some loose fringes from the larger portion and weave side braid from the same heading the crown. Now gather all the volume at the side and make a soft tangled knot near the nape of your neck. The interweaving of some flowers at foot of braid would give a swooping hairdo.
14. Side French Braid Bun With Chabi Chala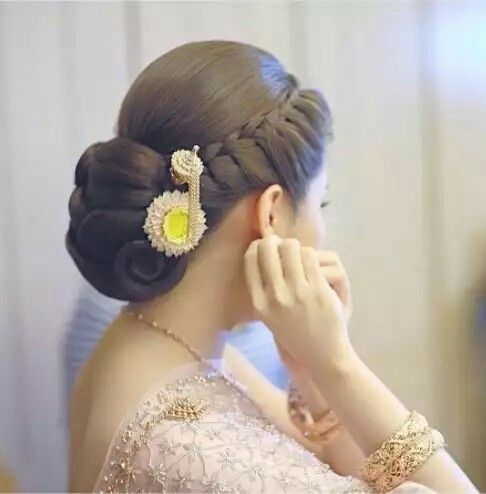 These sophisticated buns look good with all kinds of Indian traditional attires. Add a new twist to your bun this time, start making french braid from one side of the crown end up the braid to a tortuous bun. Secure The bun with U shape pins and loosen a bit the braid lines on the crown area with a hair comb. Hook the bun with a dazzling Chabi Chala pined at one side of the knot.
15. Braided Boundary Sophisticated Bun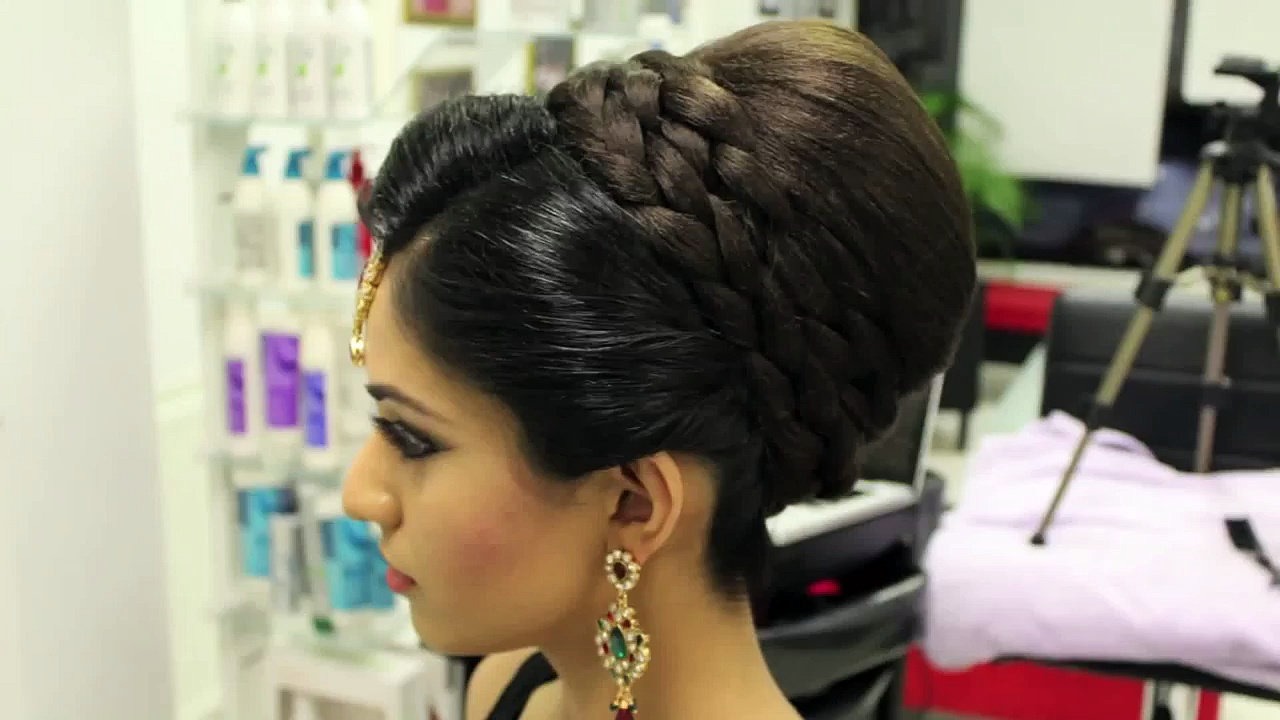 The top knot is easy and contemporary hairstyle for Indian brides. Though You are having long and bulky hairs this hairstyle is convenient to wear. The opulent doughnut bun entwined with braid adds a graceful twist for a glamorous hairstyle.
16. Low Twisted Bun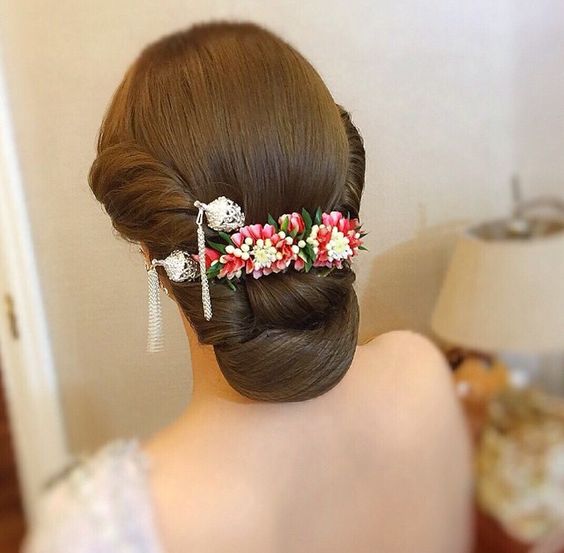 For a classy look at parties, you can elect this intricate bun interknitted with two side fringes twisted & turned and ended up in a low soft bun near your neckline. Use a floral clip to hold this sophisticated bun and even hook the bun with Chabi Chala for a royal look.
17. Use Hair Accessories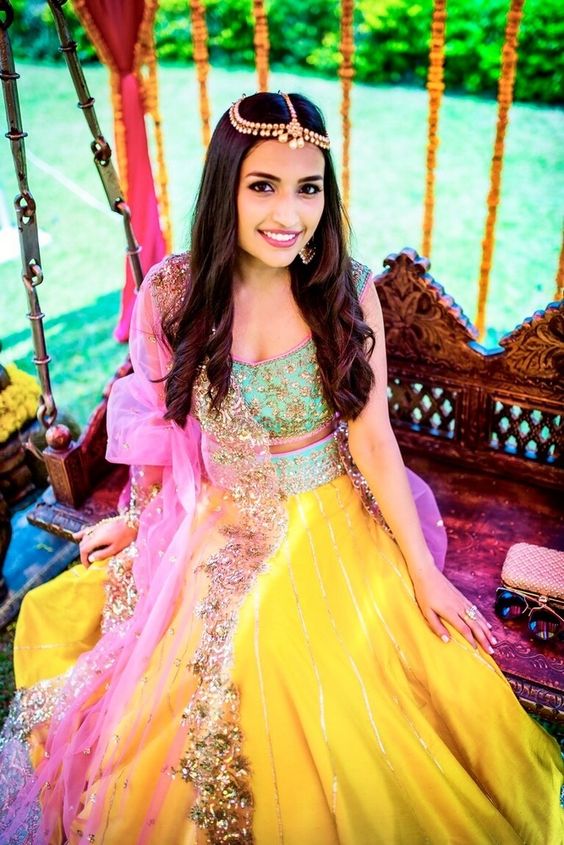 For any formal occasion if you have chosen to wear lehenga you can style your hairs without wasting any time in a simple regal look. Just brush your hairs back and go for the blow drier. Part the hairs from center leaving them loose and can go for fully formal and comely look by wearing a head chain.
18. Pink Rose Low Bun With Loose Strands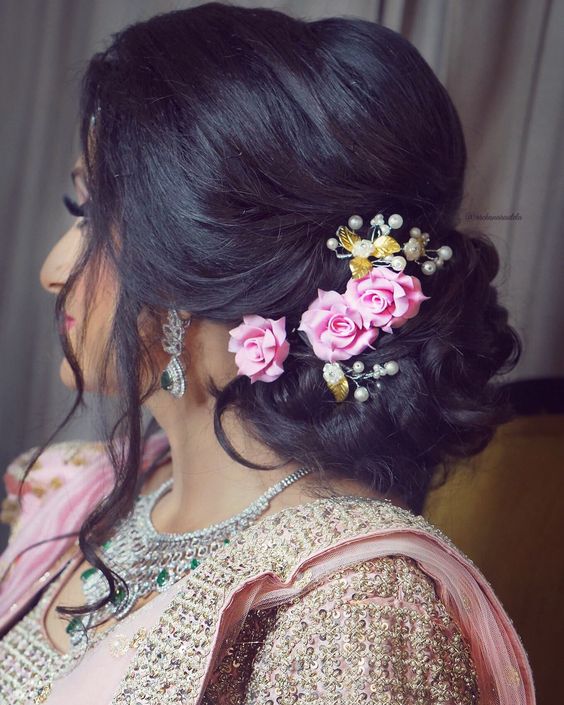 Hairstyles are the add ups that beautifies your looks while choosing your attire for the party. Choose the hairstyle that best suits your face and makes your looks perfectly beautiful and bewitching. The low semi-circular bun is ultra feminine enlaced with twisted loose tangles. The complex hairdo has been adorned with faux flowers to add celebrity feel to the whole look.
19. Twisted Layers Side Bun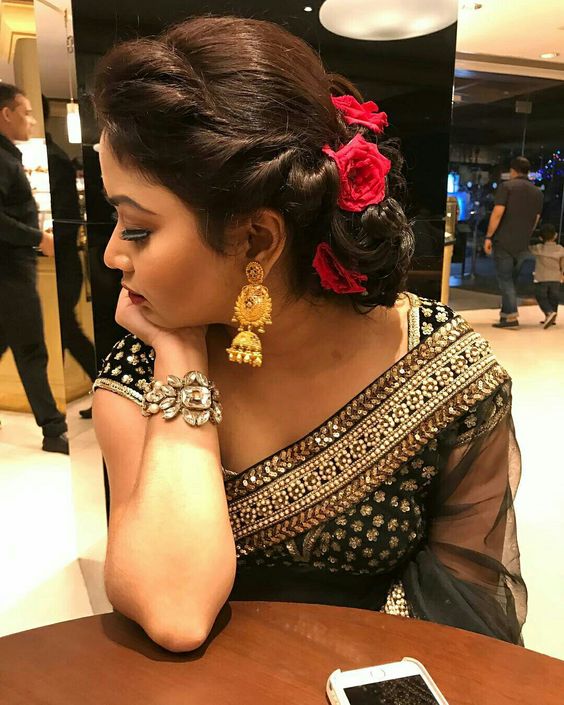 Another impeccable dreadlock is low twisted layers bun. Side part your hairs twist layer by layer and secure these layers with bobby pins. Knitt these layers into a low side bun. This highly sophisticated bun gives you a royal look when studded with natural flowers.
20. Cool Straight Hairstyle With Lehenga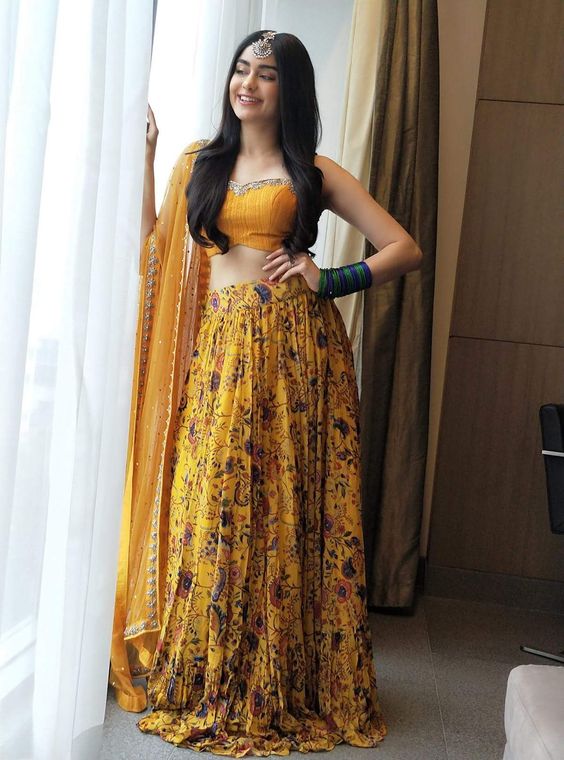 If you are attending some function organized for your home mates and in hurry to make all the arrangements this is the go-to hairstyle for a gorgeous lovely look. After washing your hairs prefer straightening if your tresses are not naturally straight. Festoon your looks with a big traditional mag tikka.
21. Soft Curls With Lehenga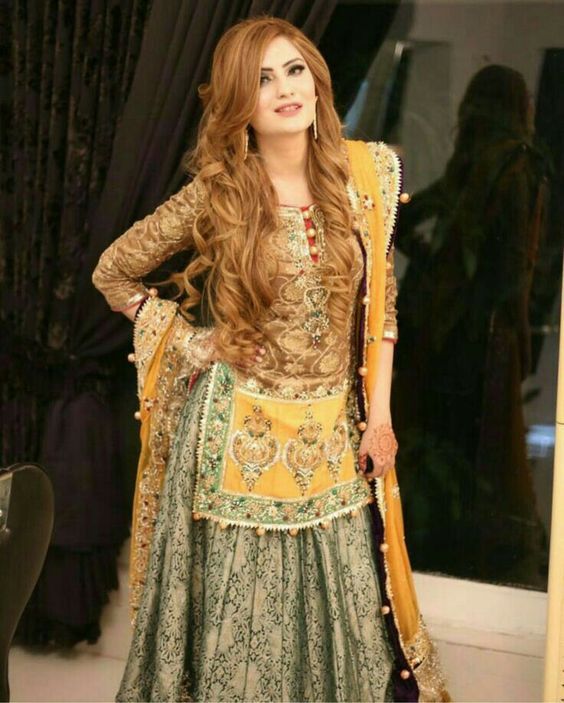 Planning to be decked out in a heavy outfit for a traditional ritual, when it comes to your dreadlocks follow the principle "less is more". Yup go for elegant vibes with heavy dresses to reduce load, on yourself and to gasp eulogize from people surrounding you. Simply after washing your hairs apply the heat protectant and start curling your hairs with soft curling iron strand by strand of 1 inch. Just side part the hairs and leave them open to give a messy look.
22. Traditional Braid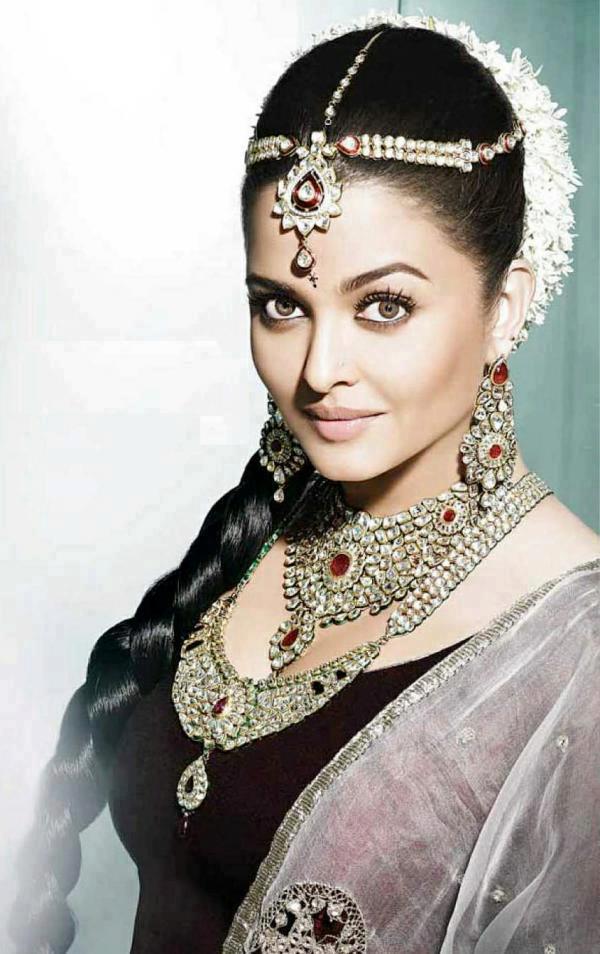 Nothing is quintessential as Indian traditional interwoven hairdo. If you are not having long volumized hairs use hair extensions. Make a normal long braid elevate the look by adding an artificial high chignon, ornament the knot with Gajra. This amazing look epitomizes the ethereal beauty of our culture.
23. Messy Braid With Brooch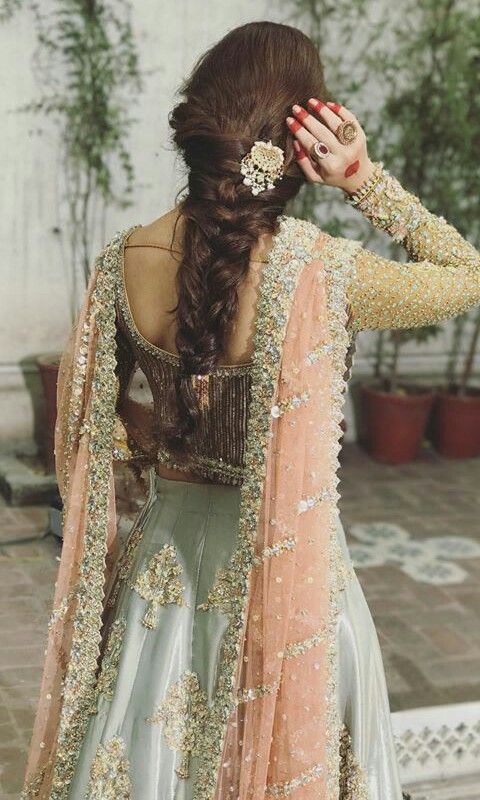 Braids are the spectacular hairstyle for ages. Weave a three strand bumped braid, pull the stems little to give a messy look and add volume to the bangs. The dramatic loose braid ensembled into a swooping hairdo with a foxy brooch.
24. Traditional Chignon with Gajra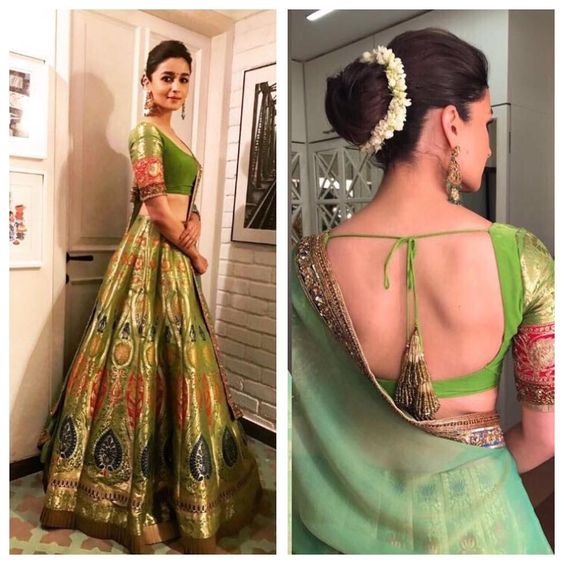 A casual bun entwined with traditional Gajra elucidates Hellenic beauty of South Indian culture. The traditional chignon with Gajra wind up with beautiful lehenga is a perfect match for casual dinners or family get-togethers. To flaunt your sexy back of your blouse go well with this uphold classical knot.
25. High Smart Updo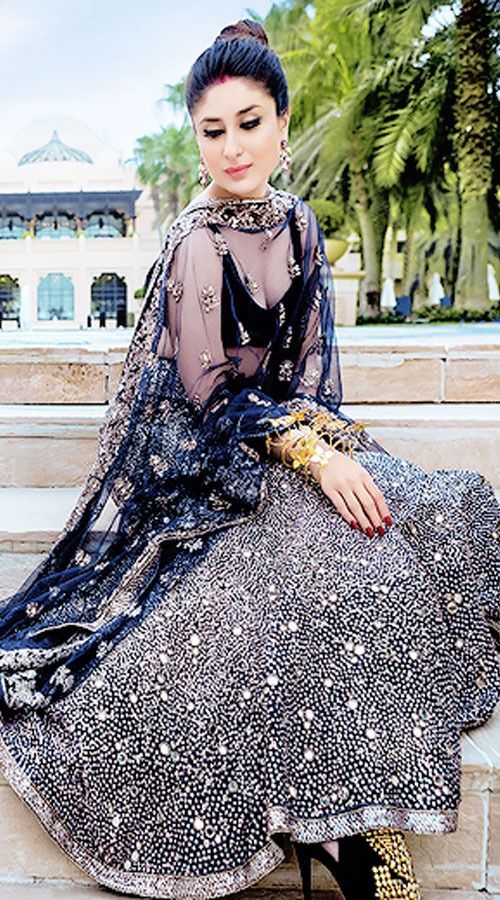 You can carry buns with Indian traditional attires easily, a simple smart high updo gives you a canny look. All you need to do is lift your complete hair behind your ears pin the ensembled hairs to an elegant bun.
26. Side Swept Beach Waves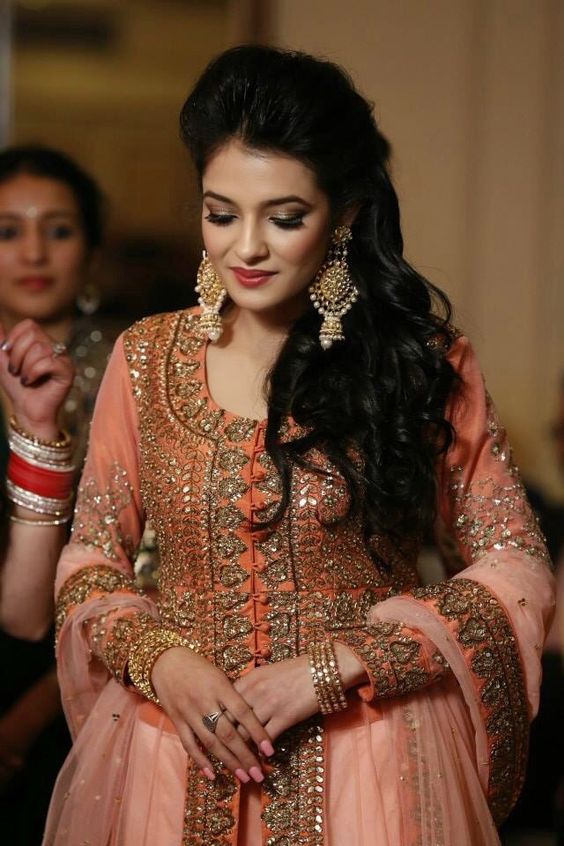 Are you a boho things lover and wants to show the same look on your engagement ceremony. Ensemble some relaxed beachy waves sweep them one side, elevate the hairstyle by giving a little bit puffiness to the crown. Ensure the stay with bobby pins and spritz sea salt spray.
27. Side Braid Waterfall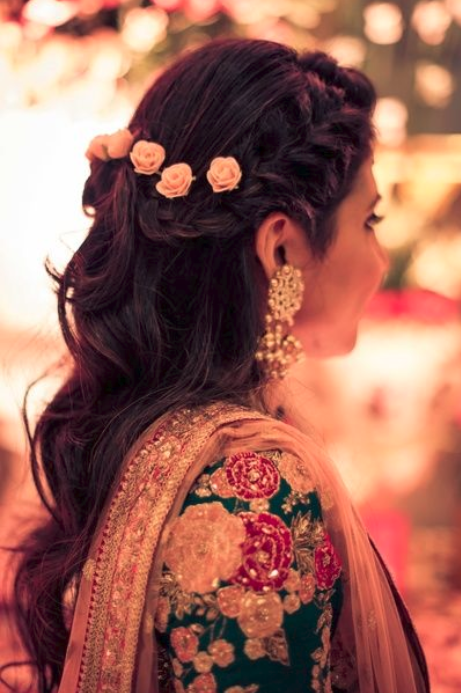 The stunning hairstyle goes well with lehengas and other traditional attires while being part of tribal ceremonies. Start interweaving a french braid from one side and weave it along the crown to the back in downward fashion. Hook the braid with bobby pins and leave the entire hairs open to give a messy panorama.
28. Intricate Bun with Puffy Top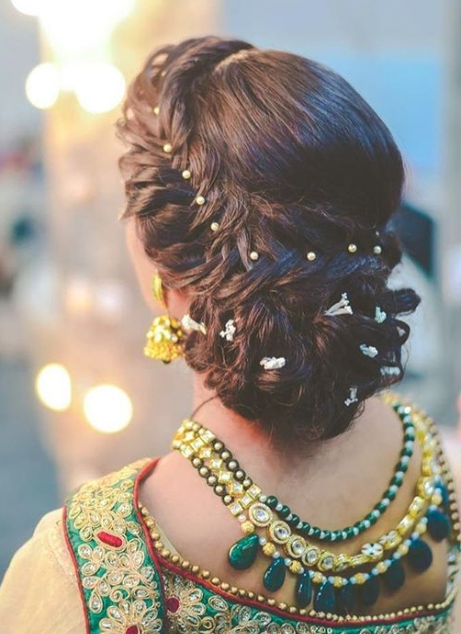 When carried with lehenga or traditional attires the adorable hairdo looks super attractive and sassy. This crown braid bun looks flawless when studded with beautiful delicate pearls.
29. High Bun With Long Loose Ringlets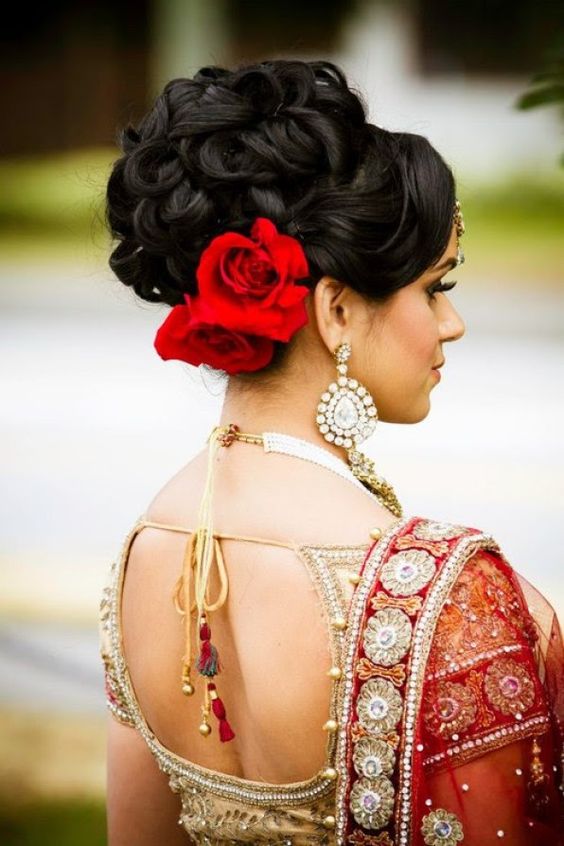 Au courant this curly glamour holds a special place in the heart of every bride and adds grace, dignity, and fascination to the look of womanhood of bride. Bedeck this angelic hairstyle with alluring red roses.
30. Beehive Hairstyle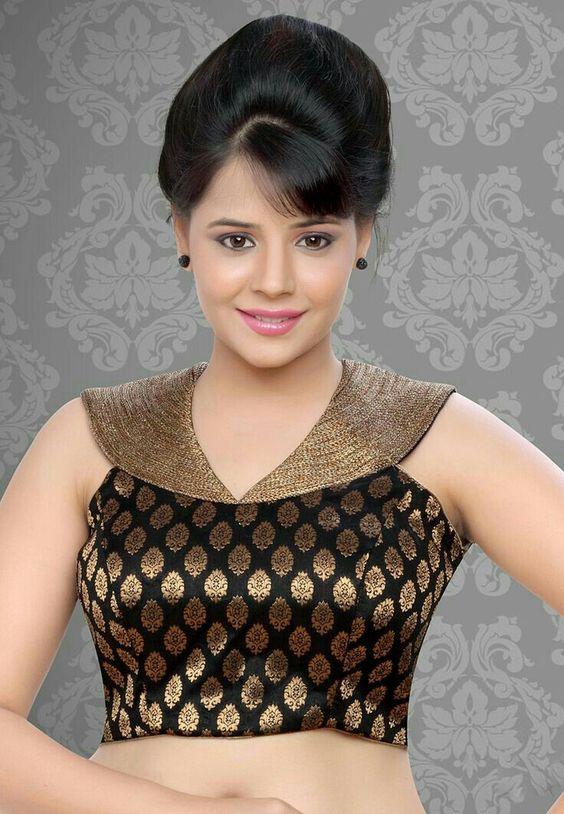 Going to party with your dear ones having a retro theme style your hairs with a beautiful beehive. Make a voluminous bumpit at the top of your crown secure it with bobby pins.
31. Messy Bun With Puffy Top And

Lose

Strands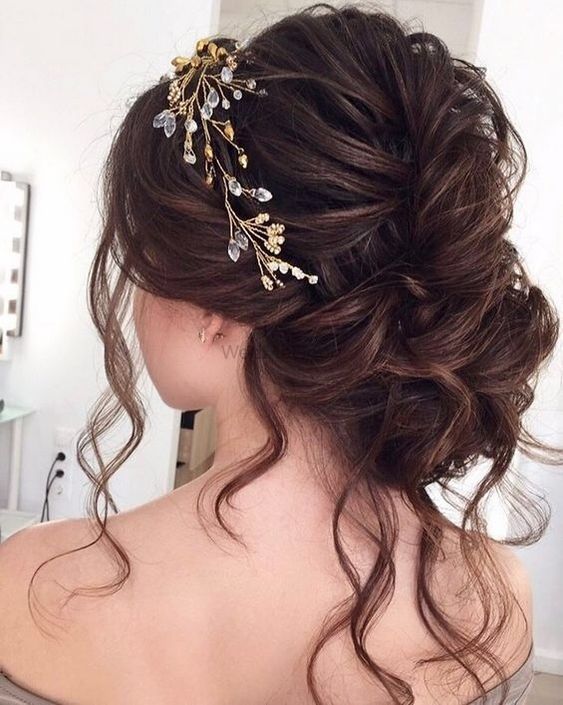 Yes this messy hairdo with wavy side bangs, make you look supersensuous and sassy. The twisted bangs tangled together to form messy bun create an illusion of volumised hairs. The style is puffed up at the crown to give a little bit bold look. Baroque the chignon with fascinating headdress.
32. Tiara Braid Waterfall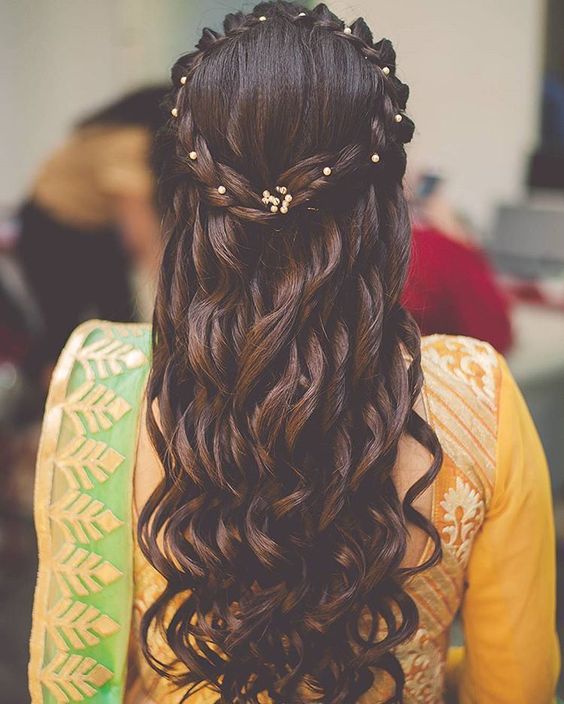 On Your engagement want to look like a Disney princess go for this lovely coiffure to gasp awe reaction from the guests. Make a braid entwined at the top of your crown secured with bobby pins, bedeck the braid with small pearls or flowers it would seem as if you are wearing a tiara. Use heat protectant to rest of your open hairs before curling them with the curling iron. Let the soft curls remain loose and to finish off the look spritz light hold spray on the hairs.
33. Simple Side Parted Pony Tail With Lehenga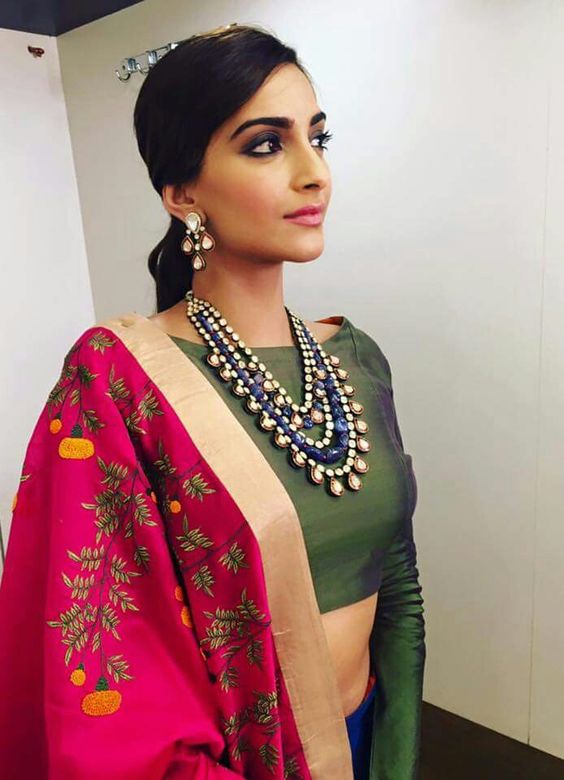 Wanna get an uber cool panorama for a formal occasion, go for a simple sleek side-parted ponytail. The totally unconventional style opted could turn out to give you an elementary look praise.
34. French Twisted Layers Bun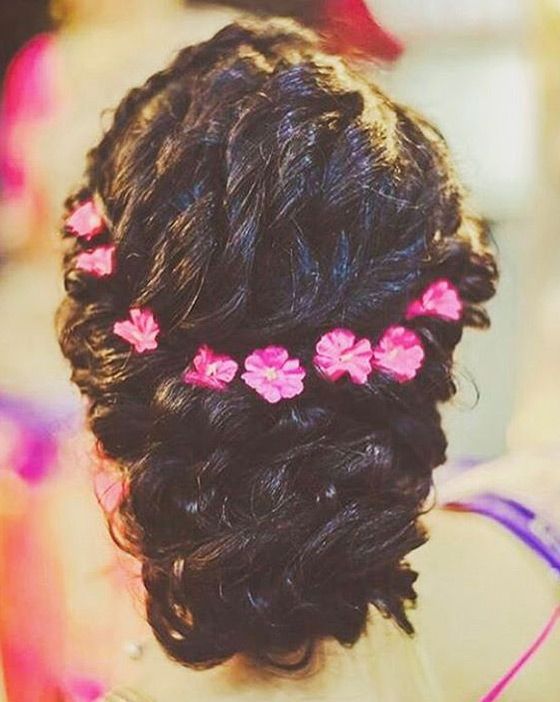 The super soft curly french twisted bun can be preferred to opt for a wedding ceremony for a romantic cute outlook. Weave a French twist bun by intertwining each fringe with one another, when the French twists reach the back of your head secure them with bobby pins and form a soft fluffy bun of twisted fringes ponytail. Ornament the chignon with delicate flowers lining at the top.
35. Side Parted Rolled Layers Bun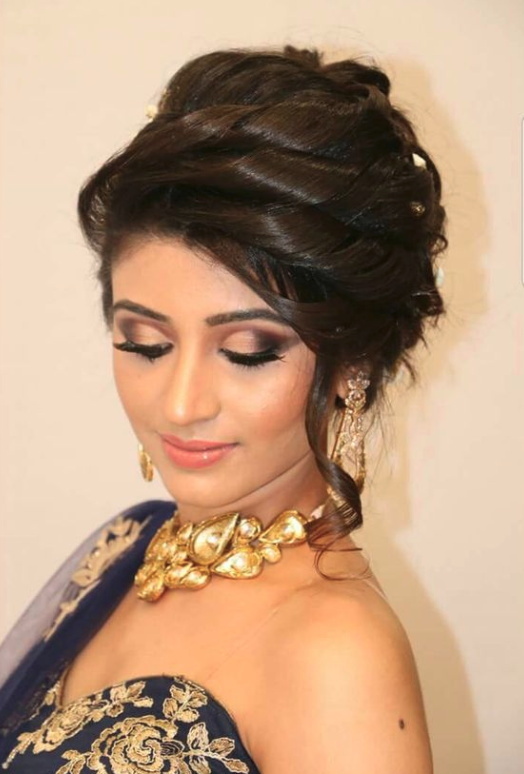 No matter how complicated the bun looks it is absolutely classy to go with lehengas. Roll the side-parted bangs towards the back and lift to form a neat and angelic knot.
36. Rope Braid Coiffure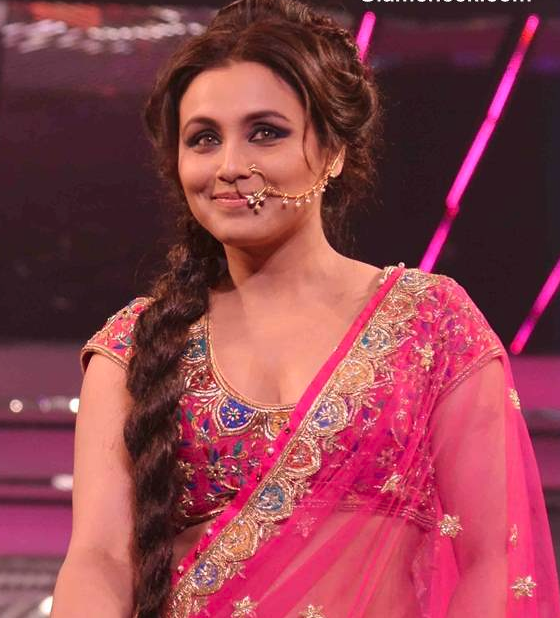 If your hair texture is not mended for complicated hairstyles go for shabby chic hairdo the rope braid. Part your hair from the center in front elevated with a high bumpit ending with a weaving of rope braid. The hairstyle elegantly done combined with ethnic jewellery looks just as classy.
In this blog post, we have categorized various types of hairstyles to do up with lehengas. Hope not only enchantress but young chics would also cherish our collection to wear them up on their special occasions!