Center of convergence of every occasion is pretty dames, their stunning outfits add glamour to their delicacy. Indian women look most beautiful in the traditional drapery the one piece costume of nine yards transforms an ordinary woman to a beautiful spirit. And the idiosyncratic hairstyle like a feather on ones' cap, aguments the beauty of a belle.
While dressing up for a party or any occasion Adornment hairstyle is a jargon in your overall look. Well! if you are planning to wear a saree for a party as much as hairstyles you may try but a discordance with the saree you wish to wear will put you in a situation of tremendous discombobulation. Be heedful about selecting the right hairstyle that could perfectly match your exquisite countenance of saree.
To match your tresses with the style of your saree will make you chew on your nails with disquiet to help you out here is a series of some simple and dandy hairstyles to carve your looks super glamorously.
1. Side Fishtail Braid
A traditional outfit calls for a traditional infuse. This type of hairstyle can be tried with any texture of hair either curly or straight hair. It is a quite trendy style that celebrities love to opt for saree. To get a magical look of traditional conglomeration you can elevate your fishtail knotty braid with flowers or pearl accessories.
 2. Simple Pony Tail
Especially if you are having an oval face shape this hairstyle will serve you up with a mesmeric glance. Straighten your hair picking up 2 inches section of your hairs than tie them in an elegant ponytail.

 3. Twisted Layer Side Bun
The magnificent hairstyle comes up with an enormous low bun at the nape of your neck, the side twisted layers are securely textured with bobby pins in the bun. The highly sophisticated bun gives you a royal look.

 4. Cool Straight Hairstyle With Saree
This is the go-to hairstyle if you are going for an outing in a hurry. If your tresses are not naturally unswerving prefer straightening.  This is the simplest hairstyle which never goes out of fashion yet gives you gorgeous lovely look.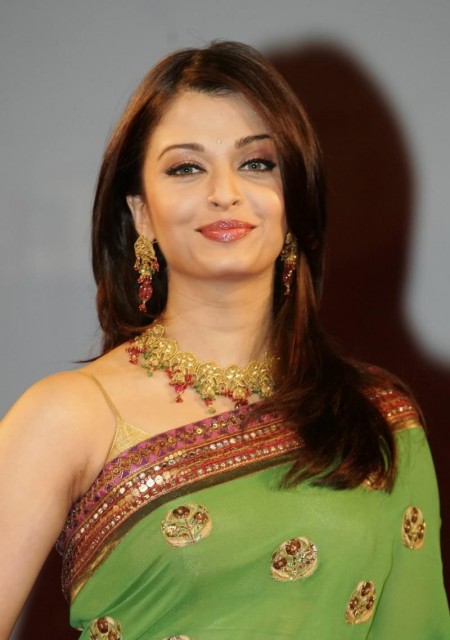 5. Side Swept Beach Waves
This pretty hairstyle works well as Indian wedding hairstyles. Just curl your hairs with curling tongs and simply brush them to one side. You can leave the hairs as it is or can pin the hairs in to ensure the stay even spritz the sea salt spray to rest the hair.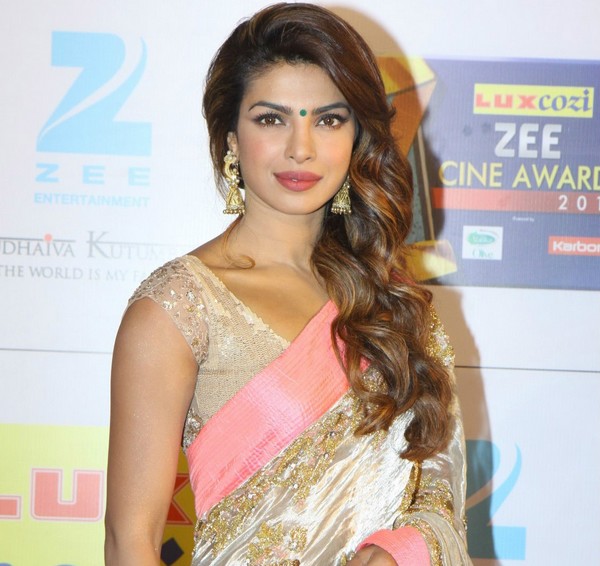 6. Traditional Bun
This is another simple bun hairstyle for South Indian Traditional ceremonies,  make a simple snail bun low near to the nap of the neck. Ornament the bun with aromatic flowers and bun accessories infused with beads or Kundan.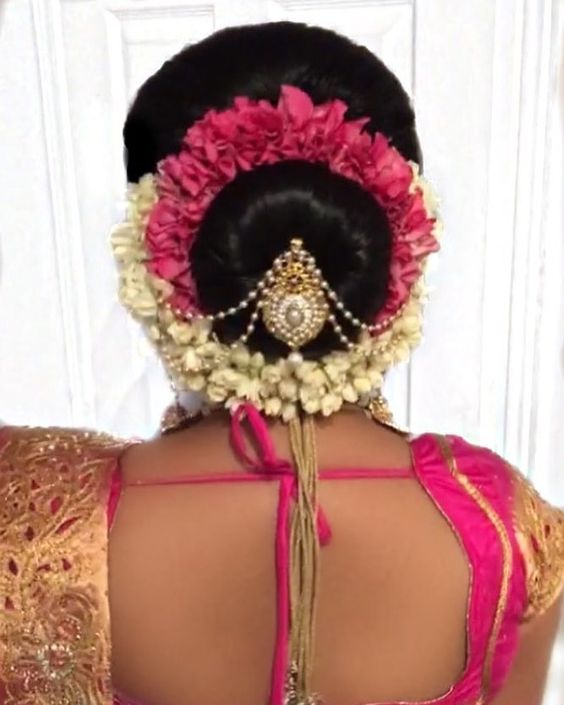 7. Side Braid
Sarees and braids epitomize the ethereal beauty of our culture. To dons braid with saree is an art, make a center-parted side braid leaving one side of the face completely in profile.  This is a perfect match for casual dinners or family get-togethers compile this outlook with tiny jhumkas or balis.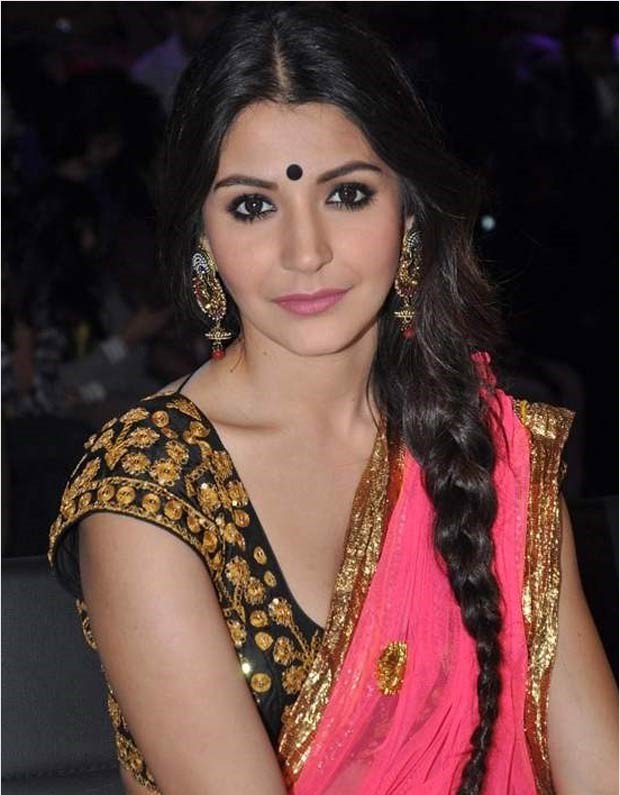 8. Long Braid
Nothing is classical as Indian traditional hairstyle as nice long braid. If you have short hair opt for hair extensions. Using hair extensions make a thick long braid that will perfectly go with time-honored attire saree for an ethnic look.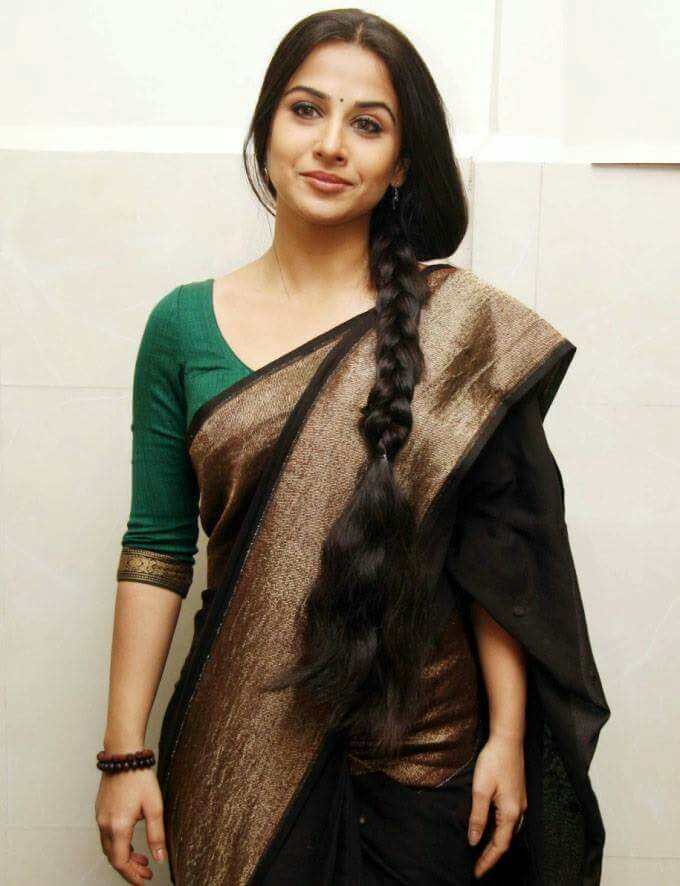 9. Soft Curls
Quintessential hairstyle for a dame with soft features and heart-shaped face. Soft curls give you ravishing look with softer-hued sarees, if you are having straight hairs just go for bow drying and use curling tongs to give your hairs soft curls. If your hair texture is naturally curly use anti-frizz serum to hold the frizz and over it use mousse to set the hair in a manageable way.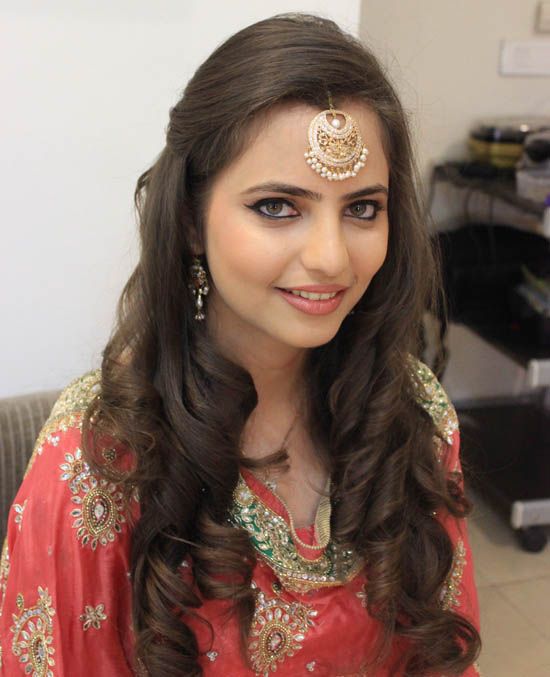 10. High Braided Bun
Make a knotty braid of your hairs and if your hairs are short use hair extensions. pull the braid high enough to make a bun. Pull the hairs little from the front to give a puffiness appearance. You can embellish the bun with accessories, the traditional eye-catching look can opt for classic attires.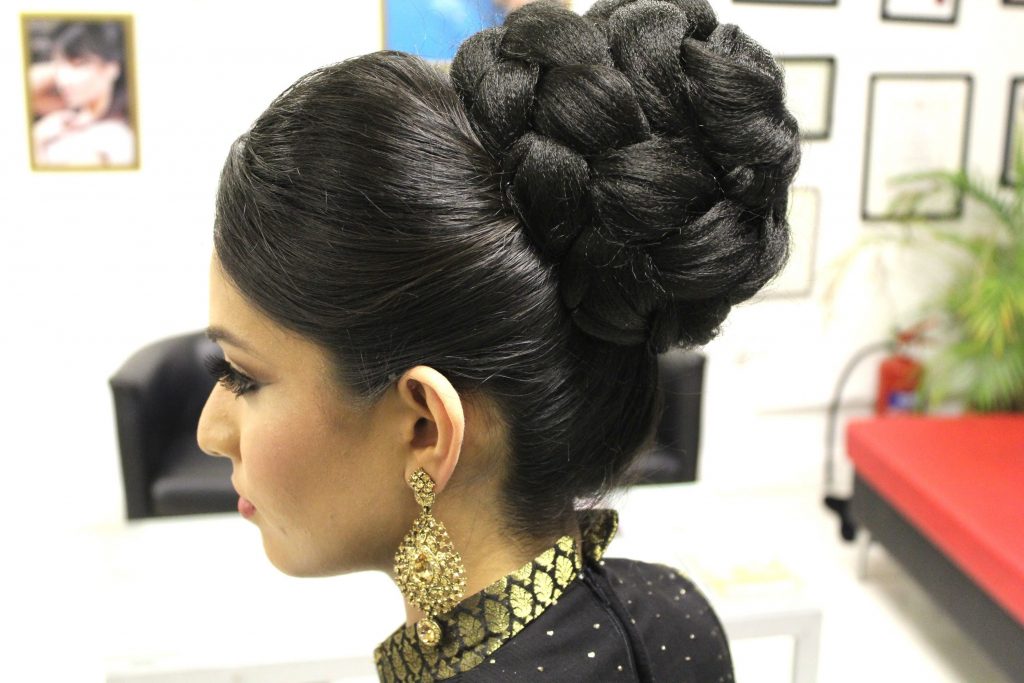 11. Side Braid Waterfall Hairstyle For Saree
This is a gorgeous hairstyle, to put this hairstyle on your nine-yard attire make stepwise breading from one side of the crown. Start breading from the corner of a forehead and weave it through the side in a downward fashion and leave the rest hairs loose, you can ornament the style with flowers to get a pretty look.

 12. Long Traditional Braid
Accessorized plait depicts the occult beauty of our culture. Weave a long braid ornament it with embellishments and place gajra layers at the top of the plait.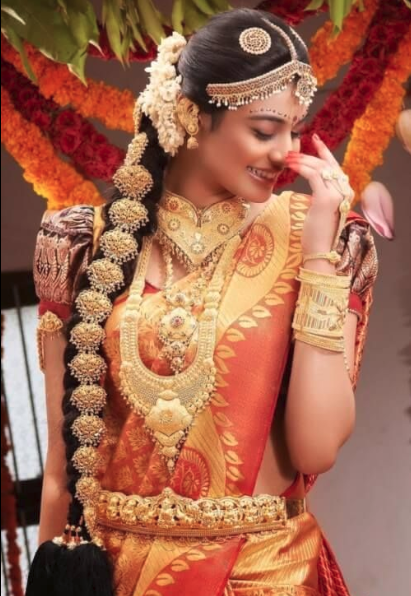 13. Short Curly Hair
If you are having short hairs that too with a curly texture just go for blow drying it will give you a classy look tune it with chronic don. Curls paired up with any type of saree adds a different touch to the overall appearance. The loose locks with side partition intricately give a dreamy look.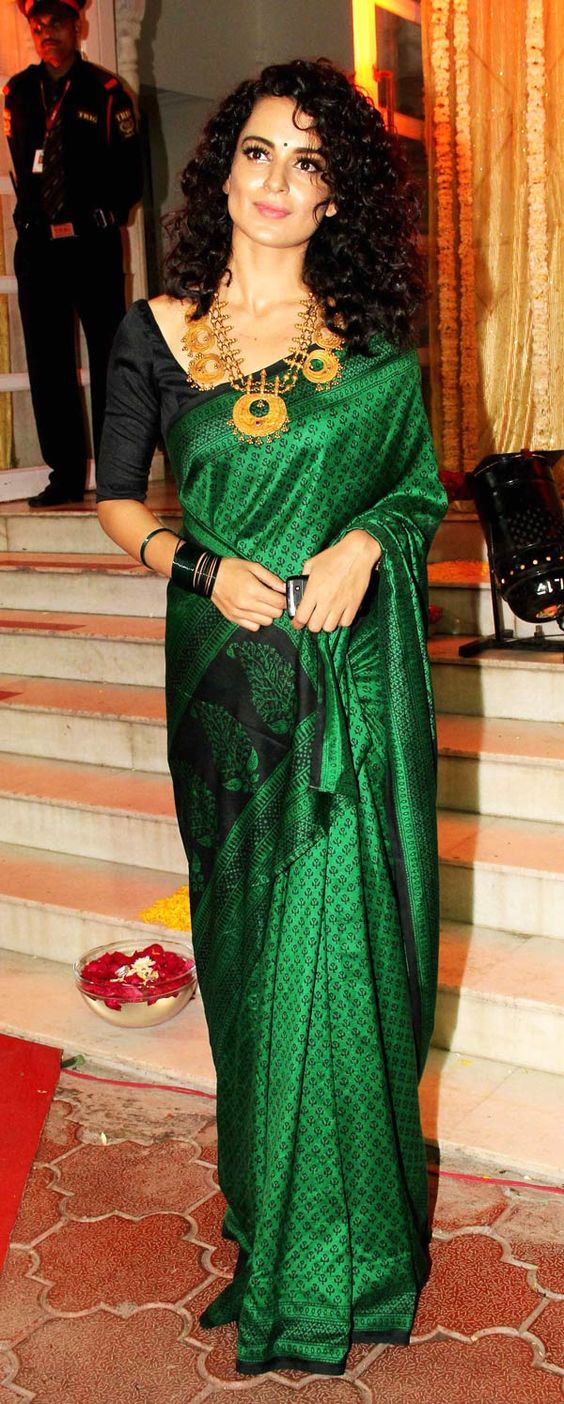 14. Side Swept Hairstyle
This is the simplest hair fashion being on trend with youngsters and celebrities. Its the easy one all that you have to do is after taking head bath blow dryer your wet hair then brush them to one side. This hairstyle needs no hard work to put on and goes perfectly with any kind of nine-yard finery.
15. Bubbly Traditional Side Braid
This classical style looks super pretty if made on slightly curled hairs as it gives a little messy look. The long bubbly braid befits best with South Indian traditional drape or your hairs are not so long you can make a short bubbly braid that will be ravished with western outfits.
 16. Half Up Half Down
There are to ways to go for this kind of hairstyle first simply take half the hairs and pin them up and leave the rest down or you can weave half the hairs in a french pattern leaving rest of the hairs down. Wear this style with any kind of drapings either simple or hued for parties.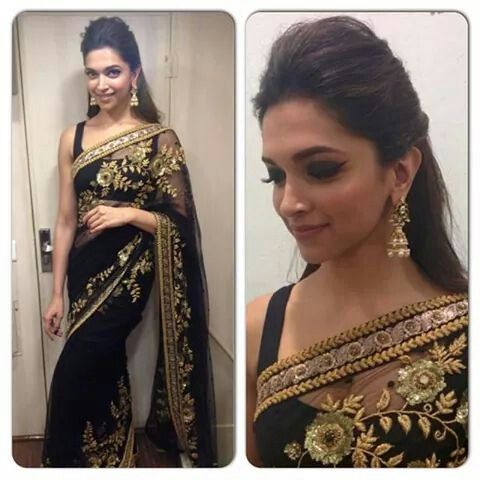 17. Sleek Ponytail
To get a smart look ponytail is preferred by young chic, it would be amazing to know that ponytail is not only meant to be worn on western attires to look gorgeous you can pull it off with Indian clothes too. To get a sleek look firstly straighten your hairs tie them high, you can even go with a puff to avoid flat or greasy look.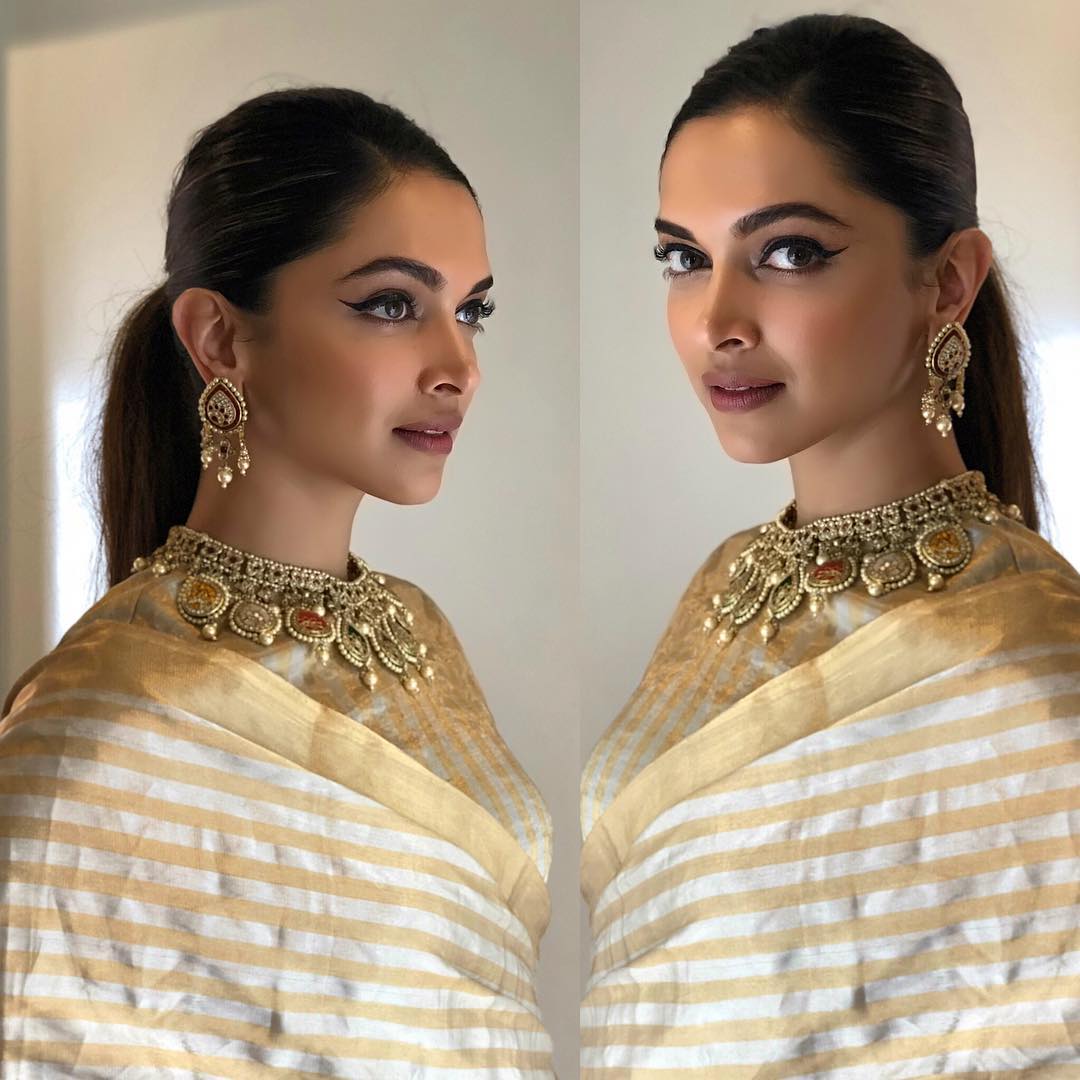 18. Elsa Braid
Elsa Braid is a very beautiful braid smitten from an animated movie "Frozen". The sophisticated braid was worn by Elsa the main character of the movie. make the Elsa braid pull the strands loose to give it a messy look.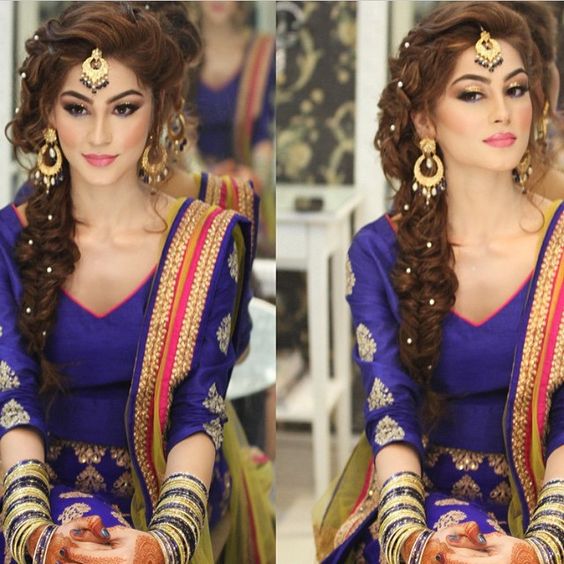 19. Full Bun With Flowers
This hairstyle will go well with wedding robe or engagement attire. Comb your bangs sideways, make a high puff and secure it with bobby pins. Form a simple bun resting down at the nape of the neck. Froufrou your bun with flowery speech put gajra around the bun and use flowers or flower net to wrap the bun and let the fragrance flow.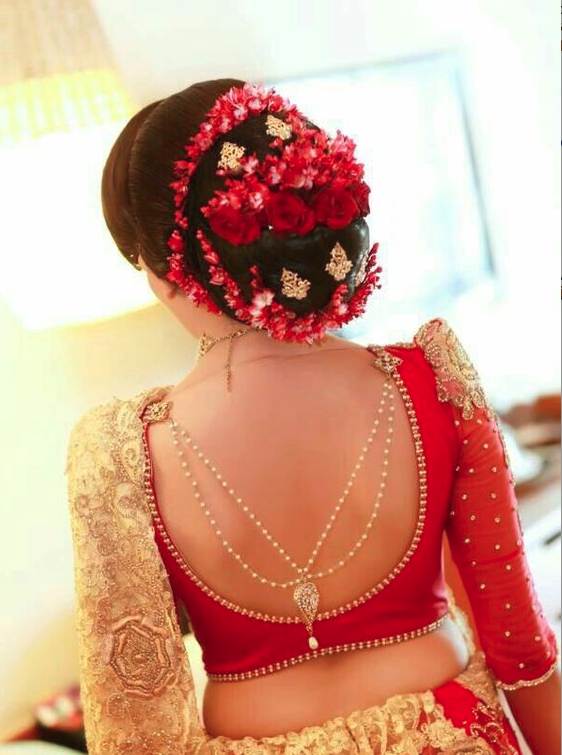 20. Cannes Messy Bun
The sophisticated bun can rock everywhere it may be either casual event or formal party. Side part your wave locks make a low side volumized bun, loose, some tresses giving decent tangled flairs. You need little patience to master the art of this messy bun. This bun oomphs your look regal and chic at the same time enhance your beauty.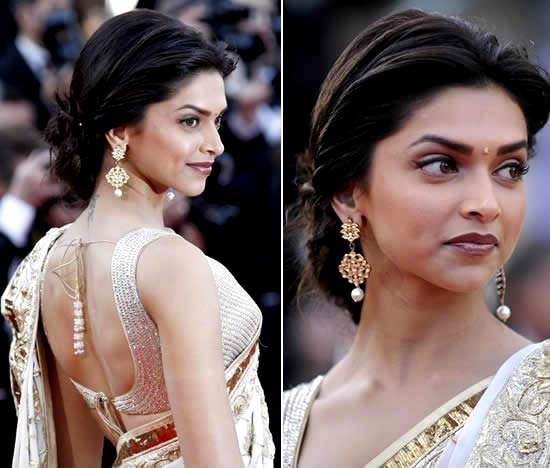 21. Elegant Bun With Puff On Saree For Party
Make a low classy chignon at one side, combing the bangs at both sides parting from center make a low puff at the top. Embellish the bun with tow rose flowers will give you an appealing look. This is the best style to go for with elegant pattu saree which will increase the grace of your outlook.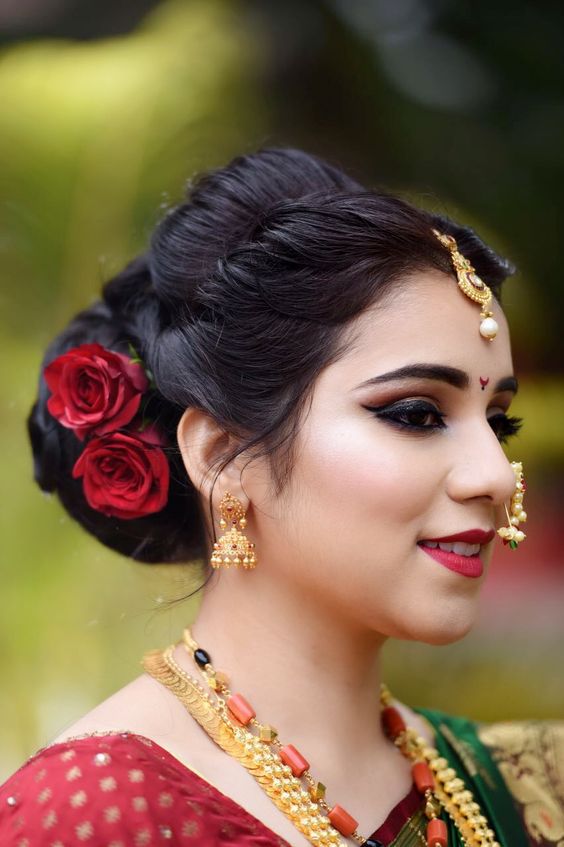 22. Long Traditional Braid With Bun For Engagement
Try this never fading plait with conventional drapes make a long braid with bun positioned at the top. Accessorize Plait with jewels and flowers. To give a hoax of the bun place a layer's of gajra at the root of your plait.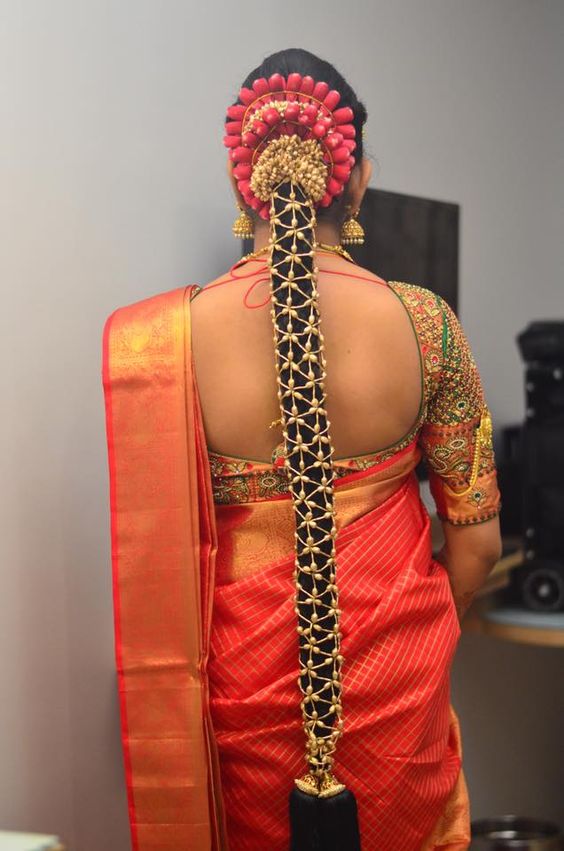 23. French Braid Hairstyle
French braid hairstyle went viral from the glimpse of Alia Bhatt's outfit in 2 States. Her traditional South Indian drapings with signature french braid hairstyle grabbed lovely compliments and became iconic for South Indian wedding outfits and hairstyles. To give a messy look to this simple conventional back french braid pull out the strands loose.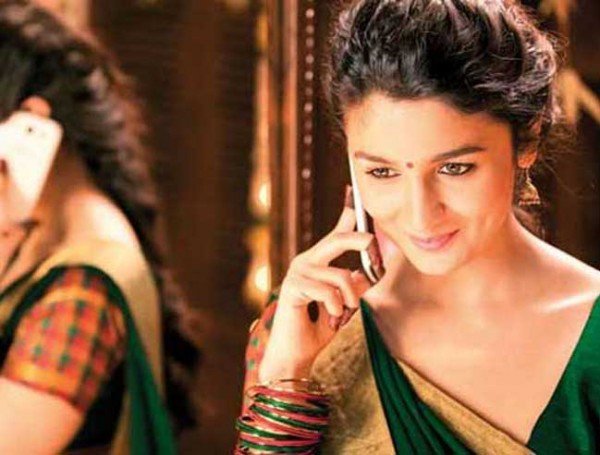 24. High Folded Bun With Short Fringes
This another high folded bun gives you a dazzling look, its made by folding several times in multiple layers positioned at the top of the crown. The dramatic short fringes give you a stylish sensational look which is enough to up your oomph quotient.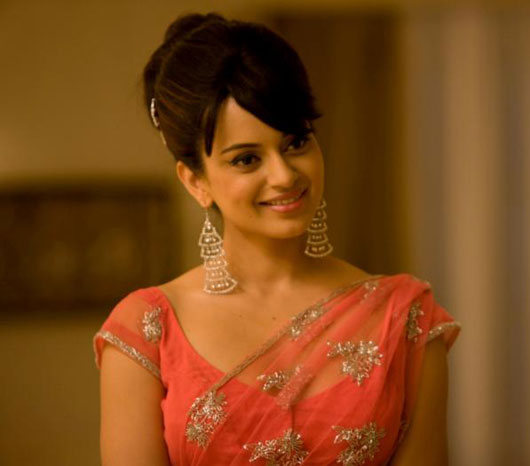 25. Large Bun With Real Flower Gajra
For an engagement, this is the beautiful hairstyle to put on, make a low folded bun resting at the neck wrap it half with flowers extending towards the crown from where your mangtika starts.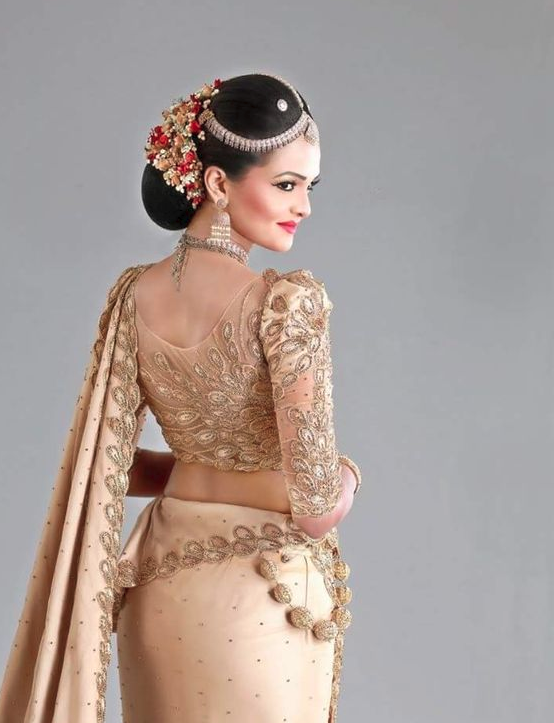 26. High Bun Hairstyle
There are numerous bun hairstyles to wear with sarees. If you are willing to flaunt your designer blouse and sexy back go for styling your hairs with a high bun. Pull & fold your hairs high to make this gorgeous bun.

 27. Low Twisted Bun
This is quite an easy hairstyle that you can do it yourself, pick the hairs in sections twist them and secure them with bobby pins. The elegant bun will give you a classy look you can even garnish it with accessories.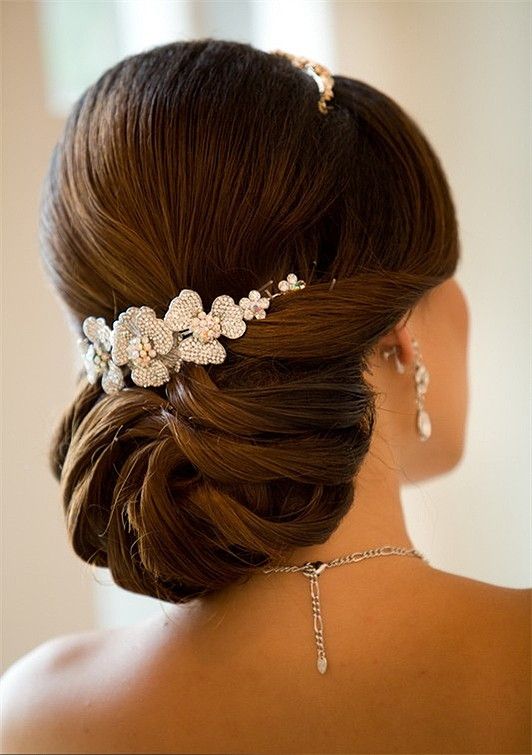 28. French Braid Bun
French braid side bun never goes wrong with ethnic wears, if you have highly thick and volumized hairs this hairdo combo stands best to give your face a different look.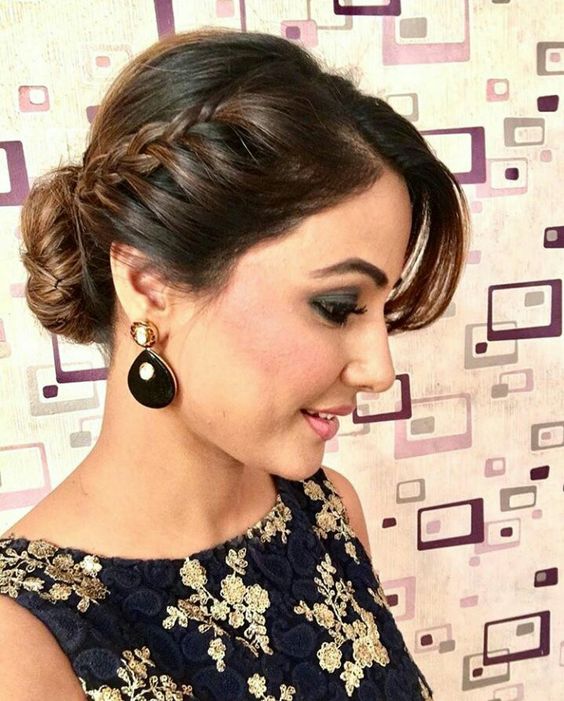 29.  High Mesy Bun
To spice up, your overall look, combine the grandeur of high twisted bun with the feminity of loose wavy strands at the end of the bun. Volumenize the top randomly to get a messy look you will achieve gorgeous yet sweet bun.

 30. Messy Side Braid
If you are getting ready for any special occasion or the day special in your life you would surely like to dress up as a fairy and to bewitch everyone'ss attention. In discordance with the apparels you are going to wrap and the hairstyle you have to decide the perfect match. you can go for this messy side braid ornamented with flowers and accessories to behold the attention of everyone.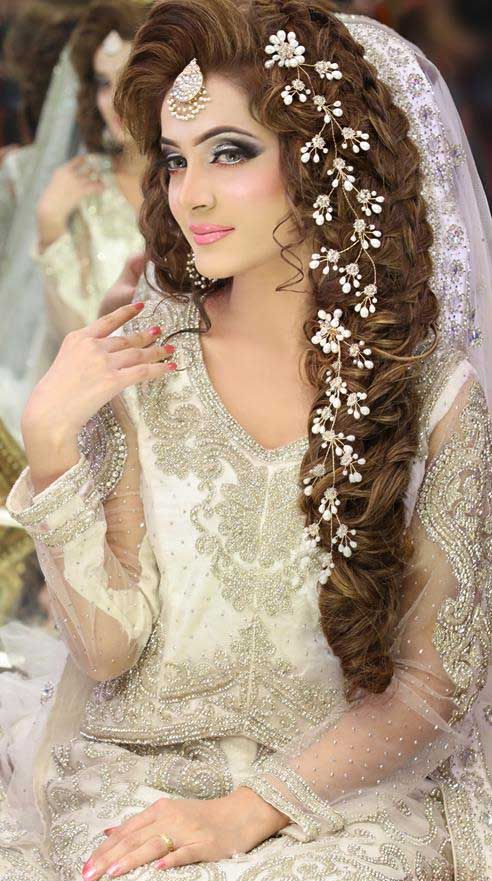 31. Retro Hairstyle With Side Bun
This retro hairstyle reminds of 1980's a small bun at side pined with rose and dramatic side sweep of soft curls oomph your quotient.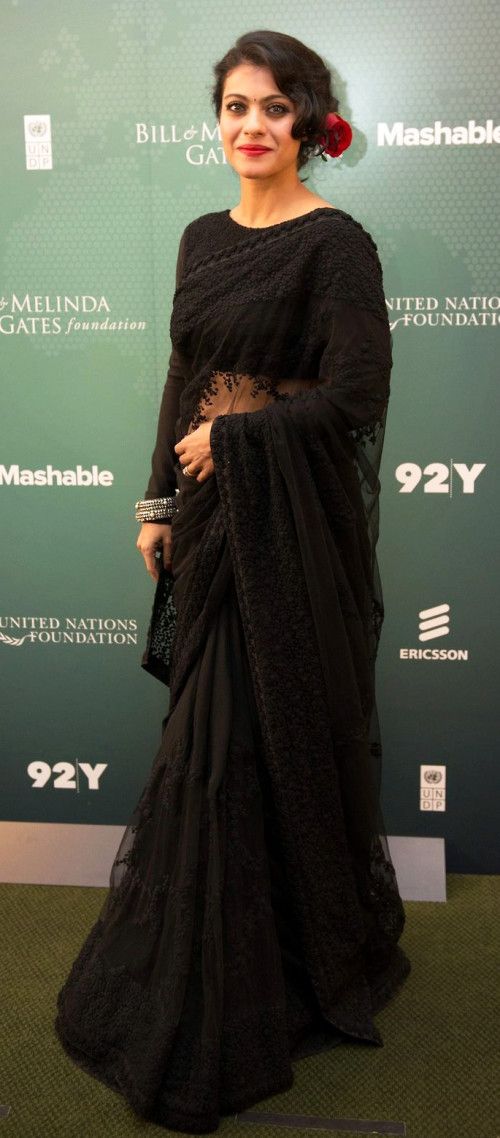 32. Retro Hairstyle For Short Length
Inspired by 80's this short hair look gives a retro fashion glance. To add volume to your hair comb them back and set with volumizing spray.

 33. Simple Straight Layered Hairstyle
This simple straight layered hairstyle looks great with twists and turns. Twist the hair on sides and bring it back, tie all the twisted sections into a bun. These twisted fringes will give high volume to your chignon. Secure the fluffy bun with bobby pins or accessories.
 34. Layered Short Hair On Saree
This is a perfect style for a dame with short hairs and Layers add more volume to your hair. The style can be made more glamorous with side sweeping of hairs with blow drying.
 35. Simple Layered Hairstyle
If you are looking for a simple hairstyle for party or farewell, on ease style your hair in layers to give volume to your hair fashion. This soft fashion will give you a Rapunzel fantasy bewitching your fellows.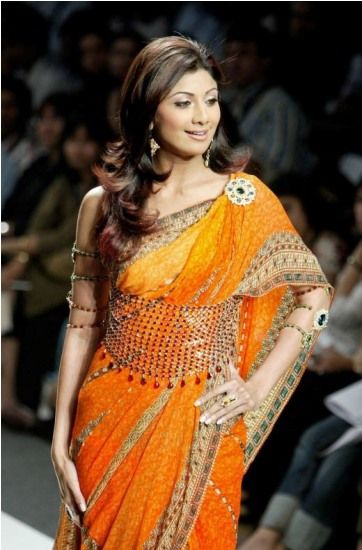 The days are gone when there were only two options to choose while dressing, either leave your hairs loose down or to make a simple braid. We have piled up flaunting trendy hairstyles that can be paired up with your exquisite sarees.
Let us know in the comments section below if any of the hairstyles you have tried already or you can't wait to try out now and which worked out best to get the nuts about!