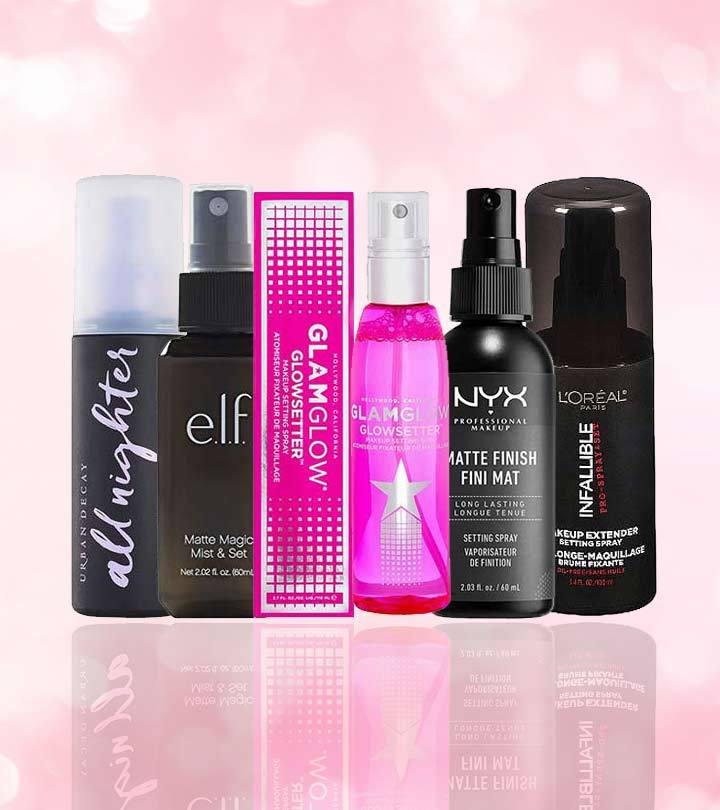 No other product can replace the wonderful job of setting spray to achieve the fresh, dewy and flawless look that everyone desires for the day long. If you are tired of using makeup sealing powders to make your makeup designs lasts long from morning to night but couldn't get the desired results, try for makeup setting mists these work as a great fixer.
Dripping and caking of makeup after few hours of makeup application is an acute problem for the beauties living in hot and humid weather or having oily skin. These makeup setting sprays are refreshing mists that prolong the hold of makeup smeared on the face or eyes and keeps you feeling fresh all the time. The ultra-fine mists deliver weightless, long-wearing instant mattification and minimize the appearance of pores.
So to sought out your problem which one to try as a beginner or which is the best one, we have reviewed a list of 16 makeup sprays that would literally lock your makeup making it long-lasting.
Best Makeup Setting Sprays For-Instant Intactness
1. e.l.f. Matte Magic Mist & Set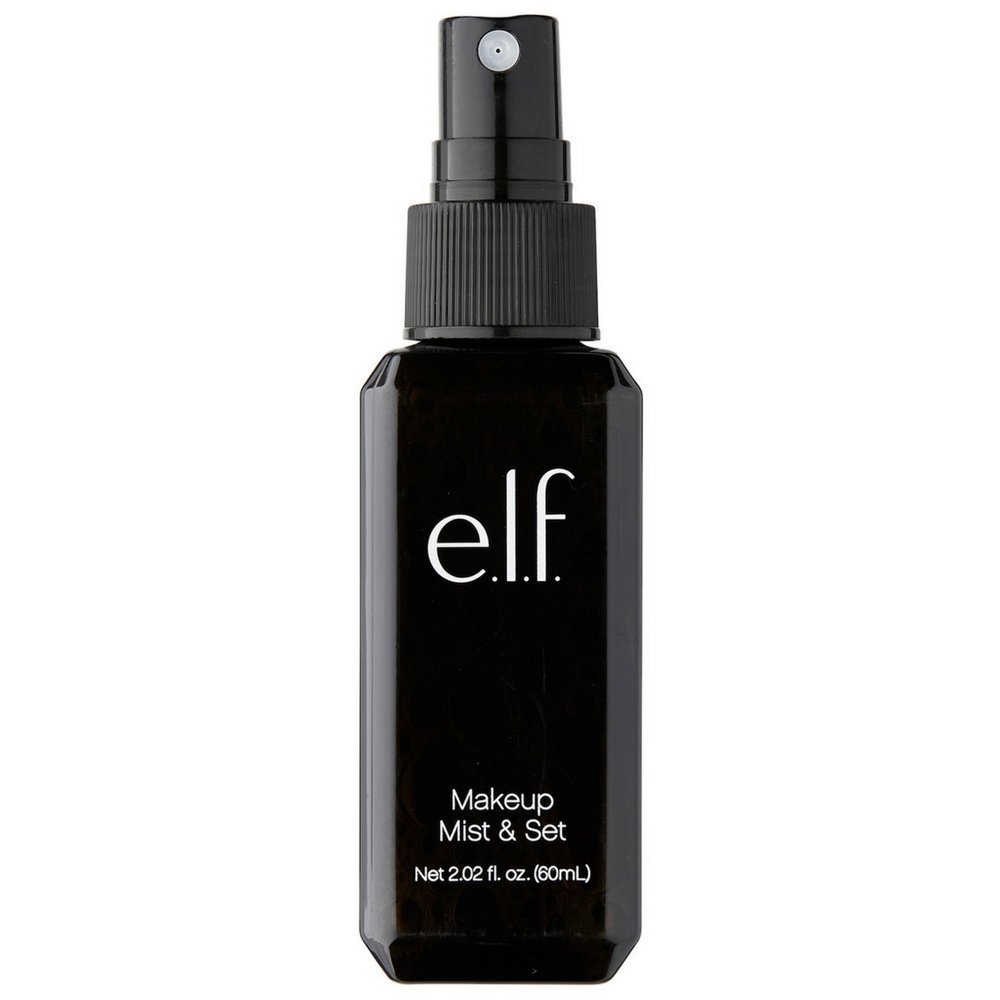 Hunting for budget-friendly drugstore makeup setting spray, your search will end here. Want your makeup staying in a place for long without running off try this, it will not only fix your makeup but will boost radiance too. The product invigorates moisture of your skin and provides a soothing effect. The lightweight formula is easy and comfortable to wear, as it is not infused with alcohol that makes it, to improve wearability of makeup.
Review: Product is suitable for all skin kinds and seems to keep your makeup looking fresh.
Rating: 4.9/5
*Price: 850 INR
Pros
Cons
 

Comfortable to wear and use.
Pocket-friendly.
Vegan free.
 Infused with Vitamin B, E, Arctium Majus Root to help hydrate, soothe.
Light in weight to wear.

 

Smell's weird.
Not suitable for oily skin.
2. Urban Decay All Nighter Long Lasting Setting Spray
Urban Decay All Nighter Long Lasting Setting Spray is undoubtedly at the top position and is favorite of every dame. The lightweight product is easy to smear and comfortable to wear. The formula works greatly making the stay long for 24 hours. It gives your skin an instant moisture boost that soothes your derma and keeps your face glowing and fresh all the day. The product with heavenly smell prevents the foundation from oxidizing and appearing cakey.
Review: Easy wear spray can be used daily to hold the makeup in place. This spray application gives awesome results you will love using this.
Rating: 5/5
*Price: 3600 INR
Pros
Cons
 

Lightweight formula.
Easy to use.
Nicely holds the makeup for long hours.
Made with temperature control technology.

 

Not for oily skin.
Not budget-friendly.
3. Makeup Revolution Pro Fix Oil Control Fixing Spray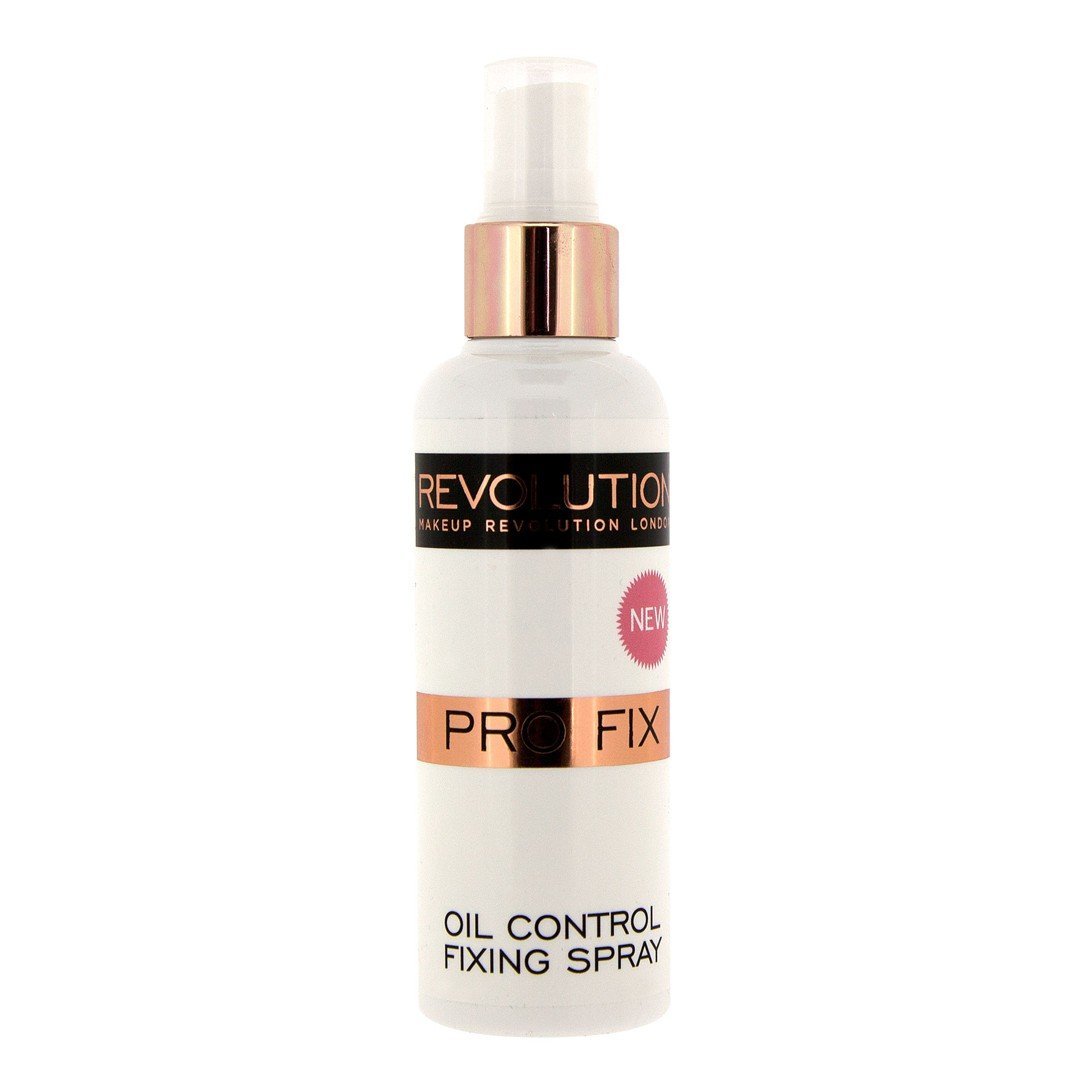 Oil control fixing spray is a new revolutionized product of Pro Fix, fixing spray. It is lightweight makeup setting spray that helps deflect surface shine for a natural matte finish. The high-tech ingredients keep the makeup at its place, you don't require to look up for 12 hours. The product provides firm stay without fading or smudging.
Review: High Tech ingredients keeps your makeup in place, without smudging and fading.
Rating: 4.8/5
Price: $ 26.90
Pros
Cons
 

Long stay upto 12 hours.
Waterproof.
No smudging and fading of makeup after application.
Squeazy packing makes it travell-friendly.
Easy to use.
Controls Oil.

 
4. Rimmel Insta Fix & Go Setting Spray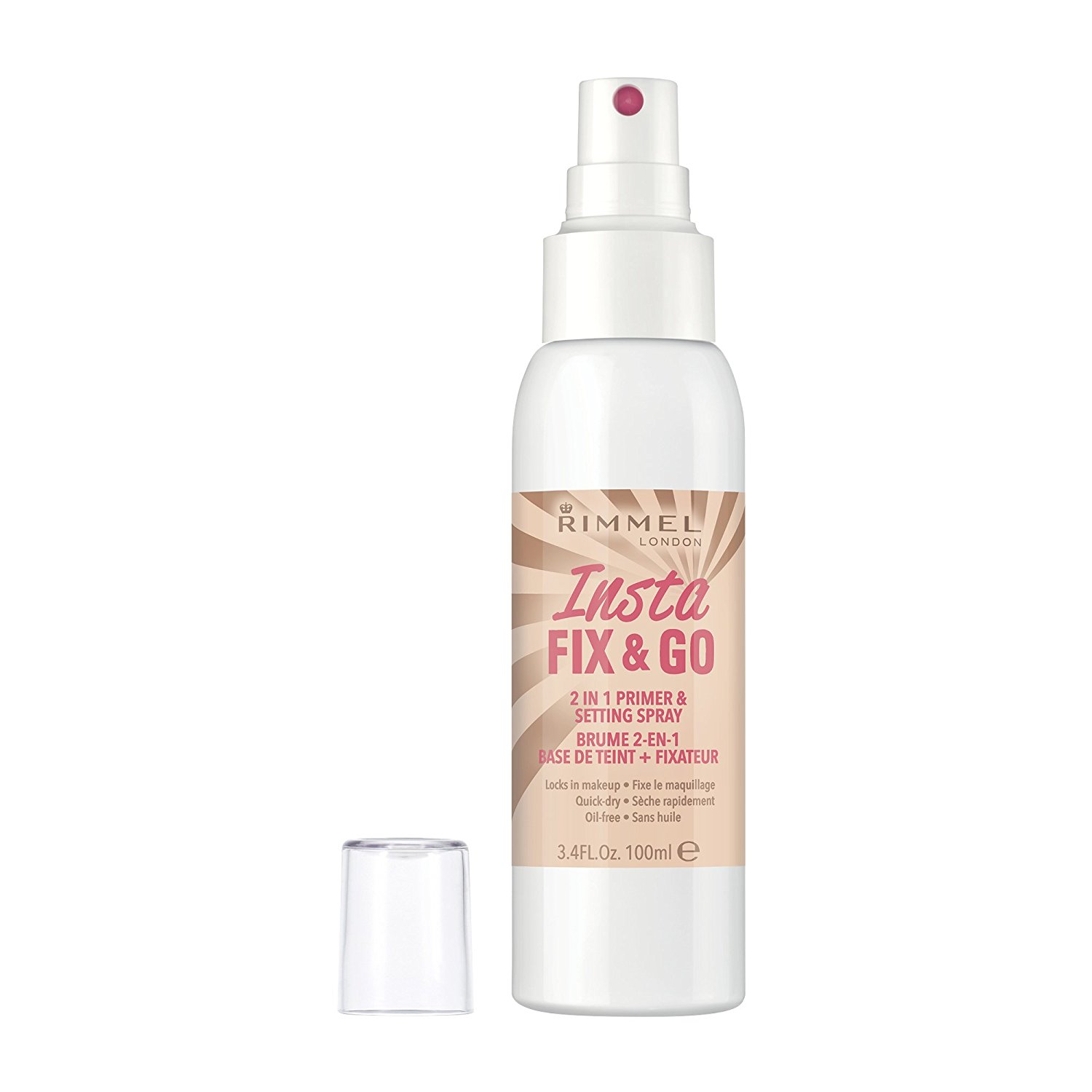 Rimmel Insta Fix & Go Setting Spray is an amazing product that works 2-in-1 as you can apply before makeup or can use as a makeup setting spray. The formula dries out quickly preventing color from smudging. It has a great all day staying power as it sets into fine lines locking makeup into place for at least 8 hours with just one application. It avoids your skin feeling dry or tight rather it soothes your dermis.
Review: Its an incredible makeup setting spray can be used as a primer also, before applying the makeup.
Rating: 4.7/5
*Price: 3835 INR
Pros
Cons
 

Lasts long for upto 8 hours.
Waterproof and smudge proof.
Infused with cucumber scent to feel fresh.
Keeps your skin hydrated.
Easy to use.

 

Be safe while using, it has tricky nosle.
Too expensive.
5. Bobbi Brown Face Mist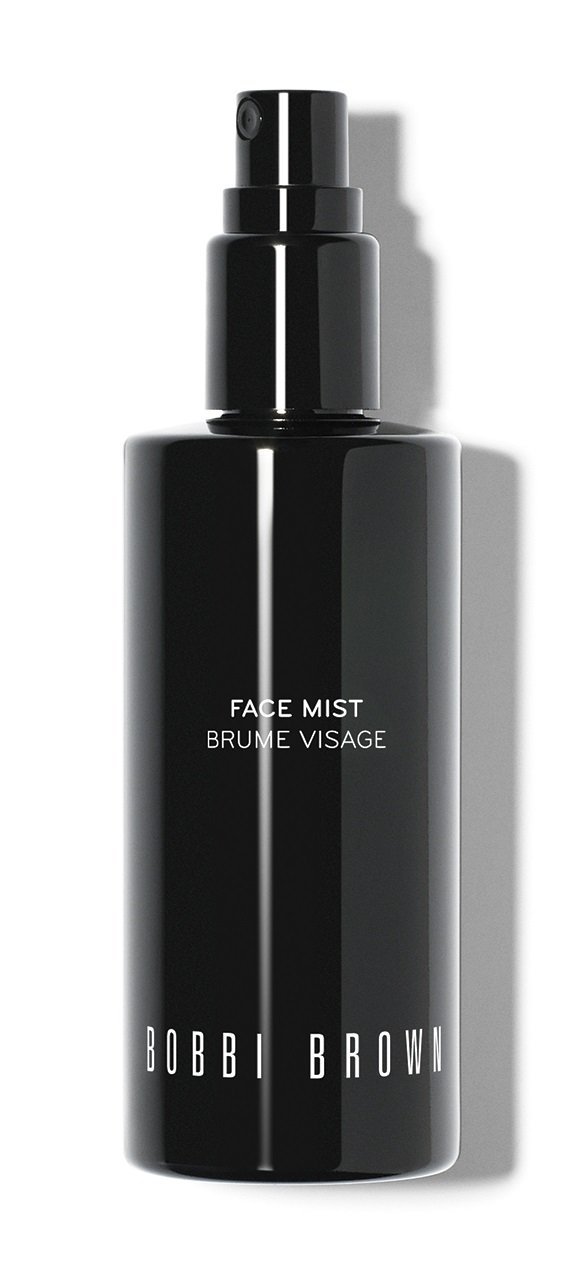 Bobbi Brown mist plumps and refreshes skin instantly for the whole day long while improving moisture of the skin. The formula works multifunctional from the hydrating skin to replenish it. The product is infused with glycerine and panthenol for hydrating the skin and with caffeine, chamomile, cucumber, and green tea extracts to help conditioning and soothing of skin. The soft & ultrafine mist calms the skin and sets any makeup look for a healthy instant glow.
Review: The soothing mist gives an instant boost of hydration and radiance to your skin.
Rating: 4.7/5
*Price: 5317 INR
Pros
Cons
 

Leaves skin hydrated.
Spray nozzle spritzes the product evenly.
Comfortable to use.
Travel-friendly.

 

It has essential oils in its ingredients, if your skin is sensetive be carefull.
Burn holes in your pocket.
6. GlamGlow Glowsetter Makeup Setting Spray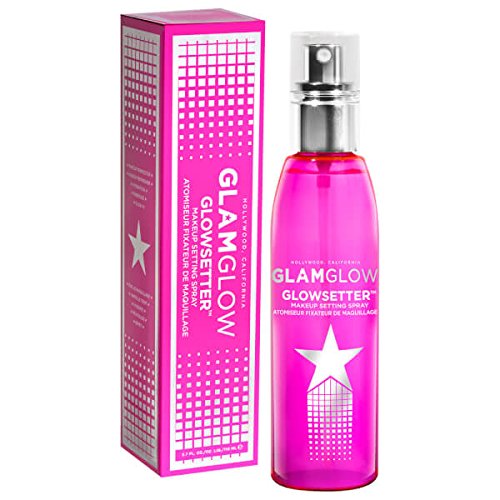 Glowsetter makeup setting spray is a brand new product suitable for all skin types. The squeazy packaging makes it ideal for traveling as it becomes easy to store and carry. The spray is infused with teaoxi, or white tea, red tea and green tea, caffeine, and charged waters that works great to revitalize and replenish dull skin. All the antioxidants make the product amazing source of skin refresher, this makes it the perfect tool for the end of any makeup routine.
Review: Glamglow boosts energy to your dull & lethargic skin, and brings natural radiance on your skin.
Rating: 4.5/5
*Price: 3000 INR
Pros
Cons
 

Dries quickly.
Easy to use.
Infused with antioxidants.
Re-blends pre settled makeup.

 

Includes a combination of fragrant ingredients that might irritate sensitive skin.
Too costly.
 7. Pixi By Petra Makeup Fixing Mist

Pixi makeup fixing mist works great to prolong makeup wear and keeps its stay long without moving or melting. The formula settles into fine lines and pores giving dewy finish with a subtle glow to your skin. The spray is infused with ingredients like rose water, green tea, and castor oil to leave your makeup looking fresh and natural. If your skin is prone to acne or have sensitive tissues this will surely work well on your skin and you will love it. This product works great over liquid foundation and powder both and gives your makeup smooth matte finish.
Review: The amazing product gives dewy finish with a subtle glow to your skin.
Rating: 4.5/5
*Price: 2390 INR
Pros
Cons
 

Fix makeup to last long.
Avoids your face looking greasy or oily.
Can refresh your makeup for day long.

 

Application of mist is little tricky.
Little expensive.
8. NYX Professional Makeup Matte Finish Setting Spray

Nyx Professional Makeup Matte Finish Fini Mat Spray delivers long-lasting polished matte finishing touch and sets your makeup preventing unwanted color fading or smudging. The lightweight spray is easy to smear on your face to set your flawless look. The NYX product does a great job by eliminating shine and oil from face and increase the stay time of makeup. In short, this is the only makeup setting spray that you can try if you are struggling with oiliness and be running away, of makeup with sweat or oiliness. 
Review: Good product makes your makeup lasts long and gives you a celebrity look.
Rating: 4.4/5
*Price: 800 INR
Pros
Cons
 

Easy application.
Lightweight formula.
Gives a natural finish to your makeup.
Non-greasy product.
Affordable.

 

Contains high percentage of alcohol that tends to dry out your skin.
9. Supergoop! Defense Refresh Setting Mist SPF 50

Supergoop is an innovative 3-in-1 mattifying mist with SPF 50 that works great to set makeup and works effectively in controlling oily skin. The formula delivers UV photoaging protection that works amazingly in controlling wrinkles and fine lines. You can now plane picnic or parties outside in summer weather without worrying as the brilliant product guards your makeup and skin delivering matte finish and dewy glow.  
Review: Only one with SPF 50 to with properties to reduce the effect of sun damage.
Rating: 4.4/5
*Price: 1914 INR
Pros
Cons
 

Has a refreshing fragnance of rosemary & mint.
Sets makeup for long hours.
Travel-friendly packaging.
Like most mattifying sprays dry out your skin, this doesn't.
Contains SPF 50.

 

Not suitable for extreme oily skin.
10. MAC Prep & Prime Fix + Makeup Setting Spray

Use the product alone to lock and provide the finish to the makeup. The lightweight formula is enriched with Vitamins and Minerals to moisturize and rejuvenate the skin, over this it is infused with a blend of green tea, chamomile, and cucumber to gently refresh and soothe the skin texture. The product not only fixes the makeup it also adds an instant boost of hydration to the skin leaving you with a natural finish.
Review: Fantastic product for fixing your makeup.
Rating: 4.5/5
*Price: 625 INR
Pros
Cons
 

Contains hydrating properties.
Easy to use.
Soothing and refreshing formula.
Don't cause acne.
Tested by dermatologists.

 
11. L'Oreal Infallible Makeup Extender Setting Spray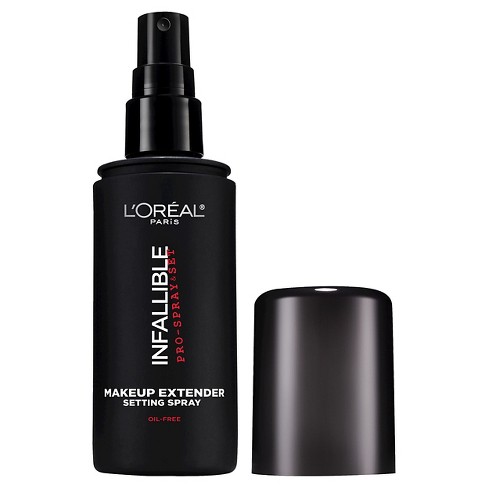 The crayon size bottle works great giving you a dewy glow without making you look like an oil slick or breaking your skin out. L'Oreal Infallible Makeup Extender Setting Spray is a lightweight facial mist that seals your makeup at its place efficiently. Oily skin beauties do not require repeated touch up or be worried about running off makeup at least for 6 hours.  A single spritz locks your makeup gives it a matte finish and you don't feel tacky as it dries up fast. Sure you will love this product not only for its work also for its tiny cute travel-friendly packing.
Review: This basic setting spray is recommendable for beginners.
Rating: 4.6/5
*Price: 1245 INR
Pros
Cons
 

A single spritz holds the makeup whole day long.
Not easily fade away over time.
keeps your makeup looking fresh for hours.
Evaporates quickly after application.
Budget-friendly.
Nozzle dispense fine and even mist.

 

Not good for oily skin in summers and lasts for not more than 6 hours.
Dry skin users must smear moisturizer properly before using this.
12. L.A. Girl PRO High Definition Matte Finish Setting Spray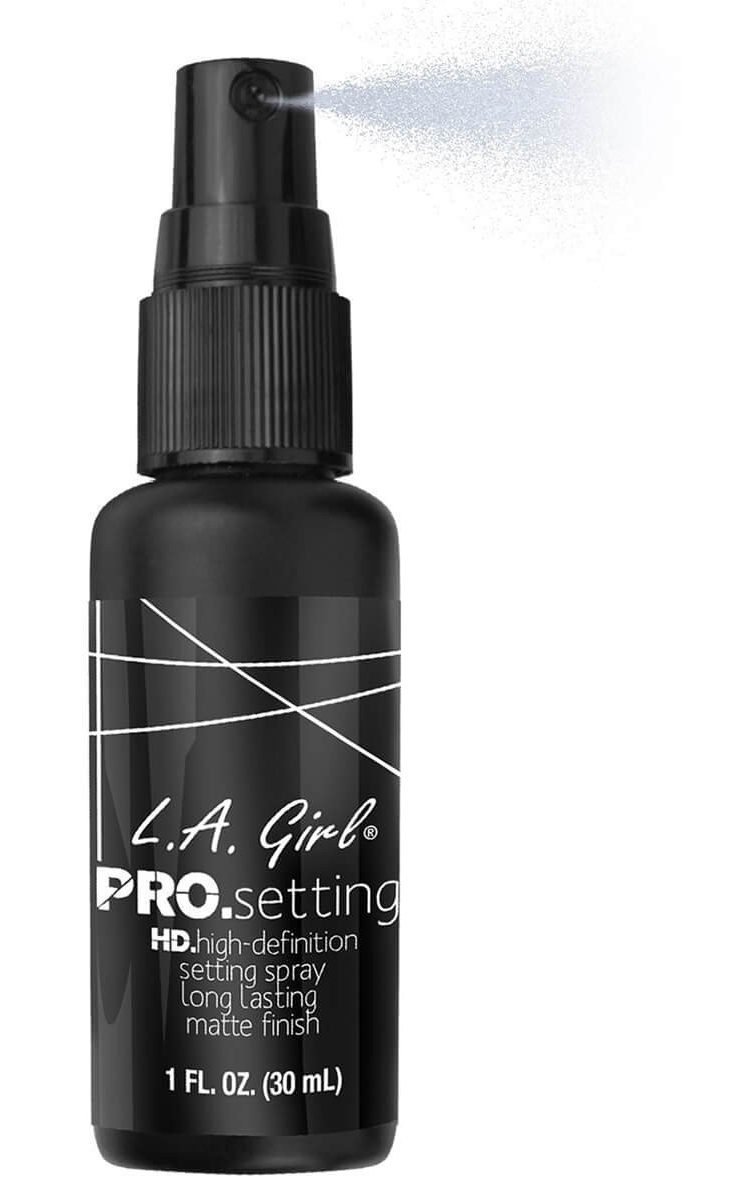 The lightweight non-sticky formula comes in a decent packaging that finishes out soon. After freshly applied makeup spritz this product from 12-16 inches away from your face keeping the eyes closed, it will intact your make increasing its wear time. For optimal results use this product in conjunction with PRO prep smoothing face primer it will give your face a dewy glow and long lasting stay.
Review: Keeps your makeup intact, reduces oiliness on your face but doesn't give a matte effect.
Rating: 4.8/5
*Price: 651 INR
Pros
Cons
 

Budget-friendly.
Fragrance-free.
Non-sticky and lightweight.
Paraben-free.
Gives perfect finish.

 

Descent capacity doesn't last long.
Doesn't give a matte effect.
13. Maybelline Superstay 24 Makeup-Locking Setting Spray

The micro-fine liquid mist works great as a makeup locking spray. Maybelline Supersaty formula is a lightweight application that avoids caking of makeup. This product has not specified for the skin type it can be used for but you can find it suitable for all skin types but ideal for oily skin. Spritz this formula after applying makeup it will extend the wearability of your makeup keeping it fresh for longer. Using this Superstay you will get a flawless look that lasts as if you have just applied the makeup instantly.
Review: Notably extends the longevity of your makeup without giving a sticky sensation.
Rating: 4.9/5
*Price: 3832 INR
Pros
Cons
 

Easy Application.
Evaporates quickly.
Leaves flawless matte finish.
Oil-free formula.

 

Single striz doesn't work well, requires too much quantity for an even finish.
Expensive.
14. KIKO Milano Face Make Up Fixer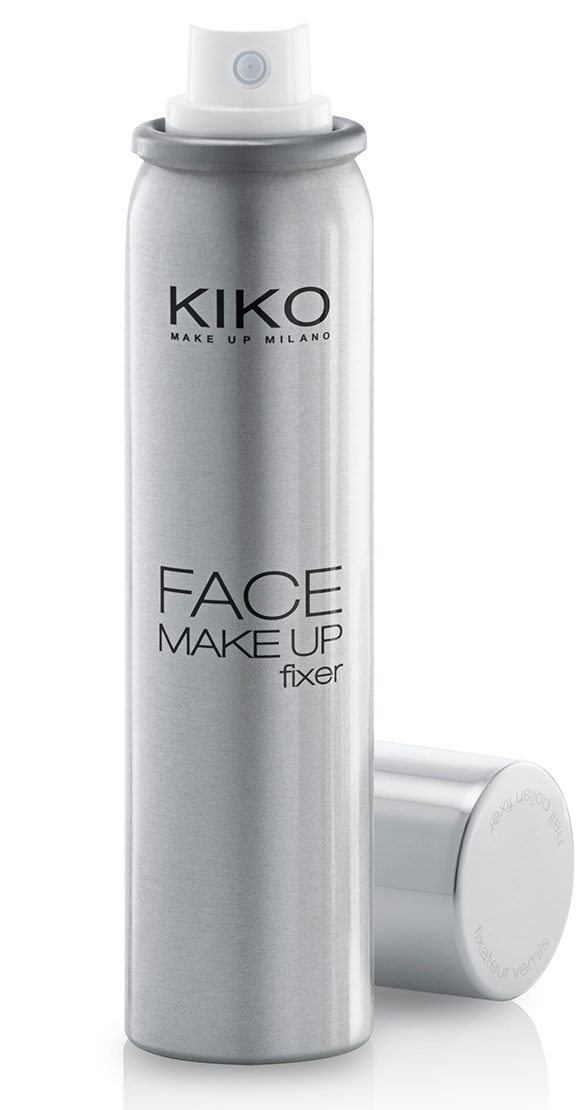 KIKO Milano Face Make Up Fixer is a formula with cosmetic alcohol that evaporates instantly and allows extreme intactness of your makeup without smudging. This makeup fixer is infused with chamomile extract that makes it gentle to use on the face. The product is imperceptible and non-sticky, that holds your makeup for 7-8 hours long without fading. The instant application over fresh makeup gives it a flawless touch feeling your makeup fresh and glowing all the day long.
Review: Holds makeup better when you wear a good quality primer underneath your makeup.
Rating: 4.9/5
Price: Not available on Indian sites.
Pros
Cons
 

Easy to apply.
Makes your skin smooth and flawless.
Fragrance-free and paraben-free.
Non-sticky formula.
Gentle on face.

 

This makeup fixer might leave your skin uneven.
15. Clinique Moisture Surge Face Spray Thirsty Skin Relief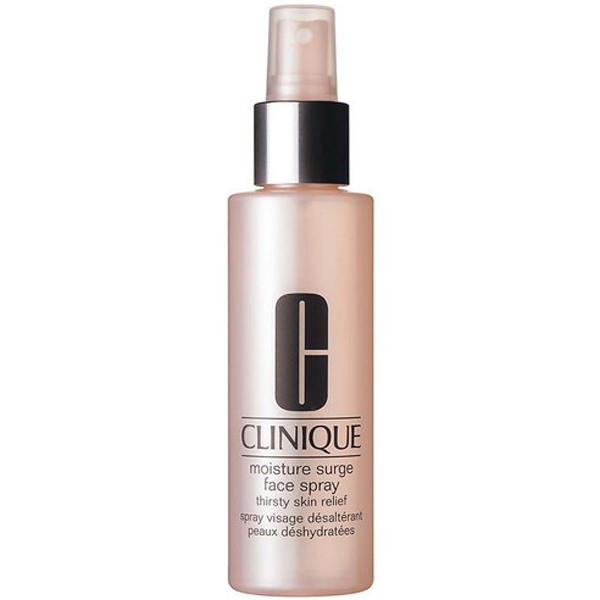 Clinique Moisture Surge Face Spray Thirsty Skin Relief Review is a fast absorbing formula that doesn't leave a filmy residue. A mist spray is so designed that it allows even distribution onto skin and replenishes your skin's moisture levels. The multifunctional spray can also be used as a primer before applying makeup and after makeup as a fixer. The holy grail spray not only intact the makeup for hours though it rejuvenates the skin supples and reduce dry patches of sunburns.
Review: This wonderful spray leaves your face feeling refreshed and recovers sunburn effects.
Rating: 4.7/5
*Price: 2374 INR
Pros
Cons
 

Lightweight product doesn't seem heavy on your face.
Hydrates the skin and repairs dry patches.
Fragrance-free and paraben free.
Easiky suitable for sensetive skin.

 
16. Laura Geller Spackle Mist

Laura Geller Spackle Mist is a multi-tasking formula that instantly absorbs into skin to create a perfect canvas for extended makeup wear. The mist is used over makeup for a flawless finish. The spackle mist is infused with soothing Aloe Vera extract, Vitamin B5, cucumber, and silicone, all these replenishing ingredients keep the skin hydrated, refreshing and oil-free.
Review: Great product sets your makeup with just one spray and your makeup would not run off or drip for hours.
Rating: 4.9/5
*Price: 3732 INR
Pros
Cons
 

Lightweight formula.
Intacts makeup.
Gives dewy glow.
Keeps looking refresh for hours.

 
Makeup setting sprays would be a game changer for you to look refreshing in parties for all the night long. Dear beauties for you we have roundup our list with 16 magical mists, to help you out for fixing the makeup. Surmising you would love choosing the one from the list above and don't forget to share your views with us in the comment section below!
*Price is subjected to the availability, quantity of product or depends on seller!