Banarasi sarees have their own history of weavings and motifs to reveal. Brocade and Zari Banarasi blend are the most popular patterns in the fashion world of sarees. The royal intricate patterns of this traditional Indian attire compliments the beauty of the woman. Elegant pieces are prepared by Banarasi skilled craftsman in the pure fabric on their handlooms.
The trousseau of Indian bride is totally assumed to be incomplete without much-coveted possession of appealing Banarasi silk saree. Mughals brought this fine unmatched artistry of Banarasi Silk craftmanship to India. Inspired by their weaving and designing glory today's fabrication of this traditional drape has turned out to a beautiful outfit.
Banaras is the native place for these cultural weavings with numerous skilled weavers. No doubt the design and patterns of these adorning sarees vary from piece to piece but the fabrics like Katan, shattir and many more are used to imbibe variation in the product. Even simple sarees are woven for daily wear with amazing grace and sober look.
We have shared a detailed look of the latest Banarasi saree designs evolved with changing fashion trends.  You can get these fabulous Banarasi Sarees online!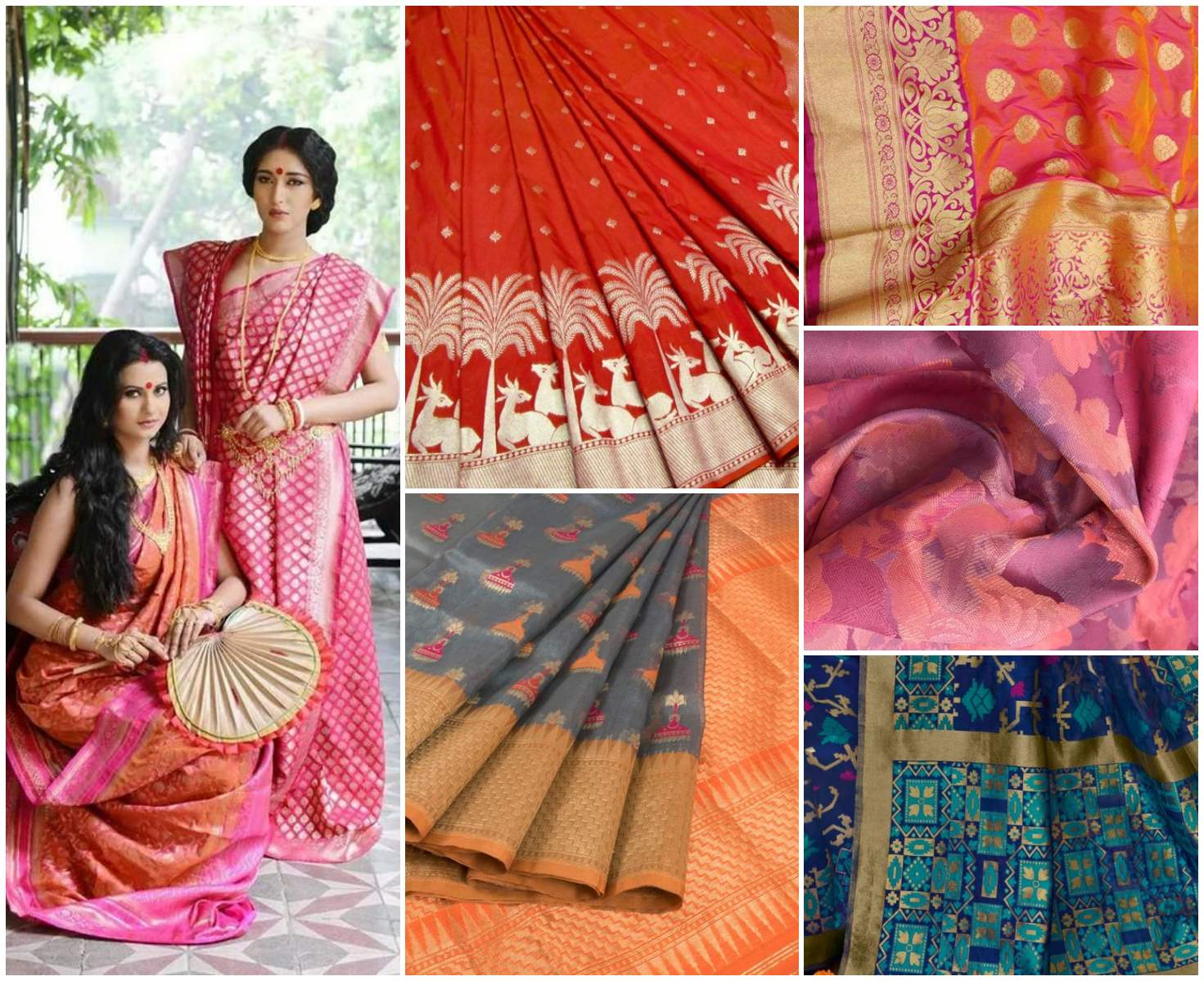 According to fabric
1. Katan (Pure Silk Saree)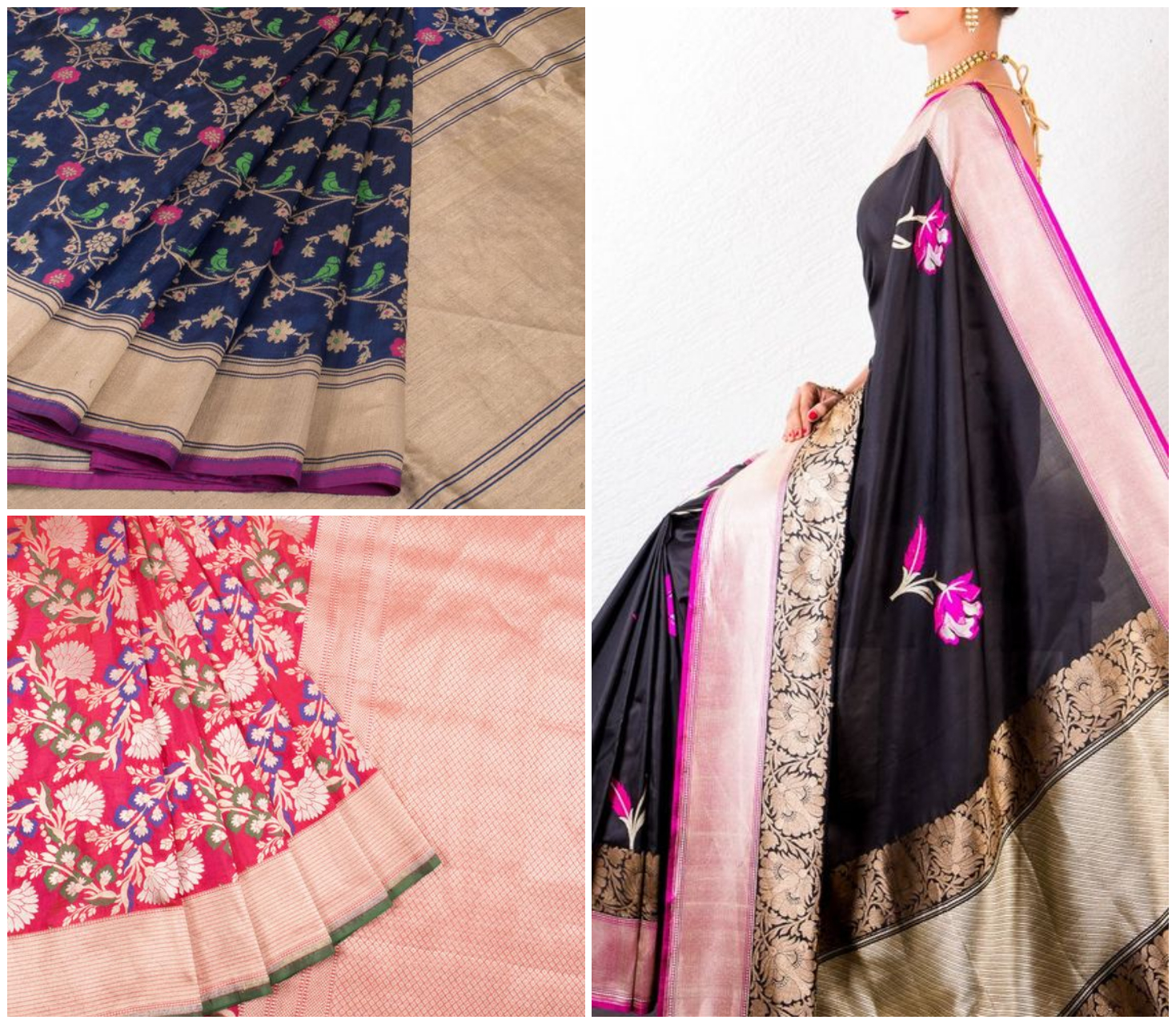 Katan is the plain fabric of woven silk threads twisted and blended with silk sarees to create more durable fabric. From the different varieties of silk, Katan can be easily identified because of its unique look. In ancient times Katan sarees were beautifully created using handlooms but now these pure silk sarees are manufactured using power looms or rapid looms with elegant designs and motifs.
2. Organza Saree (Kora) with Zari And Silk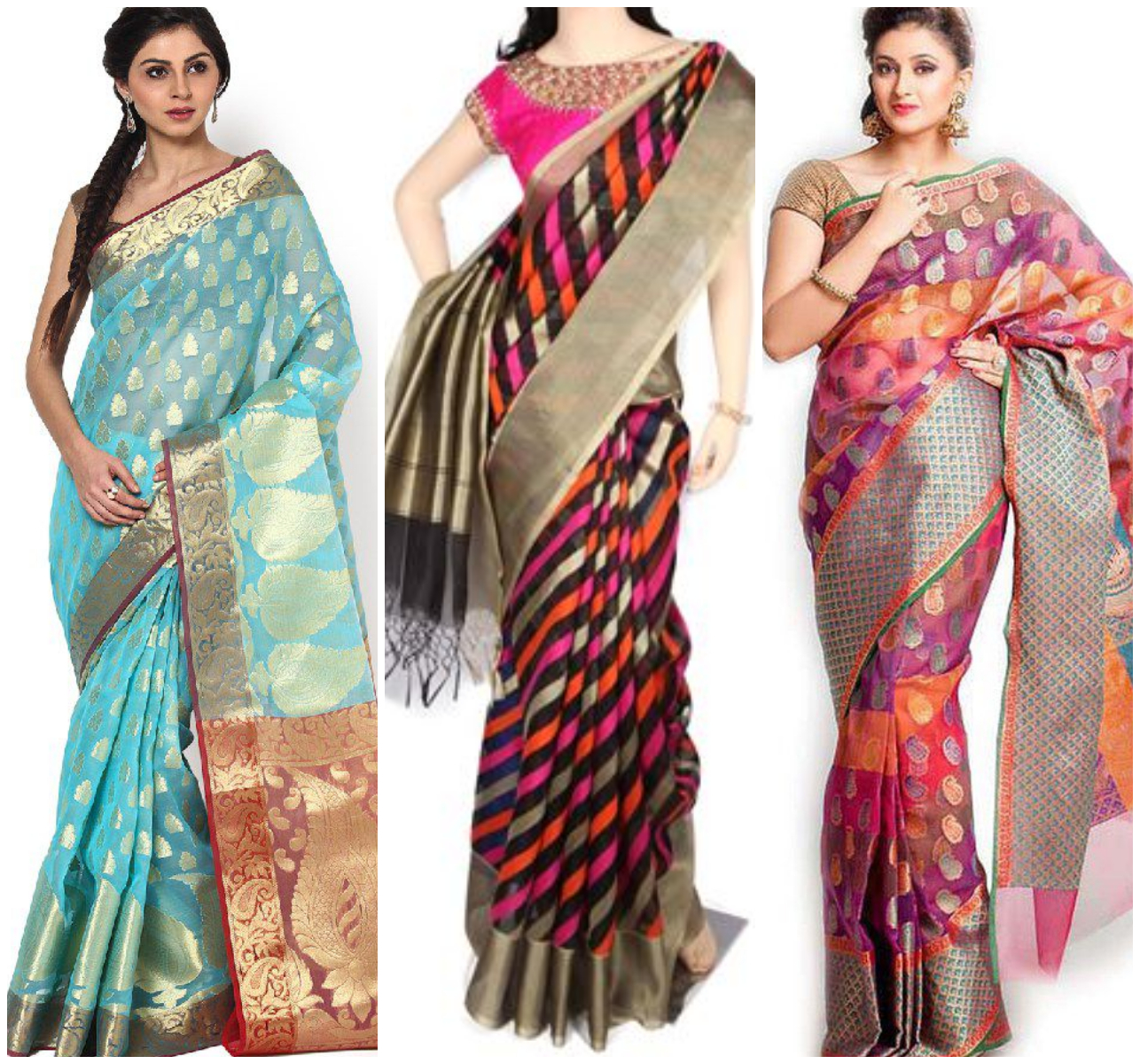 Organza silk saree with the opulent of zari work is one of the amazing, variant of Banarasi saree. Organza silk sarees are also known as Kora silk sarees, these sarees are especially characterized because of smooth texture, sheer, crisp and extremely lightweight. Kora fabric has natural stiffness and when woven with Mughal inspired motifs exhibits a rich classy look. The yarn is closely woven to create unique Zari Brocade.
3. Georgette Banarasi Saree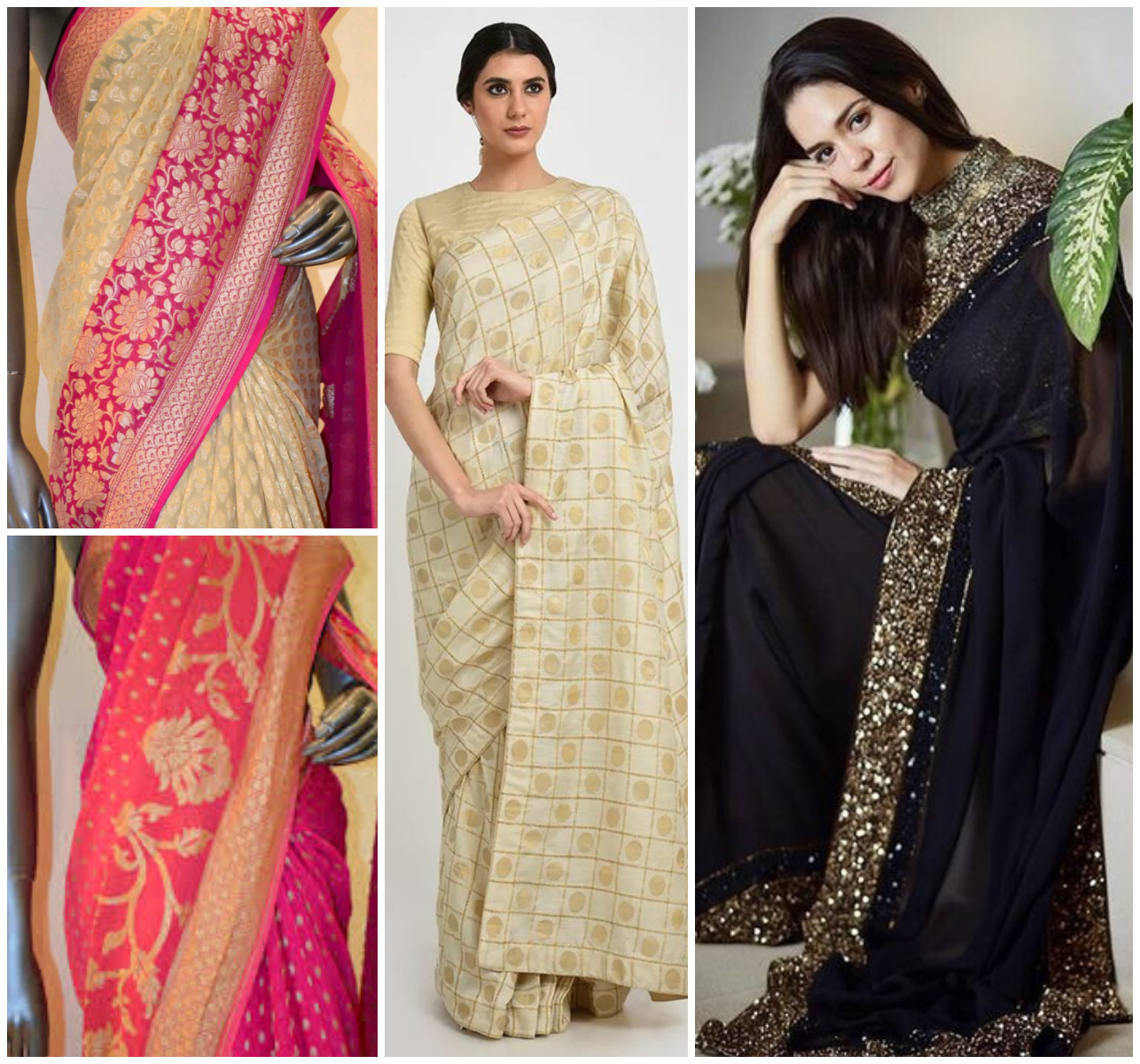 Georgette is the most popular fabric in modern types, its basically finely woven lightweight fabric with, simple and plain weave. Latest designer sarees are comfortably fabricated from georgette yarn with alluring designs and motifs. When Georgette is crafted with banarasi silk weave intricate designs are produced for cocktail parties.
4. Shattir Saree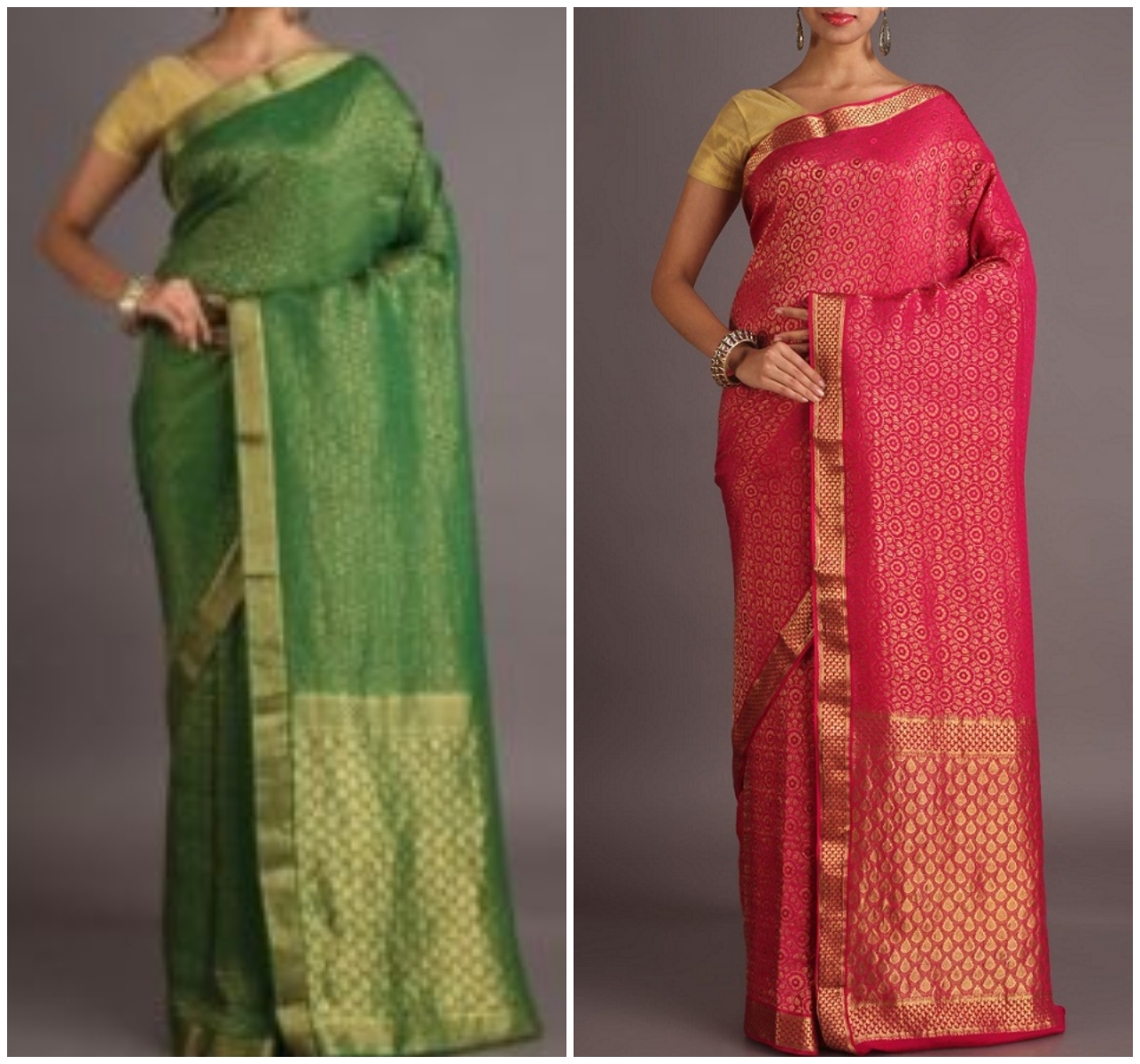 For creating exclusive designs of Banarasi Silk Sarees, Shattir is another fabric to be used for crafting the latest dazzling motifs. The softly textured sarees are very light in weight and are easy to carry for normal functions.
5. Tussar Banarasi Saree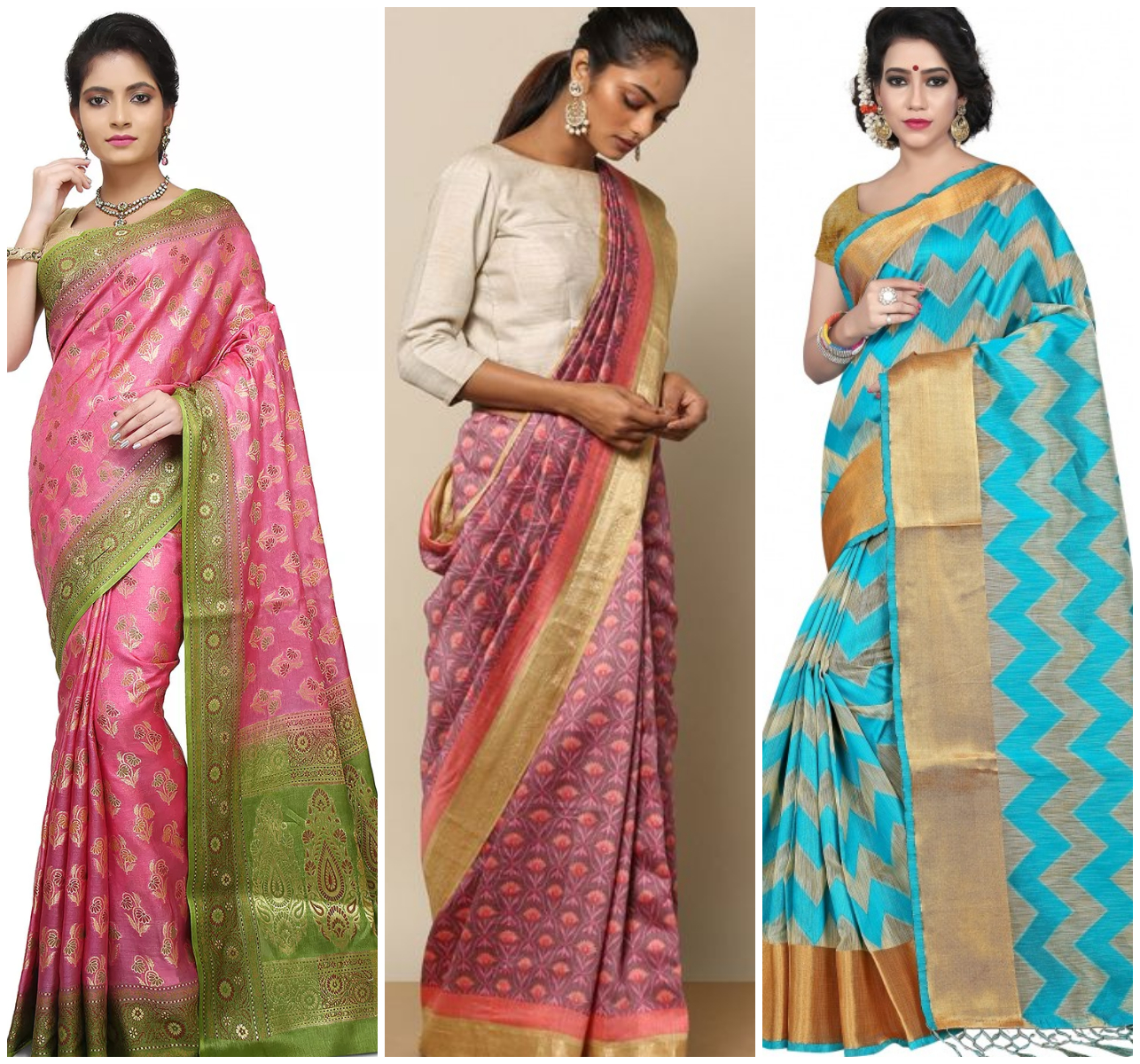 Tussar Silk Sarees are the epitome of delicacy and rich texture with natural impressions. These sarees touch every layer of silk when blended with the best weaving technique and finest range of threads.
According To design
6. Jangla Saree Design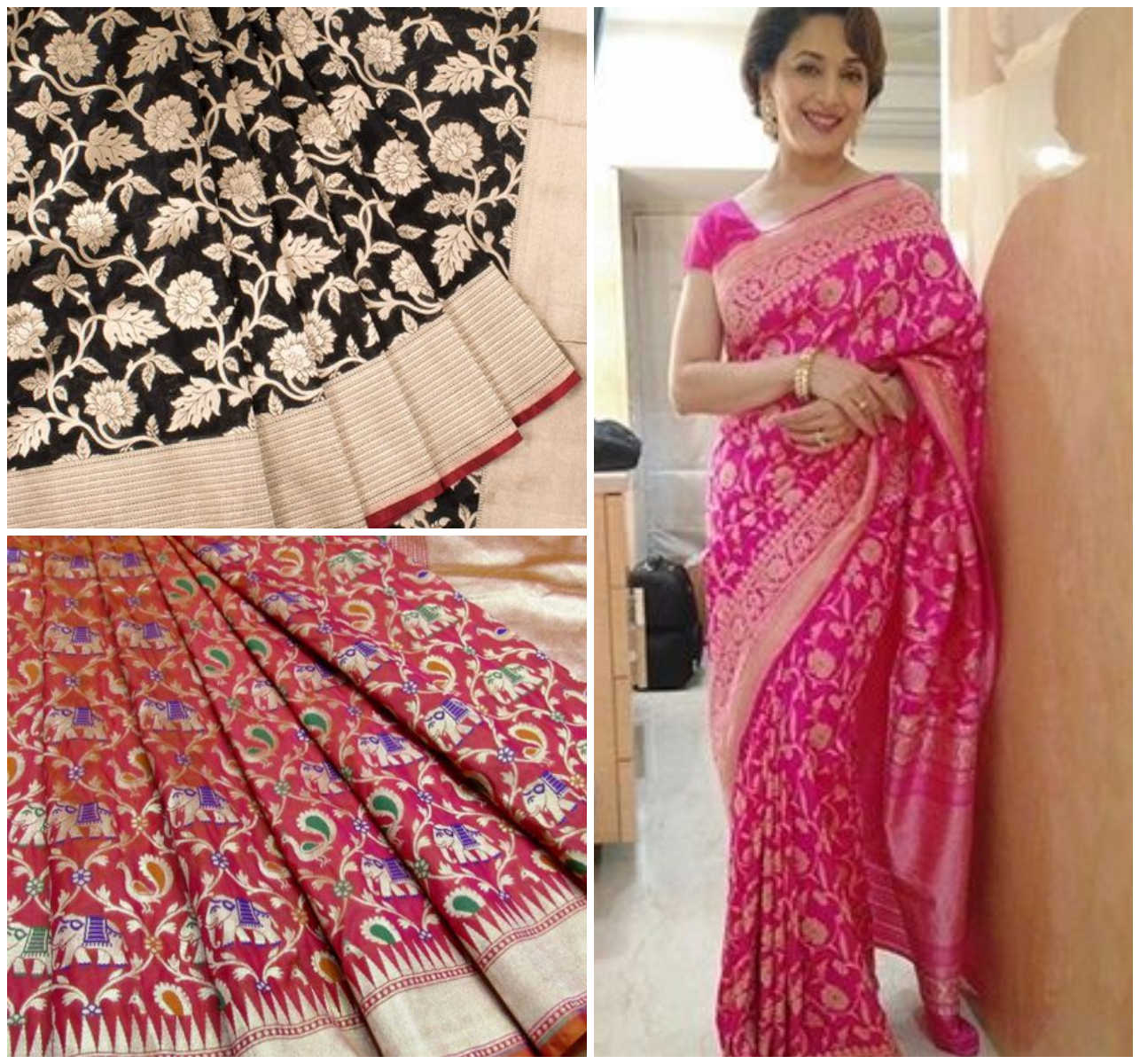 Jangla motif of sarees are woven in colorful silk threads, the name itself reveals its story of the pattern. The intricate Jangla style is the form Jangla motif scrolled all over the length of the saree. Among the Banrasi Brocades, the Jangla motif is the ancient one. This pattern can be opted for wedding ceremonies as of its unique design and luxurious fabric.
7. Opaque zari Brocade

The designing pattern of Banarasi Silk Sarees varying in work with weft Zari in floral or animal motifs come under this category. Different kinds of varieties of zari are used to decorate the silk blend of sarees.
8. Banarasi Silk Jamdani Saree

Jamdanis are beautifully designed Silk Sarees, the patterns are designed on a unique fabric. This fabric is designed with a special technique, the silk fabric is brocaded with the cotton textile. Jamdani Silk Banarasi wraps are figured in a variation of muslin fabric. Intricately patterned jamdani sarees have Chameli, Panna Hazar, Paan Butti and many more traditional motifs.
9. Tanchoi Brocades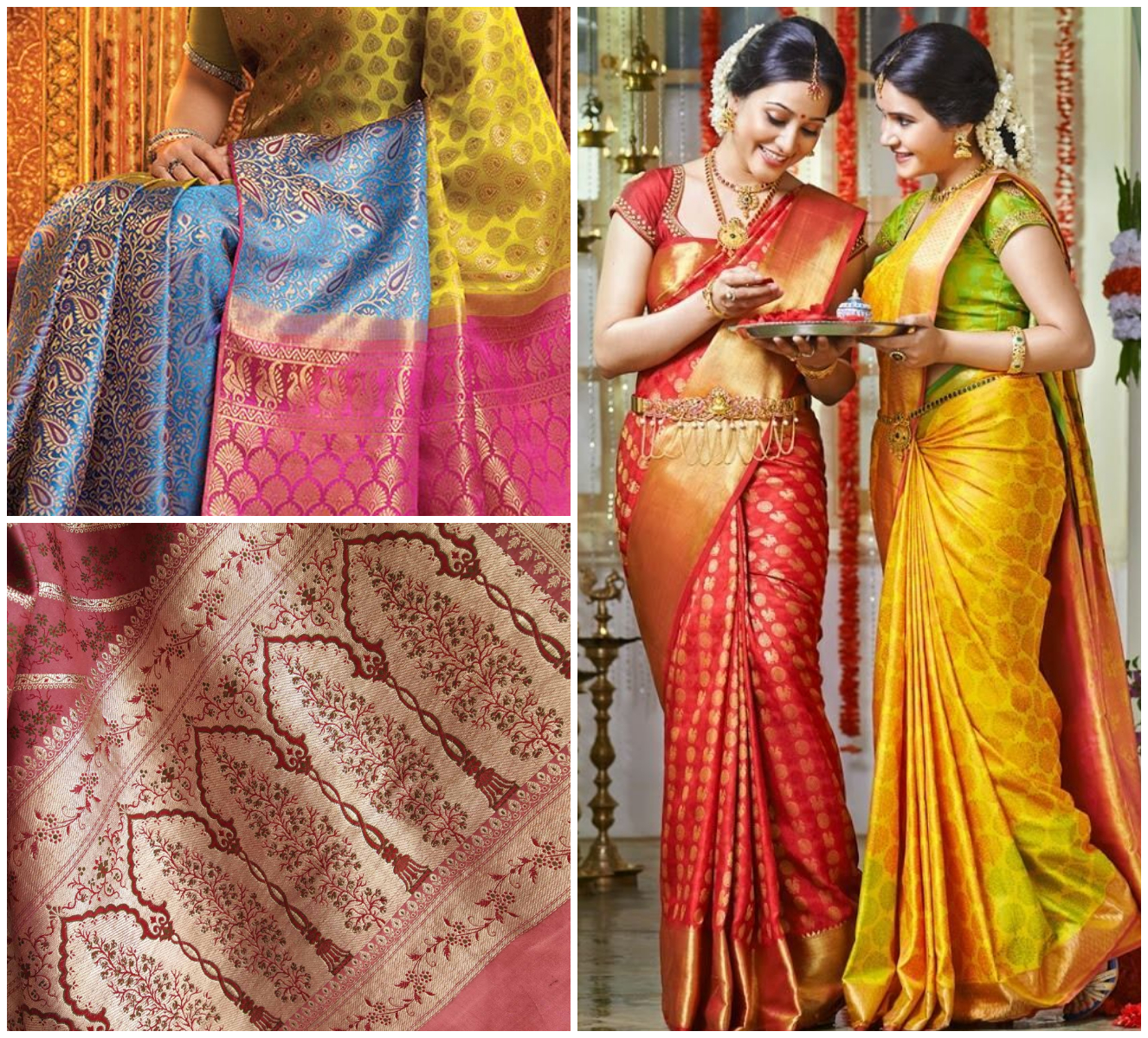 The style of this beautiful saree makes it a perfect pick for wedding ceremonies. Foxy 'Jamawar' style paisleys and the Labyrinth that is woven by zari adds value to the silk designer silk sarees. Artisans of Banaras weave beautiful motifs on these silk sarees with colorful weft silk yarns and the pallu of the saree is also delicately embellished.
10. Banaras Brocades

Handwoven Banrasi Sarees are famous worldwide for their sophisticated brocade blend. The sarees are woven with hands it takes at least 4-5 months to weave a single 9-yard piece. These drapings bring extraordinary charisma in the traditional look of women after wearing these beautiful pieces. Banarasi Zari brocade sarees are also called "amru".
11. Butidar Saree

Butidar sarees are adorned of their imitable weavings, the brocade of saree is finely woven with silver or golden silk threads. Gold weavings give a little dark shade glance and this pattern is called Ganga-Jamuna by Banarasi artisans. There are various kinds of Butti patterns adopted by artisans to weave a fine piece like Resham butti, Jhummar butti, Ashrafi butti, Latifa butti, Baluchar butta, Angoor bail and many more.
12. Cutwork Saree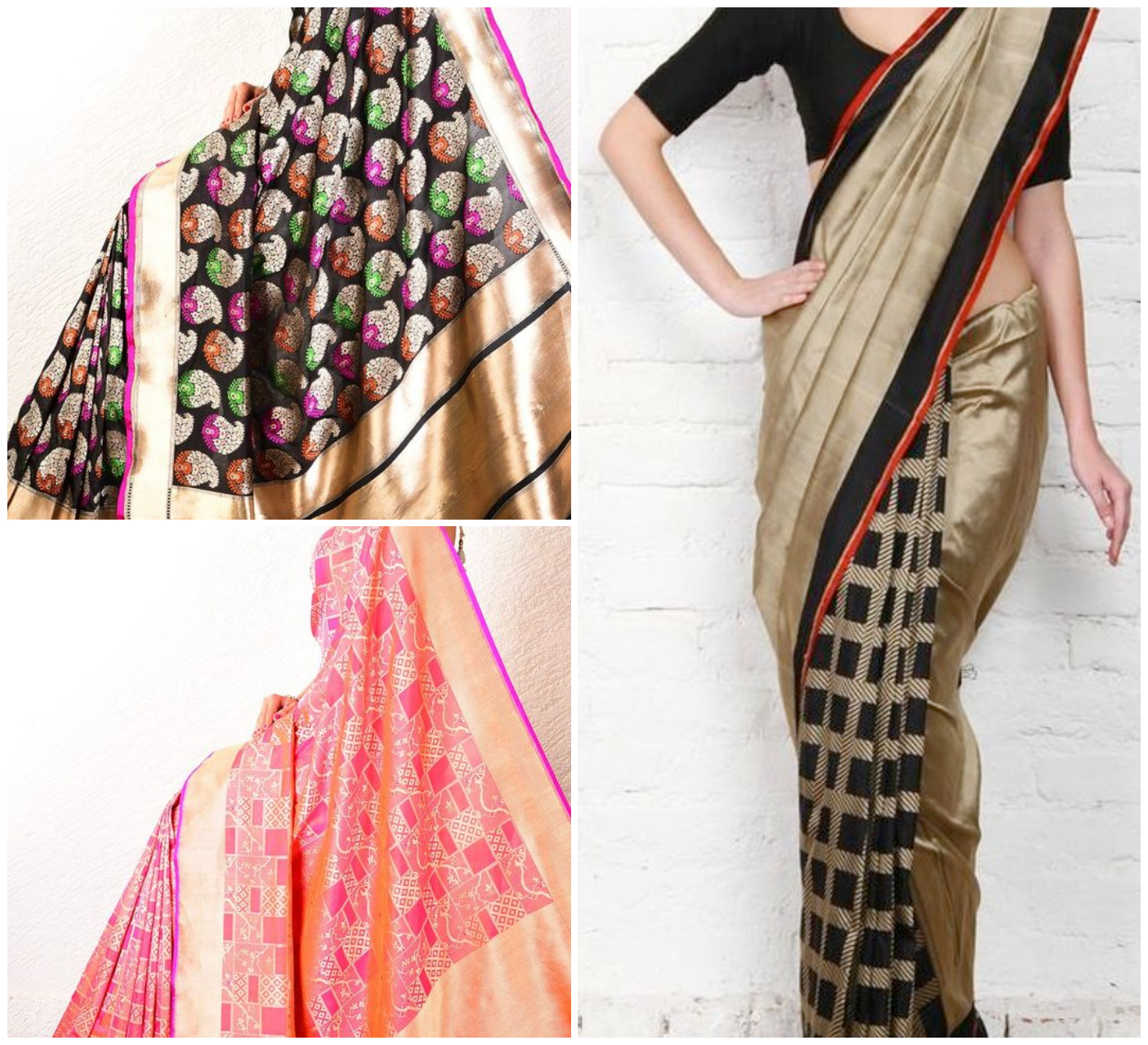 Cutwork sarees are the exquisite products of cutwork technique, this technique is drafted on the plain textured fabric and is done by removal of floated threads. The ultimate composition provides a dazzling transie look to the outfit holder.
13. Tissue Banarasi Sarees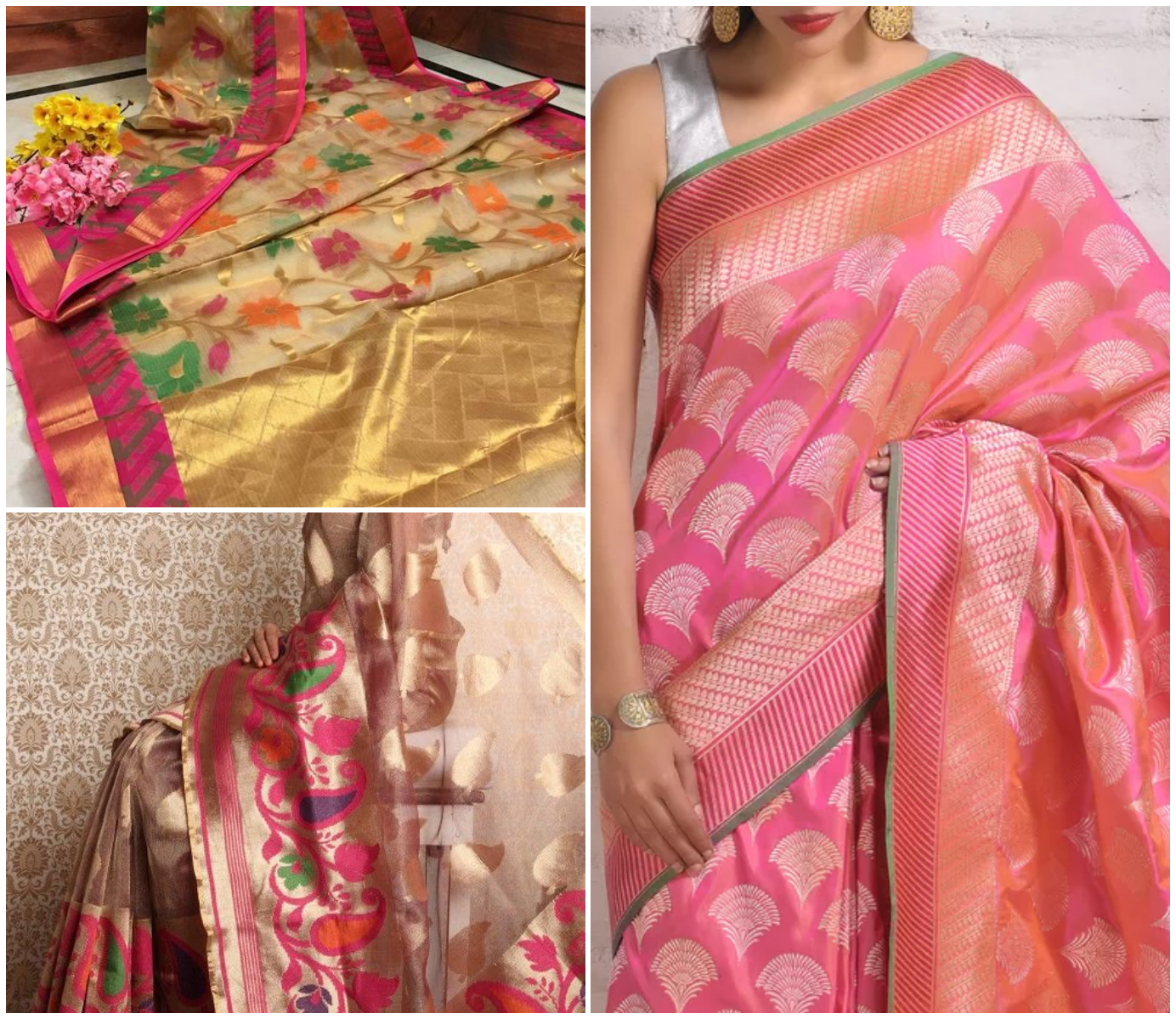 Tissue sarees woven with delicate golden zari weft add sheen to the attire or famed as golden cloth. Most popular patterns of tissue sarees are golden zari weave, radiant flower motifs finely designed with cutwork technique and pallu mingled with a paisley weave. Tissue sarees are designed in combination with zari and silk for an ideal grace.

The current and latest motifs of Banarasi sarees are the great fusion of Indian mix with the Persian designs. A single 9-yard Banarsi drape requires hundreds of perforated cards to implement the idea of design.
In our unique Banarasi Saree catalog, we are having the latest and fine fabric saree collection. After the overview of our collection is there any design captivating your eyes or you want to drape it on any conventional occasion, then soon ping down!