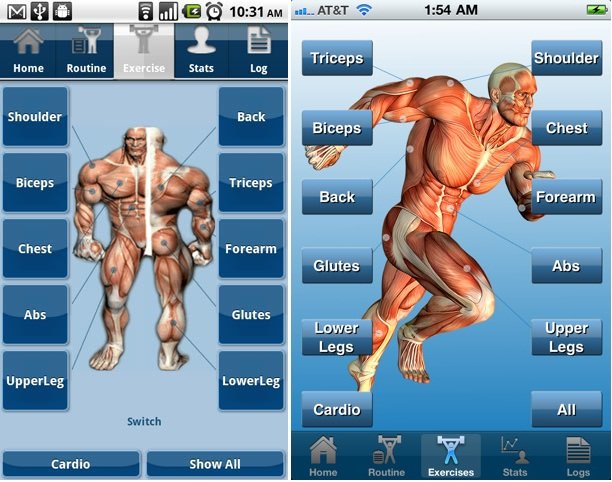 Messed up in fixing a schedule of your office, home life, and your workouts to take care of your body. Plan for your body as per your relaxations without being hectic. Today when everything is online dating, working, shopping then why to run gym every time from your messed schedule.
Luckily when you get a coach available to you 24 hrs at any place you desire and any time you are free then what can be best than that. These online bodybuilding apps not only provide you training and exercising programs but even keep the records of your workouts you go with and tracks your workout pace, running speed etc. Either you are owing to an Android device or iPhone there are plenty of apps you can follow choose the best one with effective exercises and designed by trained expertise. In today's technology's world more and more people are turning to online trainers to guide them to shape their body and increase their endurance. They will join online workout training programs and even can seek the guidance of coach through Skype, WhatsApp or by emails.
Here we have lined up some best apps for online training programs to give fitness to your body for both Android or iPhone users.
Best Bodybuilding Apps Of 2018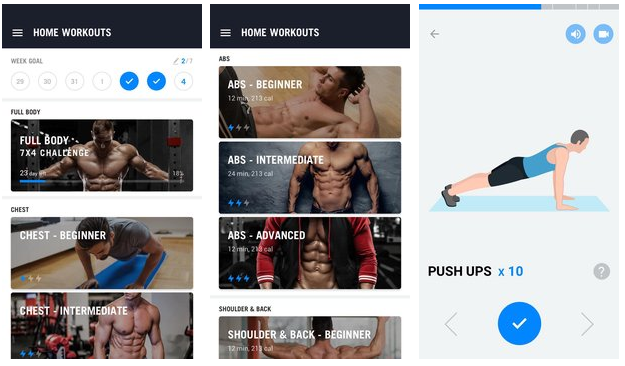 Home Workouts provides you a daily workout routine that can be followed without any equipment or coach. To perform these exercises all you need is just your body weight no physical weights are required to shape your body. It contains a package of exercises that are meant for all your main muscle group. It has a workout for every body part arms, abs, butt, legs and chest, it also includes full-body workouts. Just a few minutes workout in a day can effectively tone up your muscles. All the workouts are designed by expert trainers that can help you out to get six packs at home without any types of equipment but you have to pay some desired amount to get these packages.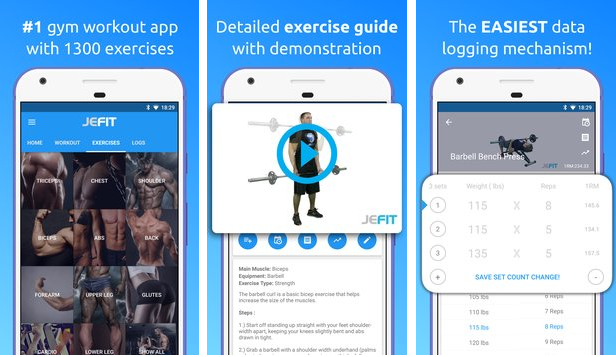 JEFIT is one of the best exercise trackers with detailed exercise programmes. You can schedule the tracking planer according to make progress from home fitness sessions. This paid app provides various kinds of programmes for beginners to target bodybuilders. Its number one workout tracking planner, weightlifting, and GYM planner. The programmes are split into starting strength, advanced weightlifting, kettlebells, and powerlifting. You can achieve your goals pushing yourself to break your own records by following the great plans provided by JEFIT'S free fitness program database.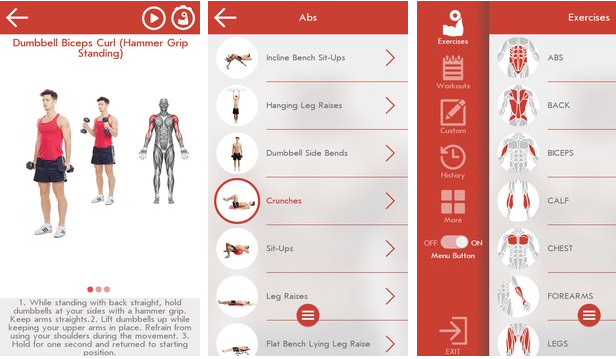 The fabulous app allows you to create your own programme according to your needs and facilitates to get desired results within the short time period. This is a paid App that provides a workout plan for bodybuilding, weightlifting, fitness, and powerlifting. Furthermore, the app supports video with exercises for every workout. Exercise database of the app is updated each day with new workouts and techniques. The app has a built-in timer and calendar which has the ability to keep a record of workout days and performed exercises.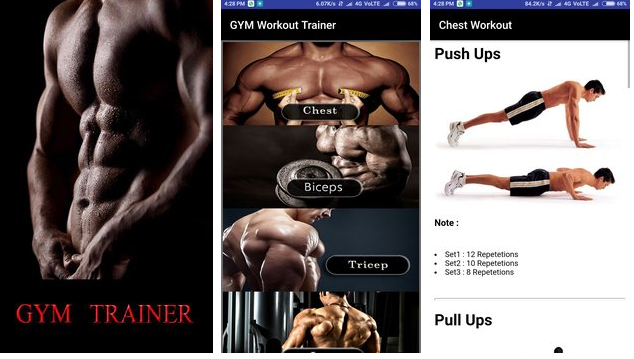 The Gym Workout Trainer app is designed by expert professionals, moreover, exercises are completely scientifically proven to give you amazing results regarding health and fitness. The app can synchronize automatically training progress records and reminds you, your everyday workout. The expertly designed workout routines are featured on six type of body categories bicep, tricep, lats, sixpack, chest, shoulder. The workouts are daily updated belonging to all categories from toning your muscles to shaping up your body. This app is totally free to download and is assumed to be the best one for beginners.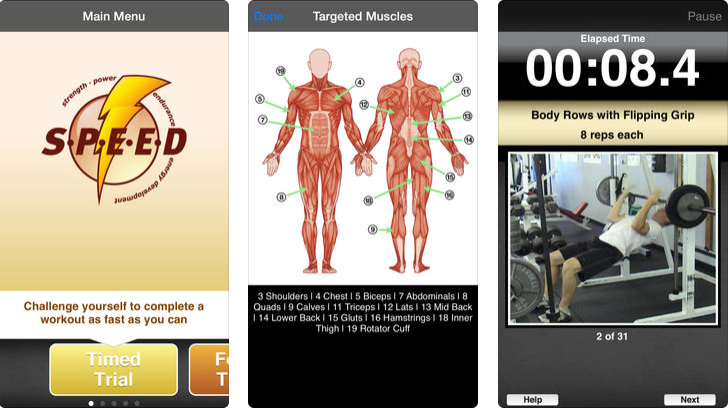 S.P.E.E.D. Fitness apps workout programmes speedily boost up your strength, power, energy, and endurance as it has speed component. You can develop your overall S.P.E.E.D. to tone up your muscles and increase the workouts pace. The app provides various exercise videos for all the categories and parts of the body & even full body workout. The app offers two modes of training: Timed Trial and Focused Training. In timed trail mode when you complete one task you have to slide down for the next one. But in Focused training, you can select the length of workout and can work on a particular exercise of the body at one time. This is a free fitness app for iPhone and iPad users.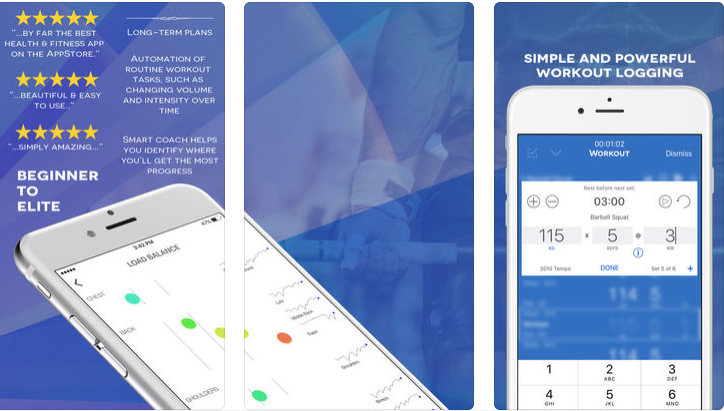 This is the advanced bodybuilding and weight training app- by far. This is an outstanding app with incredible knowledge and thought behind the workouts synchronized in the videos. This app is like a strength coach in your pocket with effective training routines. The app guides you to build muscles, get stronger and trim a bit of fat. It has greater precision in tracking workouts effects like daily body fat & body weight, sets, weight, tempo, rest intervals. This super rated app for ios devices is absolutely free to download.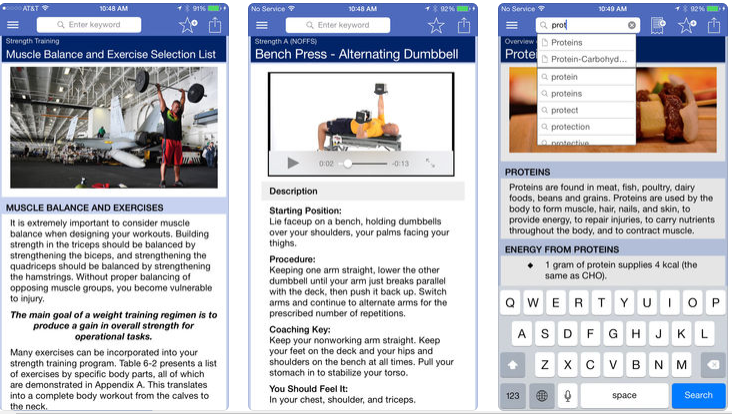 Navy Seal app with over 220 exercises, 90 videos, and 20 calculators helps you to train yourself with high muscular strength, and cardiovascular fitness. This physical fitness guide helps you out with methods of physical training, cardiorespiratory conditioning, determination of work, running and swimming rate, aerobic activities and moreover exercise physiology activities. Navy Seal fitness app is a paid app for iPhones and iPads you have to pay a certain amount to get training from best fitness guides. The guidance for fitness includes weight lifting techniques, strength training, methods of physical training, cardiorespiratory conditioning, determination of work rate, active recovery.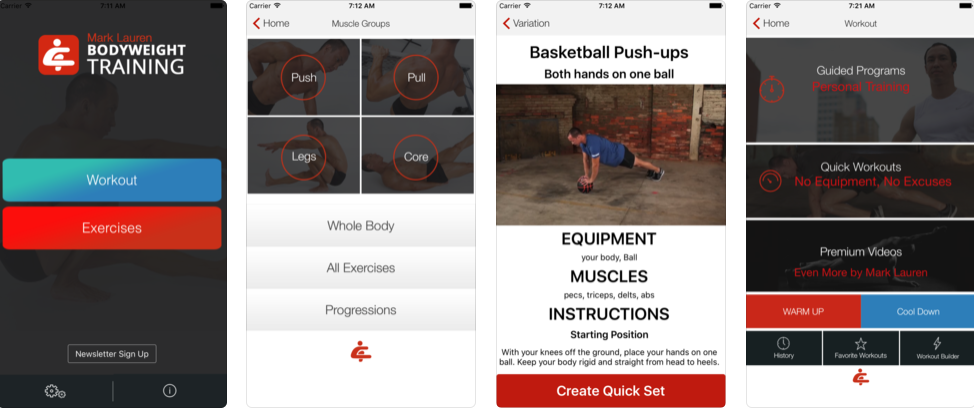 This is the best shaping app without stepping into the gym based on the book by Mark Lauren "You Are Your Own Gym". The app is a home package of 200+ effective exercises. The health kit allows you to save your workout records and the programs scheduled by the app are easy to follow. The best part is the app tracks your workout routines you are following and your pace and efficiency of performing the exercises. The app is kind of your travel-friendly coach that is greatly preferred by businessman & travelers to follow their fitness schedules. The 10-week fitness program guides you to get quick and desired physique & fitness level. This one is a paid app but the benefit is its available for both android and iOS users.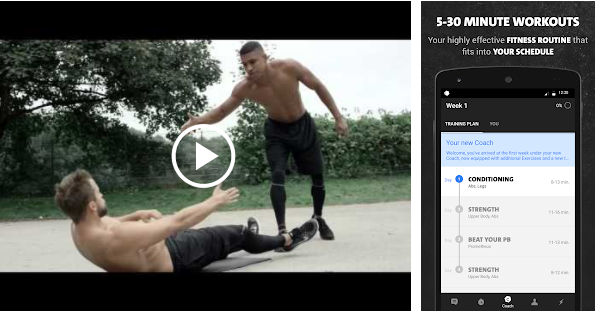 Whether you want to lose weight, build muscle or just want to get into shape adapt fitness training program of the Freelects Bodyweight app. Schedule your program accordingly to achieve your fitness goals. The tutorial videos include more than 900 workout variations. Exercise time varies from 5-30 minute workouts based on the bodyweight. While performing these exercises your body is your only tool for workouts and no external equipment are required. Freeletics offers different packages for you to get schedule your training programmes.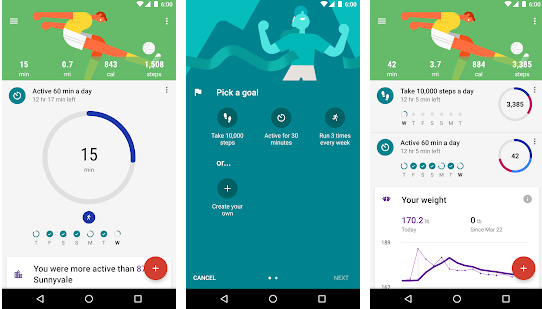 Google fit is a best is the best fitness app, its complete integration with android wear makes it a must try option. You can effortlessly track any of your activity either walk, run or ride, & how much calories you have burned. You can check the progress of your workout from any device your phone, tab or directly from the web. The app covers all the basic features of workouts for beginners to advance weightlifters. Google fit is a free app for android users. Users can set their daily goals and exercise plans to workout and if skip out any of them the will remind you and it would be reflected in your graphics.
 Hope this list would benefit you with best bodybuilding apps to gain your fitness success. If we have missed any great fitness app do not shy in pinpointing the name of the best you have experienced in the comment section below