Hindu region is best known for its rituals and millions of God and Goddess. God Ganesha is one of them, who is the deity God Ganesh is the son of Lord Shiva and Parvati. We hope all you know about the story of Lord Ganesha, how he got the elephant face. Ganesha seems favorite deity not only in India but also in the whole world. There are some persons who don't show their feelings for religion but express their interest getting their body part with Hindu god tattoo designs.
If we talk about tattoo design of Hindu religion then you can ink "Om", "Swastik" or any of the God or Goddess on your part of the body and Lord Ganesha Beautiful Tattoo Design With Meaning is also the best option when thinking to inked tattoo. Ganesha is worshiped as the god of wisdom, success, wealth, education, knowledge and destroyer of evils and obstacles.
If you want to take a Ideas For Ganesha Tattoo Design then here are some outstanding Lord Ganesha Tattoo Designs For Men And Women. We here are also sharing Ganesh tattoo meaning for more knowledge about the Lord Ganpati.
Holy! Top 20+ Ganesha Tattoo Designs With Meaning For Men and Women
In the Hindu religion, God Ganesha is worshiped at the beginning of any new work. Not any ritual and ceremony start without worship of god Ganesha. As every Hindu religious symbol has its own meaning similarly Lord Ganesha Tattoo Designs also have a meaning.In tattoo art generally, if you draw a big size religious tattoo then they start beginning with flowers or birds, representing that it's a new spring season after the winter. In the Tattoo of Lord Ganesha sits in the lotus flower. Here we are sharing many Ganesh elephant tattoo meaning.
Spiritual Religious Tattoos Design For Men & Women
Ganesha Tattoo Design

Ganesha Tattoo on the back gives a very artistic look when inked in black and white. Here it's looking amazing with the combination of colorful flowers and quotes written on this shows your love to the deity Ganesha.
2. Ganesh Tattoo Design On Shoulder
Ganesh Tattoo On Shoulder gives strength to your arms and hands to do more work. With the beautiful color of clothes and ornaments, it looks more lively. Here Ganesha sitting in lotus flower is looking fabulous.
Also Check: Lord Ganesha Happy Chaturthi HD Wallpapers Images
3. Ganesh Tattoo On Wrist
Ganesh Tattoo inked on your any part of the body will keep away the evil energies from you and will give you more strength to work. As this is very Simple Ganesh Tattoo Design inked into the " Om". It is just the outline of Lord Ganesha. Sometimes simple tattoo conveys a lot.
4. Full Body Ganesha Tattoo
Have a took on this beautiful Lord Ganesh Tattoo on back. It's looking magnificent when inked on the fullback. If you have to draw Ganesh tattoo on back then try to choose the beautiful big size image.
5. Black & White Tattoo Design
Ganesha, Ganpati was also known as Vinayaka all are the names of Hindu religion deity Lord Ganesha. Black and white also looks beautiful when inked for Ganesh Tattoo. Skills of the tattoo maker also making lord Ganesh look stunning. This pretty tattoo has been inked on the neck.
6. Ganesh Tattoo Design For Men
Ganesh Tattoos are always on the priority list for men also. Lord Ganesh, elephant face is the god that removes obstacles of every one life and opens the gateway to success. Here the combination of colored ornaments makes tattoo looks more adorable.
7. Golden Ganesha Tattoo Design
If you are looking for a tattoo design then there will be not any other beautiful tattoo design other than this. This tattoo fully shows the idol of Lord Ganesha. Ganesha Tattoo inked in golden color making it more significant with the golden color as the god of gold and success.
8. Simple Lord Ganesha Tattoo With Black Outline
Sometimes simple tattoo conveys the message in more suitable ways. Here this tattoo design is looking very pretty with the simple om outline. This has been made in the simple black color.
9. Lord Ganesh Elephant Head Tattoo Design
Do you all know how Lord Ganesh got the elephant face? As the head of Lord Ganesha is the symbol of intellectual power and strength. Tattoo done in different vibrant colors is looking wonderful.
10. Most Creative Ganesha Tattoo
Have a look at this eye-catching Ganesh tattoo design. I don't think that there can be any other portrait of Lord Ganesha as beautiful as this is. This is looking stunning as the variety of colors has been used into this to extend the lord Ganesha powers.
11.Stunning Lord Ganesha Tattoo Design
Ganesha is the most popular deity in the Hindu mythology. There a lot of varies pictures you can of god Ganesha, somewhere sitting, somewhere dancing or showing his challenging demons. This Ganesha tattoo is looking very beautiful with dark black thin and thick outlines.
12. Beautiful Ganesha Tattoo Design
Lord Ganesh Tattoo For Women in blue ink is looking fa-bolus. Lord Ganesha is a supreme energy in this chaotic universe and you will feel safe and successful after the Ganesha tattoo inked on the body.
13. Ganesh Tattoo Design On Back
Ganesha is the symbol of effortlessness and wisdom in all forms. Life is full of difficulties and Ganesh shows us the right way to move ahead.
14. Ganesha Tattoo Design For Women
As this Ganesh Tatoo is looking very different and unique as compared to another tattoo design. This has been drawn in a very artistic way describing the beauty of Lord Ganesha in a very creative manner.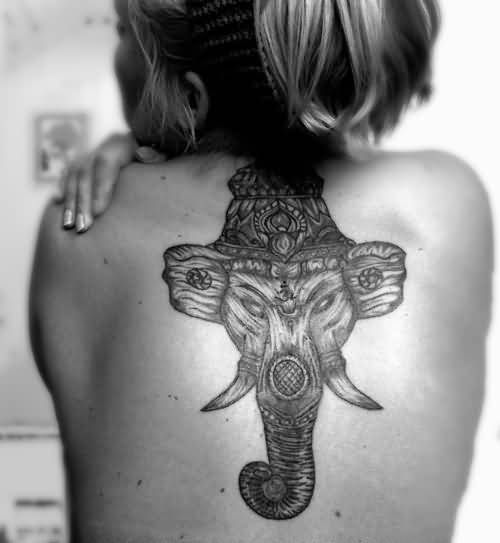 15. Unique Ganesh Tattoo Design With Meaning
This is the most religious picture of Lord Ganesha. This Ganesh Tattoo Design shows the wisdom and prosperity. The tattoo artist has put their efforts in the noose form for this magnificent image of Lord Ganesha.
16. blue Lord Ganesha Tattoo
This Ganesha Tattoo has been drawn in blue ink. This tattoo design looks adorable when inked in blue. This is the modern style of tattoo art.
17. Ganesh Sitting In Lotus Flower Tattoo
This Ganesh Tattoo represents creation and wisdom with it's glorifying design. Ganesh is sitting in the beautiful lotus flower wearing ornaments. Tattoo maker has given his whole efforts to make this tattoo realistic.
18. Religious Lord Ganesh Tattoo Design Idea
In this beautiful tattoo design, Lord Ganesh is sitting peacefully having modak in one hand and another hand is in the Abhay pose of protection. Sweet Modak in lords hands represents his inner sweetness.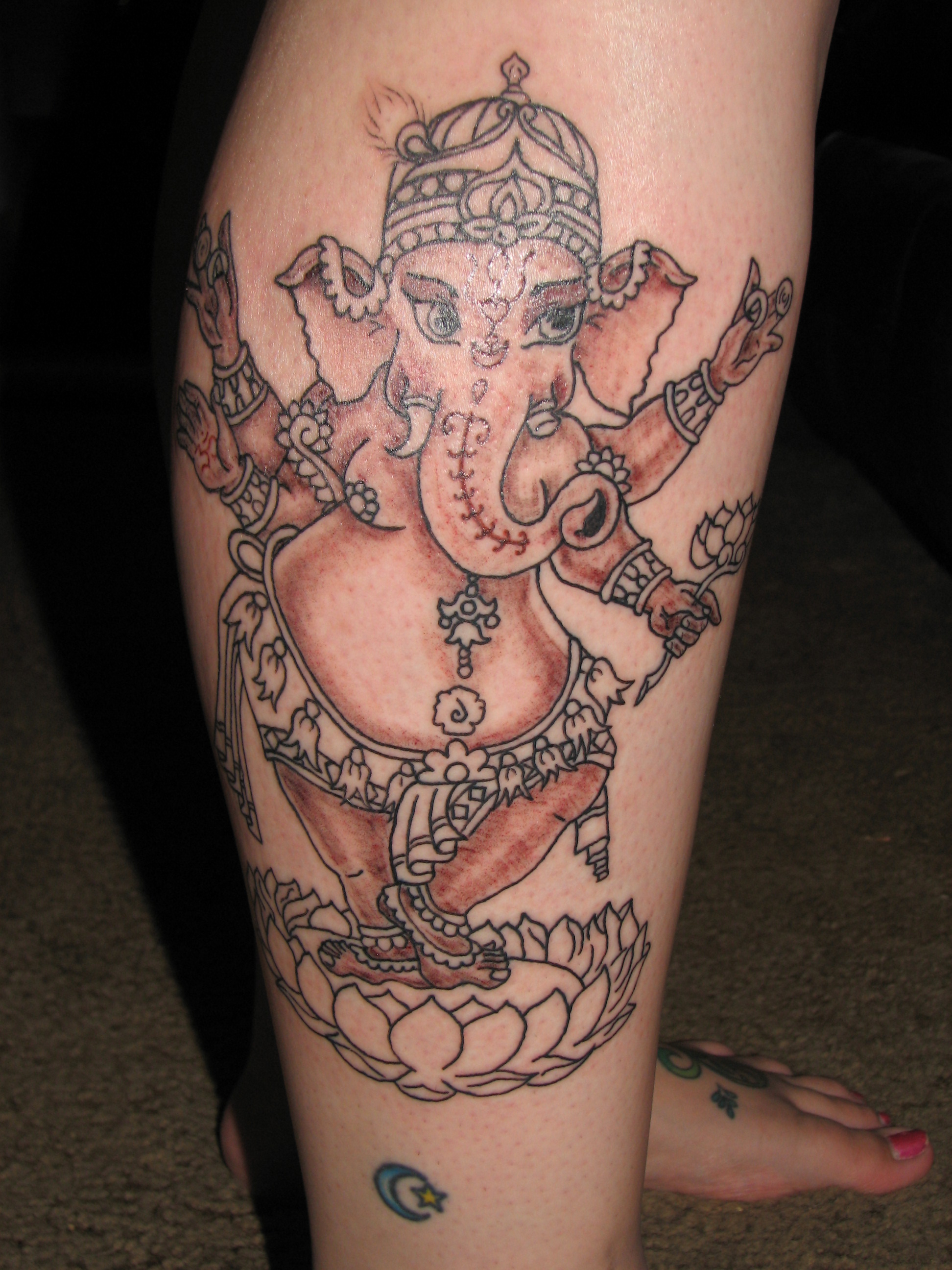 19. Dancing Ganesha Tattoo Design
Dancing Ganesha Tattoo is not only look beautiful but also it's the symbol of devotion. Ganesha is a teacher who teaches the art of living to the all devotes by his every symbol.
20. Lord Ganesh Tattoo On Waist
God Ganesh Tattoo on waist looks classic and has a super catchy charm. This pattern of Ganesh Tattoo Design is very famous in the other countries.
Here you have seen the different unique and creative ideas for Ganesha Tattoo Design. Hopefully, you have enjoyed a lot and this will be beneficial for you to give you a slight view before applying them on hands, shoulder or ankle or neck.