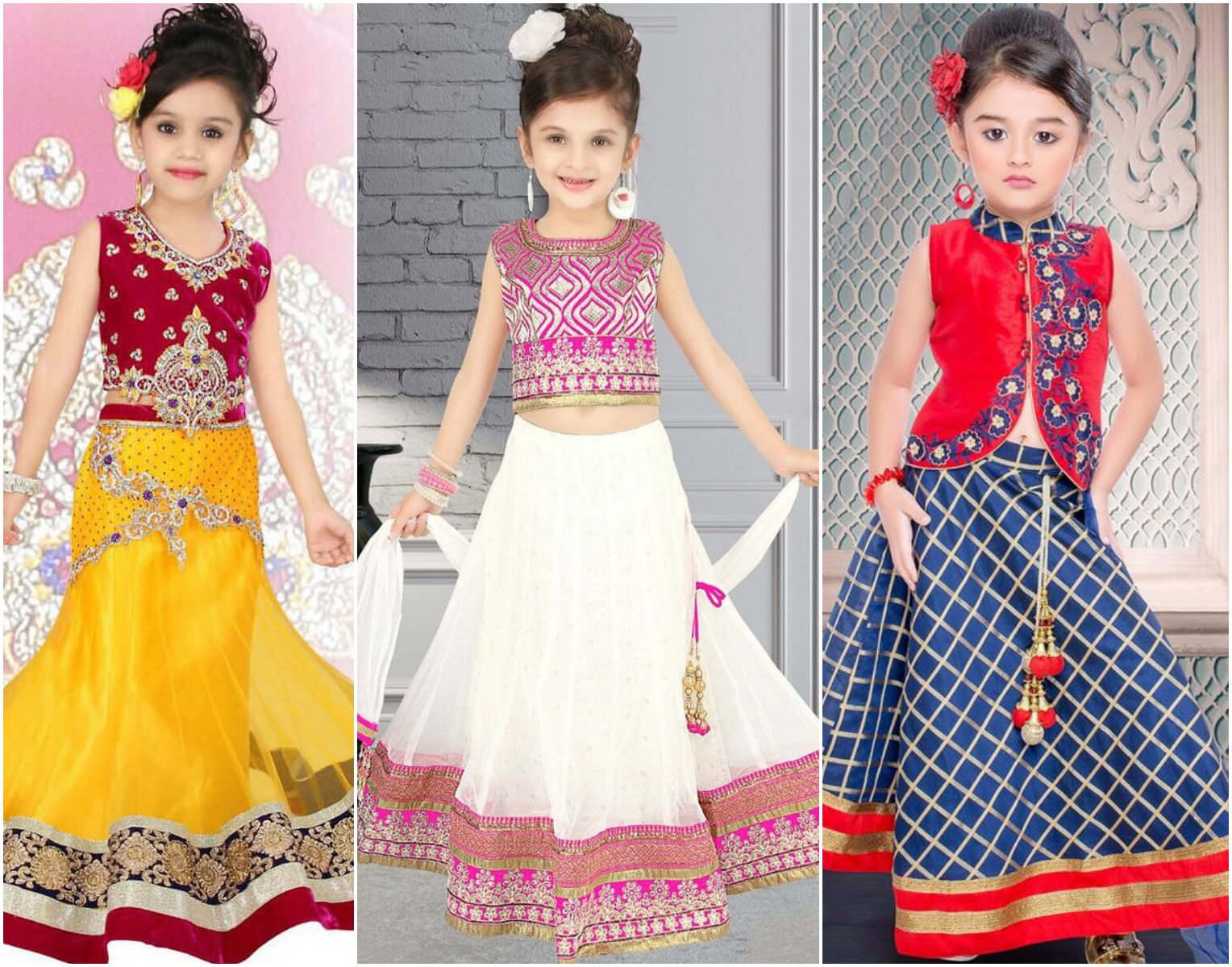 Hunting for a traditional attire for your kid? Wishing to drape her in the latest design pattern of lehenga choli, If yes then you are surfing the right site. Our article aims to help you out with latest baby lehenga dress designs for your little princess. Wedding season is the best time to show off vogue. Certainly, beautiful traditional lehenga dress will make your little one stand out from the crowd.
All the exquisite designs of party wear girlish lehenga choli, readymade kids lehenga and baby ghagra choli patterns all are well exhibited on our site. We are even available with the latest styles of girlish lehenga choli sets in attractive colour combinations. These styles of kids lehenga choli designs are full of intricate embroidery, charismatic embellishments, and attractive colour combinations coped with fine stitchings.
Girlish lehenga stitched in comfort and designer clothing complemented with choli and dupatta in captivating colour hues adds glamour and charm to the look of small angle. Baby lehengas in heavier and grander designs are focused to flaunt on special occasions like engagement, wedding, Navratri and other festivals.
Scroll down and grab the one in your favourite customized style and let your princess spread charm in attractive hues from the palette.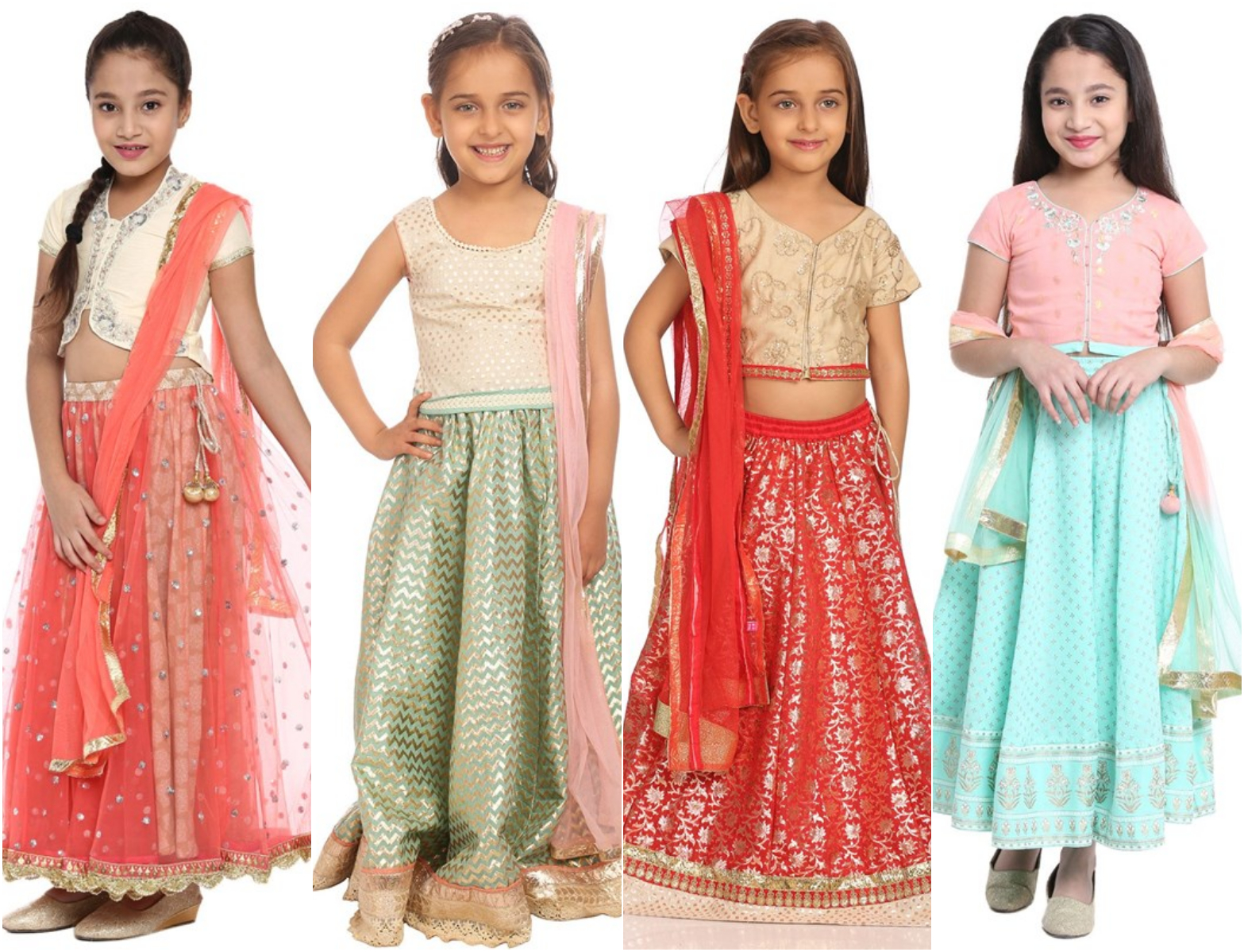 1. Jacket Style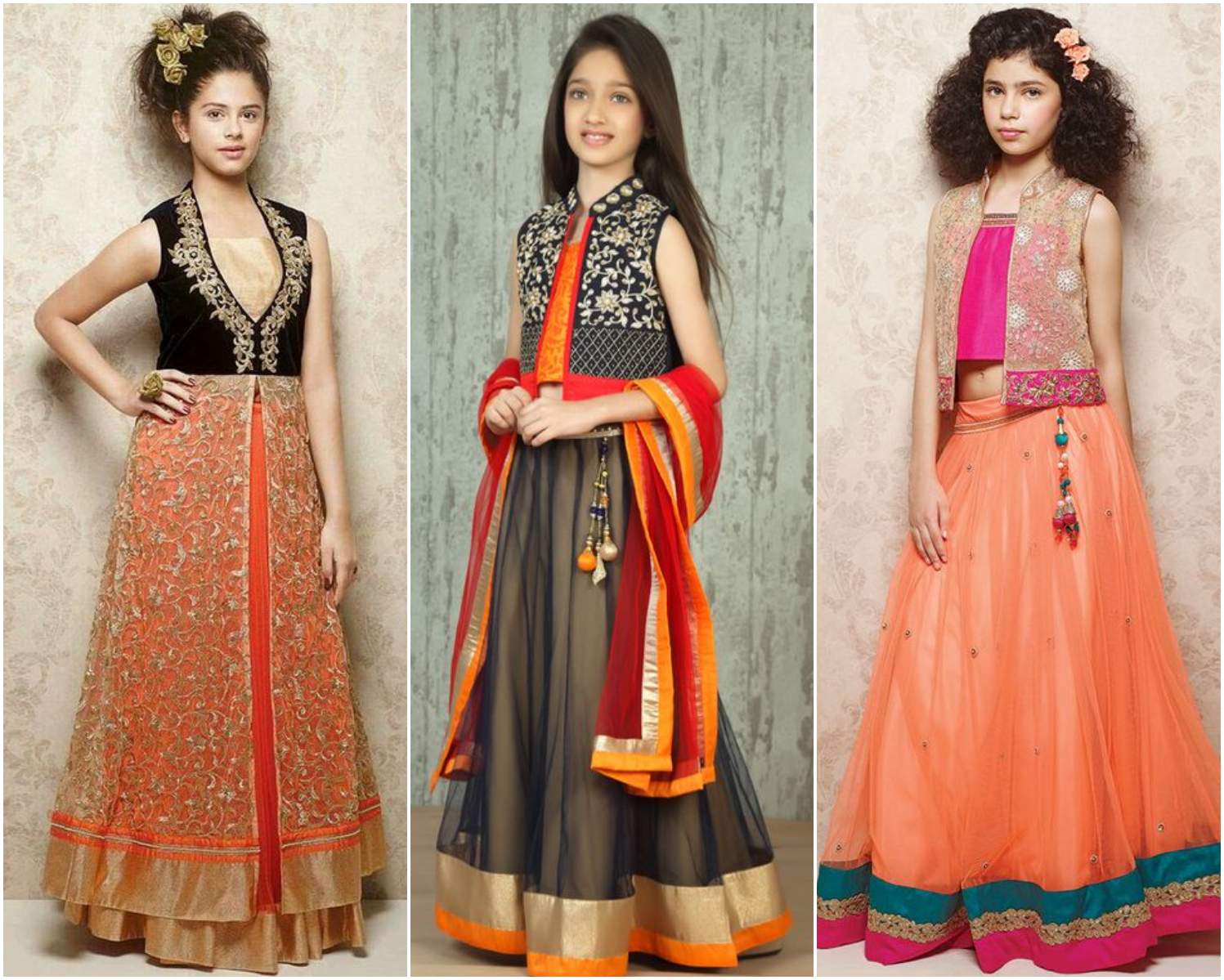 The very fresh mode of Indo Western style includes three-piece look. The trending style includes sober skirt and short choli over it a long-styled tunic top or Say jacket enhances the entire look of lehenga. The jacket may be long or short covered in the delicate weaving of zardosi embroidery or thread work. A simple trendy hairstyle, cope up to enrich the look of your child along this modern attire.
2. Wedding Wear Lehengas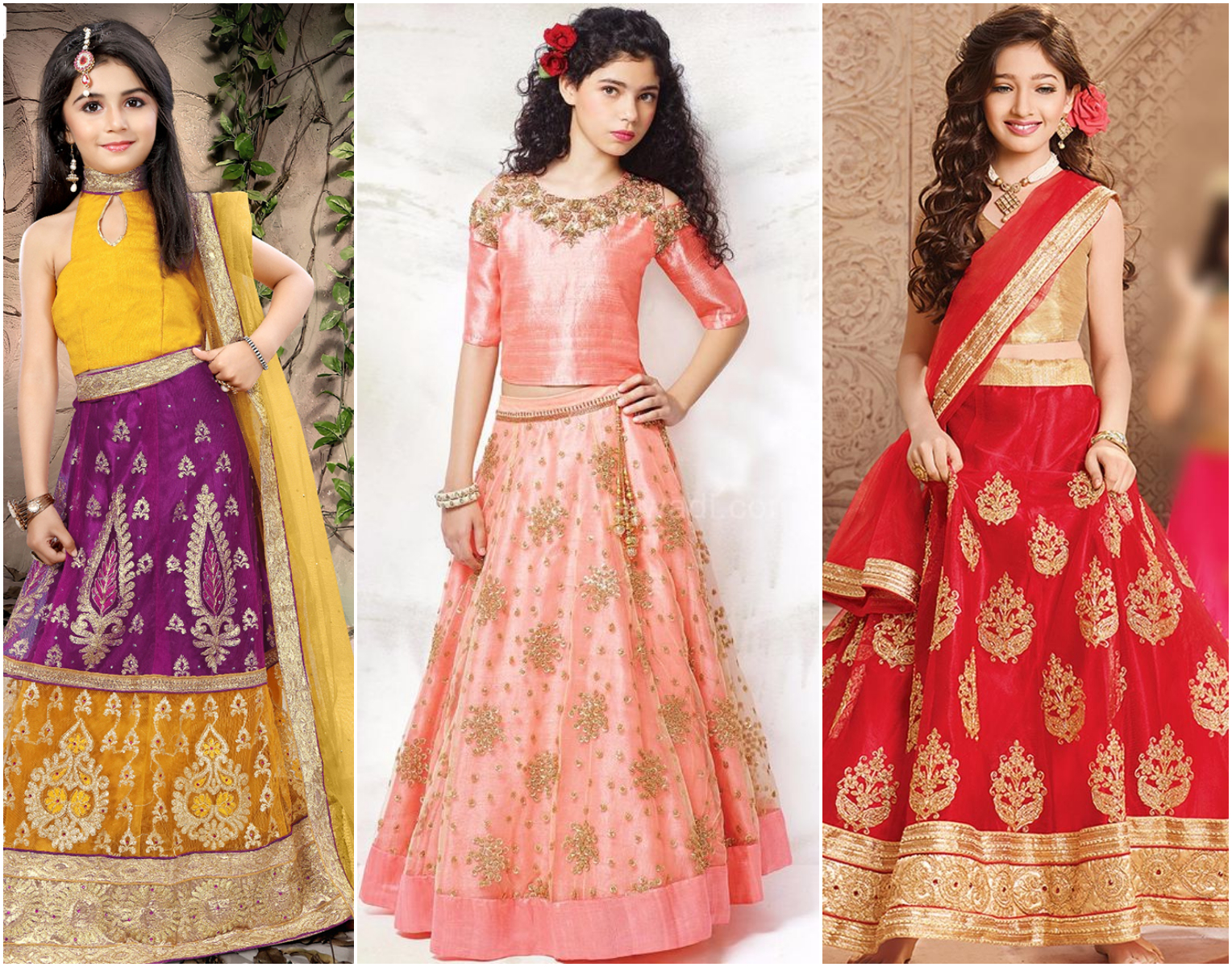 Oozing a chic appeal, the designer lehenga choli showcasing gorgeous ethnic embellishments lends a vibrant look to your child for wedding functions. The heavy embroidered lehenga in zardosi, zari, resham, and diamonds teamed with a short choli and laced dupatta is a perfect traditional dress to spark up the whole assortment.
3. Embroidered Lehenga Choli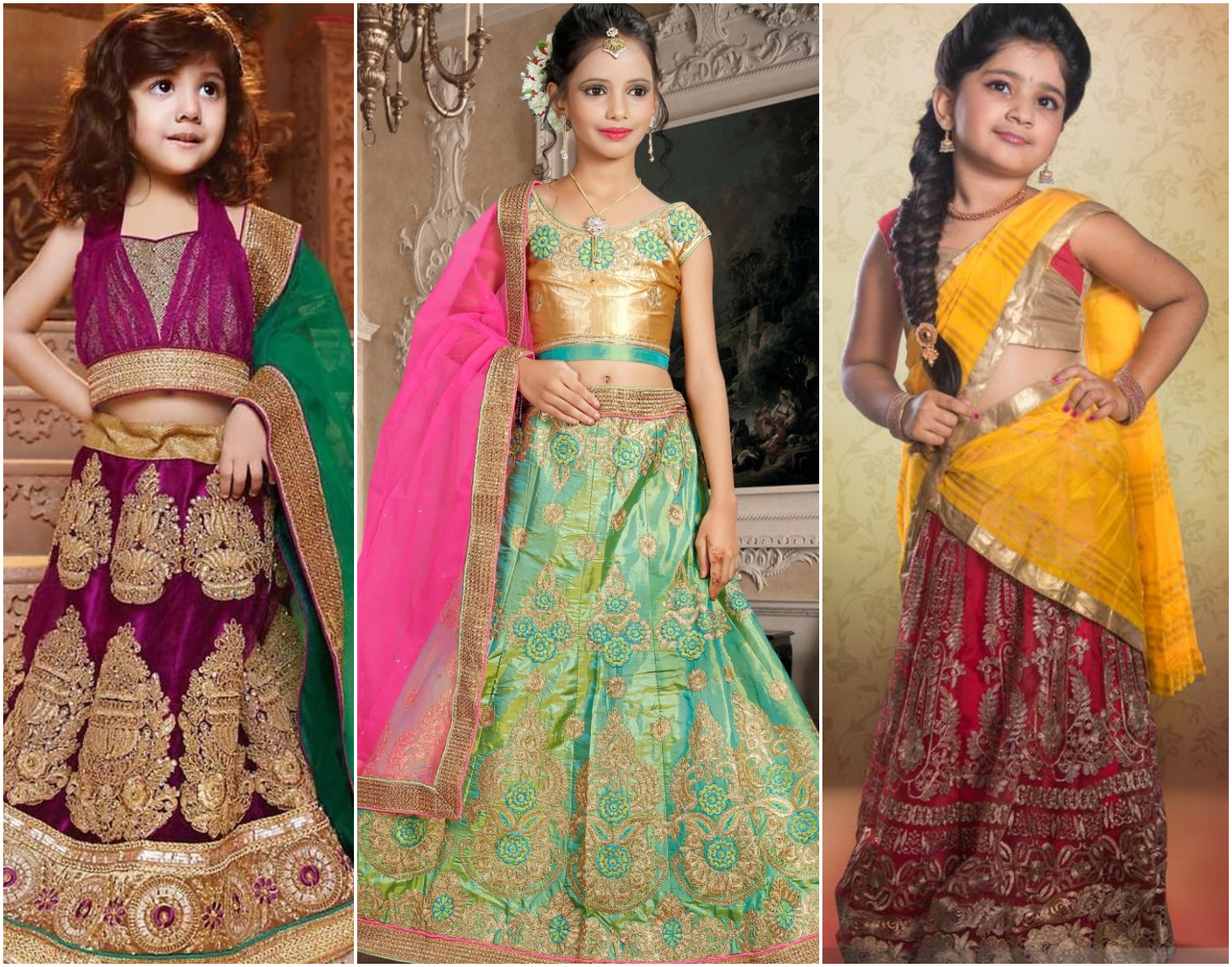 Embroidered girlish lehengas adorned with zari, stone, Dori, and patch border work complemented with stylish short choli in cute knitted design looks fabulous on little angles for a complete traditional look. Moreover, the matching dupatta bordered with lace or intricate work give the little one cute mature look. This kind of lehenga dress can opt for traditional gatherings and festival celebrations.
4. Crop Top Type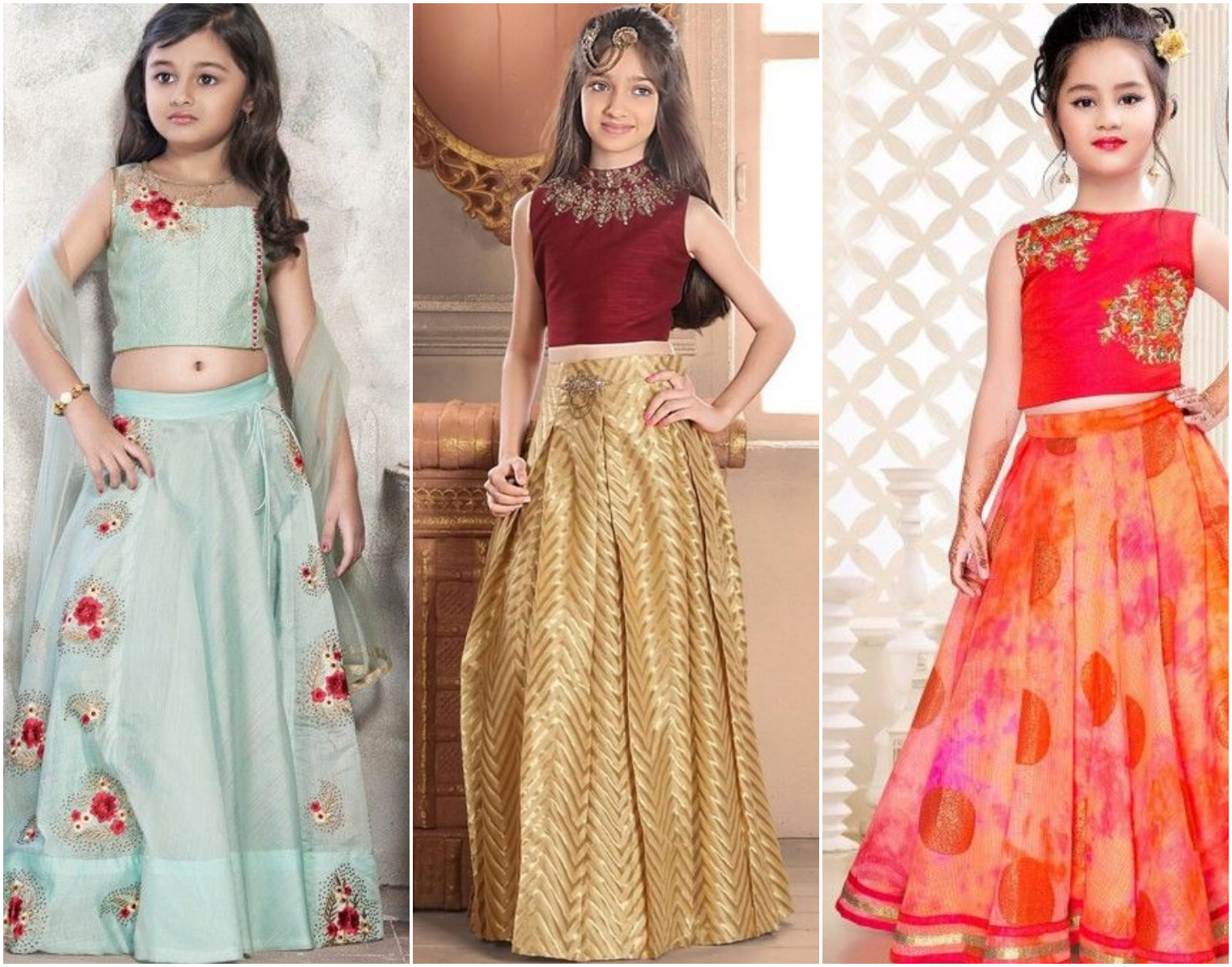 Drape your princess in somewhat traditional and modern fusion of lehenga choli to give her a gorgeous feel. This trend is high up for not only kinds but for youngsters too for all kinds of occasion from sangeet to parties. The lehenga is styled in silk brocade sometimes plain or embroidered in thread work with the same look of a crop top. Your kid may carry a matching stole with this girlish lehenga or may escape. Keep the ornamentation to minimal but do take care of hairstyle.
5. Rajasthani Chaniya Choli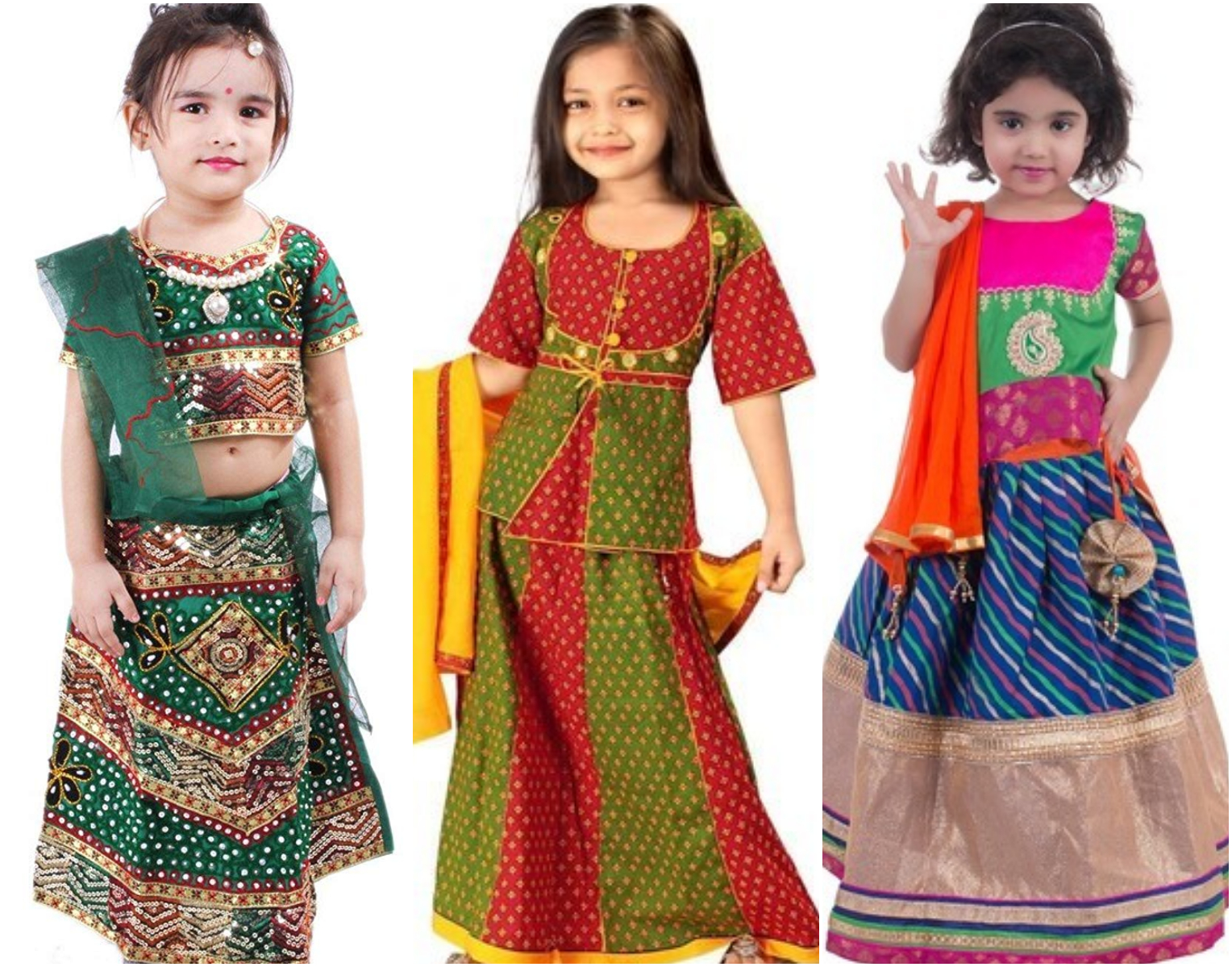 Leheriya, bandhani, mirror work, handcrafted thread work are the main feature of Rajasthani ethnic apparels. The cotton lehenga choli in Rajasthani ethnic fashion hued in vibrant colours with mirror and thread motifs adds charm to the beauty of your girl. You can gift this lightweight traditional dress to your kid on her birthday or on any occasion. She would surely love to wear it on family functions, or occasions like Wedding functions, Garba Nights, Dance Performance, or Navratri celebration.
6. South Indian Lehenga Pattern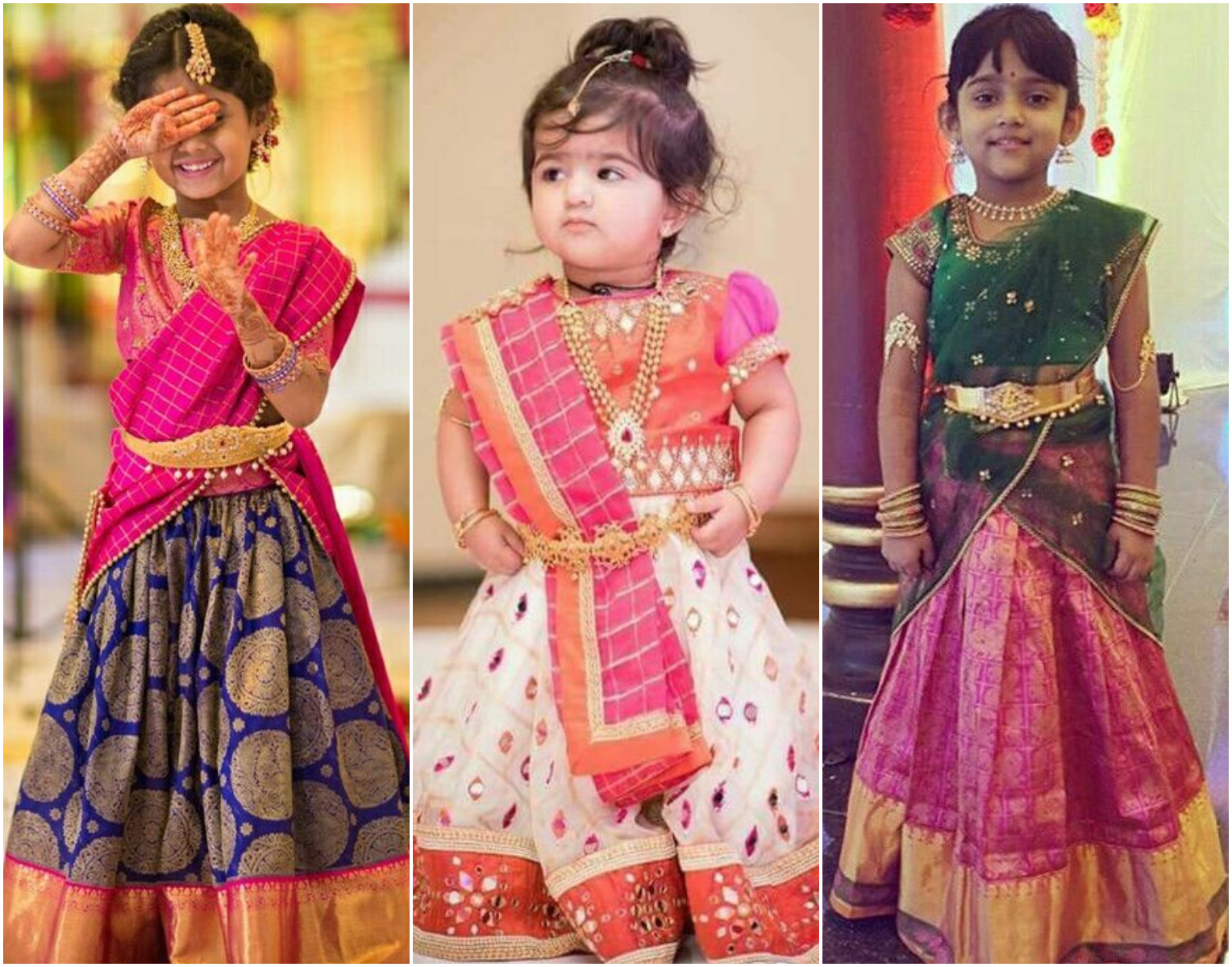 When you want to dress your kid grand pick South Indian lehenga choli fabricated out of silk, Tussar silk, or brocade. The lehenga is embellished with Gota embroidery on the helm and shiny shimmery border paired with soft dupatta having bindings of lace. Add accessories to give a complete South Indian look to your girl with dupatta tugged in half saree style.
7. Net Lehenga For kids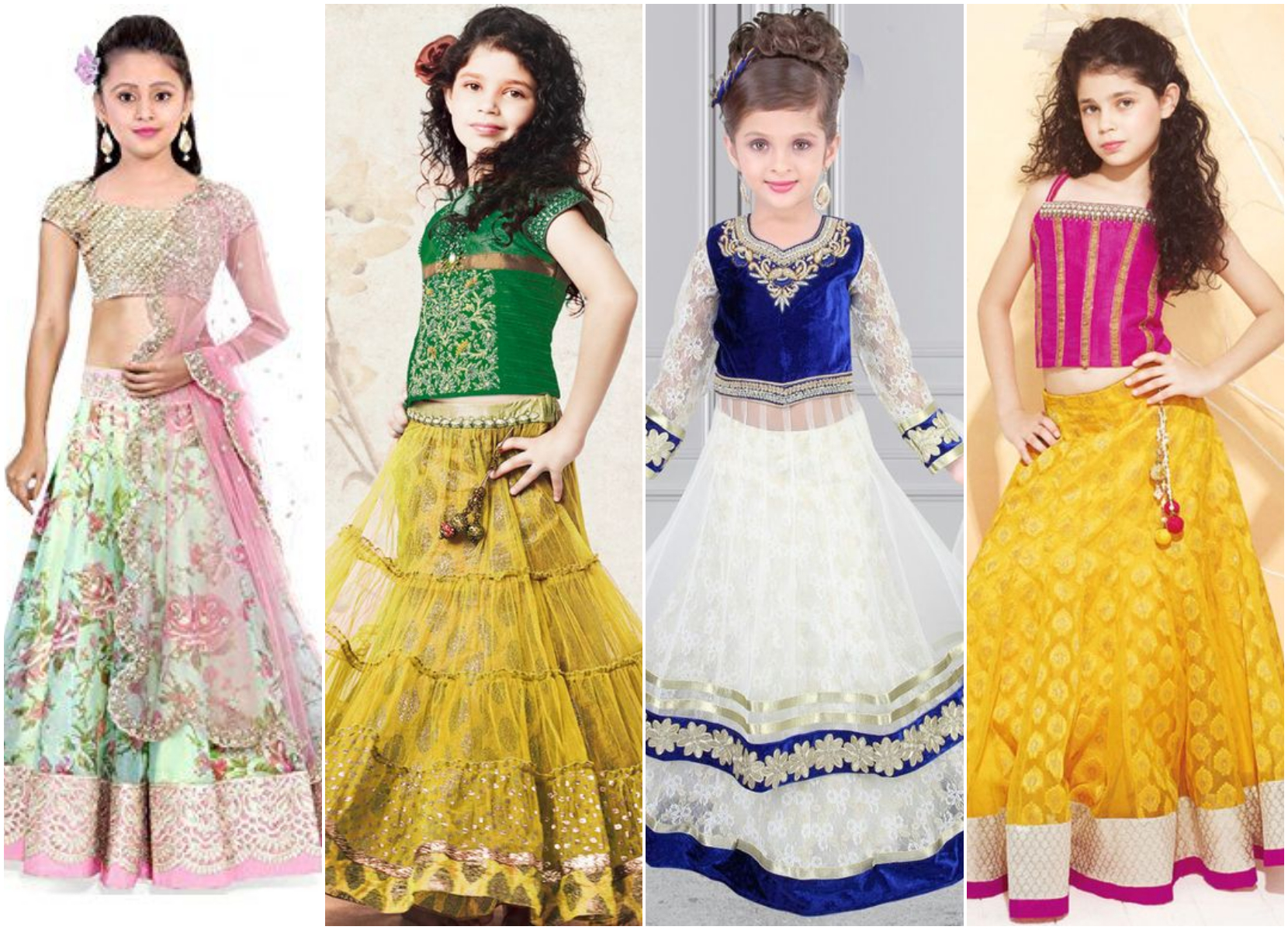 Emblished net lehenga set with a flared skirt and stunning blouse is the best party dress for the little princess to be the queen of hearts. The golden or silver lacing at the helms of the skirt adds grace and the soft dupatta with coral work looks amusing. The gorgeous net lehenga sets with fine stitch in divine colours beautify your girl. Net lehengas with proper linings are soft and lightweight traditional apparel for your kid to carry easily in parties.
8. Mermaid Lehenga Choli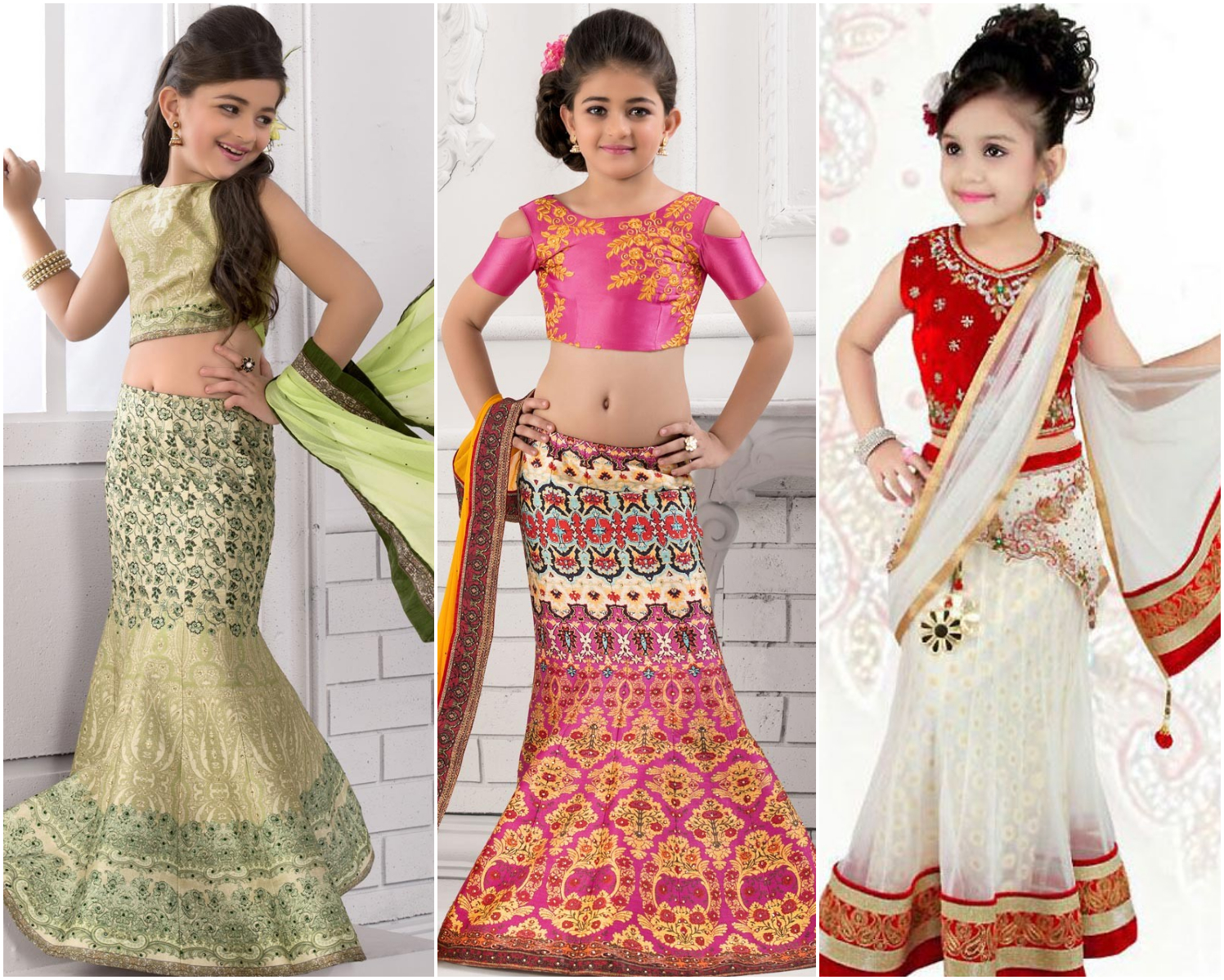 Dressing in this tight fit lehenga set your girl would resemble a cute little mermaid. The skirt of the lehenga is tight from the waist and smoothly calves out from knees in the form of a fishtail. The contrasting set of fabrics give colourful designs with intricate motifs. The multicoloured lehenga jacquard in silk, net or brocade patched with short choli and laced dupatta looks ideal for special occasions.
9.Cape Style Lehenga Choli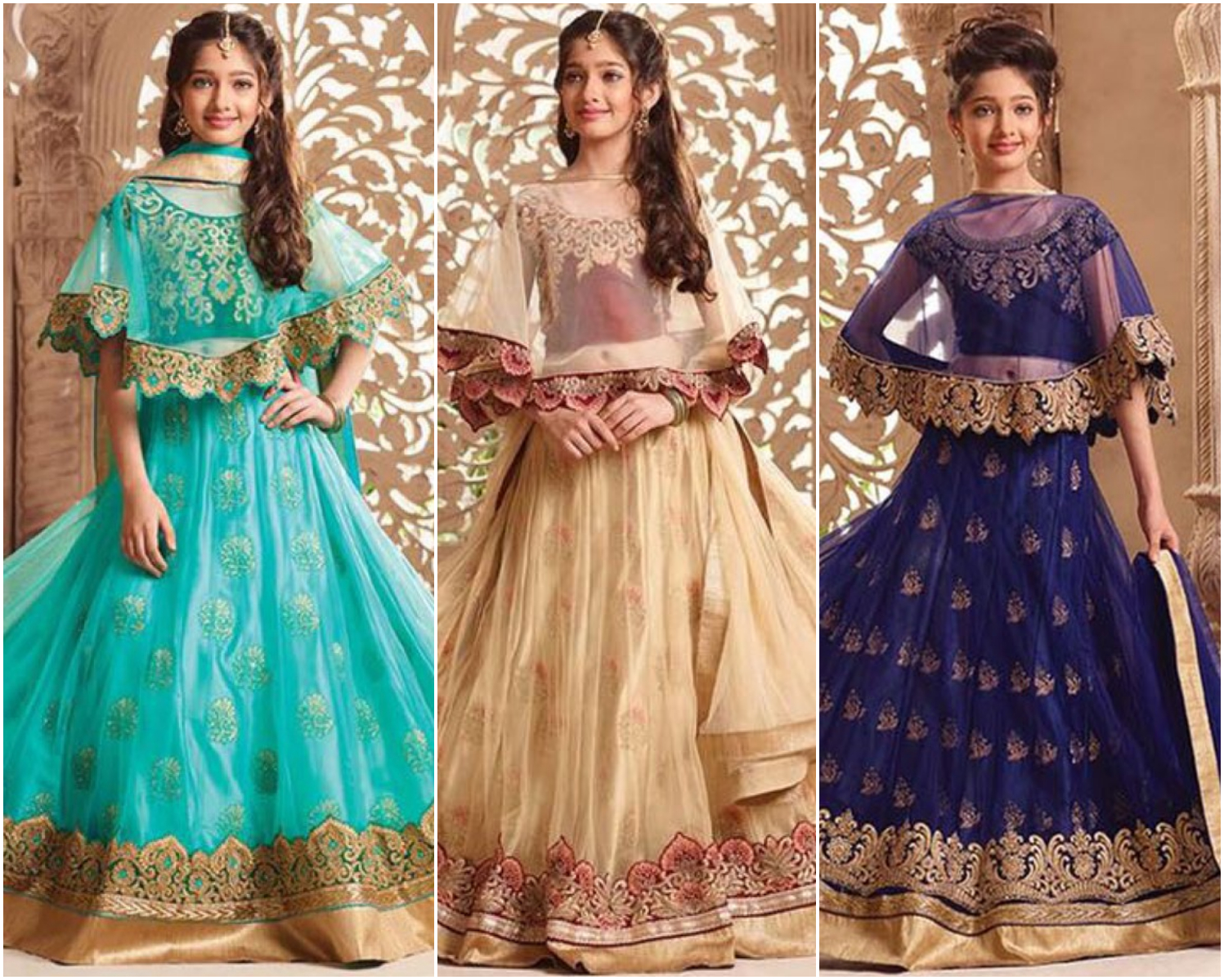 Cape statement embellished lehenga choli figures latest fashion trends. This is a simple yet eclectic mode of lehenga choli blended with western design. The skirt of lehenga embroidered at helms enhanced with broad lace is teamed with short choli covered with cape or ponchu of a net or chiffon fabric. The helms of the cape are highlighted with embroidery, lace or sequin work, the elegant design makes the look of kid dapper.
10. Silk Lehenga Choli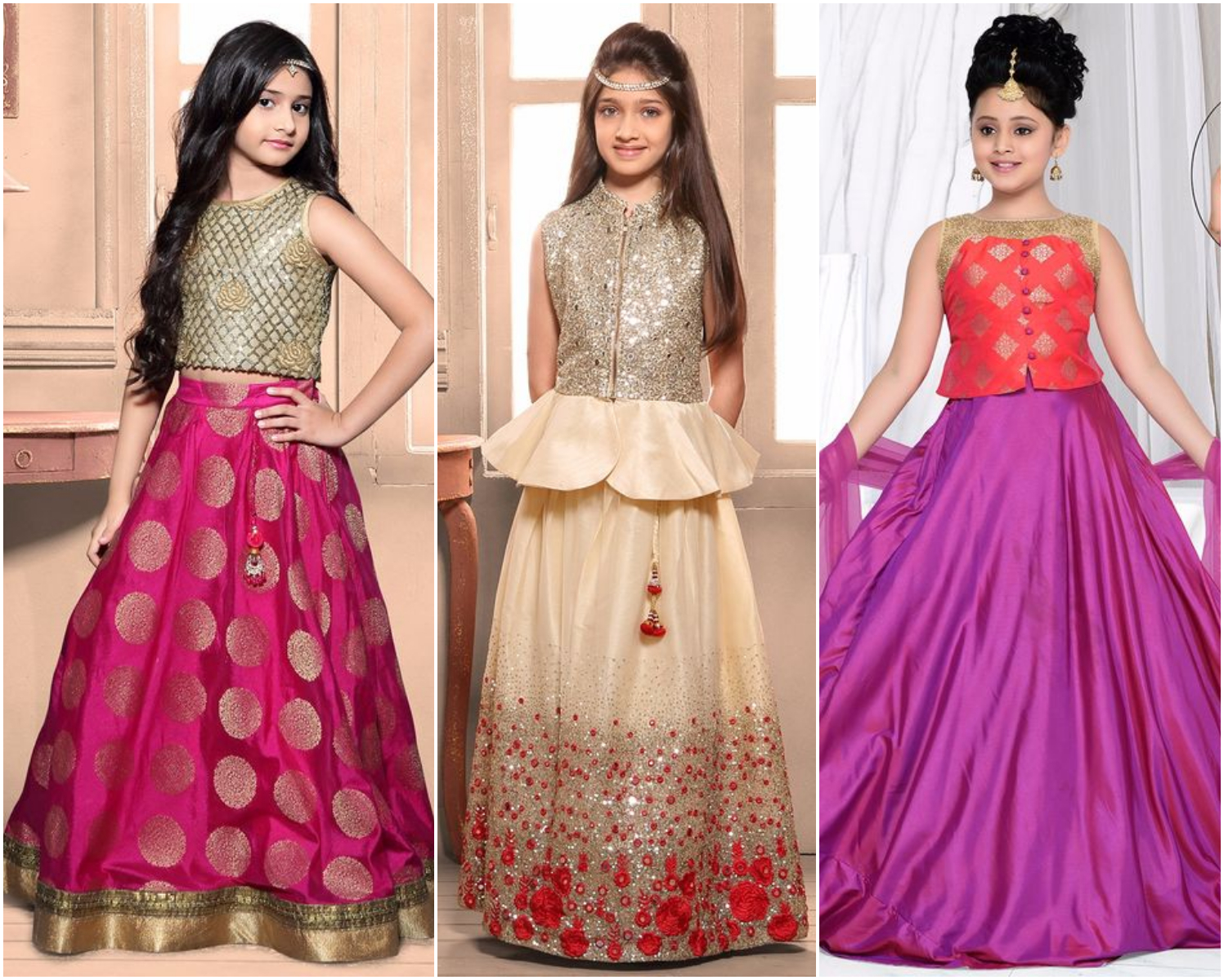 Dress up your angle in the gorgeous lehenga style. The Silk Lehenga set comprises plain silk skirt with embroidery or coral work at helms or a skirt in brocade silk in box pleat matched with contracting brocade at helm line. This beautiful silk lehenga collaborates with designer choli patterned in resham, zari and stone embellishments over the neckline or in the entire bodice. Embrace your kid's style with comfort and pull out the dainty look with this kind of smart lehenga set.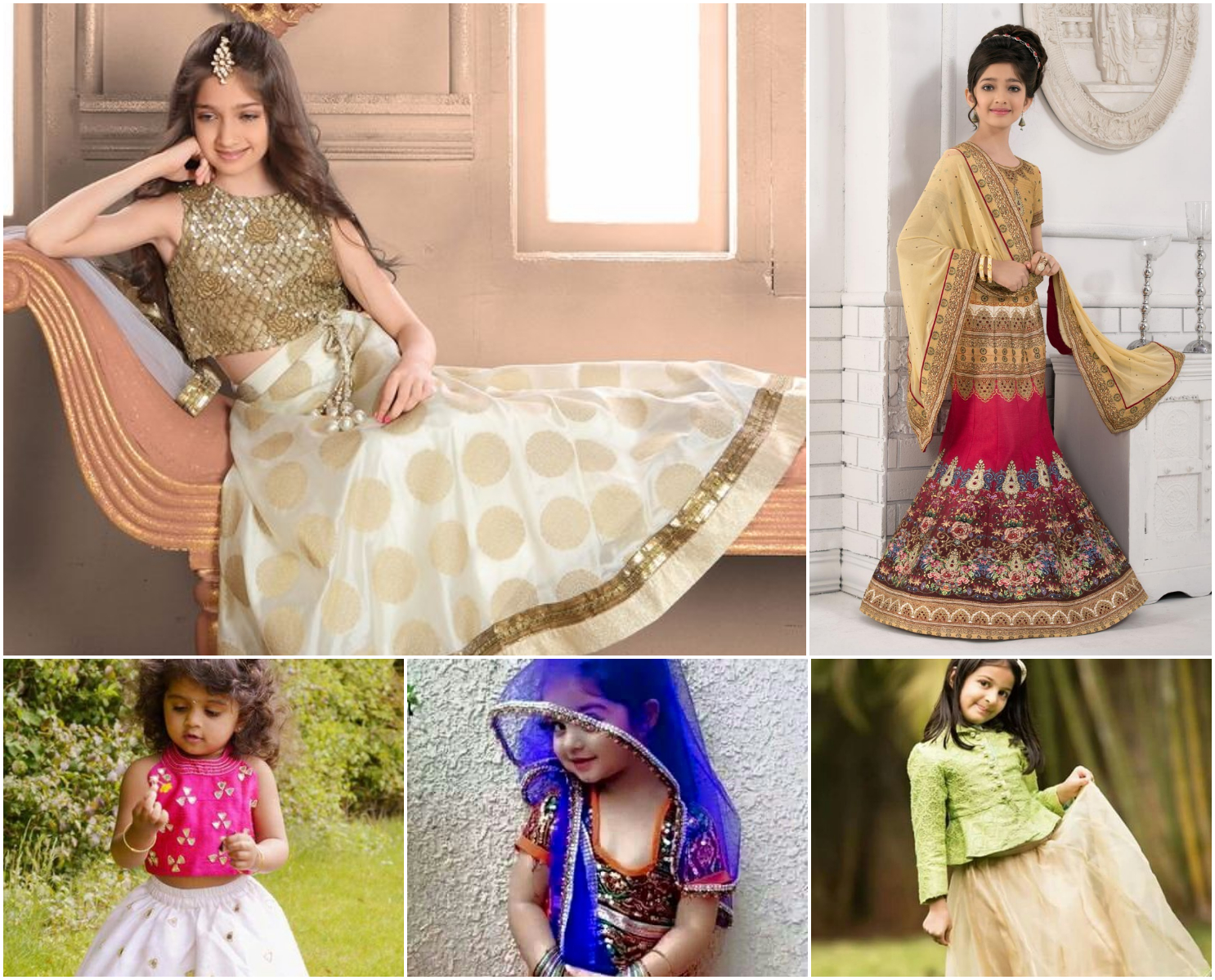 Our collection of baby designer lehengas with themes have been influenced by the taste regarding wedding fashion trends. These lehengas in rich colours, beautiful styles, and designs, intricate craftsmanship with customized choices meet all stylish traditional and fashionable needs. Grander your kid in these sophisticated styles to catch the heartbeat of everyone on the traditional or special occasions or on festivals like Navratri, Diwali or poojas.
Flaunt these grander baby lehenga designs on your little girl to look cuter and lovelier. Ping down in the comment section for the desired pattern for your little angel!