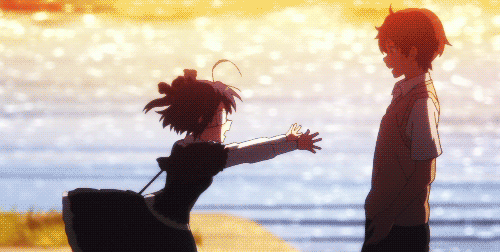 It is not a peculiar, task to figure out What are romantic animes. The romance genre of lovey-dovey characters with sweet moments infused with comedy and drama make it an interesting sheaf. Every being want to have love in their life either a casual fling or a full-blown love cycle.
We have built a collection of 15 romantic animes, you can pick the romantic nits to experience love ventures in your life.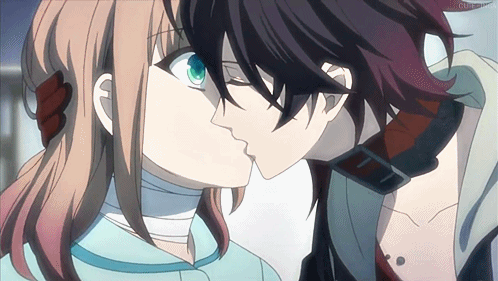 The Best Romance Anime TV Series – Favourite All Time
1. Tonari no Kaibutsu-Kun (My Little Monster)
Tonari no Kaibutsu-Kun is a cute romance anime though fairly new but soaring to the top. An adorable love story tugs your heartstrings, it all starts with when Shizuku Mizutani a young beautiful student was tasked by her teacher to drop handouts with Yoshida Haru the guy who was suspended from school a few days back. Haru treated her like a friend, this soft meet ignited their relationship. Shizuku is nicknamed ' dry ice ' as cold as her name and Haru was an innocent guy, both are austere and surreal. Haru though knew violent and uncontrollable monster but actually was kind got bewitched by Shizuku's beauty and felt sparks at her heart for her. Haru immediately expressed his feelings for her but Shizuku took time in expecting her own feelings.
2. Kimi ni Todoke (From Me to You)
Kimi ni Todoke is a rare gem in the showcase element of the romance genre in the anime history. The love story is unique in its own kind don't just miss it out on its first impression. Kuronuma Sawako misunderstood in her class as ghoulish demeanor, no one liked to talk to her or became a friend to her. On the contrary, Kazehaya Shouta is a super intelligent, popular and affable to everyone. He was the only one who willingly wanted to approach Sawako and became her friend. She was so thankful to God and felt blessed and assumed the new starting of life. The characters, art, sound, and amour story of the unique anime is super effective.
3. Special A
Special A is another interesting anime a complete package of romantic-comedy drama. There is not just a single love story in the anime but most of the characters indulge in hookups. Each heartwarming story has its own unique tale to tell. Hikari Hanazono and Kei Takashima both are best friends and are compeer to each other since childhood. Their trivial fights and funny moments add up icing on the cake to make making anime riveting to watch. Actually, both sweet rivals are in most brilliant special class – The Special Class A. Hikari tries hard to snatch the no.1 place at any cost on the other side their battle deepens their hearts feelings.
4. Clannad
Hope you would have heard about both the animes Clannad or Clannad: After Story. Both are not just the best drama animes but, are all-time favorite romance animes. Inspite of no kissing scenes between the lovers the romantic drama focus high enough on fair relationships. Okazaki Tomoya one day while going to school adventures the feeling of love when a girl named Nagisa Furukawa suddenly mutters the name of the food. The rollercoaster of their love life started.
5. Golden Time
The Golden Time is one of the most realistic romance anime, the unique element showcases the reality, struggle, and complications of relationships and how to tackle the situations on love track. Tada Banri started his new life as a law student, on the first day of his college he lost his way as he was new to the place. Fortunately, he meets Mitsuo Yanagisawa who was in the same condition. But soon he was in a shocking situation when he notices a girl named Kaga Kouko appears suddenly and smashes a bouquet of flowers into the face of Mitsuo's. To his surprise, he came across the story, the two were childhood friends and Kaga is over fanatic about Mitsuo, but Mitsuo enrolls in school to run from Kaga but she manages to follow him. Now, Banri finds himself in a crazy situation.
6. Sakurasou no Pet no Kanojo (The Pet Girl of Sakurasou)
Sakurasou no Pet no Kanojo also renowned as "The Pet Girl of Sakurasou", the senseless harem anime tackles love and romance with a different perspective. The show not only focuses on romance but rubs off the sensations of love in general. Handa Sorata a second-year student who couldn't shun loving cats. He has to shift from his place to a favorable one where he could bring cats home and can take care of them. So, he has to shift Sakurasou the place where oddballs like him resided who had their own weird habits. A few days later Sorata was in charge of taking care of a girl who was oddest of them all.
7. Ao Haru Ride (Blue Spring Ride)
 Ao Haru Ride also known as Blue Spring Ride is fairly a recent romantic anime but loved at hikes.  The anime is very pleasing and well balanced with superb art, visuals, and animation. Yoshioka Futaba was abominated by her middle school classmates due to her cute girl look. Due to this inferiority, she couldn't express her feelings to the one she loved. She decided to change her looks after passing out middle school and did the same and get into ladylike look just the opposite of the earlier one. She met her old crush with a different identity, look and name and surprisingly she came to know the loved Yoshioka in the past, but now everything has changed.
8. 
Kaichō wa Meido-sama! (Maid Sama!)
Kaichō wa Meido-sama! (Maid Sama!) are a simple heartwarming romantic comedy anime and its characters are very relatable and likable. The complexities of anime deliver a pure love story with quirky and memorable moments. All the story showcases a sweet story starting from when all-boys school is converted into a co-ed school. A struggle was foreseen for the new girls to adjust to the environment as they felt unnerved and awkward. Ayuzawa Misaki was given the responsibility as the president of the student council to rule the place with iron-fist to keep the balance in the institute. Because of being president Misaki has to keep the secret of her evening job after school. She works as a gentle and prominent maid in a cafe but was noticed one day by the popular heartthrob Usui Takumi.
9. Lovely Complex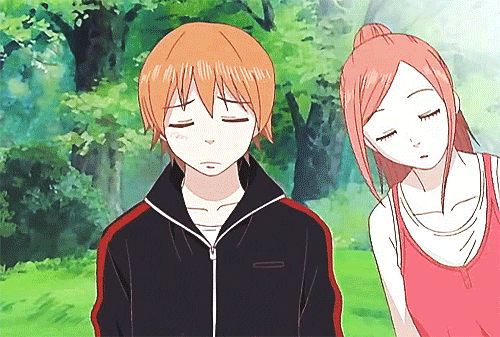 Lovely complex is an adorable and super sweet romantic comedy love anime. The romantic genre is a nice anime with great work on characters, animation, and graphics. Atsushi Otani a high school short highted guy and Riza Koizumi, on the contrary, a tall teenage girl. Inspite the two being extremes of one another they tend to be a perfect comedy duo. Otani and Riza always argued with each other about their complexes. But they had certain similarities, that ignited their sweet, cute lovely complex.
10. Toradora!
Toradora is a dramatic anime with beautiful comedy and sweet romance that everyone can enjoy fully. The anime is perfectly executed from the beginning when everyone is hostile towards each other but later on bewitched by each other when they revealed their feelings. Takasu Ryuuji appeared derelict by his looks and Aisaka Taiga on the other seemed gentle & polite by her looks but actually fierce by her nature. The had crushes on each other's best friend and they secretly came to know about the fact and decided to help each other win their respective crushes.
11. Mahoutsukai no Yome (The Ancient Magus' Bride)
https://www.youtube.com/watch?v=E0k03OaDDfk
Mahoutsukai no Yome is a romantic anime that centers around a young girl named Chise Hatori. Chise is just 15 when she is auctioned off as a slave with a big bid of five million. A notorious magus, Elias Ainsworth from a rural England made the highest bid and took Chise along with him. The Deuce had a magical and adventurous life ahead. The interaction of Beauty and the Beast creates a fantasy, the unraveling story reveals a budding relationship between a peculiar child(future bride) and her mentor. The anime beautifully emblazons Disney like scenario.
12. Watashi ga Motete Dousunda (Kiss Him, Not Me!)
This decent comedic anime is a favorite pick for fans as it is a bit more than just a romance infused with hilarious moments. Its a cute story of a chubby girl who loses weight in grief after the death of her favorite anime character and turns to a beautiful and attractive harem. But the apt quote for her is 'fujoshi' the person who is obsessive about boys and love. Now just watch the anime to know what would happen in the entire life of this cute girl.
13. Tsuredure Children
https://www.youtube.com/watch?v=UqOR9Lm9Kmc
Tsuredure Children is a high school romance anime that has the wherewithal to plummet all other collection of animes of the romance genre. The anime showcases not only a single love story of a single couple but presents multiple pairs of lovers the genre spreads hue of romance in the environment. Each episode of the anime is short and completely different from the other ones. The anime is truly charming and special as it is not a unique love story but a bunch of a lot of them.
14. Kuzu no Honkai (Scum's Wish)
https://www.youtube.com/watch?v=i4W2UANv4NY
Kuzu no Honkai is a gloomy romantic formula and is not like cheesy cute anime. The two peculiar lovers form a perfect partnership living with the known lie of each other. In reality, both don't love each other but are adjusting as they know the persons they love want to love them back. The unique concept drowns viewers in the sea of reality.
15. Masamune-kun no Revenge (Masamune-Kun's Revenge)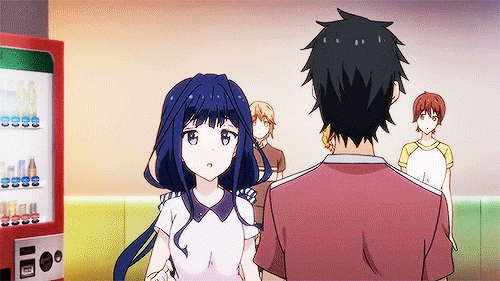 Don't dare to jump to the conclusion seeing the word 'revenge' Masamune-kun no Revenge is surely not a revenge anime but aromantic comedy. Masamune-kun the hero of the animation was a fatty guy who was branded the name "Pig's Foot" when he expressed his feelings to his childhood friend. Effeted from the humiliation he decided to cut down his fat, so he worked hard to get into a slim and attractive guy. When he successfully managed to get the desired look he decided to take the sweet revenge of the same girl, enchanting her to fall in love with him and then to follow his atrocious revenge plan. But actually, it was just a plan, in reality, both are a perfect blend of each other. The anime is very pleasing, romantic and musical sneeze.
We hope you enjoyed our recommendations of animes of romantic genre originally fresh and melancholic. Share the other ones if being influential in your life!