Buenos Aires is a city known worldwide and is very popular for the different attractions it offers to the thousands of tourists who visit it throughout the year.
Buenos Aires stands out for being the city of tango, soccer, and barbecue. Buenos Aires also presents a unique culture and architecture, which will amaze you at every step of the town.
What to do in Buenos Aires?
In Buenos Aires, there are many activities for you to enjoy. If you are planning to travel to Argentina and you want to visit Buenos Aires, these are the must-do activities in this beautiful city:
San Telmo: In San Telmo, you can see antiques in its market. In the neighborhood, there is music, artists, restaurants, and living statues so that you can take a fun and different tour of the city;
Caminito: In the neighborhood of La Boca, you will find Caminito, which is a place well known for its colorful buildings, its cultural value, its canteens to eat, and its tango venues. It is visited by thousands of tourists from all over the world at any time of the year;
Cementerio de la Recoleta: This cemetery has mausoleums and pantheons decorated with sculptures that give much historical and architectural value. Here is where many of the greatest personalities of Argentina remain, and guided tours are offered.
Libreria El Ateneo: This bookstore is an incredible place that offers thousands of books and preserves all the details of the old theater, such as its curtain, the railings, and the dome with the original design.
In Buenos Aires, there are many places for you to visit, such as Plaza de Mayo, the Subway system, Galerias Pacifico, Obelisk, Casa Rosada, Planetarium Galileo Galilei, Puerto Madero, Chinatown, and the Museum of Latin American Art of Buenos Aires (MALBA), among many other attractions and activities offered by the city of Buenos Aires for you to visit.
Speak Spanish in Buenos Aires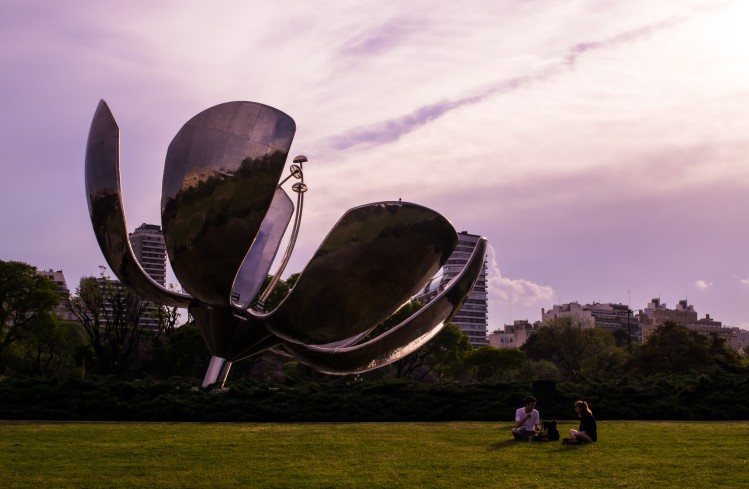 If you travel to Buenos Aires, it is crucial that you can speak Spanish perfectly.
If you do not know the language, there is a Spanish language school in Buenos Aires, so that you can enjoy the taste of South America with the Spanish courses in Buenos Aires.
The spanish language School in Buenos Aires allows you to get to know the culture and local language. The website offers programs such as intensive Spanish courses, preparation for exams and professionals, and university access programs, among other options. You choose a specific program on the website, including the course type and duration. To get a budget.
The classes include topical conversations on food, art, music, and sports.
You can enter a never sleeps city with countless bars, cafes, museums, and cultural events.
You can stay with a local Buenos Aires family or share accommodation with fellow international students.
You can find a Spanish course for you in Buenos Aires. The courses are for everyone, from advanced to beginners speakers. All levels are welcome.
Start your learning path with a Spanish language school in Buenos Aires and its lessons.
If you want to learn Spanish in Buenos Aires, for more information, please Click here.
The best Universities in Buenos Aires
Due to economic reasons mainly, many people travel to Buenos Aires to study because education in other countries is costly, and not everyone can access it easily. Many people can't pursue a university career due to its high cost.
Buenos Aires receives students from Latin America, but Buenos Aires welcomes students from all over the world, thanks to its public universities.
Among others, the best universities in Buenos Aires, according to the ranking, are:
UBA (University of Buenos Aires): It is a free university attended by thousands of students. It is a university that has an excellent reputation and has unrestricted admission. You can study more than 113 undergraduate courses at the UBA and many faculties where you can research agronomy, economics, veterinary sciences, philosophy and literature, pharmacy and biochemistry, engineering, law, medicine, and dentistry, among others courses.
UCA (Argentine Catholic University) is a private university that stands out for the relationship between teachers and students. Its reputation is also excellent. In Buenos Aires, there are faculties of musical arts and sciences, economic sciences, medical sciences, social sciences, law, philosophy and letters, and psychology, among others.
UP (University of Palermo): This university has an innovative character, and a large percentage of international students attend. Its faculties are design and communication, business, engineering, and architecture, among others.
Universidad Austral: the campus of this university is located in Pilar. This offers careers such as public accounting, nutrition, psychology, social communication, agribusiness, and many others.
Universidad de Belgrano: in this university, there are 32 careers available to choose from them: architecture and urbanism, economic sciences, hospitality, gastronomy and tourism, health sciences and humanities, and leagues, among others.
Universidad Nacional de las Artes: It is an institute that specializes in artistic training, such as dramatic or audiovisual art. You can find careers like acting, writing, audiovisual, and multimedia arts.
ITBA (Technological Institute of Buenos Aires): More than eight thousand professionals were trained in its classrooms. Its academic offer includes a degree in administration and systems, business and social analytics, bioengineering and electronic engineering, industrial engineering, computer engineering, naval engineering, mechanical engineering, petroleum engineering, and chemistry.
Universidad Torcuato Di Tella: This University's main feature is its good reputation. The university offers different majors such as architecture and urban studies, art, political science and international studies, economics, government, mathematics and statistics, and business, among other majors. Many of his students are awarded scholarships to afford their education in this house of studies.
If you are thinking of studying at a university in Buenos Aires, remember that knowing the language is the main requirement and that in addition to knowing in-depth the history and culture of the city, you will be able to access different universities according to the major you like, because in Buenos Aires a lot is offered for people who decide to go to college.