Jewelry can't be out of the picture from brides trousseau, add-on maang tikka is an essential piece. Without maang tikka, you can't even imagine brides Shringaar to be completed. The jewels or accessories the bride wears on the special day of her life are not mere things to enhance her beauty but has age-old significance.
The beautiful ornament continues to evolve in design, style, and embellishments. The most popular style nowadays is elaborated mathapatti which, was earlier traditional pick of south Indian brides only. Now, this mathapatti in new fusion and style is loved all over India by women.
An integral maang tikka studded in Polki, kundan, stones, and pearls is designed in countless styles varying from simple to heavy. When a woman wears maang tikka a glow comes to her face naturally, this ornament can be worn on many occasions apart from marriage.
Here we are presenting an ensemble of this magnificent piece of jewelry's latest design and patterns. It will help you out to have a right pick for the coming functions of your life, so have a look!
1. Tiara  Style Maang Tikka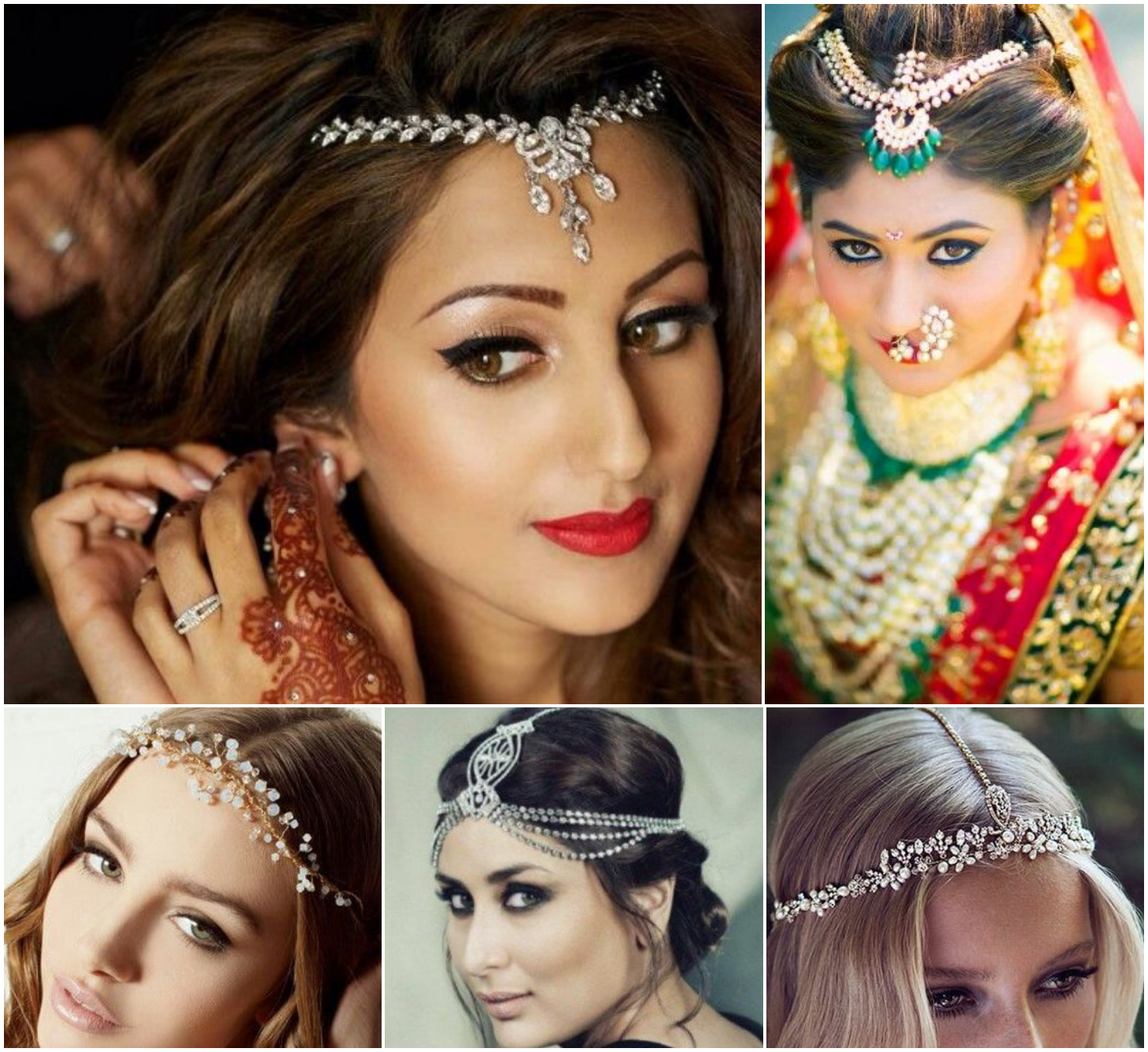 Tiara style maang tikka is a mesmerizing combination to carry style with grace. Opt for dainty tiara if you are aiming to achieve the minimal look at your mehndi or haldi function. Tiara features latest fashion trends for wedding fashion. Loose hairs hugged with fanciable tiara add a dreamy appeal to your ethnic look.
2. South Indian Style Maang Tikka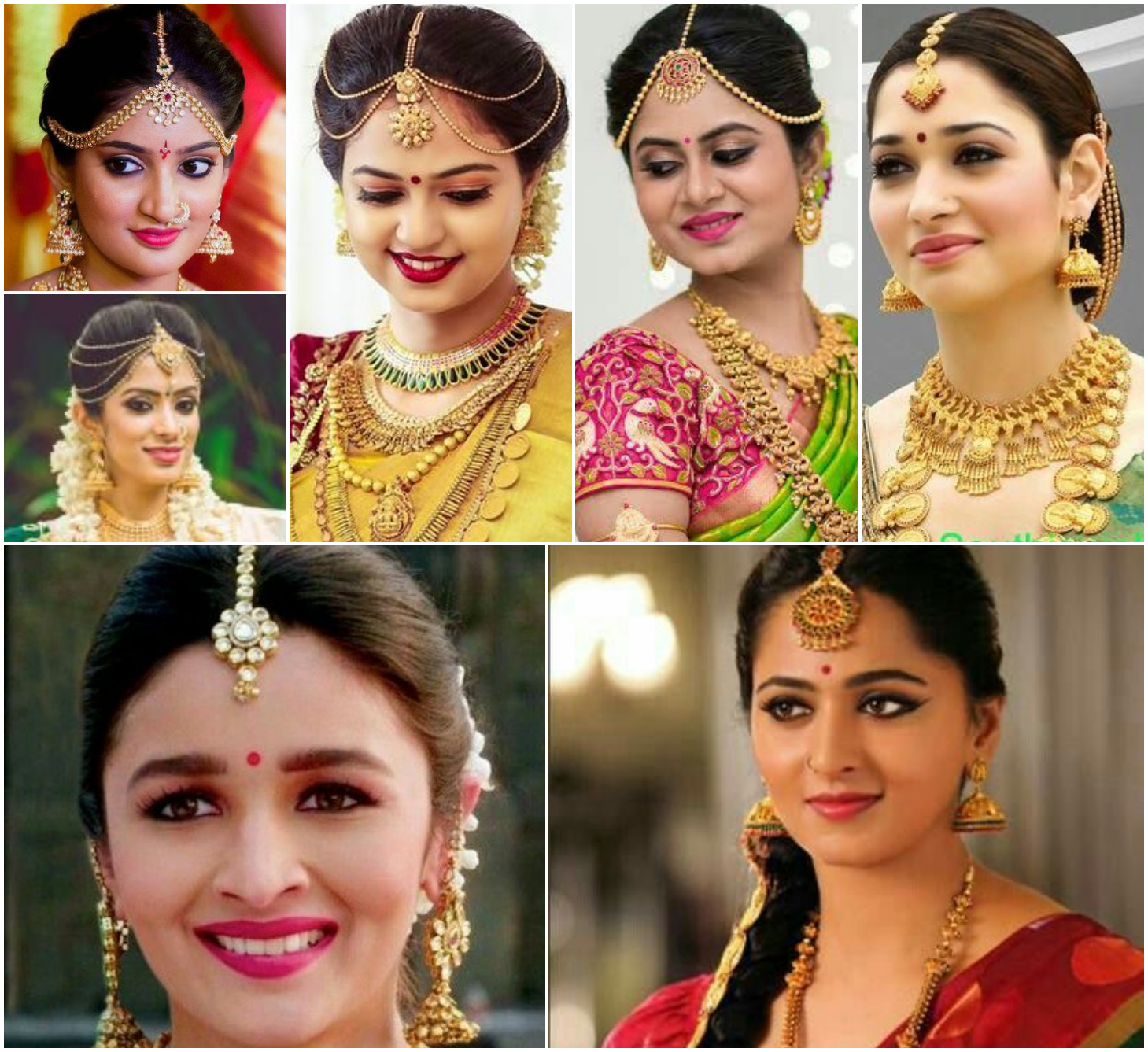 The conventional South Indian maang tikkas for the bride are made of gold. The pure gold maang tikkas are elegant and timeless. The designer ornament is preferred mostly in a mathapatti pattern or multi-layered style that frames the face for the sophisticated look. For simple and gorgeous look brides also opt for single gold pendant design. The Jewell is decorated with pearl, Polki, kundan or minakari embellishments.
3. Mughal Jhoomar Or Passa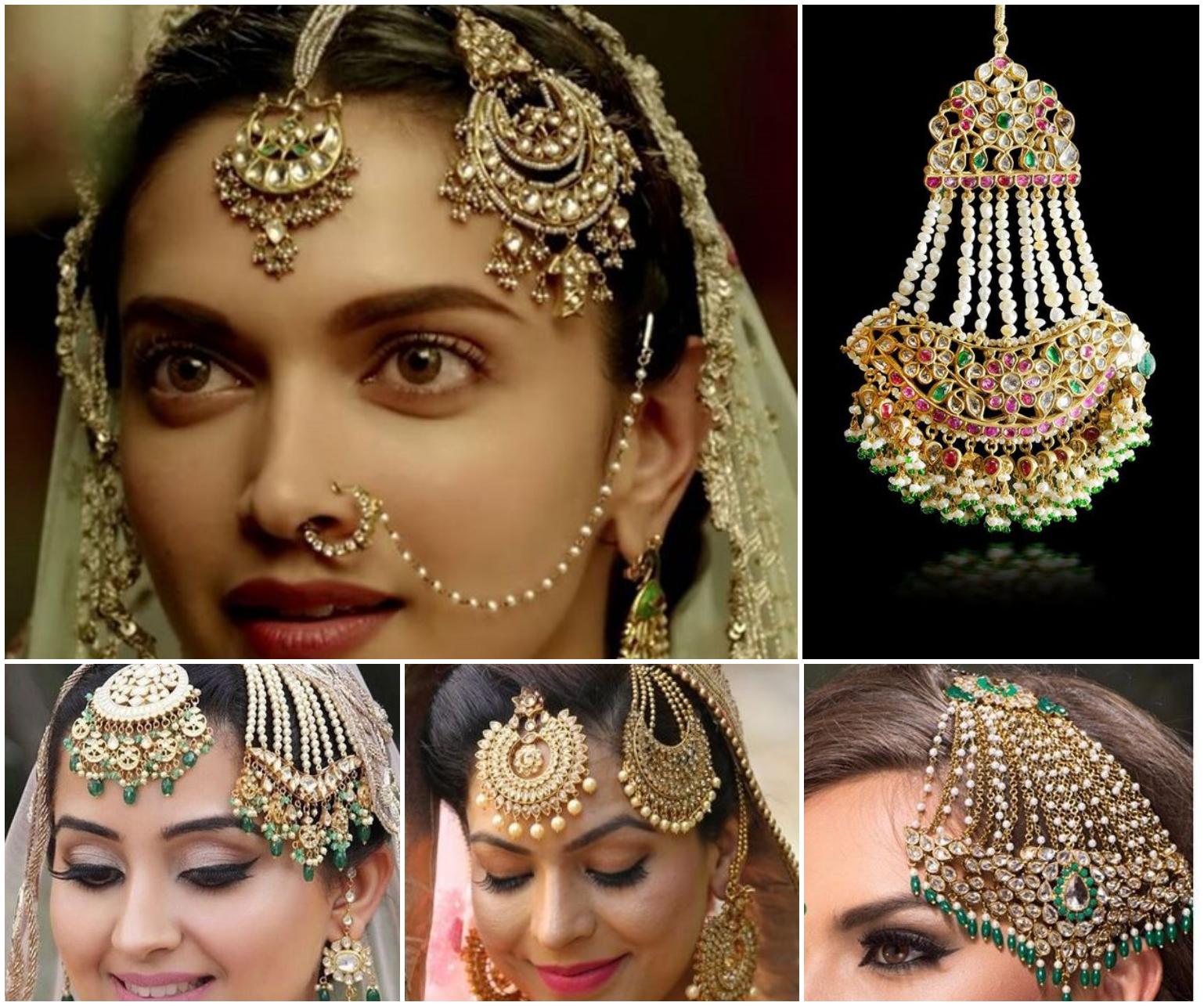 Jhoomar or Passa is heritage glamour of majestic Mughals, mostly worn by Muslim brides. The inspired maang tikka features an intricate design embellished with multiple Polki, beads, and pearls. The traditional ornament exhibits kaarigari of gifted and skilled hands. The triangular or fan-shaped ornament is worn on one side of the forehead adding a royal appeal to a bride's look.
4. Pearl Maang Tikka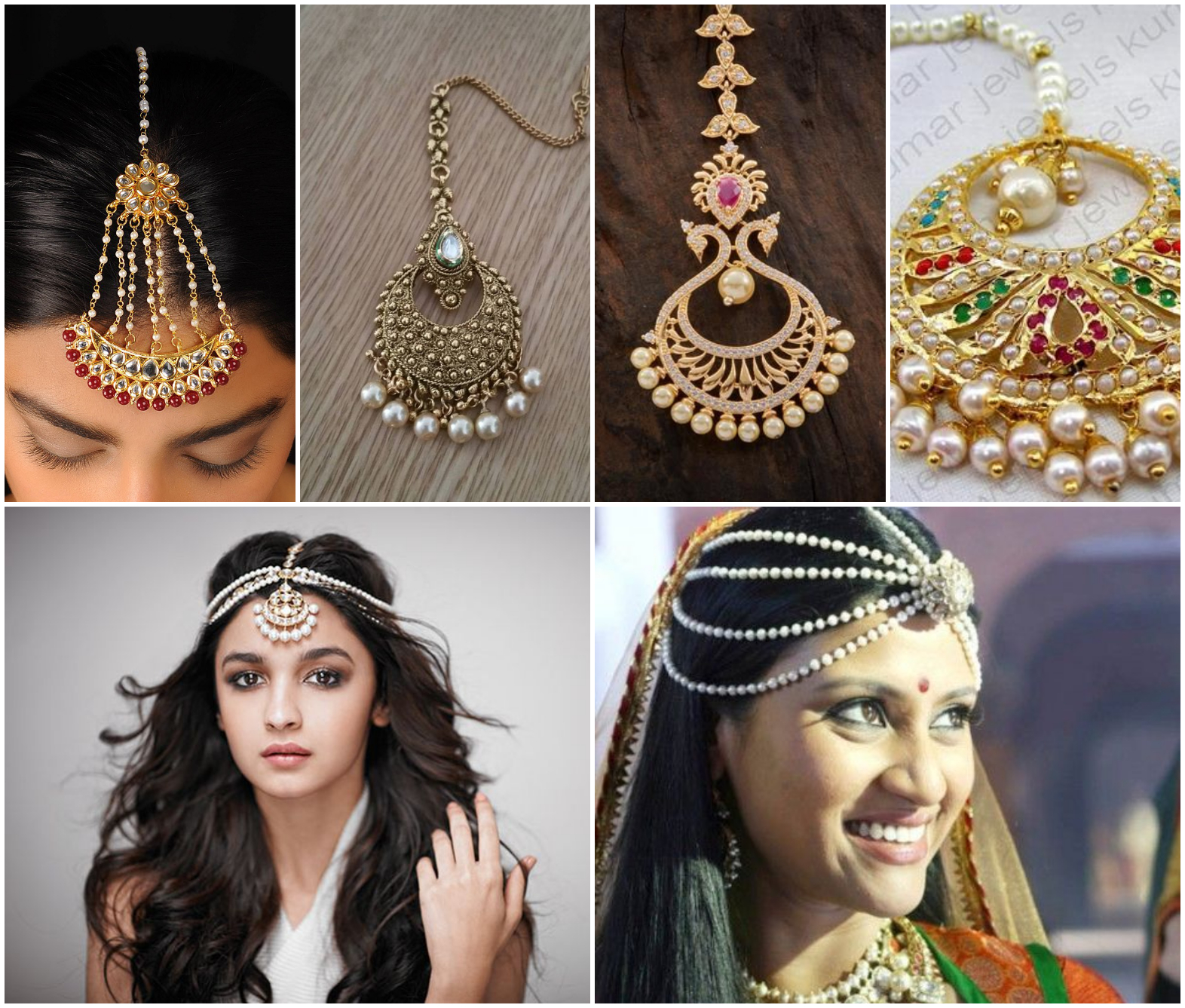 Pearl maang tikka is a style that gives just a little nod to the tradition. The elegant style ornament enhanced with pearls and stones in various patterns of maang tikka like Borla, multi-layered or Chand Bali offers you seamless alluring look.
5. Polki Maang Tikka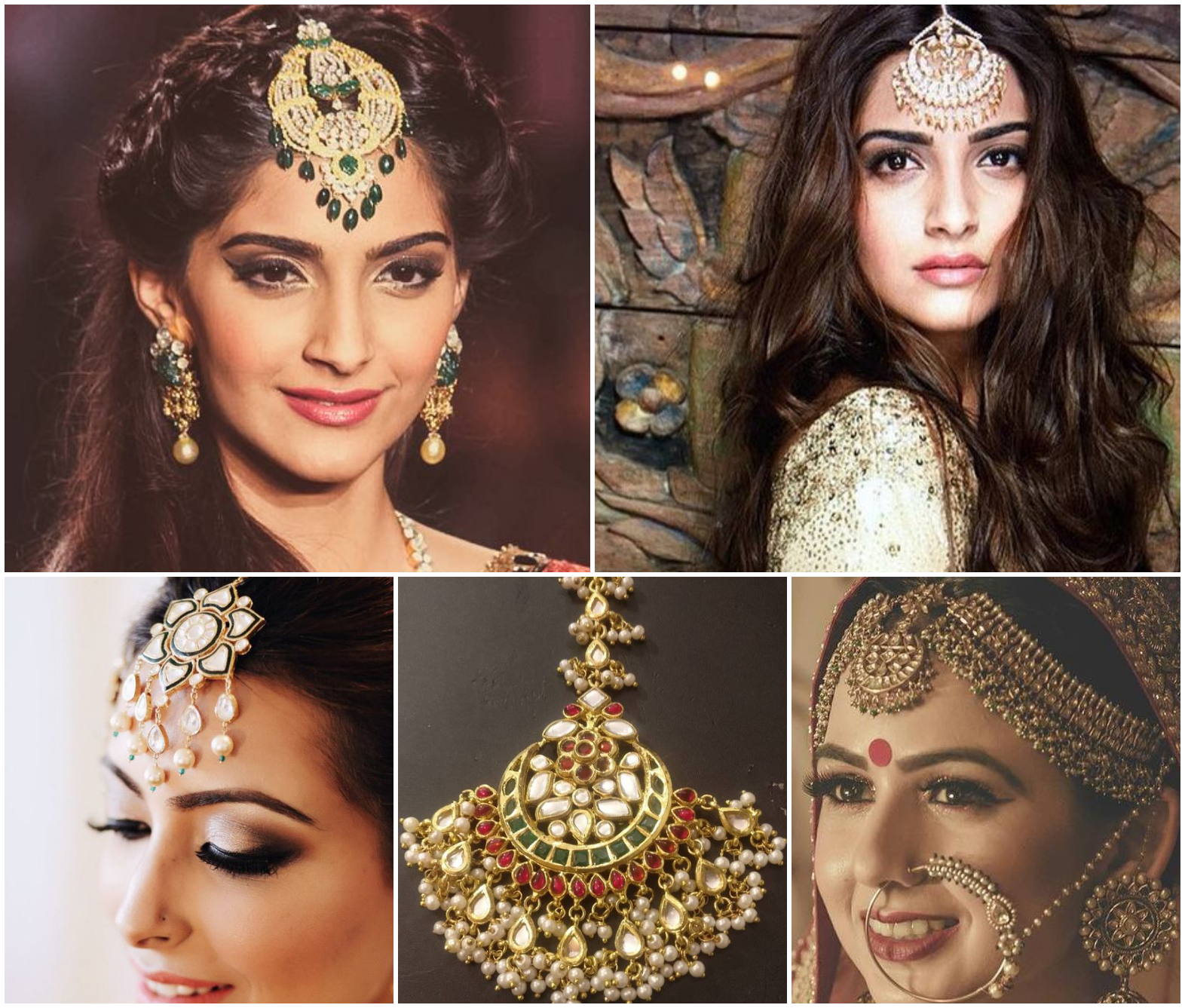 Polki designing gives fancy color maang tikka looks. Every bit traditional, a Polki maang tikka gives a bold look. The large or small elongated balls in different shades studded in Chand Bali, or on mathapatti pendant looks exceptionally elegant and stunning.
6. Kundan Maang Tikka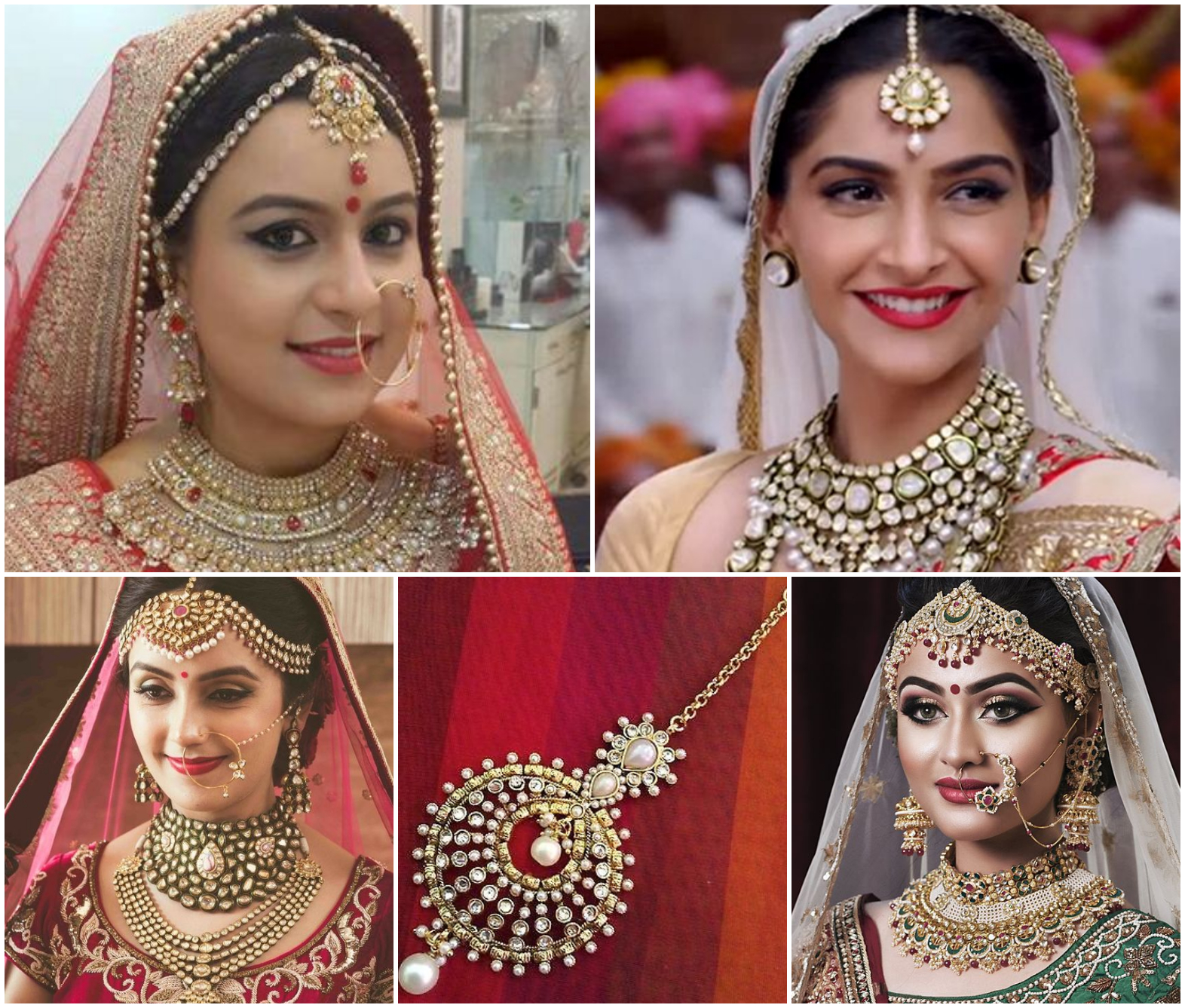 The pretentious maang tikka is a precise procession that needs to be part of every bridal trousseau. The amazing kundan work is a traditional style crusted with uncut diamonds. The chains worn with exquisite kundan pendant beautifies the hairdo.
7. Mathapatti Maang Tikka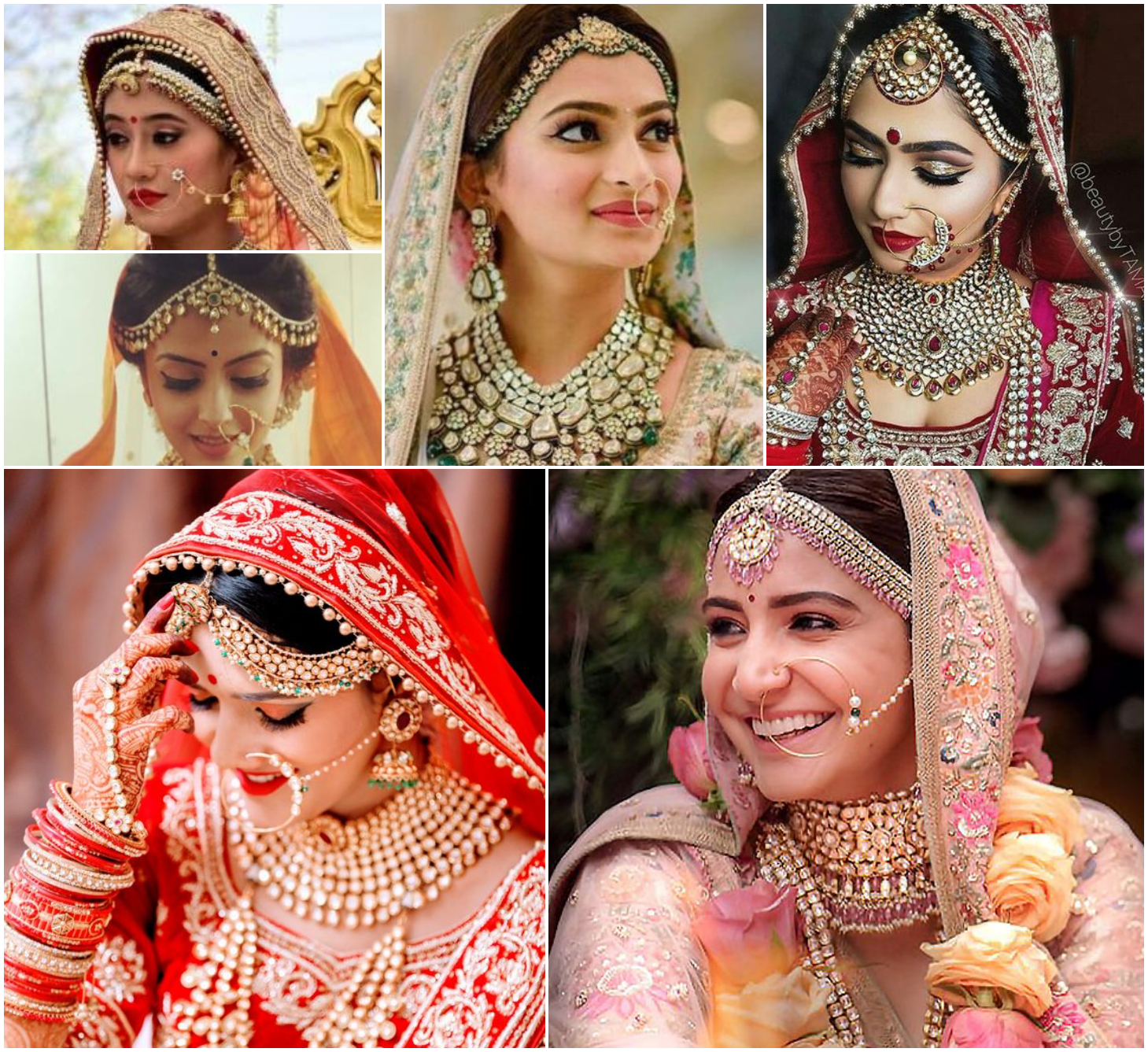 Your dream day look is not completed without mathapatti, choose a heavy full work precious designer tikka possessing antique and traditional pattern. The hanging few pearl or beads enhance the look of your forehead. Mathapatti usually has a pendant hanging from the center and two chains framing the face, pair the heavy mathapatti with a simple nathani for a charming look.
8. Single String Maang Tikka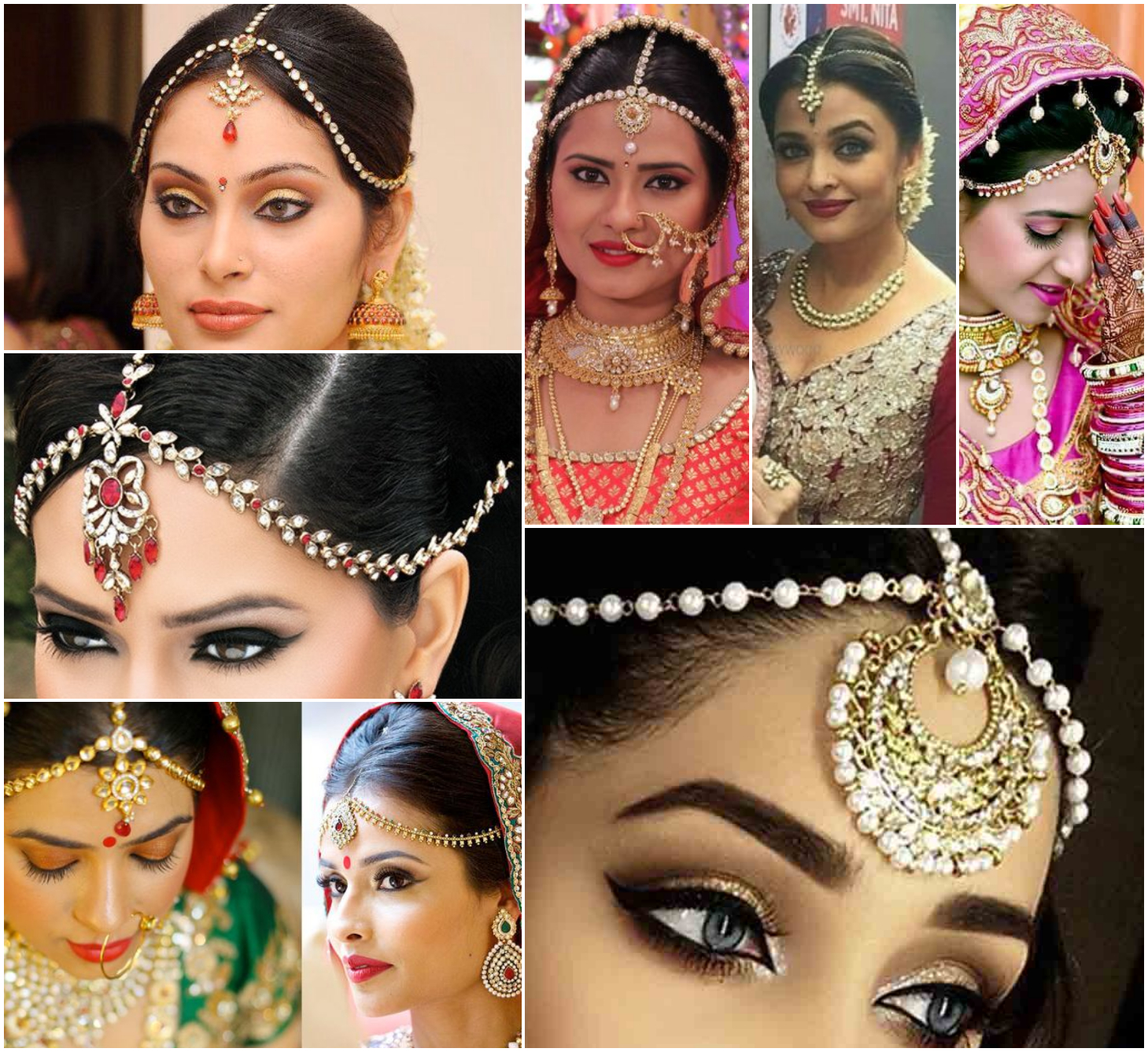 Another hot trend that is elegant, and yet more elaborate than a simple pendant style maang tikka is single layered maang tikka. The traditional maang tikka has single layer hugging the hairline embellished in beads or kundans connected with the finally textured pendant.
9. Double String Maang Tikka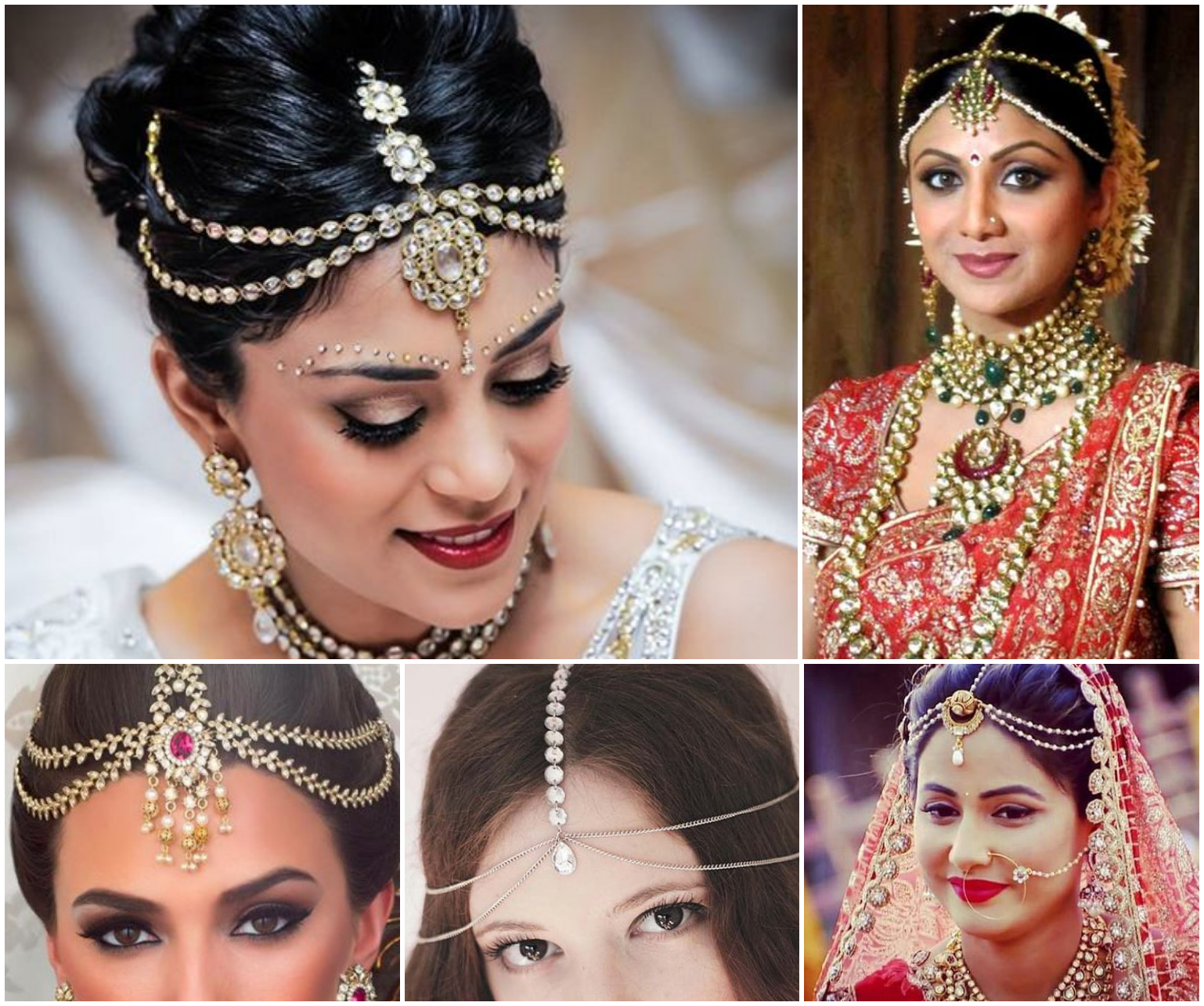 The double strand maang tikka is slightly more opulent than the single-string one. The layers of maang tikka sit across the forehead of the bride and look regal with stone, kundan and pearl ornamentation.
10. Multiple String Maang Tikka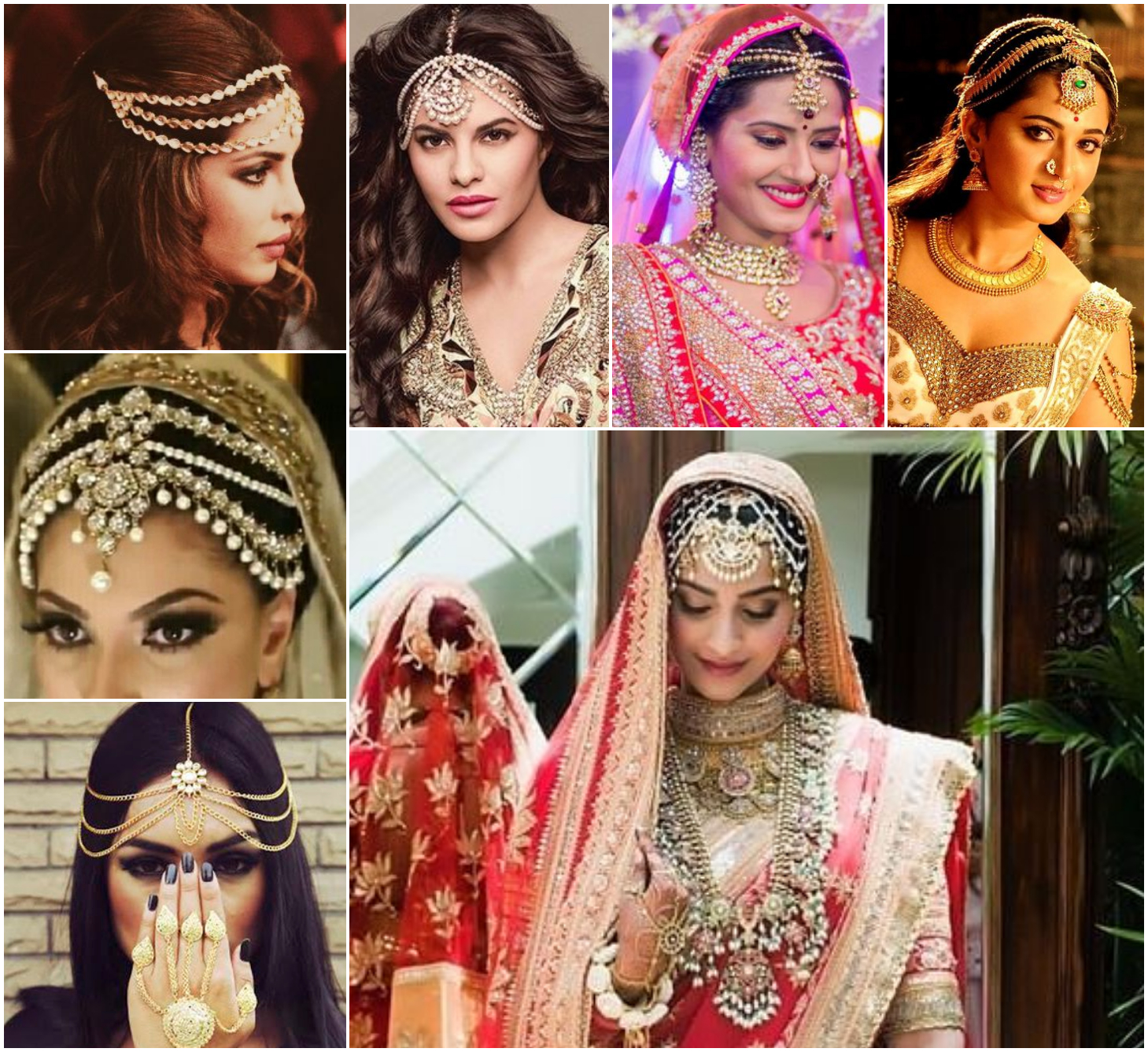 Following the layering process no, doubt the gorgeous multi-layered maang tikka is a big favorite of brides nowadays. Recently wedded Sonam Kapoor also ornamented her beauty with this extravagant style, and why not she must opt for it? The unique pattern of the tikka is a statement piece that encircles the crown of the bride and sits gracefully. Row upon row of pearls kundan and Polki captivates the attention.
11. Crescent Moon Maang Tikka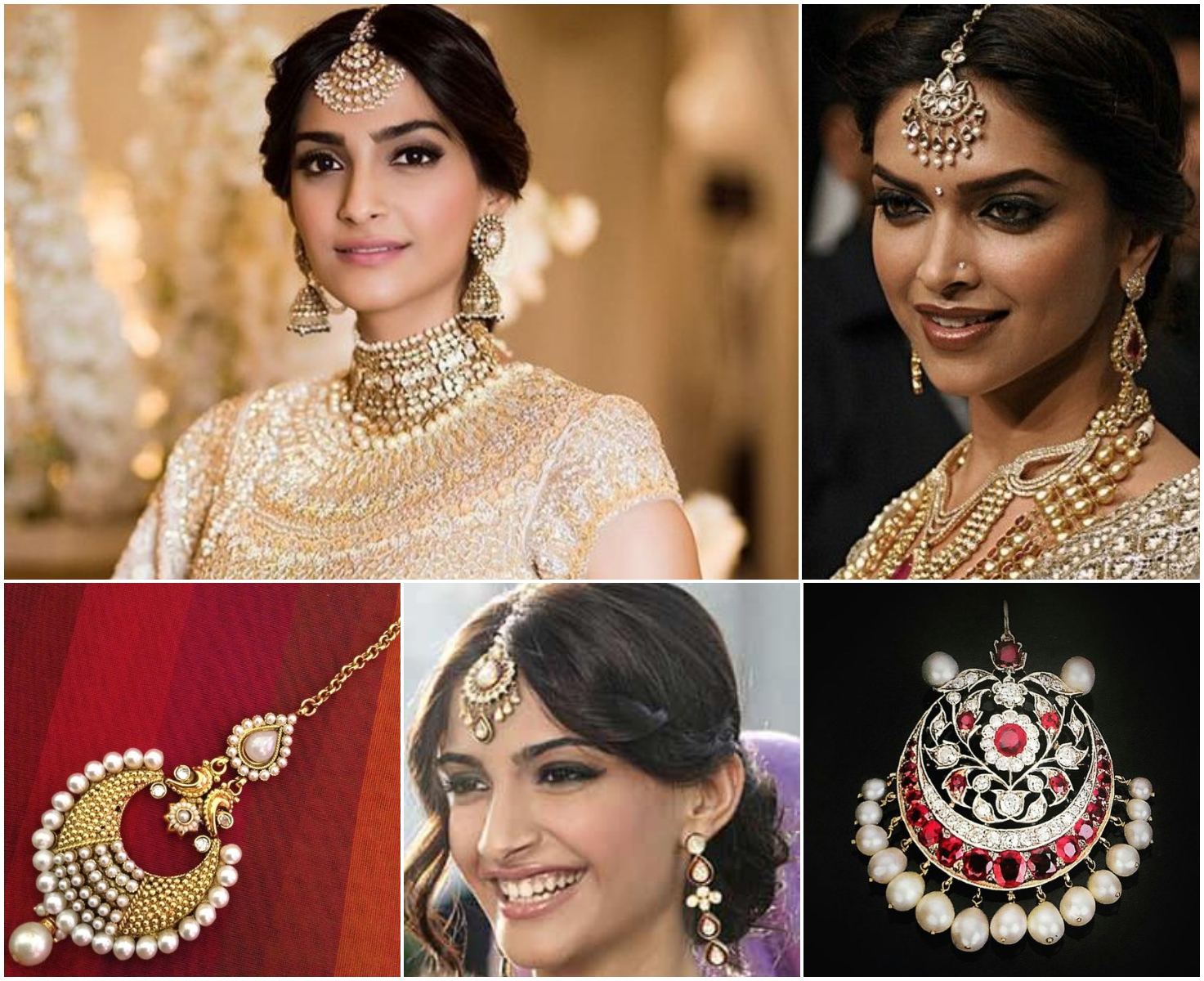 The classic design resembles the shape of the moon and is famous or favorite of brides since time long. The typical style is also popular heavy studded earrings. The beautiful pearl and Polki accents of this Chand Bali add elegance to the traditional wedding looks.
12. Borla Or Rajwada Style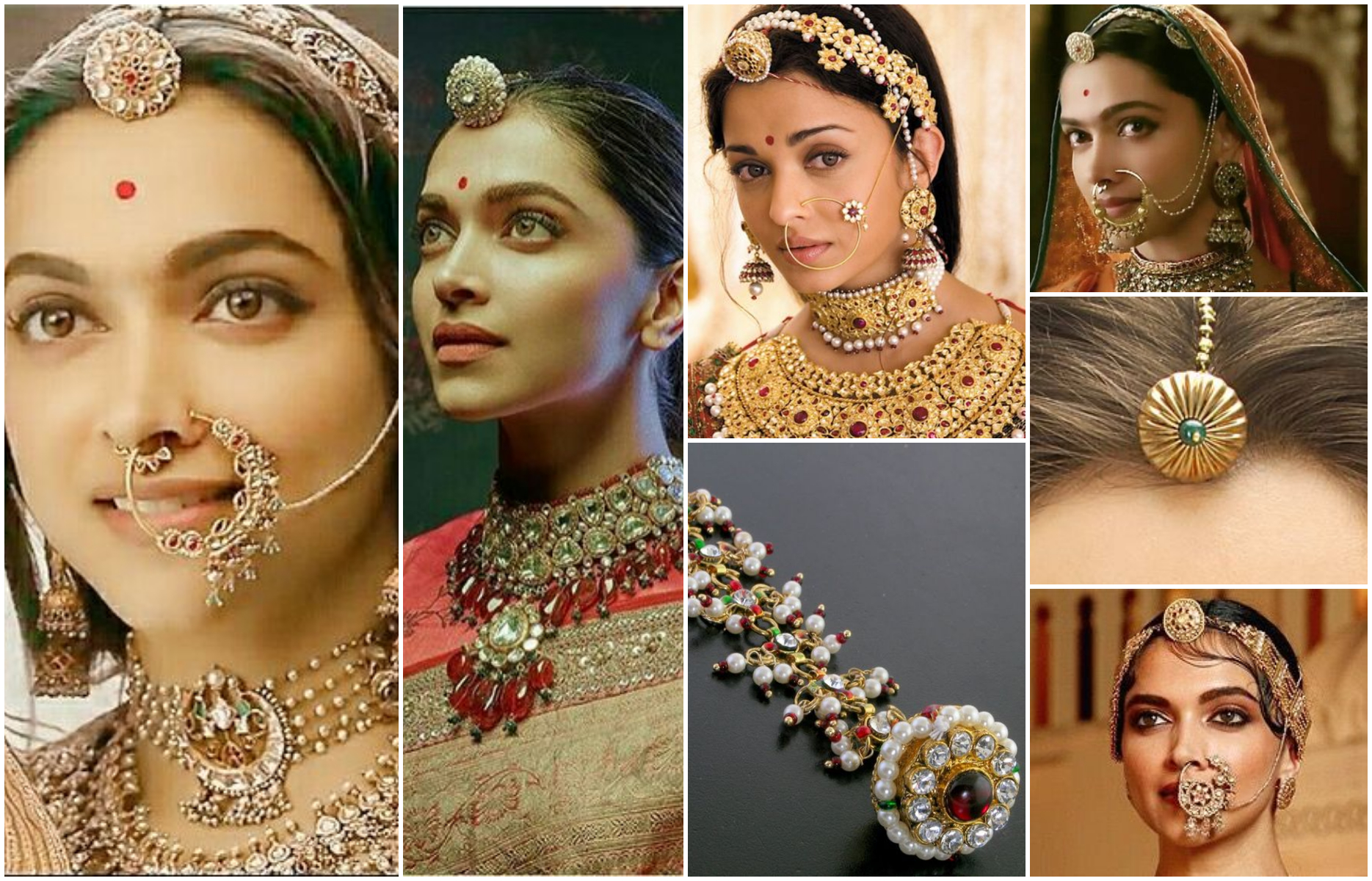 This stunning spherical maang tikka is an ancient Rajwada style designer tikka with a ball and a chain. The traditional adornment is embossed in kundan, red, green or white balls. The ornament is the heritage piece of Marwari Community. The name of the ornament got it's from the fruit name 'Ber' or 'Bor' in English known as Jujube. Wearing this bauble gives the Rajput Bride a touch of Royalty.
13. Side Swept Maang Tikka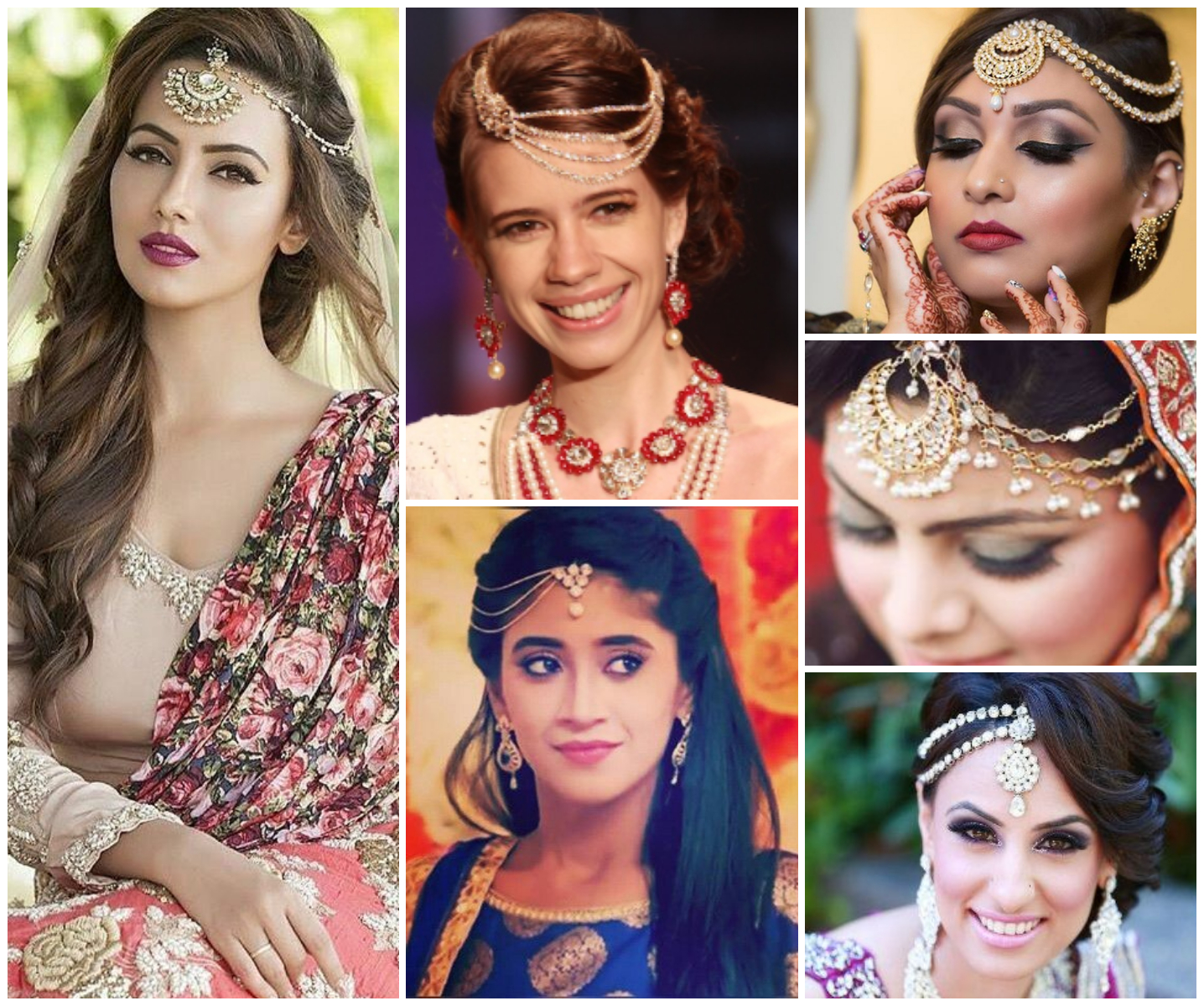 In a bid to wear different look girls go to any extent to choose a unique accessory for the special day. Side swept maang tikka is the latest and hottest styles loved by brides to wear on. The artistic style of jewelry has a pendant that sits in front and strings or pearls or beads hanging on any of the sides of the forehead. Opt bangs or side fringe with low side bun with this antique accessory to achieve 'Nawabi Style'.
Maang tikka an inevitable part of the bridal inventory that enhances the look of the bride on the auspicious ceremony in her life. The timeless classic in the world of traditional Indian bridal jewelry with striking designs are appreciable and can be cherished for the big day.
So don't waste time order fast if any pattern is striking your mind persistently! We will love to see your comments too!