AthenaOne, developed by athenahealth, is a comprehensive suite of medical software that encompasses an electronic health record (EHR) system, medical practice management software, and medical billing tools. This integrated solution offers various features for patient engagement and efficient document management. However, if your primary requirement is secure storage for medical files, we recommend exploring dedicated document management software options.
AthenaOne consists of three main modules: athenaClinicals for EHR functionalities, athenaCollector for billing and practice management, and athenaCommunicator for patient engagement purposes. These modules collectively provide a comprehensive solution for medical practice owners and administrators seeking detailed reports and comprehensive functionality from their medical software.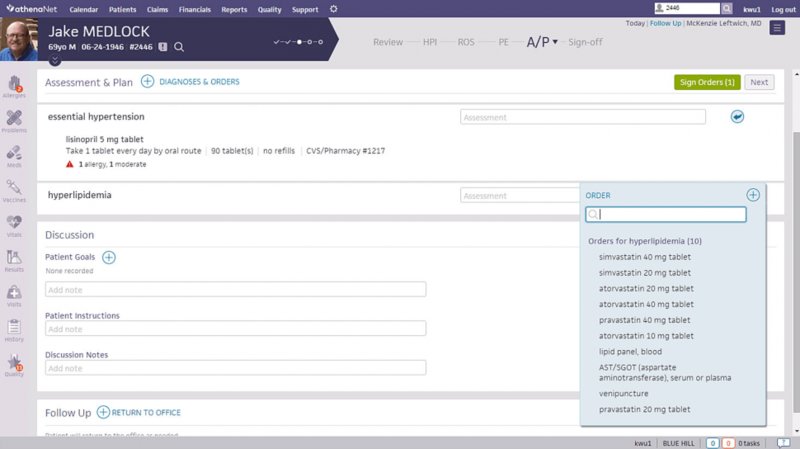 Features of athenahealth
Here are the key features offered by athenahealth, each explained in more detail:
| Feature | Description |
| --- | --- |
| Appointment Calendar | AthenaOne provides an easily viewable and filterable dashboard, allowing your administrative team to see the practice's calendar at a glance. The system also enables patients to schedule appointments conveniently through the patient portal. |
| Appointment Scheduling | The appointment view in AthenaOne shows all relevant patient billing information. It also includes A/B testing tools to determine the most effective reminders for patients about their appointments. |
| Billing Tools | AthenaCollector offers a comprehensive suite of billing tools, which aids in medical claims management, including dealing with rejections and denials. However, a medical biller is still needed on the team. |
| Clinical Notes | AthenaClinicals facilitates easy note-taking, allowing users to choose their preferred method. |
| Customizable Reports | Athenahealth offers highly customizable weekly and monthly reports with a plethora of filter options. |
| Electronic Orders | With athenaClinicals, new lab orders and prescriptions can be ordered while adding diagnoses simultaneously. |
| Interoperability | The interoperability tools from athenahealth ensure the smooth exchange of patient data with other healthcare providers, and vice versa. |
| Medical Practice Network | AthenaNet is a network of 150,000 providers, using data from all members to provide performance optimization suggestions. |
| Patient Intake | athenaClinicals presents patient notes with crucial details such as allergies, medical conditions, medication history, waiting room status, visit history, and vitals all in one place. |
| Patient Portal | AthenaCommunicator includes a patient portal offering appointment scheduling and HIPAA-compliant messaging tools. |
| Telehealth | The telehealth features of athenahealth are integrated into its EHR, enabling patients to participate in appointments without needing to download new software or specific devices. |
Athenahealth Medical Software Pros & Cons
Pros:
Streamlined electronic health records (EHR) management for improved efficiency.
Integrated billing and revenue cycle management capabilities for seamless financial operations.
Robust reporting and analytics features to support data-driven decision-making.
User-friendly interface and intuitive navigation for enhanced user experience.
Customizable workflows and templates to accommodate diverse healthcare specialties.
Cons:
High cost of implementation and ongoing maintenance.
Limited compatibility with certain third-party software systems.
Steep learning curve for new users due to complex functionalities.
Potential privacy and security concerns related to handling sensitive patient data.
Reliance on internet connectivity for uninterrupted access, which may pose challenges in remote or rural areas with poor infrastructure.
Customer Service at athenahealth
Athenahealth provides a variety of methods for customer support, including phone calls, live chat, and email. What sets them apart from other medical software providers is their round-the-clock, 24/7 availability, a service feature not commonly found in others. Moreover, athenahealth assigns a dedicated account manager to each customer. You can directly schedule meetings with your account manager to resolve any issues you might encounter.