Every girl and lady puts makeup but it's up to you how you look natural or dramatic. We all face some problems when applying makeup. Like sometimes doing our own makeup become the very typical task for us. Many times we face problem regarding how to differentiate makeup tricks according to day or night and if you are a beginner and don't know the steps for makeup then now need not to worry. Here we have come up with the Basic Makeup Tips In Easy Steps For Beginner.
Days are gone when makeup was only wearing kohl on eyes. Nowadays the market is full of various makeup products and choosing them according to your skin is a very long and time-consuming process. Here we are trying our best to provide you eye makeup tips according to your skin and face shape.
When we talk about makeup eyes are the first that comes to our mind. A beautiful eye makeup can change your look totally. As eyes are in a couple of pairs so there should be used any trick for makeup that both eyes look the same. Here you can check Makeup Tips For Beginners, Eye Makeup Techniques and much more.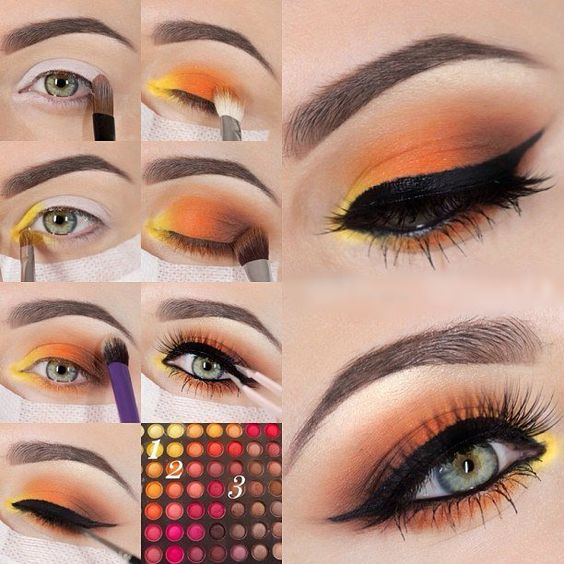 Best Eye Makeup Ideas & Tips That Every Women Wants To Know
Every lady wants their eyes to look beautiful as these are best part of human body to catch someone's attention. Eyes speak better than words. Eye make up is the basic part when you are learning how to do makeup. Sometimes in hurry, we do some silly mistakes that can spoil your all face makeup. Nowadays makeup has become a necessity either you are going to a party or late night or evening parties. Here we will share best eye makeup ideas that you can apply before going anywhere.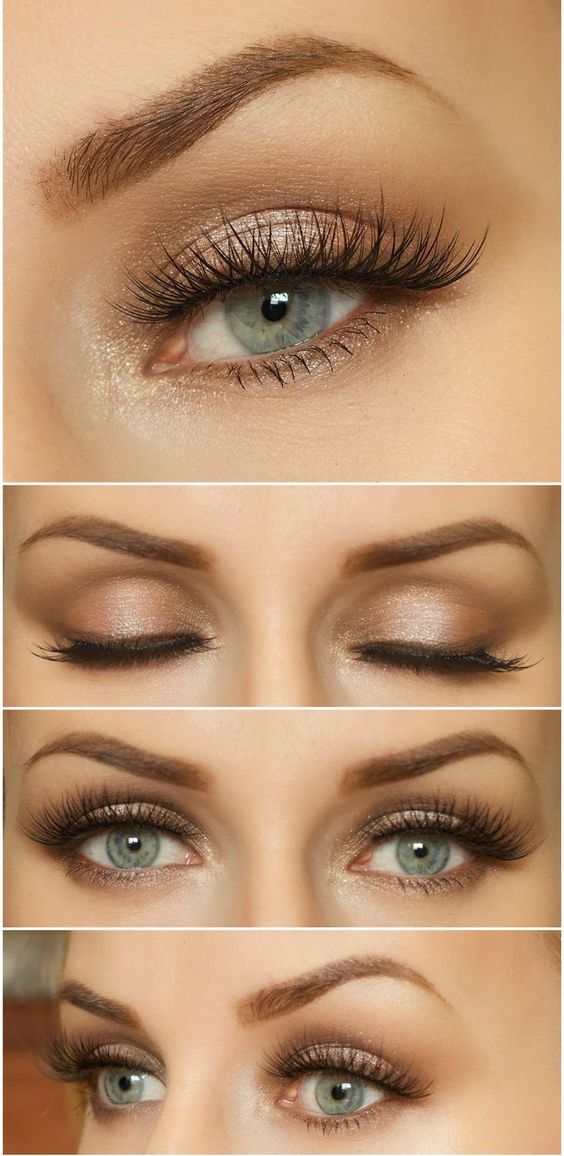 Top 15+ Eye Makeup Tips For Beginners On How To Do Makeup
Eye makeup is a technique that is most challenging, most creative, most colorful and the most popular with its attractiveness. Here are some Beginner Eye Makeup Tips. If you are a makeup learner then there are three basic steps for eye makeup for that you actually need guidance. That are Eyeliner, Mascara, and Eyeshadow.

Eye Liner Tips
Eye Liner is the thing that plays a lot in eye makeup and needs a good practice to apply liner itself. Either you have almond shaped eyes or round or wide here are some easy steps on How To Apply Eye Liner.
Firstly choose the right color of eyeliner before applying it according to your eye color either black or brown.
2. Secondly, understand your skin type what kind of skin you have, you can use pencil eyeliner or gel liner which provide water resistance, non-smudging and increased control over line thickness.
3. When applying eyeliner get as close as possible to the mirror and stick your head up and move the chin towards the mirror.
4. Always start with the pointed side of the eyeliner brush or gel eyeliner and make an outline as close as possible to your upper eyelash. How much this will be as close to the lash line this will give the natural look.
5. Nowadays cat look eye makeup is in the latest trend, so to give your eye cat look you will need a little practice, your hands should be comfortable with the liner brush. Just extend the lines of the liner and fill them with liner pencil or eyeshadow.
Mascara Tips
There are some makeup tips that always look impossible to do. Mascara is also one of them. Here we have some eye make up tips that surely missed when applying mascara.
6. Before applying mascara use eyelashes curler or when the mascara is semi-wet. Using the clamp tool, start from the bottom of the lash line and move upwards.
7. Select Mascara with a large and fluffy brush to reach every single eyelash.
8. Apply mascara to the bottom lashes first. Brush the wand to downside your eyelashes. Brush should not touch your eyes. You can also put a tissue or paper when applying mascara at the below lash to prevent smudging face makeup.
9. If your lashes are looking clumpy then you can apply one more coat of mascara in the desired volume.
10. You can apply 2 or more cot of mascara but when the first cot will be dry.
Eye Shadow Tips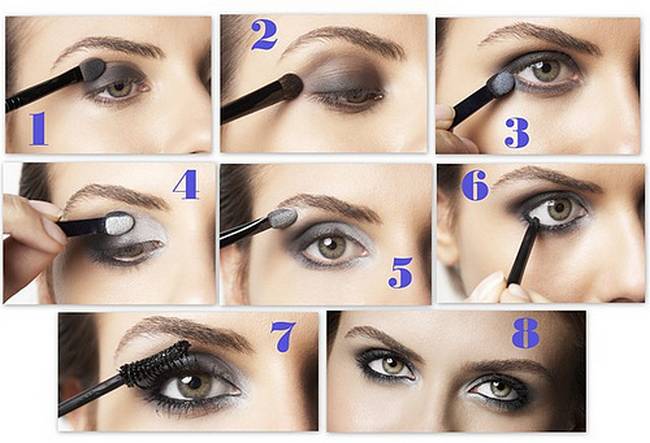 When we talk about makeup then how can we forget eyeshadow. The right way to apply eyeshadow will give your eye look smoother and prettier. Winged Eyeliner and smoky eye makeup will give your eyes more dramatic look but we will here share the tips for the natural look.
11. Firstly start to apply base eyeshadow without any shimmer that matches to your skin tone perfectly.
12. When choosing colors of eyeshadow always remember dark shades are best suits for the crease and light shades are best for the lids.
13. If you want the long lasting stay of the eyeshadow then firstly use the primer. After a few hours of makeup, eyelids get oily and wet. Use of eyeshadow primer will keep your makeup in rain or sweat.
14. There is the very wide range of eyeshadows are available in the market and the low-quality eyeshadows disappear within a couple of hours. So always use the high-quality product for the long-lasting stays of makeup.
More Eye Makeup Tips For Beginners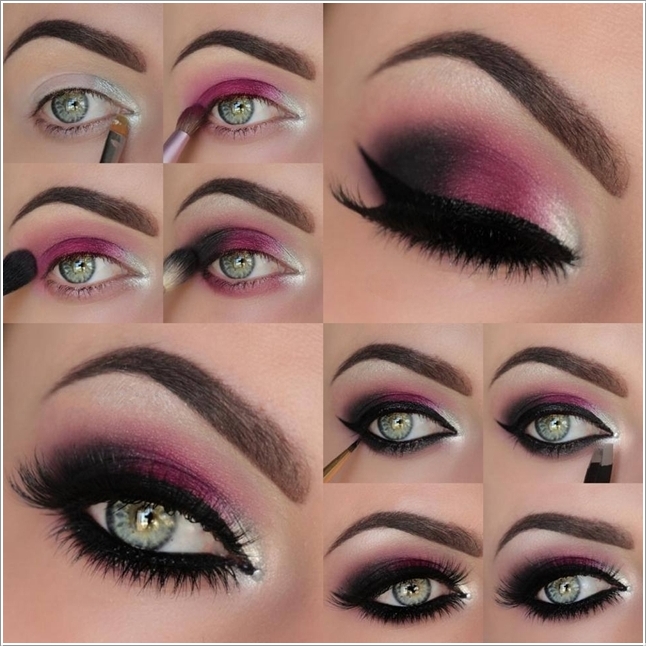 15. Use concealer where you need it on dark circles or blemishes. Don't put concealer or foundation on eyelids it will cause eye make up to crease.
16. Always apply your eyebrow pencil to the upper portion of the eyebrow to lift your face up.
17. Avoid the cat eye look makeup and some other creative eyes make up ideas for the daily routine.
18. If you have an extra minute then don't forget this old tip before applying mascara, just rotate mascara wand in powder and then dip into the mascara then apply on the eye lashes.
19. If you have small eyes then you can use the nude eye pencil to create the illusion for big eyes.
20. Brows shape also takes play a role in the makeup. You should have very shaped eyebrows. To darken them you can use eyebrows pencil.
21. Also, apply same shadow color and dab on your brow bone. You can blend it with your figures.
22. Focus on one feature at a time. When wearing high eye makeup let the lips be nude.
Hey, ladies by watching your devotion and dedication to the eye make up here we have tried to put all the tricks and ideas to give your eye makeup a gorgeous look. Here you check how to do eye makeup and makeup for dummies.