Best Navratri Dandiya Garbaa Songs for Gujarati
Navratri is the festival celebrated in the presence of Goddess Durga. The manifestation of the deity in the form of Shakti. The Navratri festival is the nine night festival becomes ten days festival with the addition of the last day Vijaydashmi or Dussehra. Dandiya and Garba Ras are the highlights of the festival across India and abroad is well known to celebrate Navatri. This is one festival which is found immense pleasure on the silver screen too. So, on this occasion we have compiled the collection of Top 10 most popular songs which have been integral part of Dandiya Ras.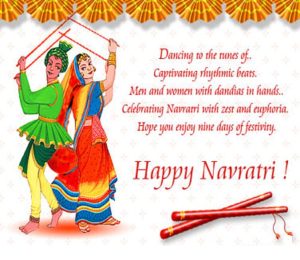 Top 10 Best Navratri Special Gujarati Garba Songs
Here are some Best Navratri Special Gujarati Songs providing to you to celebrate this Navratri doing Dandiya on these beats.
Navrat Naveli
Pradvethi Peli Manu Nortu
Ramto Bhanto Jay
Hichko Amba Tano Sambhlaye
Sonano Garbo Rupano Garbo
Ambemano Ghamar Ghadnliyo
Tarnetarna Re Ame Mele Gyata
Maa Tero Garbo Jhakamjhol
Jhule Jhule Chhe Gabbarni Manye
Patnani Shaherni Naar Padmani
Also Check : Navratri Special Garba Dandiya Best Dress Ideas Hairstyle Ideas & Beatutiful Rangoli Ideas for Navratri
Must Watch : Navratri Wishes Durga Maa Vaishno Devi Images Wallpapers Photos Pics Messages Quotes SMS Collection
Superhit Most Popular Dandiya Songs for Gujarati
Top 10 Non Stop DJ Musical Garba Dandiya Dance Hits in Gujarati
Top 10 Best Durga Mata Navratri Bhajan Songs
These are Best Devotional Durga Mata Songs to listen in Navaratri's. These songs include famous old Bhajan of Durga Maa.
1. Chalo Bulava aaya hai,
2. Aaja Maa Tainu Aakhiyan
3. Durga hai meri maa
4. Mat Ang Chola Saje
5. O Sheronwali
6. Jai Mata di Jai Mata di
7. Tu Ne Mujhe Bulaya
8. Man Tera Mandir Ankhen
9. Maa Tera Darbaar
10. Shakti De Maa
Also Check : Watch Durga Saptshati HD Video|Maa Durga Stuti Mantra | Nav Durga Maa Storotra|
Top 10 Hit Bhojpuri Maa Devi Navrati Songs
Sato Bahina Rauva Ke
Julay Saato Bahani's
Lal Chunariya Lay
Jhuleli Mai
Lale lal chunari
Maiya Khol na Kewad
Maiya ke Bde Nik Lagta
Ho ke Maghan
JAi Bola Durga Bhawani
Maiya ke Nara Bolike
Top 10 Best Hit Popular Punjabi Jai Mata Di Bhajan full song
Here are some Best Durga Maa Navratri Special songs in Punjabi.Here we are listing that songs.
Must Watch : Lyrics of Durga Aarti in Hindi and English- Read Maa Durga Aarti in Hindi and English
Maa de aaye narate
Uchhe Bhavna Waliye
Sangata ne Chaliyan
Jyota vali sarkar
Saanu Vee Chithi
Rabb Vass Keeta
Kanjka naal Khede
Jai jai maa
Rang Barse
Daati de deedar
Sifta kati na jaye
Also Watch : Lyrics of Durga Chalisa in Hindi| Lyrics of Durga Chalisa in English- Read Durga Chalisa in Hindi & English|Meaning of Durga Chalisa
Top 10 Superhit Bollywood Songs For Dandiya
Navratri Dandiya is the only festival that is also celebrated with enthusiasm in Bollywood also. Here we are sharing some Best Dandiya Bollywood Songs.

During this Navratri make sure on which track of Dandiya you will Dance. Hope you will all theses Navratri Special Songs. Happy Navratri to all of our users.