Just like another Indian wedding, south Indian weddings are also full of functions, rituals and cultures. The wedding is the symbol of traditions. India is full of different regions and traditions, tradition change according to the area. Here are Gorgeous South Indian Bride Wedding Pictures.
As South Indian Weddings are simpler and cultural than North Indian Weddings. So, it's very important for the South Indian Bride to look amazing with the simplicity. The wedding is not a single day occasion; it goes 6-7 days in the south. So, brides need to a lot to be maintained at her wedding.
South Indian Bridal Saree will be different according to function South Indian Bridal Hairstyle is generally the long braids astonished by the South Indian Bride Jewellery. South Indian Bridal Makeup will also be according to her wedding events functions. In this post, we have added some of the Photography Poses Of South Indian Bride. As pictures are the best memories to recall your special day.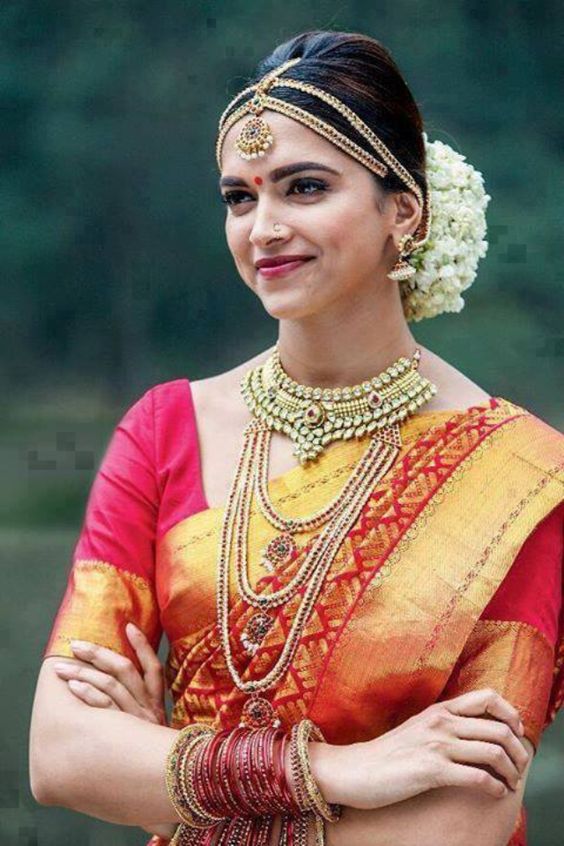 Traditional South Indian Bridal Latest Amazing Wedding Collection
In India weddings, traditions and costumes vary according to the region. Today, we have come up with the Latest Trends For South Indian Bride Looks & Style. Some girls get a long duration after they fix it and some have very small time. So, it's better to search for the South India Bridal Beautiful Saree, Jewellery and many more online before going out for shopping.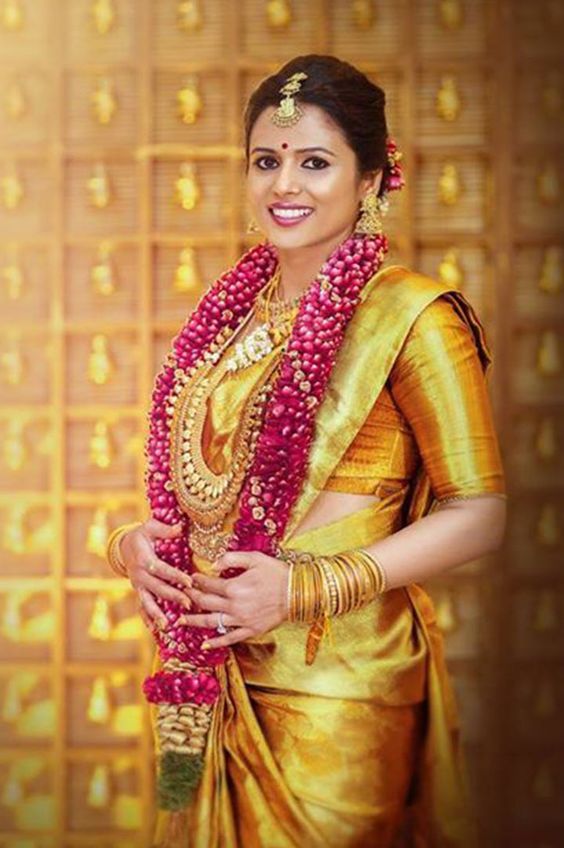 Beautiful South Indian Bridal Saree Designs
South is very famous for their silk sarees and specially Kanjivaram's. Colours give the bridal more attractive looks. She looks amazing in the deep red, green, blue and golden colour silk saree. These simple silk saree gives the more elegant look to the south Indian wedding.

South Indian Wedding Bridal Saree Picture
South Indian Bridal Jewellery
As weddings for women are not supposed without the jewellery but if we talk about south Indian wedding, then it's full of gold jewellery. Everybody part like the neck, arms, waist, hair, the toe will be adorned with gold. There are multiple necklaces different in size will be worn by the bride. Temple Jewellery is very famous in the south. As the name denotes, jewellery designs would be made of gods. South Indian gold jewellery will have unique designs with the antique gold.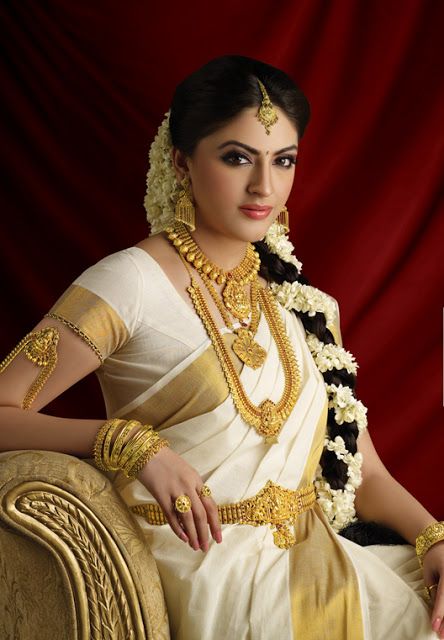 South Indian Wedding Bridal Gold Jewellery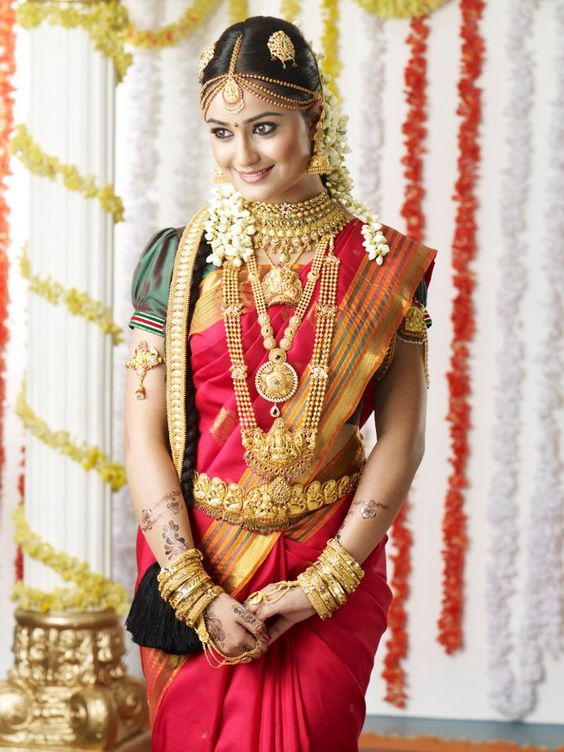 South Indian Bridal Jewellery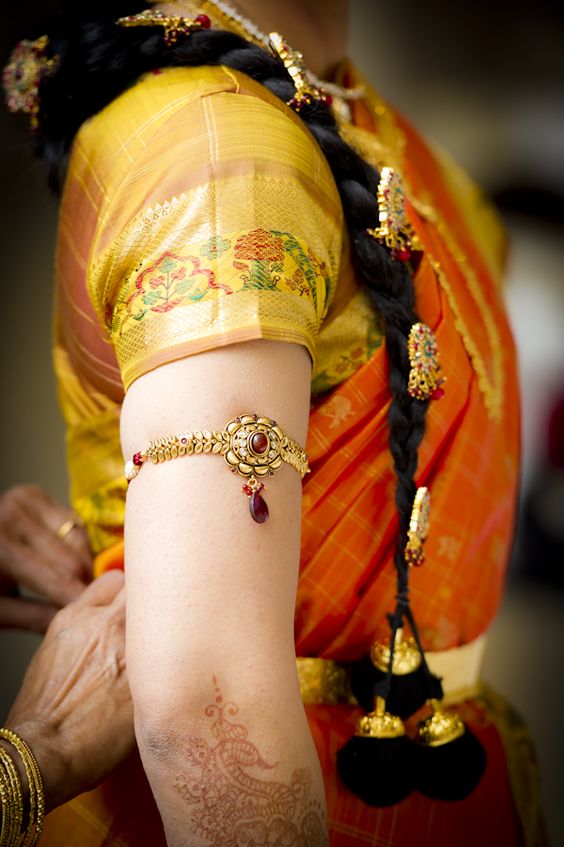 South Indian Jewellery For Hands
South Indian Bridal Hairstyle For Wedding
If we talk about south Indian wedding, then the bride will be seen with full of jewellery from head or toe. Gold jewellery with flowers in hair complement the south Indian bride simple silk saree. Most of the south Indian girls have long hair braids, or some make a bun or updos and enhance their beauty with flowers. Flowers not only blossoms with a great smell but also extends the beauty of South Indian Bride.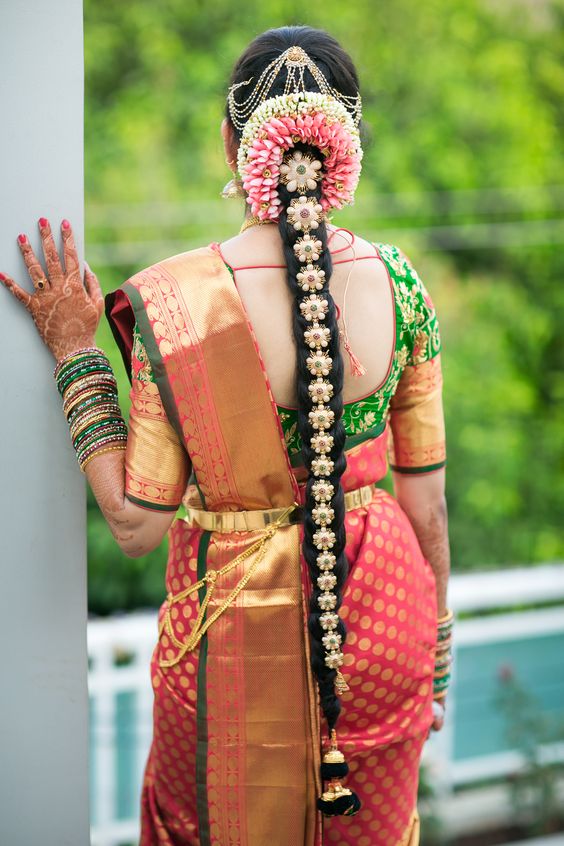 South Indian Bridal Hairstyle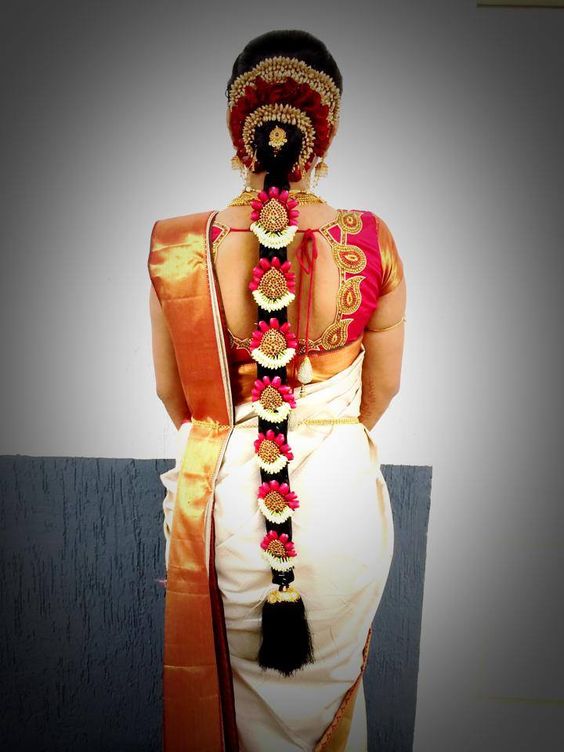 South Indian Wedding Photography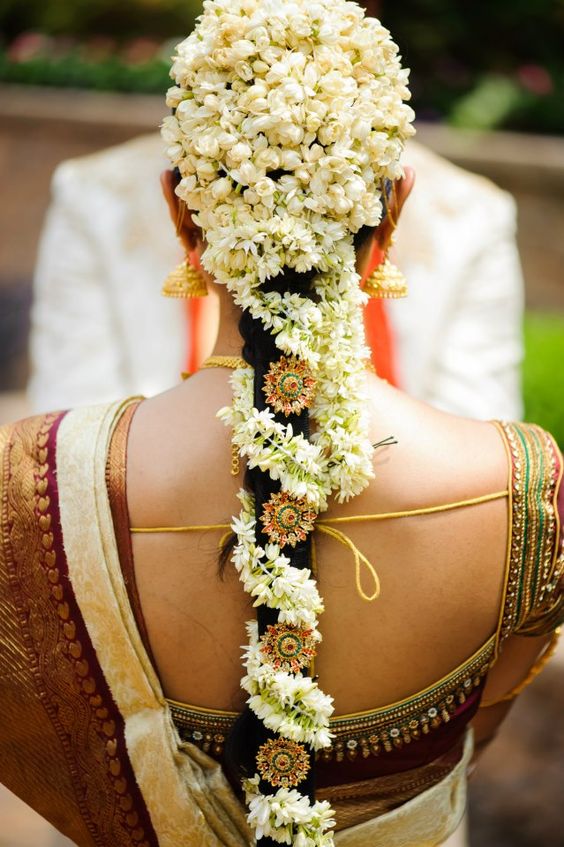 South Indian Bridal Make Up
As South Indian Bride face most of the part remains covered with the jewellery and hair accessories. So, make up plays a vital role to give the bold, bright look to the bride. As bride have to change dresses according to the ceremonies therefore sometimes brides prefer to wear golden makeup that will match perfectly with their saree and jewellery. Bride make up should be bold and in deep colours to stay long lasting until the end of the wedding. Due to the dusky skin tone, most South Indian also use red, bronze or matching with gold.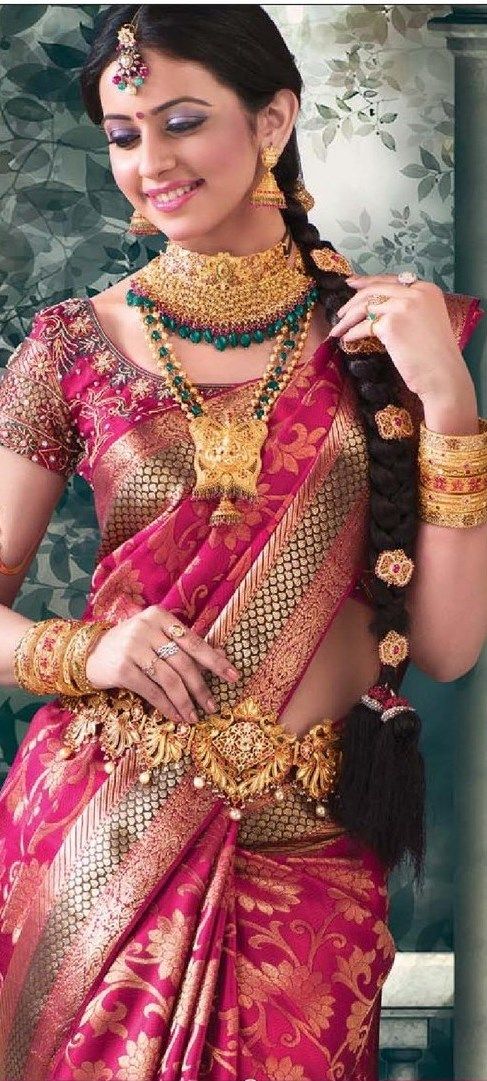 South Indian Bridal Makeup Pictures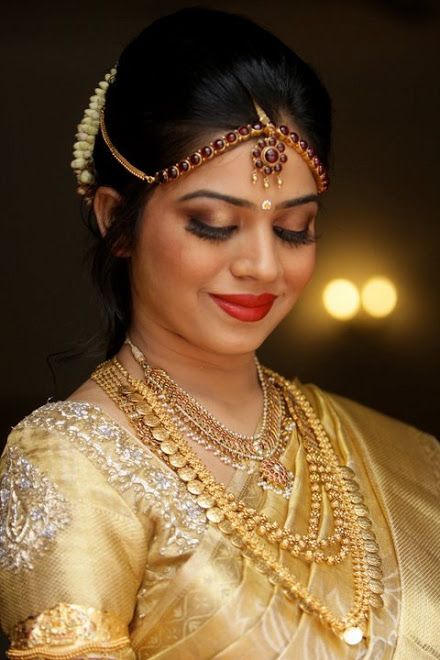 Beautiful South Indian Bride
South Indian Wedding Photography Poses
There are many ceremonies before and after the wedding; they are also as important as the wedding. Photos are the things that kept the memories alive. Friends, if you are planning a wedding then put a huge budget aside for the wedding photographs. This will always stay with you when you will grow old and don't able to memorise your special day.
Here, we have put some South Indian Wedding Bridal Photography Ideas. Hope you will love them.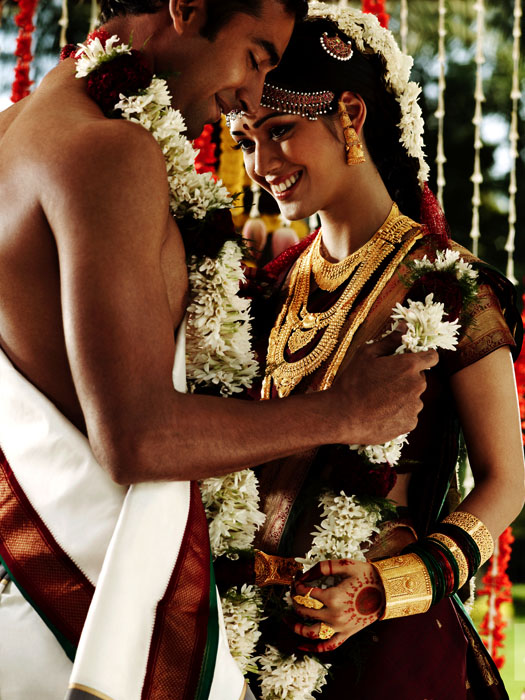 South Indian Bridal Photographs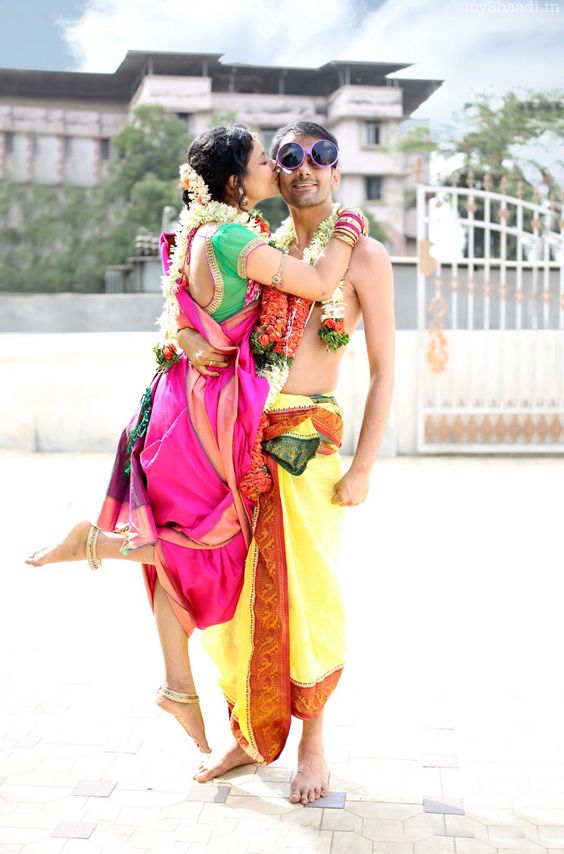 Enjoy Fun At Your Wedding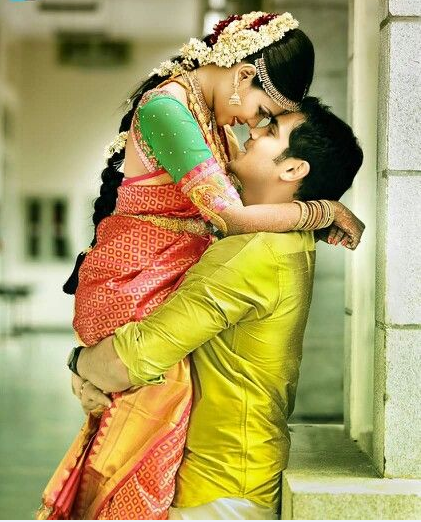 South Indian Wedding Poses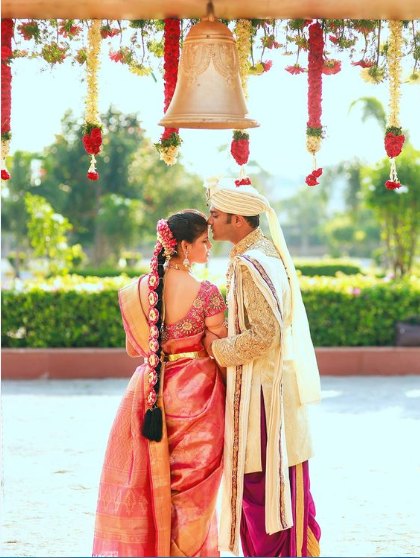 Hey, these are some of the best beautiful south Indian bridal wedding pictures. Hope you will love these pictures. If anyone of your south Indian friends is planning to get married soon, then please share these South Indian Wedding Photographs with her.